4 Hits and 4 Misses on Royal Caribbean's Navigator of the Seas
While Royal's Caribbean's Navigator of the Seas is over 18 years old, it underwent a significant upgrade in Spring 2019 as part of their "Amplification" program. It wasn't just a fresh coat of paint; the refurbishment completely changed the deck plans, moving things around, adding many new attractions, staterooms, restaurants, and venues. In fact, if you were on the Navigator of the Seas before the 2019 upgrade, it could feel like a totally different ship to you.
Here's a list of what we consider the hits and misses on the Navigator of the Seas.
Hit – Amazing Waterslides
When it originally debuted, the Navigator of the Seas didn't have any waterslides or splash parks. The ship's "Amplification" saw the addition of two water slides and a small kid's splash area. This change didn't mean just quickly installing a little slide by a pool; instead, they constructed a brand new tower on the deck to house the slides. The new slides, "The Blaster" and "Riptide," are first-class water slides that would easily get long lines if they were at a water park onshore.
The Blaster Aqua Coaster
The Riptide
Miss – An Indifferent Staff
I wouldn't say the crew of the Navigator of the Seas was unfriendly, but they were undoubtedly indifferent. On most other cruises I've taken in the past, I could always recall at least one staff member years later; maybe not their name, but their face and where they worked. For the 7-day cruise I took aboard the Navigator of the Seas, I can't remember one. There weren't many smiles and pleasant interactions; they did what they needed to, but that was all.
Hit – "Amplified" Caribbean Themed Main Pool Area
To be blunt, the original Navigator of the Seas was a bit boring. The pool deck was absolutely lacking any personality or style. While there was nothing wrong with the layout or function of the area, it didn't stick out. That's not a good thing for a cruise ship that wants to be your ideal vacation.
The refurbishment of the ship brought a brand new Caribbean themed pool area as well as Royal Caribbean's popular 3-story Lime and Coconut Bar. The area now feels much more energetic, with great vacation vibes coming from every corner. The two sizeable pools are still there, but there's also a large spillover area around them with a few inches of water, so you don't need to be in the pools to be cooled off. They also added a splash pad area for little kids to keep them entertained and out of the larger pools (hopefully).
Miss – Paying Extra for Johnny Rockets Burgers
Want to enjoy a burger and fries while sitting by the pool? Well, get ready to pay up! The Navigator of the Seas has a Johnny Rockets Express, which serves classic burgers, fries, hot dogs, and milkshakes. What's really annoying is that they charge extra for these!
Hit – Innovative Interior Stateroom Options
Interior staterooms on a cruise ship can feel notoriously dark and claustrophobic. Without any windows, it can also be hard to keep track of what time of day it is. The Navigator of the Seas offers two solutions to make these cabins more appealing.
Promenade View Interior Stateroom
Interior Stateroom with Virtual Balcony
Miss – Underwhelming Adult Only Pool Area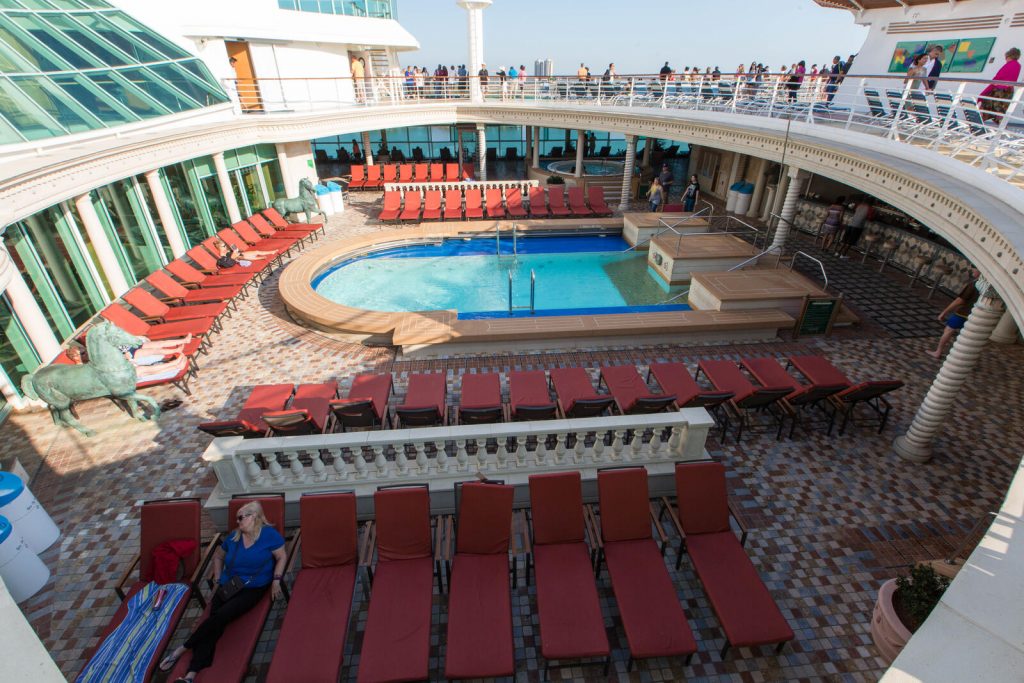 The Solarium is Royal Caribbean's adults-only area on their ships. It's free for all guests 16 and over to enjoy and usually has upgraded loungers, excellent views, and some peace and quiet. On their Oasis and Quantum Class ships, the Solarium is one of the ship's nicest areas, enclosed in glass with panoramic views. On the Navigator of the Seas, the adult-only area has a pool and a couple of hot tubs, but it has an open-top. The upper decks pass right along the sides, taking away some of the privacy and relaxing ambiance. While it's nice that there's still a free adults-only area, consider an Oasis or Quantum-class ship on Royal Caribbean if you want a more relaxing space.
Hit – Tons of Activities
How are you going to fill your time while on the ship? The Navigator of the Seas has an absurd amount of options to keep you entertained. Better yet, your cruise fare covers most of these activities.
Miss – Confusing Deck 3 Layout Because of Ice Rink
Summary – A Reborn Ship with Tons of Activities
The refurbished Navigator of the Seas feels like a brand new ship even though it's over 18 years old. It's one of the better ships out there for people who like many options onboard to keep busy. While it's smaller than Royal Caribbean's Oasis Class of ships, it's still a relatively large ship with plenty to keep you entertained. If you want a relaxing atmosphere with peace and quiet, though, there are other ships out there that might be better suited to you.
See all the facts and figures about the Navigator of the Seas:
How does the Navigator of the Seas stack up against other ships?