4 Hits and 4 Misses on Royal Caribbean's Navigator of the Seas
Last Updated on April 4, 2022
While Royal Caribbean's Navigator of the Seas is over 20 years old, it underwent a significant upgrade in Spring 2019 as part of their "Amplification" program. It wasn't just a fresh coat of paint; the refurbishment completely changed the deck plans, moving things around, adding many new attractions, staterooms, restaurants, and venues. In fact, if you were on the Navigator of the Seas before the 2019 upgrade, it could feel like a totally different ship to you. 
Here's our list of hits and misses on the Navigator of the Seas.
Hit – Amazing Waterslides
When it originally debuted, the Navigator of the Seas didn't have any waterslides or splash parks. The ship's "Amplification" saw the addition of two water slides and a small kid's splash area. This change didn't mean just quickly installing a little slide by a pool; instead, they constructed a brand new tower on the deck to house the slides. The new slides, "The Blaster" and "Riptide," are first-class water slides that would easily get long lines if they were at a water park onshore. 
The Blaster Aqua Coaster
The Blaster is an Aqua Coaster, which is basically a combination of a water slide and a roller coaster. It's Royal Caribbean's first aqua coaster on a ship, and it's also the longest water slide at sea. If you've never ridden an aqua coaster, you have to try it out. Rather than just sliding down a chute, the Blaster Aqua Coaster shoots you up inclines with powerful jets of water. In your two-person tubes, you fly up and down slopes, around curves, and even off the side of the ship! It's a fantastic ride.  
The Riptide
The Riptide is a mat racer where you lie down on a blue foam mat and slide through the tube headfirst. Unlike most tube slides that are entirely black, neon circles powered by the sun illuminate this tube's interior. The slide twists and turns and ends with a transparent portion hanging right over the ocean! Don't worry if you're afraid of heights; you're going so fast through the tube that you don't even register how high you are. The minimum height to ride Riptide is 42″ inches, but it is fun for all ages.
Miss – An Indifferent Staff
I wouldn't say the crew of the Navigator of the Seas was unfriendly, but they were undoubtedly indifferent. On most other cruises I've taken in the past, I could always recall at least one staff member years later; maybe not their name, but their face and where they worked. I can't remember one staff member from the 7-day cruise I took aboard the Navigator of the Seas. There weren't many smiles and pleasant interactions; they did what they needed to, but that was all. Staff constantly rotates, so that may not be the case anymore, but it definitely stuck out to me on my cruise.
Hit – "Amplified" Caribbean Themed Main Pool Area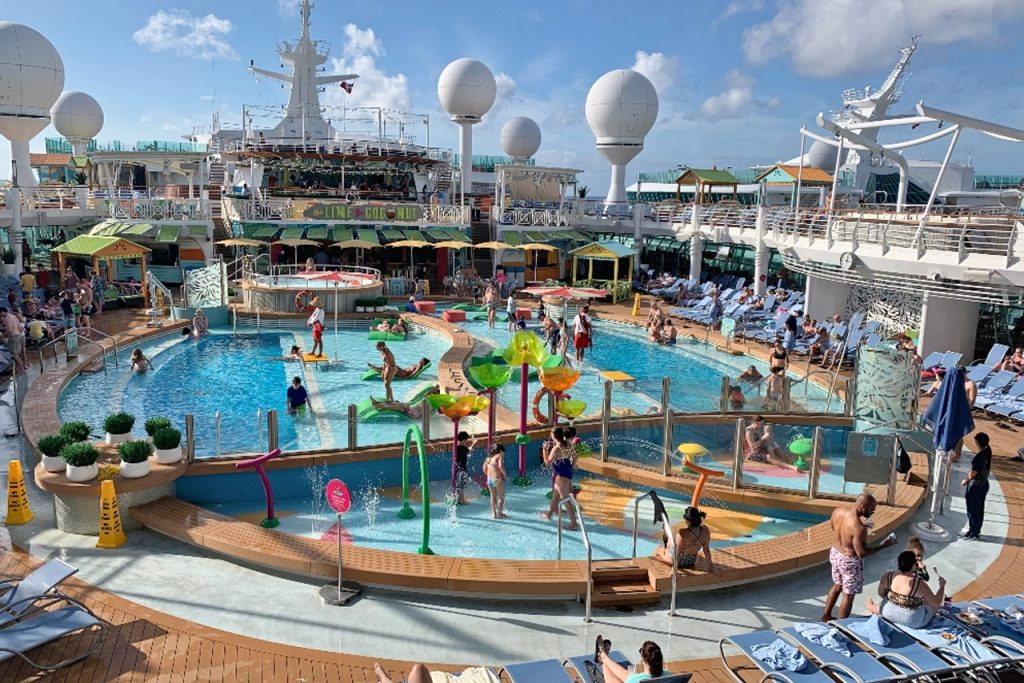 To be blunt, the original Navigator of the Seas was a bit boring. The pool deck was absolutely lacking any personality or style. While there was nothing wrong with the layout or function of the area, it didn't stick out. That's not a good thing for a cruise ship that wants to be your ideal vacation. 
The refurbishment of the ship brought a brand new Caribbean themed pool area as well as Royal Caribbean's popular 3-story Lime and Coconut Bar. The area now The refurbishment of the ship brought a brand new Caribbean-themed pool area and Royal Caribbean's popular 3-story Lime and Coconut Bar. The area now feels much more energetic, with great vacation vibes coming from every corner. The two sizeable pools are still there, but there's also a large spillover area around them with a few inches of water, so you don't need to be in the pools to be cooled off. They also added a splash pad area for little kids to keep them entertained and out of the larger pools (hopefully).
Miss – Paying Extra for Johnny Rockets Burgers
Want to enjoy a burger and fries while sitting by the pool? Well, get ready to pay up! The Navigator of the Seas has a Johnny Rockets Express, which serves classic burgers, fries, hot dogs, and milkshakes. What's really annoying is that they charge extra for these! 
Originally, the Navigator of the Seas had a traditional Johnny Rocket's Restaurant with beautiful seaside dining available. Back then, it annoyed me when I had to pay extra, but I understood because it was a sit-down restaurant. Today though, it's just a fast-casual place where you pick your order up and take it wherever you want, which makes the charge even more annoying.
If the food was high-quality or original cuisine, I'd better understand the charge, but Johnny Rockets food is served in countless malls across the country. It's especially insulting considering that Carnival offers their amazing Guys' Burgers for free. When I went on the Navigator of the Seas, it was a 'la cart pricing, but I've seen reports of them trialing a flat fee pricing as well, so what you experience may be different.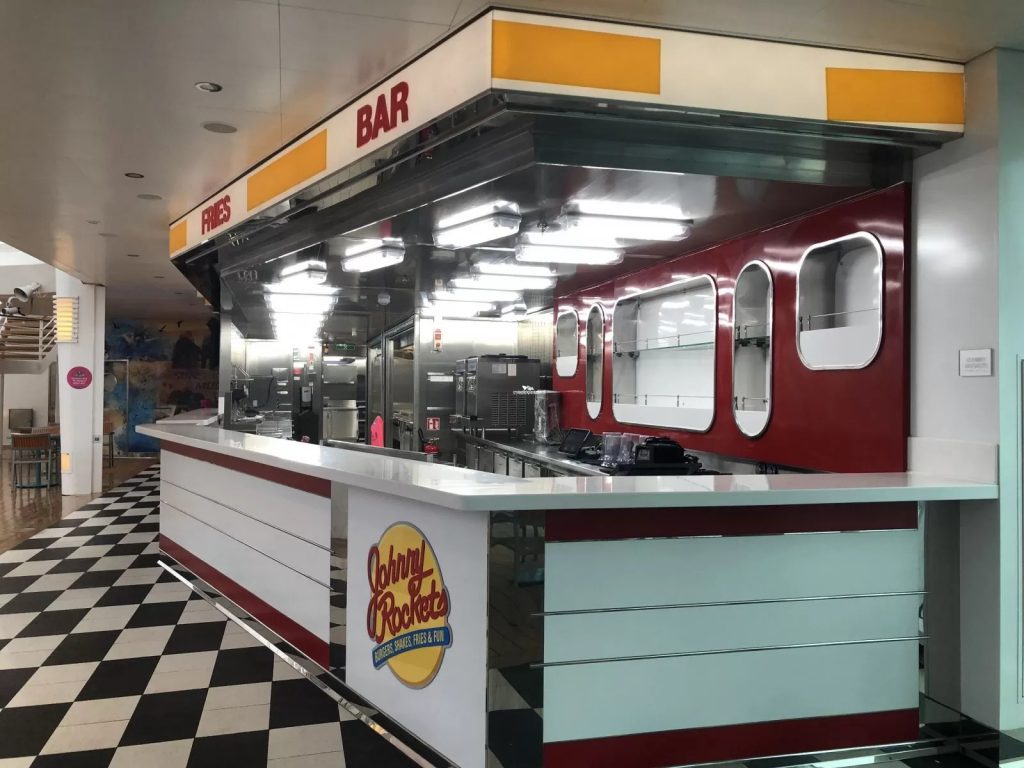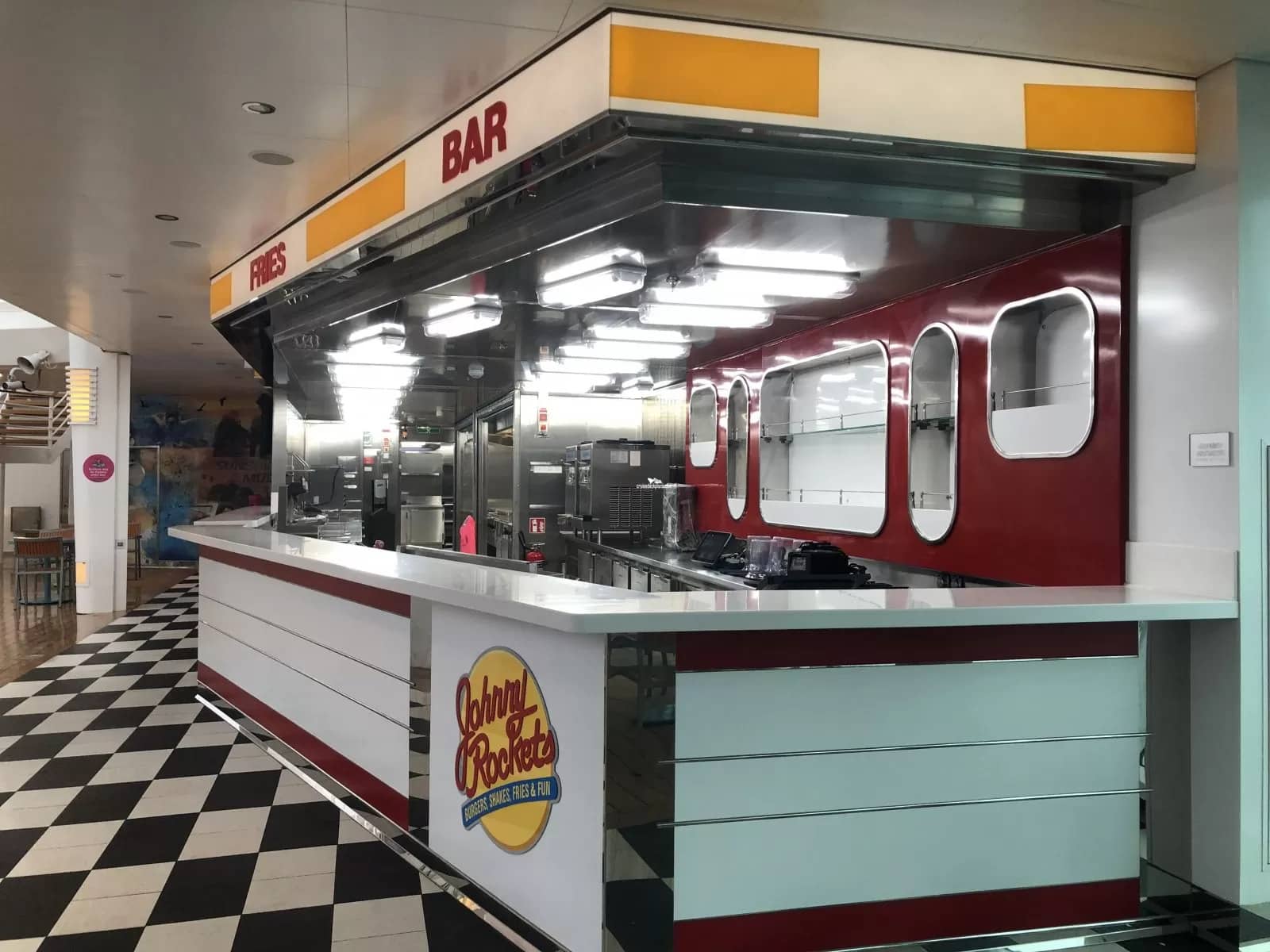 Hit – Innovative Interior Stateroom Options
Interior staterooms on a cruise ship can feel notoriously dark and claustrophobic. Without any windows, it can also be hard to keep track of what time of day it is. The Navigator of the Seas offers two solutions to make these cabins more appealing. 
Promenade View Interior Stateroom
This class of ship, the Voyager class, was the first to offer Promenade View Staterooms. These cabins are technically interior rooms but have large windows overlooking the ship's main Promenade area. Having a window that looks out onto a large space with dynamic lighting helps the room feel less claustrophobic and more like Ocean View rooms. A downside is that people can potentially look into your room from below, but they have two sets of curtains (a sheer and a light-blocking) to let you choose how much people see.  
Interior Stateroom with Virtual Balcony
Later on, after a refurbishment, Royal Caribbean added Virtual Balcony Staterooms to the Navigator of the Seas. These rooms don't have any windows but instead, have giant screens mounted to the wall as a window with a live camera to the outside. It's an innovative way to make the interior rooms feel more connected to the ocean and a great way to help budget cruisers enjoy a bit more.
Miss – Underwhelming Adult Only Pool Area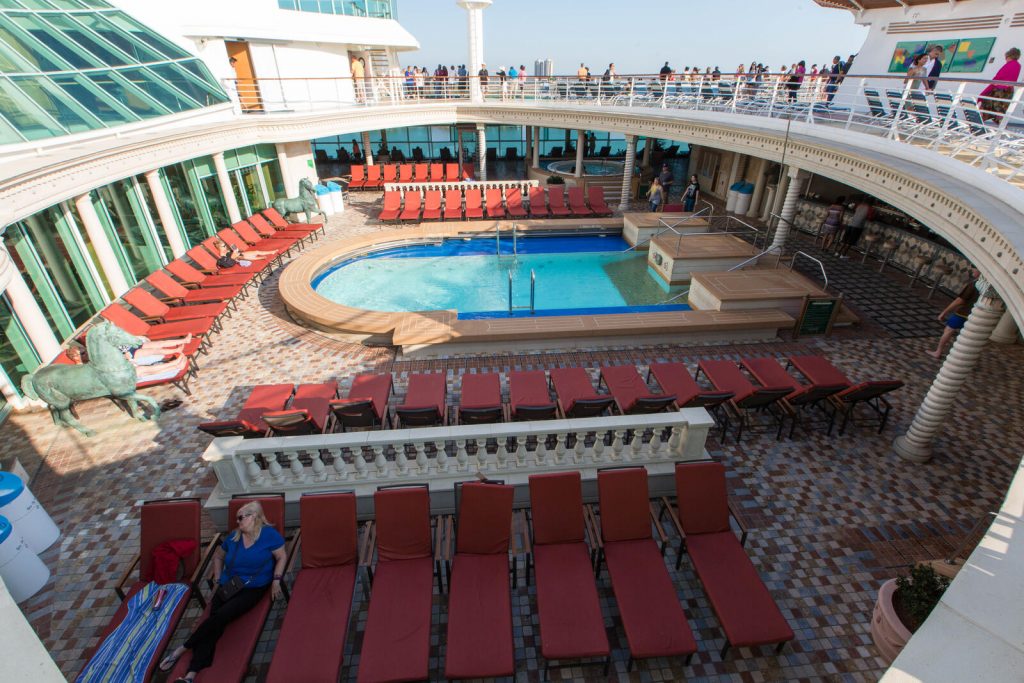 The Solarium is Royal Caribbean's adults-only area on their ships. It's free for all guests 16 and over to enjoy and usually has upgraded loungers, excellent views, and some peace and quiet. On their Oasis and Quantum Class ships, the Solarium is one of the ship's nicest areas, enclosed in glass with panoramic views. On the Navigator of the Seas, the adult-only area has a pool and a couple of hot tubs, but it has an open top. The upper decks pass right along the sides, taking away some of the privacy and relaxing ambiance. While it's nice that there's still a free adults-only area, consider an Oasis or Quantum-class ship on Royal Caribbean if you want a more relaxing space.
Hit – Tons of Activities 
How are you going to fill your time while on the ship? The Navigator of the Seas has an absurd amount of options to keep you entertained. Better yet, your cruise fare covers most of these activities.
Included activities:
Additional fee activities:
Arcade
Casino
Escape Room
Spa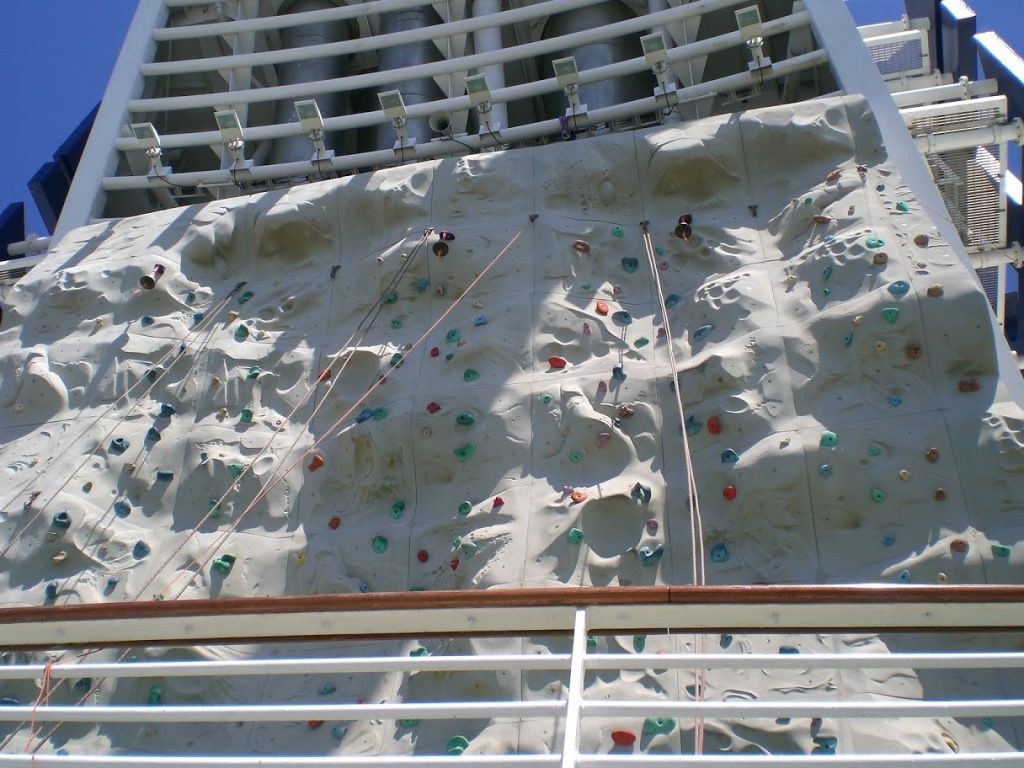 Miss – Confusing Deck 3 Layout Because of Ice Rink
For the most part, getting around the Navigator of the Seas is pretty straightforward; the promenade and main pool deck make it easy to walk from the front to the back of the ship. The exception is Deck 3. The Ice Rink, called Studio B, is directly in the middle of the ship and spans the ship's entire width. It's a great venue that lets you ice skate during the day and watch fantastic ice dancing shows at night (learn more here).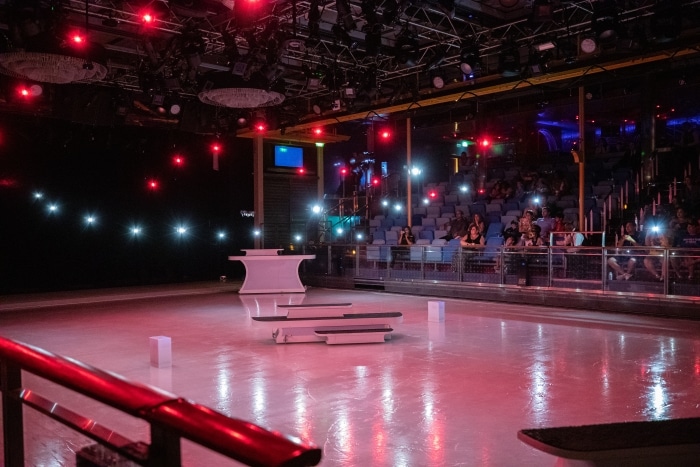 Unfortunately, because of the wide venue, deck 3 is broken up. There's no passing by it or getting around it. You have to either go up one or down one deck to walk across if you were going from the main dining room to the theater. Because there's no thoroughfare, it's a relatively unused part of the ship. There were times I was walking around wondering why I had never been to that part of the ship, only to realize I hit a dead up and had to walk to stairs and go up or down a level. It just seems like poor planning not to have an easy way around or through the ice skating rink.
Summary – A Reborn Ship with Tons of Activities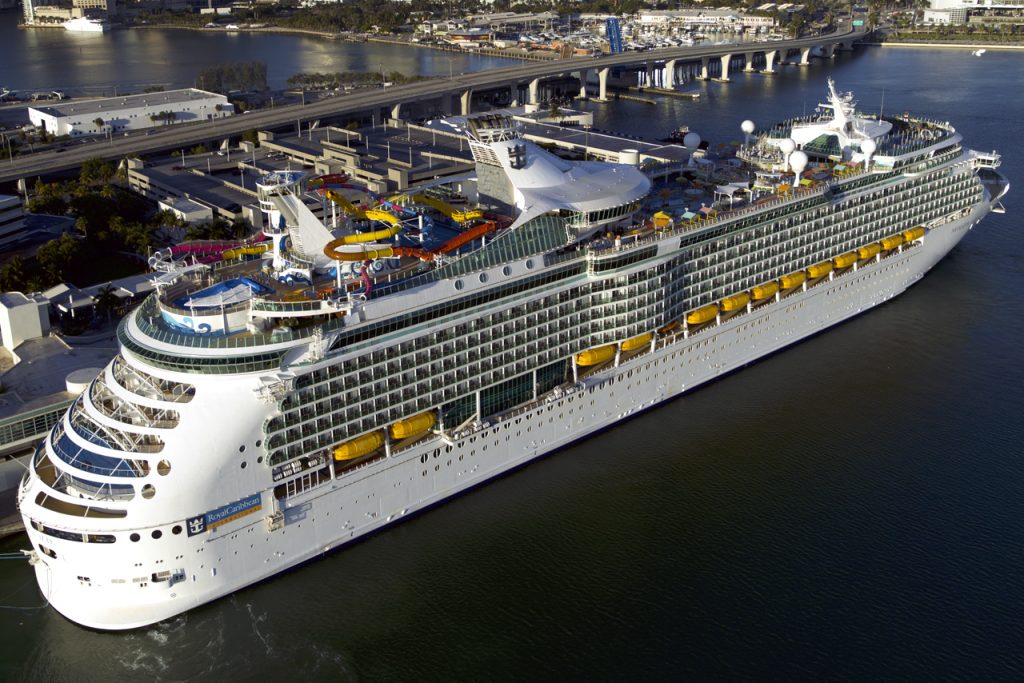 The refurbished Navigator of the Seas feels like a brand new ship even though it's over 20 years old. It's one of the better ships out there for people who like many options onboard to keep busy. While it's smaller than Royal Caribbean's Oasis Class of ships, it's still a relatively large ship with plenty to keep you entertained. It has many of the Royal Caribbean staples like the 3 story-promenade with cafes and shops, the FlowRider, kid's clubs, climbing walls, casino, and more. If you want a relaxing atmosphere with peace and quiet, though, there are other ships out there that might be better suited to you.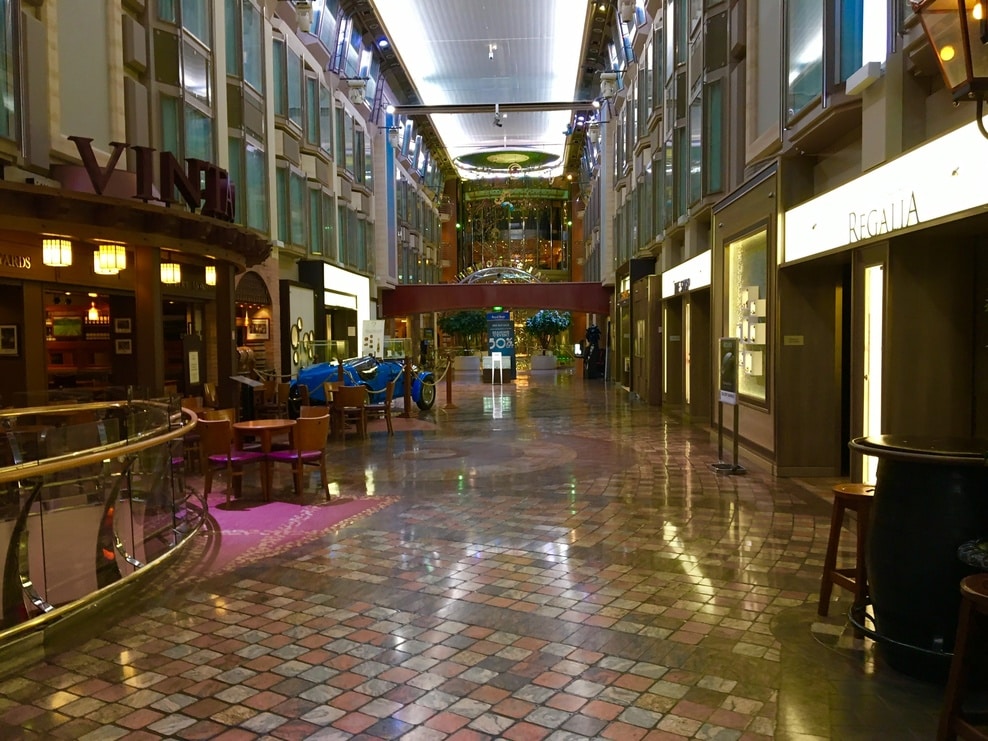 See all the facts and figures about the Navigator of the Seas:
How does the Navigator of the Seas stack up against other ships?
CruiseSpotlight is an Amazon Associate. We may earn a commission when you click links to retailers and purchase goods.