5 Hits and 5 Misses on the Carnival Pride
Last Updated on November 11, 2021
The Carnival Pride is in the middle of the Carnival ship roster in terms of both age and size. I've had 2 cruises on the Pride (see my cruise blog) and here at my 5 hits and misses of the ship. How does the Carnival Pride stack up against other ships? Try our Cruise Ship Comparison Tool.
HIT – Lack of Upcharge Restaurants
I know what you're thinking, how is a lack of something a good thing? Personally, I dislike the amount of up-charge restaurants available on many of the newer and bigger ships on most cruise lines. When I go on a cruise, I don't want to constantly feel like I'm being asked for more money or else feel left out. I hate having to think if I want to spend the extra money or not. Once in awhile for a special occasion makes sense, but the ships with 20+ extra fee restaurants are not for me. I don't want to feel like Leonardo DiCaprio in 3rd class on the Titanic; I want to feel like Rose.
The Pride only has 2 up-charge restaurants; David's Steakhouse and Bonzai Sushi. David's Steakhouse (see the menu) is similar to Fahrenheit 555 that is on many of Carnival's newest and recently refurbished ships. It's an additional fee of $38 a person. Is it worth that? The steakhouse isn't just about the food, but also the atmosphere. The steakhouse is much quieter and classier than the normal dining room. It's great to celebrate a special occasion like a birthday or anniversary or even just a date night out on the ship alone.
The other paid restaurant on the ship is Bonzai Sushi (see the menu). I rarely saw more than one or two tables being used at one on either of my sailings. With bamboo poles and classic Japanese decor, it's cute, but I don't think it's worth the money. I'd been tempted to stop by for a snack sushi roll (typically $5 to $10 per roll), but I'd never pass up my dining room dinner to pay to eat here.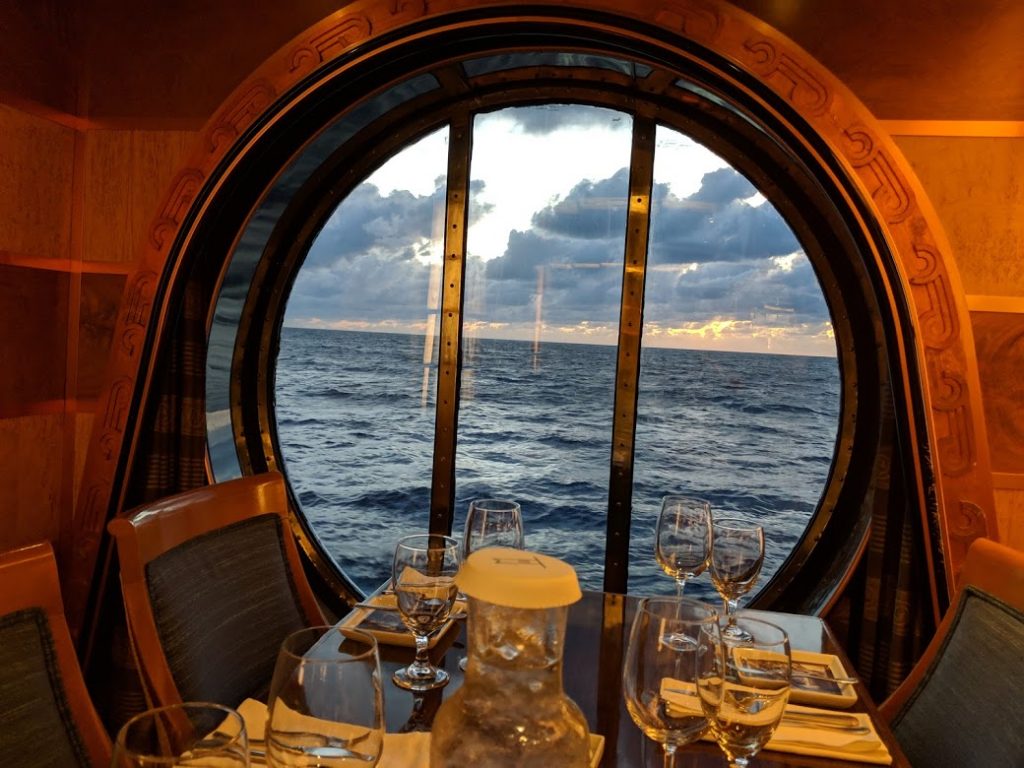 MISS – Horribly Smokey Casino
Regardless of the ship, casino areas on cruises are hazy, smoke filled venues but on the Pride it seemed the worst that I've ever experienced. To be fair, my last cruise on the Pride was in January, so the casino was the only place where smokers could gather and be warm.
A lot of people say smoke is just part of the gambling experience, but on the Pride, the interior promenade walkway goes right through the center of the casino, so if you're not gambling and just going to a comedy show or show in the Taj Mahal lounge, you have to walk through the clouds of smoke hanging in the air. The stench stays on you the rest of the evening. You can avoid it by using the Deck 3 walkway one floor above, but you can still smell the smoke as you walk open stairwells nearby. Carnival really needs to address this as it definitely hampered the night time experience.
HIT – Smaller Ship Actually Feels Less Crowded
The Pride, and the other Spirit class ships in the Carnival family, have the largest gross tonnage of ship per person in the entire cruise line. That means each people has more space and everyone is not jam packed. Even though it's the 2nd smallest class of ship for Carnival, for the most part there's plenty of room all around the ship.
MISS – Buffet Seating Size
It's funny that I mention this "miss" right after saying the cruise ship felt spacious, but the one time the ship felt crowded was the Lido Buffet / Mermaid Grill, especially at breakfast time. The buffet itself is fairly sizable and has a lot of options for food. There lines were rarely super long and you didn't constantly have to navigate around people to get food. The problem is seating area; there's just not enough. Every morning on my last cruise, I spent at least 5 – 10 minutes just look for an open table. It didn't matter if it was a sea day or port day; if it was 8 am or 9:30 am; the place was packed. I'm not sure how they can address this without major construction, but it did make breakfast challenging. I could imagine it'd be even harder for a large family with children to handle this is the morning.
HIT – Serenity Area WITH a pool
The Serenity Area is Carnival's adult-only section of the ship where you must be at least 21 to be admitted. It has higher end loungers than the rest of the ship; the area has dark brown wicker loungers and clamshells all fitted with beautiful blue-green pads on top. They're quite comfortable and a nice escape from kids and noise. Like all cruise ships, on sea days these may be completely full, but when I went in the afternoons or evening, I never had a problem finding space.
The Serenity area also has nice outdoor dining seating, a separate bar, a hot tub and in this case a pool. Because of the location of the Serenity area on many other ships, they only have hot tubs. The Serenity Area on the Pride (and the other Spirit class ships) has a fairly sizable pool and a hot tub. It's a much nicer option when cruising int he blistering summer Caribbean heat.
The Serenity Area on this ship is also on the aft (or rear) of the ship. This means it's much less windy than the ships with Serenity on the front of the ship. It also makes a great place to go at night for peace and quiet to watch the wake of the ship as you glide through the sea.
MISS – Wasted Outside Promenade Deck
Deck 3 on the Pride has an outside promenade area that goes almost all the way around the ship (except for the front). It's a great area that is close to the water and gives you beautiful views outside. The problem is Carnival doesn't know what to do with it. Often it's just completely abandoned. There's nothing on it. no chairs, no attractions or anything; just wasted space. My first cruise, I didn't notice how wasteful it was, but after seeing what Carnival and Norwegian has done with beautiful seating and outdoor dining on the exterior promenades on their newer ships, this is a huge waste of space. I'm hoping if Carnival does decide to revamp their Spirit class ships, they add glass dividers like they have on the new ships (to reduce the high winds) and put some great padded loungers.
HIT – Plenty of Pools/Water Slides/Hot Tubs
There are plenty of pools and hot tubs available on the Pride. While it can still be hard to find space in them on sea day morning, they have the most opportunity of any ship. The ship has 3 pools, one of them with a closing glass roof and one of them being for adults only. It also has 3 large hot tubs, one for general access, one for everyone in the mail pool area, and on in the gym. The one in the gym is rarely crowded and is open to everyone; this isn't a separate spa like some other ships.
On the rear of the Carnival Pride is a kids spash zone. While the splash pad is on the smaller side, it usually isn't overly crowded. With little kid slides and a big dumping water bucket, this can keep kids entertained and active for hours.
The Pride also has 2 water slides which are nearby but not directly connected. One is a traditional Carnival twister slide, that moves at a slower pace that people of all ages can enjoy. The other is the Green Thunder Thrill Slide. It's really more suited towards adults where you go into the chute standing, the glass door closes and then the floor drops out and you slide through a curve and out. It's exhilarating and really unique. I love that the slides are separate from the kids area, so if you're an adult, you don't feel like you're on a kiddie ride.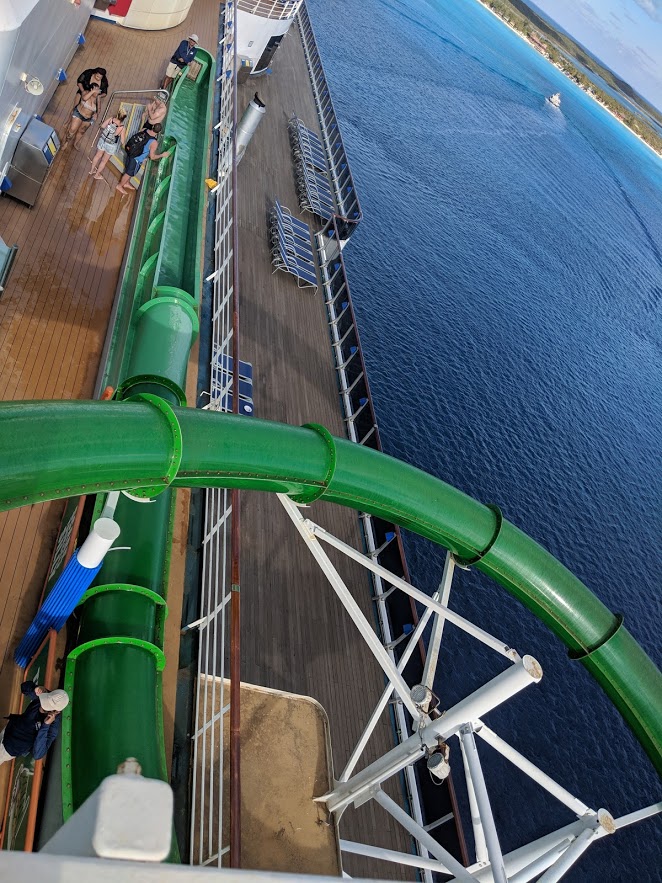 Miss – The Wait for Pizza
Carnival Cruises are known for their 24/7 available free pizza. Besides the fact that it's always available and included in the cost of the cruise, it also just tastes really good. They're mini-pizzas, about 12″ round, and you get half at a time (although you can ask for more). It makes a great lunch, or snack, or late night snack. The problem is the lines are crazy.
There is almost always a line at the pizza place, called the Pizza Pirate, on the Pride. The chefs work hard to pump out the pizzas as fast as they can, but with just one conveyor oven, they can only do so much. During afternoons you're fine, but if you go at night after the theater productions or some comedy shows, you can have a 20 – 30 minute wait. It's crazy!
HIT/MISS – Port of Departure
I'm torn between weather the port of departure for the Pride is a hit or a miss. If you want to cruise out of the East Coast, 70% of all the ships leave out of some place in Florida. That's great if you're in Florida, but if you live in the North East, that's a trek to get down there as well as an added expense. For my last two cruises, and until 2021, the Carnival Pride's home port is Baltimore, Maryland. That makes it much more accessible to people from the North and even Midwest.
While it's more convenient, it also has some downsides. Because the Pride is the only Carnival ship out of Baltimore, the port itself feels decades behind the terminals at Miami and Orlando. It not as streamlined, and more resembles just a large warehouse than a vacation starting point. The port itself is not pretty or tropical, but it works.
Another problem with leaving from the North is the weather. My last cruise was in January, which meant than when leaving from Maryland, the first 2 days were too cold to do anything outside on the ship. Having 2 and a half days at sea to start, when you can't be outside, makes the ship feel a bit claustrophobic. The glass roof on the one pool was not working on this sailing, so basically we were on decks 2 and 3 the whole time.
If you're taking a spring or summer cruise, it wouldn't be as much of a problem though, and it was nice to just drive to port and not worry about checking bags or the hassle of flying. For a large family, that also is a big money saver as airline tickets add up quickly.
HIT/MISS – The Decor
This is a hard one, the decor on the Pride is unique to say the least. It's very over the top and extravagant but feels quite dated but it grows on you. When I was writing this, I looked up the age, and was shocked that the Pride was built in 2001; the decor felt like it was from the 70's or 80's. There's lots of purples and shiny silvers and fiber optics. The ship is adorned with tons of classically styled murals and paintings as well as sculptures. A lot of these used to have nudity, but between my two cruises on the ship, there were a lot of fig leaves added to the art (the recreation of David's Michelangelo statue now sports a classy white leave).
That being said, I was on the Carnival Pride and felt it didn't have any wow moments from the decor, but the Pride did. The atrium lobby, with floor to ceiling sparking glass elevators and artwork, did take your breath away when you walked in. The Butterfly Lounge/Comedy Club looked dated and retro, but the 6 ft butterfly creations adorning the ceiling at least made you look and appreciate them, unlike the design of the newer comedy clubs.
The Pride's decor might not be for everyone, but it certainly is unique and I've grown to like it.
SUMMARY – Nicely Equipped Smaller Ship with Something for Everyone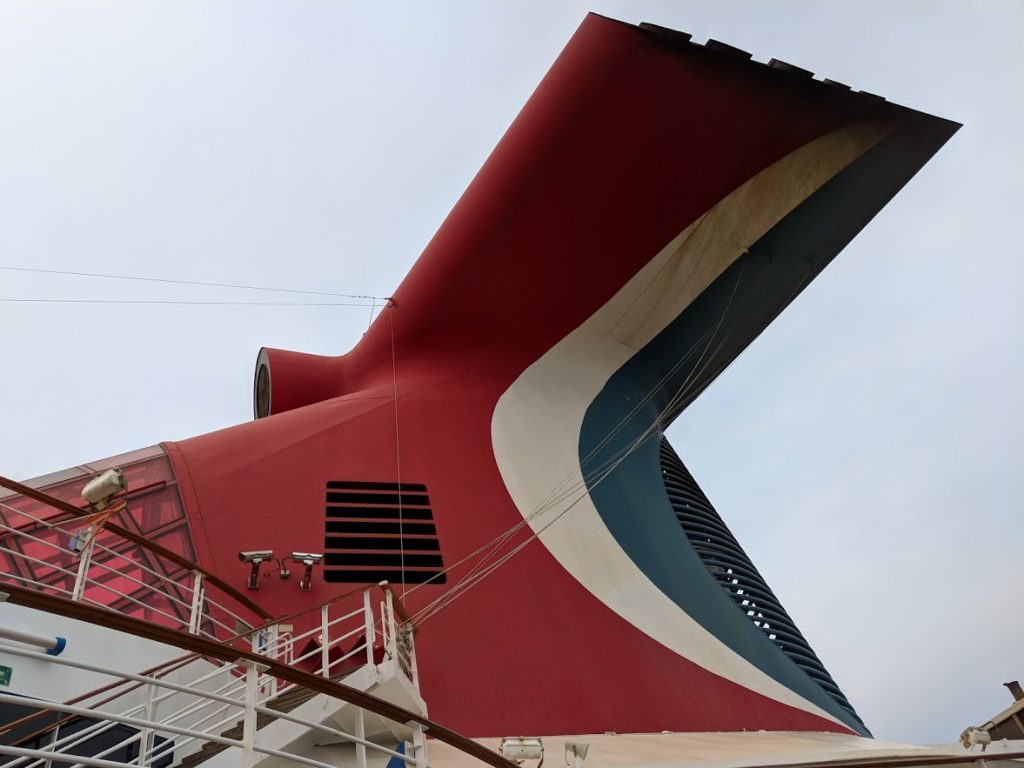 Are you new to cruising? You'll probably like the Carnival Pride. There's something for everyone and has a little sample of every thing you can expect on a cruise ship.
Do you have mobility issues? You'll like the Pride as well, because it's small than the mega-ships out there, it's easier to get around the ship. There's tons of elevator banks and it's not hard to get around
Do you like bigger, mega ships? A seven day cruise might feel a bit underwhelming if you're used to bigger ships. There's no ropes course, no rock climbing, only a handful of pay restaurants. If you like the big time amenities look for a bigger ship. That being said, it has most of the must have's of Carnival newest ships like a Serenity Area, Guy's Burgers, Blue Iguana, and Red Frog Pub.
See all the facts and figures about the Carnival Pride: Carnival Pride Details Page
Follow along on a 7-day winter cruise on the Carnival Pride
CruiseSpotlight is an Amazon Associate. We may earn a commission when you click links to retailers and purchase goods.