5 Hits and Misses of Royal Caribbean's Harmony of the Seas
Royal Caribbean's Harmony of the Seas is currently the third-largest ship in the world. I just got back from a 5-day Caribbean sailing, and I'll take you through what I thought were the hits and misses of this massive ship.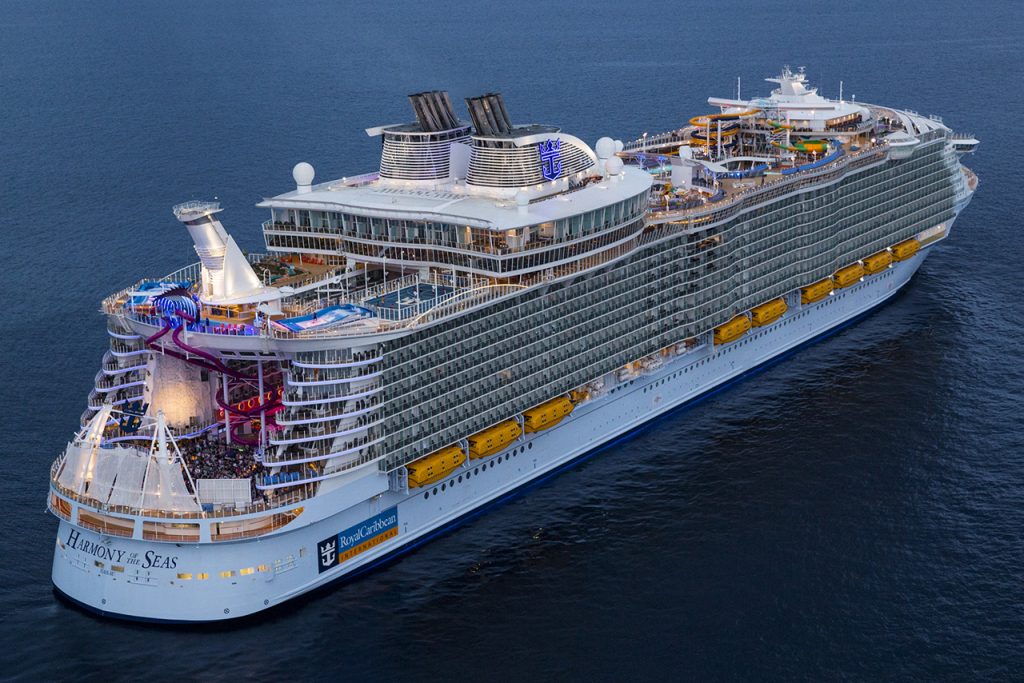 HIT – Neighborhood layout 
The Harmony of the Seas, and its other Oasis-class siblings, use a neighborhood layout to make the ship easier to navigate and break up crowds. Royal Caribbean first implemented this concept on the Oasis of the Seas and the success was immediately apparent. It was an innovative way to deal with a massive amount of people sailing on these mega-ships. This idea has since been copied by other cruise lines, like Carnival's Mardi Gras and Celebration, that use "zones" to group things together.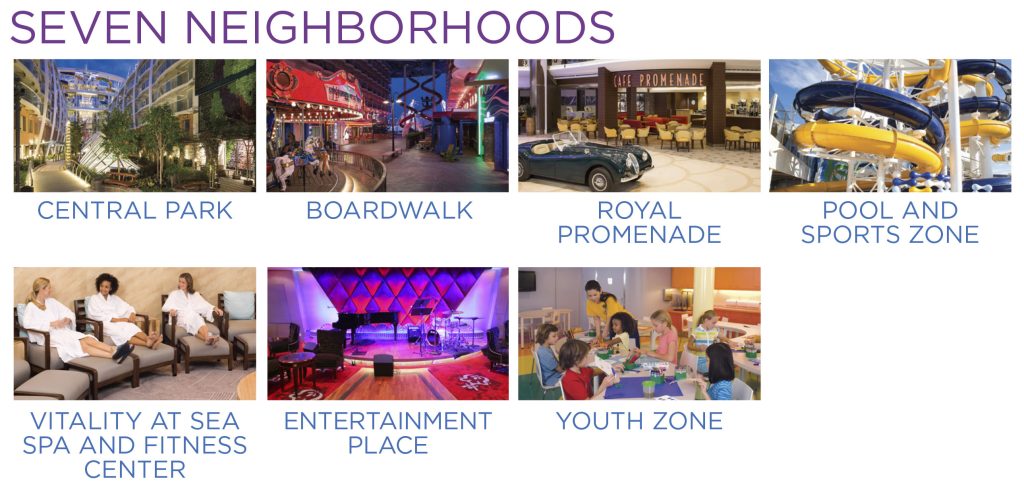 Each neighborhood has its own distinct feel that makes it easy to remember when thinking about where things are located. They also each have a variety of bars, restaurants, and other attractions in each area.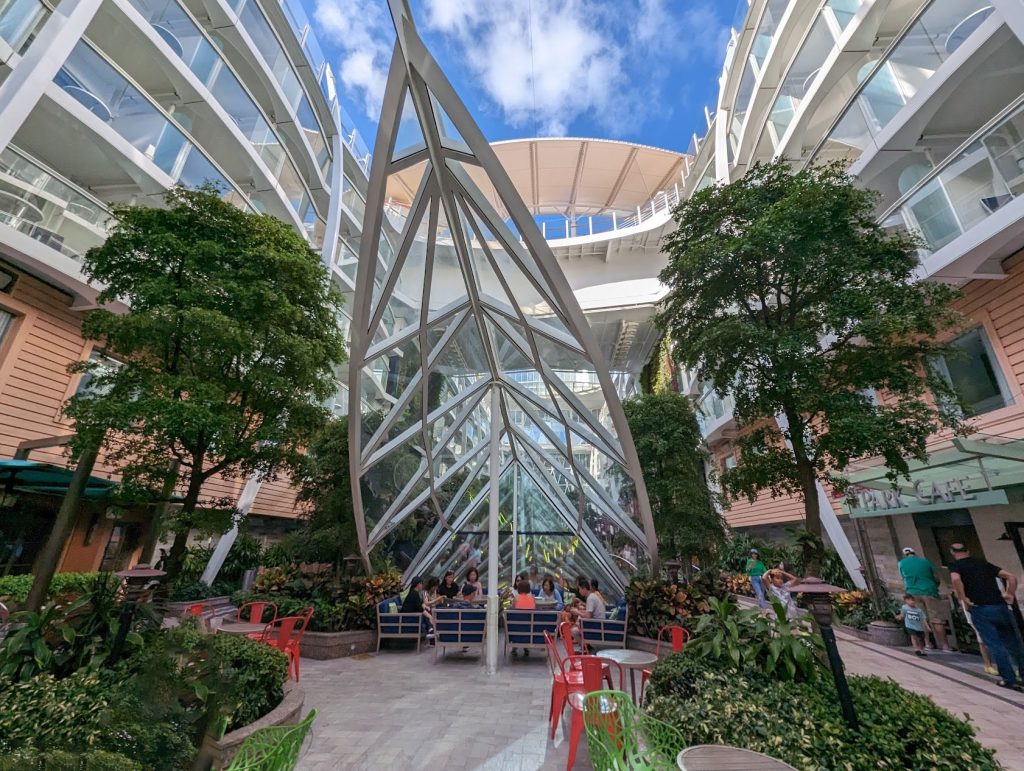 The most noticeable neighborhoods are Central Park, the Boardwalk, and the Royal Promenade. They're where you'll spend more of your time. Central Park was easily my favorite, with a unique feel. Filled with lush greenery and paths that wind through it, it's something you won't find on other cruise ships (except for other Oasis-class ships). 
MISS – Lack of ocean views 
One big problem I had with the Harmony of the Seas was its lack of ocean views. Most of the time you're on board you don't even notice you're on a cruise ship. When I reviewed all my photos from this trip, I realized there were almost no photos of the ocean in my camera roll. 
Most of the bars and restaurants don't have any ocean view and there are few places on deck where you can relax and enjoy the vista. 
One of my favorite views on a cruise ship is watching the wake as we sail at night, and on the Harmony, there wasn't a good place to do that. You could either sit at the rear area of the jogging track or sit on high stools at the top of the ship. Unfortunately, even the bar at the rear of the ship didn't take advantage of these views.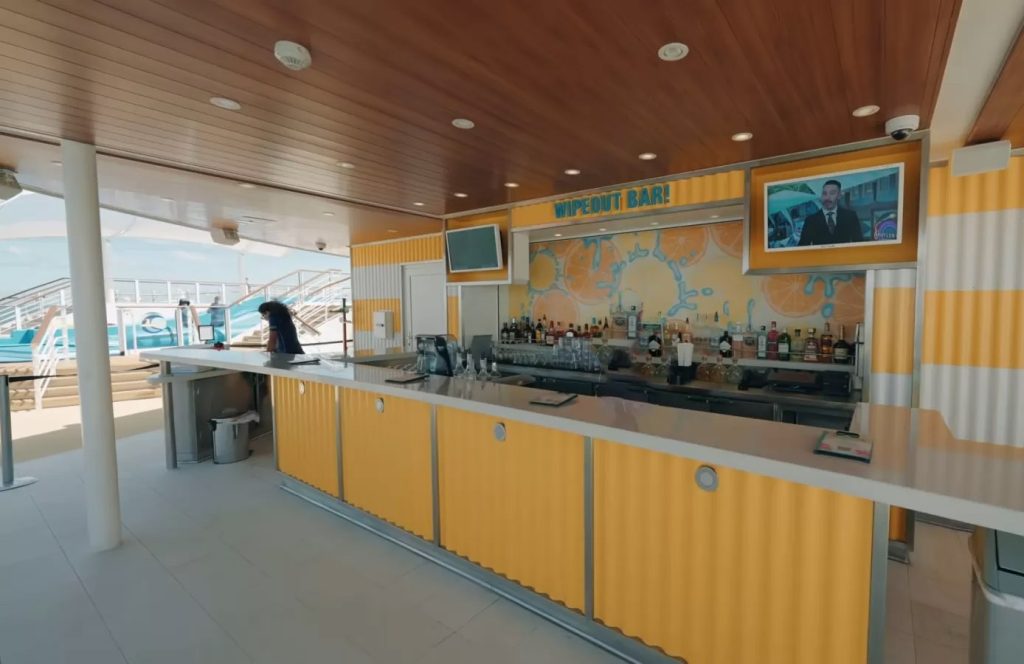 That's not to say the ship isn't beautiful. The Central Park Neighborhood is gorgeous, with thousands of living plants, but it doesn't feel like a cruise ship. Instead, it feels more like a high-end hotel or resort. Much of the time, you barely realize that you're in the middle of the ocean.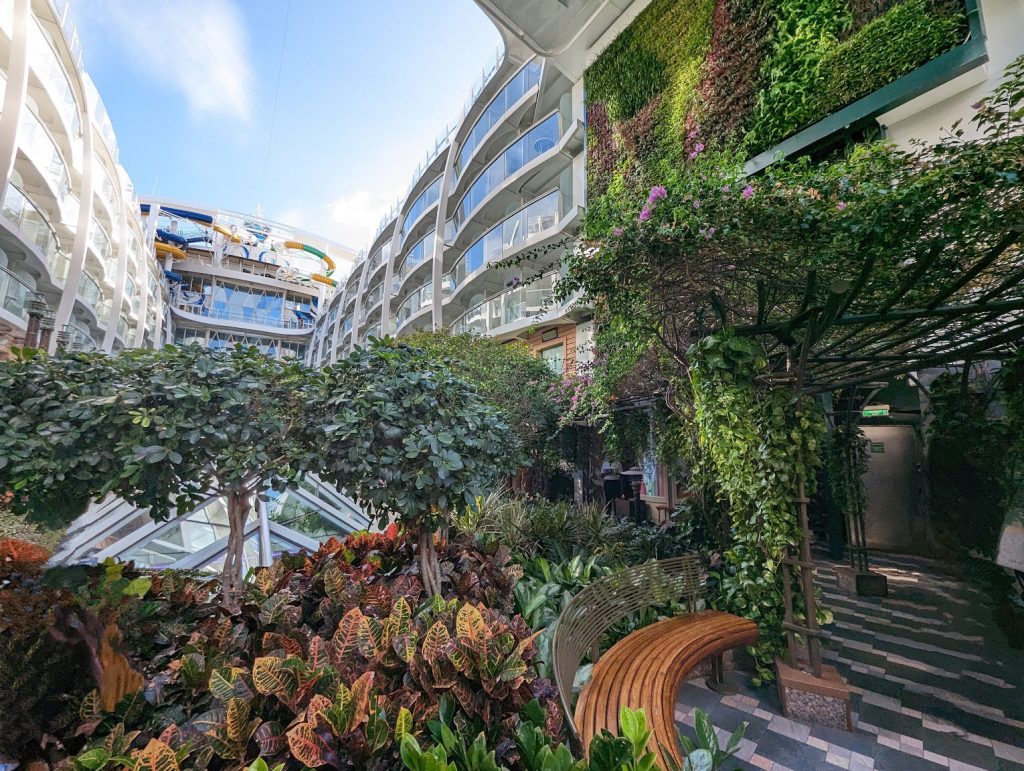 You can solve this problem by getting an ocean balcony rather than an interior balcony, but it is something that's noticeably missing from this ship. If I were to take a cruise to somewhere where the scenery was important, like the Mediterranean, I would be disappointed by this ship. 
HIT – Lots of included attractions
If you're looking for things to do while on board, you're not going to spend a lot of extra money on the Harmony of the Seas. You can zipline ten stories over the boardwalk, scale a 40-foot rock wall, surf on the FlowRider, ride a carousel, play minigolf, splash down on three water slides, ice skate, or test your fears on a 10-story dry thrill slide called the Ultimate Abyss all at no additional cost.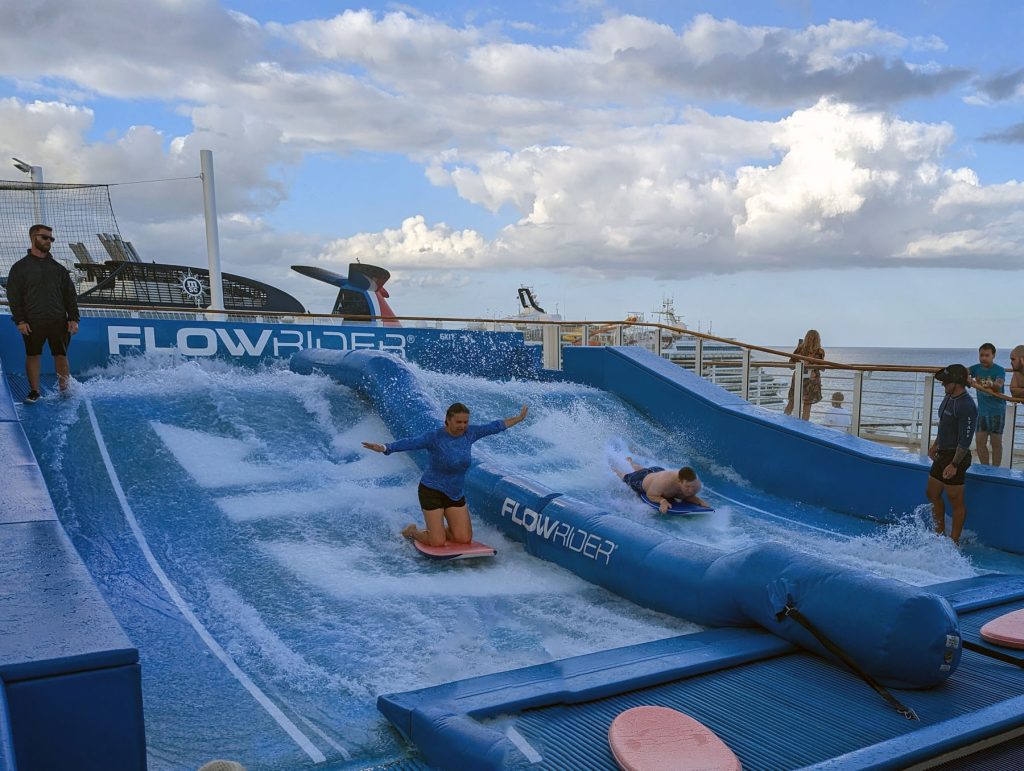 When you look at ships like the Norwegian Prima, which charges $15 for a go-kart ride or even for minigolf, you see the value here, especially for families.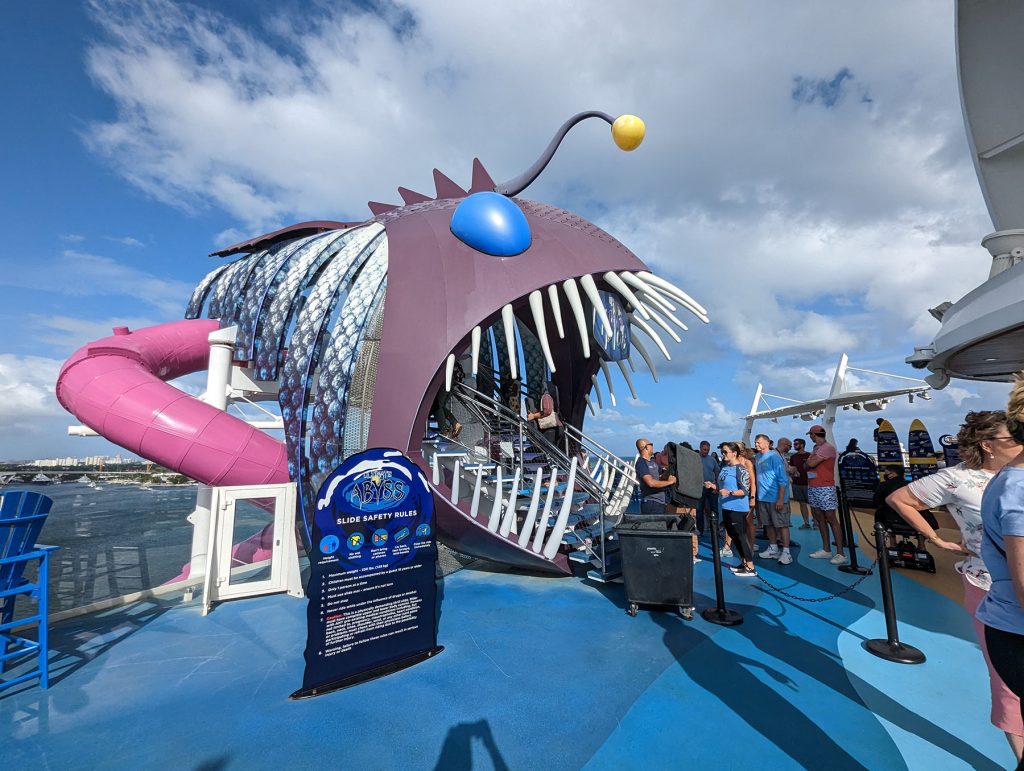 Of course, if you want to spend money, you can. You have traditional arcades, the spa, massages, the casino, bars, etc., but in terms of activities to keep you or your family busy, there's a lot included on Harmony of the Seas. 
MISS – No adults-only pool in the Harmony of the Seas' Solarium
The Solarium is a large area at the front of the ship that is reserved for adults only (which Royal Caribbean defines as age 16 and up). It's a huge area and a nice place to get away, with tons of comfy seating options and a dedicated bar and bistro. It's typically one of my favorite spots on a Royal Caribbean ship.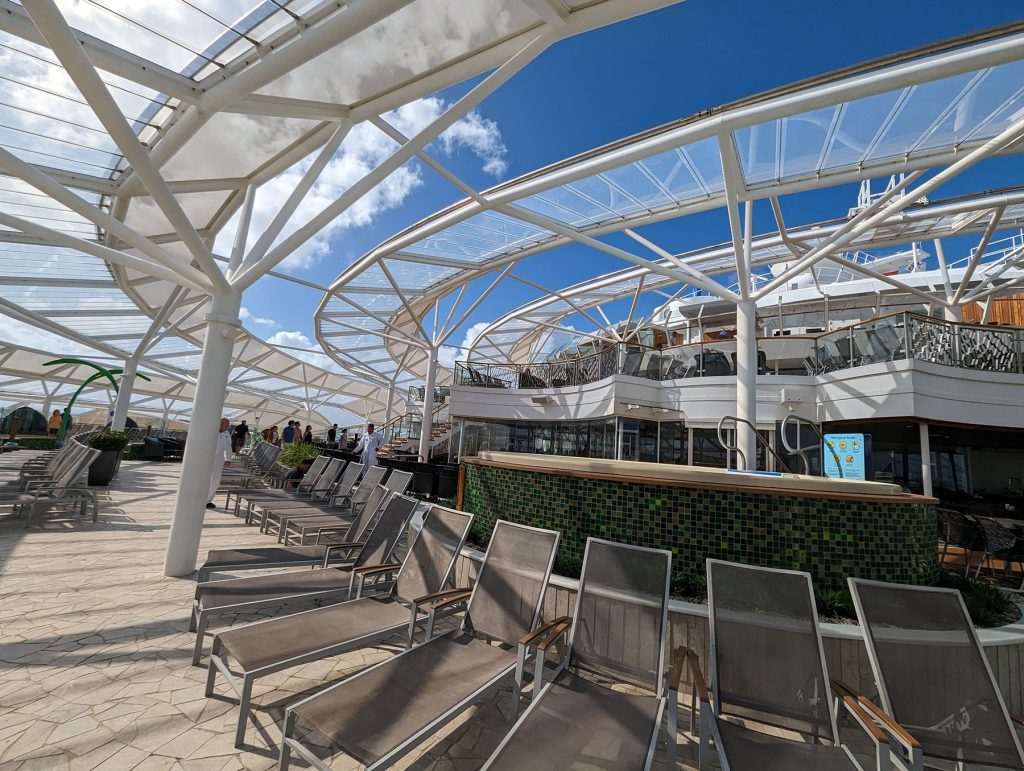 This space is on every Oasis- and Quantum-class ship. The big difference with the Harmony of the Seas is that Royal Caribbean made the odd choice not to have a pool in this area. On every other ship, there's an adult-only pool in this area, as well as hot tubs. For some reason, Royal Caribbean decided that for Harmony of the Seas, they'd put an odd misting sculpture instead. It is a huge miss.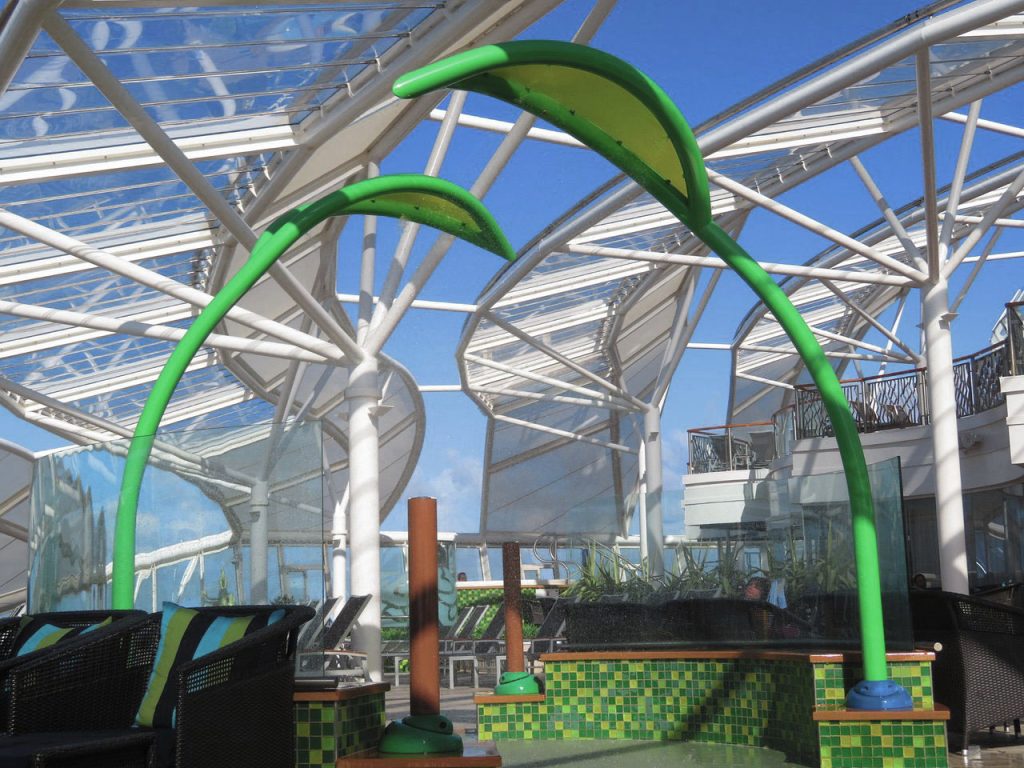 Harmony of the Seas has three other pools and a dedicated kid's play area called Splash Away Bay. However, kids will still be jumping in and splashing in the three pool areas, especially on summer vacation when more than 1,000 children can be onboard. 
HIT – Not much more full feeling than other ships
When I tell people about the Harmony of the Seas or its siblings, the first thing people usually mention are crowds or the fear of being trapped with so many people. However, that was not the case at all with Harmony of the Seas. 
The Harmony of the Seas can hold 5,479 guests when sailing with two people per cabin and as many as 6,687 when at full capacity. That's a lot of people. But, surprisingly, it didn't feel that way.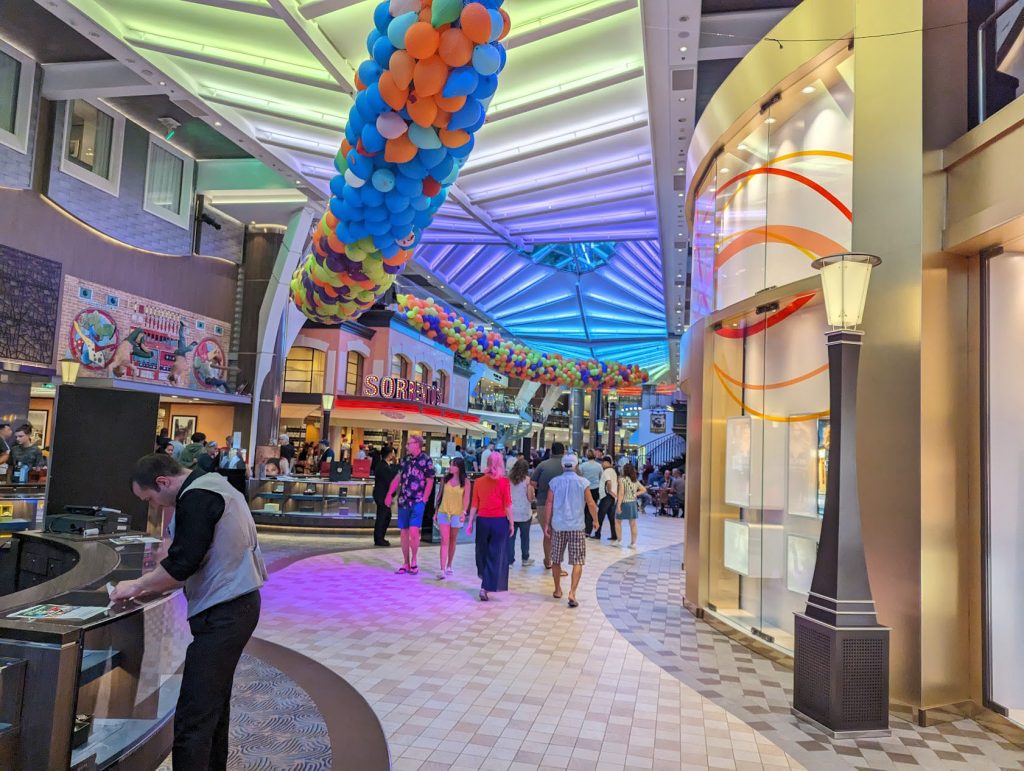 I've been on ships large and small, and Harmony of the Seas didn't feel any worse than any other ship I've sailed. In fact, the improved emphasis on people distribution and flow made it feel less crowded than some smaller ships. At no point did I feel like I was on a ship with 6,000 other people.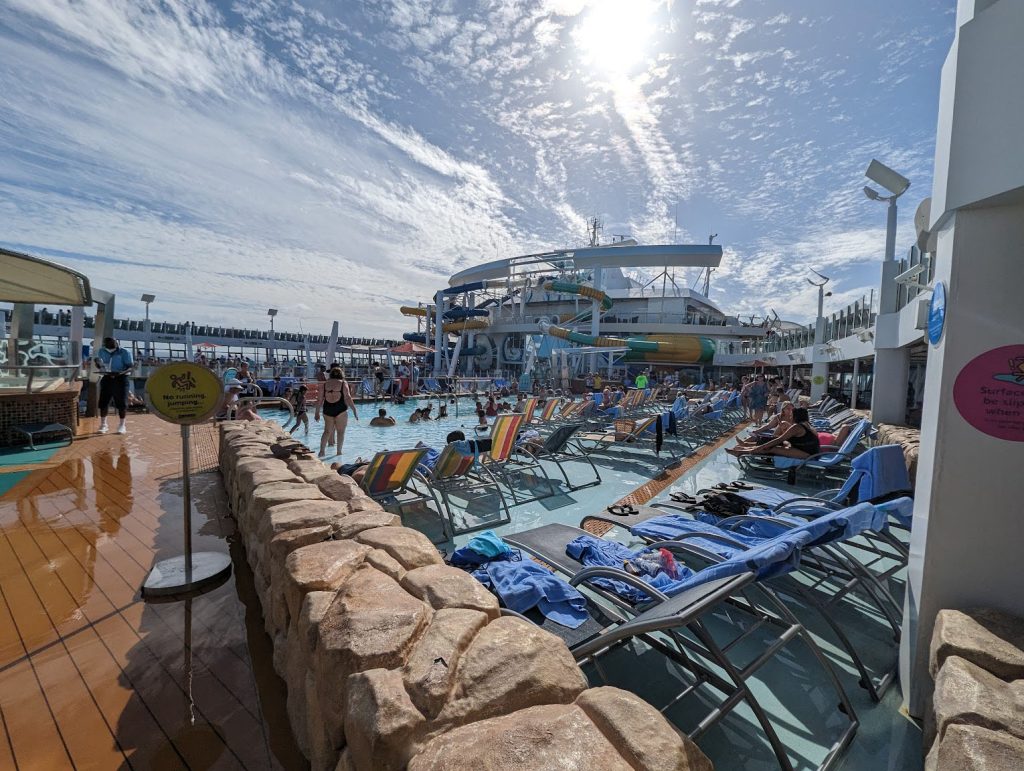 Even on sea days when every passenger is on the ship looking for something to do, lines to activities and attractions were reasonable. The key to this is offering a variety of options (like two FlowRiders, three pools, and multiple dining options) so that no one thing is too crowded. They also utilized scheduling to make the ship seem less full. By having their main production show, Grease, at the same time as the AquaShow, it effectively splits the crowds. 
MISS – Lack of outdoor, shaded seating options 
While there are literally thousands of lounge chairs available on Harmony of the Seas, finding one that's not in direct sun can be challenging. 
The sun deck, one deck above the pools, has lots of seating available, but it's all in the direct sun, which can be oppressive during a sailing in the hot Caribbean summer.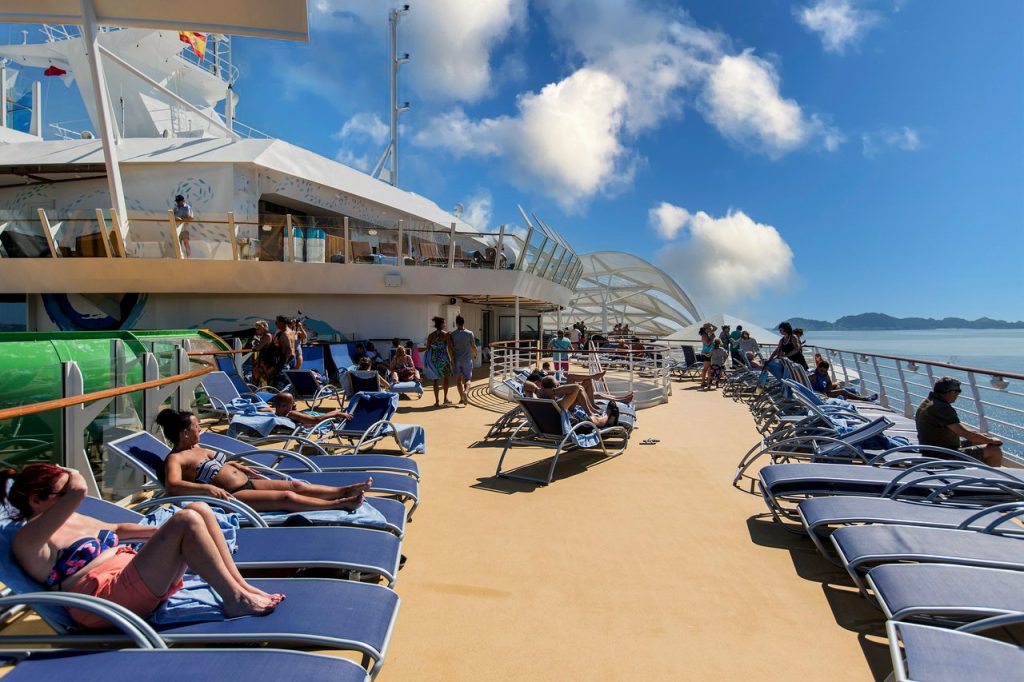 On the main pool deck, there are areas under the overhang over deck 15 which offer some shaded options, but these much-coveted loungers are hard to come by.
It also doesn't help that the Solarium on the Harmony of the Seas is only partially enclosed. The area has wind panels across the top, but mostly the sun is pushing in at full force. 
If you want to be outside but not baking in the sun, it might be a challenge. 
HIT – Variety of food options for breakfast and lunch (most included)
In the old days of cruising, you had two food options: the buffet and the main dining room. Now, ships have diversified their offerings with multiple smaller venues. On Harmony of the Seas, Royal Caribbean put 21 different restaurants across the ship. 
Many of these venues are included with the cruise fare for breakfast and lunch and have no additional charge. In fact, it's entirely possible to go the whole cruise without even stopping in the buffet. Some of my favorites on Harmony of the Seas were the Solarium Bistro for breakfast, the Park Cafe for lunch, and Mini Bites for a quick snack throughout the day.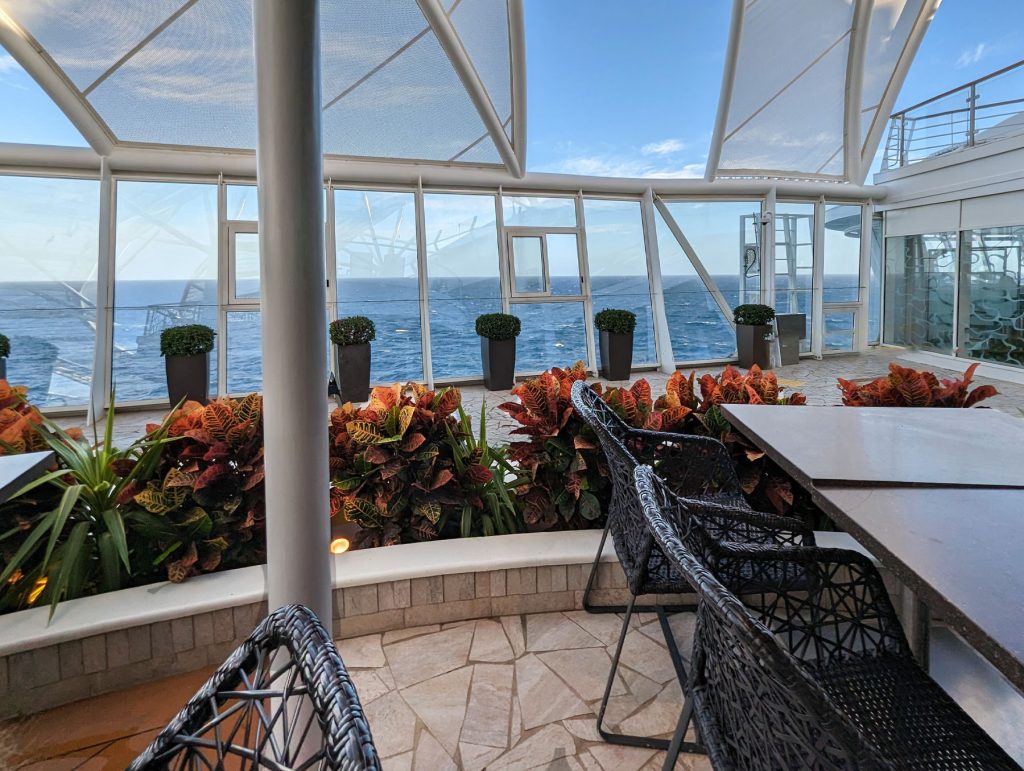 Harmony of the Seas also has a lot of specialty restaurants available for an additional charge. You can go for a date night at Royal Caribbean's signature Chops Grill Steakhouse, have a delicious dinner at Jamie's Italian, experiment with the unique food offerings at Wonderland, or enjoy a dinner with a show at Izumi Hibachi. And those are just a few examples.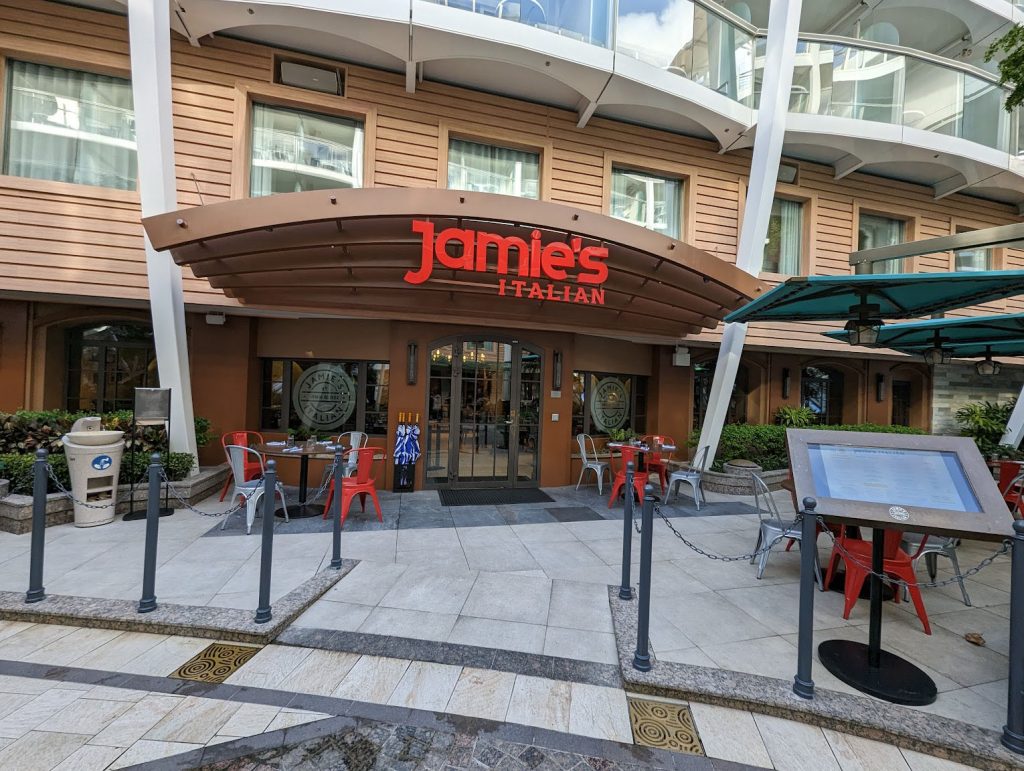 Unfortunately, these specialty restaurants are quite pricey when you consider you already paid for three meals a day in your cruise fare. The cheapest, Sabor, was $20.99, and the most expensive was Chops Grill at $54.99. That being said, some people love these specialty dining options and are okay with paying extra. 
MISS – Hard to find each other
While the Harmony of the Seas' large size makes it great for group travel, it also presents a challenge. Finding and staying in touch with your group members or family is rough on a ship so big. 
If you're traveling on a smaller ship with a group, it's easy to stumble across your friends while going through your day. For example, you'll bump into them while walking to the buffet or on your way back from dinner. 
But Harmony of the Seas is so massive that you could easily not see anyone in your group if you don't plan for it. The sheer number of restaurants, bars, and lounges, makes it harder to get together without planning ahead. 
You can always get an internet plan to stay in touch, but that can be costly, running $13.99 – $19.99 per person per day. Royal Caribbean has a chat feature in their app that you can use between guests on board, but they charge $1.99 per guest per day for it, and it has very mixed reviews. Thankfully, it's been reported that Royal Caribbean will be offering its chat service for free at some point in 2023. That'll make staying in touch with members you're traveling with easier. 
HIT – Cabin options and overall design
Another hit on the Harmony of the Seas is the cabins. With 2,745 cabins onboard, you have a variety to choose from based on your personal preferences and budget.
The Harmony of the Seas, and its sister Oasis-class ships, have a new type of cabin that's unique to Royal Caribbean called interior balcony cabins.
On any other ship, these cabins would be interior cabins with no windows. But because of the Harmony of the Seas neighborhood layout, these interior-facing cabins have balconies. So rather than overlooking the ocean, these cabins overlook Central Park and the Boardwalk, almost like apartments in a city that might overlook a courtyard. It's great for people who find an interior cabin too claustrophobic but don't care about ocean views.
The Harmony of the Seas also has the more traditional cabins you'd expect, like interior, ocean view, ocean balcony, and a variety of suites.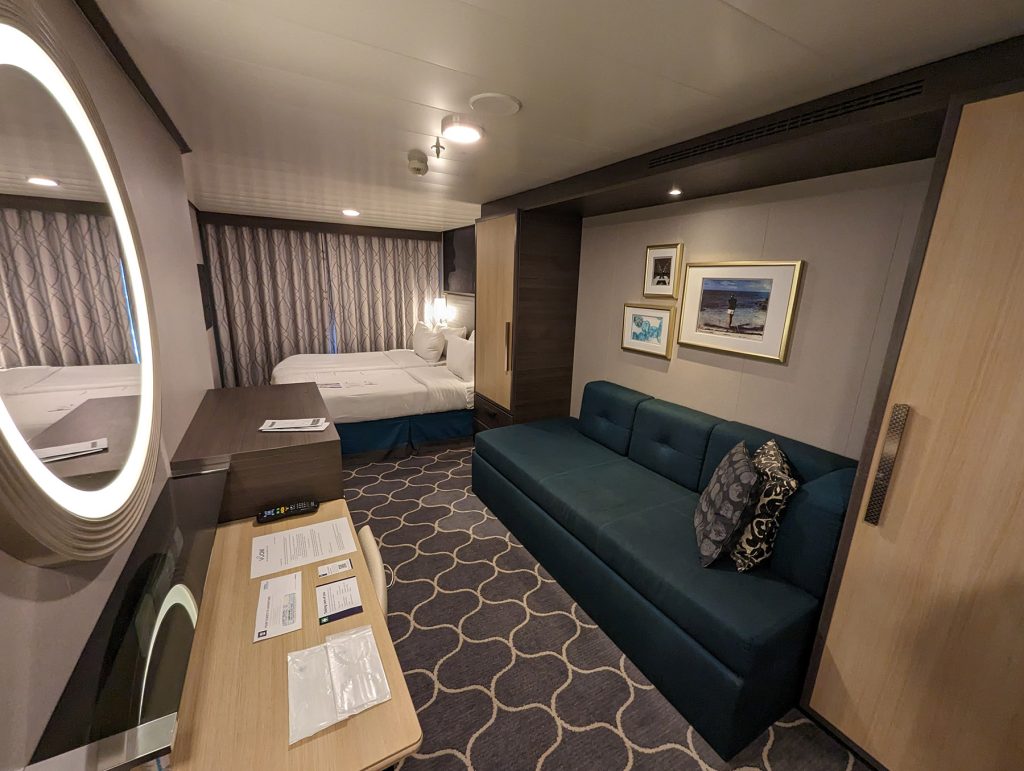 The cabins feel spacious and are easy to get around. In terms of size, the standard cabins are pretty run-of-the-mill compared to other Royal Caribbean or Carnival ships (although they will feel quite roomy compared to Norwegian ships).
The cabins on Harmony of the Seas are well-appointed with a subtle, contemporary design. Nothing about the cabin design sticks out, and they don't have a ton of personality. But they are well designed.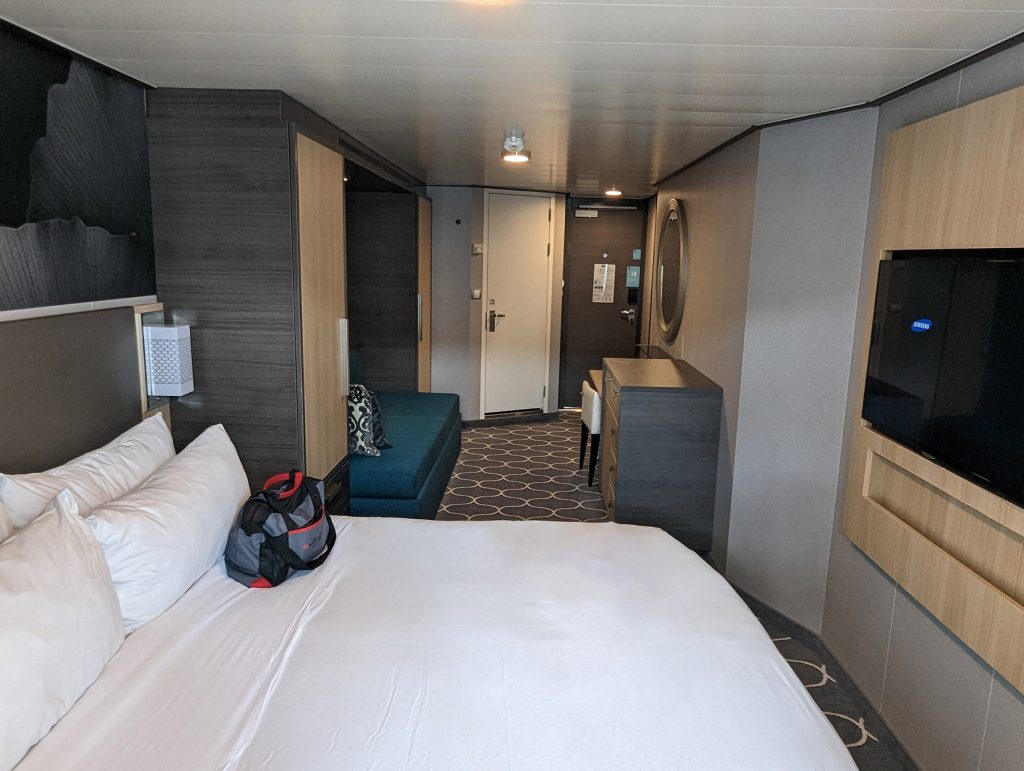 One of my favorite parts is the closet design. Rather than having a crowded, claustrophobic entryway lined with bulky closet doors, the designers put the closets further in the cabin. They're split into two separate closets that straddle the bed or couch, depending on the room. This design not only breaks up the room visually, but it means two people can each be in a closet at the same time.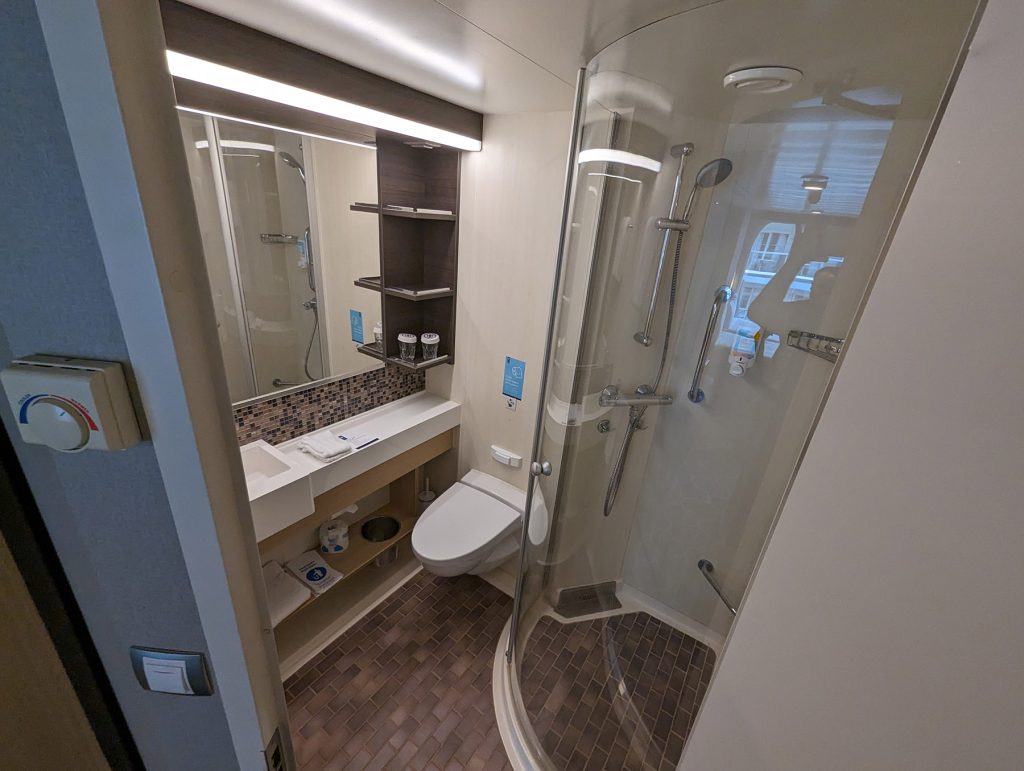 The bathrooms have a lot of storage, although they're not huge. The shower can feel a bit small, but the curved plexiglass shower door makes it feel larger than ships that use curtains. The bathroom also has another smart design choice; a small light in the bathroom that stays on all the time. It makes it easy when you have to use the restroom in the middle of the night.
MISS – Elevators 
Elevators are a problem on most cruise ships; it's just a fact. And everyone complains about them. The Harmony of the Seas is no exception. The ship has 24 guest elevators to shuttle passengers up and down its 18 decks, but it just can't keep up during peak times. 
Unless one of the cruise lines figures out a way to revolutionize the elevators (Carnival tried on their Vista-class ships and sorely failed), it's just going to be something that is destined to frustrate passengers. 

The reason that I mention it specifically here is that Harmony of the Seas is a big ship. If you have mobility issues or would like to take the stairs, look at booking a cabin close to the main pool deck, 15, or between the Royal Promenade and Boardwalk, Deck 6. That way, it's less of a walk. We booked a cabin on Deck 10, thinking it'd split the difference between the two main areas, but in reality, it just made it equally inconvenient to use the stairs either way. 
Also frustrating is that on the Harmony of the Seas, the buttons in the elevators didn't light up very brightly when people pushed them. It led to confusion as guests got on and thought it wasn't registering their button push. 
Verdict: Large ship with something for everyone
Not everyone will want a large cruise ship, but for those that do, the Harmony of the Seas is one of the best. It has a variety of attractions, dining, bars, and entertainment options. But it may be too large. On our five-day sailing, there were bars, restaurants, and venues we never even saw.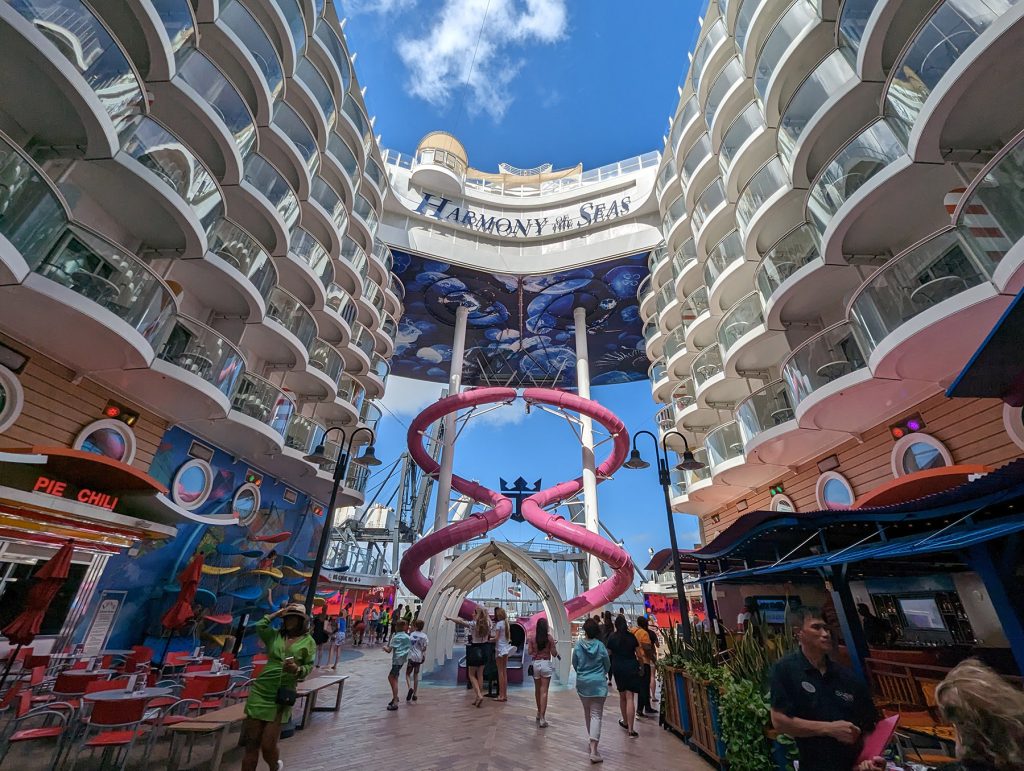 You might like Harmony of the Seas if…
You like adventure
Zip lining, ice skating, rock climbing, surfing–there's just so much adventurous stuff to do on Harmony of the Seas. So if you want to combine a little thrill with your relaxing vacation, this ship is a good fit. 
You're new to cruising
If you've never cruised before, Harmony of the Seas is a good way to get your feet wet. There's something for everyone on here, every age, every type of vacation, and every type of cuisine. Also, for people who fear being on the ocean, the way Harmony of the Seas is designed takes the emphasis away from the fact that you're sailing in the middle of the water. 
You want to sail on one of the largest ships in the world
Some people love the superlatives. They want to be on the tallest, fastest, and newest. The Harmony of the Seas is currently the third largest ship in the world, and it's not drastically smaller than the first and second. It's a great way to experience the biggest of mega-ships. 
You might not like Harmony of the Seas if…
You like ocean views
Harmony of the Seas feels more like a gorgeous resort than a cruise liner. Few bars, restaurants, or lounges have actual views of the water, and ocean lovers might miss that connection with the sea.  
You don't want to walk a lot
Even though it has a well-designed layout, the fact that it's one of the world's largest ships means you'll have to walk around a lot on the Harmony of the Seas. If you have mobility issues, this ship might not be for you. On a sea day, you could easily do as much walking as you would at Disney World (we did 6 – 8 miles a day). 
You want a homey feeling ship
Some people like the feel of a smaller ship, where there's just a handful of bars and venues to go to. While the Harmony of the Seas doesn't feel crowded, if you prefer going to the same bar every night and dinner at the same restaurant, a smaller ship might be a better fit. 
Follow along on the rest of our Harmony of the Seas cruise
Harmony of the Seas – Cruise Blog - Day 1 – Fort Lauderdale
Harmony of the Seas – Cruise Blog - Day 2 – Sea Day
Harmony of the Seas – Cruise Blog - Day 3 – Costa Maya
Harmony of the Seas – Cruise Blog - Day 4 – Cozumel
Harmony of the Seas – Cruise Blog - Day 5 – Sea Day
5 Hits and Misses on Royal Caribbean Harmony of the Seas
If you want to stay up to date with what we publish, sign up for our monthly newsletter
CruiseSpotlight is an Amazon Associate. We may earn a commission when you click links to retailers and purchase goods.