5 Hits and Misses of Royal Caribbean's Liberty of the Seas
This summer, I sailed aboard the Liberty of the Seas for a 5-day cruise to Bermuda. It was a family cruise with 15 different people traveling, ranging from 2-years-old to 65. Here are the hits and misses of the ship based on my experience.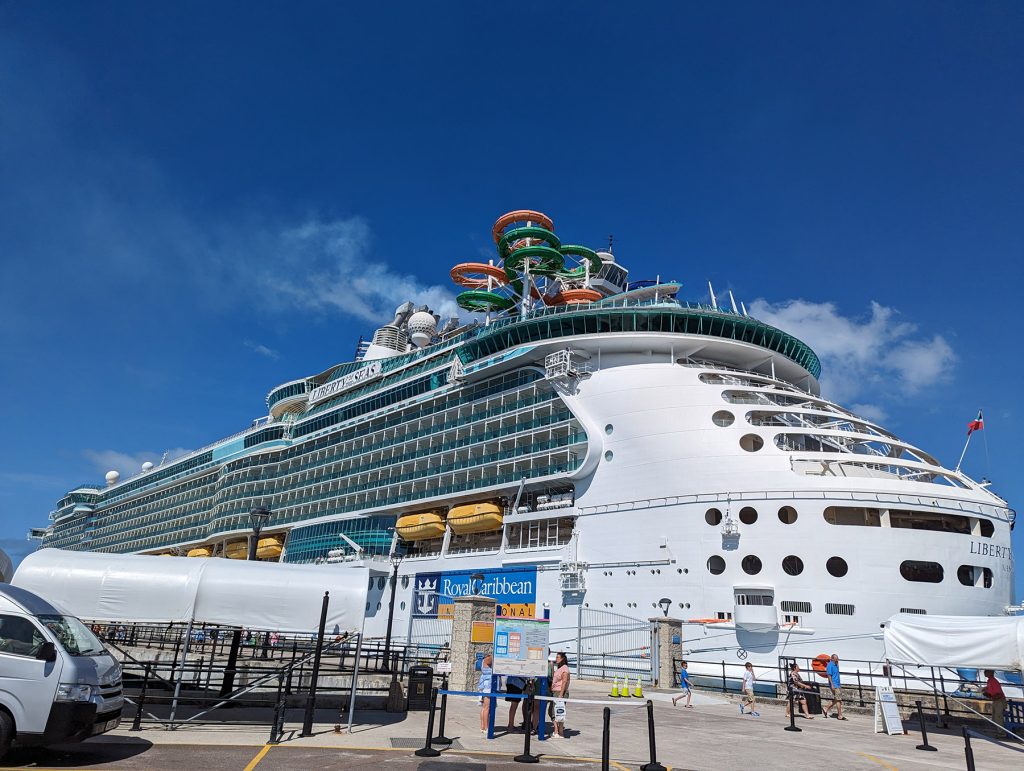 Hit – Kids' splash park and Baby Bay
Liberty of the Seas has one of the best kids' splash areas I've ever seen on a cruise ship. Located right next to the main buffet, it consists of a full-size pool with a waterfall, two kids' hot tubs, a large climbing structure with water slides, and a baby splash area. The splash park area, called Splashaway Bay, is one of the largest I've seen at sea and would rival many regional/location splash parks. The structure has a large dumping water bucket and two tube water slides, one around 15 feet tall.
The Liberty of the Seas is also among the few ships with a Baby Bay. Royal Caribbean does not allow children in swim diapers in the pools and splash areas, so on many ships, toddlers are out of luck. On Liberty of the Seas, they had a dedicated splash area for toddlers to splash around and go down a little slide. Looking at pictures, it feels small, but in person, it was the perfect size and kept the 2-year-old in our group busy for hours.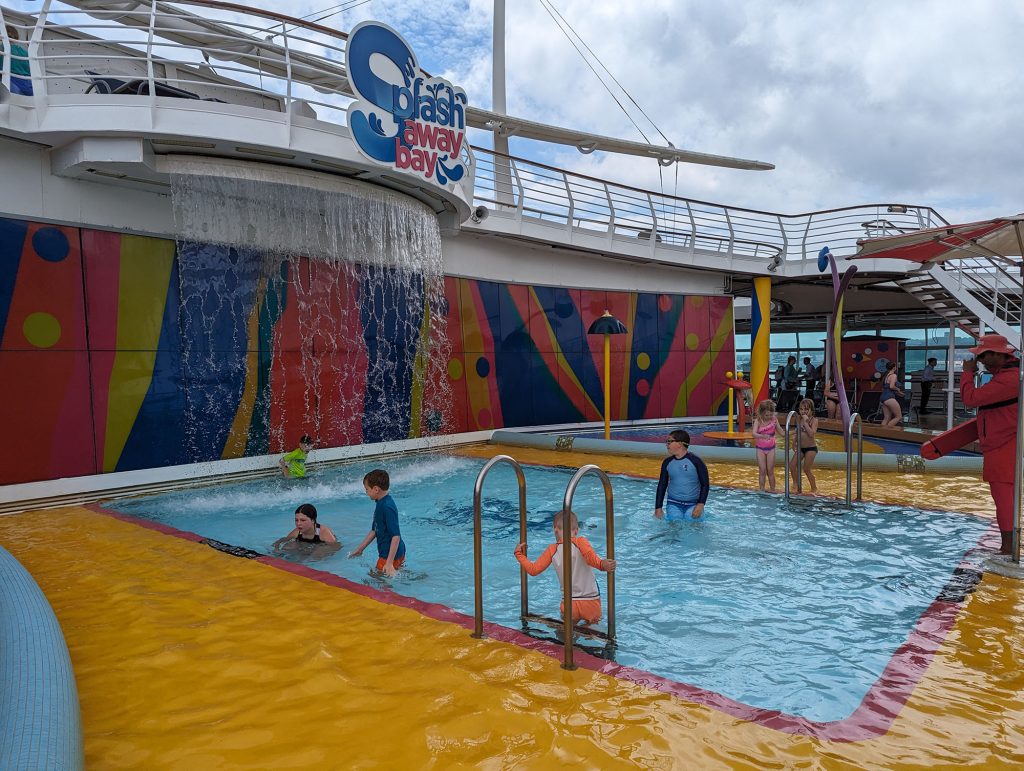 Having a designated kids' play area that's separated from the other pools limited how many kids were in the other pools on the ship, which was nice.
The area also had a full-service bar which made it easy to grab a soda or drink while the kids played. The soft serve machine, which is a cart on Liberty of the Seas, was also set up here each day, making it easy to grab a cone for the kids.
Miss – Lack of food options
The number of food options on Liberty of the Seas is a bit lacking. While I enjoyed the food itself, there were few places to get it.
For breakfast, your only options were the Windjammer buffet and the Main Dining Room. The buffet was jam-packed, and finding a table each morning was nearly impossible. The poor design of the food stations meant lines were crisscrossing all over the place, and the bulky furniture in the dining area took up space and made it hard to get around. On sea days, the main dining room had up to an hour wait.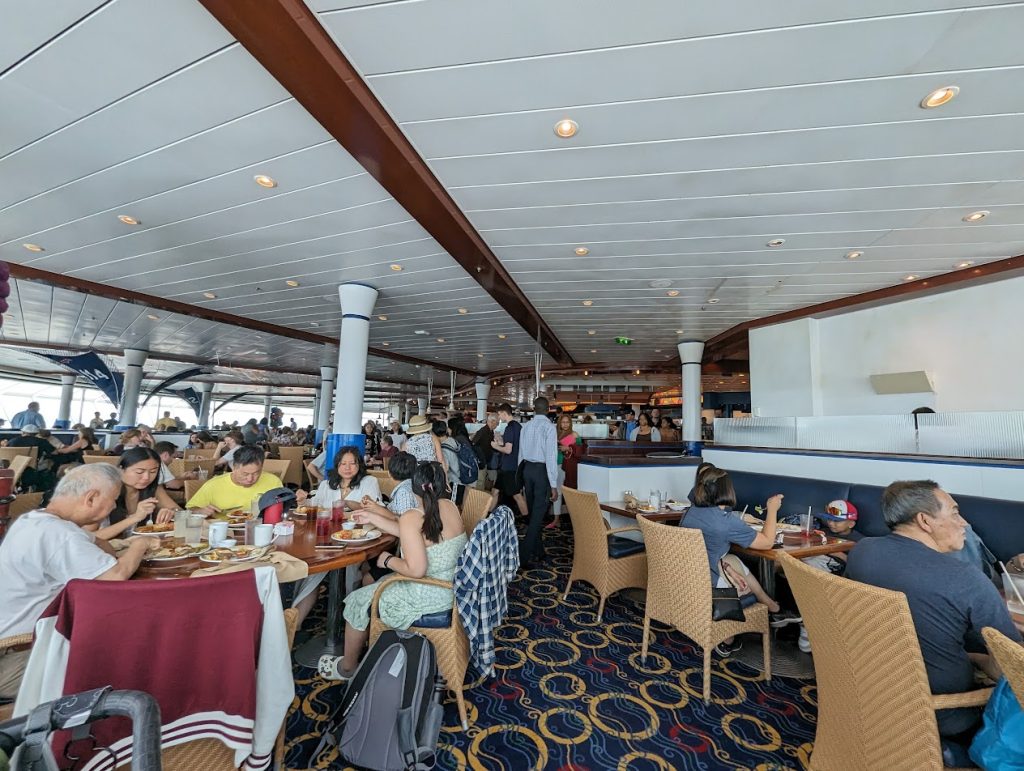 Usually, when I cruise, I try to avoid the buffet at all costs for breakfast and lunch. On Royal Caribbean's newer ships, you can have a great experience going to the Solarium Bistro, Park Cafe, Johnny Rockets, or Cafe Two70 for breakfast or lunch instead. They have the same great food options but much more space and no lines.
With Liberty of the Seas, you had no included options besides the buffet and dining room. They offered light sandwiches at Cafe Promenade and pizza at Sorrento's, but neither is appropriate for breakfast. It's frustrating that they don't open alternate venues for breakfast. For example, Johnny Rockets is open on Oasis-class ships for a complimentary breakfast. But on Liberty of the Seas, it sat unused. At lunch, it wasn't much better. Liberty of the Seas needs more included food options to get rid of crowds.
That being said, the food was all good during our sailing (although that is a subjective measure), and we had amazing service every time we ate.
Hit – Moderate size
While Liberty of the Seas was one of the largest ships in the world when it debuted, it's now in the middle of Royal Caribbean's fleet. Ships have gotten bigger and bigger. Liberty of the Seas is a good option for people who prefer mid-size ships. Most of the activities on the ship are located at the pool decks (Decks 11 and 12) or the Royal Promenade area (Decks 4 and 5). That made the ship easy to navigate and get around.
It's not a small ship by any means, but on Liberty of the Seas, I was walking 2 or 3 miles per day on a sea day, compared with 4 – 6 miles per day on Royal Caribbean's Quantum- or Oasis-class ships.
It also makes it great for group cruises because you bump into each other during the day. On an Oasis-class ship, you could easily go a whole day without seeing someone else from your group. On Liberty of the Seas, running into each other near the pool, in the buffet, or grabbing a drink at the bar was easy.
Miss – Cramped and congested spaces
The Liberty of the Seas often felt cramped and congested, way more than the newer or larger ships. My previous two cruises before this were the Harmony of the Seas and the Carnival Celebration. Both held around 2,000 more people but felt much less crowded and a much more enjoyable experience.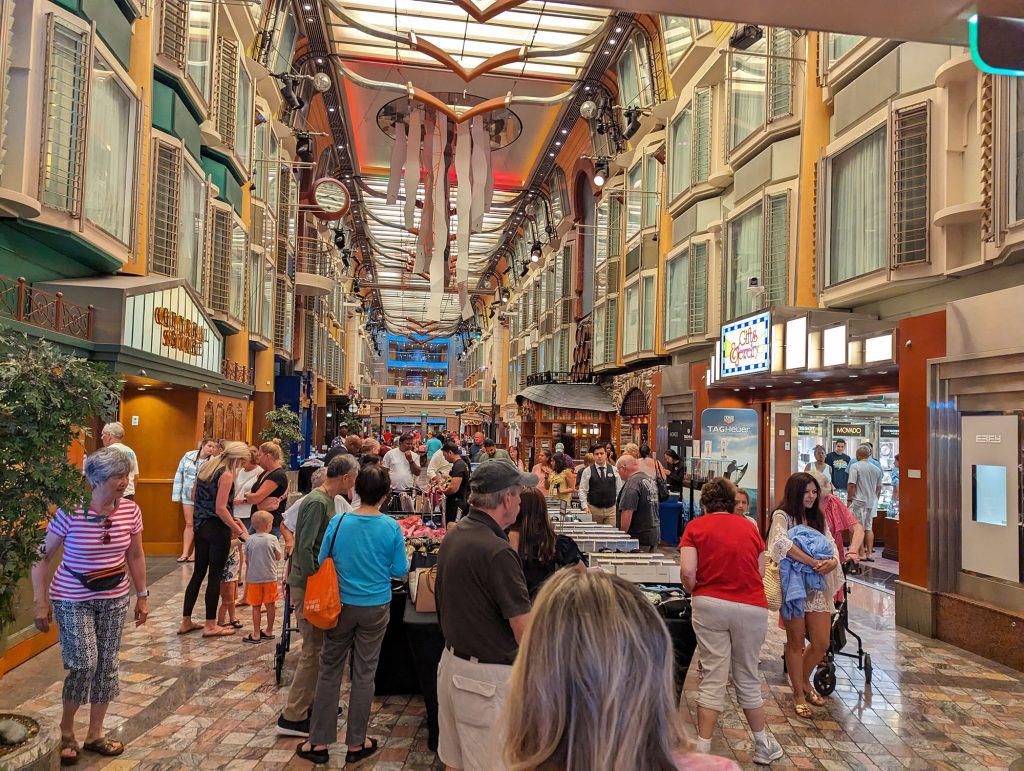 It was evident everywhere: bars and lounges were often full, the pool deck was jam-packed on sea days, and the Royal Promenade often felt like there were too many people. The Windjammer buffet was also grossly undersized and had a really poor layout, so it always felt crowded when you went.
To be fair, this cruise was the first sailing from NYC after local schools let out, and Liberty of the Seas was at total capacity (not just every cabin sold, but every bed sold). That meant there were lots of kids and lots of crowds. You might not have this problem if you're sailing in the off-season.
Hit – Variety of cabins to choose from
On older ships, you really just have four options of cabins: interior, ocean view, balcony, and suite. The Liberty of the Seas has a few new options you won't find on other cruise lines or older Royal Caribbean ships.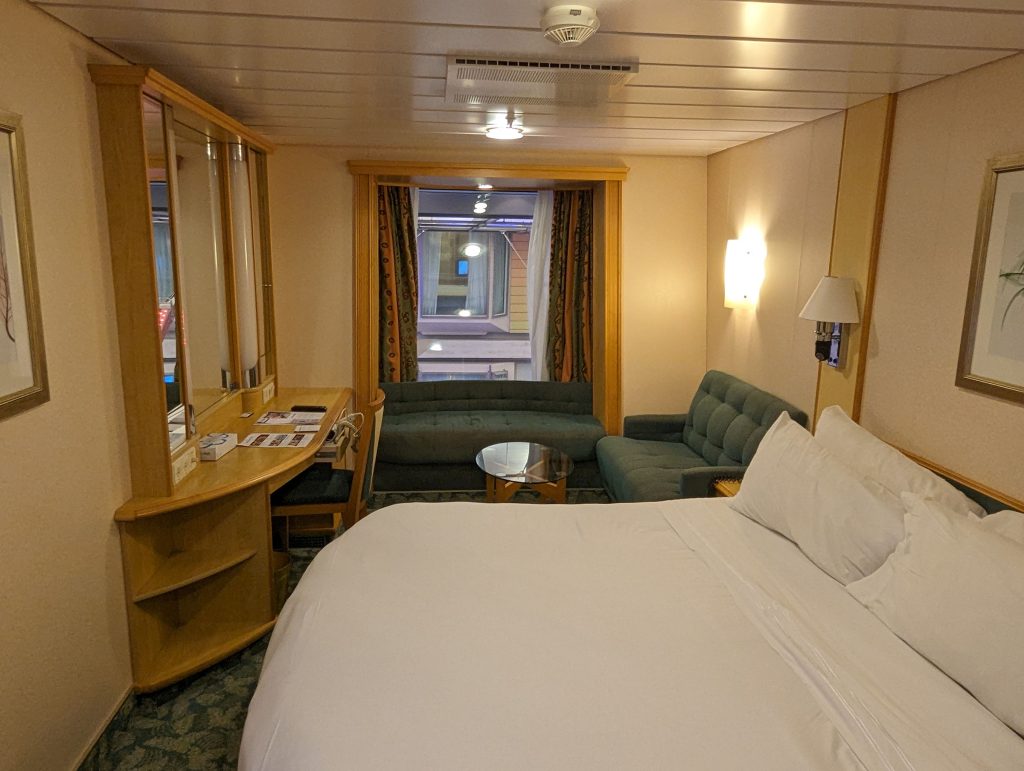 The Liberty of the Seas and other Voyager-class ships have Promenade-view interior cabins. These cabins line the Royal Promenade that runs down the ship's center and extends four decks high. They're technically interior cabins but have a large window that overlooks the Royal Promenade. It's an excellent option for those trying to save some money but find that a standard interior cabin is too claustrophobic. The window area has a seat that makes the room feel much more spacious than it is.
A few other options, like a Large Interior Promenade cabin, were available for families. While there are only a handful of these cabins, they're great for families traveling together and a nice option instead of having to get two connecting cabins.
Miss – Entertainment and schedule
This miss is something that may change as itineraries and cruise directors change, but on our 5-day sailing to Bermuda, the entertainment schedule was pretty bleak. On the 5-day sailing, they only had one adult comedy show. The main theater, which holds nearly 1,300 people, was packed because it was the only show that entire sailing.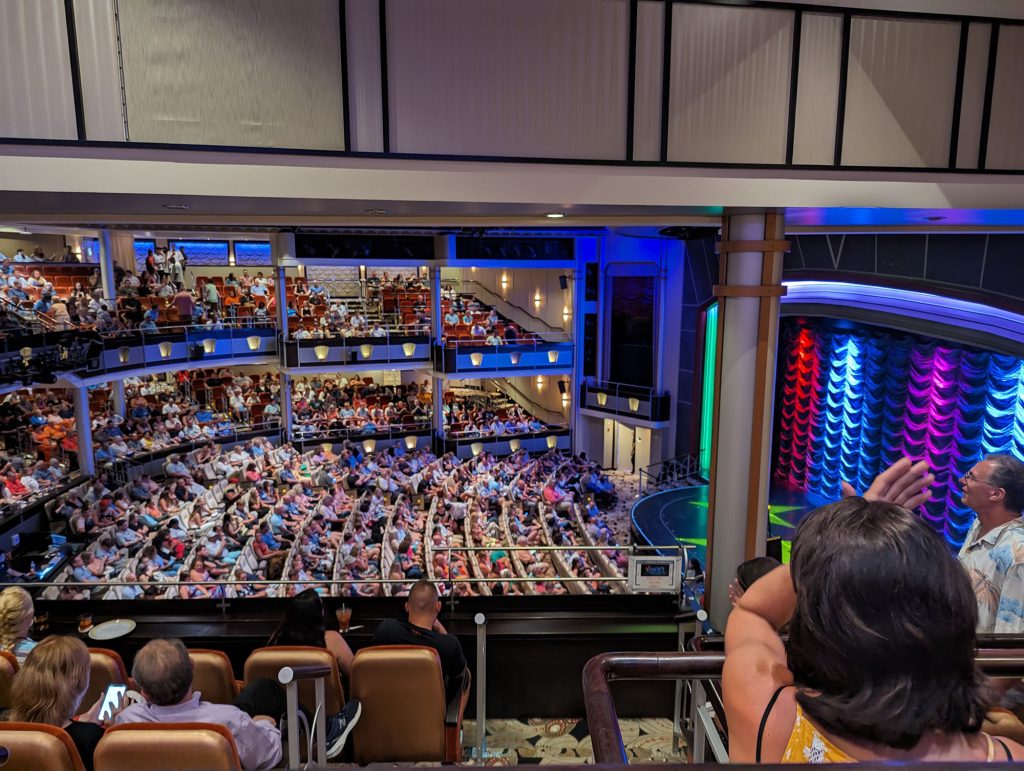 They also made odd scheduling choices. For example, the Love and Marriage show, a staple of almost every cruise and typically prime-time entertainment, was scheduled at 2:30 PM on the last sea day. The Crazy Quest, an adult interactive game, was scheduled for 10:30 PM on the last night on the cruise.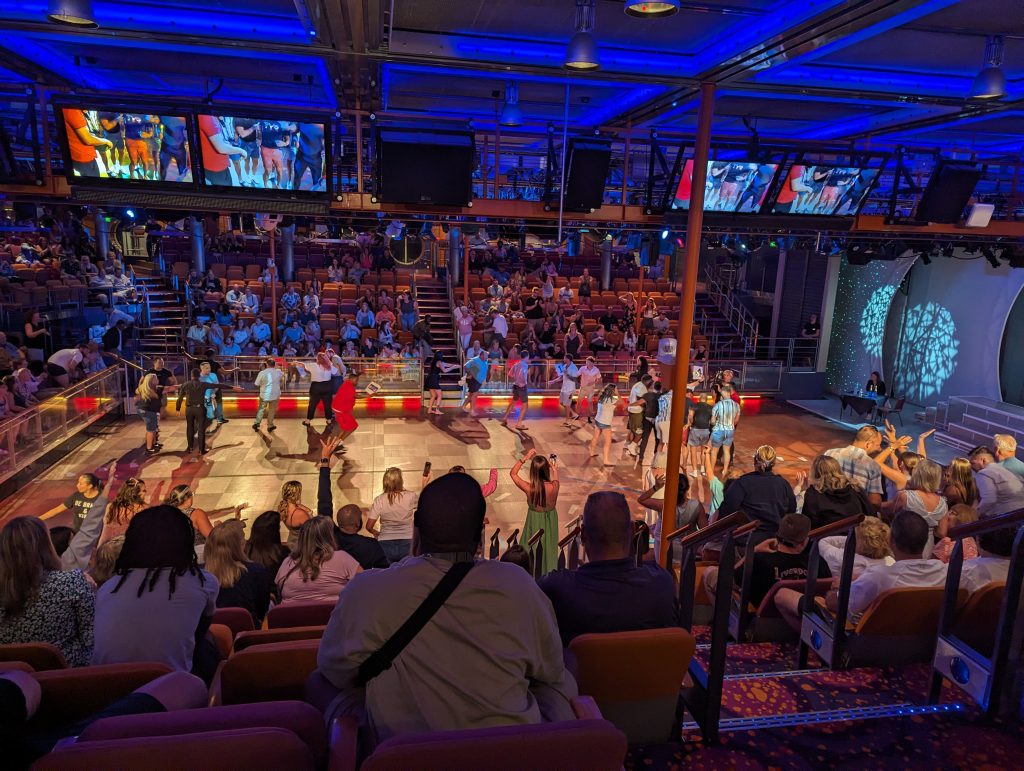 Some nights, entertainment was completely dead after 9 PM. One night, there was no live music anywhere except the dance club. Typically, ships have the piano bar, English pub, and Bolleros going until at least 11 and more usually 12.
The ship had stuff to do, like an ice show, aerial show, and production of Saturday Night Fever, but the entertainment staff missed a lot of opportunities.
Hit – Good number of activities onboard for an older ship
While it doesn't have as many activities as some of the newer megaships, the Liberty of the Seas has a lot onboard to keep you busy.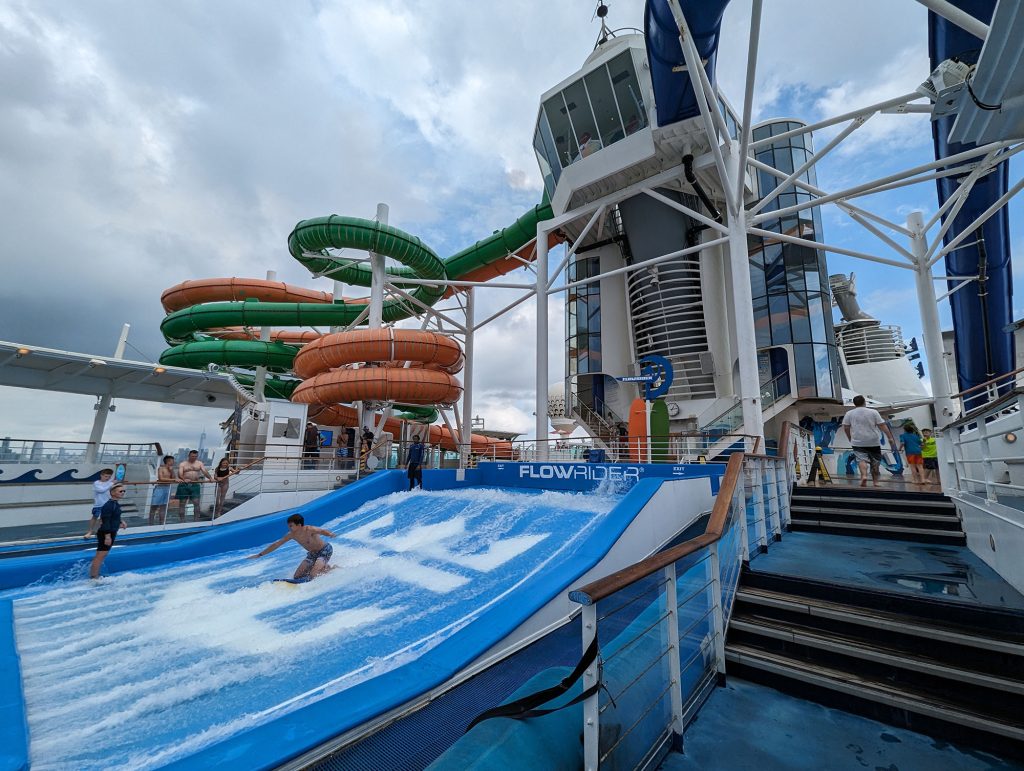 You can try your hand at the 40-foot rock climbing wall or challenge yourself with the FlowRider surfing simulator. The ship has three separate waterslides, and although the tube slides are some of the slowest I've ever been on (read more here), the Tidal Wave slide is completely unique for a cruise ship.
Liberty of the Seas has a sizeable mini golf course at the front of the ship and a huge kids' splash area in the middle of the ship.
You'll also find Studio B (read more here), the ice skating rink where you can skate during the day or watch amazing ice shows at night.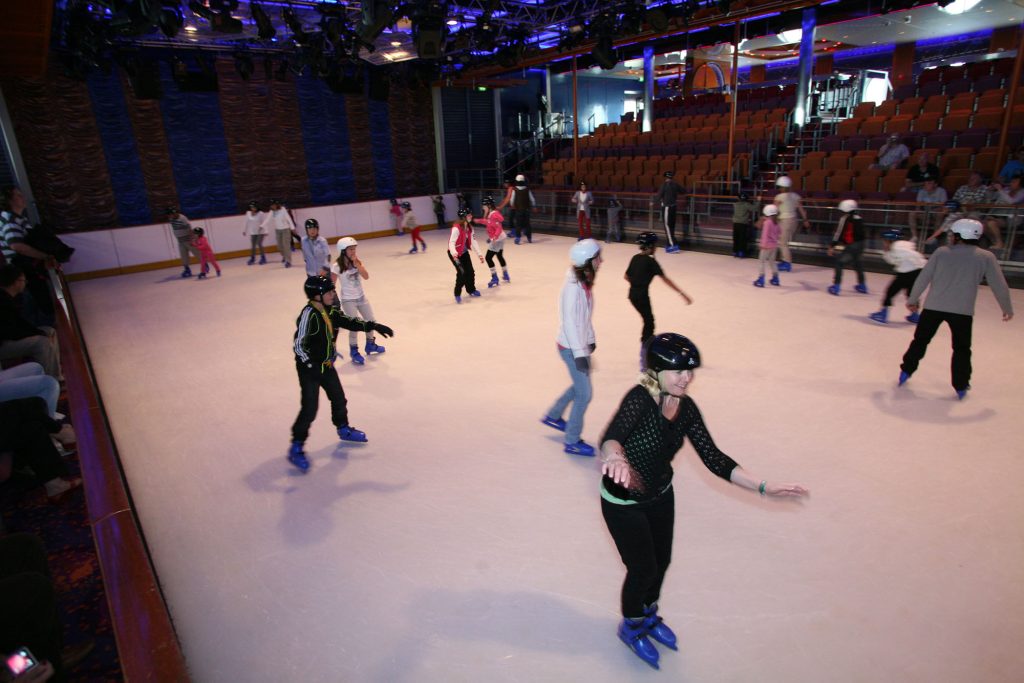 It's notable because the older ships in a fleet typically don't have as many activities. The Liberty of the Seas balances between the lack of activities on the oldest ship and the huge number of activities on the newest ships out there.
Miss – Communication with guests
Typically, I try to stick to things that will be consistent between sailings, like structural or layout issues, and avoid things that might change as staff changes, but I made an exception for this one. Communication on the sailing we took on Liberty of the Seas was terrible.
Royal Caribbean's insistence on getting rid of most printed forms of communication led to confusion and issues for the sailing. They no longer provided a printed version of the Cruise Compass, Royal Caribbean's daily schedule of events, even if you requested one. That meant you had to use the app for everything. While the app is really solid and suitable for many things, it doesn't have a "front page" like the Cruise Compass does that has essential information.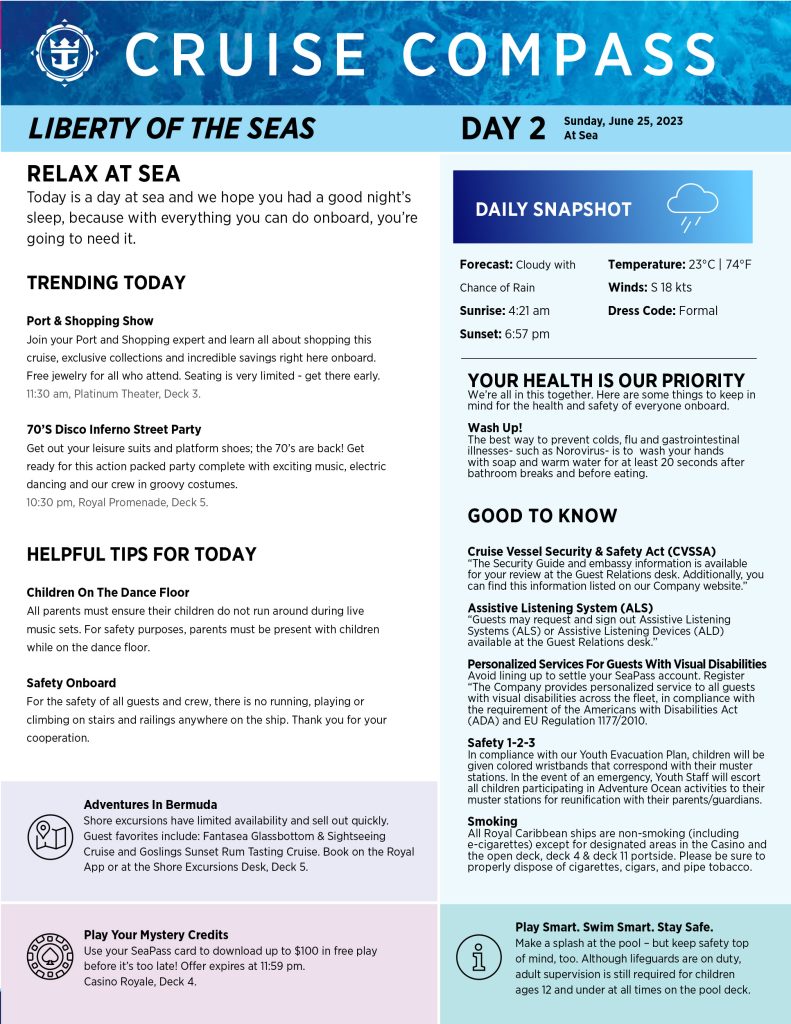 For example, on the first night of our cruise, the ship switched from Eastern Standard Time to Bermuda Time one hour earlier. There was no written notification in our cabin, no pop-ups in the app, and no announcements until the next morning. That means when we got up at 9 AM for breakfast, it was really 10 AM. On other cruises where the time changed, the stateroom attendants left papers in our room to make sure.
Another example was the ice skating signup. Traditionally, to sign up for ice skating, there was an appointed time when you would show up at the Studio B ice skating rink, and then they'd tell you when to come back for your session. On this sailing, they switched to a signup using the app but didn't tell anyone about this change. You only saw it if you want in the app and reserved. Since Voyager-class ships, like Liberty of the Seas, don't usually require reservations for any shows or events, it didn't even occur to me to look. By the time we found out, all the sessions were booked, and the kids in our group were sorely disappointed.
For departure, thankfully, Liberty of the Seas still provided printouts that outlined what to do, but on the day of, there was no direction. Our group was supposed to wait for our tags to be called in the main theater. We sat there, and there was no staff to tell us what was happening, no announcements, and no status on the big screens like the newer ships do. We were basically on our own until a staff member finally came in and said, "all tags are called, everyone can leave."
It's not the end of the world, and it can change when new staff comes in, but if you're new to cruising or Royal Caribbean, you might struggle on Liberty of the Seas unless they change their policies.
Hit – Staff
If I'm going to ding the Liberty of the Seas on things that can change over time, like entertainment schedule and poor communication, I also have to give it credit for good things that might change. The staff of the Liberty of the Seas was terrific.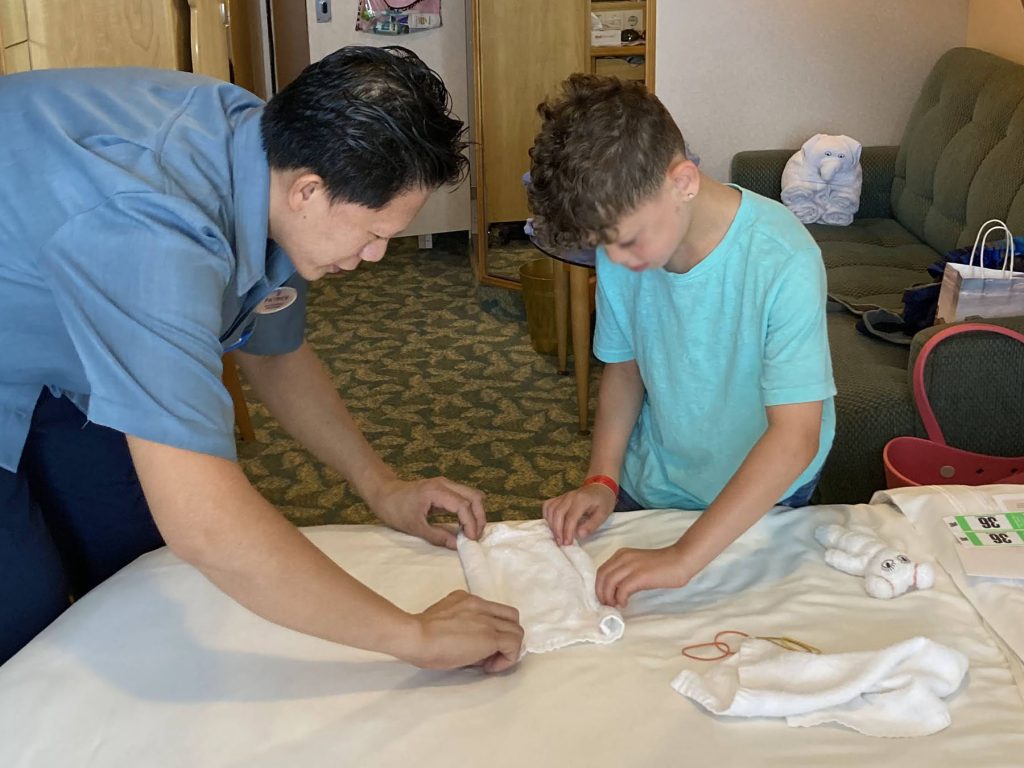 For drink service, the bartenders were all very friendly and prompt; I rarely waited more than a couple of minutes for a drink. The main dining room staff for our set-time dining was attentive, friendly, and provided an excellent level of service. Even the service at the Windjammer buffet was top-notch. It's probably some of the friendliest staff I'd ever experienced in a cruise ship buffet.
Miss – Aged and in need of a facelift
The Liberty of the Seas was built in 2007 and is starting to show its age. It was scheduled to get a significant overhaul in 2020 but was canceled due to the pandemic. Because of that, the ship feels dated. The carpets are worn, and in some hallways, pockets of humidity creep into the hallways due to poor HVAC systems. It's also missing some things like Coke Freestyle machines, which Royal Caribbean offers on almost every other one of their ships.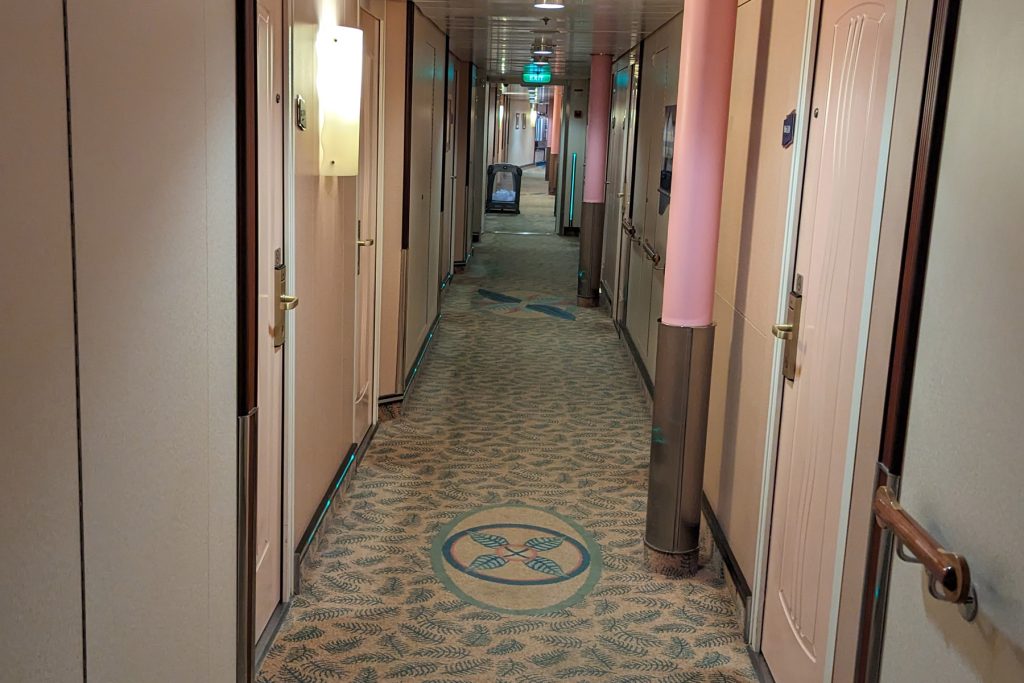 That's not to say the ship was in a state of disrepair. The ship was clean, and Royal Caribbean maintained it as best as possible without significant spending. When other ships got "Amplified," they got new restaurants, bars, and a Caribbean-themed beach area. These changes would go a long way to improve the Liberty of the Seas.
That being said, don't let it stop you from sailing; just don't expect a "new" ship. If you're paying considerably less than a brand-new ship, it's a good deal, but I wouldn't pay the same to sail on the new Wonder of the Seas as I would to cruise on this older, dated ship.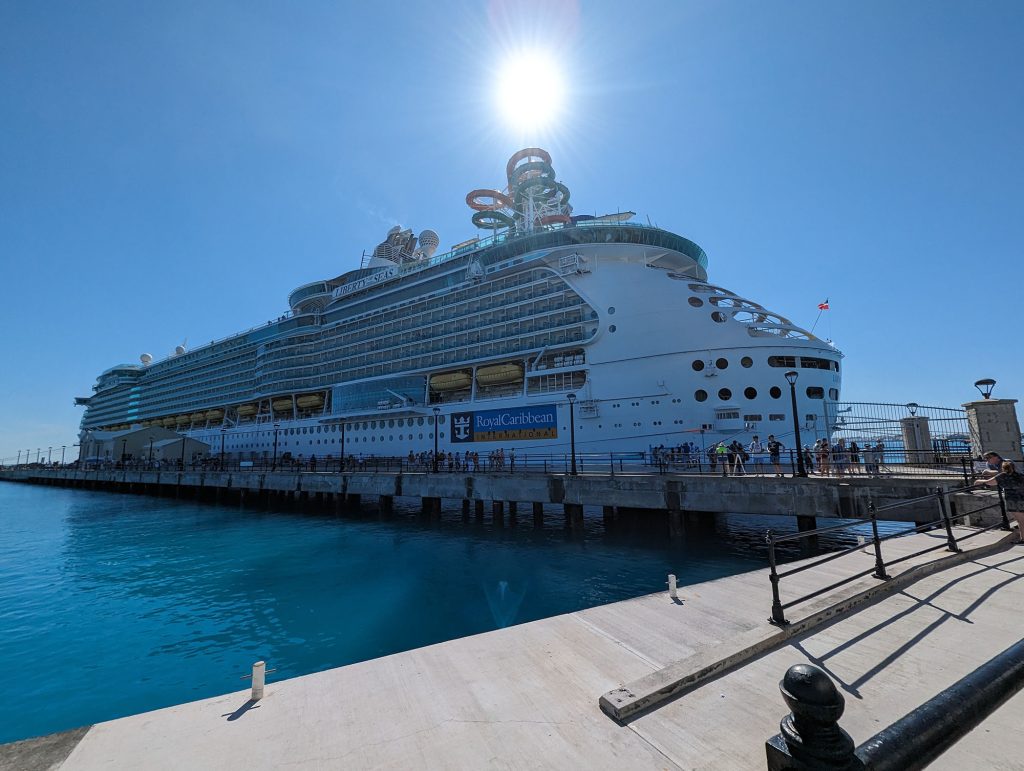 Verdict – a solid ship that you should consider if you like the itinerary or ports
Some cruise ships are a destination in and of themselves; you could easily spend a whole vacation exploring the ship itself and never getting off. The Liberty of the Seas is not one of those. You might be disappointed if you're used to the plethora of dining options and activities found on the mega-ships. But that doesn't mean you should avoid it. For the five-day cruise we took, with only two sea days, it worked for us and provided a fabulous vacation.
You might like Liberty of the Seas if you…
You dislike megaships
You have toddlers or younger children
You are new to cruising or haven't sailed in a long time
You might not like Liberty of the Seas if you..
You need the latest and greatest cruise ship amenities
You like the Solarium area on Quantum- or Oasis-class ships
You like a lot of included alternate dining options
You hate crowds
Follow along on the rest of our Liberty of the Seas cruise
Liberty of the Seas – Cruise Blog - Day 1 – Bayonne
Liberty of the Seas – Cruise Blog - Day 2 – Sea Day
Liberty of the Seas – Cruise Blog - Day 3 – Bermuda
Liberty of the Seas – Cruise Blog - Day 4 – Bermuda Still
Liberty of the Seas – Cruise Blog - Day 5 – Final Sea Day
5 Hits and Misses on Royal Caribbean Liberty of the Seas
If you want to stay up to date with what we publish, sign up for our monthly newsletter
CruiseSpotlight is an Amazon Associate. We may earn a commission when you click links to retailers and purchase goods.