5 Hits and Misses of the Carnival Celebration
Last Updated on August 24, 2023
The Carnival Celebration is one of Carnival's newest and biggest ships. It's the second ship in the Excel-class, behind its sister ship Mardi Gras, and represents a significant change for Carnival's ships. So how does it stack up? We'll take you through the hits and misses of the Carnival Celebration based on our March 2023 sailing. This sailing was a spring break cruise at full capacity, so it was the best test of how the Celebration could handle a full ship.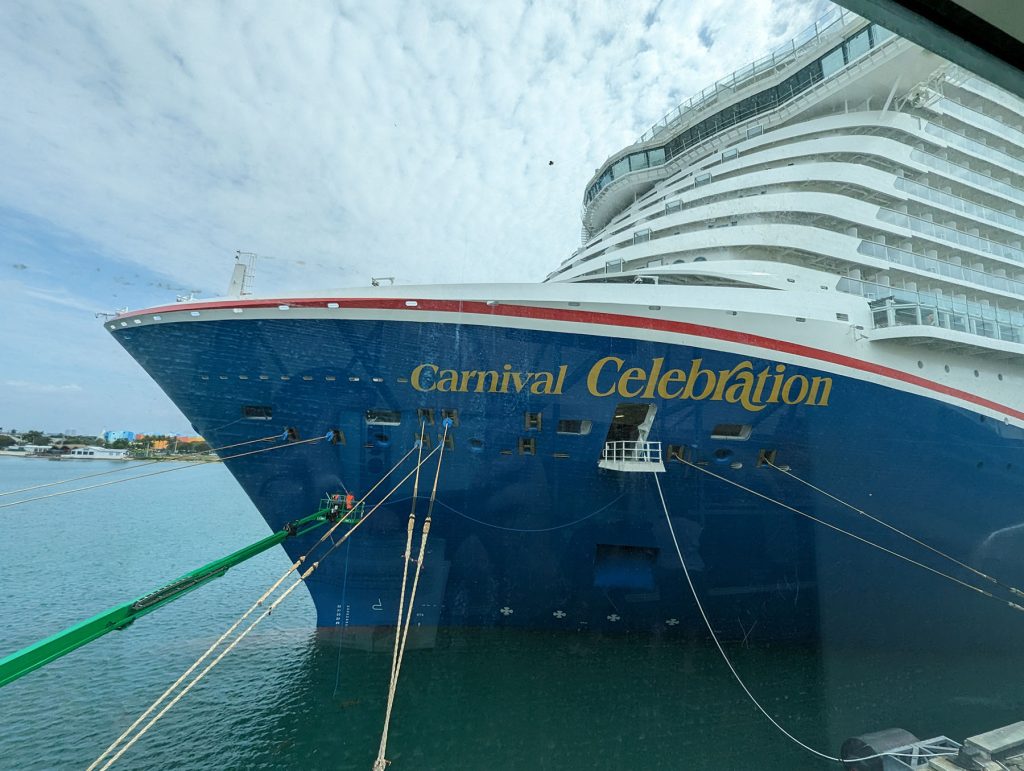 Hit – Good balance of style, personality, and class
Carnival's early cruise ship designs were certainly…original. The earlier ships, designed by Joe Farcus, had lots of neon, gold, glitter, and chrome. It might have felt cutting edge at the time, but it didn't age well, and now it feels dated and tired. On the plus side, though, the ships had personalities, each with a unique decor and style. 
Once Carnival parted ways with Farcus, the decor shifted. It went much more contemporary and modern, but they lost a bit of their personality in the process. Ships like the Carnival Vista and Carnival Panorama ended up feeling more like a Hyatt Regency or chain hotel. It wasn't necessarily bad, but it meant it was less memorable.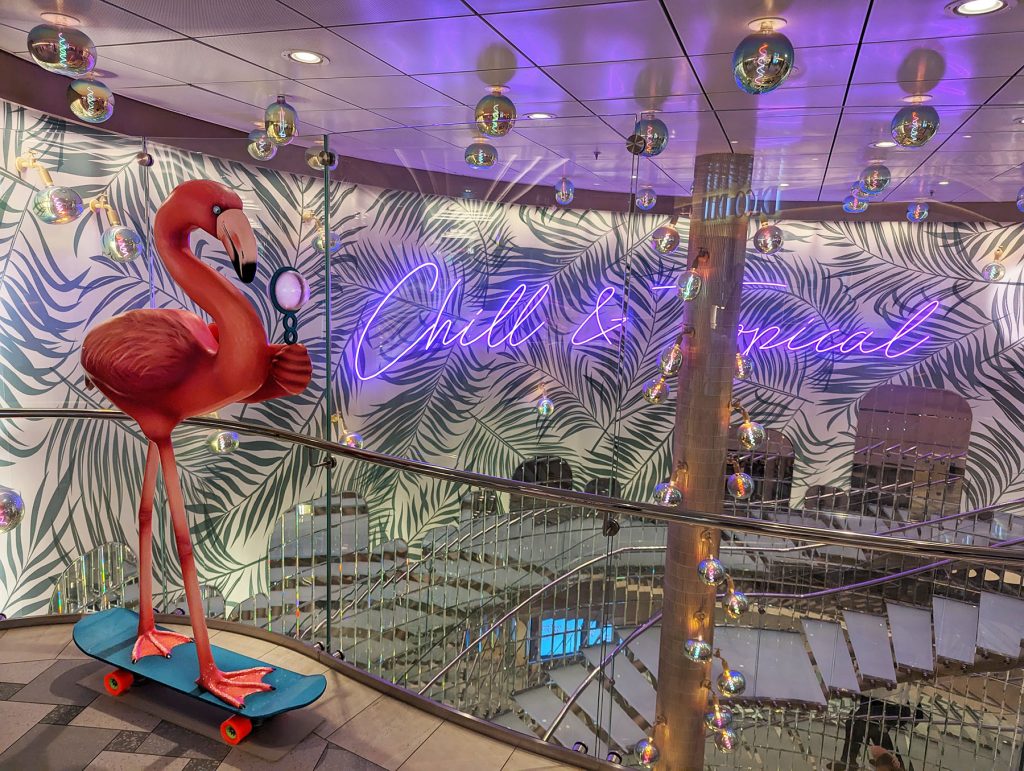 The Carnival Celebration is an excellent combination of the two approaches. In part of the ship, you'll see a beautiful crystal staircase flanked by two large statues of flamingos roller skating. In another part, you'll see a higher-class bar filled with relics from Carnival's past, including the original wood and glass doors from the first Mardi Gras. It's a good balance and doesn't feel cheap or tacky. Overall, it gives the ship a distinct personality.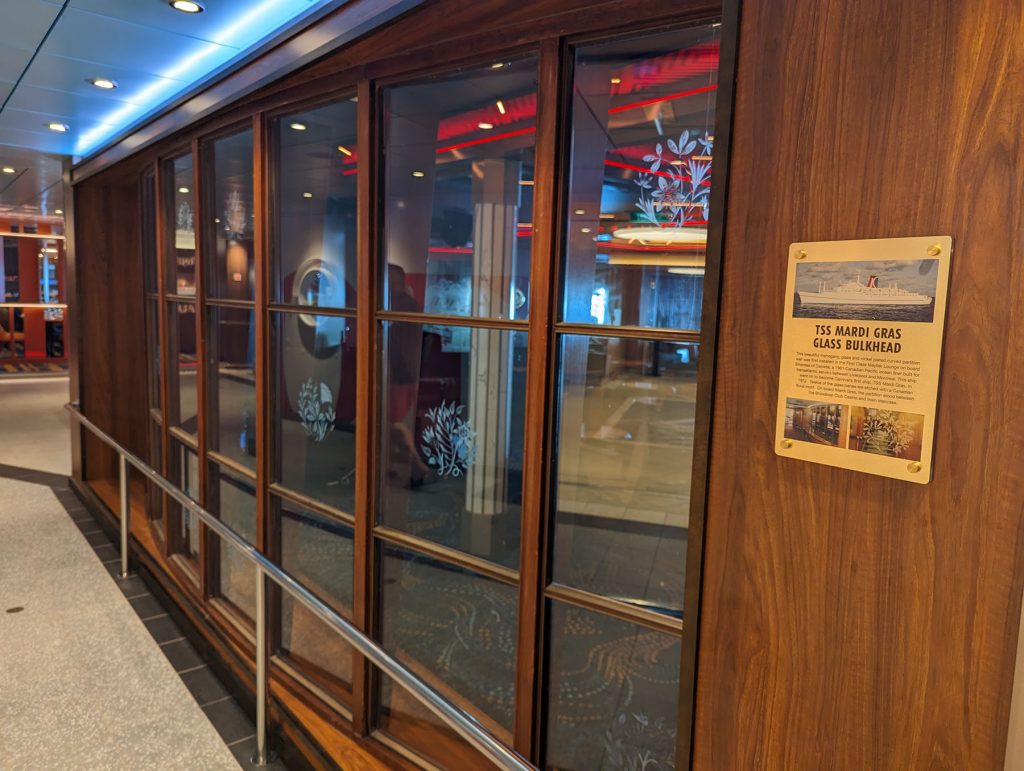 Miss – Reduced outdoor promenade
One thing I was most excited about on the Celebration was the exterior promenade area located on Deck 8 called The Lanai and Summer Landing. When I sailed on the Carnival Horizon, it was one of my favorite places, offering tons of comfy seating options, lots of shade, and peace and quiet. 
Unfortunately, it's a bit of a step backward on the Carnival Celebration. On the Vista-class ships, this area wrapped around 2/3 of the ship, offering plenty of space. On the Carnival Celebration, it's downsized to only half of the ship. That decrease was due to the floor-to-ceiling windows in the Celebration Central and also the expanded Havana Area (a private/exclusive area reserved for guests paying extra to stay in Havana suites).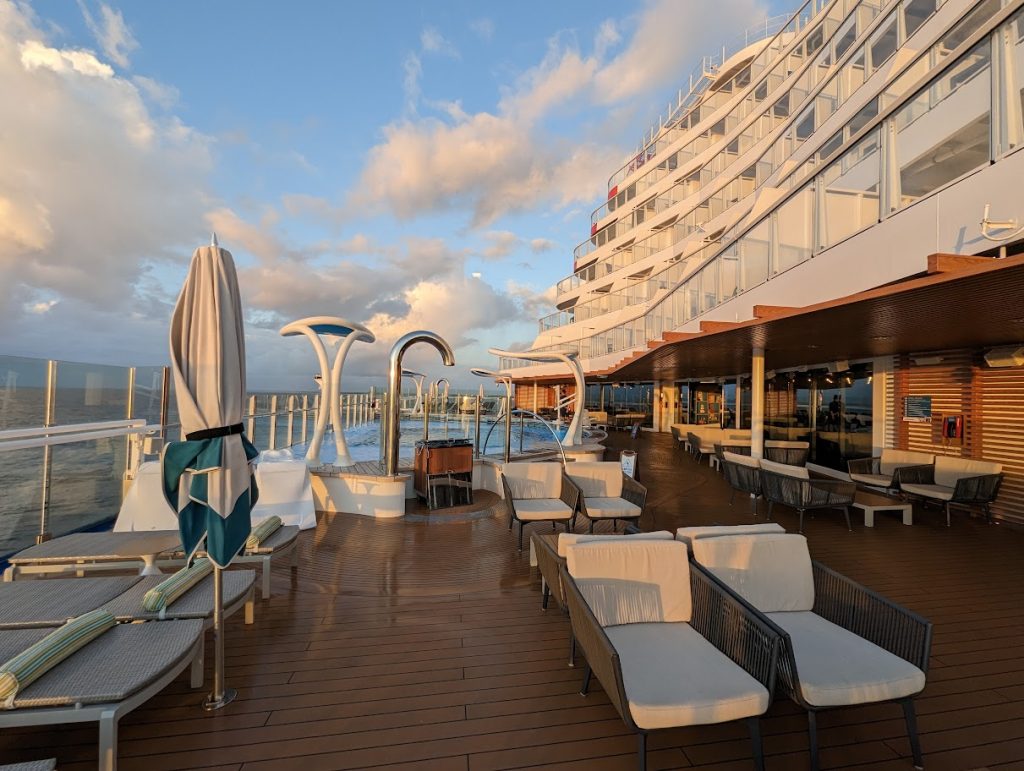 There's also a lack of relaxing seating on the Lanai. Guests will only find a handful of loungers in this area, and because of that, they're often taken early off in the day (although there's no problem getting them later in the day as we spent several sunsets in this area). The loungers you see in the photos are great, but they're few and far between.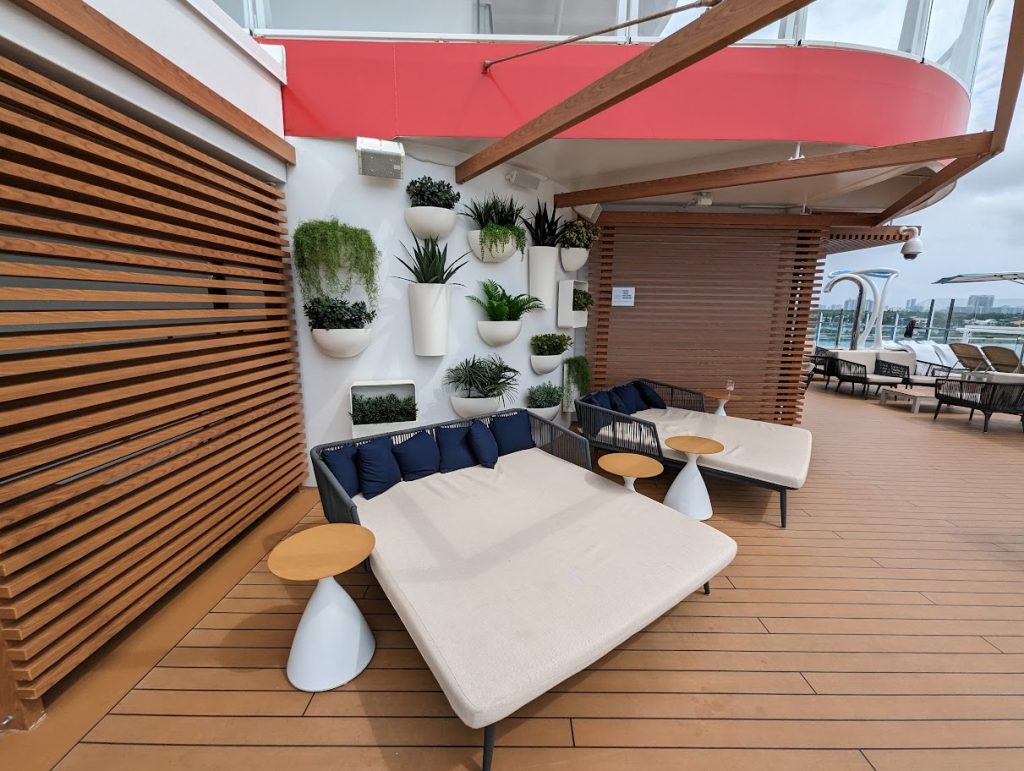 A good portion of the space is dedicated to outdoor seating for the pizza place and Bar 820 (as well as the smoking section), but they're just standard chairs and tables, not more comfy chairs like I found on the Horizon. It was a bit disappointing to me, but the views here were amazing.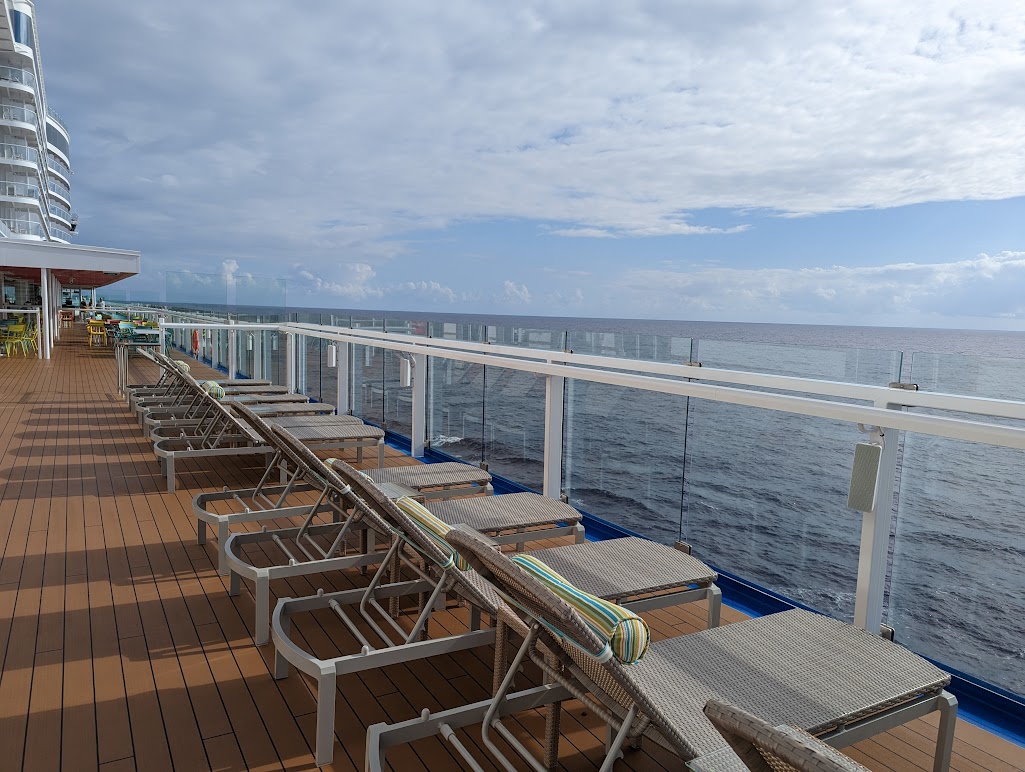 Hit – Included food options
If you're coming from another cruise line or an older Carnival ship, you will be blown away by the number of included food venues available. During breakfast and lunch, you have so many different choices to try. In fact, during my 7-day sailing, I only ate in the main Lido Buffet once. 
And it's not just the sheer number of places but the variety and quality of these options. Carnival puts a significant focus on these restaurants. Unlike other cruise lines with basic buffet-style/kid's food like chicken fingers for their casual offerings, Carnival brands their experiences with unique names and themes.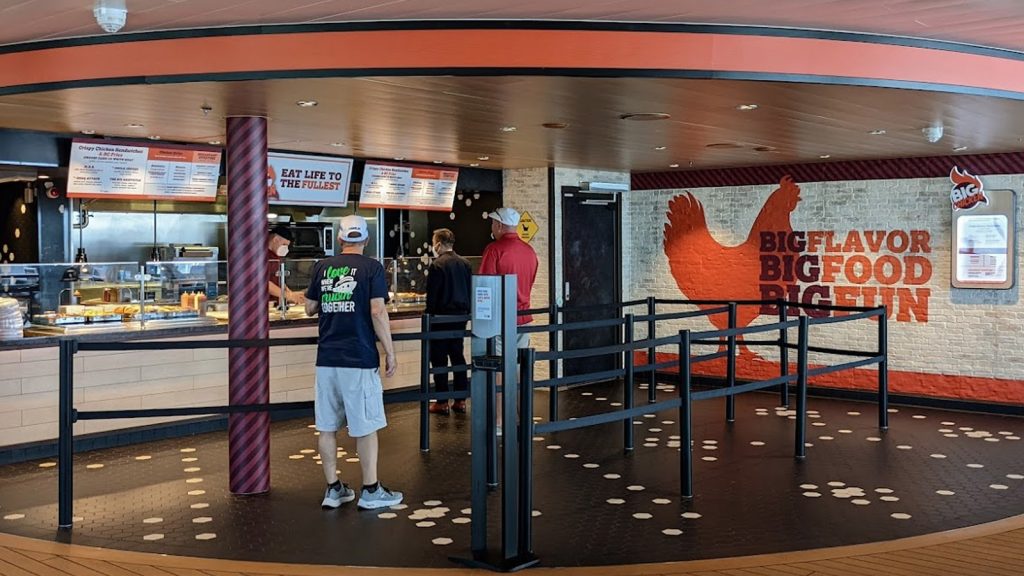 The Celebration has Carnival's new Big Chicken created in partnership with Shaq. The food here was delicious and flavorful. This place always had a line (although it moves quickly). Another venue is Guy's Burger Joint, which gets supersized on the Celebration and is still one of my favorite burgers (not just at sea). 
Guests will also have the Deco Deli, Miami Slice, Street Eats, Blue Iguana Cantina, Fresh Creations, and Guy's Pig & Anchor BBQ as options. You could easily go to a different place for lunch each day and not repeat once the whole cruise.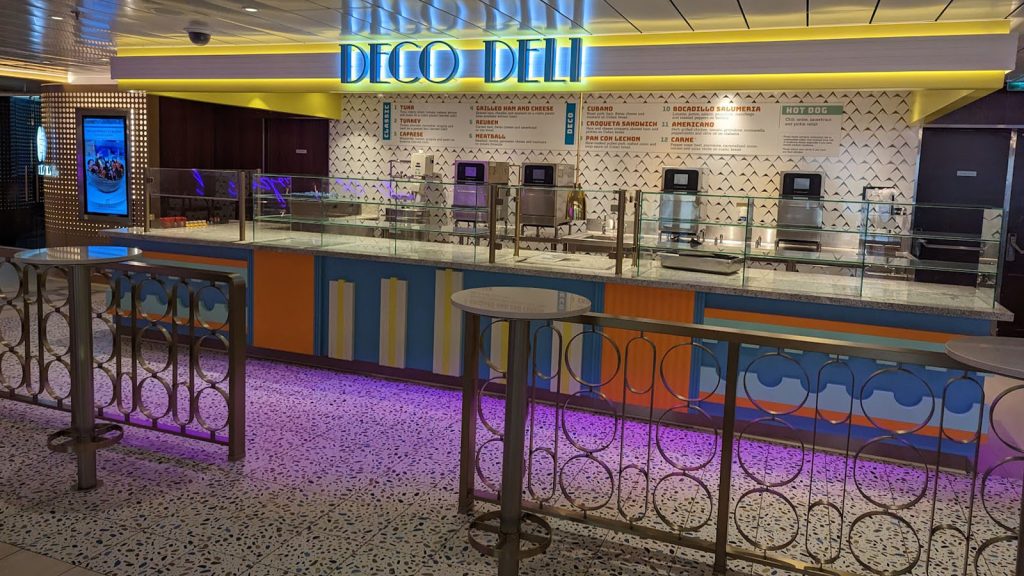 While the Celebration's lunch options really steal the spotlight, there are quite a few complimentary dinner options as well. Besides the staples, the Lido Marketplace buffet and the Main Dining Room, Carnival also allows guests to eat at Chibang, Cucina Del Capitano, and Guy's Pig and Anchor Smokehouse for free. Oddly, none of these venues stood out as much as their fast-casual counterparts in terms of creativity and quality. 
Note, the complimentary dining options may change in the future. On Mardi Gras, Carnival was running a test to allow everyone to go once to ChiBang and then charge $10 per person after that. 
Misses – Public bathrooms
The Carnival Celebration has a bathroom problem. They're small, hard to find, spread out too far, and the doors can be hard to operate. For some reason, Carnival doesn't provide ample signage to make the bathrooms stand out, and they're often hidden down corridors or behind posts.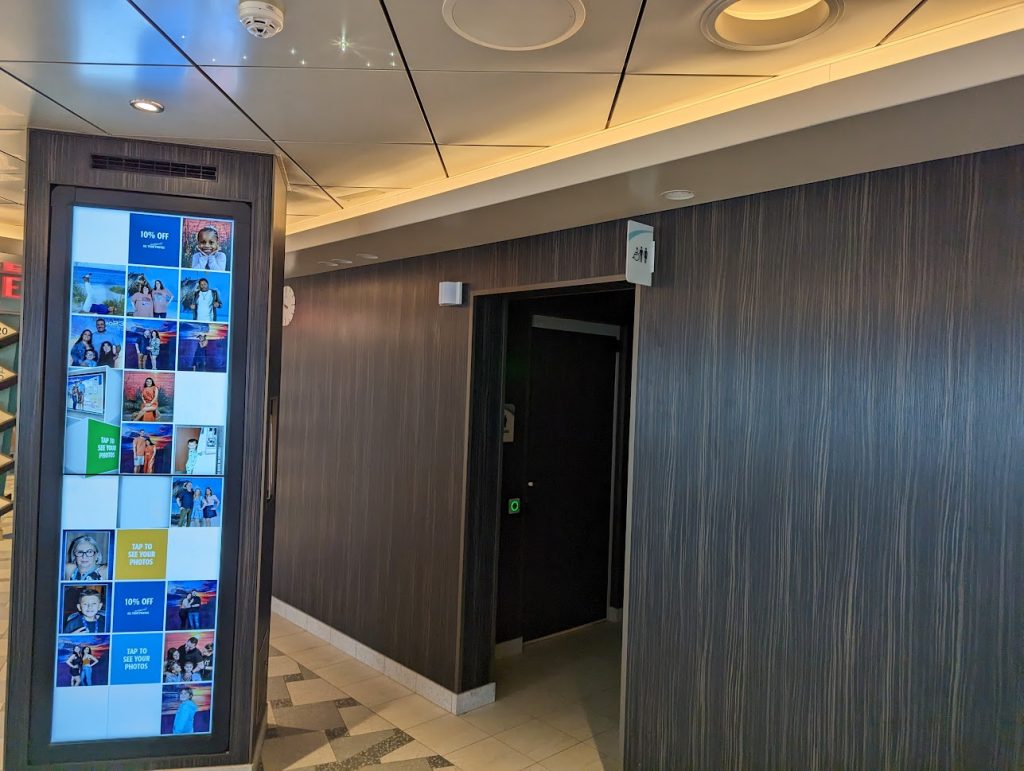 Besides that, the main public bathrooms are half the size of what's on Carnival's older ships. The bathroom outside Grand Central routinely had a line of 5 or 6 people deep in the evening, and that was the men's room!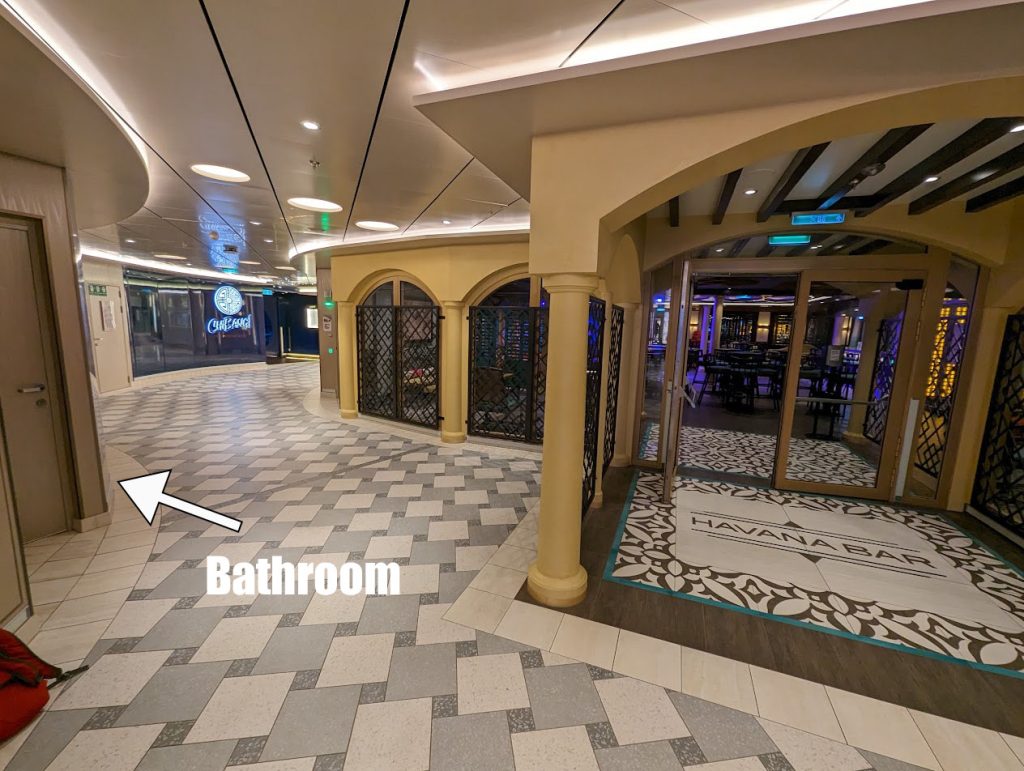 The doors are also hard to work. Many of the stalls have motion sensors to open and close, but they were finicky and rarely worked correctly. At one point, I tried to close the stall door on a bathroom in the Ultimate Playground for 3 minutes. 
While it's not the end of the world, during my cruise on the Celebration, it became a running joke among people waiting for the bathroom. It might be a legitimate issue for you if you have small children or a bathroom problem like Colitis. 
Hit – Number of bars with different menus
If you like to try new beers and cocktails while on vacation, you'll love the Carnival Celebration. What's the point of going on a big ship if you have the same look/feel and bar menus everywhere you go? Carnival's twenty bars all have completely different themes, and most have their own dedicated menus with unique cocktails.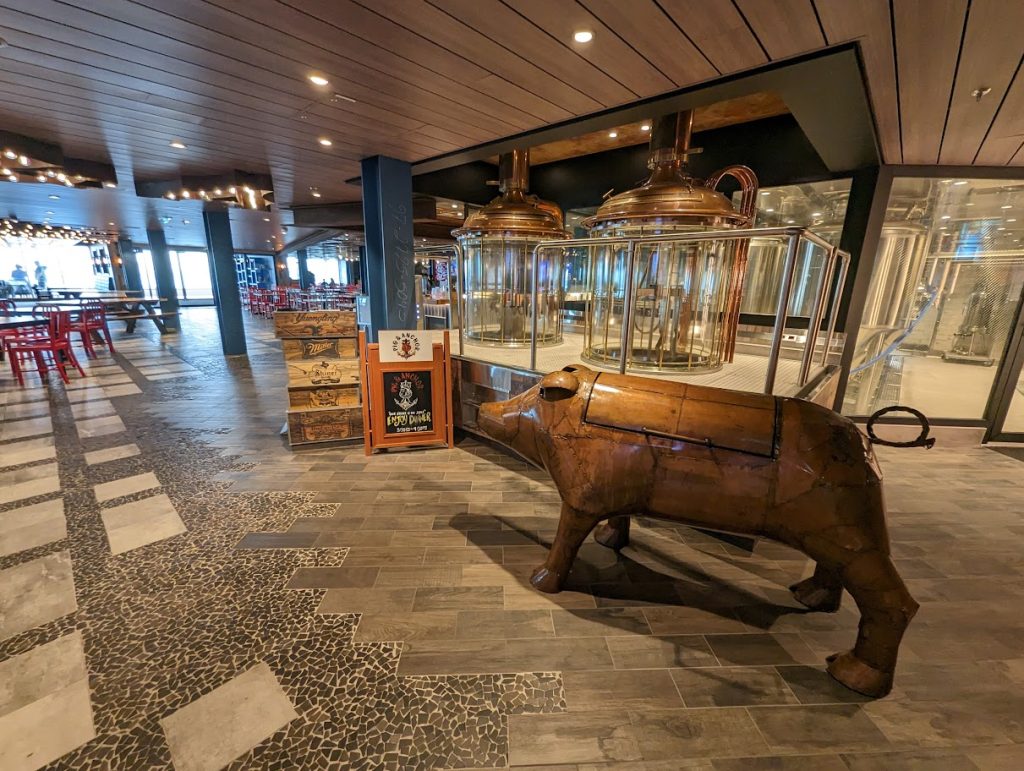 The Celebration has a dedicated brewery on board that makes their own custom brews. On top of that, Carnival has developed its own line of canned beers and hard seltzers that are available across the ship.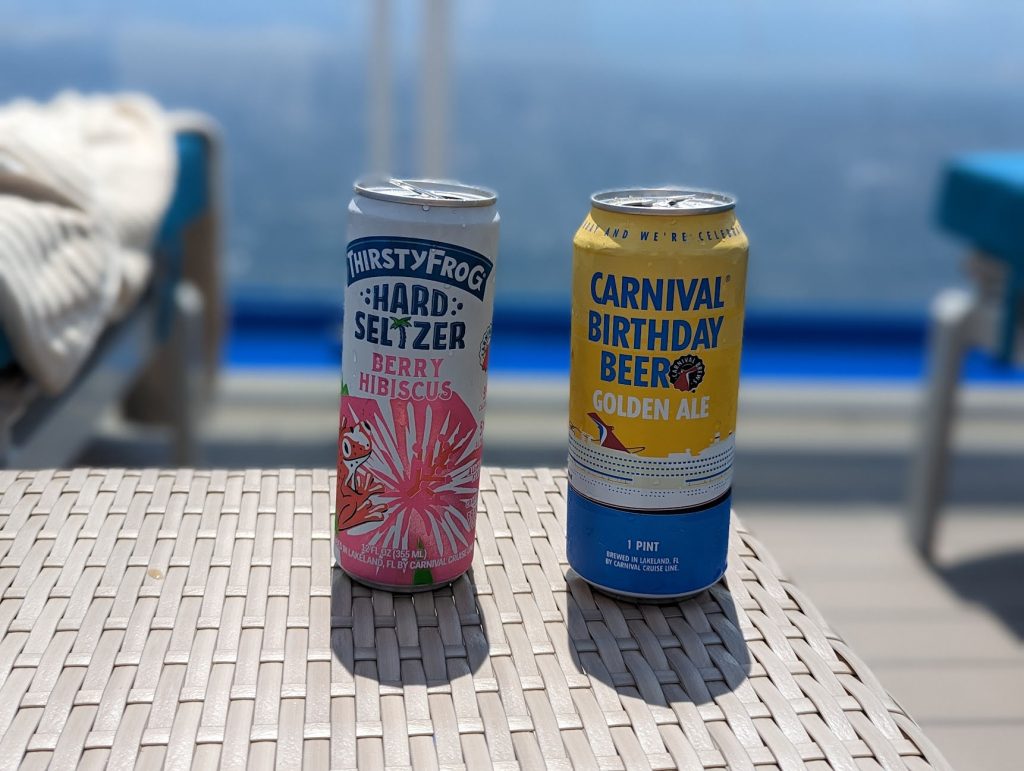 As for some of the new bars unique to the Carnival Celebration, the Latitudes Bar and the Golden Jubilee stick out the most. From the minute you sit down at the bars, you're impressed by the menus, literally. Latitudes Bar is a thick book of specialty cocktails, and the Golden Jubilee has a beautiful wood-cut menu. As a marketer, I know these at least cost $10 – $30 a piece. It's a far cry from the sad QR codes some other cruise lines use.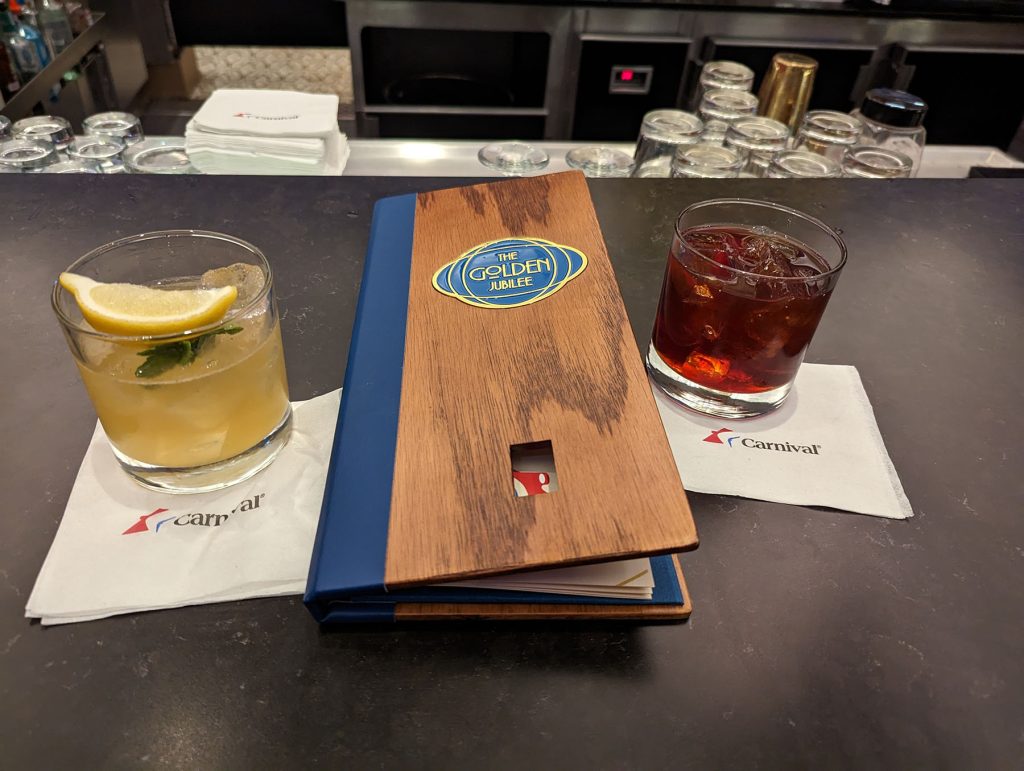 It's not just all show. Carnival put some creative and unique cocktails on those menus. The Latitudes bar had cocktails from around the globe, with many that people might have never tried before. My favorite was the Sakura, a Japanese-inspired cocktail with a bubble of aromatic fog on top. (See Latitudes Bar Drink Menu)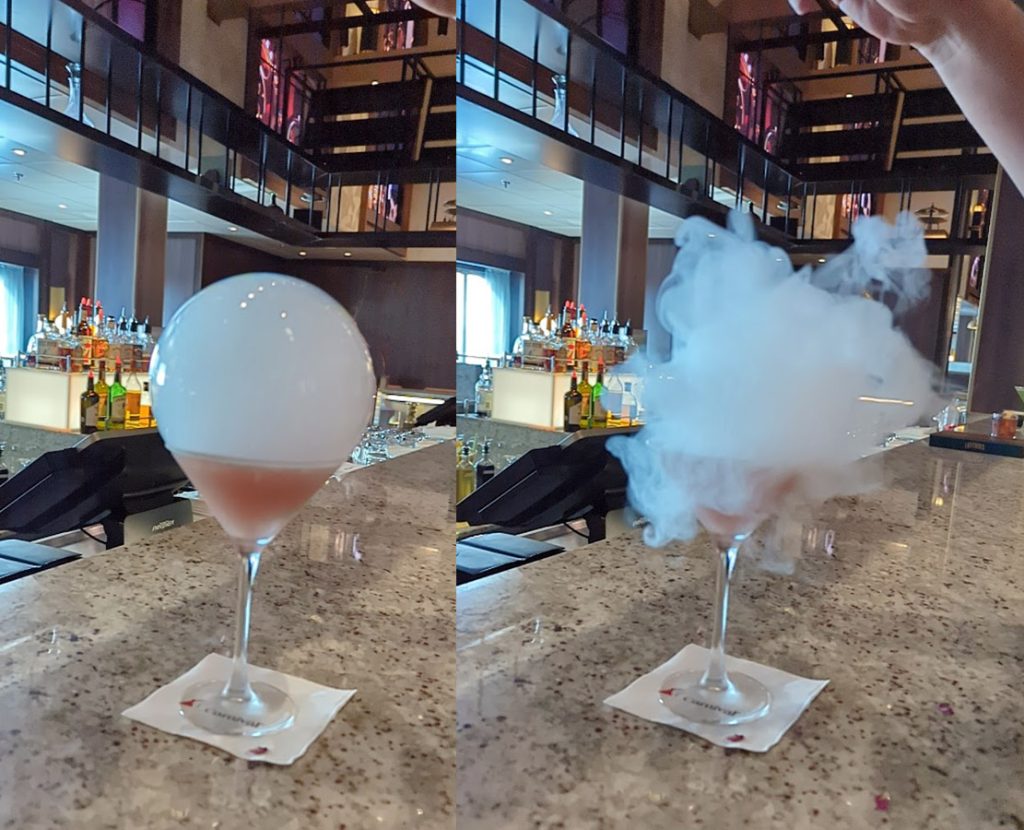 For more traditional cocktails, The Golden Jubilee has drinks from across the decades. Although I first thought this bar was too old-school for me, I found quite a few cocktails here I enjoyed. (See The Golden Jubilee Drink Menu)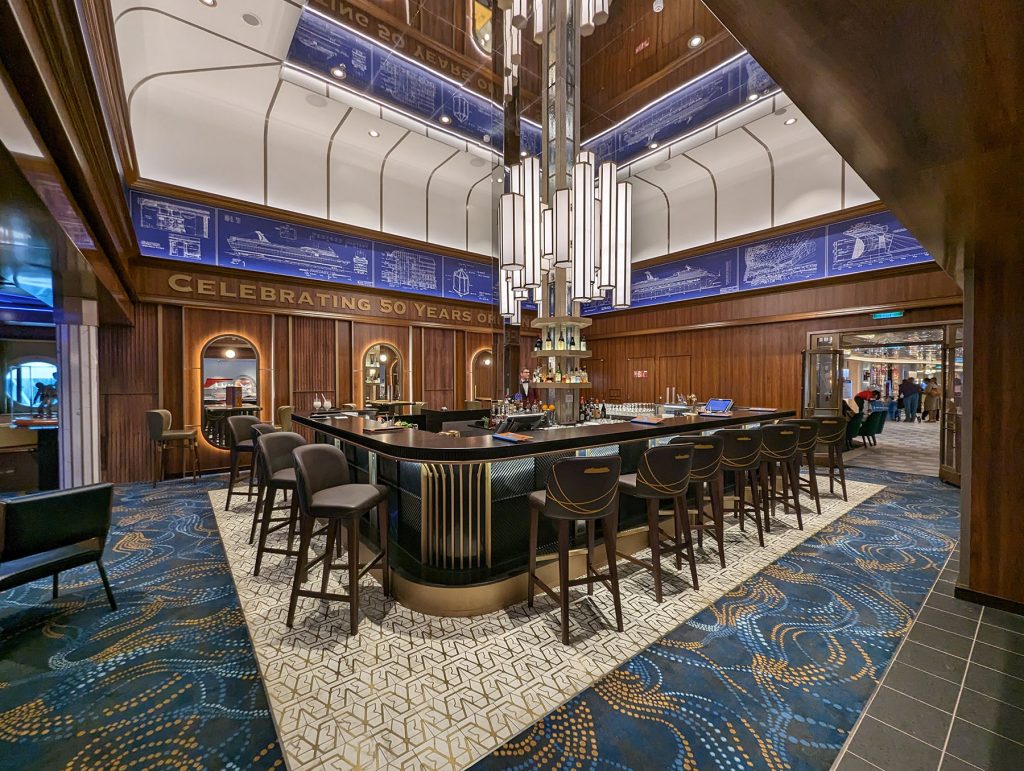 On top of that, the Celebration has some returning favorites, like the Red Frog Rum Bar (although it's upgraded to a full-on Tiki bar here) and the very popular Alchemy Bar with some delicious martini-style cocktails. I made sure to stop by and get my favorite Cucumber Sunrise and Chipotle Pineapple Martini from Alchemy.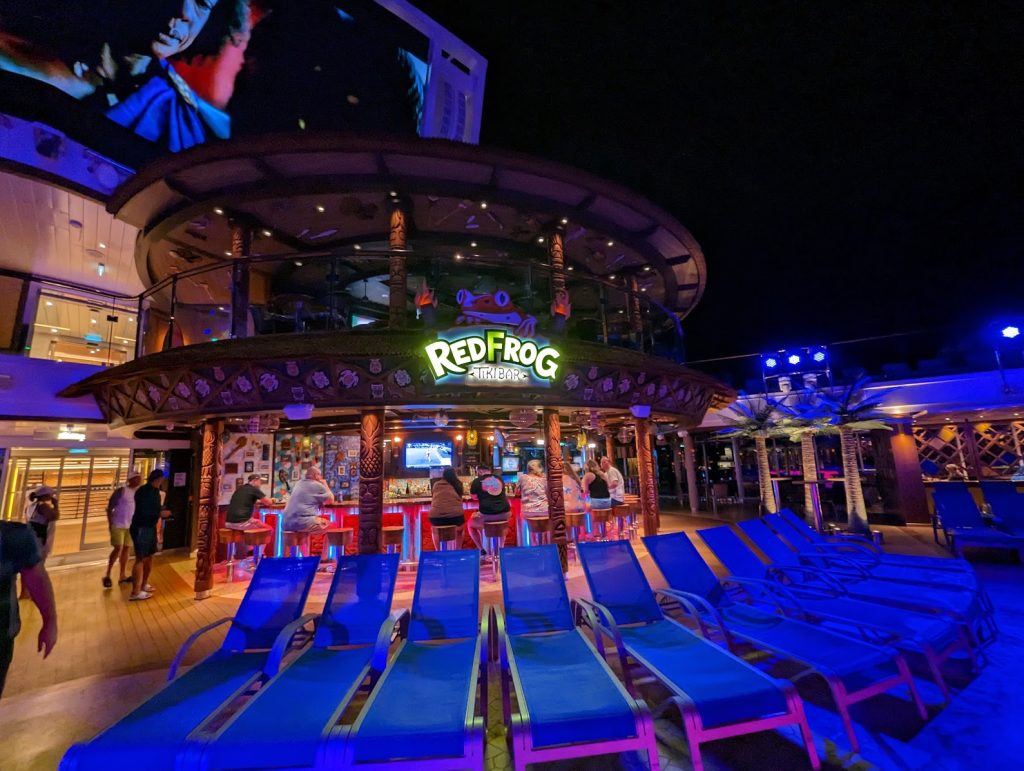 Misses – Balcony design
With the way the balconies are designed on the Carnival Celebration, most balconies lose any semblance of privacy. Many of the standard balcony rooms are tiered so people can look down directly at you. Other parts of the ship stick out, meaning everyone can see right in your balcony. Even the premium balcony cabins in the Havana Area have a walkway around them where people walk directly in front of your balcony. 
You should never expect complete privacy on a ship, there are cameras everywhere, but at least on the older ships, you could feel like it was just you and the ocean. While the balcony itself is a good size, the new approach just makes it feel like more public outdoor space and not a private getaway. It's tough to get that feeling on the Celebration unless you pay considerably more. 
Hit – Activities for people of all ages
The Carnival Celebration has a lot to keep guests busy. For those who want a little outdoor thrill, Carnival has the "The Ultimate Playground" with activities for people of all ages. 
At the rearmost portion of the top deck, you'll find Carnival WaterWorks, a sizeable kids' splash park with a dump bucket. It's almost as big as what you'd find in a stand-alone water park. WaterWorks also has three full-size waterslides, including one with a drop floor and another that's a mat racer. It's enough to keep kids busy for the day or for adults to cool off on a hot day.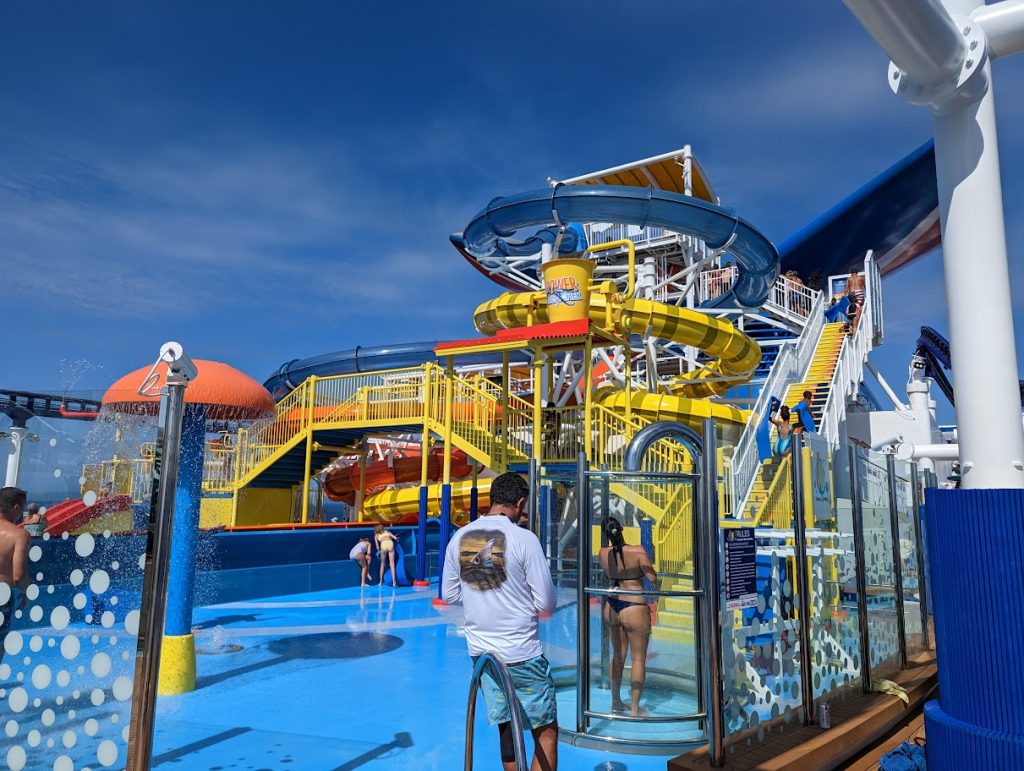 At the other end of the Ultimate Playground is a ropes course called Sky Course. Carnival has been adding ropes courses on most of their newer ships, but this one has a section with a zip line that takes you out over the side of the ship. The course is excellent for children and adults.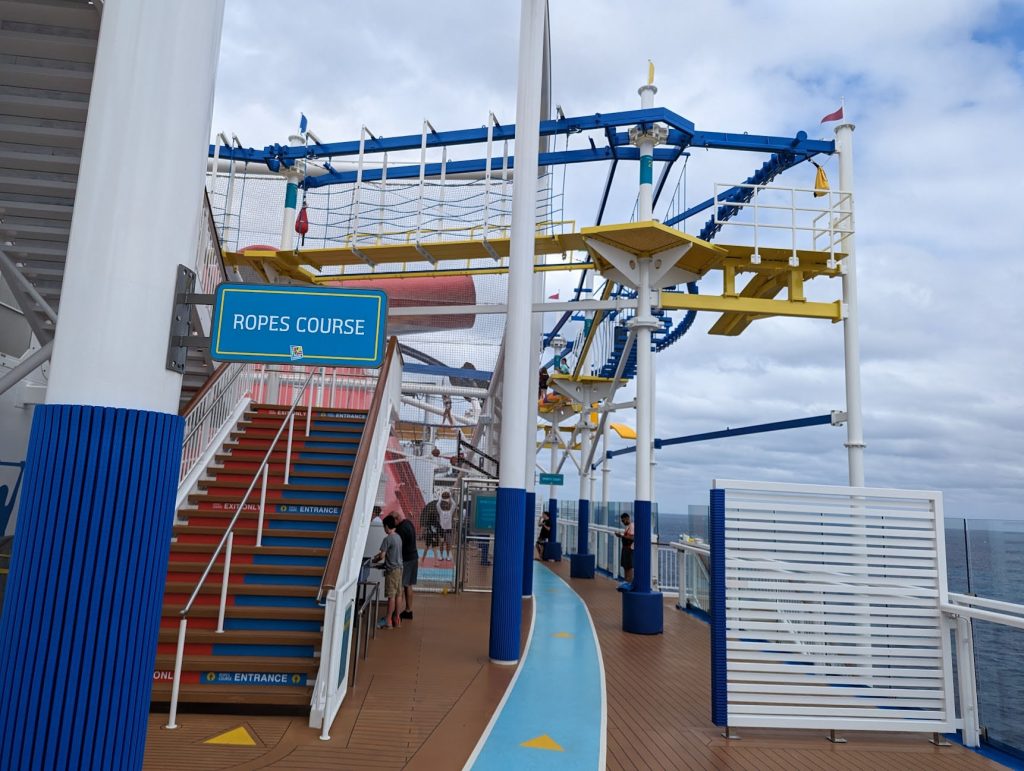 Between the two attractions is the BOLT roller coaster, the second at sea (the first was on a sister ship, Carnival Mardi Gras). This ride will take you around the back of the ship at up to 40 mph. This is one of the only Carnival built-in attractions with an additional fee of $15 per person. You can read more about BOLT here.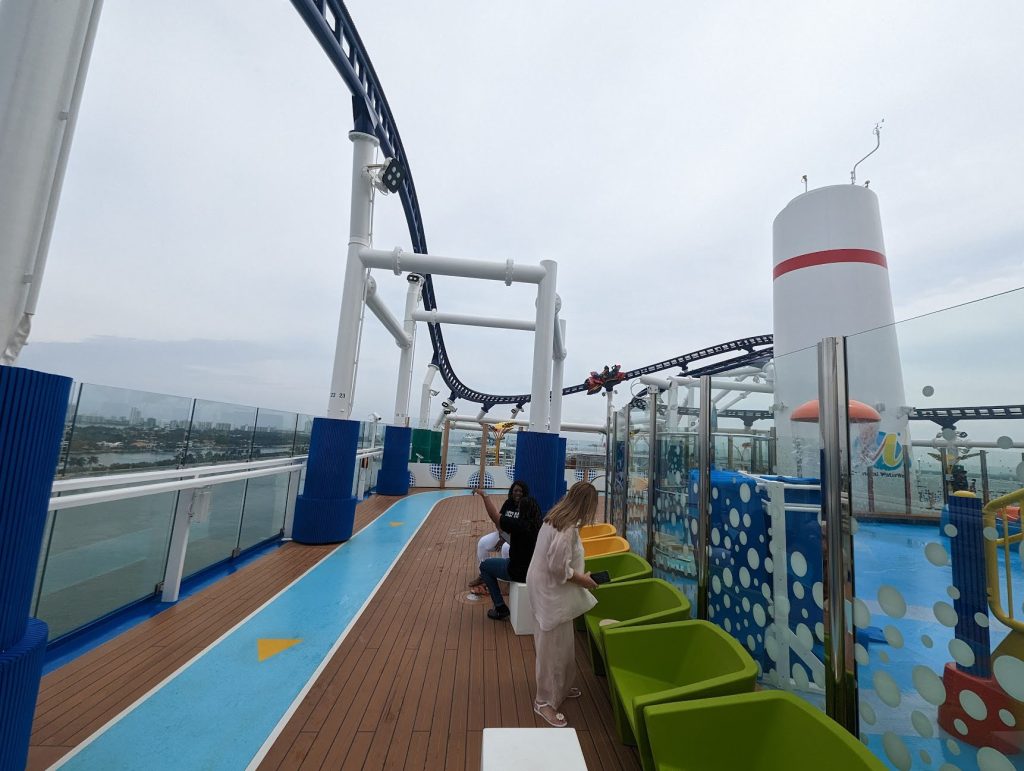 Miss – Cramped corridors, especially at night
Overall, the Carnival Celebration performed well under the full sailing I was on. At no point did I think there were over 6,000 more people on the ship with me. They did a great job at spreading out crowds and minimizing bottlenecks. One exception was some of the thoroughfares and hallways on the ship. 
A good example of this issue is the 820 Biscayne zone. 820 Biscayne is a stretch between the Celebration Central and Guy's Pig and Anchor at the aft of the ship. The area has a lot of different attractions; Bar 820, Pixels Studio, Miami Slice, Deco Deli, and the entrance to Pizzeria del Capitano. During the day, the area served its purpose well and didn't feel bad at all, but at night, it would fill up with kids and families getting pizza and sandwiches or people at Bar 820. On top of that, Carnival stationed photographers throughout the area with large backdrops, which created even more narrow walkways.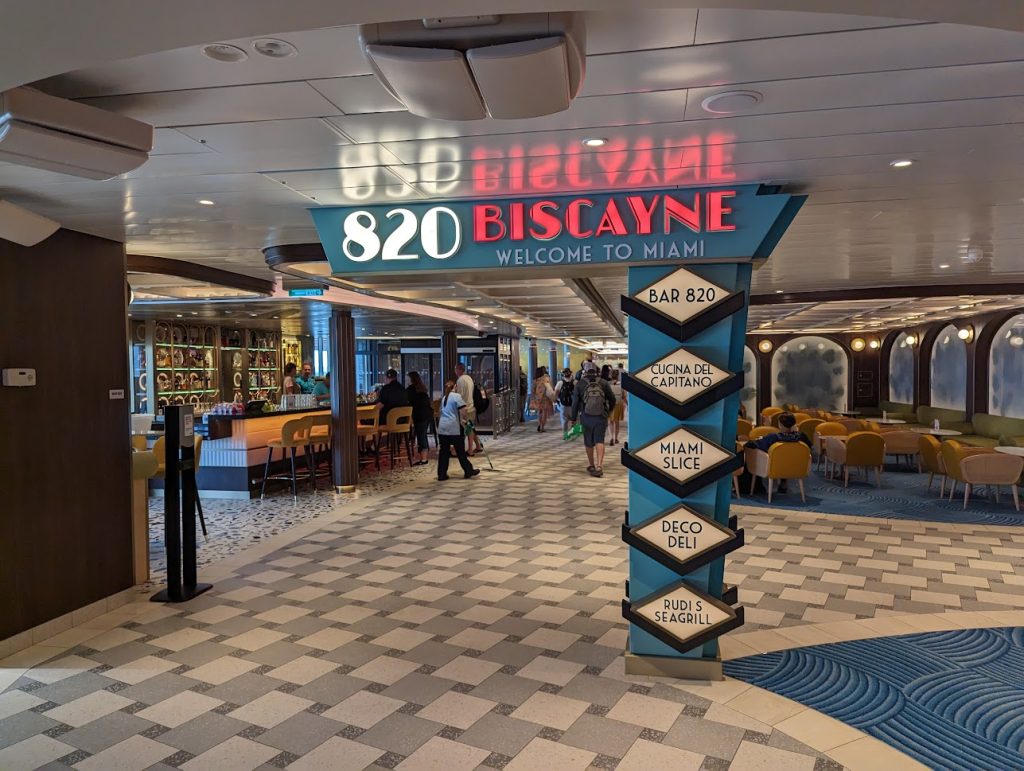 A similar problem happened on Deck 7 near the entrance to the Festivale Dining Room. That dining room is used for Anytime Dining and would often have people waiting out front for a table (I have no idea why they wouldn't just use the HUB app and wait to be called). But also around here, they'd have photo stations set up at night, taking up valuable space and making it hard to get around.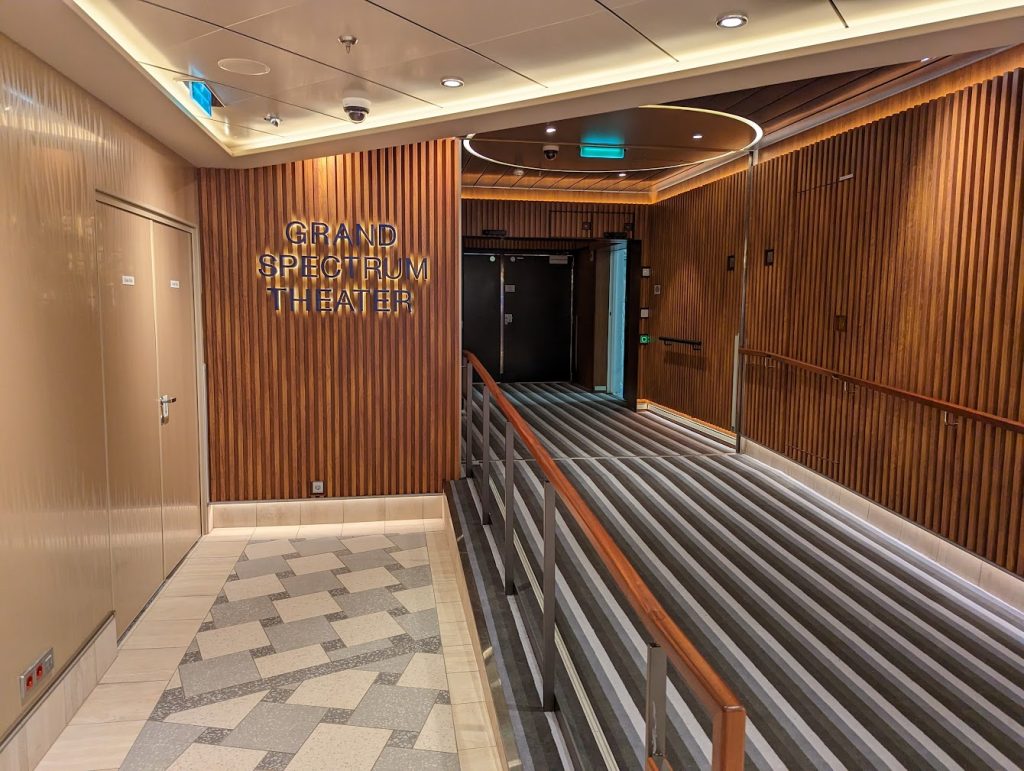 Another last bottleneck was at the entrance to the Grand Spectrum Theater. The theater feels almost forgotten, an afterthought to the massive casino. On the first level of the theater on Deck 6, the theater empties into an elevator lobby, and you get stuck in massive crowds as people get out of the show and wait for elevators. The higher level is slightly better, as it lets out in the casino but still feels busy. 
These examples are the only times I felt crowded on the ship. Royal Caribbean gets around this issue on their ships by having expansive walkways like the Royal Promenade that spans almost the whole width of the ship. But Carnival chose to use traditional, smaller hallways. Thankfully, they can easily improve this issue by repositioning the photo booths into less crowded spaces.
Hit – Celebration Central Atrium
Celebration Central on the Carnival Celebration is a beautiful 3-story space at the center of the ship that serves as one of the main entertainment hubs. It replaces the grand atriums found on Carnival's older ship. This spacious venue sports floor-to-ceiling windows that look out at the ocean, providing tons of natural light and impressive views during the day. At night, vibrant video screens slide down for performances, shows, and activities.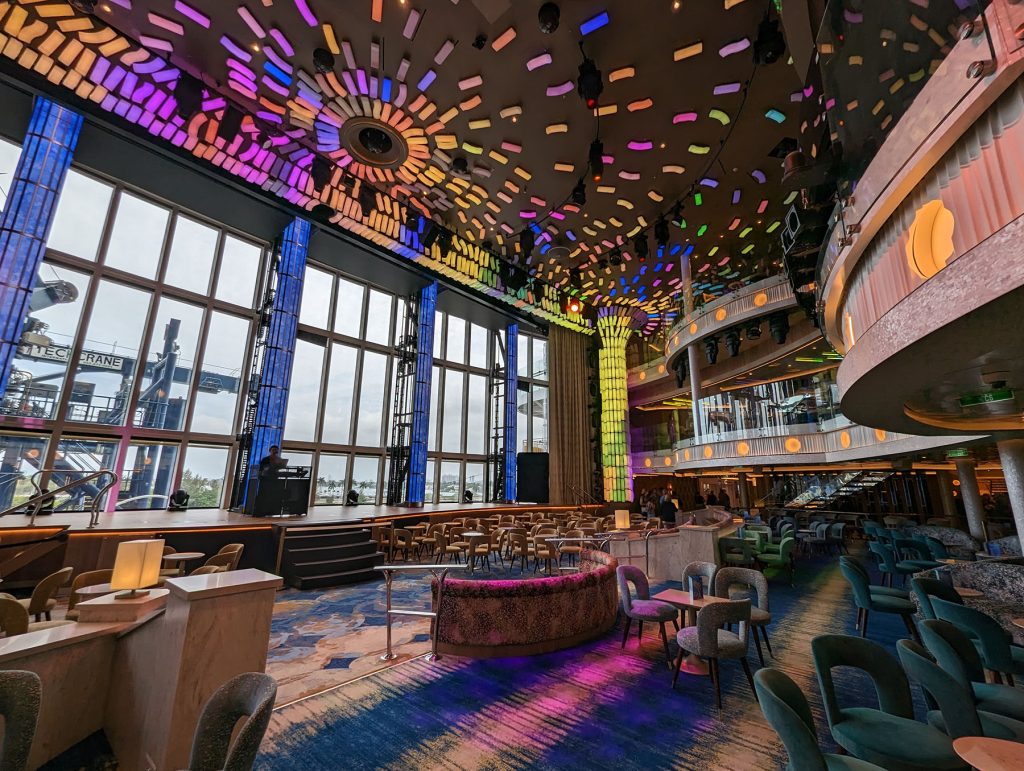 As soon as I walked in, I noticed how the dynamic color-changing "confetti" that covered the ceiling made the place feel vibrant and energetic (sadly, the multi-color display wasn't used often during the sailing, and they were kept to mostly one color). The floor of this area had seats and tables so guests could relax, much like they would in other atriums. 
Around the space, you'll find dining, shopping, and entertainment venues. Curving stairs connect the levels making it easy to go up and down Celebration Central without using crowded elevator areas. It made it the true heart of the ship.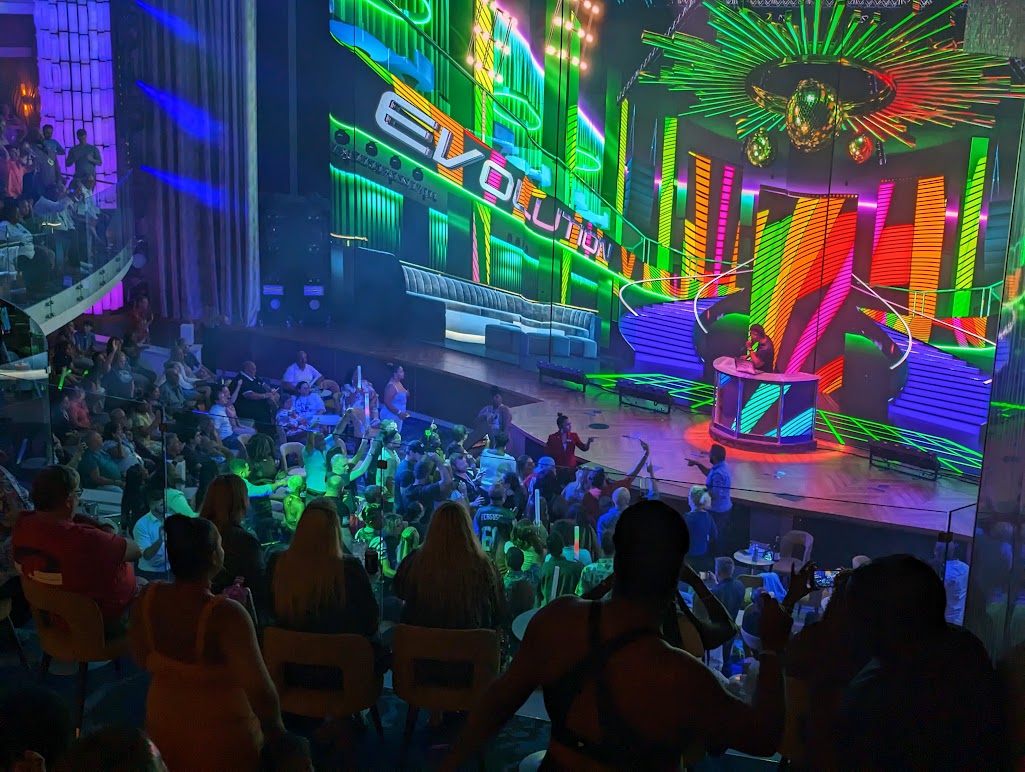 It's clear Carnival spent a lot of time on how this area should look. Unfortunately, the big problem with Celebration Central is how the entertainment staff uses the area. 
Miss – Celebration Central / Center Stage usage
It's odd for an item to be both a hit and a miss at the same time, but that's the case with the stage in Celebration Central (called Center Stage). Celebration Central is a great meeting place with a good amount of open space for music or activities, but for some reason, Carnival insisted on putting full-on performance shows in this space. It did not work well. 
Carnival installed various seating options throughout the three levels of Celebration Central, from plain chairs to stadium-style seating that looks down from the second level. Unfortunately, there are a few problems here.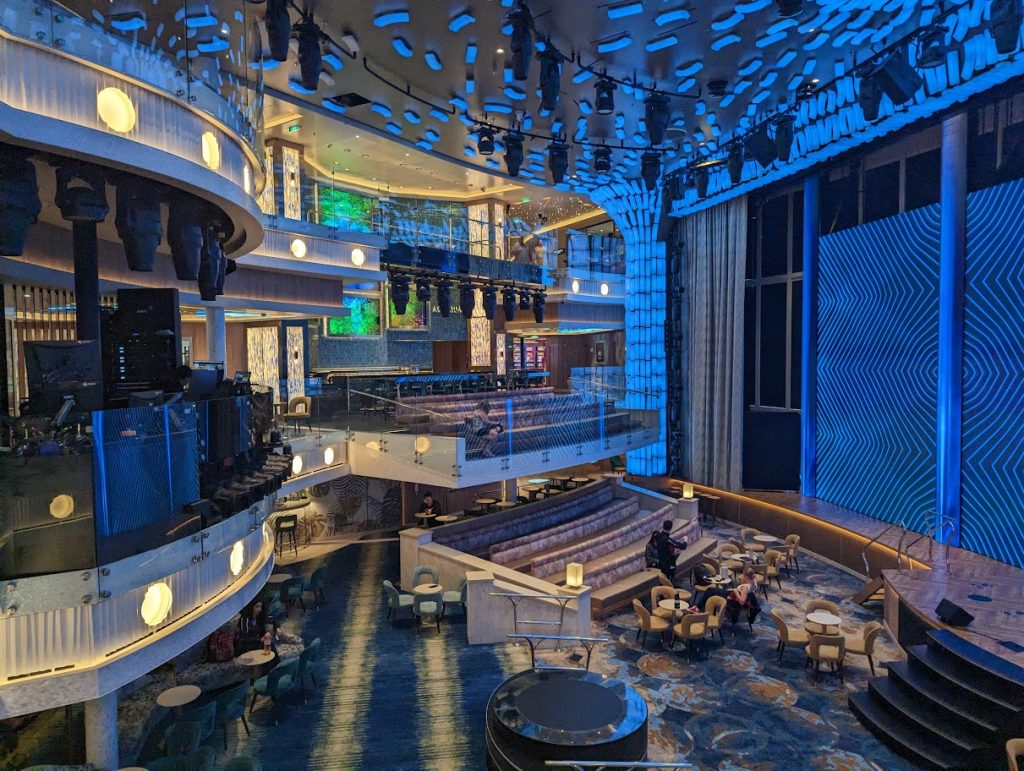 First, the views are awful in at least 2/3 of the seats. I tried watching the Celestial Strings show from the third level, and I could barely see anything. It was like I was peeking into a performance meant for someone else. On the first level, you can barely see anything happening on stage unless you can get a seat at the front portion (although they have a few TV monitors to see the show). 
On top of all that, Celebration Central is filled with noise. It's the heart of the ship, and people are walking through to go to the casino, a restaurant, or a bar. The noise overpowers the sound of the show at times. It feels incredibly disrespectful to the talented performers Carnival employs. For some reason, they also don't kick off their shows with an announcement or even the lights dimming. They just start, and the crowd has to realize the performance is starting and quiet down, which takes a while. 
I don't know how many people Celebration Central holds, but it's not enough for high-demand performances. Part of the problem is Carnival uses an immersive theater setup, which means action and set pieces are located on the main floor, taking up valuable seating areas. Another issue is the Carnival guests. Many of the performances are held multiple times during the show. For example, the highest-demand show, "Most Magnificent Circus," had five different showings. But because people are posting on Facebook that you have to get there over an hour early, the place is swamped. In reality, if you go to one of the performances later in the cruise, it's much easier to get a seat, and the standard 15-30 minutes before showtime is sufficient.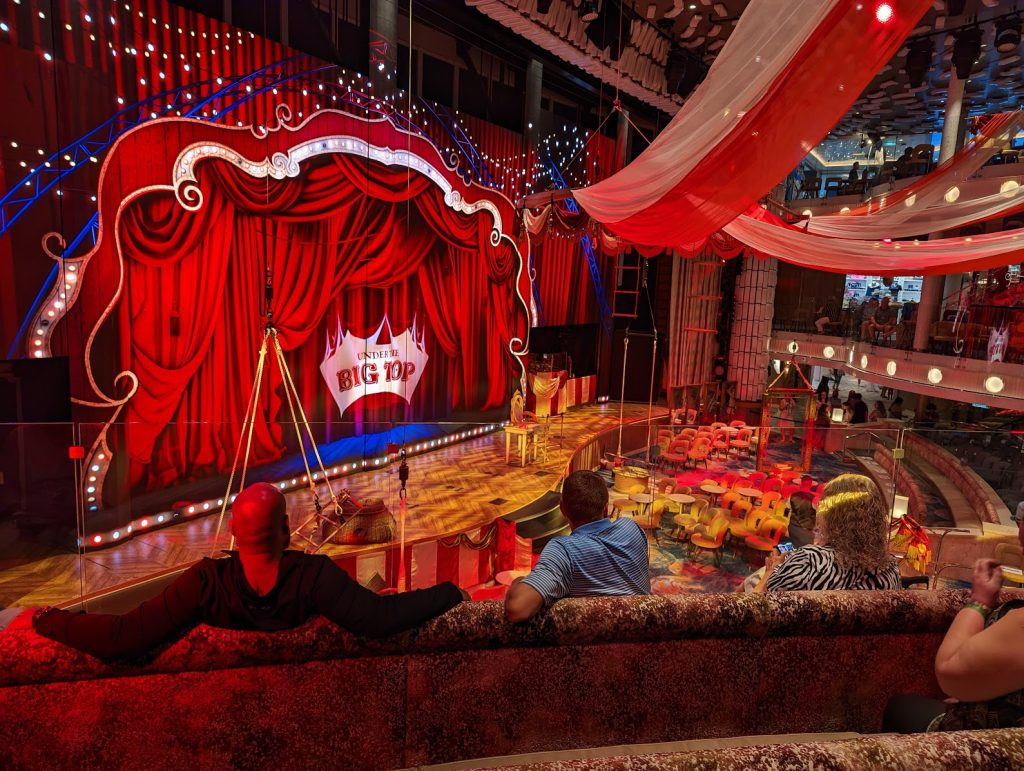 The last problem with using this space as a performance space is that it means it's shut down for large portions of the day. Remember those beautiful floor-to-ceiling windows I mentioned? You couldn't just sit and watch the sea because it'd be closed for the stage setup or performers rehearing the shows. Because of that, the space was pretty much dead when a show wasn't going on. It was a far cry from the functionality of the Atrium on Carnival's other ships, which is always abuzz with activity.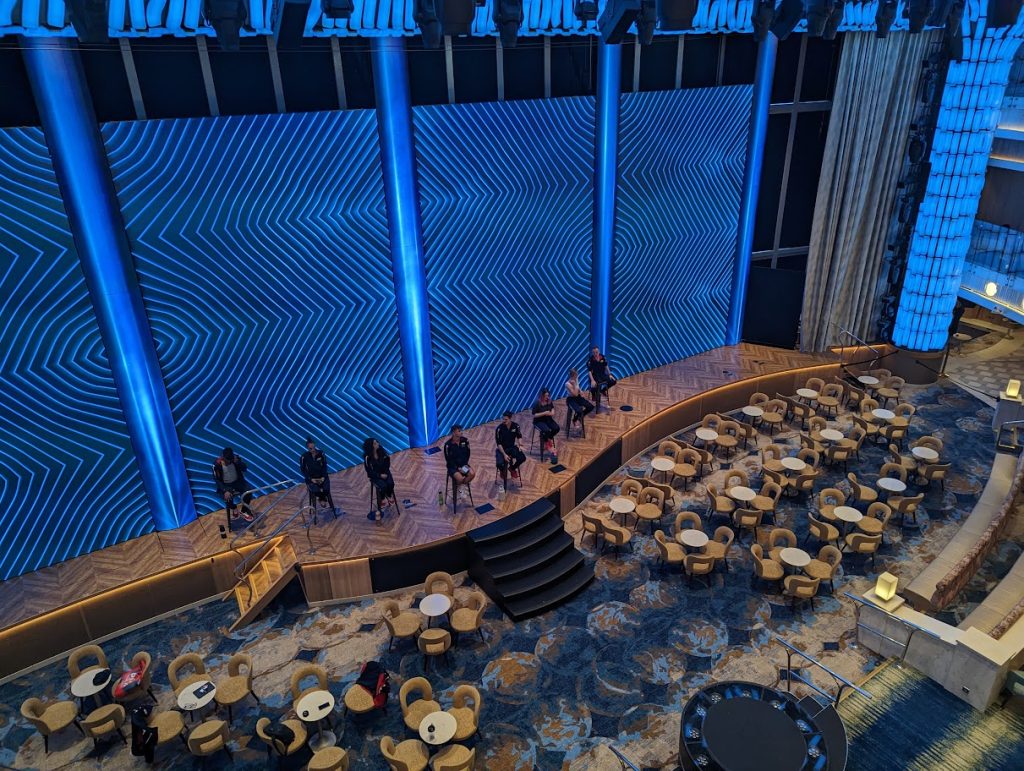 Hit – Schedule of activities
My 7-day cruise on the Carnival Celebration was jam-packed full of activities. That's typical for a Carnival cruise, but the Celebration takes it a step further. With so many people on board, they need lots of activities to keep people busy. The entertainment staff on the Carnival Celebration had many activities going, mostly at the same time. This method splits up the crowds and avoids massive bottlenecks in venues. For example, most nights, the ship had eight different comedy shows running, meaning if you couldn't get to one, you could go to the next one. Similarly, they'd run large shows in both the Grand Spectrum Theater and the Celebration Central stage.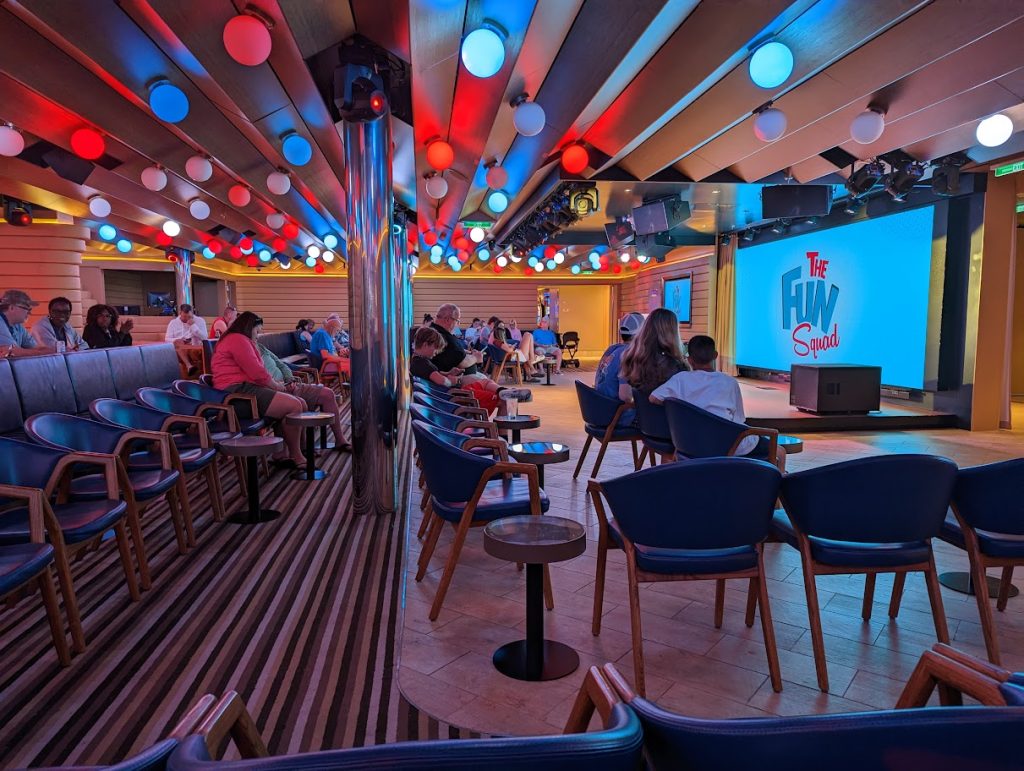 Traditional cruisers might not like this, though. In the old days, there were large events that almost everyone onboard attended. That's not the case anymore. It makes it hard to do everything in just one sailing, but it also means you won't be bored. 
Miss – Fun squad wasn't as well utilized 
Carnival's entertainment squad, known as the Fun Squad, is part of their secret sauce to bring fun vacations to everyone. Over all my cruises, Carnival has had some of the most engaging and free-spirited staff. On the Celebration, it was much harder to feel connected to them. 
As I mentioned above, Carnival has a lot of activities going on around the ship, and because of that, the Fun Squad is everywhere. But you rarely saw the same cast member twice, and they didn't seem to make an impression when they did. I barely saw the cruise director, Chris the Flying Scotsman, but that wasn't his fault. He hosted events across the whole ship, but I was always at other events. I have to imagine it's hard to balance them, but it felt much more disconnected to me, not the Fun Squad I was used to on Carnival. 
Verdict – A Supersized Carnival Experience
Carnival took a long time to get into the mega-ship category, but when they did, they did it right. The sheer amount of things to do and places to be on the ship is impressive. It takes all of the things Carnival does well and scales it up to the next level. More fun, more energy, more food, more beverage options. You still have the feel of a Carnival ship, but you have a higher-end decor and a new layout that changes things up.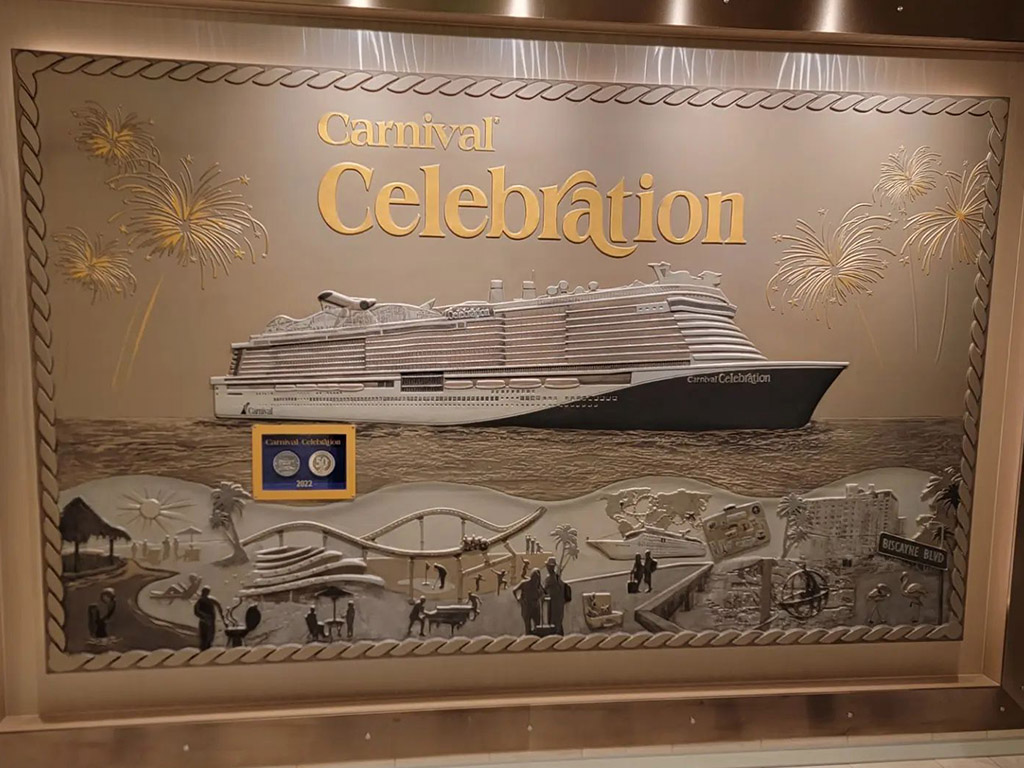 Still, the Carnival Celebration is a big ship, and if you prefer a smaller ship and a more intimate atmosphere, this ship is not for you. But if you want a big ship with something for everyone in the family, this is a great ship to try out. 
You might like Carnival Celebration if you…
Like lots of activities to do
If you're afraid you'll be bored on a cruise, this is a ship for you. With so many on board activities and a schedule jam-packed full of events, you won't have any time to be bored. Take a cooking class, play trivia, brave the ropes course, or slide down a water slide. 
Prefer many included, casual dining options
If you like casual or grab-and-go food, the Carnival Celebration is hard to beat. It's high quality, varied, and available all over the ship. Even better, almost all of it is included in your cruise fare. 
Looking for a fun atmosphere
Carnival brands themselves as the fun ship, and you honestly feel it from the minute you walk in. The staff is friendly, and other guests are quick to start up a conversation or participate in a game. That doesn't mean it's a party cruise. Carnival cruises get a bad reputation online as "drunk cruises," but those are typically short 3- and 4-day sailings on older ships. A 7-day sailing on the Celebration will often have a similar crowd to what you'd find on Royal Caribbean or Norwegian. 
Are traveling with a family
The Carnival Celebration has activities and facilities for the whole family. It's perfect for a multi-generational trip. 
You might not like Carnival Celebration if you..
You like small-ship atmosphere
Some people prefer a more intimate atmosphere on a cruise ship, with just a few bars and restaurants. The Celebration has a lot of options, and it might be overwhelming for people who hate making decisions. That being said, none of the venues are huge, so there's no time you feel like you're in a massive bar with 500 people. 
You don't like walking
Because the Carnival Celebration is so big, you'll have to walk a lot. The zone layout prevents you from having to walk from one end of the ship to the other very often, but I still found myself walking 4-6 miles a day on sea days. 
You want a high-end dining experience
Carnival does the casual food really well on the Celebration, but don't expect a 5-star dining experience. If you're a foodie looking for Michelin-level dining, you might want to try a premium cruise line like Celebrity or Virgin Voyages. 
You want a quiet, relaxing atmosphere
While there are certainly places you can find some peace and quiet on the Celebration, it's a ship that's always bustling with activity. If you're looking for solitude and quiet the whole time, this isn't a ship for you. 
Follow along on the rest of our Carnival Celebration cruise
Carnival Celebration – Cruise Blog - Day 1 – Miami
Carnival Celebration – Cruise Blog - Day 2 – Sea Day
Carnival Celebration – Cruise Blog - Day 3 – Cozumel
Carnival Celebration – Cruise Blog - Day 4 – Costa Maya
Carnival Celebration – Cruise Blog - Day 5 – Roatan
Carnival Celebration – Cruise Blog - Day 6 – Sea Day
Carnival Celebration – Cruise Blog - Day 7 – Sea Day
5 Hits and Misses on Carnival Celebration
If you want to stay up to date with what we publish, sign up for our monthly newsletter
CruiseSpotlight is an Amazon Associate. We may earn a commission when you click links to retailers and purchase goods.