6 Hits and 6 Misses on Ovation of the Seas
Built in 2016, the Ovation of the Seas is one of five Quantum-class ships sailing for Royal Caribbean. It primarily sails Alaska itineraries during the spring and summer and Australian cruises the remainder of the year. So how does it stack up against other ships? Here are the hits and misses of the Ovation of the Seas. 
Hit: Great signage helps navigate a big ship
The Ovation of the Seas is a big ship. While not the largest in the world, it's still the length of 3.2 football fields and as high as a 14-story building. That means you'll be doing a lot of walking to get around. 
One way Royal Caribbean helps with the size is by providing clear and informational signage in all the public areas. These signs help you know exactly where you're going so you don't have to backtrack.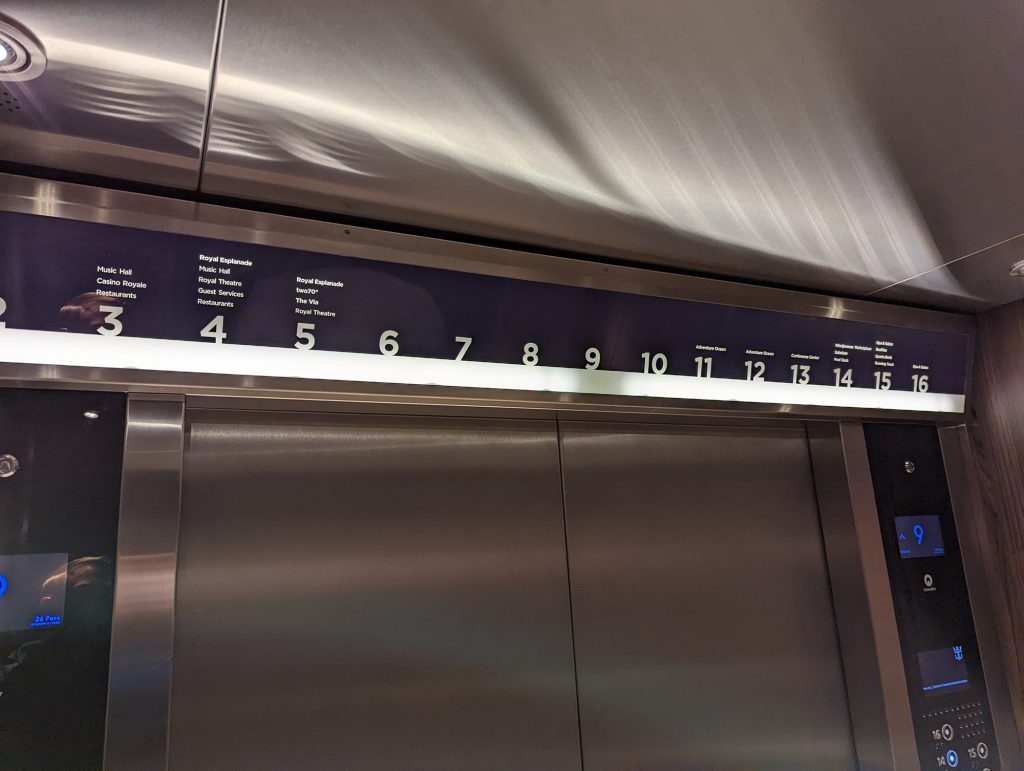 In each elevator, there's a handy guide directly above the door that shows which main venues are on which decks. That way, guests aren't constantly asking what floor something is on; they just look up.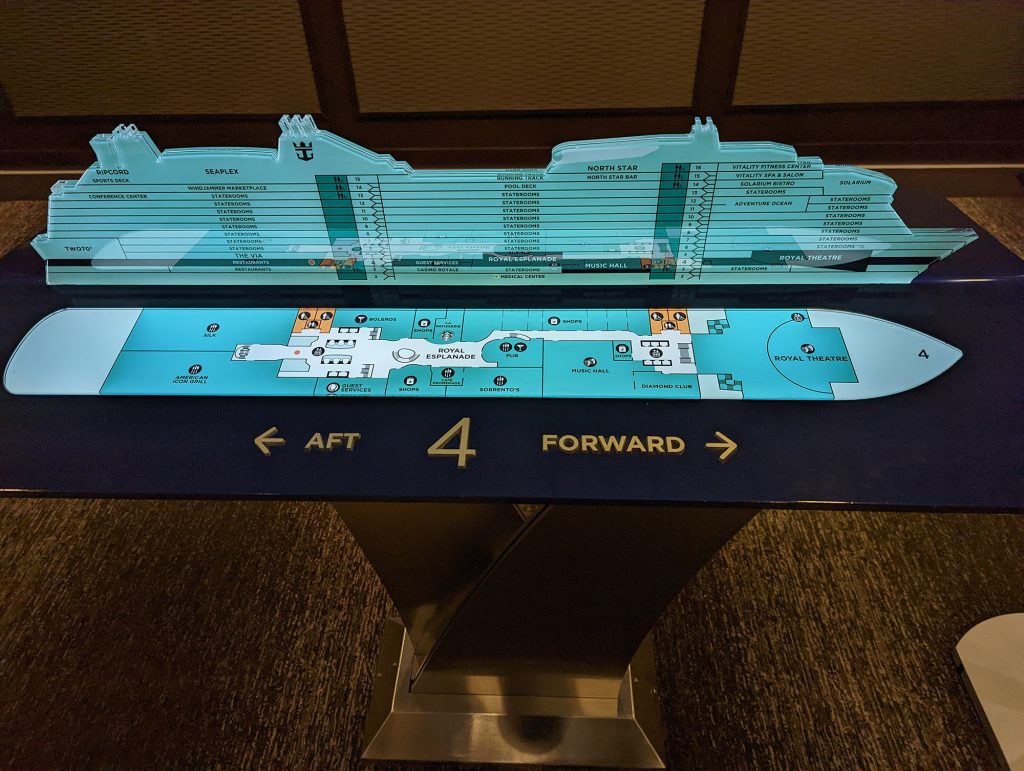 On several of the main concourses, Royal Caribbean placed diagrams of the ship with all the parts labeled. It makes it easier to get a feel for where exactly you are on the ship and where you have to go.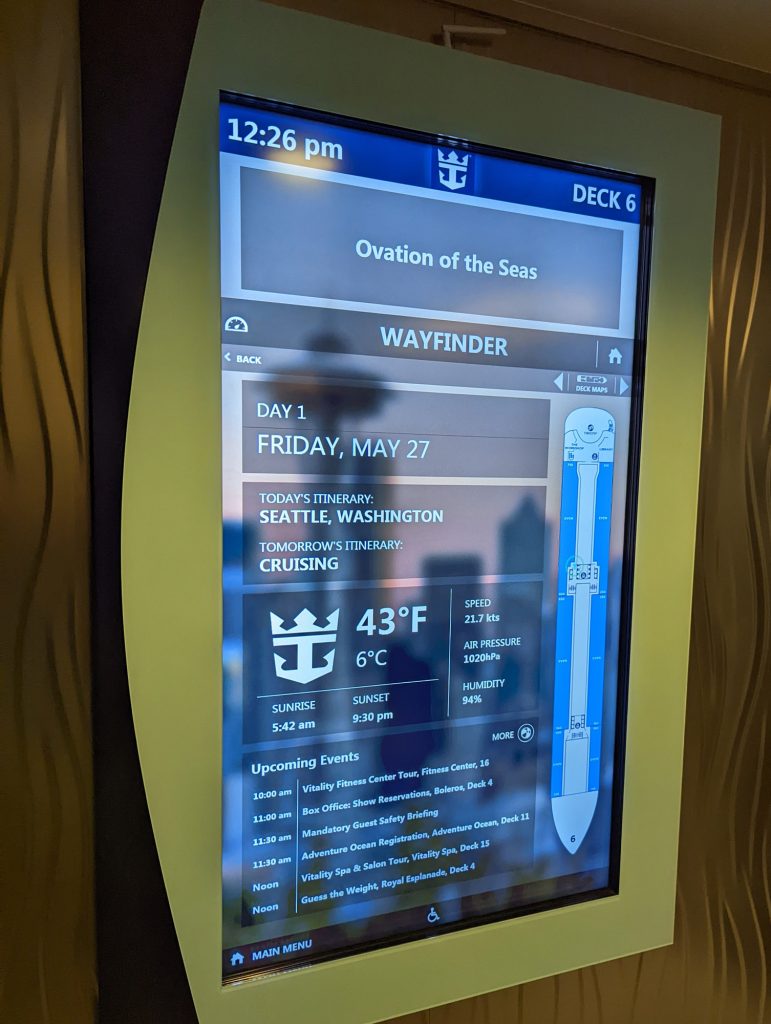 The ship also has handy interactive displays, called Wayfinders, in most elevator lobbies. These large touchscreens will show where you are, what's going on, the weather, and upcoming events. 
And if all of those fail, there's also the interactive map built right into the Royal Caribbean app.  
Miss: Layout of the Royal Esplanade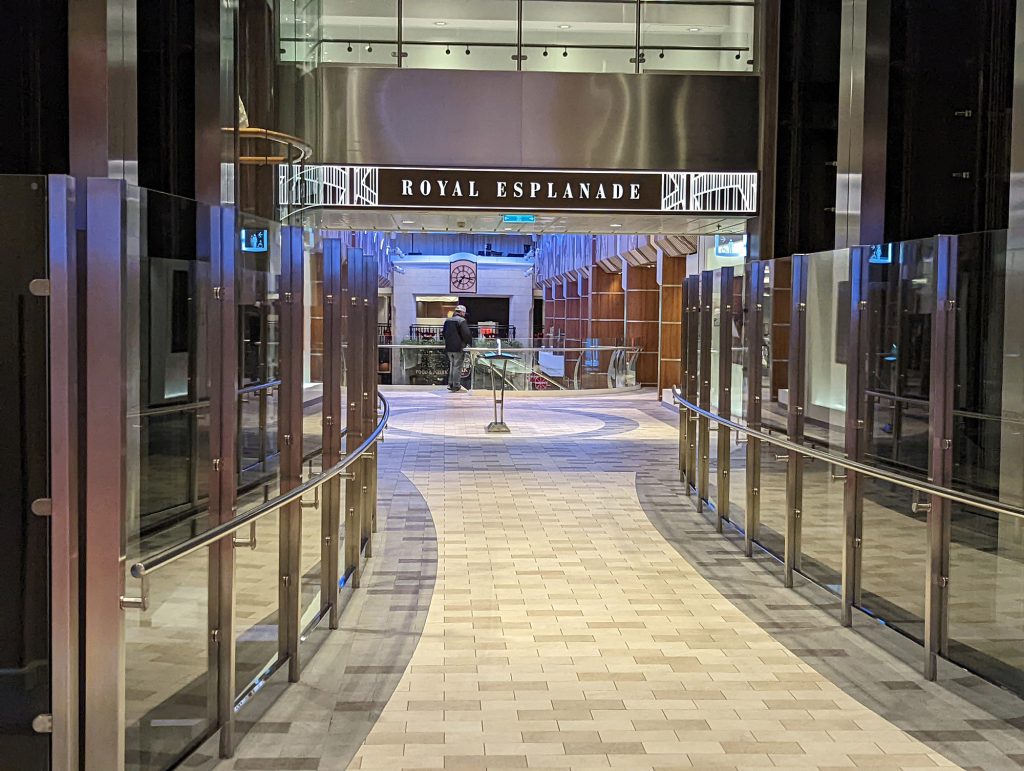 Since the Voyager of the Seas debuted in 1998, most Royal Caribbean ships featured a Royal Promenade, a long, multi-story corridor running down the center of the ship. This area is home to restaurants, shops, bars, and even parades and activities. Most times, the Royal Promenade also has interior cabins that line the upper levels with windows that look onto it. 
On the Ovation of the Seas, and other Quantum-class ships, the Royal Promenade is replaced by a Royal Esplanade. It serves the same essential function as the Promenade but is structurally different. The Royal Esplanade is only two stories, although both levels have bars and restaurants. In addition, it's not as wide as the Royal Promenades on most Royal Caribbean ships, and rather than being straight down the center of the ship, it winds a bit. It's much more of a concourse than an event area.
When you first enter the Ovation of the Seas, you'll walk right into the Esplanade. If you're new to Royal Caribbean ships, it's pretty impressive, but if you're a seasoned Royal Caribbean cruiser, it may lack the scale of the other ships. As a result, it can feel a bit more like a high-end mall than a fun place on a cruise ship. 
One of Royal Caribbean's oddest choices with this Royal Esplanade is that some of the main walkways go right through bars on the second level. The piano bar, called the Schooner Bar, and the Bionic Bar, with robotic bartenders, had walkways cutting through them. In addition, the bar tables for the Wonderland restaurants are right on the walkway, and you walk directly through Izumi in one direction. The flow led to some bottlenecking, especially when Schooner Bar was jam-packed during trivia events.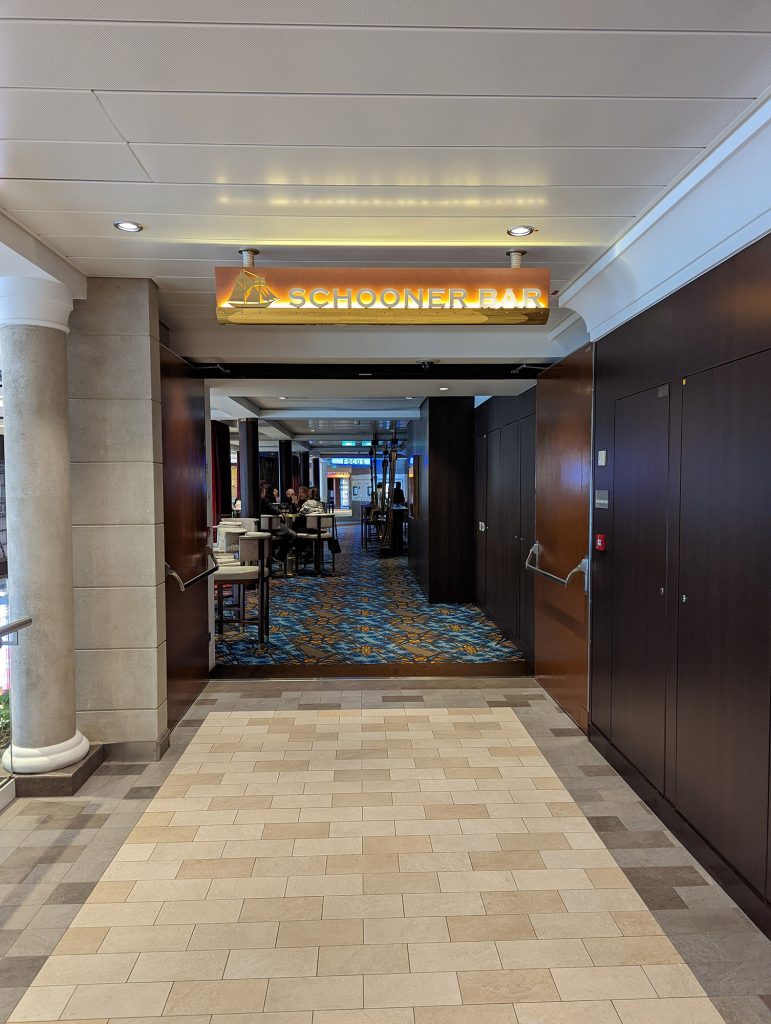 Another odd choice was putting all spaces with live music on one part of the ship, many directly next to each other. Most evenings, there'd be live music at venues like the Schooner Bar, Music Hall, Amber & Oak Pub, and Boleros. The problem is that the music would spill out and interfere with each other. Walking further down the same deck, in what is called "The Via," there's Vintages Wine bar that is dead quiet with no live music and few people most evenings. It would have made more sense to offer some music in that venue instead.
Hit: Lots of indoor spaces, many with views
Going on a potentially cold-weather cruise, you want a ship with lots of indoor spaces. Inclimate weather can, in effect, close down half the ship, making it feel smaller and even claustrophobic. Thankfully, the Ovation of the Seas was practically made for cooler or in-climate weather while offering fantastic views. Even the Windjammer Marketplace, the standard buffet, has impressive views, but here are some of the indoor viewing areas found on the ship.
Indoor Pool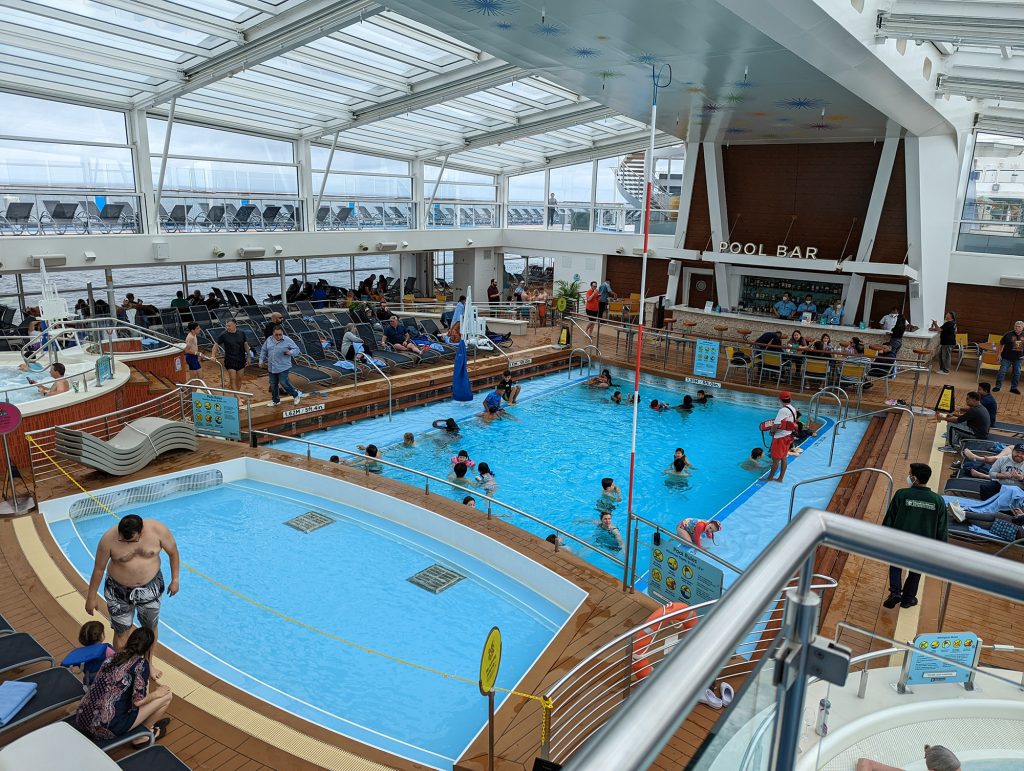 The Ovation of the Seas has a sizeable indoor pool in the middle of the ship. Even though it was the only pool open to kids for this sailing, even on sea days, this ship wasn't too crowded. The large vaulted glass ceilings make it feel really roomy. The pool area also has lots of comfy seating along the sides, with floor-to-ceiling windows offering great ocean views. You can easily sit there all day and watch the water go by. 
Two70 Lounge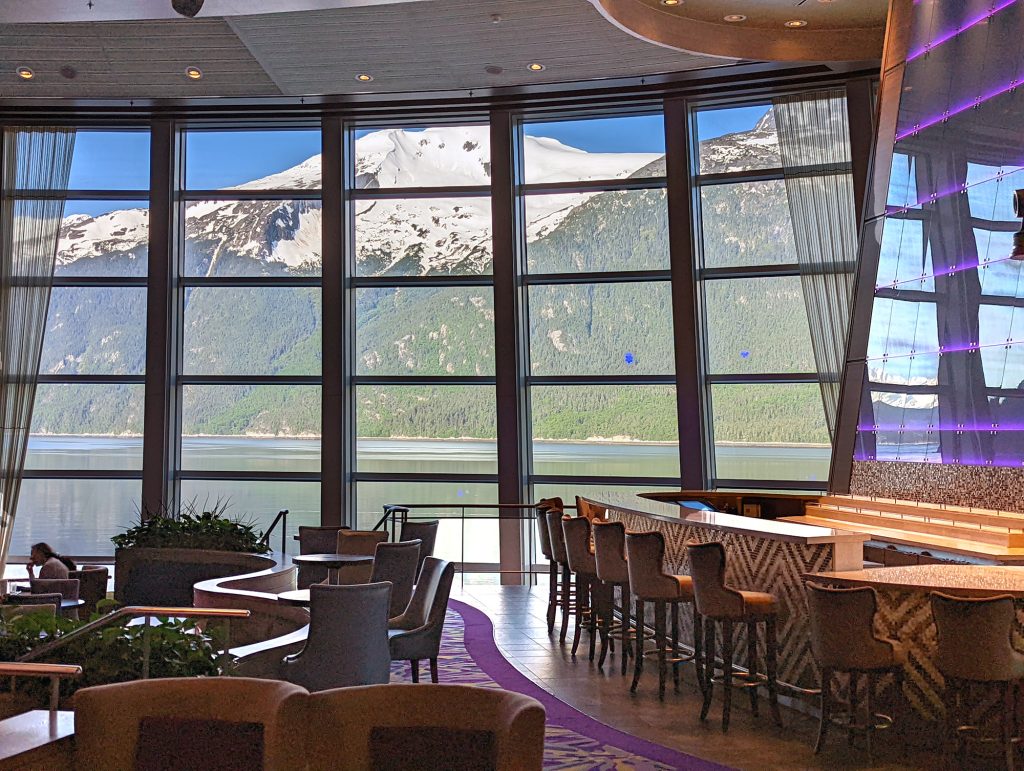 The Two70 Lounge, located at the rear of the ship, is a large, two-story area with floor-to-ceiling windows providing 270-degree views. The venue offers excellent views of the wake of the ship as you sail through the Alaskan waters. You can easily grab a snack at Two70 Cafe and eat it while watching the beautiful landscape without getting cold. 
The enclosed Solarium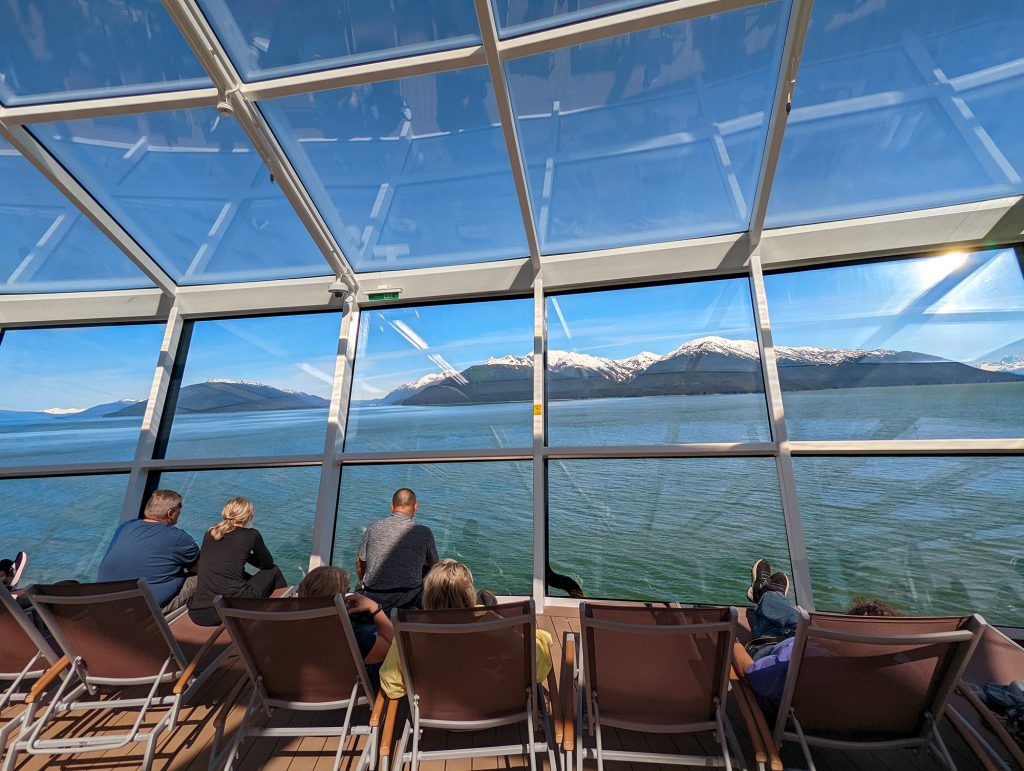 Most Royal Caribbean ships have a Solarium onboard. It's an adult's only area, which they define as aged 16 and up, that allows adults to find some peace and quiet. The Solariums themselves are pretty different between classes of ship. Some have large pools and open tops, others have just hot tubs, and some shelter overhead. The Ovation of the Seas has, arguably, one of the best versions of the Solarium concept. 
The Solarium here is completely enclosed and conditioned. Located at the front of the ship, this large area has massive ceilings and huge glass panels, creating an space that can always be enjoyed. Guests can find various comfy seating options here, as well as a dedicated bar and a restaurant, the Solarium Bistro. This Solarium also has plunge pools with cascading waterfalls and two large hot tubs on either side. The palm trees and greenery make it feel like a quiet vacation getaway.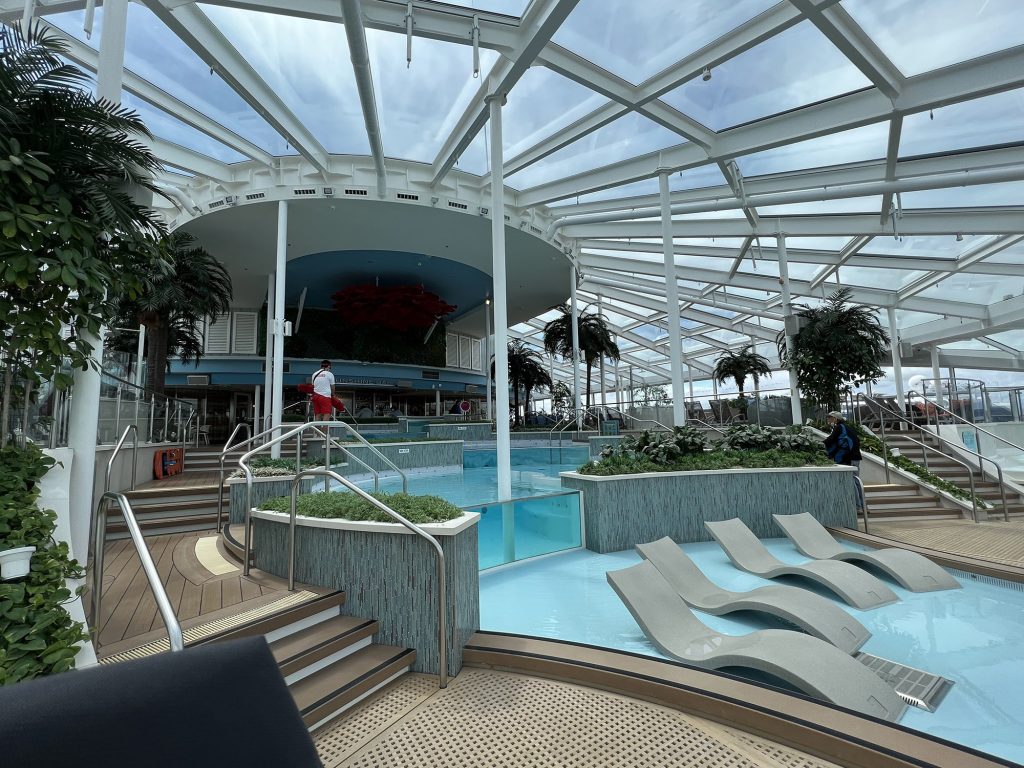 Now, this isn't "technically" a quiet place. There are no signs or rules about volume here. It's a kid-free zone, but adults can be just as loud, if not louder, than kids, so sometimes there can be a lot of action here. For the most part, though, it's usually a pretty chill space. 
Miss: Poor use of the exterior Promenade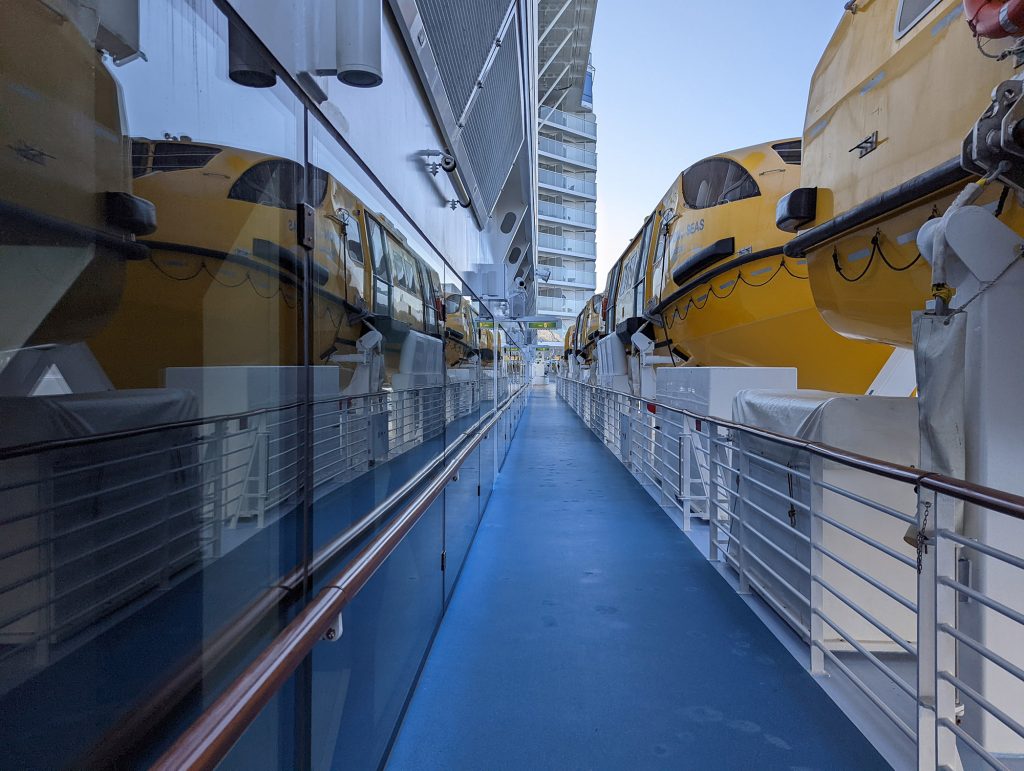 Over the years, other cruise lines have embraced the use of an exterior promenade to put guests in touch with the ocean more. Carnival, Norwegian, and Virgin Voyages offer beautiful promenade areas with exterior bars and dining options on their newest ships. Unfortunately, Royal Caribbean has skipped this trend altogether. The closest to outdoor dining you'll see on this ship is a little industrial-feeling cutout for Jamie's Italian and about 20 tables at the back of the Windjammer. Definitely not where you'd expect a specialty restaurant costing $40 or more per person would be.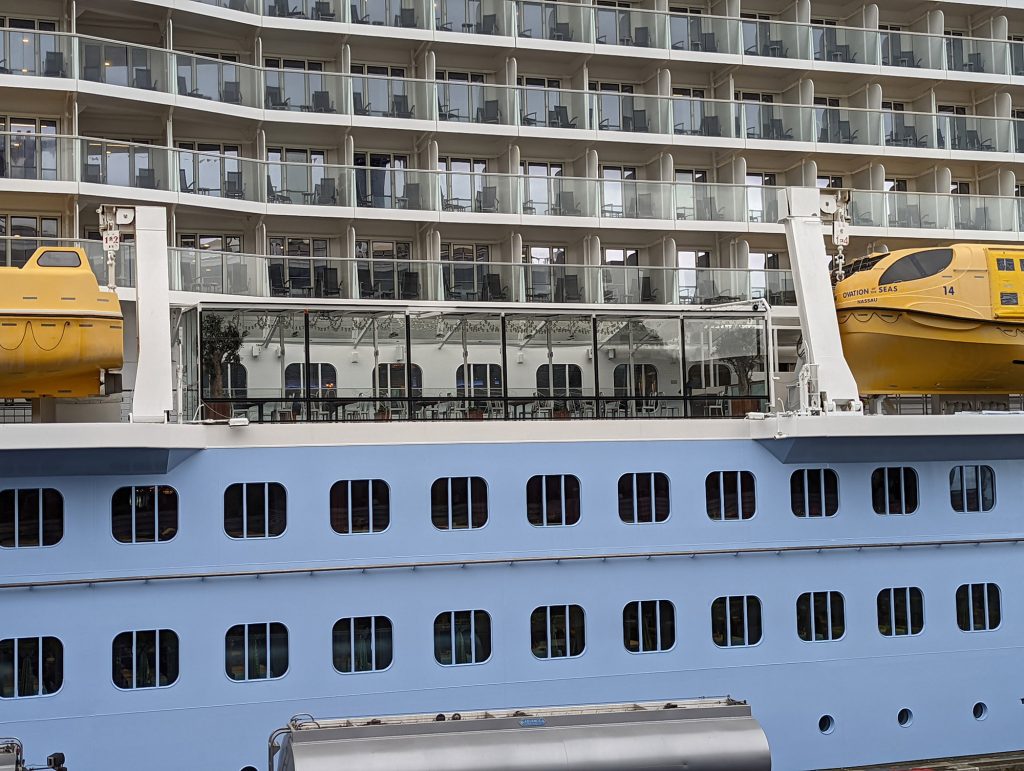 There are spots along the outside promenade for some views, but for the most part, this area is very utilitarian and mostly offers views of lifeboats. The one nice part of this exterior promenade is a dedicated covered area with comfortable seating for smokers, something that can be hard to find on some ships. 
Hit: Smart cabin design 
The standard cabins on Ovation of the Seas aren't significantly larger than others in the Royal Caribbean fleet, or even other cruise lines. But they are very well designed and stand apart from the older ships.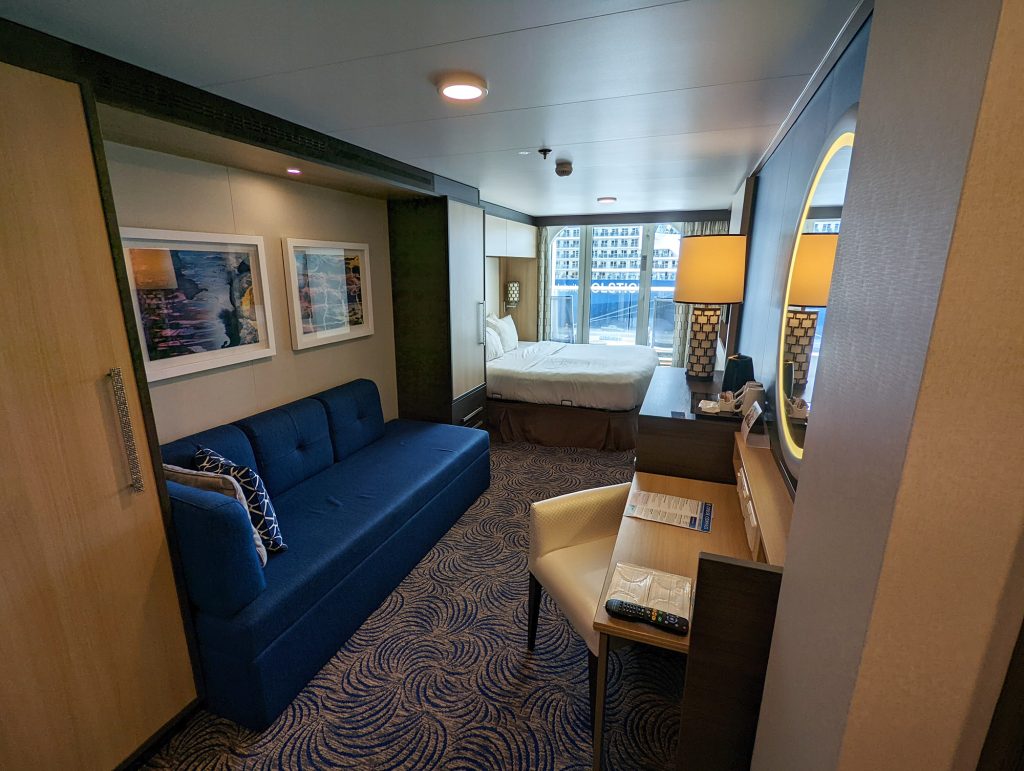 Even in a standard cabin, guests will find tons of storage space available. For example, on the Ovation of the Seas, Royal Caribbean went with two full closets on either side of the couch. This smart design allows two adults to access the closet at once. On some other ships, the large closets are right next to each other, so you can't access them at the same time. This design solves that problem. Storage is also available over the bed.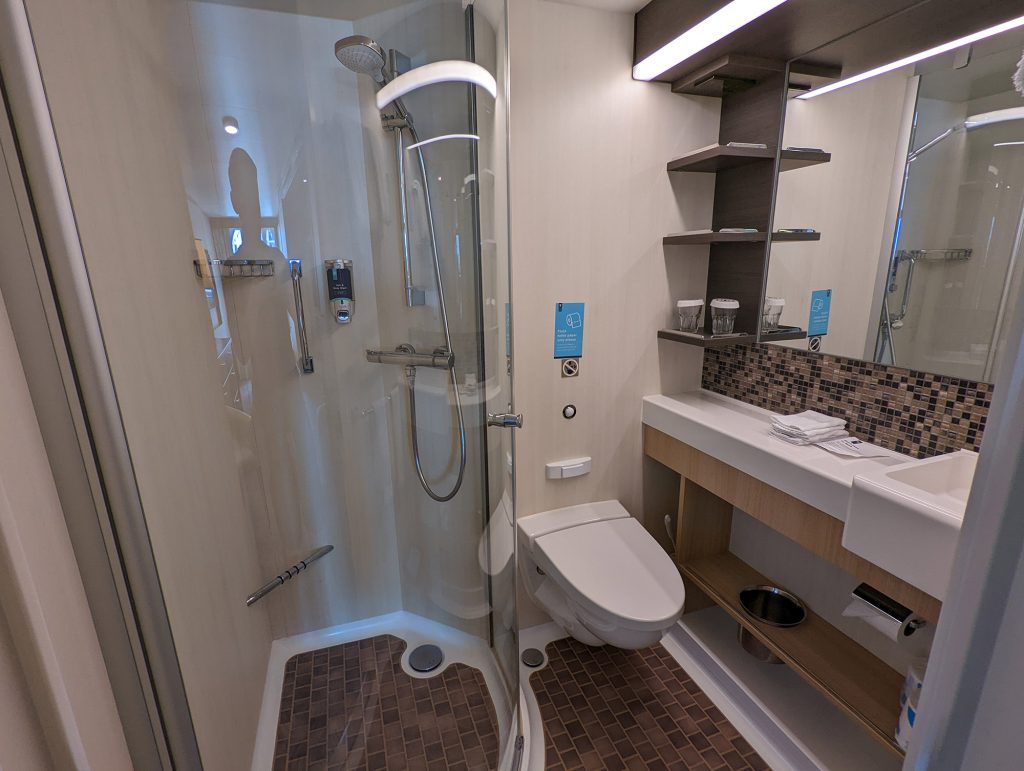 The bathroom is well designed as well. While not the largest bathroom, the glass-enclosed shower is surprisingly roomy. The showerhead is adjustable and quite powerful. Tons of storage is built in along the mirror and underneath. Another great touch is that the bathroom has a built-in night light. A small portion of the bathroom lighting is always on, meaning you don't have to blind yourself or accidentally trip over something when you're using the bathroom in the middle of the night.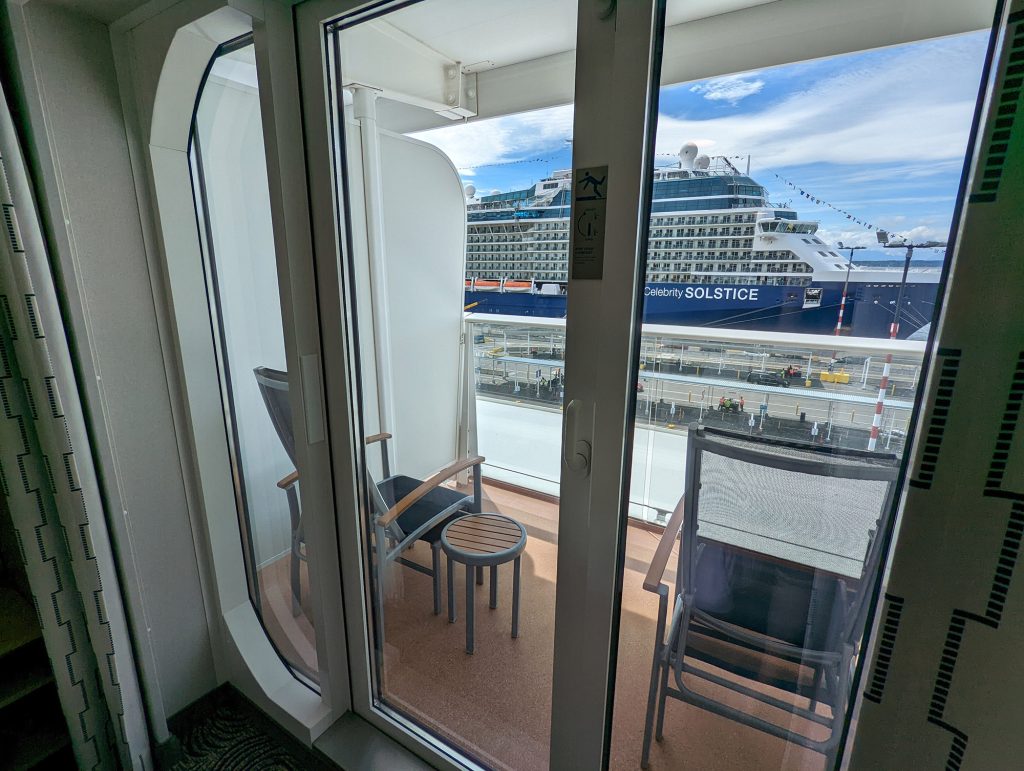 The balconies on exterior cabins are also quite spacious and feel much more private than similarly aged ships on other fleets. In most cabins, you can still hear your neighbors, but it's not like the design of the Carnival Mardi Gras, where you are directly in the line of sight of other guests. 
Miss: "Flexible" dining times that aren't really flexible
When you cruise on the Ovation of the Seas, or any Royal Caribbean ship, you have two ways you can eat in the main dining rooms: Set Time Dining or My Time Dining. With Set Time Dining, you choose either 5:15 PM or 7:45 PM. Each night, you go to your assigned table at your time. You'll have the same waiter every night and no wait. 
With My Time Dining, you can choose when you want to dine between 6:45 PM and 9:00 PM. First, you pick your time using the Royal Caribbean app. Then, at your requested time, you go to the podium in the dining room, and after a wait, they'll give you a table. On other Royal Caribbean ships, they usually try to seat you in the same section with the same waiter, but they weren't trying to do that on Ovation of the Seas. 
What's disappointing is that most cruisers realized the early times were hard to get, and the first night, they booked the early slots ahead of time for every night of the cruise. Most nights, it was impossible to get anything before 8:30 PM. At this point, it wasn't really "flexible" dining; it was alternate time dining. 
Other cruise lines approach flexible dining differently. On those lines, you check-in either at a desk or using an app, and then they tell you when your table is ready, much like a restaurant at home. This method offers a truly flexible option.   
Hit: Number of food options
The Ovation of the Seas has a lot of different food options for guests to choose from for all 3 meals. First, the ship has a buffet (called the Windjammer Marketplace on Royal Caribbean ships). It also has main dining rooms for traditional breakfast, lunch, and dinner seatings. Instead of a large main dining room, this ship has four smaller ones. They all have different themes, but the menu is the same across all four, and they serve the same purpose. 
On top of those traditional venues, they've added several others. For example, the Solarium has a bistro that serves breakfast, lunch, and dinner most days. It's free for breakfast and lunch and is an excellent alternative to the Windjammer; it was never crowded. 
Outside of the Two70 lounge, they have the Two70 Cafe. Here you could find breakfast and lunch sandwiches, soups, and made-to-order salads.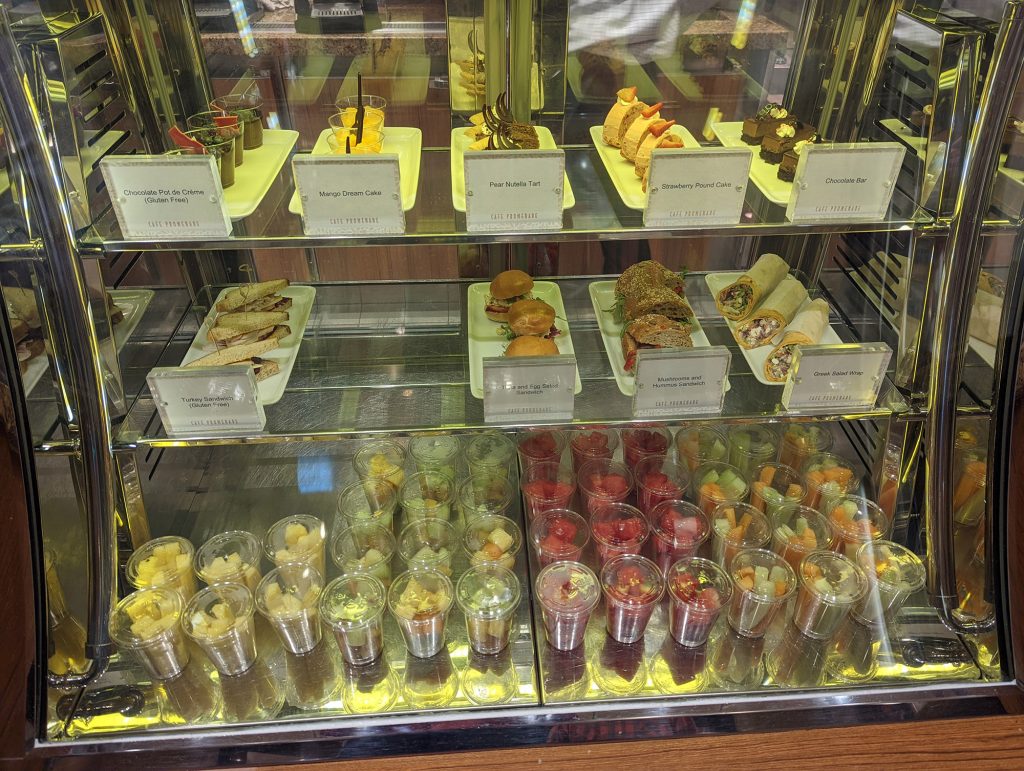 The Ovation also has Sorrentos Pizza which serves pizza at almost all hours. Right next to it is Cafe Promenade. This was a great food option where you could find many snack options during the day, like small premade sandwiches, cookies, and cakes. Here you could also find fresh fruit cups, which were really popular. People were walking around the whole ship with these snacks; it's great to see healthier options being so accessible.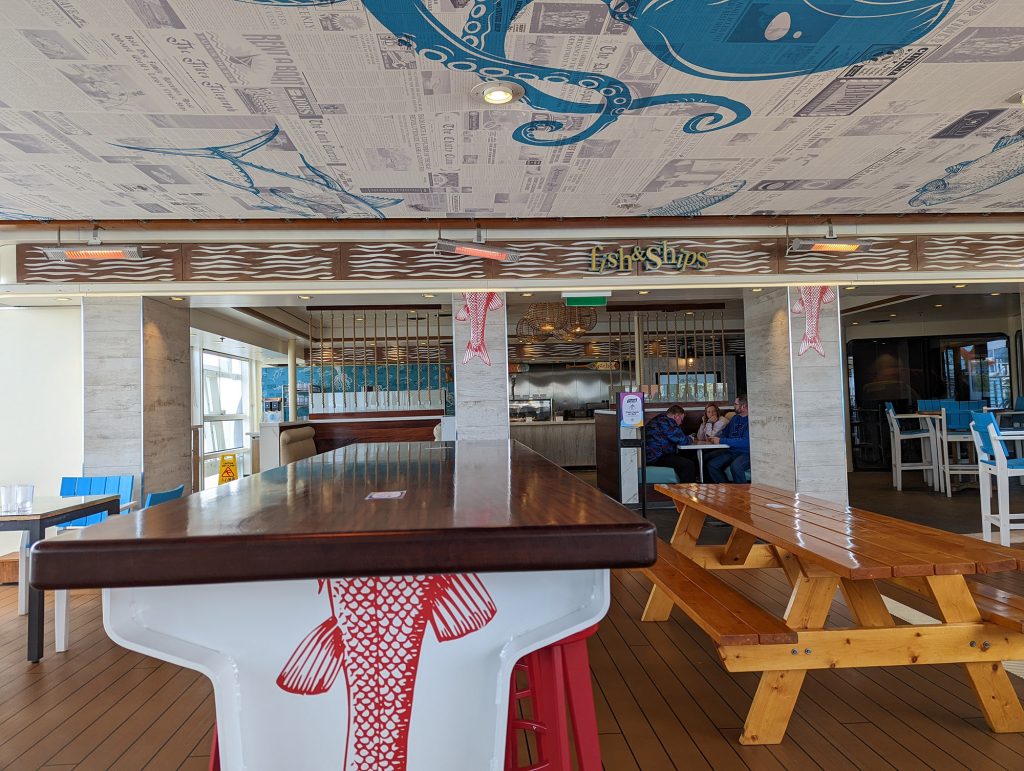 For yet another lunch or early-dinner snack, there's Fish & Ships. Located by the main pool, it serves fried shrimp, fish, and chicken tenders. It's technically outside, but they have heaters installed so it can be used in all types of weather. 
Those were just the included options. The Ovation of the Seas has several extra-fee options as well. Chops Grille, a Royal Caribbean staple, is their traditional steakhouse. Jamie's Italian is a modern take on Italian fare served in a casual style. Wonderland uses molecular gastronomy to serve unique dishes you can't even imagine. Izumi has fresh sushi rolls available. You can even order pub food at the Amber & Oak pub. 
Miss: Late-night dining
If you're looking for something to eat after 9 PM, your options are pretty slim on Ovation of the Seas. Basically, your options are Sorrento's Pizza or Cafe Promenade for small sandwiches or desserts. You can also order Room Service or food from the Amber & Oak Pub for an additional fee. Unfortunately, the buffet was never open after 9 PM. 
This selection, or lack of, late-night food is even more troubling considering Ovation of the Seas sails Alaskan cruises where guests might not return to the ship until 9 or 10 PM. Not having an option when guests get back is a big miss. 
Hit: Variety of unique ship activities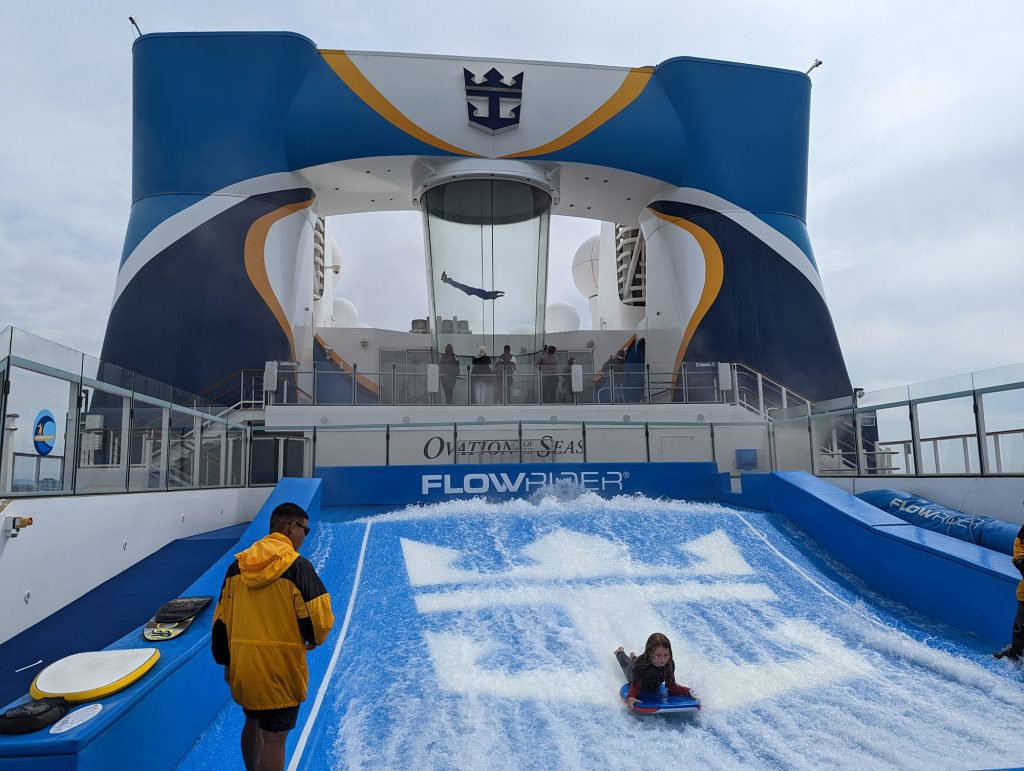 If you like a cruise ship with lots of innovative onboard activities/features, look no further than Ovation of the Seas. It has some things that can only be found on a handful of ships worldwide (mostly other Quantum-class ships). Float on the air on the iFLY skydiving tunnel, zoom around in bumper cars, see the world from 300′ over sea level on North Star, or try to balance while roller skating on the ocean.
Ovation of the Seas also has many staples of all other Royal Caribbean ships like the Flowrider (which has heated water), a kids' splash area called Splashaway Bay, and a climbing wall. Even better, most of these activities are included in the cruise fare (although there are options to upgrade for a fee). So there's really a lot to do on board. 
Miss: Entertainment staff & announcements
Since the staff can change between cruises, it rarely makes the hits & misses list because it can change completely over time. In this case, though, this entertainment staff was one of the most noticeable "misses." The cruise director and entertainment staff all seemed very removed from the ship. There were very few announcements, little attempt to "connect" with guests, and just not a lot of energy. They rarely introduced themselves before activities, and their attempts at relating to guests seemed half-hearted. 
Announcements were also incredibly sparse and hard to hear. You don't need an announcement from a cruise director every five minutes reminding you about the next sale of gold by the inch, but there were virtually no announcements on this ship, either from the cruise director or the captain himself. When there were announcements, they were tough to hear and only available in the public areas. With Royal Caribbean pushing its app so much for the onboard experience, it's surprising they can't yet push out announcements on the app. 
Hit: the hard-working, friendly crew
If the entertainment staff was a miss, then the rest of the hard-working crew had to be mentioned as a "hit." During this sailing, the ship was short-staffed due to visa restrictions and COVID protocols, but you couldn't tell by their attitude. The waiters, food servers, bartenders, and room stewards were all friendly and engaging. But, again, this can always change between sailings as staff rotates out.
Miss: Internet service
Internet service on the Ovation of the Seas was bad…really bad. Now, most of this doesn't have to do with the ship itself, but the Alaskan sailings are further from the satellites in the Caribbean that provide the internet. The actual signal strength on Ovation of the Seas was decent. Most times, you could get a strong connection to the wifi, even if on a balcony, but the internet coming to the ship wasn't fast enough.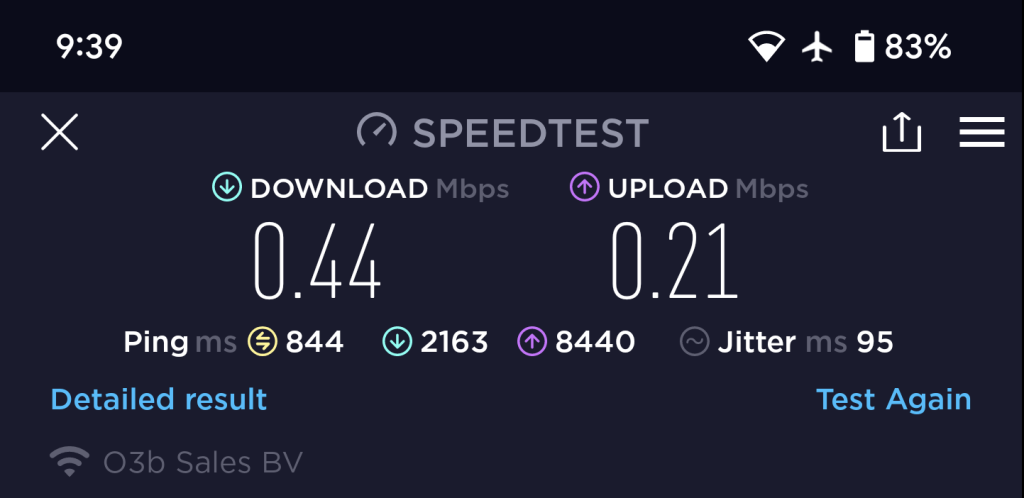 The internet speeds on the Ovation of the Seas were incredibly sub-par. In fact, they were so bad that they routinely put in the Cruise Compass that this is an issue. Royal Caribbean usually has pretty good service on Caribbean cruises, so many people were surprised this cruise was so different. The satellites that Royal Caribbean uses are closer to the equator. Being up in Canada, the latency, or delay, is much higher. 
Since it's a geographical issue, it'd be understandable if Royal Caribbean let guests know about this ahead of time, but they don't. They charge the same amount for access on their Caribbean cruises, and there was no warning about service beforehand. In fact, they still advertise it as the "fastest internet at sea" when you purchase it.
Long story short, don't plan on having reliable internet for an Alaskan sailing.
Summary: Well-designed ship that's perfect for cool weather
While Royal Caribbean's Quantum-class ships never saw as much popularity in North America as their siblings, the Oasis-class ships, they still have a very solid design. Even though they're larger ships, they're surprisingly easy to navigate, and their design is perfect for cruises that may have inclimate or cooler weather. You'll find plenty of viewing opportunities on this ship, even if you don't have a balcony cabin. While it might feel like a bit of a shopping mall at times, the ship is well equipped for all your fun vacation needs with lots of activities, bars, and food options. 
Follow along on our 7-day Alaska cruise on Ovation of the Seas
Ovation of the Seas – Cruise Blog - Day 1 – Seattle
Ovation of the Seas – Cruise Blog - Day 2 – Sea Day
Ovation of the Seas – Cruise Blog - Day 3 – Juneau
Ovation of the Seas – Cruise Blog - Day 4 – Skagway
Ovation of the Seas – Cruise Blog - Day 5 – Sitka
Ovation of the Seas – Cruise Blog - Day 6 – Sea Day
Ovation of the Seas – Cruise Blog - Day 7 – Victoria
Ovation of the Seas – Cruise Blog - Day 8 – Debarking in Seattle
6 Hits & Misses of Ovation of the Seas
CruiseSpotlight is an Amazon Associate. We may earn a commission when you click links to retailers and purchase goods.