A Look At All The Entertainment on Icon of the Seas
Royal Caribbean is gearing up to debut its highly anticipated ship, the Icon of the Seas, in January 2024. Today, they provided more insight into the shows, which will span air, ice, water, and theater. On this new, record-breaking ship, there will be more entertainment than ever with innovative productions throughout the ship. Royal Caribbean has scoured the globe to find 75 world-class performers participating in these new shows.
AquaDome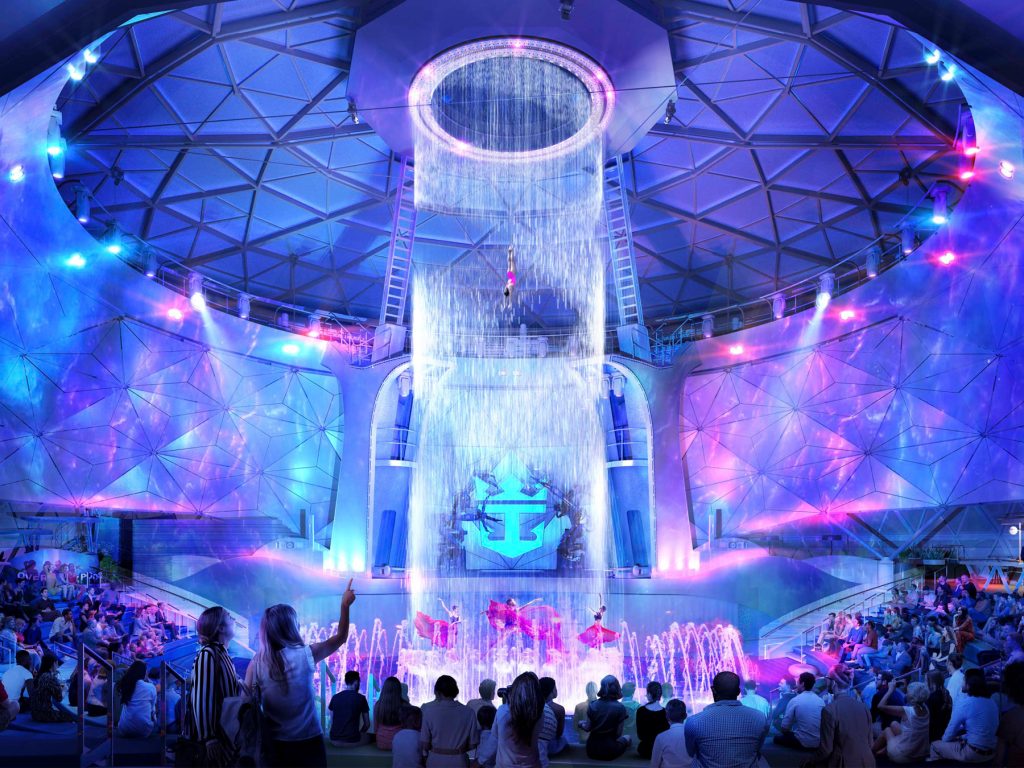 The AquaDome combines the traditional AquaTheater found on Oasis-class ships with the enclosed Solarium found on Royal Caribbean's Quantum-class ships (and newer Oasis-class ships). This new enclosed space offers a unique performance space and allows never-seen-before elements. For example, it will feature four robot arms that act as diving boards for high divers or put together a half pipe for skateboarders.
The two main shows will be:
"Aqua Action!" – Combining technological and physical feats, a new kind of cast debuts in this high-octane production. Olympic-level high divers, skateboarders, aerialists, slackliners and synchronized swimmers come together with high-tech firsts, like a double 3D flying system and robots doubling as diving boards and set creators, to blur the lines between live-action movie and theatrical experience.
"Pirates vs. Mermaids" – A mythical world comes to life in this show with a combination of a lighthearted storyline, fairytale characters and humor for both the adults and kids. Pirates and mermaids go tail to toe to show off their greatest feats and see who really rules the ocean after all.
Royal Theater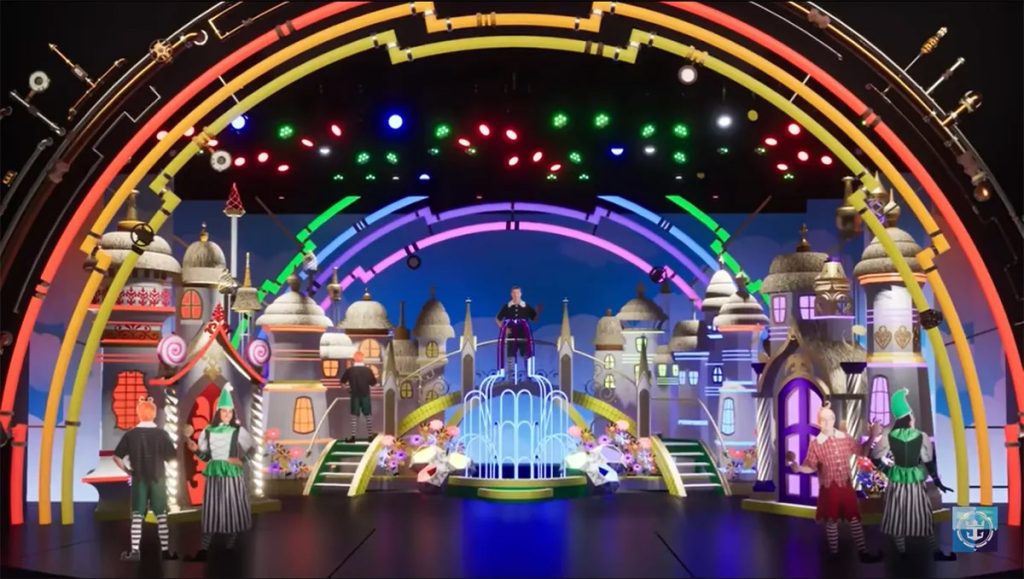 The Icon of the Seas will also offer a traditional theater experience. Unlike many cruise lines that have moved away from traditional theaters and Broadway-style performances, Royal Caribbean is doubling down. On top of shows and comedy, guests can also see two big productions here:
"The Wizard of Oz" – The first cruise line to debut the classic tale of Dorothy's adventure to Oz – and with a modern twist. Royal Caribbean's rendition of this favorite across generations features characters soaring above the audience, a revolutionary set design with never-before-seen stage effects, more than 600 costume elements and an original score performed by a new 16-piece orchestra.
"SHOWBAND! Live. Music. Now." – This must-see, must-hear event for music lovers will spotlight 16 talented musicians. By combining their chart-topping skills with the venue's cutting-edge sound and video technology, the show conductor and string, woodwind, brass and percussion instrumentalists will harness the power of live music to fully immerse the audience in an all-out sensory experience.
Absolute Zero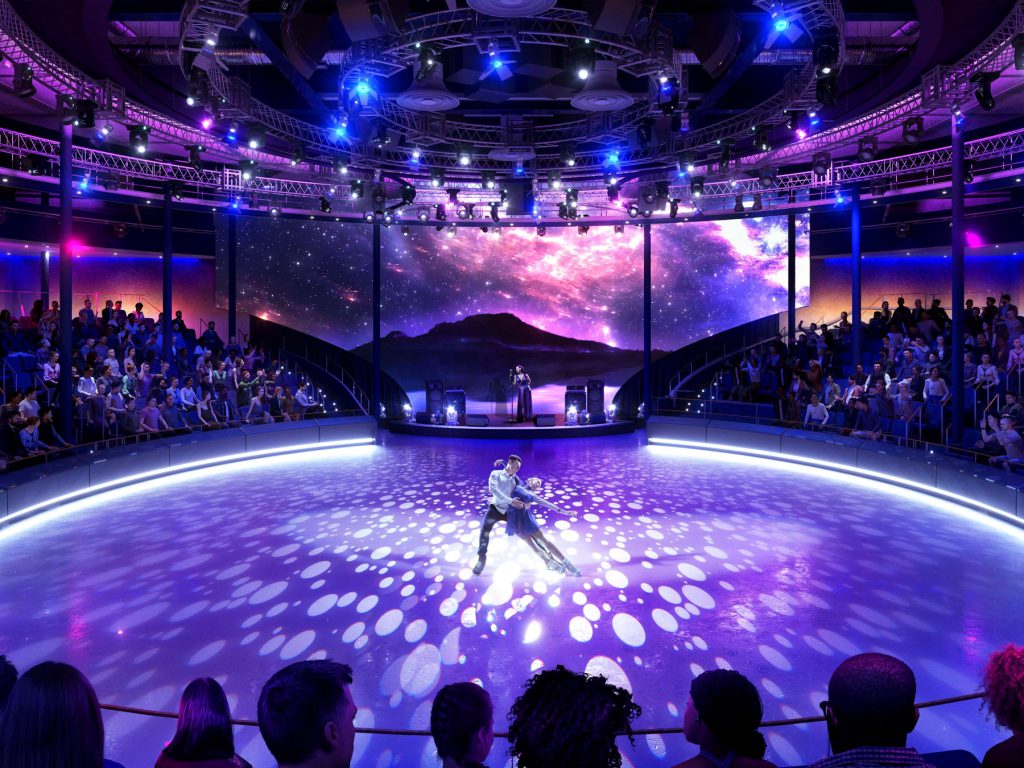 Absolute Zero is the evolution of the popular Studio B Ice Rink found on many other Royal Caribbean ships. This new space is equipped with state-of-the-art projections and screens to offer a fully immersive experience. Guests will have two shows to attend here:
"Starburst: Elemental Beauty" – The awe-inspiring, artistic interpretation of the periodic table of elements is at the heart of this thrilling story about the building blocks of life. The Olympic-level ice cast will wow with powerful, high-speed choreography that packs more tricks and higher jumps, made possible by the design of the new oval-shaped ice arena that takes the cruise line's introduction of the first ice rink at sea in 1999 to new heights yet again. Along with jaw-dropping digitally mapped backdrops and vibrant lighting displays, the show will be a fully immersive experience.
"Once Upon a Time: The King's Royal Ball" – This ultimate gathering of famous fairytale superstars is specially tailormade for young vacationers and their families. Timeless tales will take everyone on a nostalgic ride through their childhood with twists and surprising new details not part of the originals.
Elsewhere on Icon of the Seas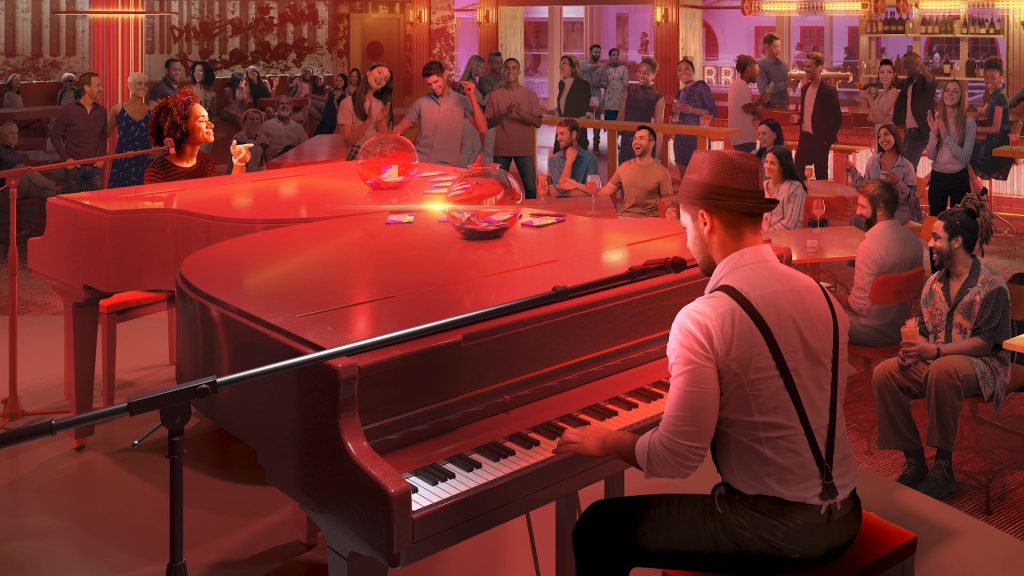 Royal Caribbean isn't just focusing on those three venues. They have another 50 musicians and comedians who can be found through the ship. That includes new venues like Lou's Jazz 'n Blues in Central Park and Dueling Pianos in the Royal Promenade. It'll also feature three separate comedians in their dedicated Comedy Club. Icon of the Seas will also feature "Ships Ahoy!" a show/parade that takes place in the expanded Royal Promenade.
Making An Icon Video
For a deeper look at the entertainment options, check out the most recent episode of Royal Cartibbean's "Making an Icon" series.
Our take: Royal is really focused on top-end entertainment
When you have more than 7,000 people on a ship, you need a lot to keep them occupied. As ships get larger, instead of making venues bigger, they offer more entertainment options, which split the crowds up. With three different large-scale production venues and many smaller clubs and bars, they should be able to effectively split up the crowds and keep everyone entertained. Adding new venues like the jazz club and the dedicated dueling piano bar (on top of the Schooner Bar) adds even more options and caters to more diverse tastes.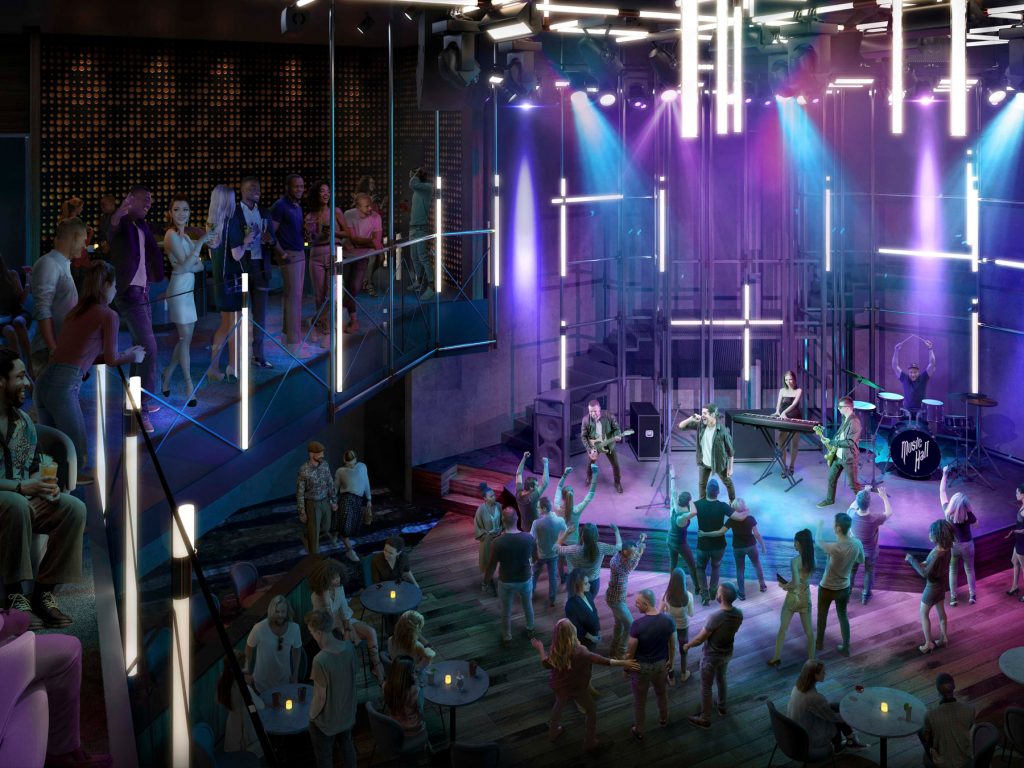 We've yet to see the sizes of the spaces. The Attic, which is where Oasis-class ships typically offer comedy shows, is ridiculously sized. Hopefully, the space has been expanded, or they offer it in several venues at once like Carnival does on their larger ships.
Still, with competitor Norwegian Cruise Line canceling all Broadway production shows and Royal Caribbean focusing on generating more onboard revenue, it's nice to see Royal Caribbean focusing on these important aspects of a cruise, especially considering its non-revenue generating for the cruise line.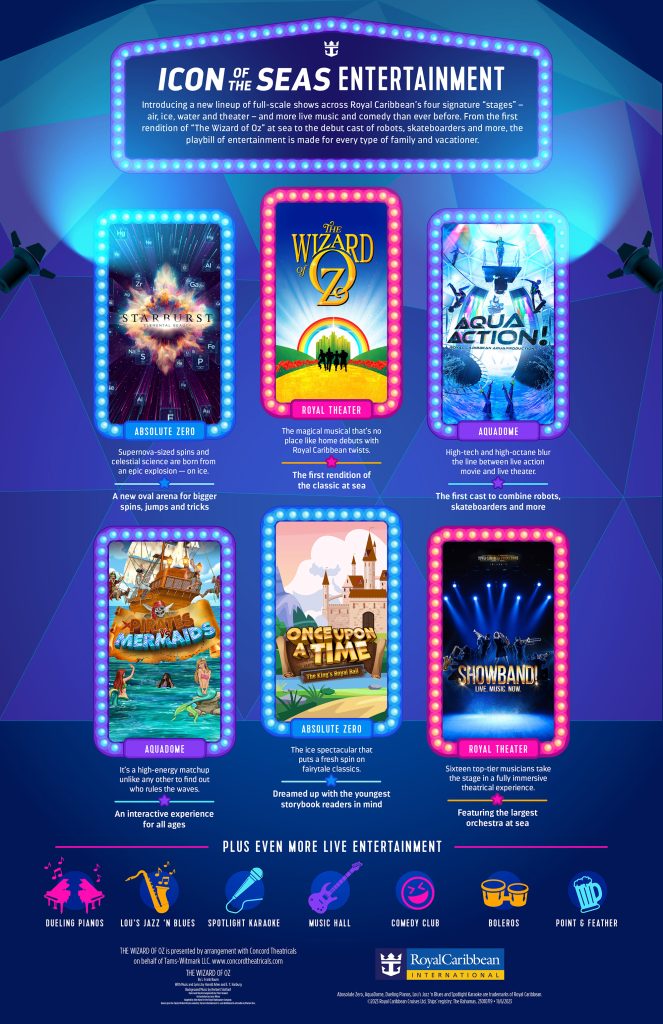 CruiseSpotlight is an Amazon Associate. We may earn a commission when you click links to retailers and purchase goods.