A Look at Carnival's Potential Main Dining Room Menu Change
Last Updated on June 30, 2023
Last week, Carnival Cruise Line President Christine Duffy released a video discussing upcoming changes to their main dining room menu. Carnival has been working with their new Chief Culinary Officer, celebrity chef Emeril Lagasse, to develop a more modernized and exciting set of menus for the Carnival fleet. The menus in the main dining room (MDR) on Carnival ships rotate daily throughout the cruise. The current menus have been around for years, with some minor tweaks, and because the menus are often the same across different ships, people were getting tired of the same selections.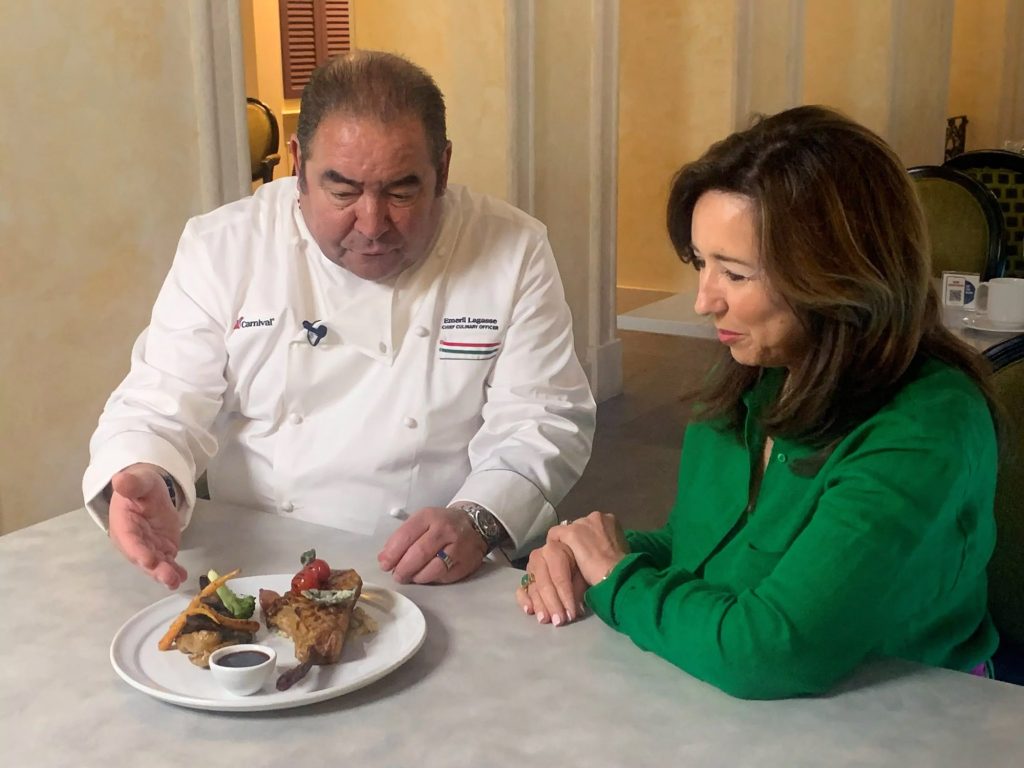 A look at the new Carnival Main Dining Room menus
Carnival started trialing the menus on the Carnival Dream on June 17th; we'll update this page as the new menus are released. For now, Carnival is only testing these menus on the Carnival Dream, with a wider release expected in the fall. Carnival will collect guest feedback and adjust as needed before rolling out to the rest of the fleet this fall. (Update: John Heald said due to the incredible feedback from guests on board and social media, the rollout schedule will be accelerated. He also mentioned they'd be bringing back the popular Chilled Strawberry Bisque). Carnival will add nearly 60 new entrée presentations with the new menus. Carnival has said they've added more vegetarian options, entrée salads, and serving larger portions for some dishes. 
So far, these menus aren't a drastic change from what's currently available in the main dining room. It seems to be the same level of cuisine with varied options. You can clearly see Emeril's influence here with lots of seafood and southern-influenced dishes. Carnival has kept its everyday options for pickier eaters (grilled chicken breast and broiled striploin steak) and their famous Melting Chocolate Cake (see the melting chocolate cake recipe here). 
Carnival Main Dining Room Menu – Day 1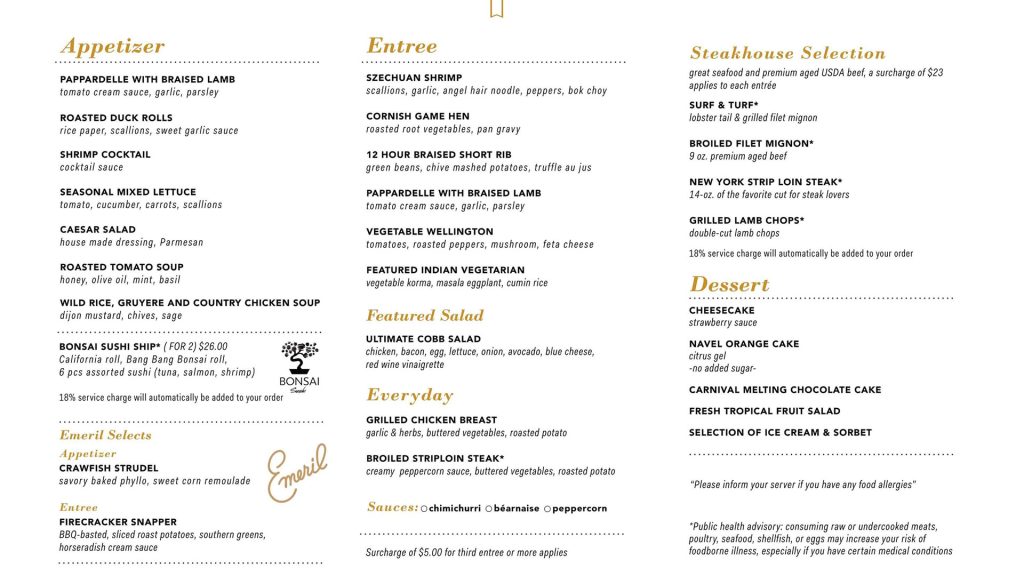 Carnival Main Dining Room Menu – Day 2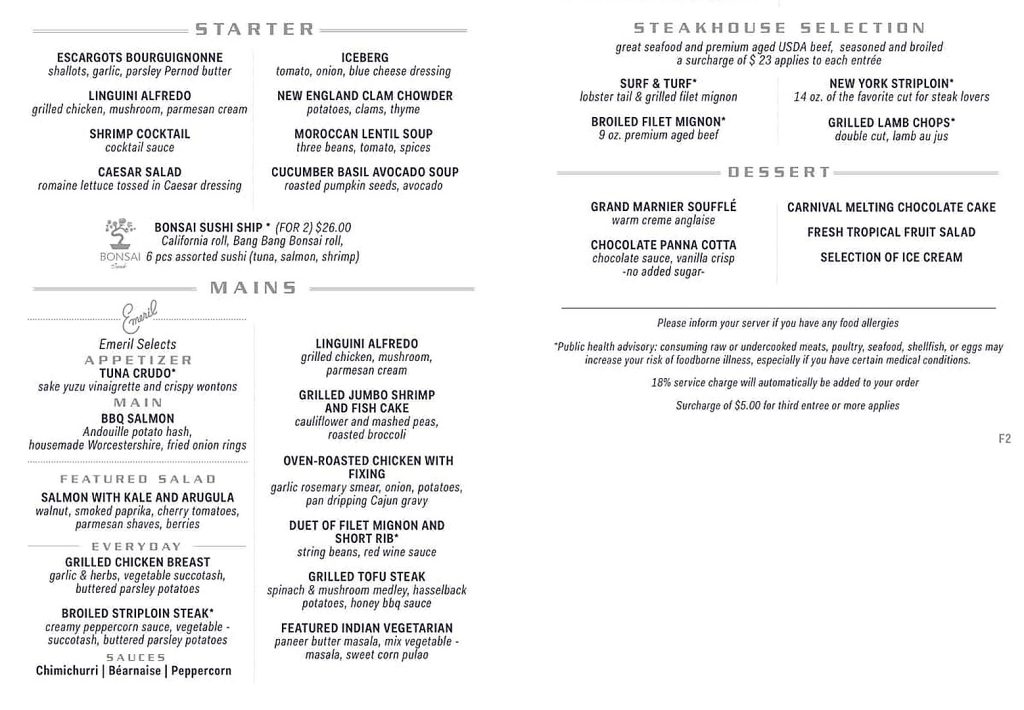 Carnival Main Dining Room Menu – Day 3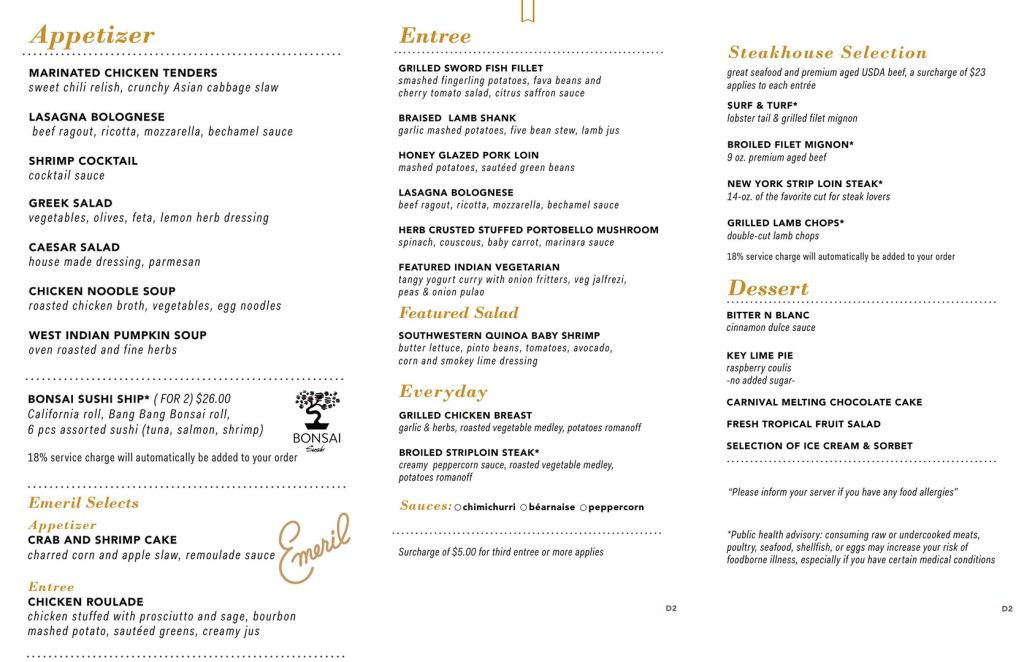 Carnival Main Dining Room Menu – Day 4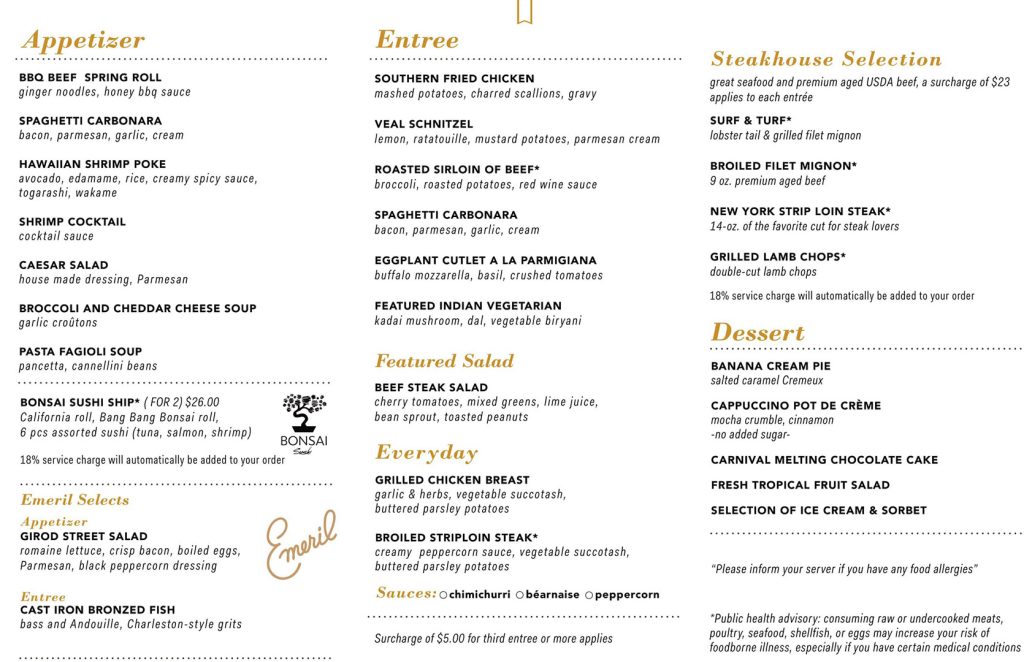 Carnival Main Dining Room Menu – Day 5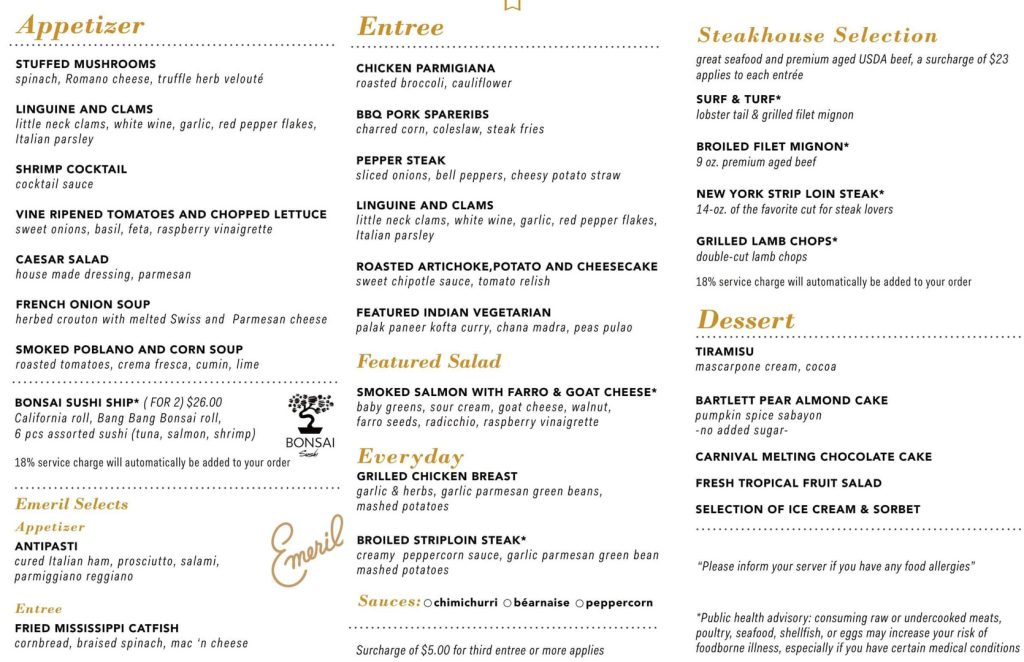 Carnival Main Dining Room Menu – Day 6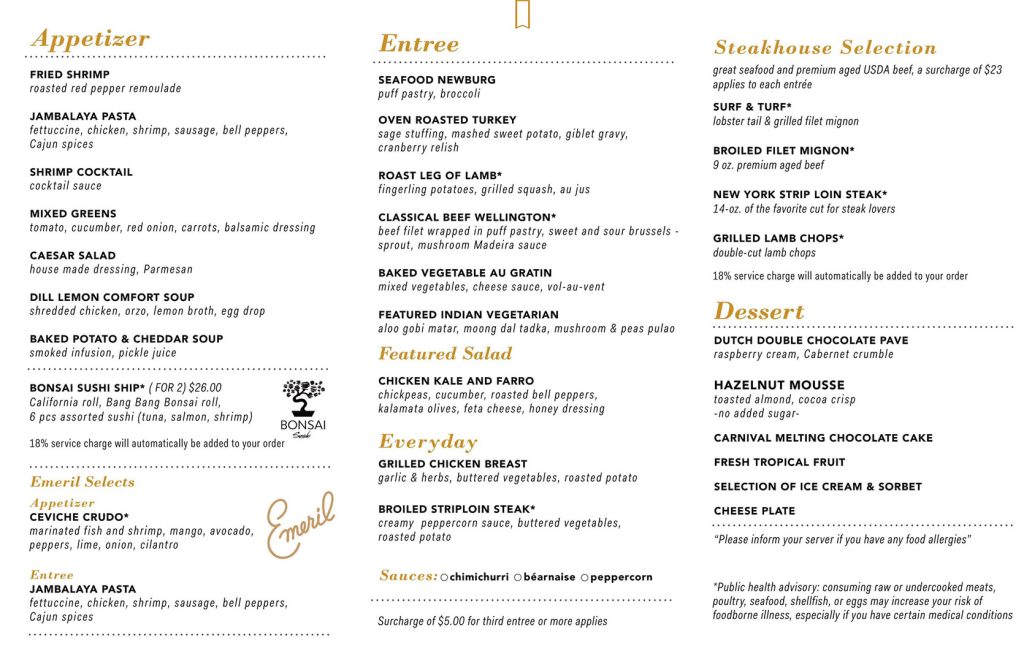 Carnival Main Dining Room Menu – Day 7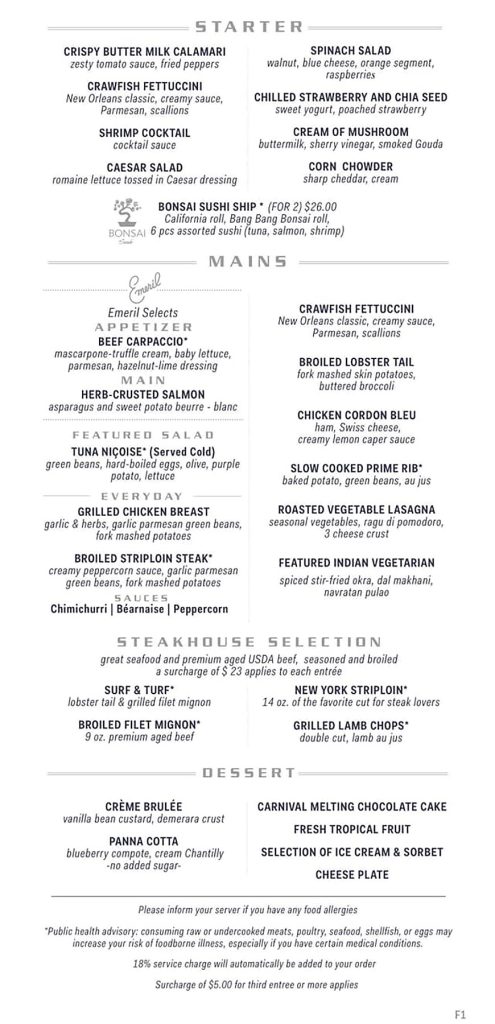 Carnival Main Dining Room Menu – Day 8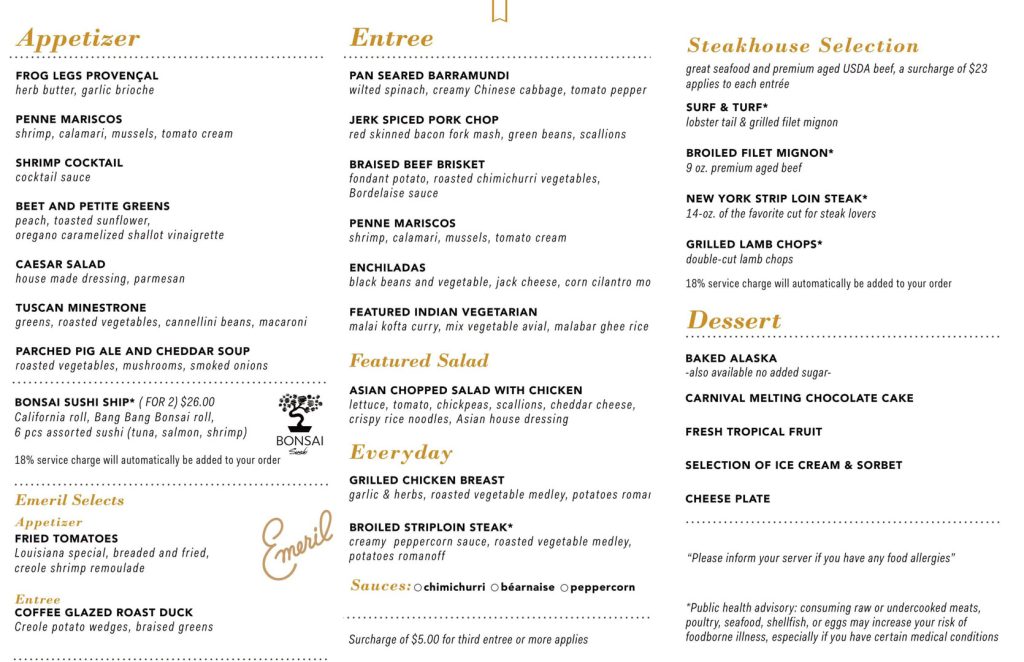 Our take: More of an evolution than a complete redesign
Earlier this year, Royal Caribbean drastically altered its menus to offer new daily theme menus (you can see them here). In that process, they got rid of many staples and crowd favorites. Royal Caribbean said these changes were to improve speed and streamline service. The feedback online has been generally very negative, with people complaining about the selection, quality, and speed of service. 
Carnival's menu change is much more of an evolution than a revolution. A refresh is definitely welcome after years of the same menus. The new dishes all feel similar to what is currently found in the Carnival main dining room menus, and they keep the everyday "backup" options many picky eaters rely on. That being said, based on our last sailing on the Carnival Celebration, the big thing Carnival needs to address is consistency, as the main dining room quality varied considerably from night to night (read more here). 
CruiseSpotlight is an Amazon Associate. We may earn a commission when you click links to retailers and purchase goods.