A Look at Food on Icon of the Seas
In the latest episode of Royal Caribbean's "Making an Icon" video series, we get more information about how they came up with the 40 food and beverage options on the new ship. When designing the new food options, their main focus was convenience, choice, and variety, and it looks like they hit all three of those things. Here's some of the new information we learned about Icon of the Seas.
Empire Supper Club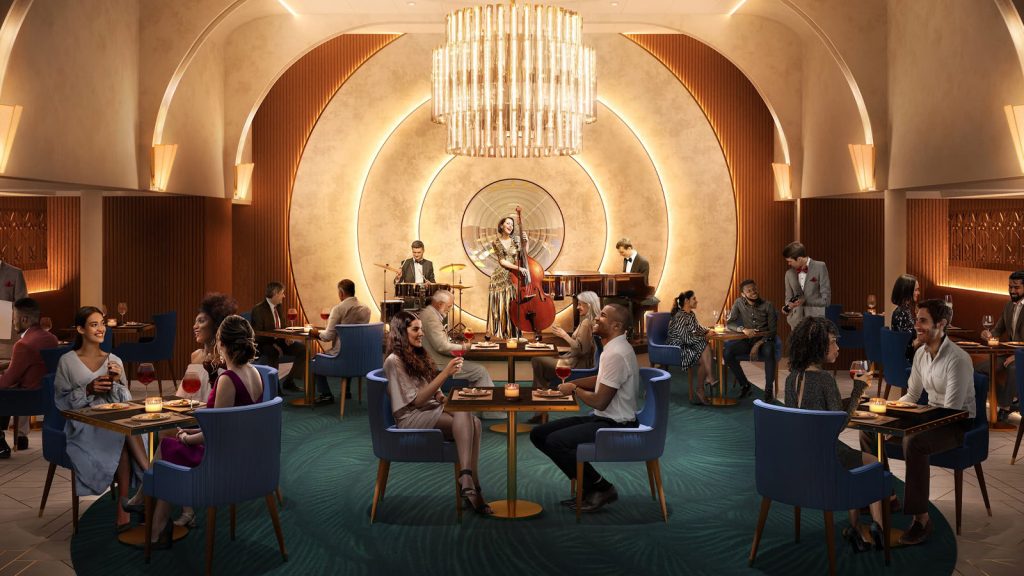 Royal Caribbean's new "Empire Supper Club" takes place of 150 Central Park on Oasis-class ships. This "super premium experience," which is rumored to come in at $200 per person, will be a 2-hour plus dining experience. Themed after a 1920s New York Restaurant, music will play a central role in the Empire Supper Club. It won't just be live music in the background; the music is central to the experience. Royal Caribbean worked to pair the live performances with the different courses and cocktails.
AquaDome Market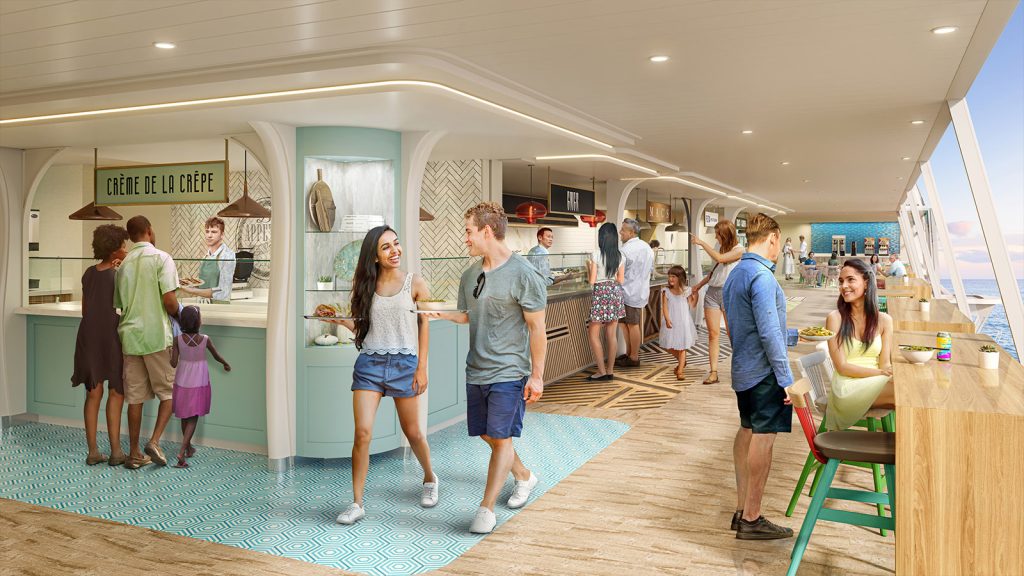 The AquaDome Market is the new food-hall-like experience on Icon of the Seas. Royal Caribbean spent time making sure the individual food stalls worked well on their own and made sense as a whole in the food hall space. They needed to ensure there'd be something for everything and that the flow worked right. Guests will find a variety of options here, with stations serving food like mac and cheese and premium salads.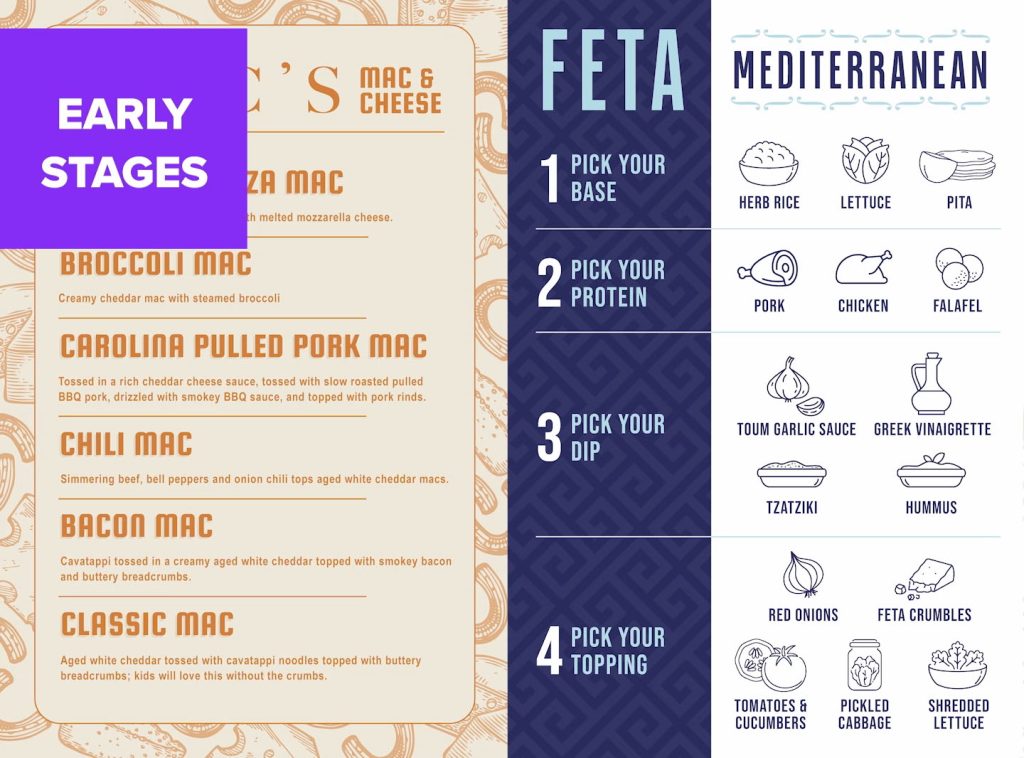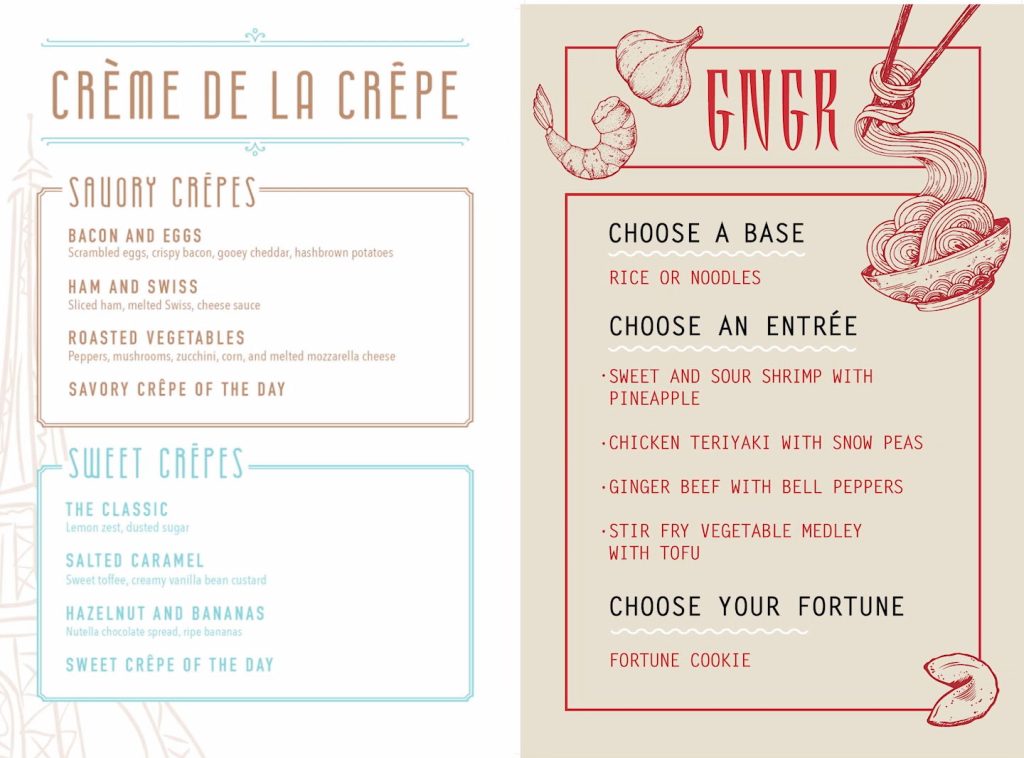 Surfside Eateries
The new Surfside family neighborhood, which replaces the Boardwalk on Oasis-class ships, will get a variety of dedicated restaurants as well. This means families won't have to venture up eight decks to the Windjammer just to get food for their kids.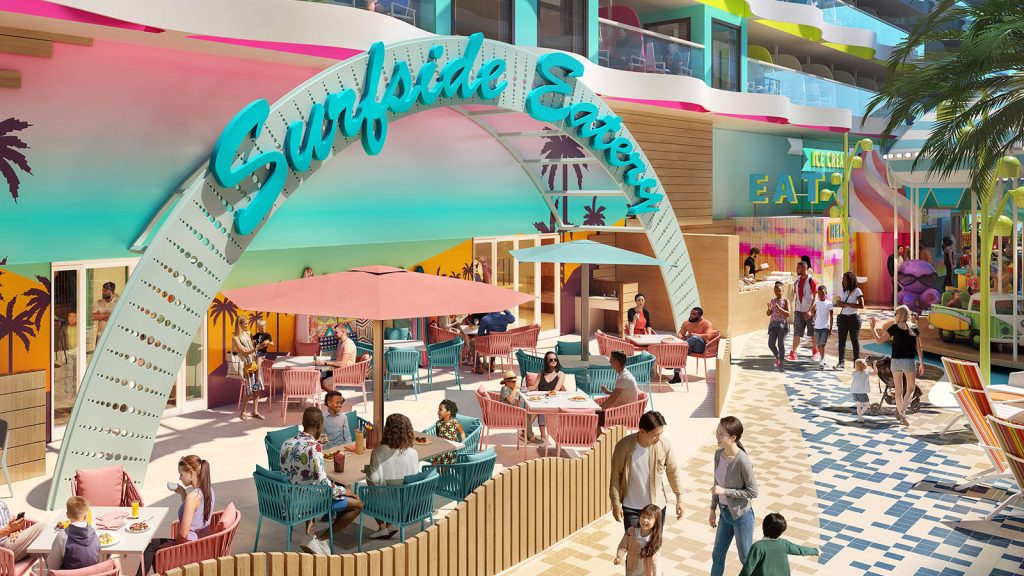 The Surfside Eatery is a dedicated buffet for the family, hopefully easing pressure on the main Windjammer buffet. It'll have kid-friendly staples like pancakes with stencil cutouts and soft-serve ice cream.
Surfside Bites is a pickup window with food like popcorn chicken, mac & cheese bits, and a bag of donut holes.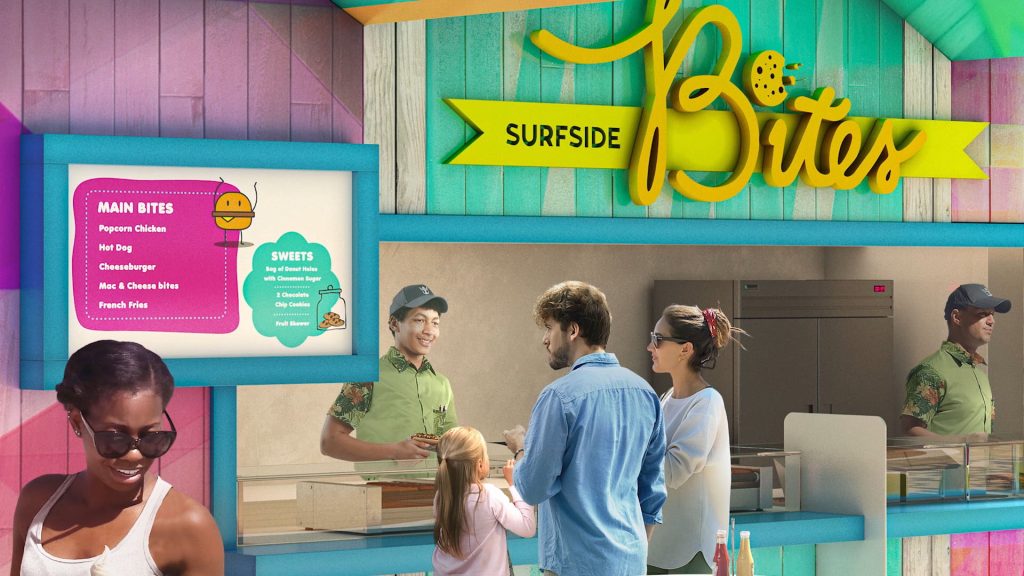 The area also sees the new Pier 7, offering California cuisine and an all-day brunch. This extra-free restaurant seemed like an odd addition for a family-centric neighborhood as most parents wouldn't want to shell out extra money for their kids when chicken fingers are just across the way. But in the video, Royal Caribbean disclosed that kids would eat free at this restaurant (at least when ordering from the kids' menu).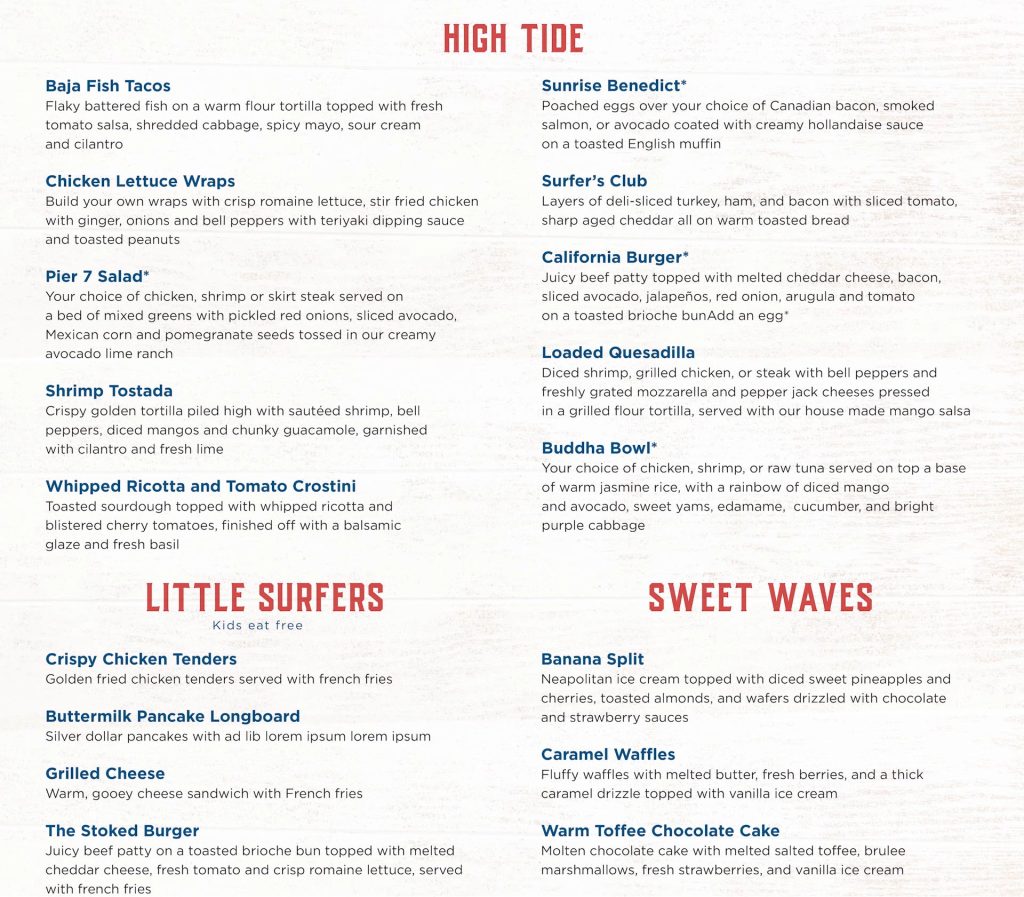 Windjammer Enhancements
 You can see how much time Royal Caribbean put into rethinking old venues as well. For example, the Windjammer, a staple on every Royal Caribbean ship, gets some new enhancements. On Icon of the Seas, they're adding a Kid Jammer station, which is lower to the ground so kids can help themselves and have items like chicken fingers and cake pops.
Basecamp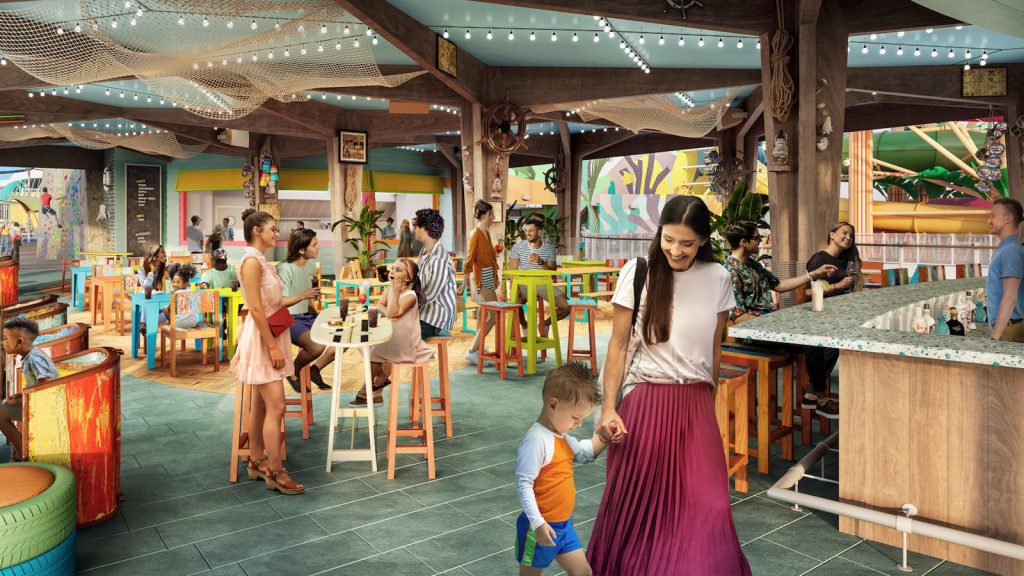 The new Basecamp eatery, located in Thrill Island, will offer a variety of fast-casual options while guests are trying out the water park or climbing wall. It'll have dishes like waffle chicken nuggets, Wisconsin cheese curds, and crispy shrimp bao buns.
Trellis Bar and Park Cafe
Trellis Bar, located in Central Park, will get a new snack menu available throughout the day. The nearby Park Café will also get new sandwiches and be open later, making Central Park great for post-excursion snacks and drinks.
Our take: We're loving the diversified options and casual eats
Icon of the Seas is a big ship and will have a lot of people on it. Offering a large number of restaurants to choose from will really help break up the crowds and improve the cruise experience. Gone are the days when cruisers would eat every meal in the main buffet. Now, they can try a different experience for each meal. Even on my last sailing on the Harmony of the Seas, I went the whole cruise without stepping foot in the Windjammer once.
It also shows that Royal Caribbean is taking note of its shortcomings. Royal Caribbean has lagged behind other cruise lines when it came to casual, grab-and-go offerings for breakfast and lunch. The Icon of the Seas looks like it'll have a ton of options, and thankfully, many of them seem to be included.  
Watch the episode of "Making an Icon"
CruiseSpotlight is an Amazon Associate. We may earn a commission when you click links to retailers and purchase goods.