All You Need To Know About Carnival's Cheers Package
Don't want to worry about paying for every drink or want to make your cruise more like an all-inclusive resort? Then Carnival's Cheers package might be for you. The Cheers package is their "unlimited" drink add-on that you can purchase for your cruise. I use "unlimited" because it is capped at 15 alcoholic drinks per day.
What drinks are included for free on a Carnival Cruise?
As part of your cruise fare, you can get non-bottled water, lemonade, unsweetened iced tea, standard coffee, hot chocolate, and juices (in the morning only usually). You'll have to pay extra if you want any alcoholic beverages or non-alcoholic beverages like soda, energy drinks, premium coffees, milkshakes, and bottled water.
What drinks are included in the Carnival Cheers Package?
The Cheers package gives you access to all beer, wine by the glass, spirits, and cocktails under $20. A majority of the drinks in their bars are under this $20 limit, including drinks from their very popular Alchemy Bar. You are limited to 15 of these drinks per day, though.
On top of that, the package gives you unlimited soda, zero-proof frozen cocktails, energy drinks, specialty coffee, and bottled water.
For any liquor or wine over $20, you receive a 25% discount off the menu price. You will also receive a 25% discount off full bottles of wine or champagne. 
What is not included in the Cheers Package?
Specialty cocktails in souvenir glasses (like the kind they pass around on the pool deck when you board) are excluded from the Cheers Package. You can still get those drinks, but you have to request them in a regular glass. The plan also excludes full bottles of liquor or sharable drinks/pitchers. It also does not include room service or mini bar purchases.  
Unlike some other cruise lines, you cannot use your Cheers package on Carnival's Private Islands (Half Moon Cay and Princess Cay). You will be paying full price if you purchase drinks on those islands.
How much does the Carnival Cheers Package cost?
Carnival updated the Cheers package pricing in October 2023. The cost will now vary depending on the cruise length, with the price on shorter cruises increasing by 17%.
For sailings 5 days or less, the pre-cruise price is $69.95 per day or $74.95 if purchased onboard.
For sailings 6 days or longer, the pre-cruise price is $59.95 per day or $64.95 if purchased onboard.
On top of this daily fee, you will have to pay an 18% gratuity. All adults over the age of 21+ must who are in the same cabin must get the drink package. 
Total cost of Cheers package per person (including service charges)
Length of Cruise
Pre-cruise
Total Cost (including service fees)
Onboard Purchase
Total Cost (including service fees)
4 Day Cruise
$330
$354
5 Day Cruise
$413
$442
6 Day Cruise
$424
$460
7 Day Cruise
$495
$563
Carnival Cheers Package Pricing Per Day (including Tax)
What is the fine print?
There are a few fine print details to know about the Cheers program. For cruises leaving from Galveston and New York City, the package doesn't work on the first day due to local laws about unlimited liquor packages. In that case, you will pay per drink on day 1 and have the drink package for the rest of the cruise. You'll be charged for one less day as well (so for a 6-day cruise, you'll be charged for 5 days).
The package caps your alcoholic drink purchases at 15 per day. Once you hit that daily cap, you will no longer be able to purchase alcohol until the next day, even if you want to pay for the drink separately. Carnival defines a "day" as the 24 hour period from 6 AM to 6 AM (so don't hope for a reset at midnight). The sodas, coffees, waters, and juices that are included are unlimited, though. You also have to wait 5 minutes in between ordering drinks, which is meant to stop you from sharing.
What are the normal drink prices on a Carnival Cruise Ship? 
For years, Carnival has had the lowest drink prices in the cruise industry, but as a result of their 2022 price increase, they're now on par with the other mainstream cruise lines. Of course, the pricing can vary if Carnival is testing new pricing or menus, but here is an idea of standard drink prices onboard most Carnival ships leaving from the US and Puerto Rico.
Average Prices of Drinks on a Carnival Cruise Ship
Beer: $7.95 (plus 18% tip)
Glass of wine: $12.50 (plus 18% tip)
Frozen drinks: $11.00 (plus 18% tip)
Cocktails: $13.00 (plus 18% tip)
Soda: $2.75 (plus 18% tip)
Gourmet coffees: $4.00 (plus 18% tip)
Bottled water: $1.50 (plus 18% tip)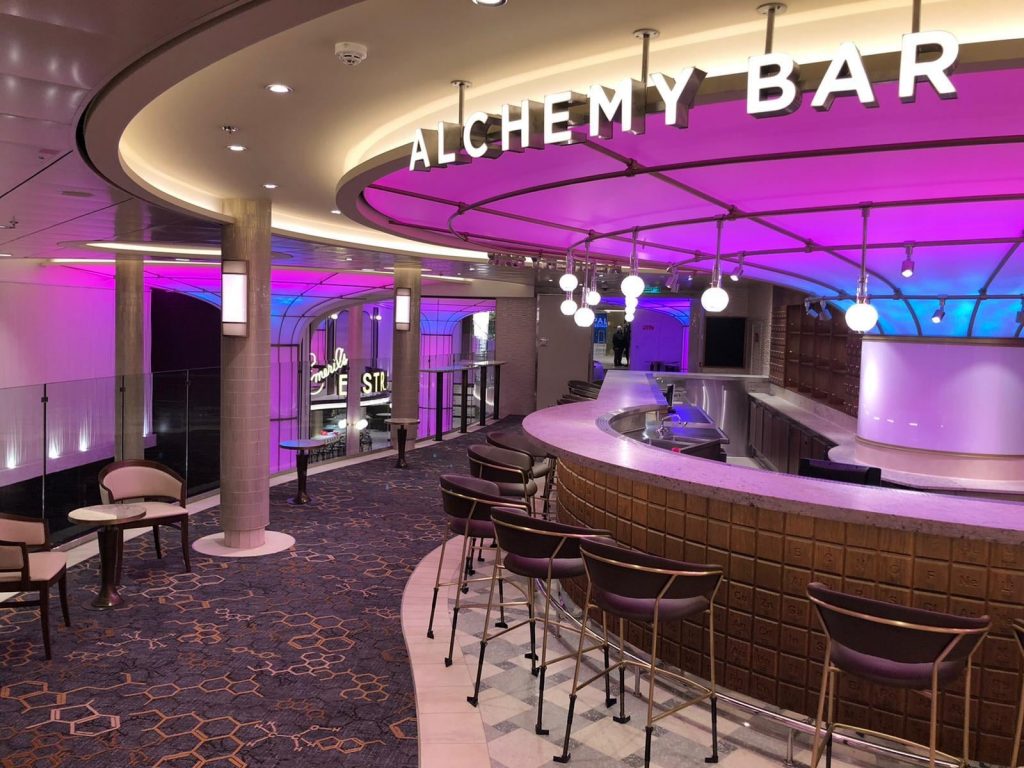 Is the Carnival Cheers package worth it?
There are a few reasons you could want the Cheers package…convenience, peace of mind, and cost savings. This decision is totally up to you. Do you like to pay upfront for everything and not worry about any charges onboard? Do you drink a lot of high-end liquor or cocktails? Do you want to have a drink whenever you want without worrying about the cost? Then this package may be right for you.
According to our Drink Package Calculator, 67% of users predict they'll save money with the Cheers package, saving an average of $217. Your actual results will depend on what you drink and how much. You can use our helpful calculator to see how much you'd save by using the drink package.
Personally, I have never purchased the Cheers package. To me, the financial aspect is most important. While I would get a few alcoholic drinks every day, it would never equal the amount the Cheers package would cost. Everyone is different, though, so try out our calculator to see what makes sense for you.
Does the Cheers package ever go on sale?
Carnival rarely offers a sale or promotion on the Cheers package. The only discount you usually see is the pre-cruise price which Carnival advertises as being 10% off (in reality, it's now 8% off). Otherwise, the package doesn't usually see any discounts or promo codes.
Occasionally, Carnival will offer a cruise rate that will include the drink package for 2, but look at the options carefully. To get this offer, you may end up paying more for the cruise than you would otherwise. You have to do the math to see if it's beneficial to you. 
CruiseSpotlight is an Amazon Associate. We may earn a commission when you click links to retailers and purchase goods.