Amazon Prime Day – We Found the Best Deals Cruise Essentials
It's time for the annual Amazon Prime Day sale, the favorite commercial-based holiday of many (or at least that's what Amazon wants you to think). Honestly, it's funny that a quasi-holiday is made up just to increase sales and drive consumer spending. That being said, if you were going to buy a product anyway, why not get it while it's on sale? I always make a list of things I've been waiting to purchase, and then if they go on sale on Prime Day, buy them at that time. That way, I'm not spending needlessly but saving money instead.
Are you looking for discounts on cruise-related stuff? Amazon Prime Day runs on July 12th and 13th this year. Here are the best cruise-related deals we see so far. We'll keep updating this page as the event goes on, so refresh the page when you visit.
Reusable Straws
In 2019, many cruise lines stopped using plastic straws on board in an effort to stop plastic waste from entering the ocean. Some lines have paper or candy alternatives and others have nothing. Since I'm addicted to soda and prefer a straw, I bought these for my last cruise.
They're just a few inches tall but can expand, so they can be used in anything from a highball glass to a large hurricane glass. They're solidly made and the little carrying case makes it easy to slip it into your pocket between drinks.
Telescoping Reusable Metal Straws – Pack of 4
Was $18.99. Now $11.99
Insulated Mug
While it's easy to get drinks like lemonade, ice tea, coffee, and juices on board, the cups that you'll find in the buffet are ridiculously small. Bring your own insulted tumbler and save yourself some trips. This is a knock-off version of the very popular Yeti cups. It works for hot things like tea and coffee, or cold things like juices and lemonade. I bring one with me every morning to the buffet and stock up on the juices that they stop serving around 10 am. That way I have some in my fridge in the room.
Note: for sanitary reasons, please do not fill this cup directly from the dispensers. Grab a clean cup in the buffet and use that to get the juice and pour it into your mug

USB Charger (instead of extension cord)
Most cruise cabins only have one or two power outlets available. With the number of devices we have now-a-days (your phone, Apple Watch, Kindle, fitbit), it can lead to a fight over the available outlets.
Most cruise lines do NOT allow surge protectors because of fire issues that may occur with cruise ship wiring. Some will allow extension cords that don't have surge protectors, but there a lot of stories of confused gate agents not knowing the difference and confiscating them anyway.
A safer option is to bring a USB hub. This one specifically will let you charge up to 4 devices at once. What makes this different than some of the cheaper ones out there, is it has two USB-C ports on it. This port can be used to fast charge many devices like iPhones, Android Phones, Nintendo Switches, Tablets, Chromebooks, and Laptops.
Anker USB C Charger 65W with 4 ports
Was $65.71. Now $42.69
If you have an iPhone and you're getting the charger above, do yourself a favor an also get a USB-C to Lightning cable. If you have an iPhone 8 or newer, your device supports quick charging but Apple doesn't give you one. To get quick charging, you'll need a USB C charger like the one above and this cable Anker USB C to Lightning Cable. It's so much faster, giving you 50% battery charge in 30 minutes. The best part is once you're home from the cruise, you can keep using this and charge your phone so much faster.
Anker USB-C to Lighting Cable – 6 ft
Was $14.99. Now $11.99
Kindle
Personally, one of my favorite things to do on a sea day is sit down on the deck and read a good book. It's hard for me to get through a book in the normal hustle and bustle of every day life, but on a cruise I have no problem. I hate having to carry books though, they're heavy and take up packing space. Instead, opt for an E-reader.
The Kindle holds thousands of books so you can easily bring a variety of books to choose from. Even better, you can download all your books at home and not have to pay for wi-fi onboard to use this device.
Trying to read a normal tablet or phone screen while in direct Caribbean sun is difficult, but the Kindle uses an e-Ink screen that looks just like paper. You'll have no problem reading in the sun.
There are two versions we recommend. The basic one which is pretty cheap and affordable today. Then there's the paperwhite, which has a whiter screen, higher resolution, and is waterproof, so you don't have to worry about splashes from a pool, hot tub, or a little sea mist.
Kindle – Was $89.99. Now $44.99
Kindle Paperwhite – Was $139.99. Now $94.99
Packing Cubes
If you're going on a 7-day cruise, you have a lot of clothes to bring. Casual day outfits, night outfits, swimming clothes, lounging clothes; it can be hard to fit it all in one suitcase. Packing cubes make it so much easier.
You simply put your clothes in one of the cubes, zip it up to condense them, and throw in your suitcase. Personally, the biggest benefit I see is organization. You can have one for socks, one for underwear, one for t-shirts, so you don't have to rummage around. Also, it makes it super quick to unpack in your cabin. Just open your suitcase, and throw the cubes in the closet or dresser drawer, and you're done.
Veken Packing Cubes – 6 Set
Was $27.49. Now $20.99
Magnetic Hooks
Even on the best and newest cruise ships, storage is at a premium. Because cruise cabins are all made from metal, you can use magnetic hooks to increase your storage space. I bring two types of hooks with me, heavy-duty and standard.
Heavy Duty Magnetic Hooks
These hooks say they'll hold up to 110 pounds. I can't vouch for that, but they are pretty strong. I've used them to hold up binoculars, wet swim suits, baseball caps, and soda cups.
LOVIMAG Magnetic Hooks, 100 lb, 4-pack
Was $11.49. Now $8.39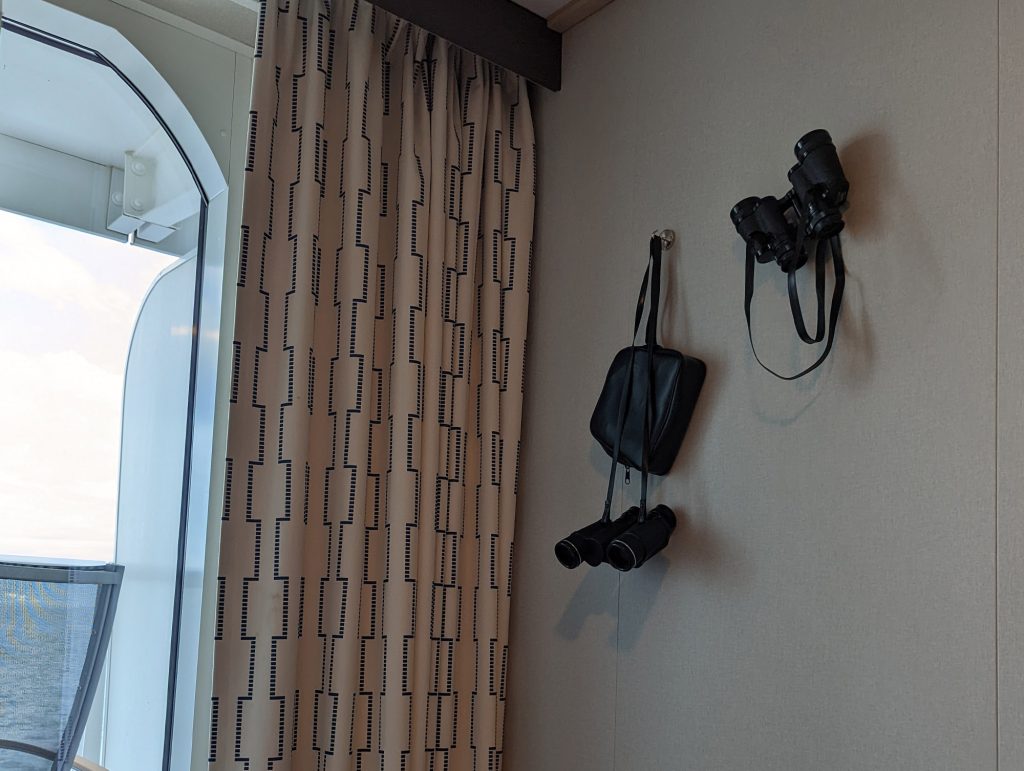 Standard Magnetic Hooks
These standard hooks are much smaller than the heavy duty hook above; one hook is about the size of a quarter. They say they'll hold up to 25 pounds, but I've never tested anything that heavy. I use these to hold onto things like sunglasses, room keys, face masks, and even wedding rings.
LOVIMAG Magnetic Hooks, 25 lb, 12-pack
Was $9.49. Now $7.59
Over-the-door Shoe Rack
An over-the-door shoe rack is one of those things you constantly see in cruise message boards and Facebook groups. Personally, I've never had the need for one, but I could see it if you were traveling with small children. You can put this rack on either side of the bathroom door to hold toiletries, shoes, socks, toys. It's pretty versatile.
Aooda Over-the-door Shoe Rack / Storage
Was $16.99. Now $13.59
Sunscreen
Nothing can ruin a vacation more than a painful, blistering sunburn. Even if you don't burn easily, remember that the sun in the Caribbean, Mexico and Bahamas is strong than the US and Canada. Save yourself some pain and stock up on some sunscreen.
Sunscreen isn't always cheaper on Amazon, when compared to your local Walmart or Target, but with this Prime Day deal, it's about 7% cheaper than those stores.
Don't wait to buy it on the cruise ship, it's VERY expensive.
Coppertone SPF 50 Sport Sunscreen – 3 Pack
Was $26.55. Now $17.93
Sun Protection Shirt
Did you know that a white t-shirt only provides the equivalent of an SPF protection of 7 and when it's wet, only 3! That's nothing. If you're going to be spending at day at the beach or outside, and you have fair skin, an sun protection shirt can be a life saver. When clothing provides sun protection, it is UPF rater (rather then SPF which is for skin products). The technology has come a long way, and UPF shirts no longer feel like wet suits of vinyl. Some are just as soft as a regular t-shirt. Great for kids who forget to re-apply sunscreen or protecting your back's hard to reach spots. This is also very important for some destinations, like parts of Mexico, that do not allow chemical sunscreens to be used.
Men's UPF 50+ Shirt
Was $29.99, now $19.49
Women's UPF Shirt
Was $29.99, now $20.79
Kid's UPF Shirt
Was $18.95, now $15.16
Retractable Card Holder
On a cruise, your room key is everything; your ID to get off the boat, your room card, and how you make purchases on the ship. You're constantly taking it out and using it, which makes it easy to loose it. While you can get it replaced, it's such a hassle, so try a retractable badge holder instead.
Some people prefer lanyard you can put around your neck, but I prefer this. I can easily attach the clip to my shorts and keep my card in my pocket. When I use it as a room key, I just pull it out and swipe it and stick it right back in. When I use it to buy a drink, I just unclip it from my belt and hand it over. On Carnival that cards are even pre-punched. On other cruise lines, just go to the guest services or casino desks and they'll punch a hole in it for you.
These came with a plastic sleeve, so they can be used with both traditional room cards with holes punches in them and also the newer RFID cards seen on Royal Caribbean's newest ships.
Retractable Card Holder with Sleeves – 10 Pack
Was $12.99. Now $9.99
Seasickness Bands
This is a hard one for me to recommend. Personally, in all my cruises, I've never gotten seasick, but I have been on cruises with people that were. Some have swore by seabands, a drug-free device that uses your pressure points to alleviate motion sickness. I have never tried them, but if you get sea sick, or are afraid you might on your first cruise, it's worth having these to be safe.
Water Shoes
When cruising, you may visit some of the most pristine white sand beaches in the world. But you also may end up on a rocky or rough beach where you'd want water shoes You may also be on an excursion where you're swimming in rivers or waterfalls where you need protection for your feet. Even just walking around a water park, having these shoes protect your feet from the hot pavement.
A lightweight pair of water shoes in invaluable. You can buy really thin water shoes, also called water socks sometimes, but I recommend more sturdy ones so they'll be good for all kinds of excursions.
Men's Water Shoes
Was $42.99. Now $30.94
Women's Water Shoes
Was $49.99. Now $21.59
Snorkel Set
If you're going to be visiting cruise line's private island, save some money and bring your own snorkel. For close to the price they'd charge you, you can have a snorkel you can use over and over again. Even better, you don't have to worry about someone else's germs on it.
I purchased this snorkel in 2018 and have used it at Half Moon Cay and while traveling in Bali. I highly recommend it. Some people prefer the full face shield snorkels, but I just don't like the look of them.
Adult Snorkel Set
Was $43.99. Now $35.19
CruiseSpotlight is an Amazon Associate. We may earn a commission when you click links to retailers and purchase goods.