BOLT…All About The First Roller Coaster At Sea
Last Updated on April 13, 2023
When it comes to roller coasters, there are a lot of superlatives: tallest, fastest, steepest drop, most loops, but now there's one more: the FIRST roller coaster at sea. That's right, there's a cruise ship with an actual roller coaster on it. It's called the BOLT roller coaster, and right now, it can only be found on the Carnival Mardi Gras. A second BOLT roller coaster will appear on the Carnival Celebration when it debuts in November 2022 and a third on the Carnival Jubilee in 2023. So what's BOLT like, how does it compare to other coasters, and how much does it cost to ride? Find out below. 
An evolution of the SkyRide
When the Carnival Vista first debuted in 2015, it introduced a new attraction, the SkyRide. The suspended, pedal-powered ride looped over the Sports area on the ship and has thrilled thousands of passengers on the Vista and later its sister ships, Horizon and Panorama.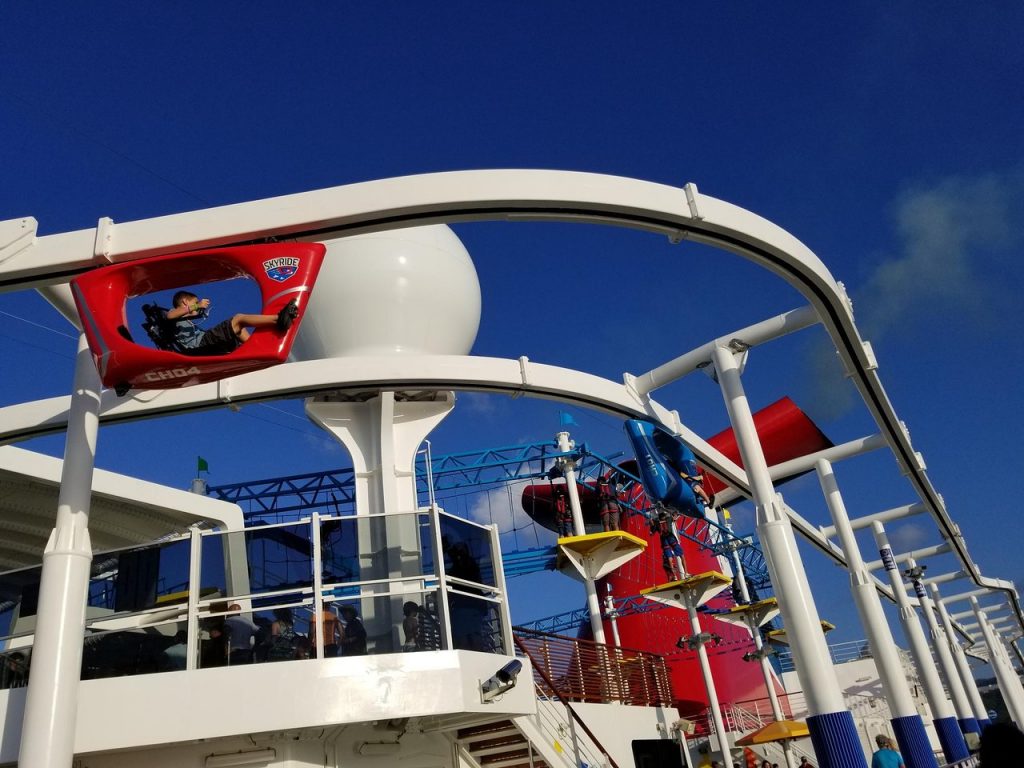 The BOLT takes the SkyRide concept and takes it to the next level. It gets rid of guests manually having to power the cars and allows them to go much faster. 
Carnival turned to roller coaster manufacturer Maurer Rides to help them develop this first coaster at sea. While Maurer has designed over 63 coasters worldwide, the most well-known probably being the Hollywood Rip Ride Rockit at Universal Studios Florida, building a roller coaster for a cruise ship created a whole new challenge. 
What's the BOLT roller coaster like?
While BOLT is called a roller coaster, it's really not like anything else out there today. The car only seats 2 people, and it has a relatively low seating position, making it feel like a motorcycle or jetski than a traditional roller coaster car.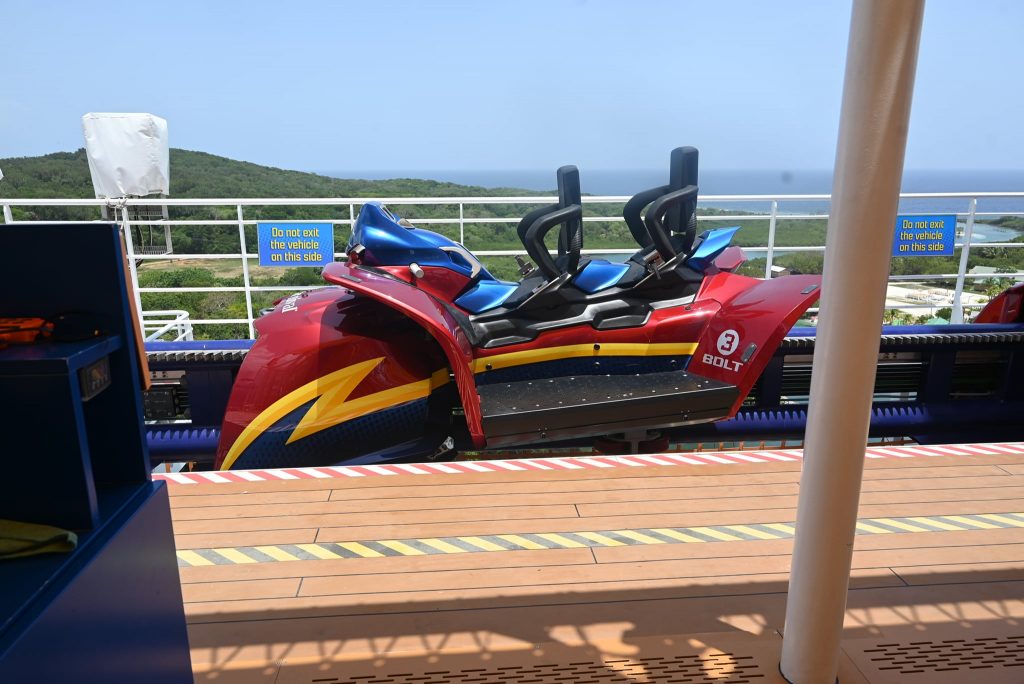 BOLT doesn't have a lift hill or a drop. Traditional roller coasters rely on gravity to help run the course, whether through a lift hill or a drop later on in the track. On the ocean, that's not really a possibility. While the car is in motion, the ship can bob up and down, or tilt and the gravitational forces can immediately change, altering the experience and possibly stopping the ride. To get around that, Maurer Rides put motors into the cars themselves to get them through the whole track. As a result, the ride has rapid horizontal acceleration and feels more like a launched roller coaster, like Disney's Slinky Dog Dash or Universal's Hagrid's Magical Creature Motorbike Adventure.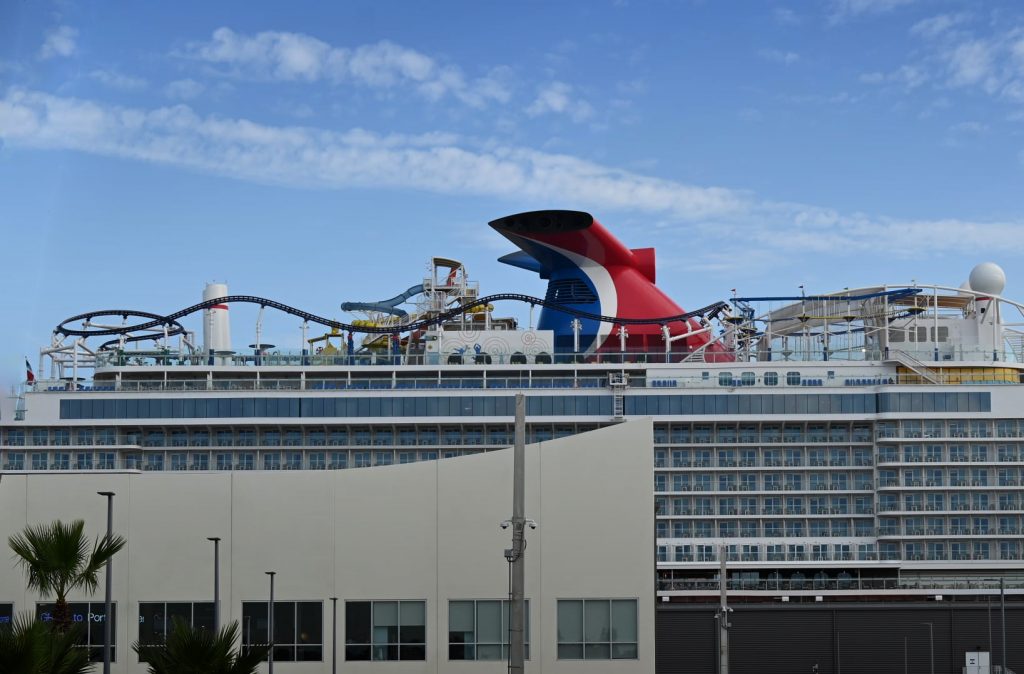 Unlike a regular roller coaster, on the BOLT, you can actually control your ride. The rider in the front can choose to use the throttle to control the speed, and there's also a "BOOST" button that gives an extra "oomph" when pressed. The car has a digital speedometer that displays your speed and a tank that shows how many times you can "boost" which you should use while climbing a hill for the best effect.
How does BOLT compare to other roller coasters?
You're really not going to find a roller coaster like BOLT on land. Here we compared BOLT to two well-known roller coasters; the Cyclone, a traditional wooden roller coaster at Coney Island, and Superman Ultimate Flight, a coaster at Six Flags Great Adventure, Six Flags New England, and Six Flag over Georgia. 
| | BOLT Roller Coaster | Cyclone | Superman Ultimate Flight |
| --- | --- | --- | --- |
| Location: | | | |
| Location: | Carnival Mardi Gras | Coney Island, NY | Six Flags (NJ, GA, MA) |
| Track Length: | 800 feet | 2,640 feet | 2,759 feet |
| Height: | 187 feet (over sea level, 20′ over closest deck) | 85 feet | 106 feet |
| Speed: | 40 mph | 60 mph | 51 mph |
| Passengers Per Car: | 2 | 24 | 28 |
| G-Force: | 1.2 | 3.8 | 3.0 |
Comparing BOLT against other roller coasters
Compared to the other coasters, the track is considerably shorter. It's more than 70% shorter than the other two coasters, with a single lap taking around 30 seconds. 
In terms of height, it's a tougher call to make. Technically, the BOLT roller coaster is 187′ over sea level, much taller than the other two coasters. But the BOLT is mounted on Deck 18, so most of the time, it's only 20′ higher than the nearest ground level. But being onboard in a wide-open car, it's easy for it to feel much higher.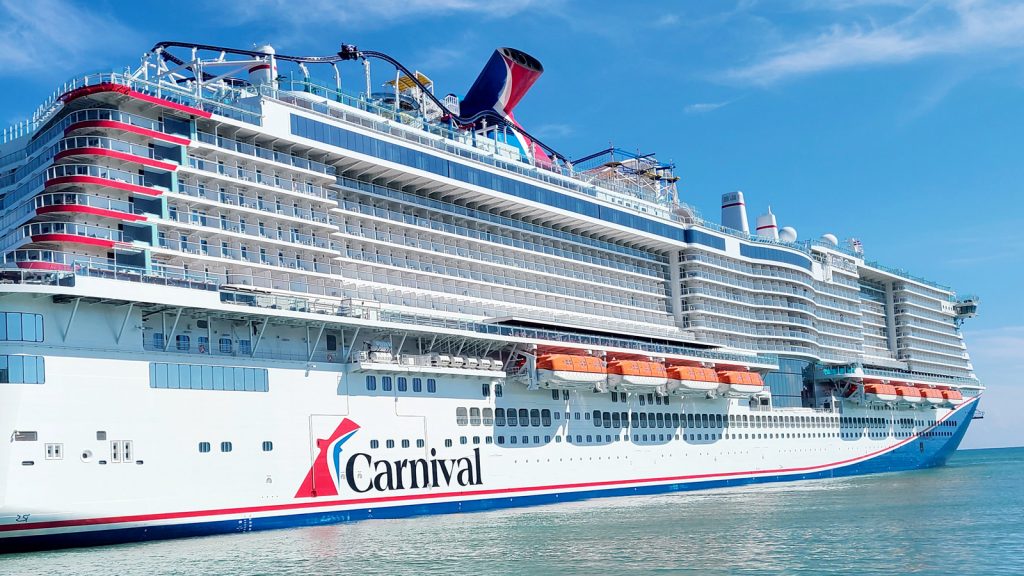 As you can see, this coaster is not extreme. The G-force on the BOLT is about a third of the other two coasters, in line with what drivers of a Formula One race car might feel. 
How to ride the BOLT roller coaster?
To ride the BOLT roller coaster, you'll have to make a reservation in advance via the Carnival HUB app. Unlike excursions or dining reservations, you can't make a reservation for this ride until you're aboard the ship. It's better to book it for some of the first days if possible; the ride can shut down due to weather or technical malfunctions, so then it gives you plenty of other opportunities to rebook. 
When you book, you'll pick a 30-minute window when you want to ride. During that window of time, you check-in at the BOLT station, sign the waivers, and get ready to ride. With this system, you barely have any wait at all, which is nice compared to the SkyRide we mentioned that can have a wait of 15 – 45 minutes depending on the day/time. 
Once you book in the HUB app, the $15 fee is immediately charged to your onboard account called Sail and Sign. However, if you cancel at least 2 hours before your start time, they will usually issue a refund to your Carnival account.
What are the requirements to ride the BOLT roller coaster?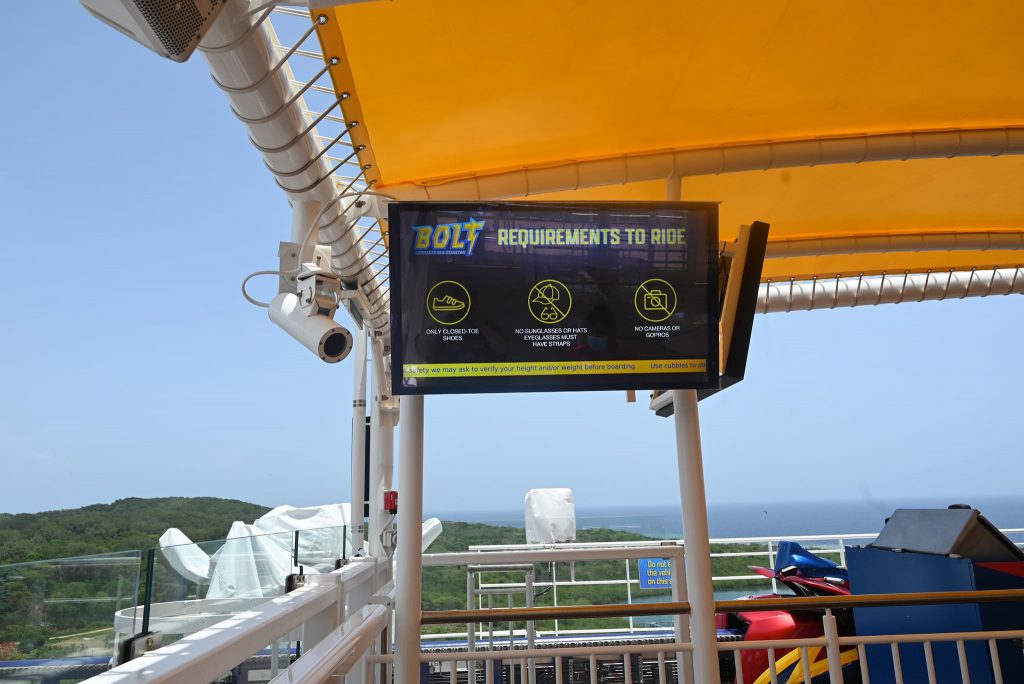 There's no age limit for riding the BOLT roller coaster. Instead, they have height and weight requirements. Riders must be at least 4-foot-4 (52 inches) tall and shorter than 6-foot-5 (77 inches). 
In terms of weight, passengers must be less than 300 pounds. Riders will be weighed before boarding. It's not a traditional scale, though. Like many other attractions with weight-based limits, passengers step on a metal plate and get a green light if they're cleared or red light if they're not. 
To ride, you must wear shorts, pants, or capris; sundresses are not allowed. You'll also need closed-toe shoes; sandals will be turned away. 
Riders are not allowed to have any loose articles or items that may fall off during the ride. That means no hats, glasses, or purses. They also strictly prohibit any cell phones, GoPro's, or other electronics. Thankfully, Carnival has some cubbies right at the entrance, so you can store your stuff there and not have to worry about running back to your cabin to leave your stuff. 
If you want a picture, you have two options. First, cameras are situated on the track that grab a great shot of you whipping around. You can then purchase the picture in the Pixels area, or in the Hub app. The ship uses facial recognition technology, so the photo should automatically appear when you log in. If not, you can search based on time. The last reported cost of a BOLT ride photo is $17. 
You can also station someone else on the ground to get pictures. There are quite a few good locations to take photos from all over the "Ultimate Playground" on Deck 18. There's also a spare car stationed on the deck that you can use for a picture opportunity after you ride. 
How much does it cost to ride the BOLT roller coaster?
When it was first announced, the BOLT was supposed to be included in the cruise fare at no additional cost. However, things changed during the COVID cruise industry shut down, and Carnival announced it would be charging for a ride.
Currently, it costs $15 a ride to go on BOLT. That will get you two laps around the track.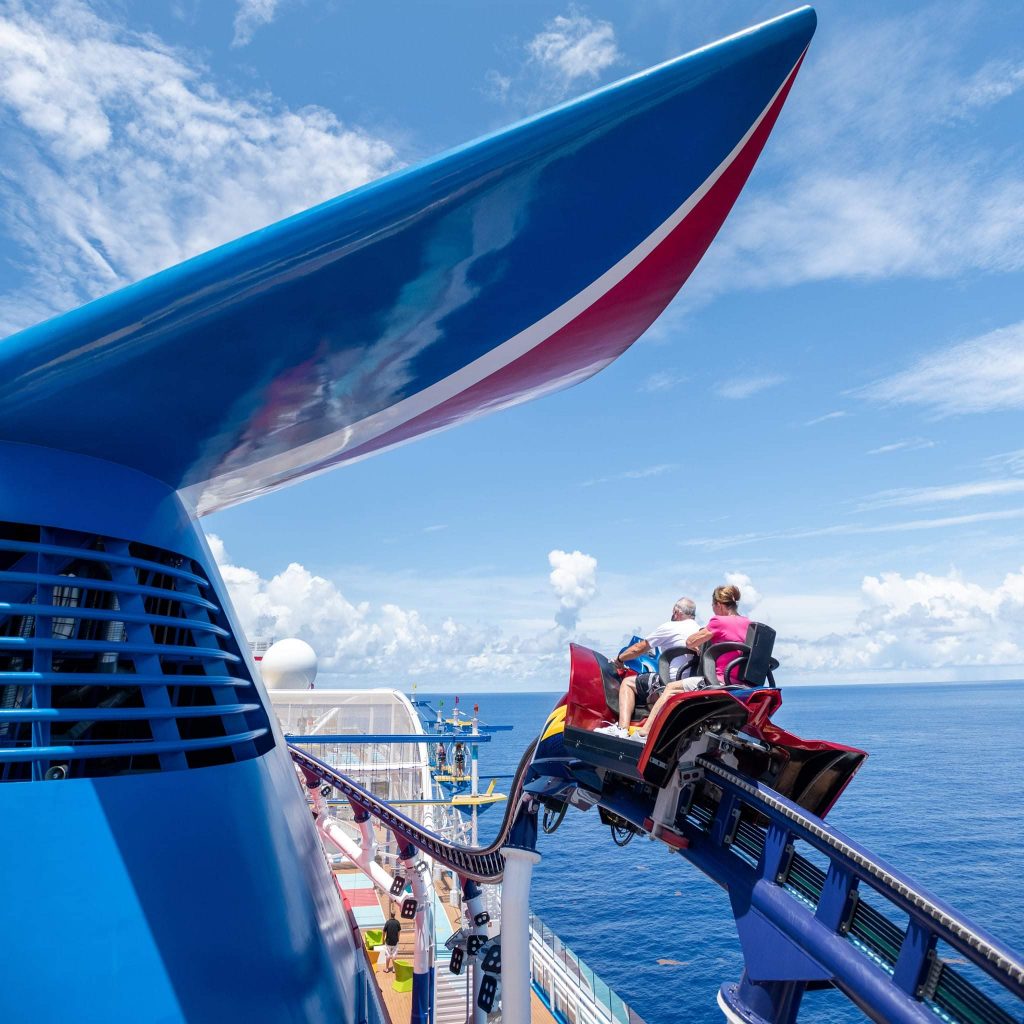 Is the BOLT roller coaster worth it?
For roller coaster fans, it's a tough call. The BOLT roller coaster is not the fastest, longest, or most intense roller coaster in the world. It is, however, the first at sea, and roller coaster enthusiasts who are completists may feel compelled to try it.
For regular cruise ship passengers, it presents an opportunity to try something new and exciting. With no inversions, a simple lap belt, and a relatively low speed, it is excellent for the more casual rider. The $15 per person may seem a bit steep for two laps that get you less than a minute of ride time, though. To put it in perspective to other cruise ship attractions, Norwegian Cruise Line charges $15 for 8-10 minutes on the go-kart race track on the Bliss, Encore, Joy, and Prima. 
Which ships have BOLT roller coasters?
You can experience BOLT for yourself on the following ships: 
CruiseSpotlight is an Amazon Associate. We may earn a commission when you click links to retailers and purchase goods.