Carnival Announces Its Newest Ship for 2023…Carnival Jubilee
We've known that Carnival would be introducing another Excel-class ship in 2023, but today we finally found out the name and homeport. The newest ship in the fleet will be called the Carnival Jubilee. It will debut in 2023, and its homeport will be Galveston, Texas. 
Paying Homage To A Predecessor
Like its sister ships, the name pays homage to an older Carnival ship. The Jubilee was Carnival's fifth ship in the fleet and originally sailed in 1986. It provided fun and entertainment for countless passengers for over 18 years before being sold to another cruise line in 2004. After that, it served various other cruise lines under different names until it was ultimately sent to the scrapyard in 2017.
A Lot Has Changed Since 1986
The new Jubilee will be quite the upgrade from the original ship. The new ship will be almost 4 times the size and hold nearly 4 times the passengers. Guests will have so many activities to keep them entertained, like multiple pools, water slides, a sports square, ropes course, specialty restaurants, and even a roller coaster. 
You can easily see how far ships have come in 35 years. Here's the original pool deck and waterslide on the Jubilee. And here's the waterworks areas on the Jubilee's sister ship, Mardi Gras. 
In the first cruise ships, there were very few balcony rooms. Just look at the side of the ship, it's just a piece of metal with windows cut into it. On the new Jubilee, roughly half of the rooms will be balcony cabins. And it won't just be a standard cabin for everyone; the ship will also feature specialty balcony cabins such as Family Harbor, Spa, and Havana rooms. 
Continuing To Evolve The Excel-Class Ship Design
Most of the main features of the Excel-class ships will be on board Jubilee. That includes the ridiculous amount of included dining venues, the Grand Central Atrium with 3-story glass windows, water slides, and of course, the BOLT roller coaster. 
We don't know everything, though. Carnival is keeping their cards close to their vest, but we know there will be new dining venues and 2 brand-new zones. Carnival's Excel-class ships are split into 6 zones. On the Mardi Gras, those are:
Grand Central
French Quarter
Summer Landing
La Piazza
Lido
The Ultimate Playground
While they haven't said which zones are being changed, we can take a guess. The Celebration, which will go into service at the end of 2022, still has some "TBD" areas on its deck plans. Those are in the "La Piazza" and "French Quarter" zones. It's a safe bet these will be the zones that are rethemed on both the Celebration and the Jubilee. While we like it when ships change it up a bit, there is a downside. It means the sister ships might not see the Brass Magnolia or Fortune Teller bars from the Mardi Gras. Passengers really seem to be loving these new venues, so it'd be disappointing not to see them available on other ships.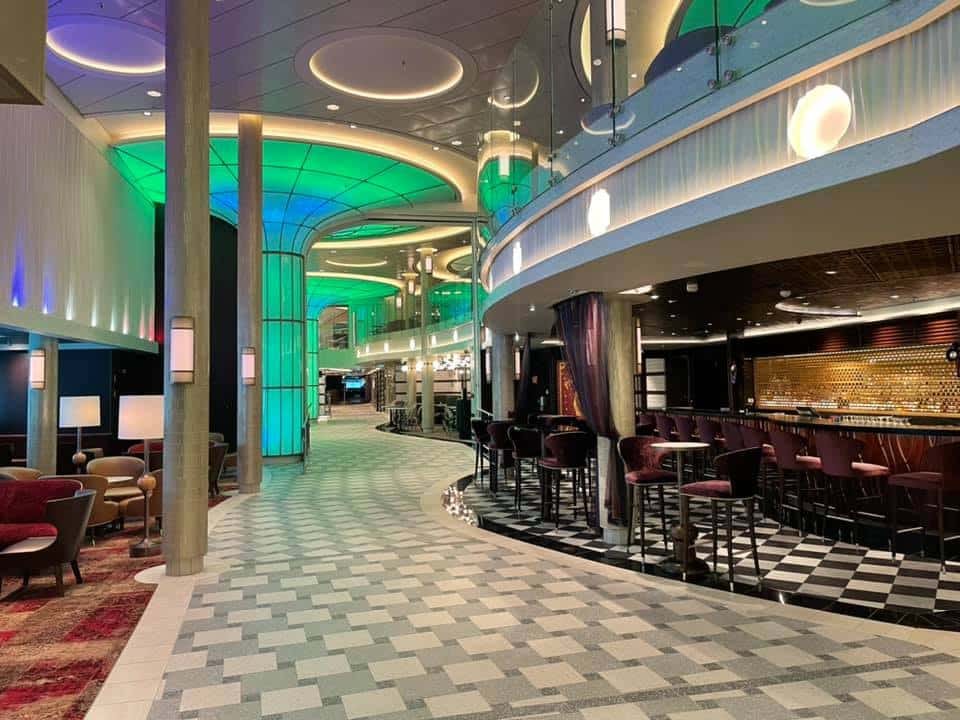 More to Come
More news about Jubilee will be released in the next year. We know the ship will sail in 2023, but we have no idea of when yet. We also know it will be sailing 7-day Western Caribbean itineraries, but we don't yet know which ports. Stay tuned for updates. 
CruiseSpotlight is an Amazon Associate. We may earn a commission when you click links to retailers and purchase goods.