Carnival Bringing Back Daily Fun Times By Popular Demand
Since the cruise industry restart after the pandemic shutdown, we've seen a lot of changes to the cruise experience. Some have been good, like the electronic muster that saves guests so much time. Others have been more annoying, like the lack of printed menus and daily schedules. Thankfully, Carnival has heard the demand from its guests and will bring back the printed daily fun times in the coming weeks. 
What is Carnival's Fun Times?
The Fun Times is Carnival's daily schedule of events. Guests used to receive the Fun Times outside their cabin in their mailbox each night. It provided a comprehensive list of activities for the next day, important reminders about ports of call like onboard time, and the hours of many venues. It was THE way to know what was happening on the ship and when.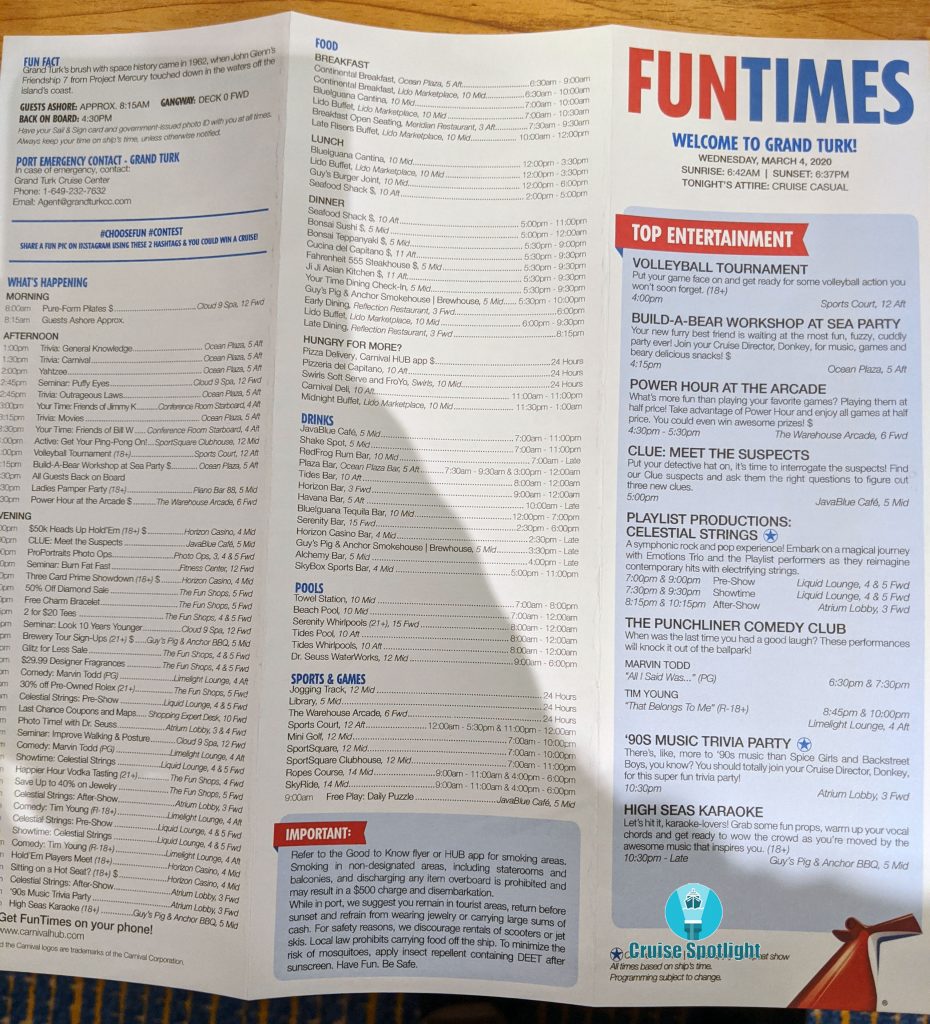 Why did Carnival discontinue the Fun Times?
At first, Carnival discontinued the Fun Times in an effort to provide a more sanitary experience for guests during the restart process. At that point, all paper communications and tools were discontinued, and instead, they opted for touch-free electronic versions using QR codes.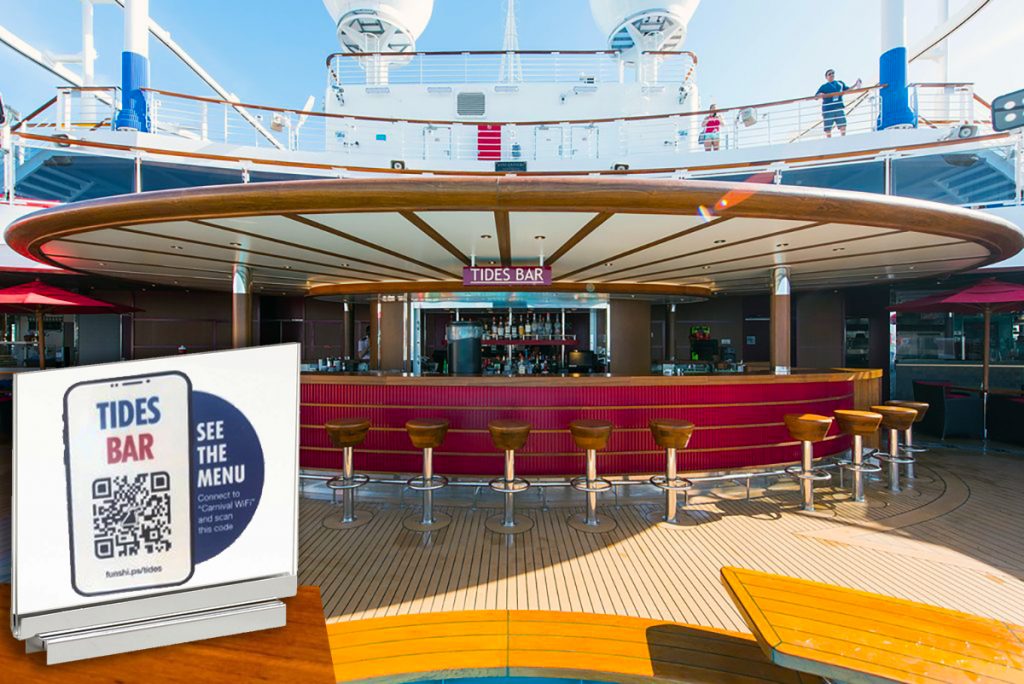 Then, after the social distancing and masking fell away, not providing the Fun Times was seen as a way to be more "sustainable." Printing thousands of multi-page flyers and handing them out to guests each night is a lot of wasted paper. They did provide a simpler, black and white, one-page version of the Fun Times on request, but they hoped people would use their Carnival Hub app to see the daily schedule instead. 
While they never said it, the other major reason they did it was likely cost savings. Removing the Fun Times saved on paper and printing costs, time for cabin stewards who didn't have to deliver it, and time for the person who has to update the Fun Times each day. 
An app or QR code is not the same as a printed version
Before I get accused of being a technophobe, let me say nothing can be further from the truth. I have smart speakers all over my house and control every light from my phone or Alexa. I had a car with adaptive cruise control, which automatically controls the speed and braking. I love technology, but only when it's used right. 
But I'm also a marketer, and an electronic interface can't always replicate a physical item in every case. For example, how many restaurants switched to QR codes for menus during COVID, only to go back to paper later because of customer demand? 
Most of the information in the Fun Times was available in the Carnival Hub app that works on an Android or iPhone. While the Hub app is very well designed and has one of the better interfaces (compared to other cruise lines), it still can't completely mimic the experience of the Fun Times.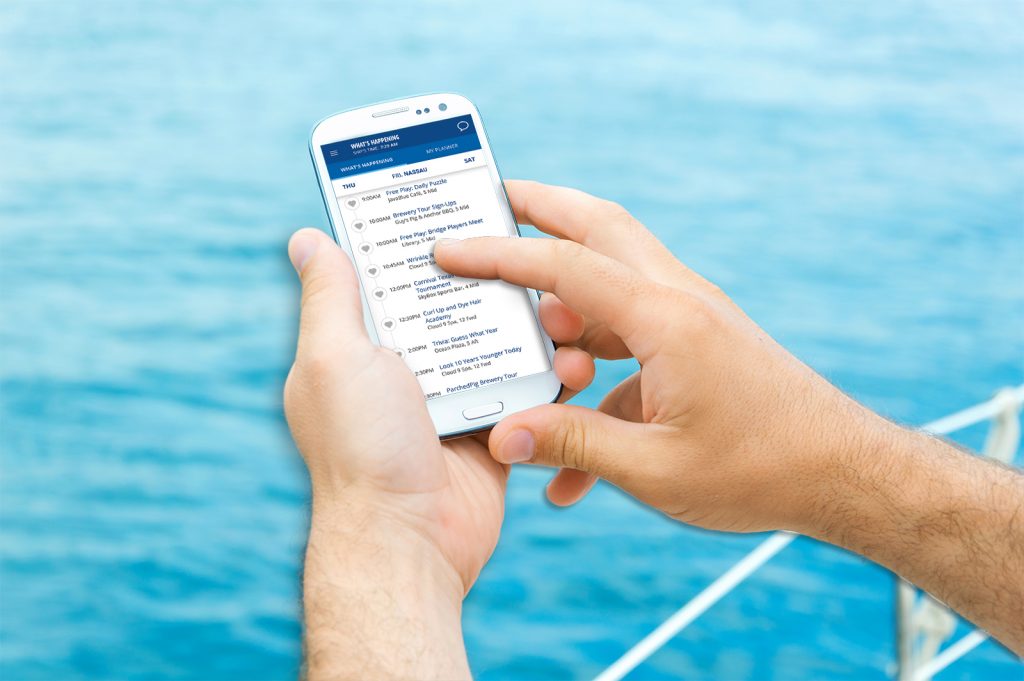 For example, the front page of the Fun Times had highlights and things not to miss. On the inside of it, you could see all the hours of the restaurants. While that information is on the Hub app, getting the same information requires a few clicks and filters (you can learn more about the Hub app here).
On top of that, some cruisers just don't want to use their phones on vacation. They want to be able to unplug or unwind, and a phone is not part of that. Or, even if they don't mind using their phones, they might not be tech-savvy enough to figure it out.
Thank you Carnival for listening
Let's be clear, Carnival didn't have to bring back the Fun Times, but I'm glad they did. It really does change the cruise experience, especially for older cruisers and those who are first-time cruisers. 
On my last sailing, I saw many new cruisers missing out on the fun events and activities around the ship because they didn't know they were supposed to look at the app. Because of that, they were missing a big part of the cruise experience and were probably less likely to cruise again. 
Carnival also has printed drink menus at their bars and in their menu restaurants (although you must request them in the dining room). It's a step in the right direction that other cruise lines need to follow. On my last cruise on Royal Caribbean, I had to go to Guest Services to ask for a printed copy of the Cruise Compass (their version of the Fun Times), and they were pretty rude about it, and good luck finding any printed drink menus on their ships. It changed the experience for me, and not in a good way. 
CruiseSpotlight is an Amazon Associate. We may earn a commission when you click links to retailers and purchase goods.