Carnival Celebration – Cruise Blog – Day 1 – Miami
Last Updated on April 14, 2023
Last week, I had the pleasure of sailing on Carnival Cruise Line's newest ship, the Carnival Celebration. The sailing was an "exotic Western Caribbean" itinerary visiting Cozumel, Costa Maya, and Roatan. I had been looking forward to this trip for a long time. It'd be my first time on an Excel-class ship, and I was really interested to see how it compared to the rest of the fleet. I was also curious to see how the Celebration stacked up against the newest ships from Royal Caribbean and Norwegian Cruise Line. 
I'll take you through our 7-day sailing covering every aspect of our trip, including food, activities, transportation, and excursions.
Carnival Celebration Cruise – Day 1 Overview
Exploring Miami before boarding the Celebration
The Carnival Celebration sails out of Miami. Because I'm from the Northeast, I flew down the day before to ensure airline issues wouldn't mess up my vacation. 
When sailing out of Port Miami, you have two airports you can fly to, Miami (MIA) and Fort Lauderdale (FLL). Miami Airport is a mere 15 minutes from the cruise port, but FLL is less than an hour away and another option. In my case, I saved hundreds by flying into Fort Lauderdale and taking a $75 Uber to Downtown Miami. 
Since we would only be in Miami for dinner and breakfast the next day, the hotel location wasn't that important to us. We ended up staying in the Wynwood neighborhood in Miami at the Arlo Wynwood. It's an up-and-coming art district in Miami, where the buildings are adorned in impressive street art.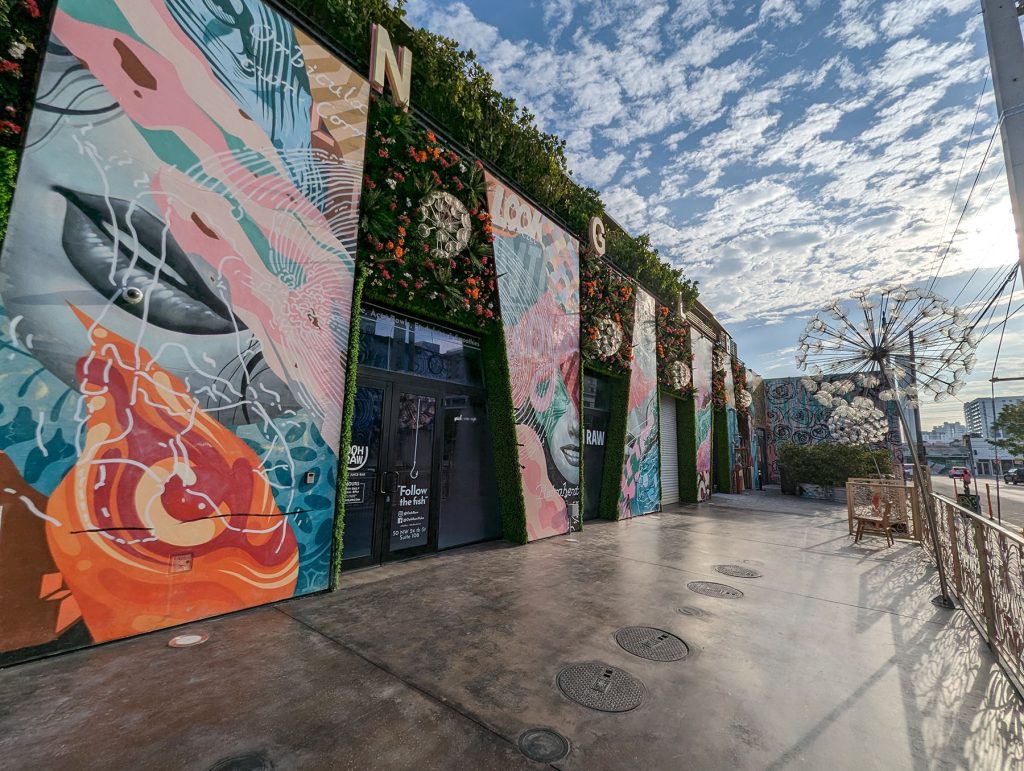 You won't find any chain restaurants here; it's primarily unique stores, restaurants, and venues. That said, multiple people advised us not to wander around the area late at night. We didn't feel unsafe there, but just blocks away, you could see it was rundown and homeless people were sleeping on the streets. It didn't feel much different than New York City, Philadelphia, or Seattle though.  
It was a Saturday night, and the area was hopping. Lively dance and club music lofted through the air from several open-door bars and restaurants. People dressed in their trendiest clothes and strolled along the streets which were abuzz with activity.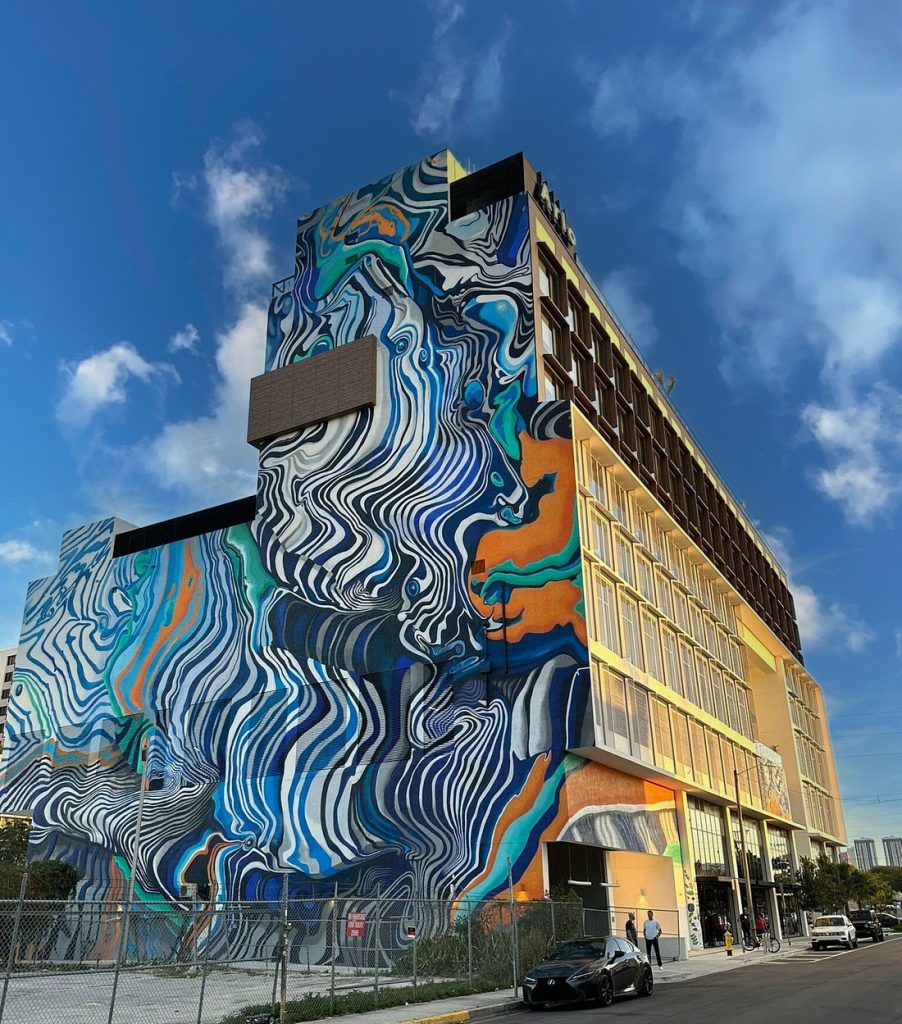 The hotel was also trendy, with beautiful art inside and an incredibly welcoming staff. It had a 3rd-floor terrace bar and then a rooftop lounge with a pool that was only open during the day. 
When we checked in at 8 PM, the staff told us that they only had "balcony" rooms available. Apparently, those rooms overlooked the 3rd-floor terrace bar and might be loud. They gave us a white noise machine and earplugs; that should have been a sign to run away, but we didn't. 
The room was small but had all you needed for a short stay, although I wouldn't recommend it for a family. We checked out a nearby brewery and then headed to bed around 11 PM. Unfortunately, while the balcony doors blocked out most of the audible music, the base cut straight through them. The white noise machine and earplugs helped some, but I couldn't sleep. It went on until 3 AM, so I spent most of the night tossing and turning and regretting my hotel choice. 
The hotel was fine if you could get a room without a balcony, but I would NOT recommend a balcony room on a weekend. 
Getting to Terminal F at Port Miami
The Carnival Celebration sails from Terminal F at the Port of Miami (although good luck finding that out, they never bother to email you the terminal you'll be boarding at). Our check-in time was 10:30 – 11:00 AM, so we called an Uber at 10:30. It only took 3 minutes for one to arrive, and we were on our way.
It was a short trip from downtown Miami to the cruise terminal; it took 17 minutes door to door and cost $15. Most of the travel time was spent waiting in traffic at the terminal. Miami has a lot of cruise ships that leave each day, and the setup makes it very chaotic as they drop off and pick up guests.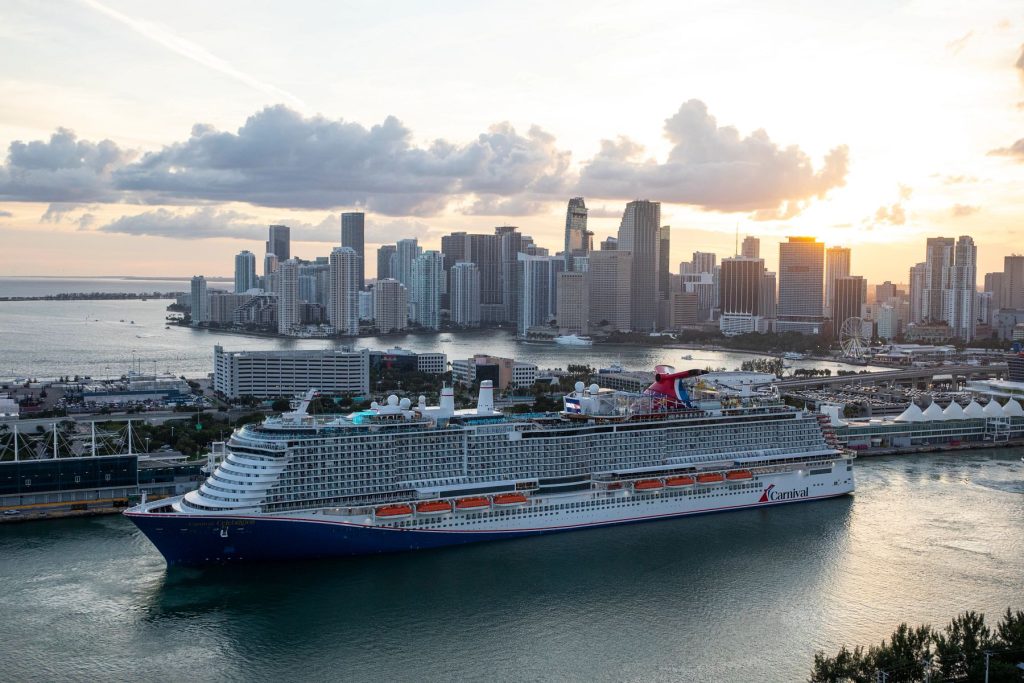 Spring break sailing with Carnival Celebration at full capacity
One thing to note for this blog is that it was the year's first cruise during "spring break." When people think of spring break, they typically think of college spring break, but for cruises, elementary school spring break has a much bigger impact on the sailings. That exact time varies across the US. I'm from the Northeast, where spring break is typically the week before or after Easter. Unbeknownst to me, the Miami-Dade school district had spring break much earlier, right when I was sailing. 
The ship was completely full. All cabins were accounted for, and people reported not even being able to add additional guests to their existing rooms. That meant that the Celebration would not get more crowded than this. It'd be an excellent test to see if it could hold its capacity well. So throughout the blog, when I mention anything about lines and crowds (or lack thereof), remember that it's assuming the worst-case scenario with the ship fully packed. 
Checking in at Terminal F
Terminal F is a newly expanded cruise terminal that Carnival designed specifically to accommodate the large number of guests that would be boarding the Celebration. They made a lot of press about it, but in reality, it didn't feel all that much different from other terminals I had sailed from. 
We arrived at 10:50 AM and dropped out baggage off with the porters. They would then load them onto our ship, and our bags would be delivered to our room later in the day.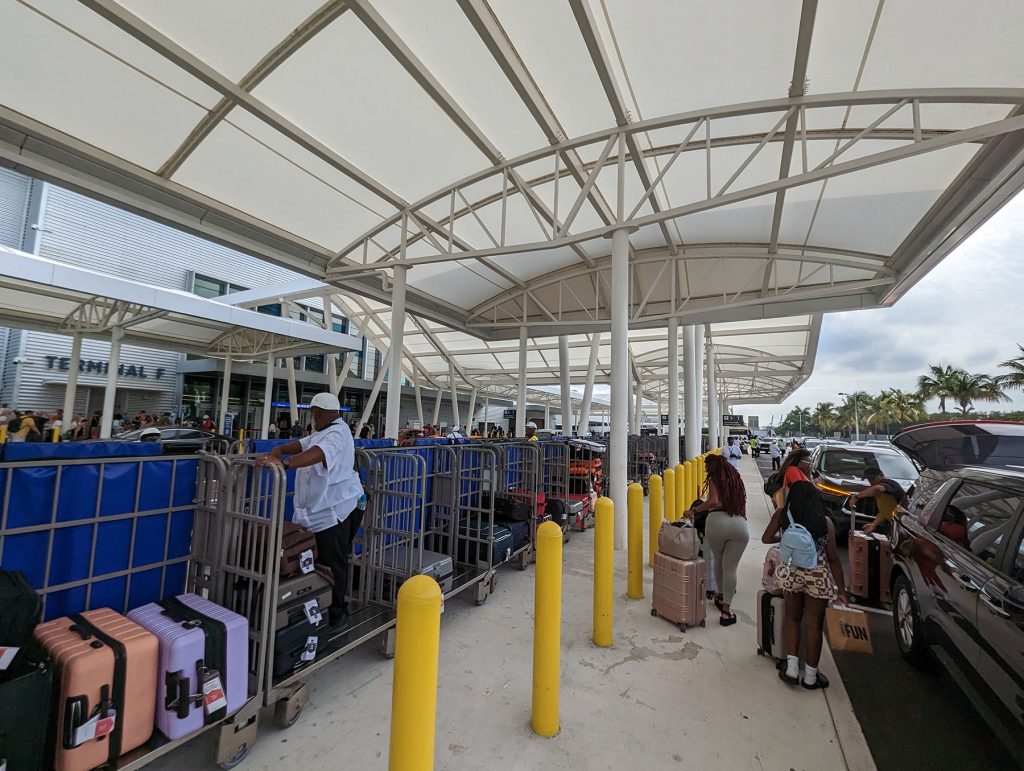 Carnival had three different lines set up to enter the building, early arrivals, on-time arrivals, and late arrivals. Since we arrived during our window, we went to the "on time arrivals" line and immediately walked right up to the check-in. A friendly representative scanned our boarding passes and passports, and we were good to go. 
Next was security which had very short lines as well. First, we had to put our bags down for a drug-sniffing dog to smell, then they went through the x-ray machine and walked through a metal detector. It's easier and quicker than airport screening. After that, we went to the waiting room and grabbed a seat until they called our boarding group. 
All in all, the process to get to the waiting area took 8 minutes from when we got out of our Uber until we were seated on a bench. It was incredibly fast, efficient, and pain-free. 
Tip: Get to the cruise terminal when you're assigned. Some people in the Facebook group for this sailing proudly posted they were on line at the terminal at 7 AM. That's an incredible waste of time! Carnival wouldn't start admitting people to the boarding area until 10 AM. Instead, these people took up space and blocked the guests who were getting off the ship. Also, even if you get there early, you can get into the waiting area, but it does not get you on the ship any faster. They call you by boarding zone, which is written on your boarding pass. 
They started boarding the Diamond Members, Carnival's highest tier of their loyalty program, at 11 AM. Then other groups started getting called in batches. Our group was B04, and they called us to get on at 11:18.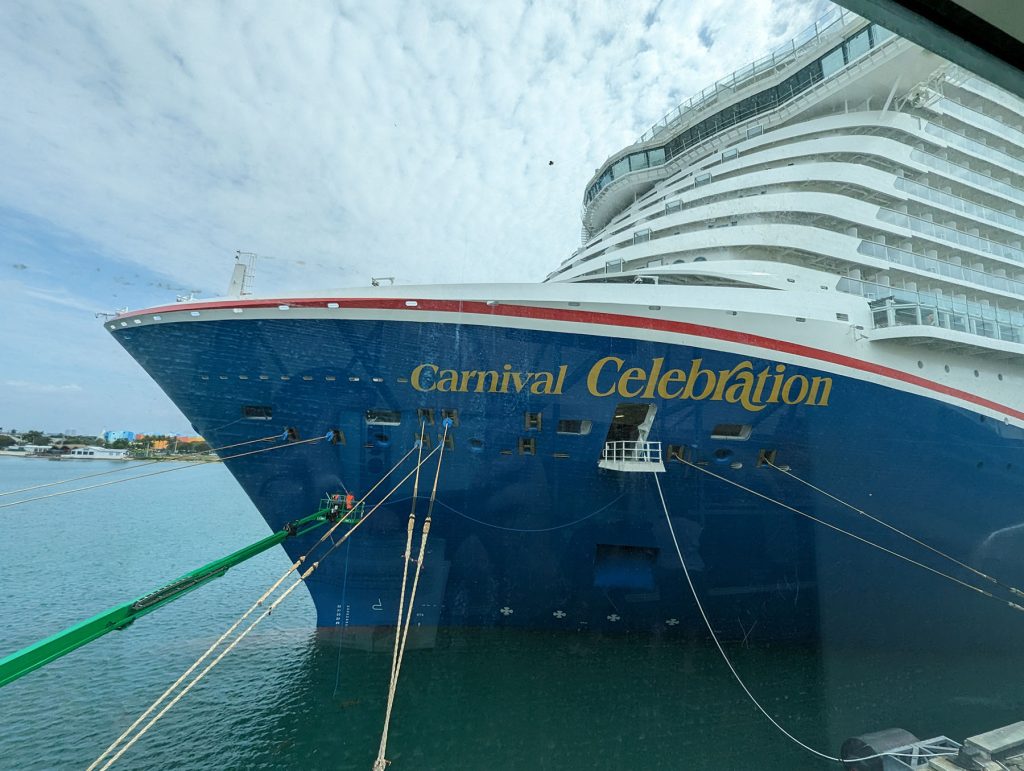 Boarding the Carnival Celebration
We wound our way up the walkway and stepped foot onboard the ship. You board the Celebration in the middle of Deck 6. I have to say, for Carnival, it's one of the most anti-climatic entrances I've experienced. 
For me, walking onto a Carnival ship has always been about that first impression. Whether it was the massive 12-story atrium with glass elevators on the Fantasy-class or the 3-story LED funnel on the Vista-class, you were greeted with something that would make your jaw drop. On the Celebration, though, you step on board and just see a hallway. 
It was an odd entrance, and guests would freeze and not know what to do next. The friendly Carnival crew was there to greet every guest, but there was no clear indication of where to go and nothing that visually drew you in.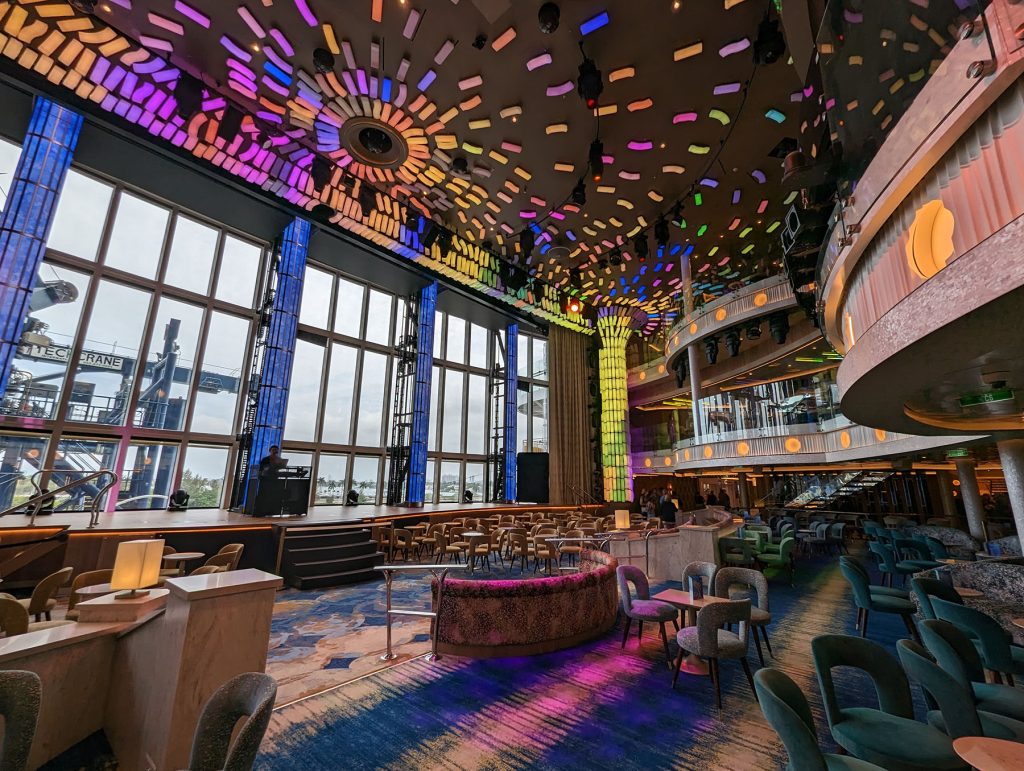 Luckily, I knew that I just had to walk around the corner and I'd be in Celebration Central, the heart and soul of the ship. This 3-story venue had floor-to-ceiling windows with a ceiling visually adorned with color-changing confetti. I've seen it in pictures countless times since the ship launched in November, but it was even more impressive in person. Celebration Central is large, airy, and practically radiates energy from the lively music and colorful lights. 
Completing the muster process
The first thing we did was go to complete the muster process. If you've never sailed before, the muster process is where you learn what to do in the event of an emergency. In the old days, it meant the entire ship gathered in public areas for 30 minutes to sit through a demonstration. Now, it's a quicker process. Your boarding pass has a muster station listed on it, and so you report there to watch a short demonstration and check in. 
While the electronic muster process is easier, Carnival needs to improve it in the future. Royal Caribbean does this so much better. On Royal Caribbean, you watch the instruction video in the app, and then it tells you where to go to scan in. On Carnival, there's no reminder in the app, you have to physically watch a short demonstration (rather than watch a video), and it doesn't tell you exactly where to go. 
Because of their lack of communication, the cruise director repeatedly had to come on the PA at 3:30 to make pleas for people to check in. I was already back in my cabin and trying to take a quick nap, so it was frustrating. Why isn't a notification pushed out to the app like Royal Caribbean? Why not have signs telling people to go to their muster station as soon as they walk on? 
First Impressions of Carnival Celebration
We spent the next hour exploring the new ship and trying to get our bearings. Overall, I was very impressed. Carnival's earlier ships all had very distinct personalities with bright colors, huge art installations, and neon lights, but now they border on tacky. For their Vista-class, they went with a more refined look, but at the cost of personality. They looked great, but they didn't stand out from each other, and they didn't quite capture the feeling of Carnival's signature "fun."
The Celebration combines the two. It has a contemporary and modern look but tons of personality. Whether it's the colorful confetti in Celebration Central or the rollerskating pink flamingos in 820 Biscayne, this ship will stick out in your mind after you get off.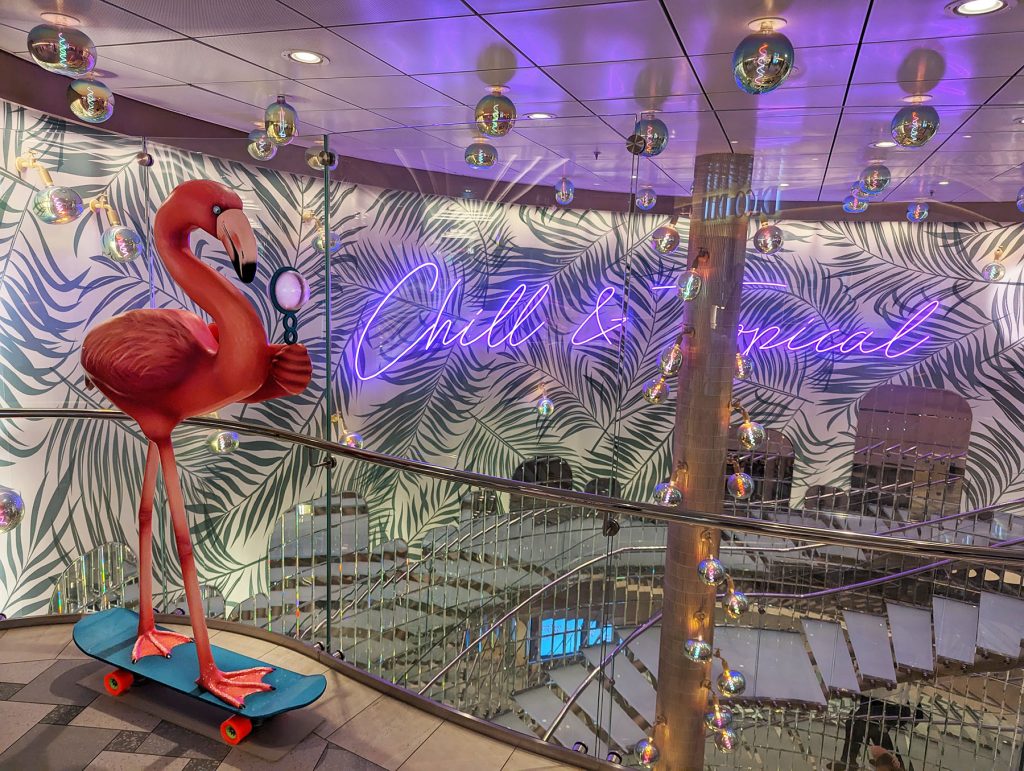 Walking around, I quickly noticed how large the Celebration was. It's Carnival's biggest ship being 33% bigger than their Vista-class of ship. Still, it's not the biggest in the industry. It's about 20% smaller than Royal Caribbean's Oasis-class of ships. Even with it being so large though, it was really easy to get around.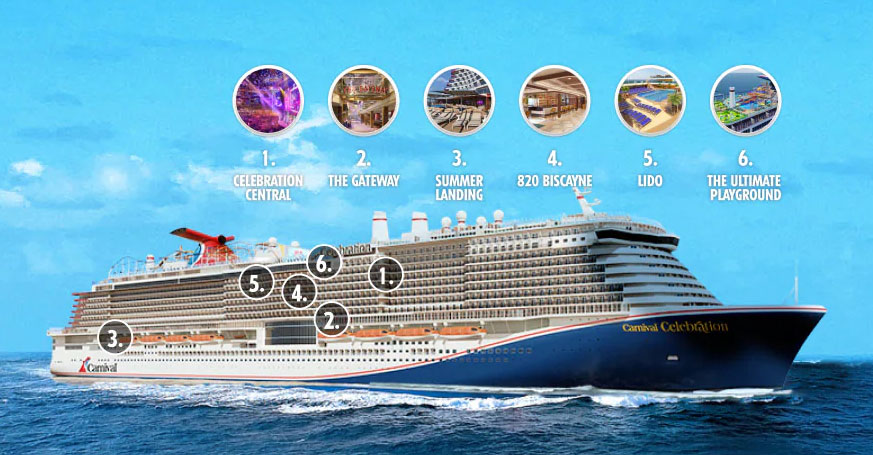 Carnival breaks the ship into six different zones which makes it easier to navigate and break up crowds. 
Celebration Central
The Gateway 
Summer Landing
820 Biscayne
Lido 
The Ultimate Playground
I'll get into my impressions of all the different spaces over the 7-day blog, but for now, I'll say Carnival did a lot right with Celebration. 
Carnival Celebration Fun Times – Day 1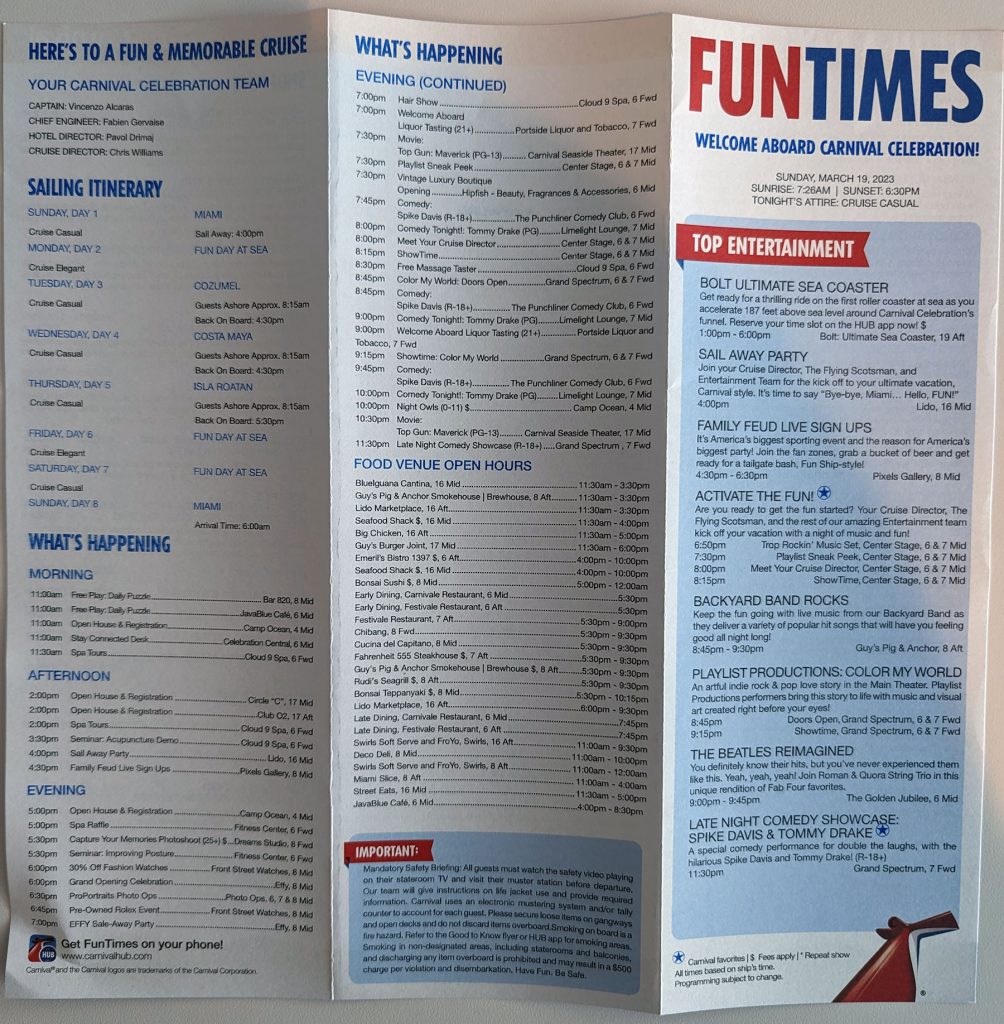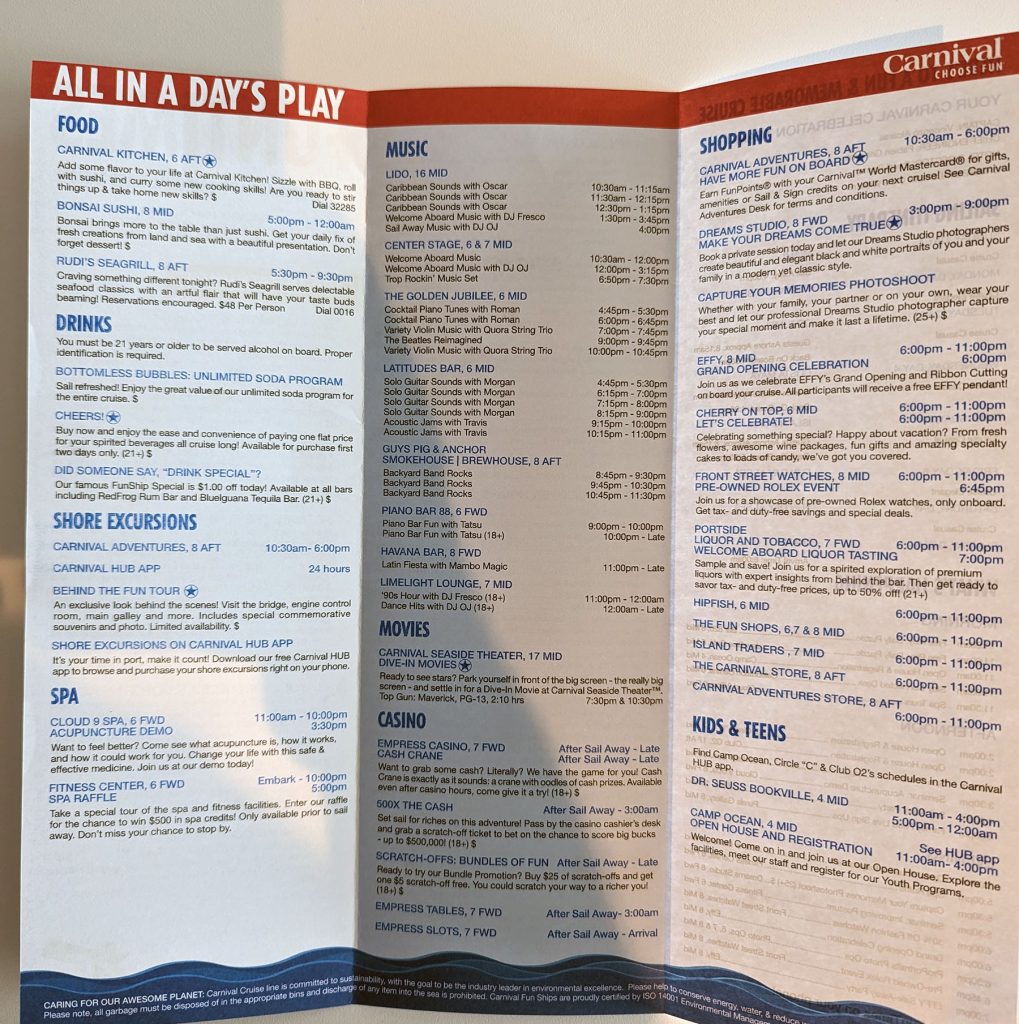 Lunchtime at Big Chicken
The minute I step foot on a cruise ship, my stomach immediately registers the change and prepares me for the non-stop food. By the time I finished the muster process, it was begging for my first meal.
We decided to check out Big Chicken, one of Carnival's newest fast-casual offerings, which debuted on the Mardi Gras, and is now also on the Radiance and Celebration. It was made in partnership with Shaq, and I've heard nothing but good things about it, so I had to try it for myself.
Big Chicken is located at the back of the cruise ship on Deck 16 by the Tides Pool (usually where you'd see the pizza place on other classes of Carnival ships).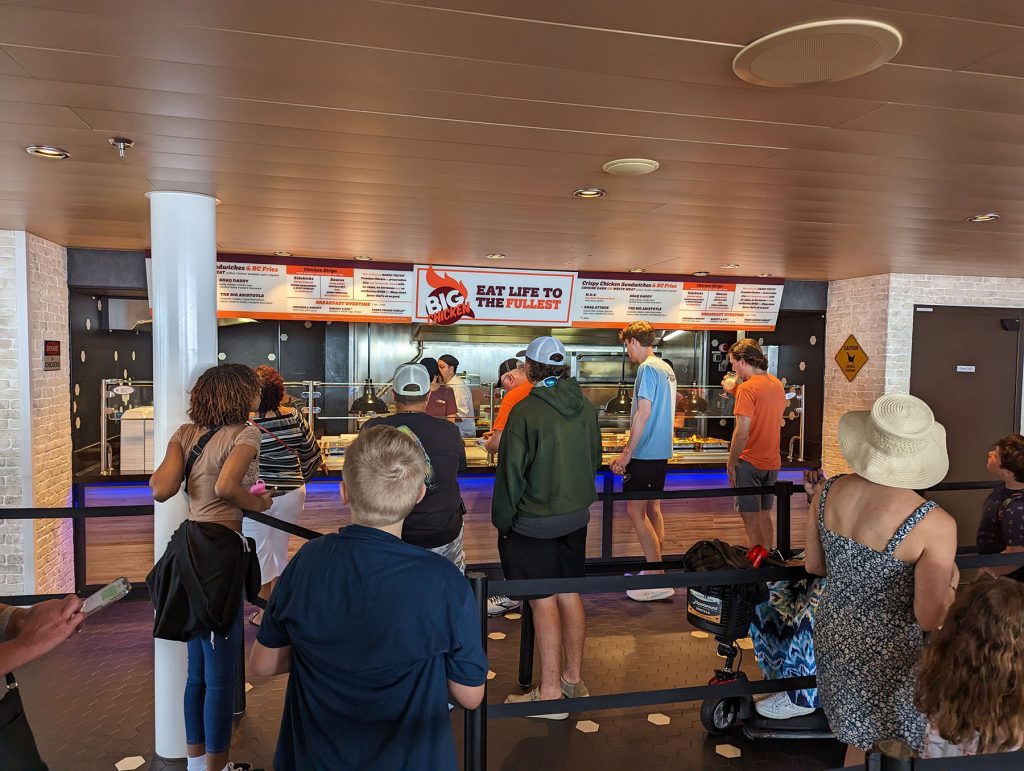 The line was long, winding its way from the starboard to port side of the ship, but we were in no rush. I could see the hardworking staff in Big Chicken pushing out dishes at a dizzying pace. The line that was at least 30 or 40 people went by in 9 minutes and 30 seconds. You'd be hard-pressed to find a place that efficient on land. 
I got the MDE (Most Dominant Ever), a white-meat chicken sandwich is shaq sauce and pickles. It came in a cute little container that made it easy to carry around the ship wherever you wanted to sit. You can see the full Big Chicken menu here.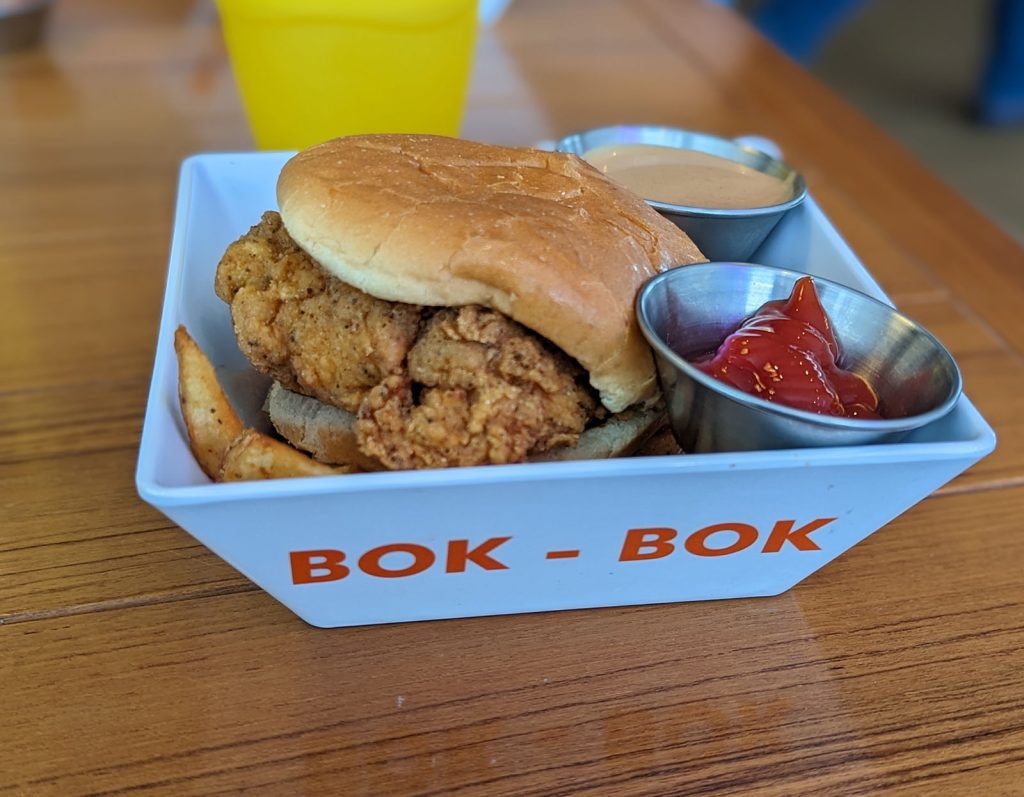 The chicken sandwich was delicious. The coating had a unique combination of herbs and spices, totally different from what you'd get at KFC, Popeye's, or Chick-Fil-a. The bun was soft and fresh, and the chicken had a great contrasting crunch as I bit into it. 
The sandwich also came with fries, but I had never seen fries like this before. They were steak-cut fries but cut really thin. It's hard to describe, but it had a potato-iness that you don't get from shoestring fries but also a crunch. They were the best fries I had on the ship. 
The only downside I had to Big Chicken was the shaq sauce. I'm not sure what it was, but to me, it was cloyingly sweet. It just overpowered the whole thing with too much sugar.
Overall though, Big Chicken was amazing and I can see why people make such a big deal about it. Throughout the cruise, it had a line but it almost always moved quickly, and I visited a few more times over the week.
Exploring our balcony cabin and unpacking
For standard cabins on Carnival, cabins are available starting at 1:30 PM. We went to our cabins and grabbed where our keys/ship cards which were left in the mailbox outside the room. 
When I first stepped foot into the cabin, I could immediately see that Carnival had stepped up the decor and finish in their rooms. The soft blue blues and light tones evoked a light and relaxing feeling. Compared to other cruise lines, the ships aren't necessarily high-end by any means, but for Carnival, it's a significant improvement over their older ships.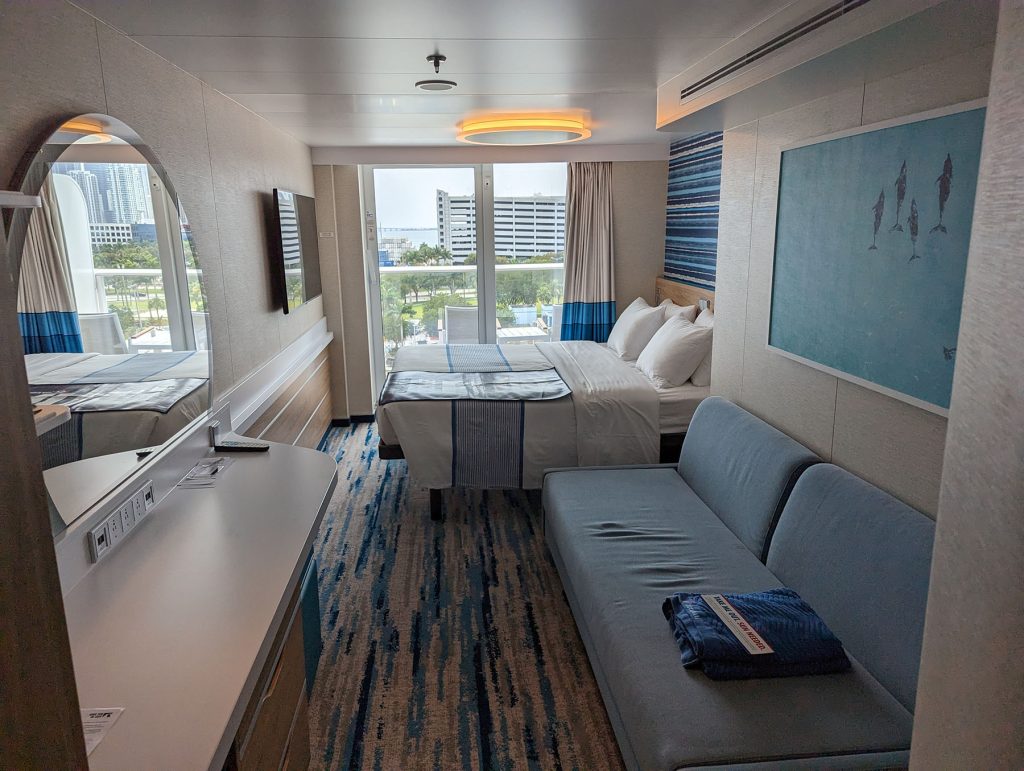 I booked cabin 10478, a balcony cabin that can be two twin beds or one king bed (if it's the wrong configuration when you board, they'll switch the arrangement for you). The couch was pretty basic but quite comfortable and two closets provided ample storage, both hanging and shelves. The cabin had a lot of outlets, 3 US, and 4 USB by the desk, and then a USB on either side of the bed. Unfortunately, they're standard USB-A ports and not the newer USB-C. That meant I couldn't plug my phone in next to the bed (because I only brought my USB-C cables with me and there is no standard wall outlet nearby).

The standard balcony cabins on Celebration are about 10% bigger than the older fleet at 205 sq ft. That's also larger than standard cabins on most Royal Caribbean and Norwegian ships. That being said, it's quite narrow, which makes it feel smaller than it is. In fact, if you have the bed positioned by the bathroom, your walkway is less than 3 feet wide, which can be difficult to get through if you have mobility issues or a scooter. 
TIP: On the Celebration (and Mardi Gras), the cabins alternate with the bed either being closer to the balcony or the bathroom. They make it nearly impossible to research this layout ahead of time, so you'll have to look on Facebook or YouTube if it's important to you. 
The bathroom also contained one big upgrade for Carnival; a glass shower enclosure. It's standard on Carnival's Excel-class ships now, unlike the old shower curtains found on the older ships. 
The shower is sizeable for a standard cruise cabin, but the bathroom itself is pretty narrow. The cut out where the sink is juts into the room and takes up space. Larger cruisers may have problems maneuvering around the bathroom.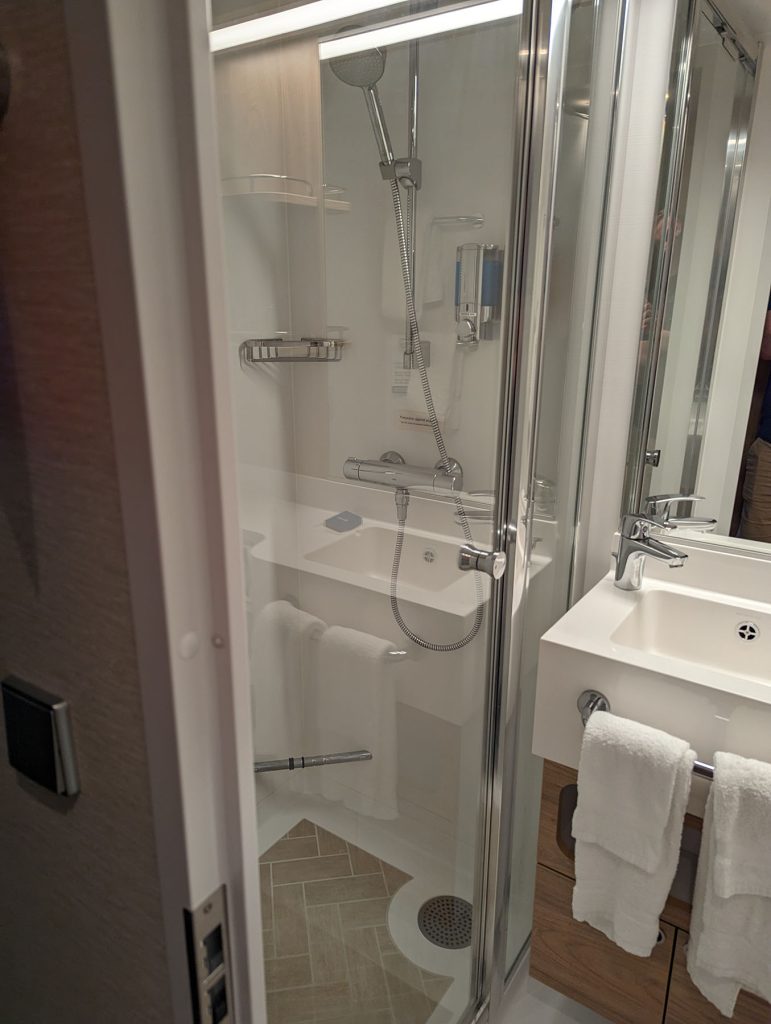 The balcony was pretty standard for Carnival, about the same size as their other ships, with two non-reclining chairs and a small table. It would be nice to see some better, more comfortable furniture out there, but it's serviceable. This specific cabin is located over a bright white overhang that covers Guy's Pig & Anchor BBQ. You don't hear any noise or smell any food, but the white awning reflects a lot of sun and makes it hard to look out. They need to make it less reflective.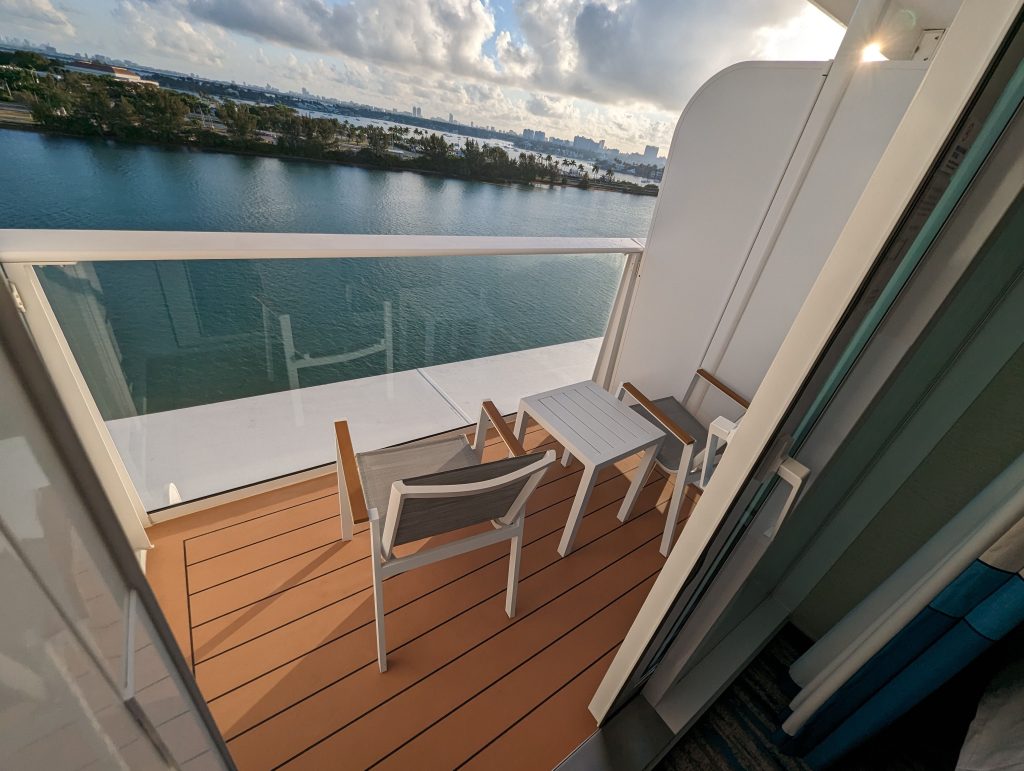 The biggest downside of balcony cabins on the Celebration is the lack of privacy. Many of the decks on the ship are tiered, so you may have people looking directly down at you. I purposely picked a cabin in the back part of deck 10, because the cabins aren't tiered as much on that part of the ship. I knew people wouldn't be overlooking me, but I saw the people under me every time I went to the railing. Compared to their older ship, it's a lot less private and takes away from the secluded feeling you used to be able to get.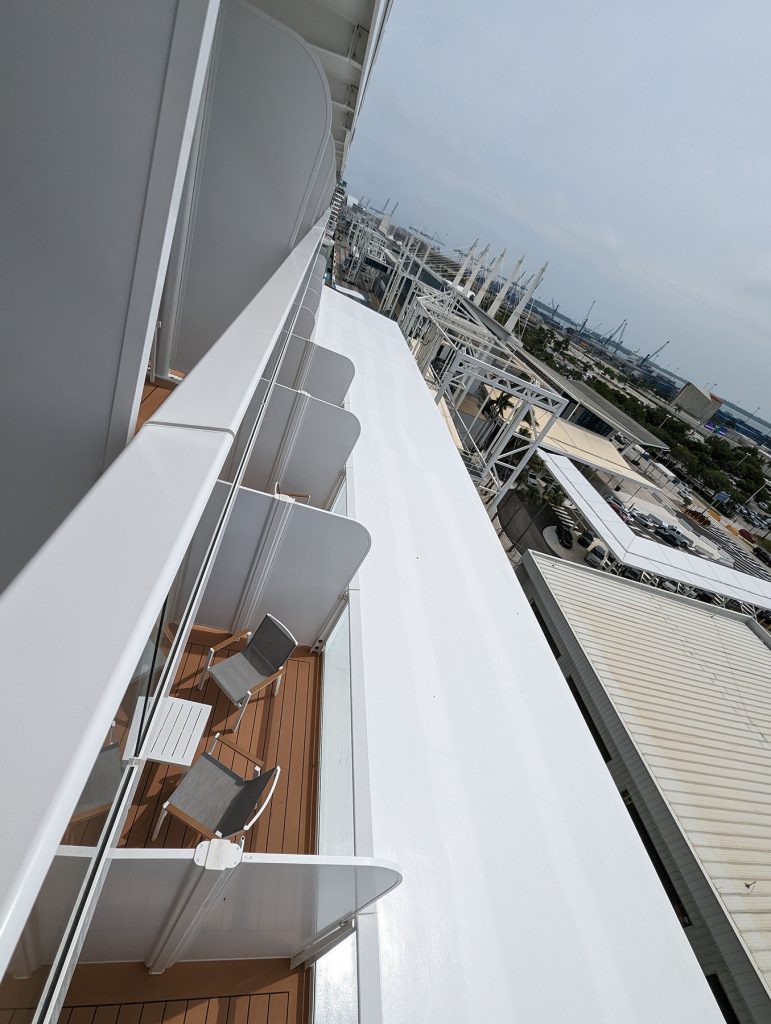 Pre-dinner Drinks At Golden Jubilee
After a quick nap, we decided to get some pre-dinner drinks at 5:30. The Celebration has a lot of different bars, and unlike other cruise lines, almost everyone has a different menu.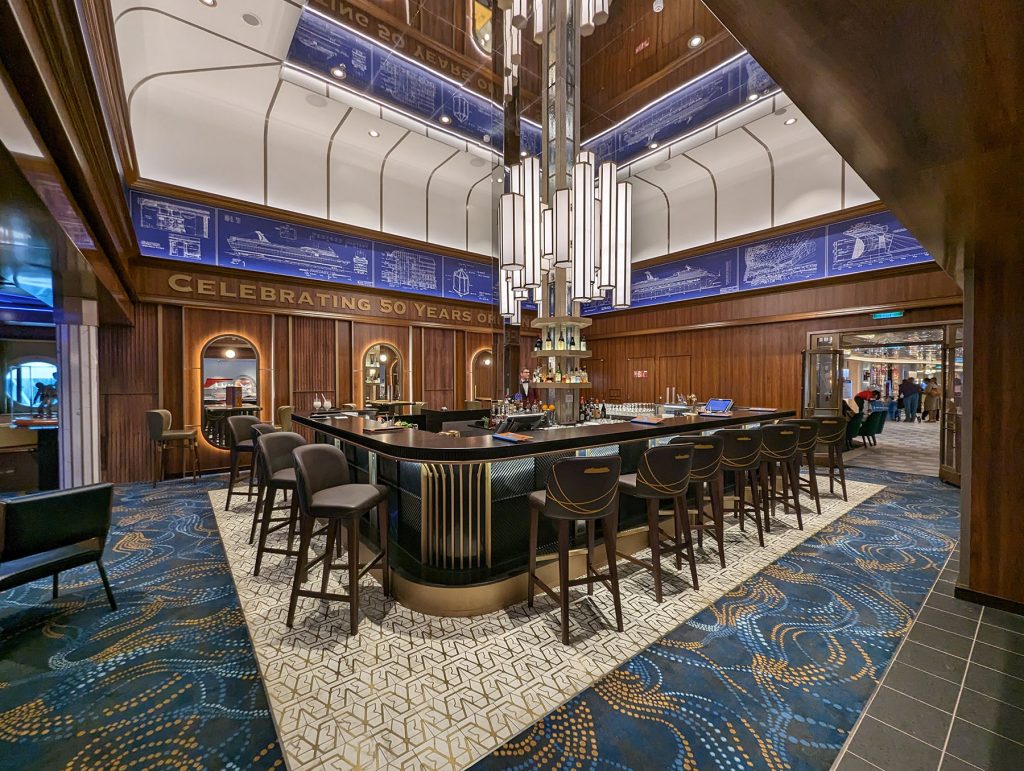 For our first bar, we decided to try out the Golden Jubilee, a two-story bar located on Deck 6. It's technically located in "The Gateway" zone but tucked out of the way. In fact, we walked all along Deck 6 and 7 before I realized we had passed it. The venue is in the same place as The Brass Magnolia on Mardi Gras. 
Golden Jubilee is dedicated to Carnival's 50th anniversary and is decorated with a variety of memorabilia and nods to Carnival. If you're a fan of Carnival, you'll see some cool things, like the glass doors from the original Mardi Gras, blueprints of the Carnival Fantasy, or tables from the Carnival Fascination.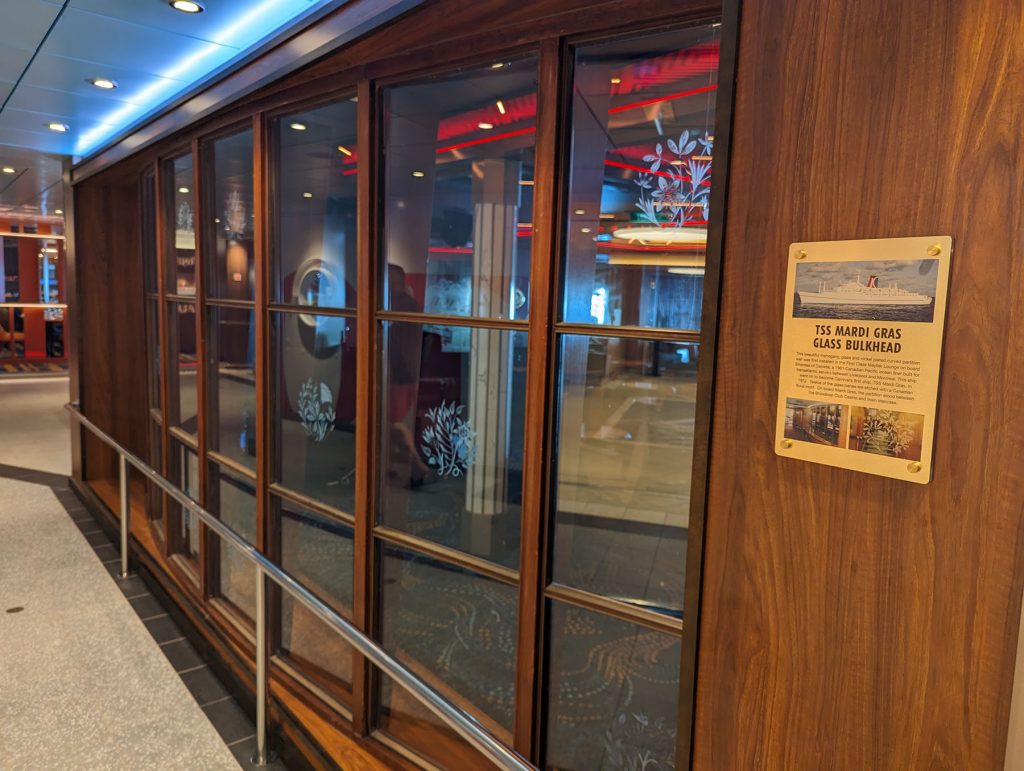 If you're not a Carnival fan, you'll still appreciate the high-end look and feel and the gorgeous light fixture in the center of the bar. The staff wear formal red jackets, and a black piano is tucked in the corner to further elevate the space. Even the bar menu itself is gorgeous, with a wood-feeling cover and high-quality pages (it's miles better than Royal Caribbean which won't even provide paper drink menus).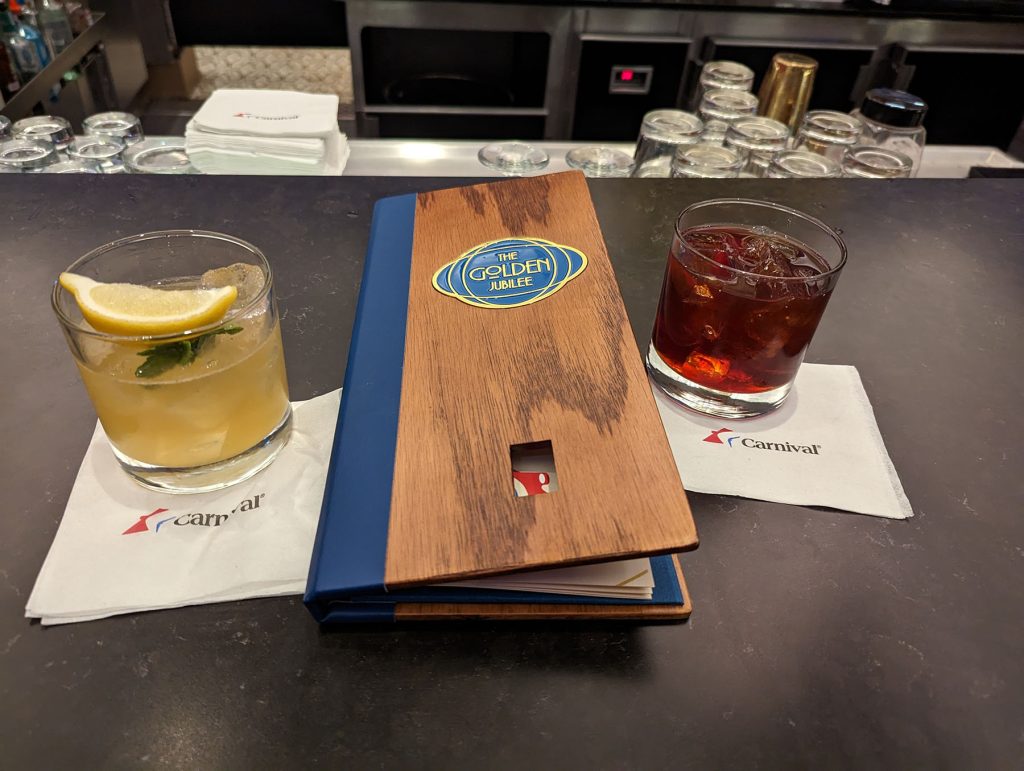 The Golden Jubilee is a very old-school feeling bar, with classic cocktails both old and new. The selection is quite large, but if you're looking for newer, trendier cocktails, you'll want to try another bar. 
Anytime Dining on the Carnival Celebration
Carnival has three meal times for dinner: early seating at 5:30, late seating at 7:45, and "anytime dining," which means you can eat anytime between 5:30 and 9:00. 
Normally, I prefer set-time dining; that way, you know exactly when you'll eat every night, and you have the same table and waiter the whole cruise. For me, it makes the whole dining experience so much better. On this cruise, though, I opted for the "anytime dining" for one specific reason.
On Excel-class ships (Mardi Gras, Celebration, and Jubilee), dinner works a little differently. In addition to the dining rooms, guests can also choose to dine in ChiBang, Cucina del Capitano, or Guy's Pig and Anchor Smokehouse for no additional charge. If you have anytime dining, you can choose which venue to go to each night. If you have set-time dining and want to try another restaurant, you'll have to wait until 7:45 to be seated. For that reason, we opted for anytime. 
Note: Carnival originally said that ChiBang, Cucina del Capitano, and Guy's Pig and Anchor Smokehouse would only be free during the inaugural season. Since then, Carnival brand ambassador John Heald stated that they have no intention to start charging for these venues, but on Carnival's site, they are still listed as extra-fee. If it changes in the future, I'll update this entry, but I don't see it as being very likely. The dining rooms on the Excel-class ships aren't big enough to accommodate all the passengers; they need the other three restaurants to take some of the load, and I don't think they'll get enough people who would be willing to pay extra. 
Checking in for the main dining room
Carnival has done a superb job at implementing anytime dining. Rather than waiting in a long line like you used to have to do (or you currently have to do on Royal Caribbean), you can just check in virtually using Carnival's "Hub" app. It'll show you the estimated wait time at each venue, and when you're ready, you just "join the line." 
At 6:30 PM, the wait for the main dining room was "less than 10 minutes." So we hit the button, and 9 minutes later, the app let us know our table was ready and gave us our table number. Then we just walked over to the second level of the Festivale dining room and told them our table, and they seated us. It was so quick and easy; I loved their system.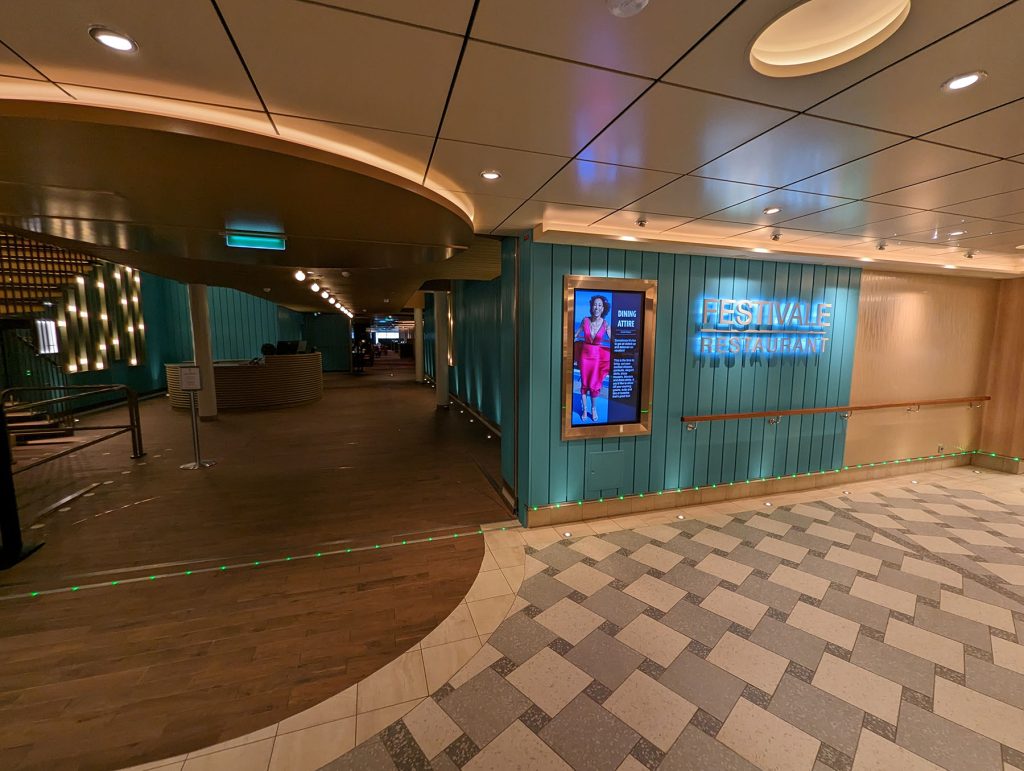 Even though it was painless for us, many guests didn't read any of the signs, emails, or communications that Carnival sent showing how to request a table. Because of that, there was a long line of people who didn't check in and the staff we were working to accomidate them. 
Dinner in the Festivale Dining Room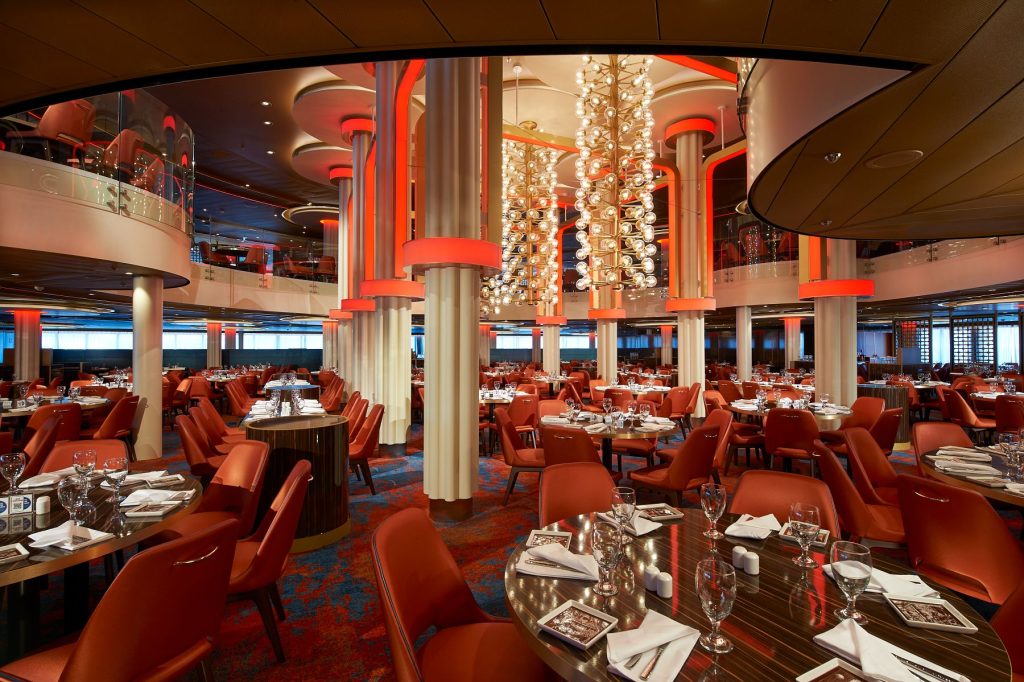 We sat down and a member of our waitstaff immediately greeted us. He asked our names and asked if we wanted anything to drink. He explained that the menu is available via a QR code, although he could bring over a paper menu if we needed one. 
Throughout the evening, the service was friendly, attentive, and prompt. It was everything I had come to expect during set-time dining, so I was happy to see the flexible option had the service I was used to (at least on day one, it'll be a different story towards the end of the cruise).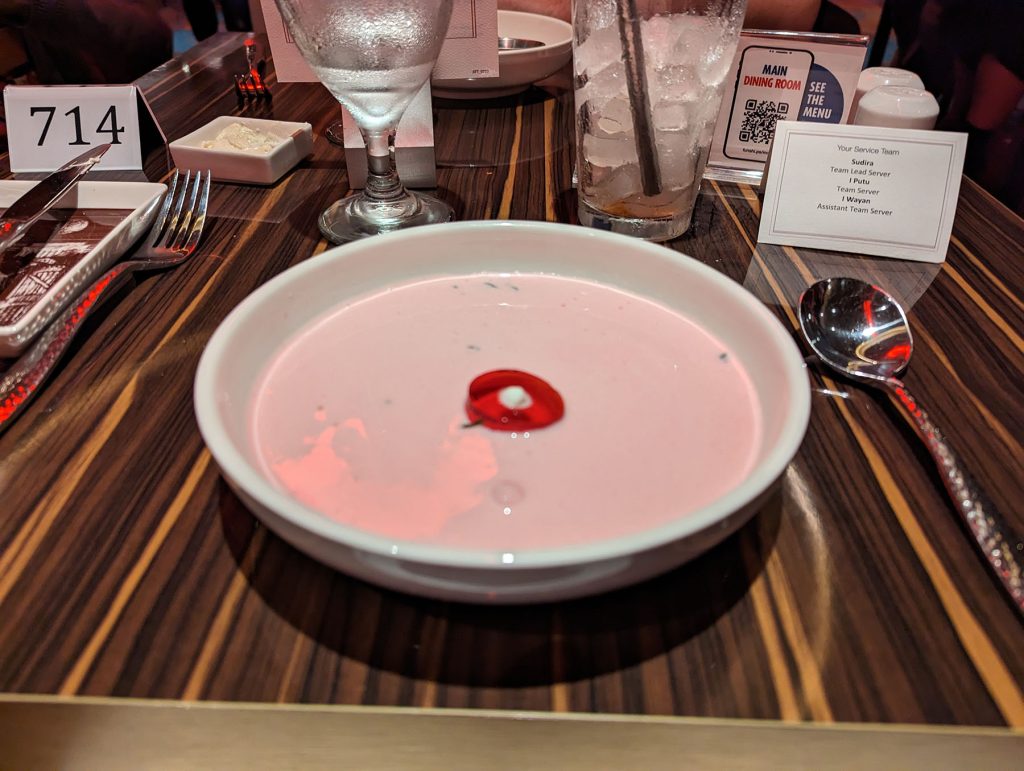 The menu for the first night had one of my favorite Carnival dishes, the chilled strawberry bisque (here's the recipe). I had it on my first cruise 19 years earlier, on the original Carnival Celebration, and it rocked my world. Although it's basically melted strawberry ice cream, it's fantastic and always puts a smile on my face.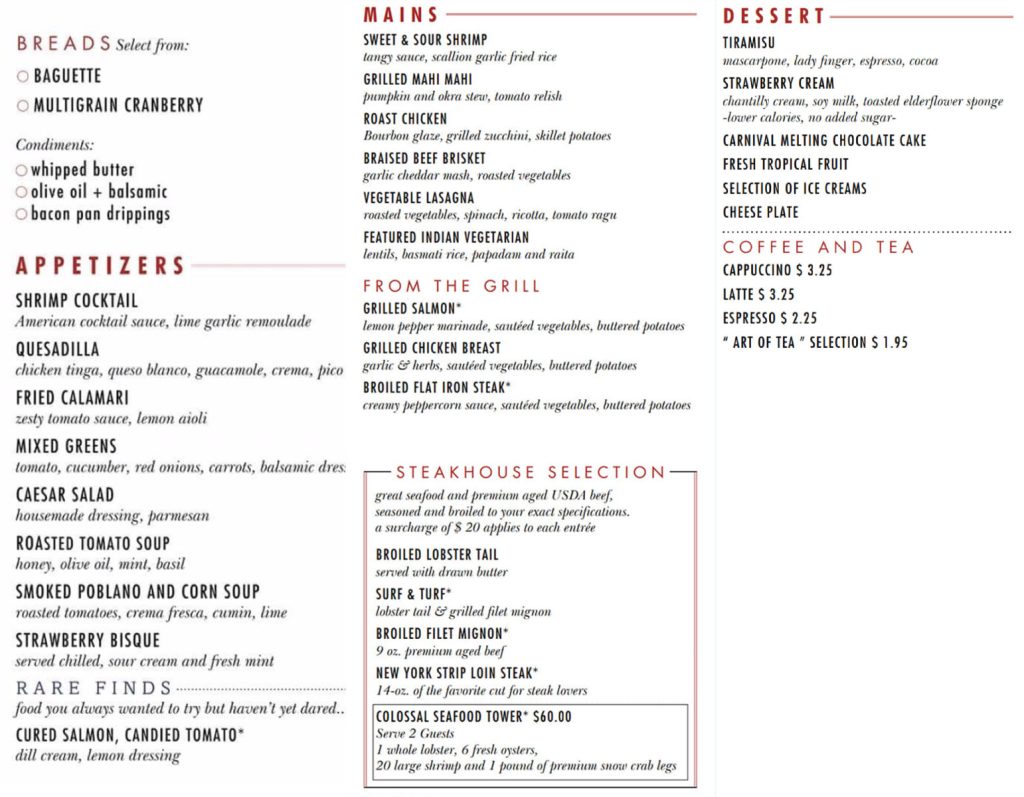 For my main course, I went with the mahi mahi which was delicious. Finally, I finished dinner with Carnival's signature chocolate melting cake. It's been two years since I had the chance to have one, and although I've made them at home, there's nothing like getting it fresh from the kitchen (tip: request a side of peanut butter). 
Comedy shows and evening entertainment on Carnival Celebration
After dinner, we decided to see what kind of entertainment was happening. Carnival is known for providing lots of activities throughout the evening, comedians, karaoke, live music, game shows, parties, dancing, and so much more. You'll have a lot to keep you busy.
The Celebration had even more options than I was used to. Because the ship was so big and had so many guests, they offered multiple activities throughout the night. For example, on day one, they had seven comedy shows scheduled across three different venues. If you wanted to see comedy, you'd be able to (even if the venues did fill up at each show). 
Color My World show in the Grand Spectrum Theater
Carnival doesn't do Broadway-type musicals but instead focuses on game shows and production/jukebox musical shows. Since we knew there would be comedy every night, we decided to try out Carnival's production show, "Color My World," a new show that debuted on the Celebration.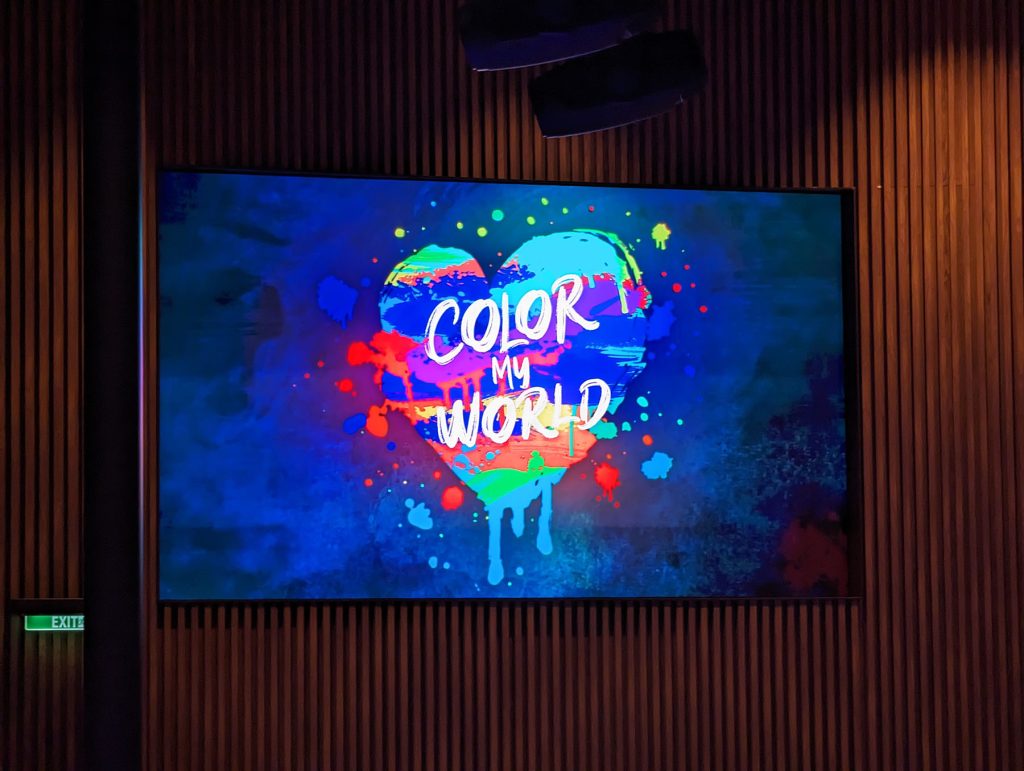 Color My World took place in the Grand Spectrum Theater. I was very interested to see what Carnival did with this space. Carnival's older ships featured massive 3-story theaters with plush seating and plenty of room. When they got to the Vista-class of ship, they scrapped that for a poorly executed "Liquid Lounge," which took all of the "theater" feel out of the experience and made it feel like a high school auditorium. On the Celebration, they went back to traditional inclined theater seats, although not as opulent as before. It felt less Broadway and more like a movie theater. 
Walking into the theater, I was surprised at how small it felt. I can't say how it compares to other theaters (for some reason, Carnival doesn't provide the seating capacities for venues in their Excel-class ships), but it felt very compact. That being said, the seats were comfy (with built-in cup holders), there were great sight lines for almost all seats, and I didn't hear about people struggling to find a seat. One thing missing was a bar or bar service. There was no way to get a drink before the show unless you walked to the casino bar.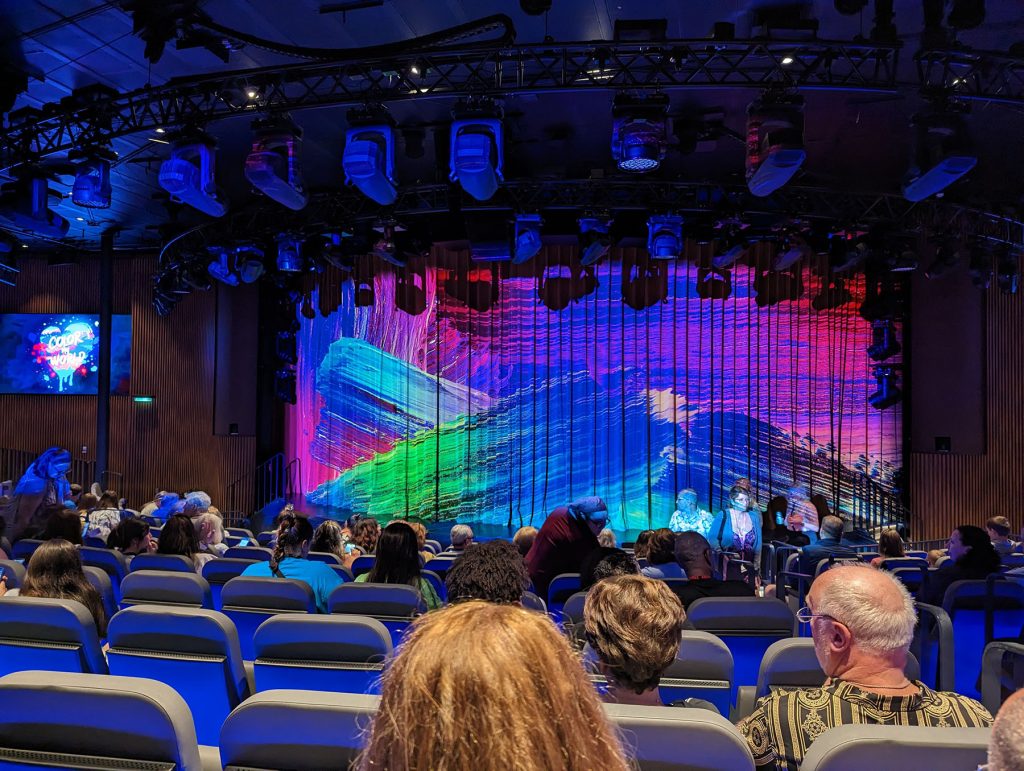 "Color My World" takes you through a musical journey with songs inspired by color while telling the story of an artist in love. Having seen quite a few Carnival shows, I thought it was pretty impressive and probably one of their better ones. They used vibrant, life-like LED screens to create amazing effects. The performers were incredibly talented (although there were issues with mics being too low).
Still, the show was a bit odd in its pacing and execution. In the press release, Carnival made a big fuss about the fact that dancers create live art on stage every night, dancing around on a canvas to create a pattern, but it was probably one of the least impressive parts of the show. At another point, one of the performers did a spectacular version of "Purple Rain" that absolutely brought down the house. But then they went on to some songs that no one knew.
The show ended with the song Kaleidoscope by Great Big World, which no one seemed to know (I had to google it to even know what it was). I understand why they went with the song thematically, but having the audience leave the theater after that song killed any excitement or buzz from the show. 
Calling it a night
The performance ended and the crowd poured out of the theater and back into the ship. The Celebration Theater is tucked away at the front of the ship with no large corridors or hallways to get to it. Instead, the doors just open to an elevator bank and the casino, leading to a massive traffic jam at the exit. It's really one of the only issues with people flow that I noticed on the first day. 
The casino was still full and buzzing with activity, but it was a long day, and I got little sleep the night before, so I decided to call it a night. I walked back to my cabin and laid down, and was rocked to sleep by the gentle waves of the ocean. 
Follow along on the rest of our Carnival Celebration cruise
Carnival Celebration – Cruise Blog - Day 1 – Miami
Carnival Celebration – Cruise Blog - Day 2 – Sea Day
Carnival Celebration – Cruise Blog - Day 3 – Cozumel
Carnival Celebration – Cruise Blog - Day 4 – Costa Maya
Carnival Celebration – Cruise Blog - Day 5 – Roatan
Carnival Celebration – Cruise Blog - Day 6 – Sea Day
Carnival Celebration – Cruise Blog - Day 7 – Sea Day
5 Hits and Misses on Carnival Celebration
If you want to stay up to date with what we publish, sign up for our monthly newsletter
CruiseSpotlight is an Amazon Associate. We may earn a commission when you click links to retailers and purchase goods.