Carnival Celebration – Cruise Blog – Day 2 – Sea Day
It was the second day of my seven-day sailing aboard the Carnival Celebration. It'd be a sea day, which is the true test of any cruise ship. I was really interested to see how the ship would handle the 6,000+ people onboard looking for food, pool chairs, and entertainment. 
Carnival Celebration Cruise Blog – Day 2 Overview
I awoke around 9 AM after a peaceful night's sleep. I was shocked at how quiet the cabin was. No noisy neighbors, toilets flushing from other cabins, slamming doors, or annoying announcements; it was probably one of the quietest cabins I've ever had. I can't say how much of that is good ship design and how much is having good neighbors, but overall, I was pleasantly surprised that nothing woke me up throughout the night. 
I opened the curtains and peered out of the massive glass door. The sky was painted a light gray with a solid cloud ceiling. It didn't look like rain or storms, but it was heavily overcast. I opened the slider and felt the cool air, probably 75 degrees. The wind was strong, and the ship was rocking back and forth. It was supposed to clear up later in the day, but for now, it didn't seem like the pool weather. 
Carnival Celebration Cruise – Day 2 Overview
Carnival Celebration Funtimes – Day 2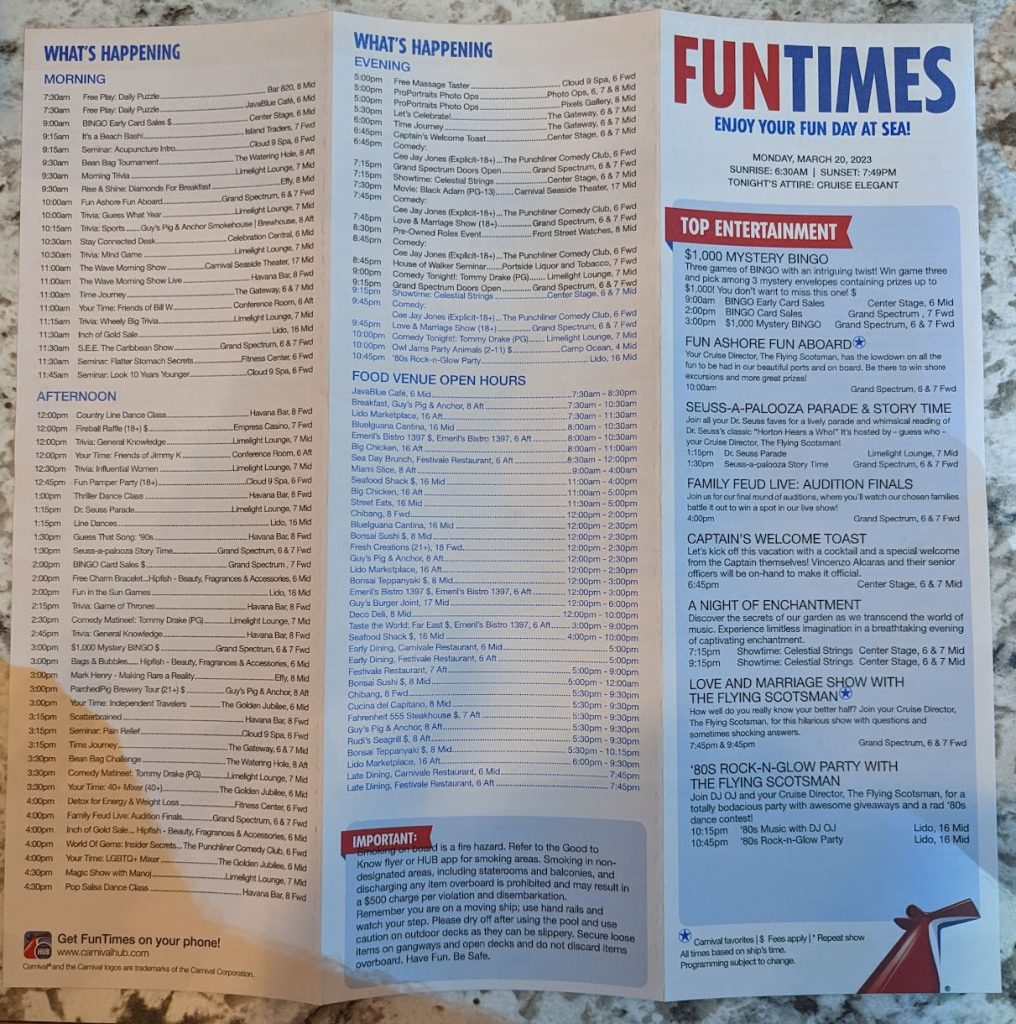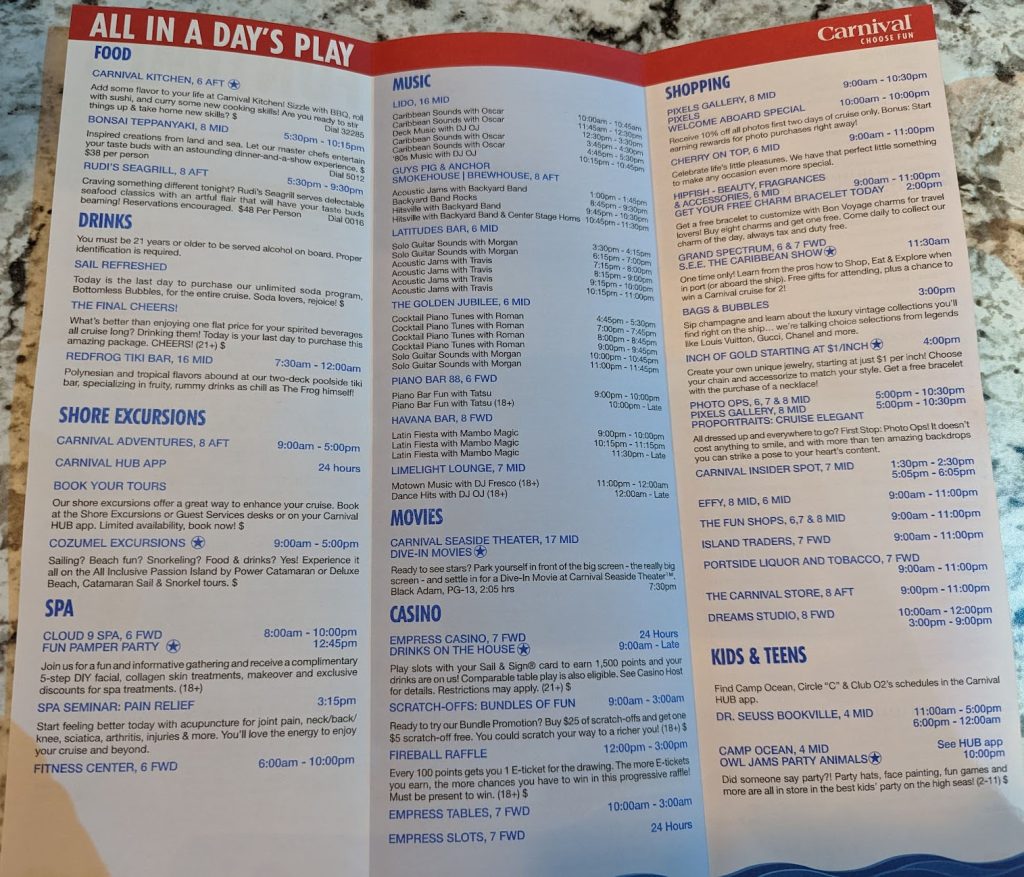 Breakfast at Guy's Pig and Anchor
We decided to head to breakfast around 9:15 AM. On Celebration, you have a few options to start your day; the traditional buffet (Lido Marketplace), a secondary buffet in Guy's Pig and Anchor, Blue Iguana Cantina for breakfast burritos, Big Chicken for morning chicken sandwichs, Java Blue for breakfast sandwiches, sea day brunch in the main dining room, and Emeril's Bistro (for an extra cost). We opted to try Guy's Pig and Anchor. 
Tip: If you want a better cruise experience, especially on a completely full ship, try alternate food venues. Many large ships have food available in multiple locations, and guests never bother to look for it. The other venues are typically less crowded and much more peaceful than the main buffet. 
We took the aft stairs two decks down to Guy's Pig and Anchor Smokehouse, which was located at the back of Deck 8. I've seen Guy's Pig and Anchor Smokehouse on the Carnival Horizon and was impressed with how well-themed it was. The Celebration takes it to the next level. It had to be at least double or triple the size, taking up the whole back of the ship.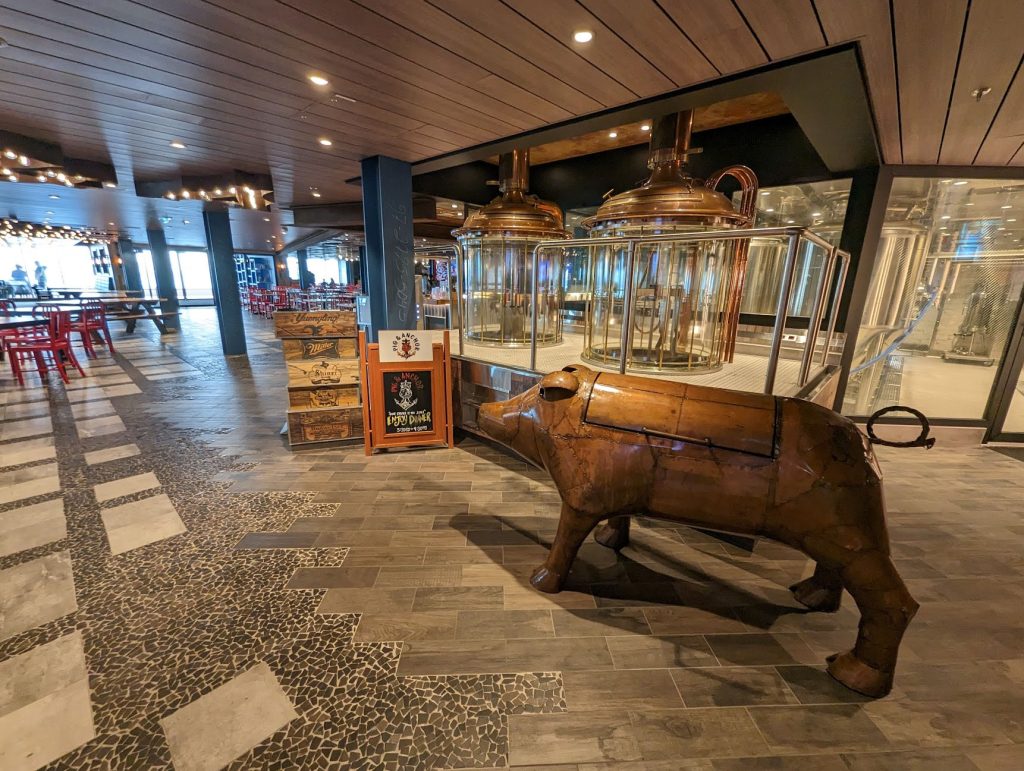 On the left side was the Heroes Tribute Lounge, which doubles as a sports-watching area (it's not technically a sports bar because it doesn't have a dedicated bar). It's also the home to an extra soft serve machine. In the middle are picnic tables which are great for playing games with family or friends, as well as foosball. Finally, to the right is the restaurant section with standard seating and tables.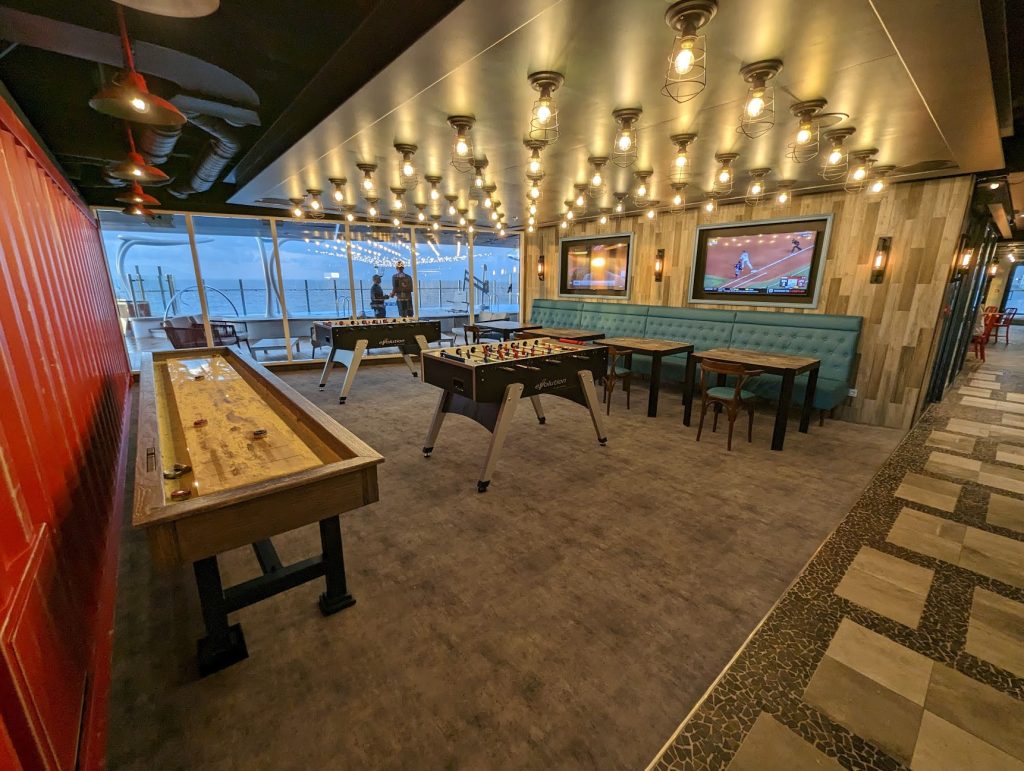 The buffet was set up against the far right wall; almost hidden from view unless you knew it was there. It had all the staples: pre-toasted bagels and toast, eggs, eggs benedict, french toast, fruit, and cold cuts. In a separate station further down the line were a few cereal options. The only food missing that was available in the main Lido Buffet was a made-to-order omelet station.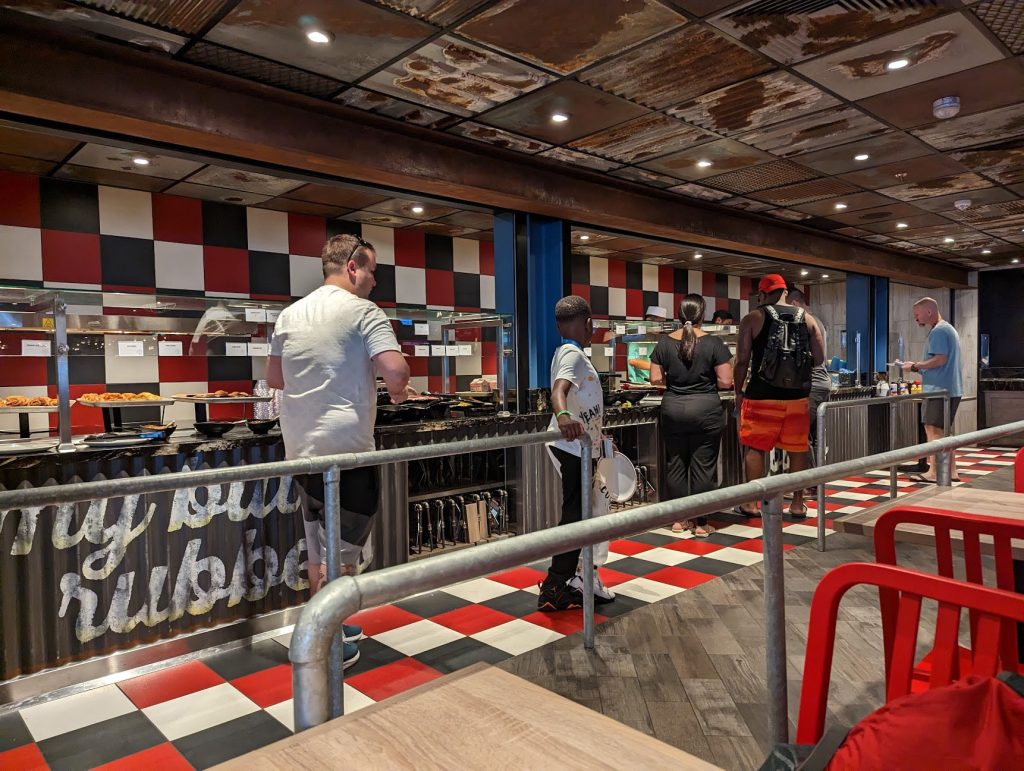 In this section, I clearly noticed some of Carnival's recent cost-cutting measures. First was that they only offer bacon at the buffet every other day. Initially, Carnival said it was because of the national bacon shortage. Well, it's a year later, and there is no longer a shortage. Every other cruise line offers bacon every day; Carnival should too.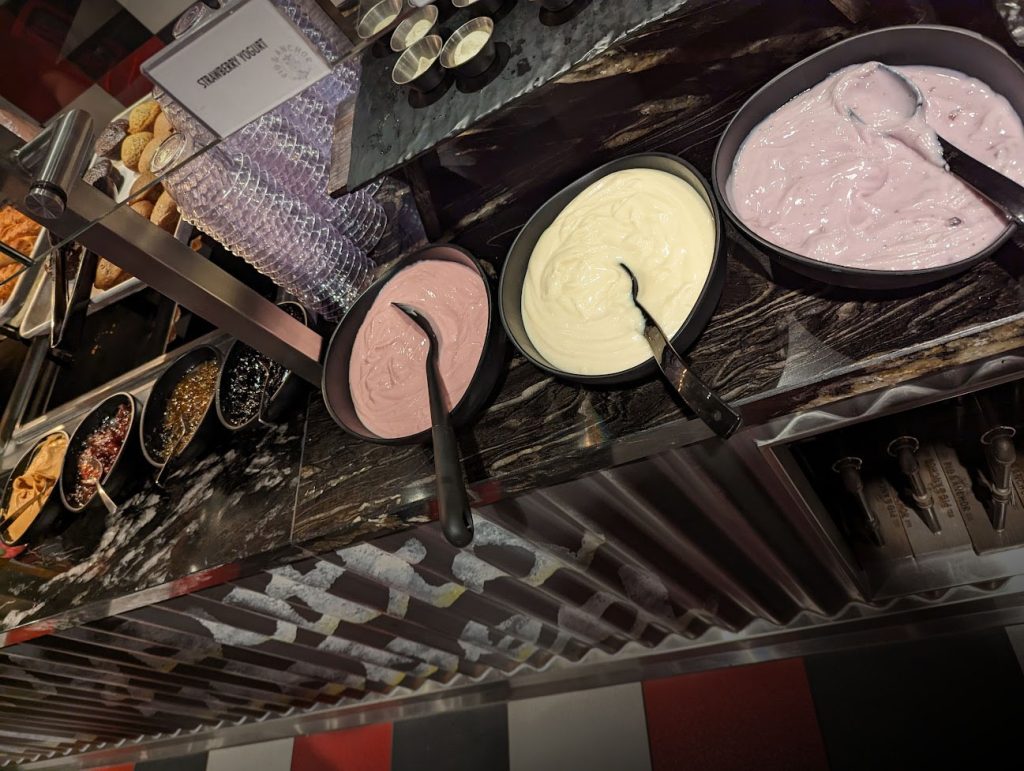 Secondly, they've moved away from individually packaged peanut butter, jelly, butter, yogurt, and cereal. Instead, they're served communal style in a big bowl. It's kind of disgusting. To see the peanut butter, yogurt, and jelly in an open bowl with one spoon that everyone touches made my stomach churn. They didn't even have a cover or sneeze guard. Carnival says it's to be "environmentally friendly," but in reality, it's to save cost. Not all of it is bad, though; the butter and cream cheese are piped into individual dishes, and the cereal has a nifty dispenser, but the others are just gross. 
The buffet was deserted when we arrived, so we grabbed plates and helped ourselves. I loved how empty it was; it felt like a private restaurant at that point. The only thing I didn't love was the decor; Pig and Achor doesn't lend itself to a relaxing breakfast; it's just too industrial feeling. On Royal Caribbean's larger ship, the Solarium Bistro was my favorite breakfast spot because it offers amazing ocean views and short lines. I really missed that view here, but the lack of crowds still made it worth it. 
The food itself was mediocre. I loved the pre-toasted bagel, so I didn't have to wait, and their croissants were terrific (I can't even tell you how many I had throughout the cruise). Unfortunately, the eggs tasted like they were powdered and the French Toast was a little rubbery. 
We finished breakfast but made sure to leave some room for our next stop.
Tasty snack at Emeril's Bistro 1397
Emeril's Bistro 1397 is an extra-charge restaurant located in The Gateway zone. It's a fast-casual venue where you order at the counter, and a waiter delivers the food to your table. The food is all priced a la carte and with relateively modest costs. Emeril Lagasse partnered with Carnival for this restaurant which is unique to the Celebration (although very similar to Emeril's Bistro 1396 on Mardi Gras). It has a mixture of New Orleans/Creole cuisine and international specialties that rotate daily.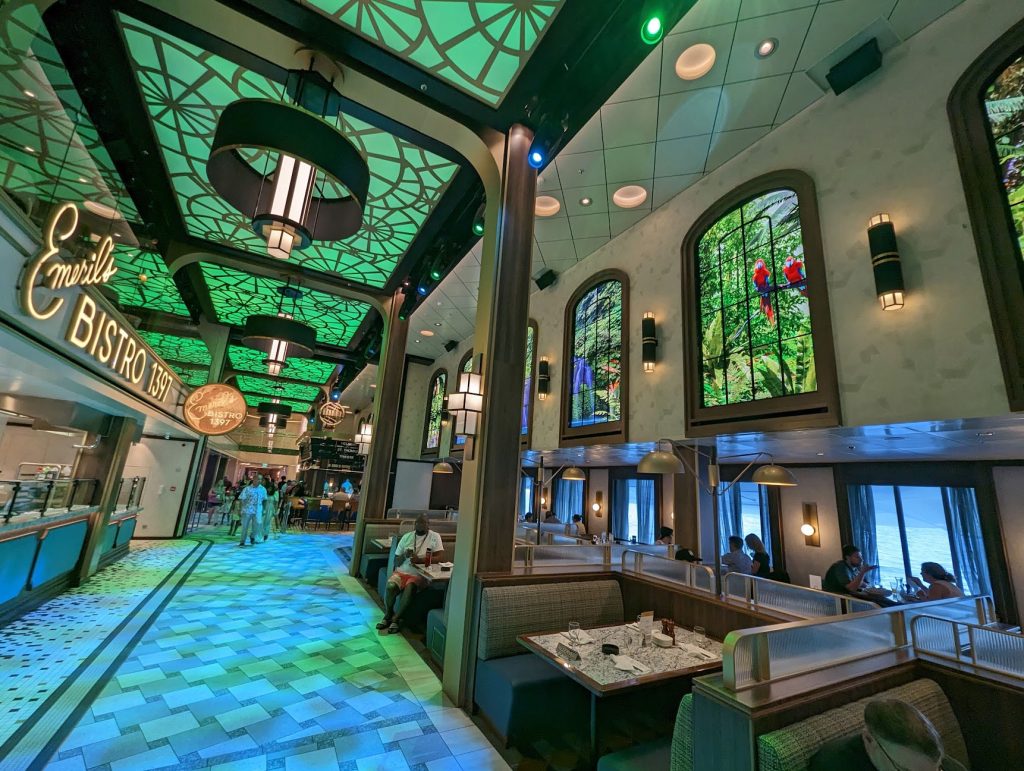 Carnival typically doesn't do a la carte menus or charge for fast casual food, so I was curious to see how popular this restaurant would be. On Mardi Gras, there were a lot of reports of the place rarely being used. On Celebration, Carnival switched up the layout to offer more booth-style seating to make it clear it was a restaurant. Throughout the cruise, I was surprised that they were always people there.
We knew exactly what we wanted…beignets. I had been eyeing them since they first announced the restaurant. If you haven't had them, beignets are a New Orleans delicacy, a soft pillowy dough that's fried and coated with sugar. It's similar to a funnel cake or zeppole but in a different shape.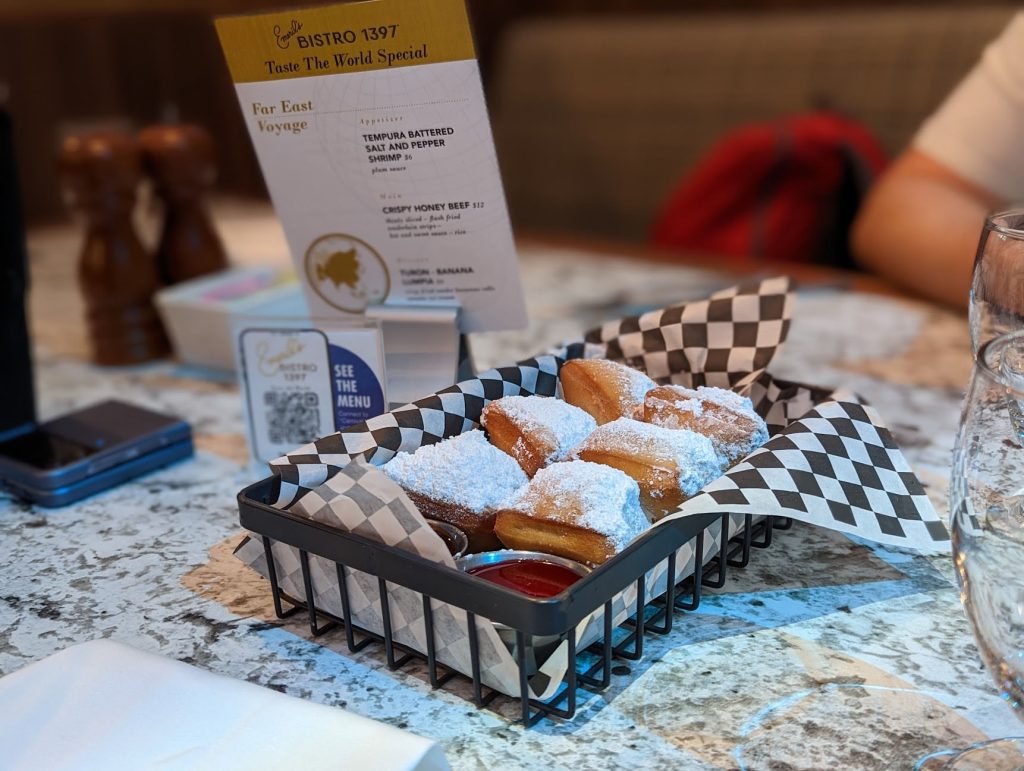 We walked up to the counter and ordered one basket, which was just $5. They gave us a number, and we sat at a table across the way. Five minutes later, a waiter brought over a basket of six fresh and steaming hot beignets. They were dusted in a heavy coating of confectioner's sugar and served with a strawberry and chocolate sauce. 
The beignets clearly came right out of the fryer. They were piping hot, so we had to give them a few minutes before digging in. But, once we did, we were impressed. They were just as I remembered when I visited Cafe Du Monde in New Orleans. A set of six was more than enough to share and hit the spot after a heavy breakfast. It was totally worth the $5. 
Carnival Celebration Serenity adult's only deck
Once we finished both breakfasts, we returned to the room to prepare for a pool/deck day. Even though it was still overcast, I made sure to sunscreen up in case the sun came out. Then we grabbed our towels and headed up to the Lido Deck. 
The Celebration had a variety of lounge chairs all across the ship. It was around 11 AM, and there were still a ton of chairs available, probably because it was not ideal whether. We headed up to the Serenity Deck which was located at the front of the ship. 
The Serenity Area is Carnival's signature adult-only area (learn more about Serenity) which is my favorite of any cruise line. Royal Caribbean's adult-only area is ages 16 and up and Norwegian charges for this area on many of their ships. Carnival offers this area for free to every guest who's over 21.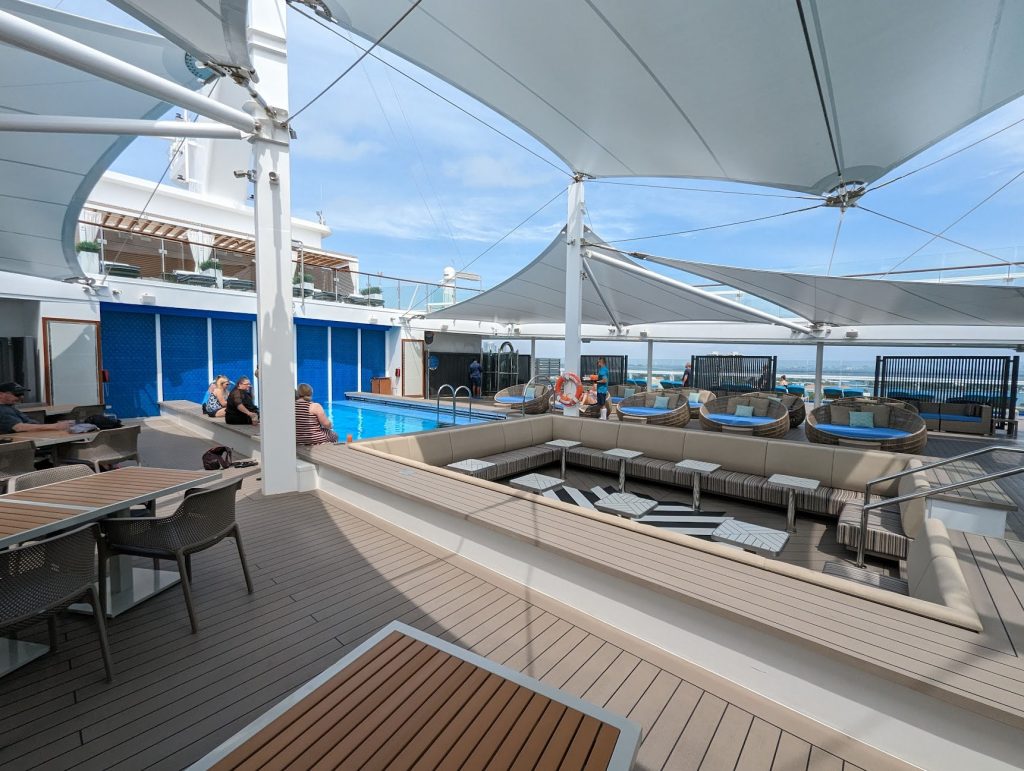 The Serenity Area on the Celebration is massive, taking up the whole first third of the ship. All through the area, you'll find a variety of loungers, beds, deeply padded chairs, and couches. Even though the area is at the front of the ship, which is typically very windy, Carnival put a lot of dividers in that reduced the wind and made it feel much more private and intimate. The Serenity Area on the Celebration also has two large hot tubs, a pool, and a dedicated bar. 
We easily grabbed two loungers on the side, overlooking the ocean. It was relatively near the back of the Serenity Area, so we could still hear all the happenings near the main Lido pool, but it was perfect. I took out my Kindle (see on Amazon) and started to make my way through the book I had brought on the trip. I've really learned to love using my Kindle while at sea; the screen is amazing in the direct sun and it's so much lighter than a book.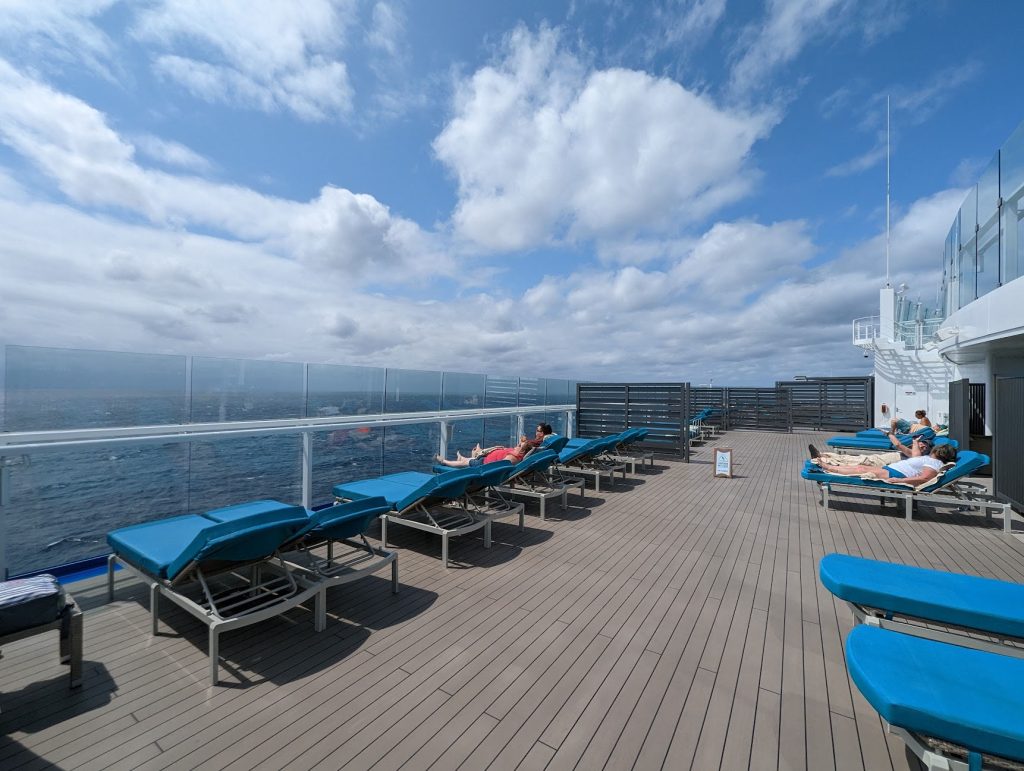 After a bit, I strolled over to the Serenity Bar. It was staffed with four bartenders, and there were no lines at all. While there's been much talk about cruise lines being short-staffed, I didn't experience that at all on the Celebration. Every venue had a lot of people working. I never waited more than 5 minutes for a drink, and even that was pretty rare; it was usually faster. 
I looked at the Serenity Drink menu (see the menu here) and decided to start with two Carnival unique items; their custom 50th birthday beer and their new hard seltzer. If you like to try new things, Carnival's beverage program blows others out of the water with custom and unique items you can't get anywhere else.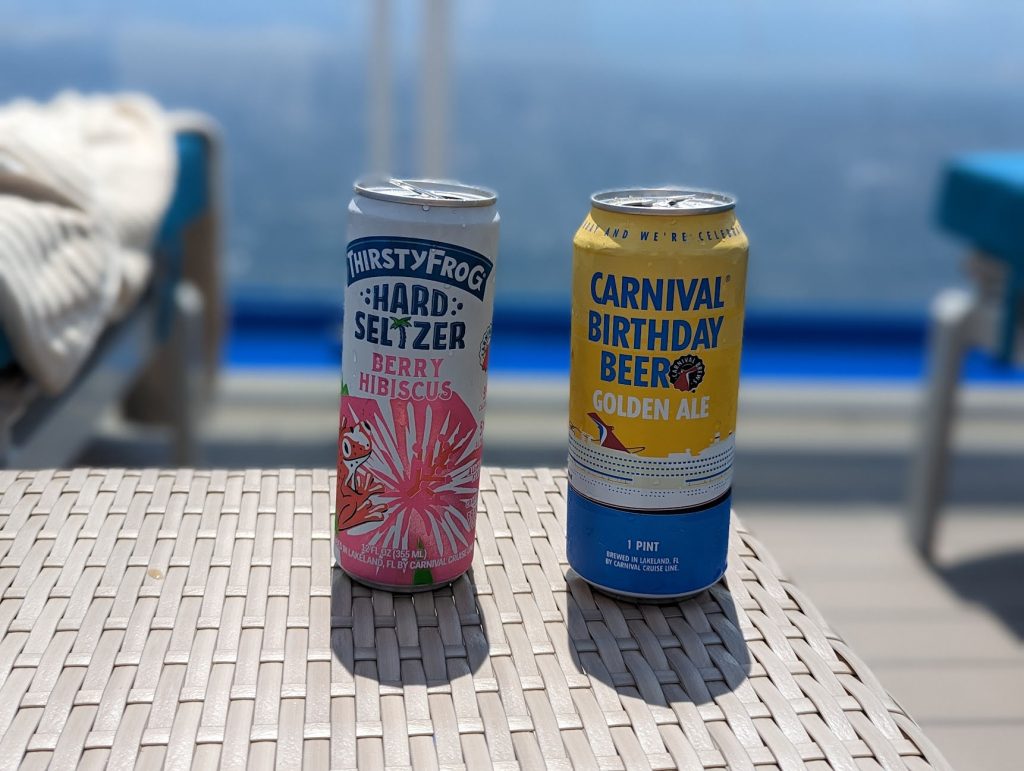 The ThirstyFrog Berry Hibiscus hard seltzer was light and refreshing. Carnival also carries Truly, but this is a unique seltzer flavor I hadn't tried before. It was similar to a White Claw with light carbonation and flavor, not as flavor-heavy as some other seltzers. 
As noon rolled around, the sun was out in full force, and the Serenity Deck was getting busier and busier. I started noticing people walking around with massive salad bowls. The Fresh Creations salad bar, next to the Serenity Bar, had opened. 
Before this cruise, I always wondered how popular this option was. Who wants a salad on a cruise? But everyone was getting them; I don't know if it was because it was convenient or because people were curious after seeing the massive white bowls. 
Lunchtime options on Carnival Celebration
We stayed in Serenity Area until 1:30 and then decided to have lunch. If you think there were many breakfast options, there are even more for lunch. It's incredible how many no-charge options are available all around the ship. 
Blue Iguana Cantina
To start, we visited Blue Iguana Cantina on the Lido Pool Deck. Blue Iguana is Carnival's Mexican restaurant that serves made-to-order burritos and tacos. There's a separate line for tacos and burritos, so we got in line on the taco side. 
It only took 3 minutes before I was at the counter. Next to the worker was a large machine cranking out fresh flour tortillas. He'd throw a ball of dough into the machine, and it'd flatten it into a tortilla. It'd then bake on a rotating pan and pop out at the bottom, ready to be filled. It was incredibly fresh.
I'm a huge fan of their fish tacos, so I got two of those and one pork. However, I was disappointed to learn that they no longer offer taco salad shells like they used to (another cost-cutting measure).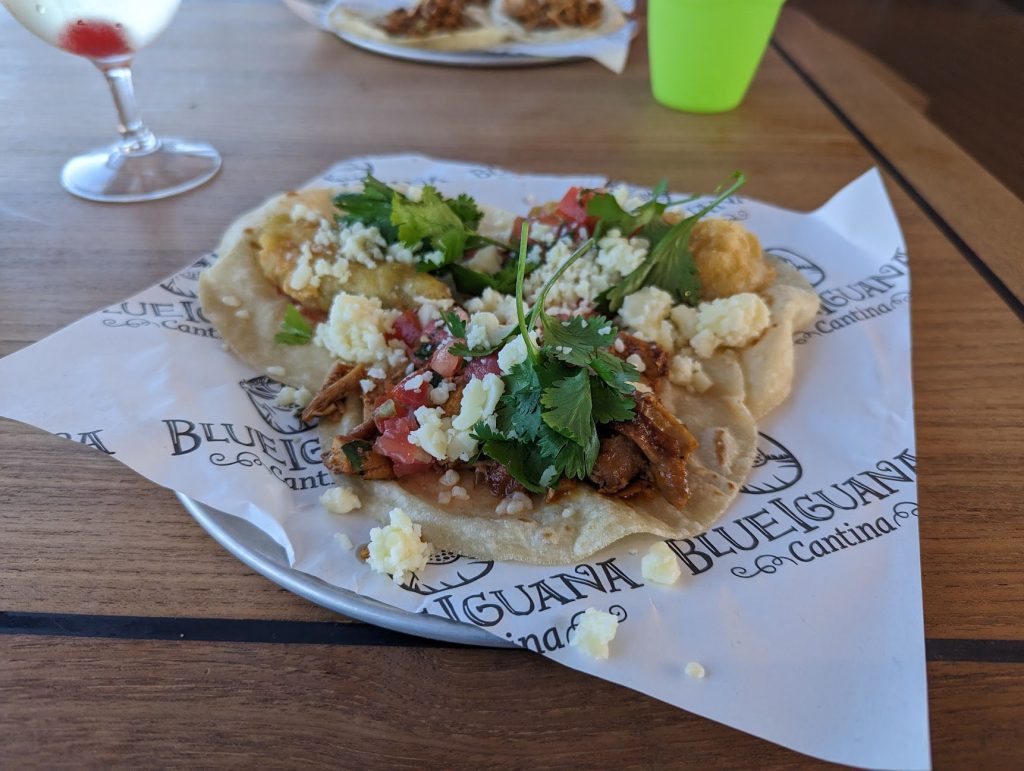 Once I got my tacos, I headed over to the topping bar to add a variety of salsas and cheeses to my tacos. Seeing all those salsas made me very sad that Carnival doesn't offer tortilla chips at their Mexican restaurant. It's really the only thing missing from Blue Iguana. 
We grabbed a table near the window and ate our tacos. It was a smaller portion, so it left us room for a second lunch.
Guy's Burger Joint
Our next stop was Guy's Burger Joint. It's always been one of my favorite burgers at sea, if not my favorite burger anywhere. So I was excited to get my first one in over two years. 
On Celebration, they've moved Guy's Burger Joint from poolside up one level, on the ship's side. They did this to make it even bigger and break up the lunch crowds around the pool area. Guy's Burger Joint was sizeable, but a lot of it was under an overhang that made it stuffy and humid. I didn't love the space; it was so dark and crowded. 
The line was long, it was nearly 2 PM, and the corral in front of Guy's Burgers was completely full. They cranked out burgers as fast as possible, but keeping up with the demand was hard. The line would move in shifts because the chefs would cook a batch of 20 or so burgers, and then they'd start serving them as the next batch cooked.
All in all, it took me 16 minutes to get my burger, the longest wait I had during the entire cruise. Unfortunately, there's not much Carnival could do to shorten the line. The guys work as fast as they can, but since they cook the burgers fresh (not precooking them and letting them sit), there will always be some wait. It's worth it to me. 
I got the Straight Up Burger, which comes with Guy's super melty cheese, lettuce, tomato, pickles, and some fries. All of the tables were taken, so we walked down a bit and found one along Club O2 (the kids club). The burger was just as good as I remembered, juicy and hot with tons of flavor.
Unfortunately, that was the only time I'd visit this cruise. The wait was usually too long, and the burger was too big. It was an entire meal in itself and I usually like having smaller portions so I can try more things.
Pool decks on a sea day
After lunch, we explored the rest of the upper pool decks. Because it was a cooler day, most of the pools were still open, but kids had swarmed the hot tubs. There wasn't even an extra inch to fit another person in them. I had never seen the hot tubs so full of children, but I had also never been on a spring break cruise before. Throughout the cruise, the hot tubs that weren't adults only were packed full of children all day.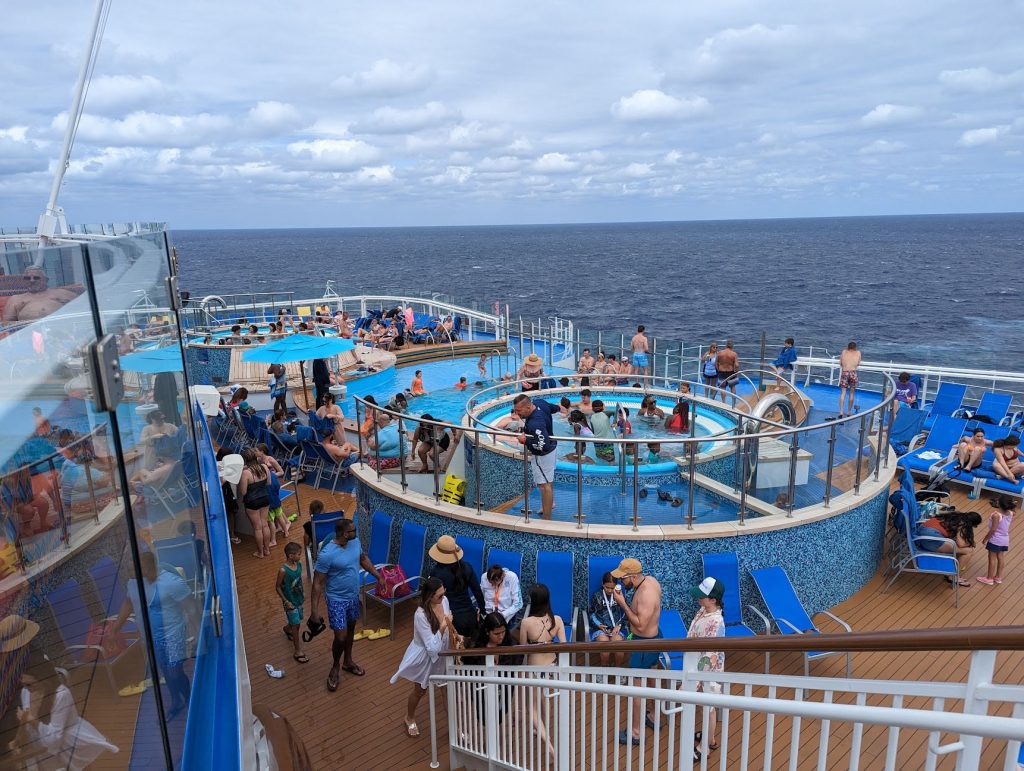 Even though this ship is Carnival's largest, it didn't feel more crowded than any other ship on a sea day. In fact, the pool decks felt a little less crowded than the Harmony of the Seas when I sailed last November (see the blog here). That's probably because of the variety of seating the Celebration has all around the ship (on the Harmony of the Seas, the loungers are mostly on the pool deck and above). 
The Ultimate Playground on Carnival Celebration
We headed up to the Sports Deck, which Carnival calls the "Ultimate Playground." This area was home to a basketball/pickleball court, mini golf, a water park, three water slides, a ropes course, and the BOLT roller coaster. 
I immediately noticed how jam-packed this area was, not in terms of people but in terms of stuff. On the Carnival Horizon, the Sports Square seemed much more open and spaced out. They had pool tables, Twister, foosball, and bean bag toss. On the Celebration, there wasn't room for that. The mini-golf was crammed into one tight area and the walkways were narrow, so even if just a few people were on them, they felt full. It's good for Carnival to make use of all the space, but I prefer the Vista-class implementation better. 
Trying the Celebration ropes course
We decided to test our nerves and go on the ropes course. As I've mentioned before, I hate heights, but I hate that I hate heights, so I don't let that stop me. And since the ropes course is free, there's no reason I shouldn't try it. 
To go on the Ropes Course, you must be at least 48″ and under 300 pounds. You must wear secure shoes (no flip-flops or sandals). They have a cubby at the front of the line where you can leave your phones, hats, and loose belongings.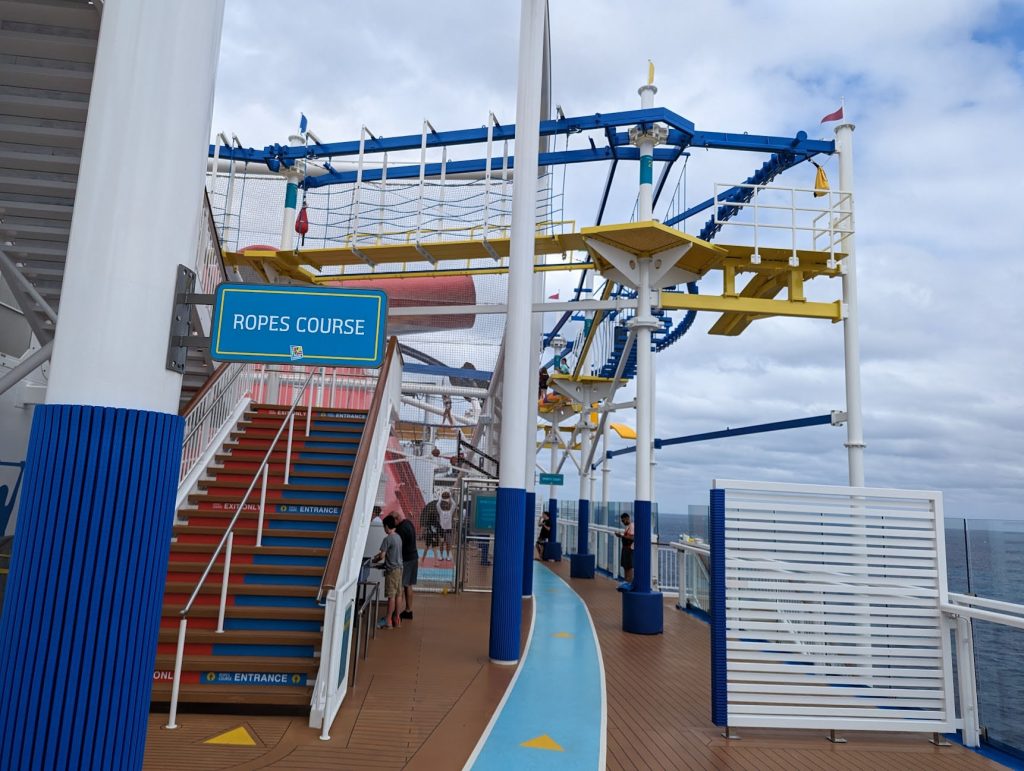 The queue was about half full when we got up the stairs. People of all ages were lined up to try the course. You could see the people who were excited and the people who were terrified. 
The guides did a great job getting everyone suited up securely and ensuring they knew what to do. The line moved quickly, and it was only a 20-minute wait until it was our turn.
The course had 12 different platforms. In between each one was two obstacles, an easier one and a harder one. As I started walking, I immediately noticed the ground 20′ feet below but tried to ignore it. 
The first obstacle you encounter is a real doozy; it's a zip line that goes over the side of the ship, suspending you 100+ feet over the ocean. My heart started pounding. 
The guide told me to walk until the harness took over. Before I knew it, I was dangling in the air, slowly making my way to the other platform. It was actually pretty slow (it seemed faster for others later on in the cruise, so they may grease it up). The hardest part was that once you landed, you had to walk backward on a plank and pull the safety rope until it "clicked" back into the course track. It was tough to pull, and doing it while backward freaked me out more than the zip line itself. 
Then we went on to the other obstacles. Compared to other ropes courses I've done, I'd say it was easier in that there weren't many where you had to think about how to get through them. Sometimes the problem-solving really adds to the experience and challenge.
Also, because of how jam-packed the top deck was, it didn't feel that high up. As a result, I felt less scared on this one than I did on the Carnival Horizon.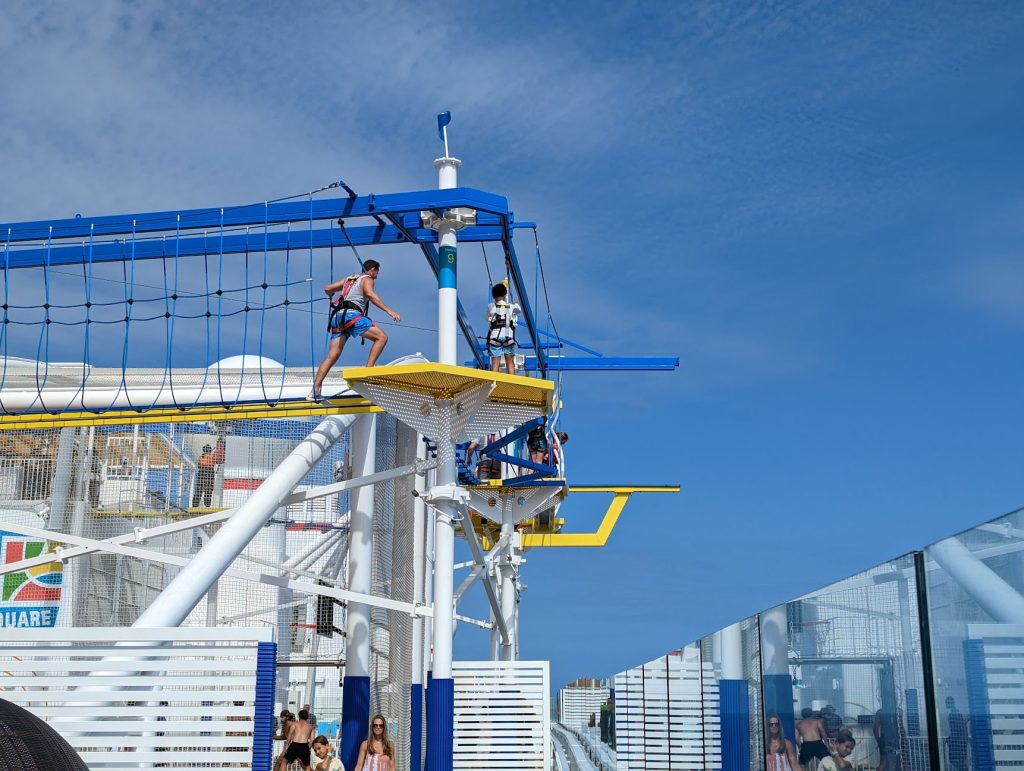 It was fun though. At one point, there is a deadman's plank where you could walk over the side of the ship, but many people missed that they could do it because there's no sign. The whole cruise, I didn't see anyone do it.
We completed the course in about 20 minutes. It was a lot of fun, and I would have tried it a second time (using the more challenging obstacles) if I had spare time later on in the cruise. 
BOLT roller coaster at sea
Next up, we were going to try the BOLT roller coaster. That's right; this ship has a roller coaster! The track wraps around the Ultimate Playground and Carnival's signature red funnel. 
The BOLT roller coaster is one of the new attractions Carnival has that requires an extra cost. It was $15 per person for two laps on the track. You book your seats on BOLT using Carnival's hub app. It'll show you all the dates and times that are available, and you book the 15-minute window you want. 
Tip: Sign up for BOLT roller coaster early on in the cruise. The roller coaster ran much of our sailing, but it was closed on the last day. High winds or technical issues can shut it down for a bit, and we saw a few people who waited until the last sea day and missed out. So if it's a must-do for you, sign up on the first half of your cruise in case something happens. 
At our appointed time, we headed over to the entrance to BOLT where a staff member checked us in using his tablet. Then we proceeded up to the loading area. It's a large space with lots of metal railways to hold, what could be, a massive line. But because a reservation was needed, there were only two other people there, so we breezed right through. 
It's clear this queue was because Carnival was going to offer BOLT for free, and they weren't planning on doing an electronic queue, so the line was meant to hold the massive amount of people they assumed would be lining up.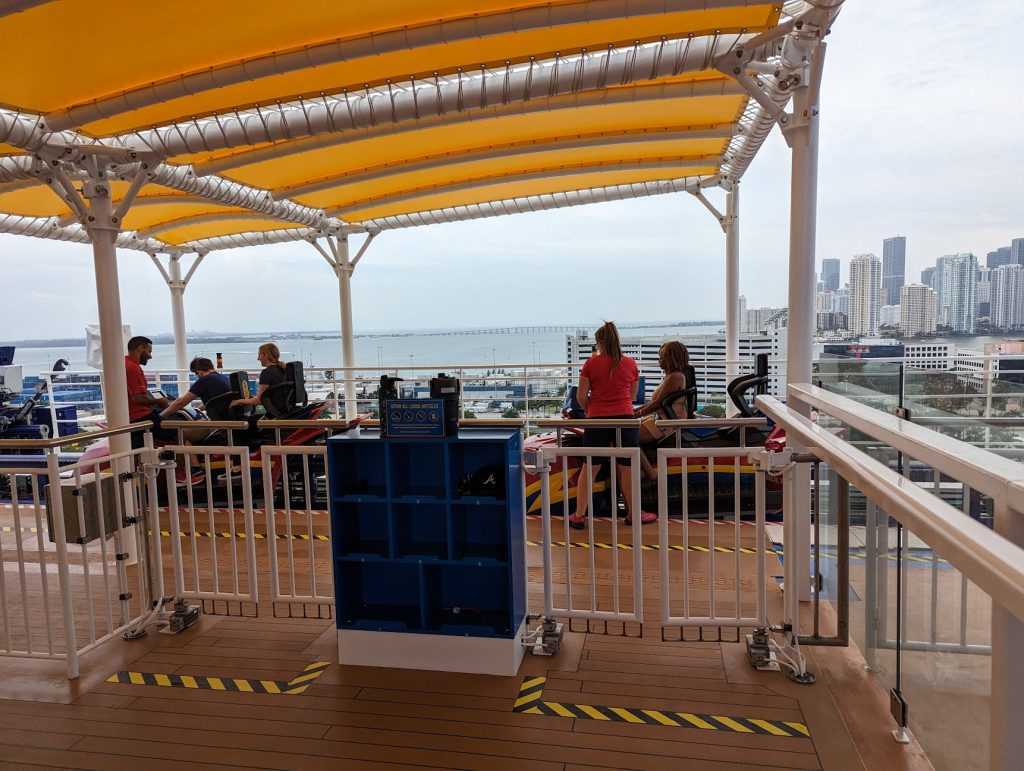 I stood at the front of the queue as the kids in front of us got strapped in. A stoplight gave the signal and they were off. The car, equipped with an electric motor, quietly zoomed its way up the track. I saw them come around the bend towards the loading zone, and since they had one more lap, they flew right by me. I assumed it would slow the car down through the loading zone, but they went through at high speed; I could feel the wind trailing behind them.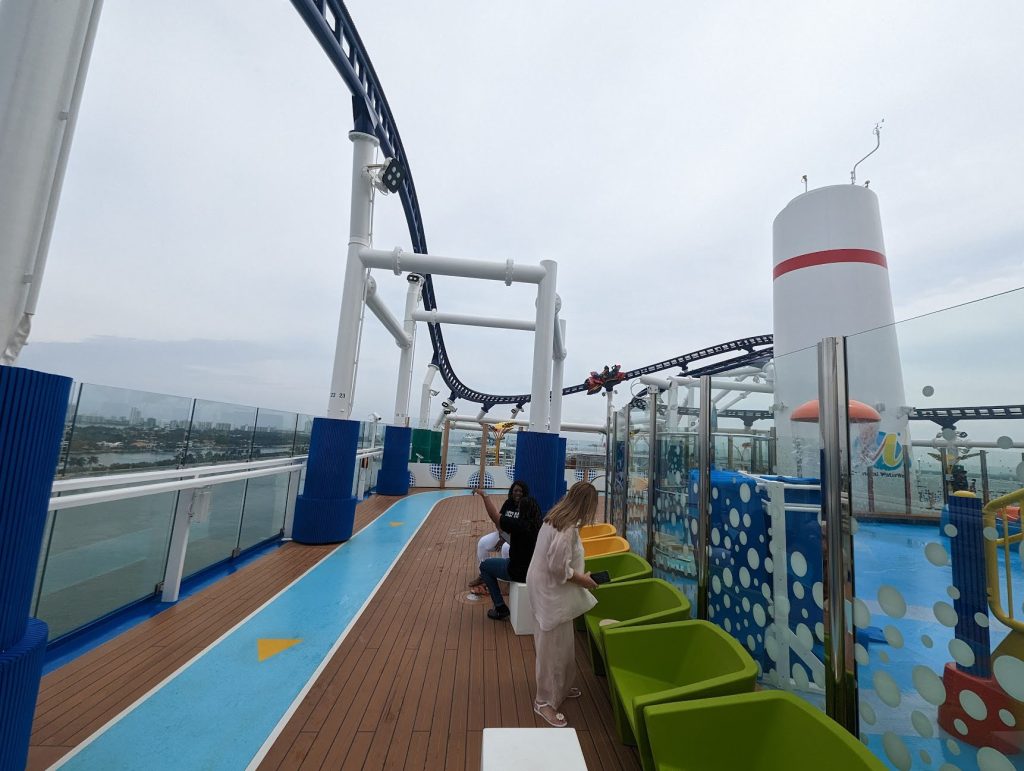 After they finished, it was our turn. We decided to double up, so two riders on a single car (it's the same price whether you're one or two people). The car is more like a jetski or motorcycle where you lean over a bit and hold the handles. You have a throttle control and a boost button that you can use twice during the course for a rush of speed. A speedometer in the middle of the display showed how fast you were going. At top speed, this could hit 40 mph.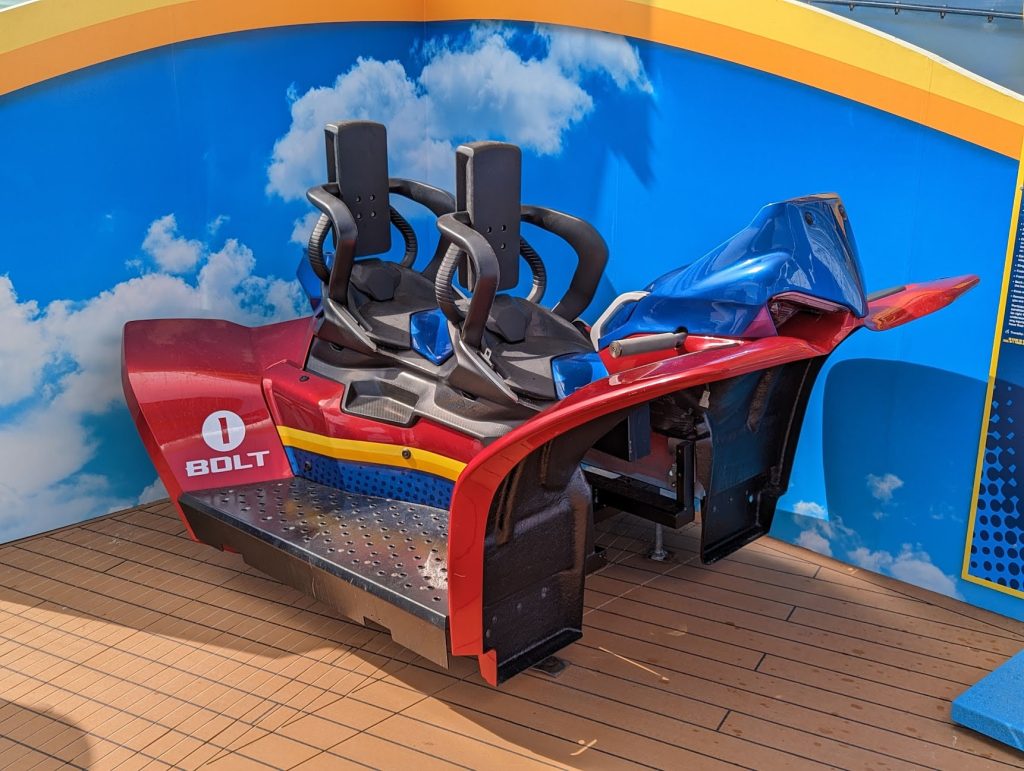 The light turned green and we were off. I immediately felt the rush of the car zooming the initial straight away. It's a similar feeling that you'd experience on linear induction roller coasters where there's no lift hill; you just get immediate speed. 
We went out to the back of the ship and did two circles through the mini-golf area. Even though we were more than 100 feet above sea level, it didn't feel that high–the thrills came through the sudden bursts of speed and tight turns. 
After the helix, we went through a camelback where our car was slowed down, either because we were going too fast for our weight or because the person in front of us was slow (two cars can be on track at once).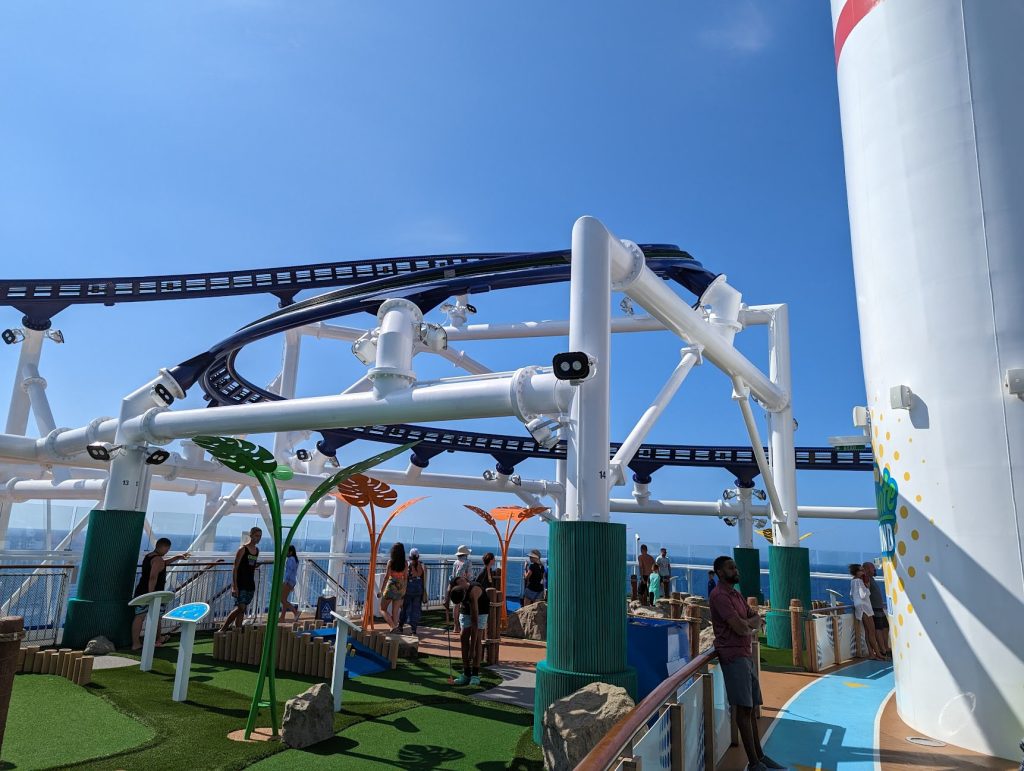 We rushed through the loading zone and went through the course again. I loved looking at the horizon where the sky met the ocean as we raced around the track. 
Overall, the ride was less than a minute, but a lot of fun. It was more thrilling than I thought it would be, and I saw people of all ages riding throughout the cruise. 
If it was free, I probably would have done it again, but not for $15. That was the biggest problem with the ride for me. Carnival is known for not nickel and diming guests, especially for onboard activities. While I understand a modest fee to reduce the long lines that there might be otherwise, $15 per person for 45 seconds is a bit much, especially if you have two riders going in one car. As a comparison, Norwegian charges $15 for their race track which can last 7 – 10 minutes (learn more about Norwegian's race track). 
First elegant night on the Celebration
I went back to my cabin to shower and get ready for dinner. This evening would be the sailing's first "elegant night" (Carnival cruises that are six days or more have two, while others have just one). On elegant night, people dress up for dinner, and the menu is a bit more elevated. In the old days, guys would wear tuxedos, and women would wear ballgowns. Now, it's less formal; a suit would be high-end, with most guys opting for a tie or a sports jacket. 
I usually love the first elegant night. It's the first day at sea and everything is still new and exciting. It's nice to dress up and make an event out of it. It also used to be the better menu, with lobster tail and prime rib. 
I usually enjoy the second elegant night much less. It's usually the second to last day, and by that point, the week has worn me out. Also, I'm so bloated from too much food and drinks that my elegant clothes barely fit. So I'd traditionally skip the second night.
Well, I wasn't the only one who had this thought. Carnival noticed this trend and decided to switch the elegant night with the better food (prime rib, lobster tail) to the second night. It was clearly a way for them to cut costs, hoping fewer people would show up for the second elegant night and Carnival would save on lobster tail. Since they're still offering the same experience, I can't complain, but Carnival should realize we know what they're doing. 
Guy's Pig and Anchor Smokehouse for dinner 
Because the menu for the first menu night wasn't outstanding, and we didn't want to dress up twice on this cruise, we decided to opt for a more casual dinner on the first Elegant Night. We decided on Guy's Pig and Anchor Smokehouse, which is one of the included dining options for dinner (other options are Cucina del Capitano and ChiBang). 
Because we had "anytime" dining, we could go as soon as we were ready. If we had had early dining, we would have had to wait until 7:45 to go to dinner at one of the other restaurants (although they weren't enforcing that for Guy's). 
Oddly, there was no virtual queue in the Hub app for Guy's Pig and Anchor Smokehouse. Because of that, I wondered how many people didn't realize it was an option they could choose for dinner.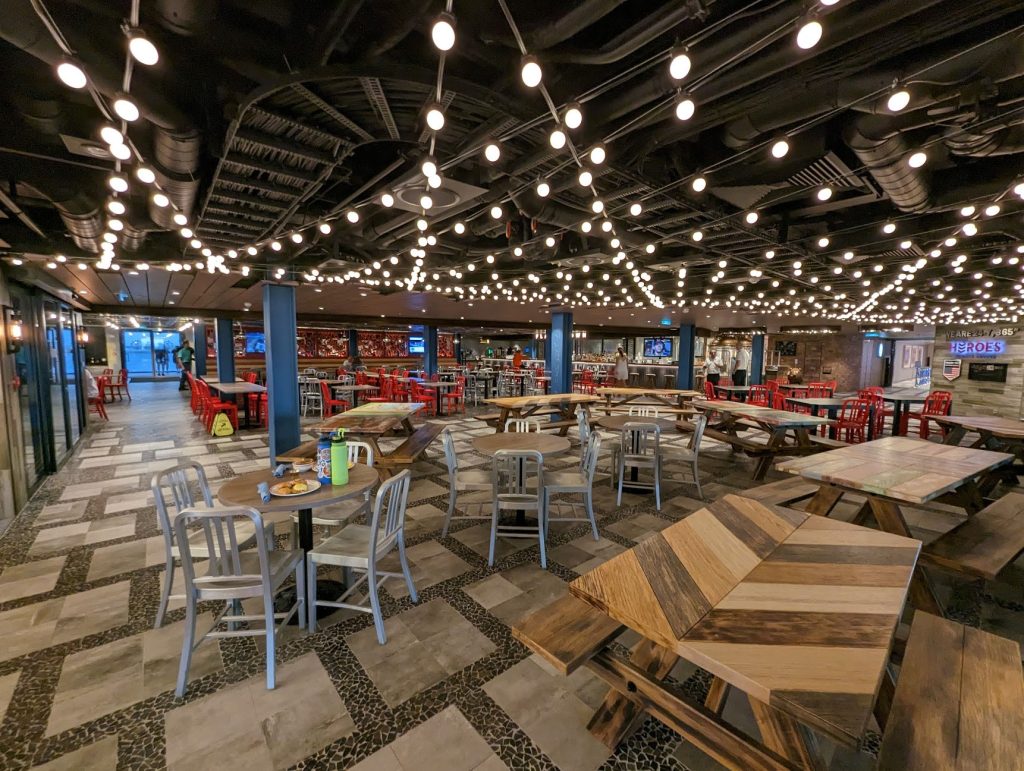 We walked down to the restaurant and saw that only about one-third of the tables were occupied. Guy's Pig and Anchor Smokehouse has a very industrial vibe. It's lots of unfinished wood and unpolished metal. Because of the lack of fabric, it gets pretty loud in there, but it didn't hamper conversation because it was so empty. It was definitely laid back and the opposite of what an elegant night would be. 
Note: Carnival's naming and offerings confuse many guests. Guy's Pig and Anchor BBQ is the lunchtime BBQ served buffet-style on sea days on many ships across the fleet. Guy's Pig and Anchor Smokehouse is only on Horizon, Panorama, Mardi Gras, Celebration, and soon-to-be Jubilee. This is a restaurant with table service. On Horizon and Panorama, everything is at an extra cost. On Mardi Gras, Celebration, and Jubilee, most options are included, but it's a different menu. 
Our waiter gave us a menu and took our drink orders. We ordered Parched Pig White Stout, a limited edition bottled beer made by Carnival (we got bottle 757 out of 1500). This specific beer wasn't brewed onboard (that's right, there's a brewery on board), but back in FL since it had to be aged in Woodford Reserve Bourbon Barrels. I'd never had a white stout, but I really enjoyed it. It's incredible how much variety Carnival has and how many custom beer options you can choose from while in the middle of the ocean.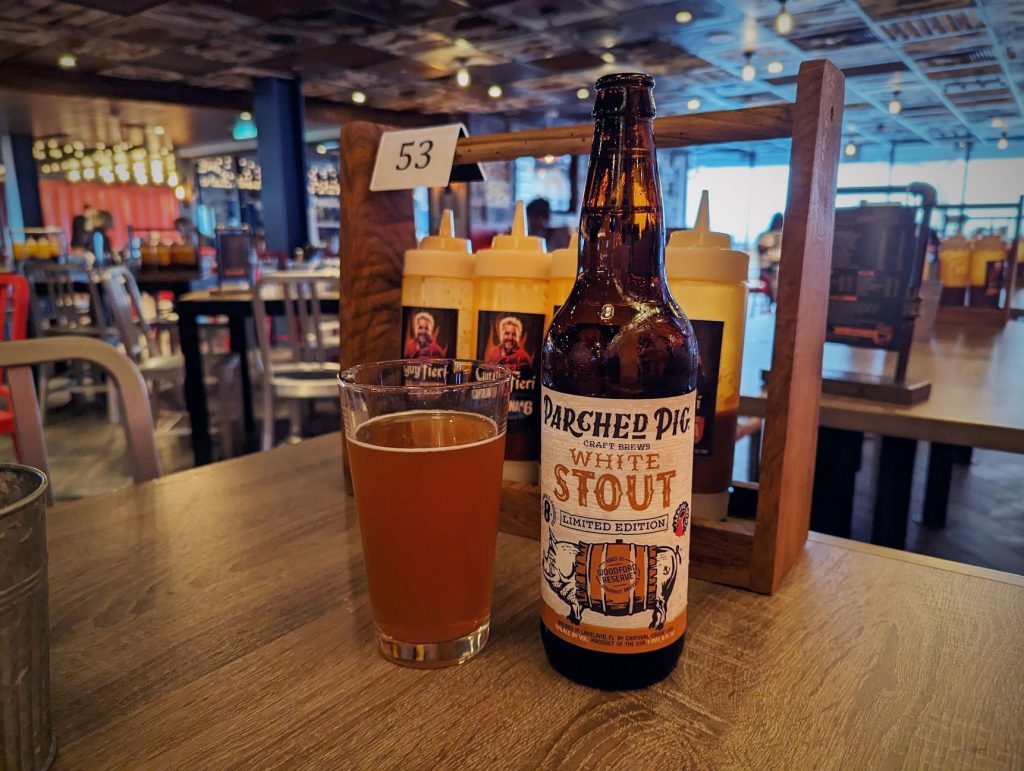 For Pig and Anchor Smokehouse, you use a pencil to fill out what you want on a menu card. I went for the three-meat sampler with crispy onion straws, french fries, and green beans with bacon. For dessert, I decided to splurge on the $5 backyard brownie.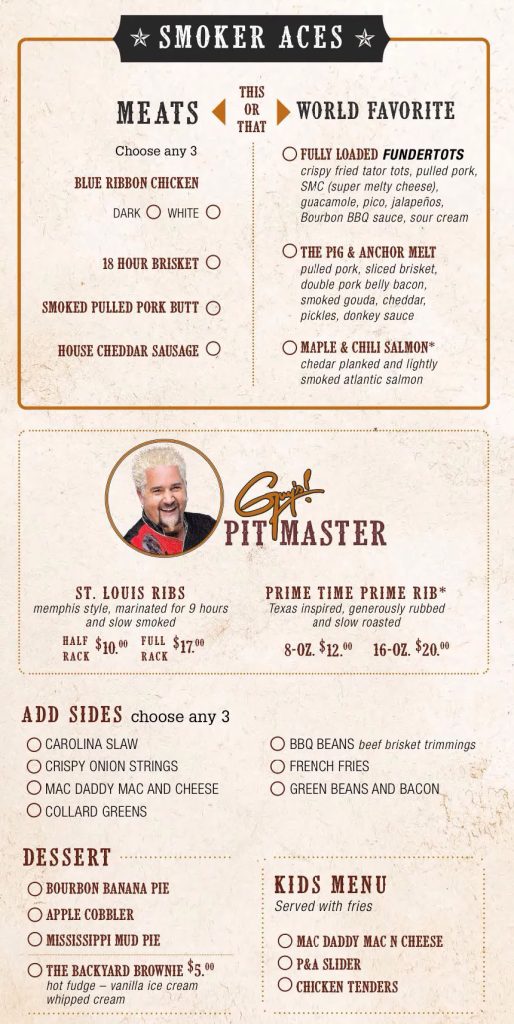 It took about 20 minutes for our food to come out, which felt about right. However, it was odd that there was no appetizer or bread course. It definitely felt like it was missing some kind of starter; even just a thing of peanuts would have done the trick. 
The food arrived at the table, neatly piled into individual quarter sheet pans. Good BBQ is very subjective, and everyone will have their own opinion. On the Facebook group for this sailing, I saw raves and criticisms.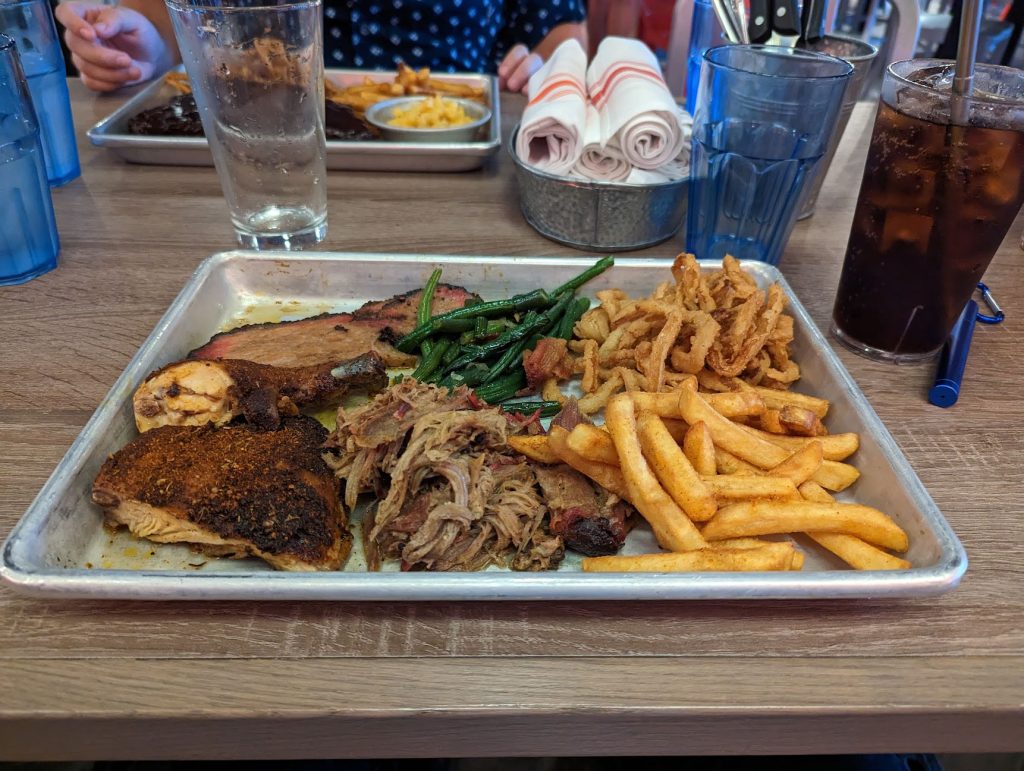 Personally, I thought it was pretty decent. The brisket had the tell-tale smoke ring as proof that it was smoked for hours, and the chicken was moist and juicy. A variety of Guy's BBQ sauces were lined up on the table to add to any of the meats. 
The sides were hit and miss. I loved the onion straws but found the green beans flavorless and the mac and cheese too mushy. 
While the meal itself was middling, the dessert was out of this world. The backyard brownie was totally worth the $5. It was large and warm, served with ice cream, hot fudge, and nuts. It's a shame Carnival doesn't have a late-night snacks menu here because I'd totally come and order the brownie and a beer after seeing a show.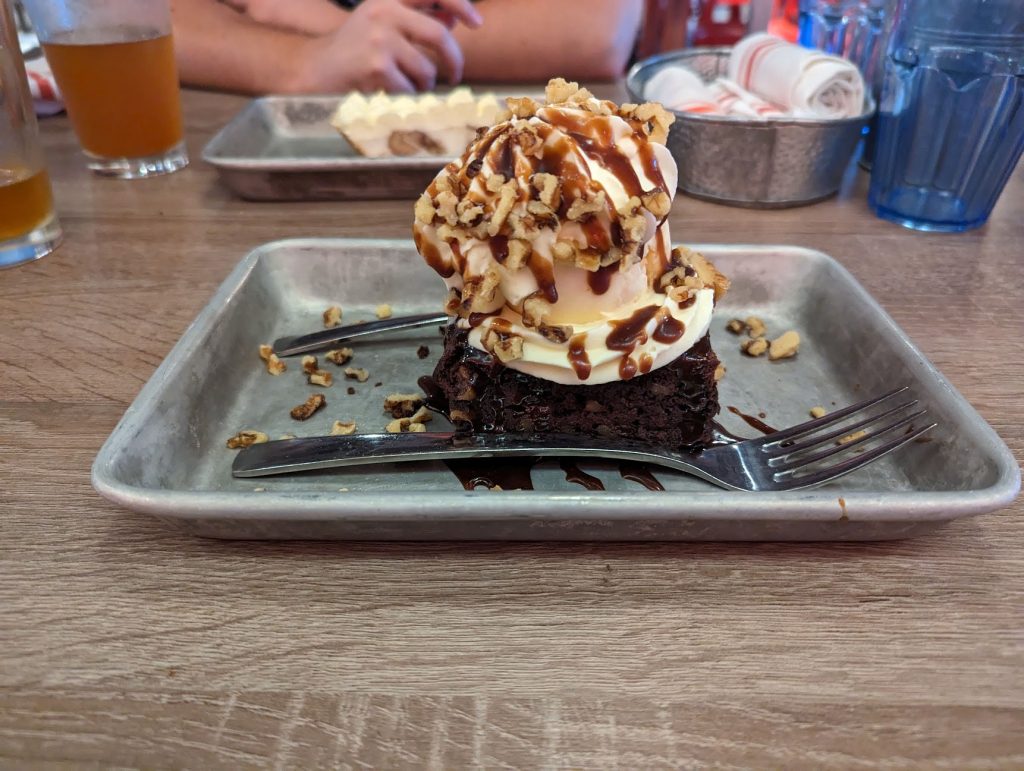 The bourbon banana pie was also spectacular. It had chunks of banana, but the dish wasn't overpowered by it; the flavor was well balanced with the bourbon, and the crust was nice and light. 
Overall, it was a good casual dinner. I would never pay extra for this experience, but for being included, it was an excellent, less-formal option to the main dining room. 
Celestial Strings in Celebration Central
After dinner, we went to see Carnival's production show, Celestial Strings. This show also runs on several other Carnival ships, and I had seen it previously on the Horizon and enjoyed it (read more here). 
On this ship, the show takes place on the stage in Celebration Central. We showed up about 10 minutes before and most of the seas were taken. We scored a couple of open chairs on the side of the 3rd level of Celebration Central (Deck 8). 
I immediately saw the problem with Center Stage…it's not designed for actual theater productions. It works great for game shows, live music, and events that would normally happen in the atrium on other ships, but Carnival's insistence on putting large-scale shows in this space is perplexing. 
Most seats are not optimized for seeing the whole stage unless you're right on the ground floor, which has very few seats. To make it worse, Carnival puts props and staging on the floor, limiting how many chairs are available. Their insistence on making the show immersive at the cost of additional seating means only a few people have a good view. As a result, everyone else feels like they're looking in on a performance that's meant for someone else.
The space is also incredibly noisy. You hear the hustle and bustle from the entire ship while the show is going on. The noise from the casinos, people taking pictures before dinner, and the hustle and bustle of nearby bars were constantly in the background. The poor performers are up there trying to put on a spectacular show; instead, they're treated like a Las Vegas lounge act. 
Still, the stage itself was impressive. The gigantic video screens used throughout the production were impressive rending realistic backgrounds most of the time. It's a shame Carnival didn't think through seating better. 
In terms of the show, Celestial String was good, just as good as the previous time I saw it. I'd recommend it for sure, but Carnival really has to rethink these Celebration Central production shows. 
Love and Marriage Show
After the show, we went to the Love and Marriage show hosted by the cruise director, Chris the Flying Scotsman. The Love and Marriage show is a staple on almost every cruise line and usually delivers a good laugh.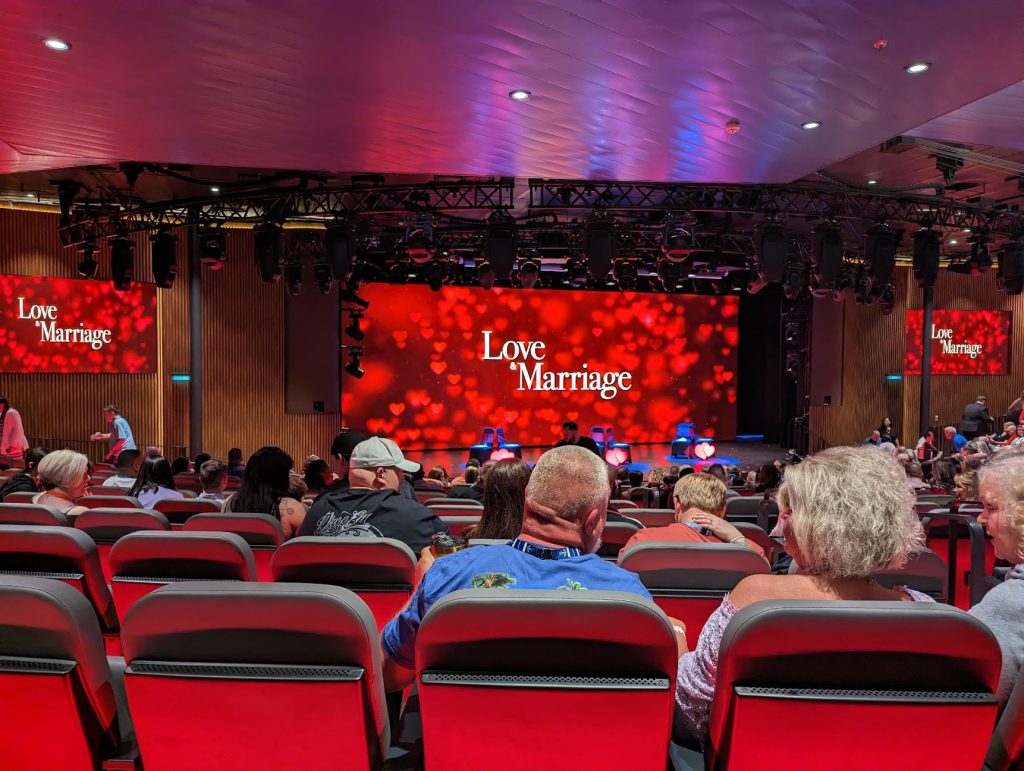 On the Celebration, they run two shows to accommodate more guests. We went to the second show, and the theater was about 3/4 full. It was funny, and Chris had good chemistry with the three couples. It had the audience laughing out loud. 
Piano Bar 88 to finish up the night
As a last stop for the evening, we decided to check out Piano Bar 88. The space was relatively small, and we walked in to see all the seats occupied. Luckily people regularly rotated out and moved on to the next venue or went to bed, so we could get a seat pretty quickly.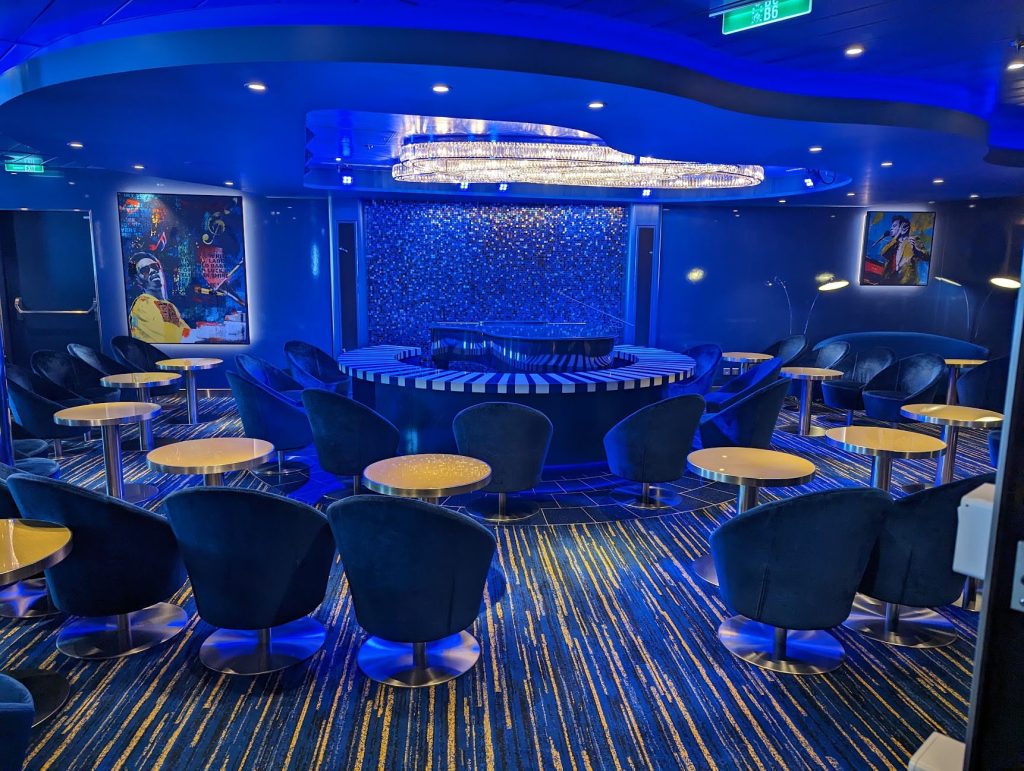 The pianist working on this sailing was Tatsu. She had a very upbeat attitude and energy, and impressive skills. Her catalog of songs was pretty vast. Many of the songs were fun up-tempo beats, and she got a rapport going with the crowd. 
I have always enjoyed the piano bars on cruises, but on my last two Royal Caribbean sailings, I found the pianist in the Schooner Bar to be boring and stuffy, not lively and fun. I don't know if that was a Royal Caribbean thing or just the individual performers, but this vibe is what I missed. It felt more like a "Howl at the Moon"/fun piano bar than a crooner bar. 
It was getting late, and you could tell the long sea day of drinking was hitting people. Tatsu took a poll to see how many people were close to their 15-drink limit, and quite a few hands went up (Carnival limits every guest to 15 servings of alcohol a day).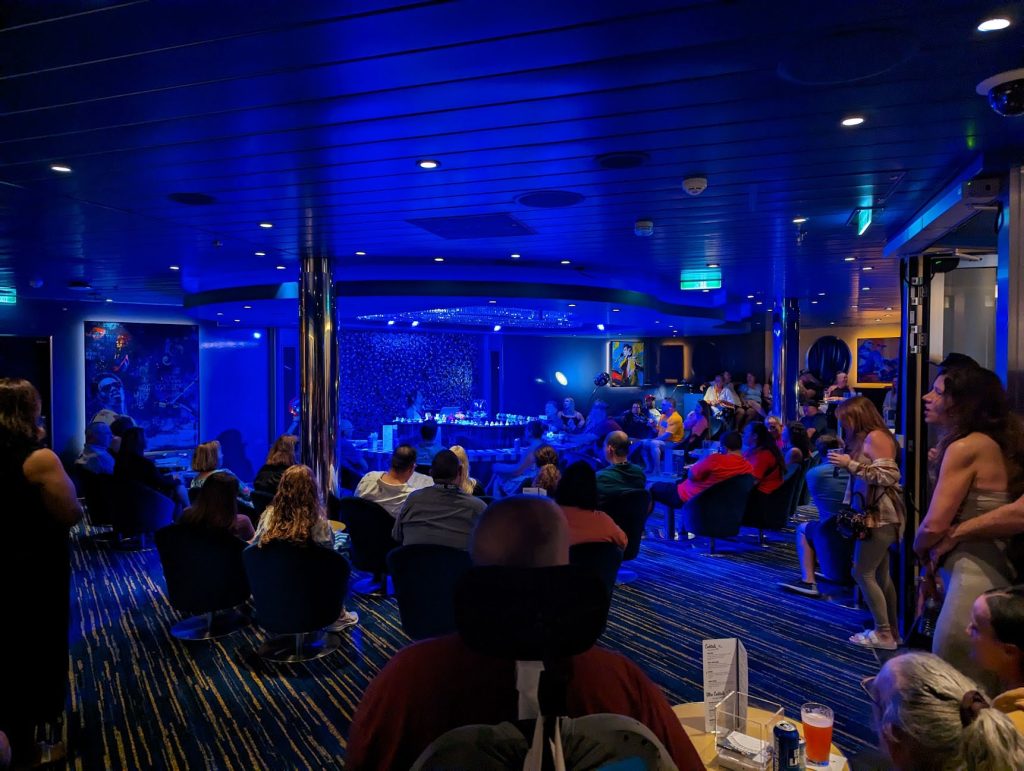 It did provide an excellent opportunity to people-watch. My favorite was watching a very intoxicated woman aggressively dancing on people while Tatsu sang Creep by Radiohead while a man the "Cat in the Hat"-style hat waived his hands to "conduct." 
It was a lot of fun, and energy radiated through the room. It was getting late, though, and our first stop in Cozumel had us getting off the ship at 7:30, so we turned in around 11 PM. 
Follow along on the rest of our Carnival Celebration cruise
Carnival Celebration – Cruise Blog - Day 1 – Miami
Carnival Celebration – Cruise Blog - Day 2 – Sea Day
Carnival Celebration – Cruise Blog - Day 3 – Cozumel
Carnival Celebration – Cruise Blog - Day 4 – Costa Maya
Carnival Celebration – Cruise Blog - Day 5 – Roatan
Carnival Celebration – Cruise Blog - Day 6 – Sea Day
Carnival Celebration – Cruise Blog - Day 7 – Sea Day
5 Hits and Misses on Carnival Celebration
If you want to stay up to date with what we publish, sign up for our monthly newsletter
CruiseSpotlight is an Amazon Associate. We may earn a commission when you click links to retailers and purchase goods.