Carnival Celebration – Cruise Blog – Day 3 – Cozumel
On the third day of our seven-day cruise aboard the Carnival Celebration, we arrived in Cozumel. Follow along on our unforgettable day of adventure. 
Day 3 Cozumel overview
Day 3 Funtimes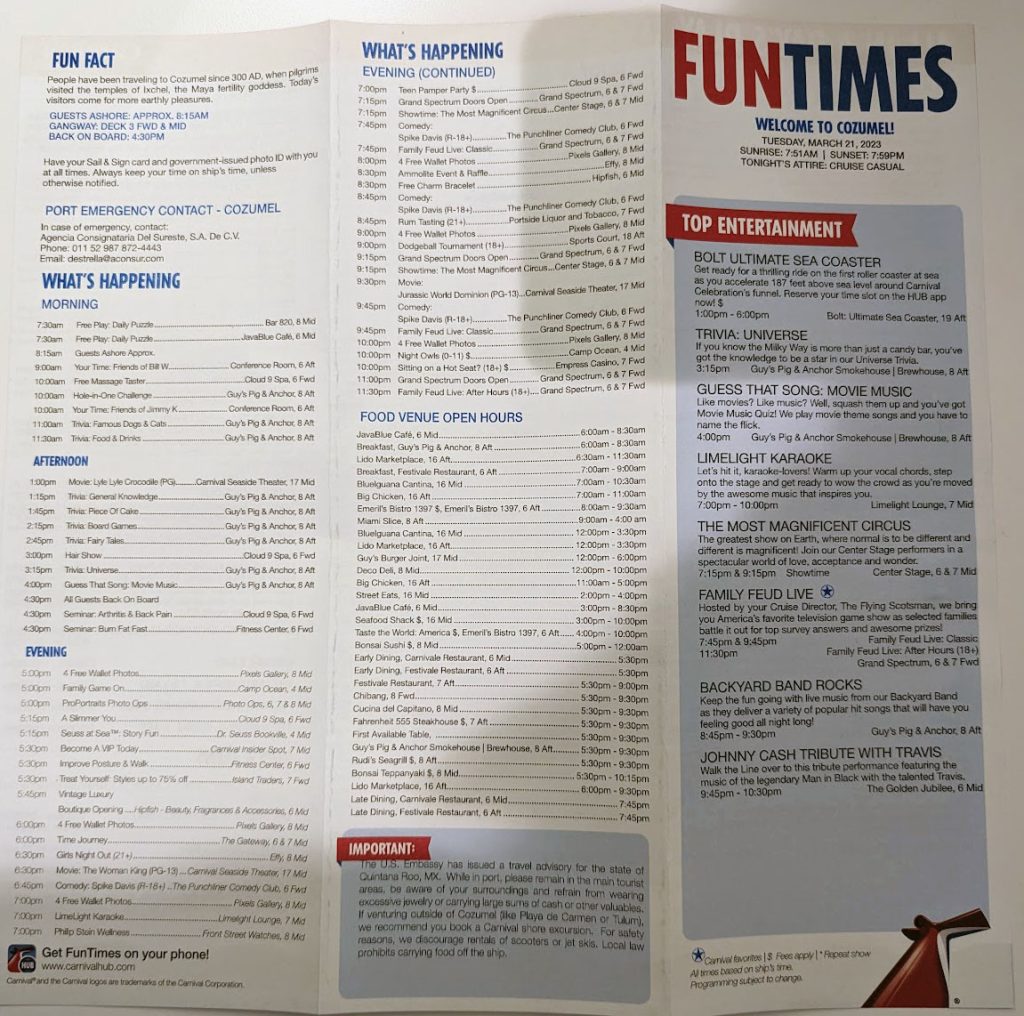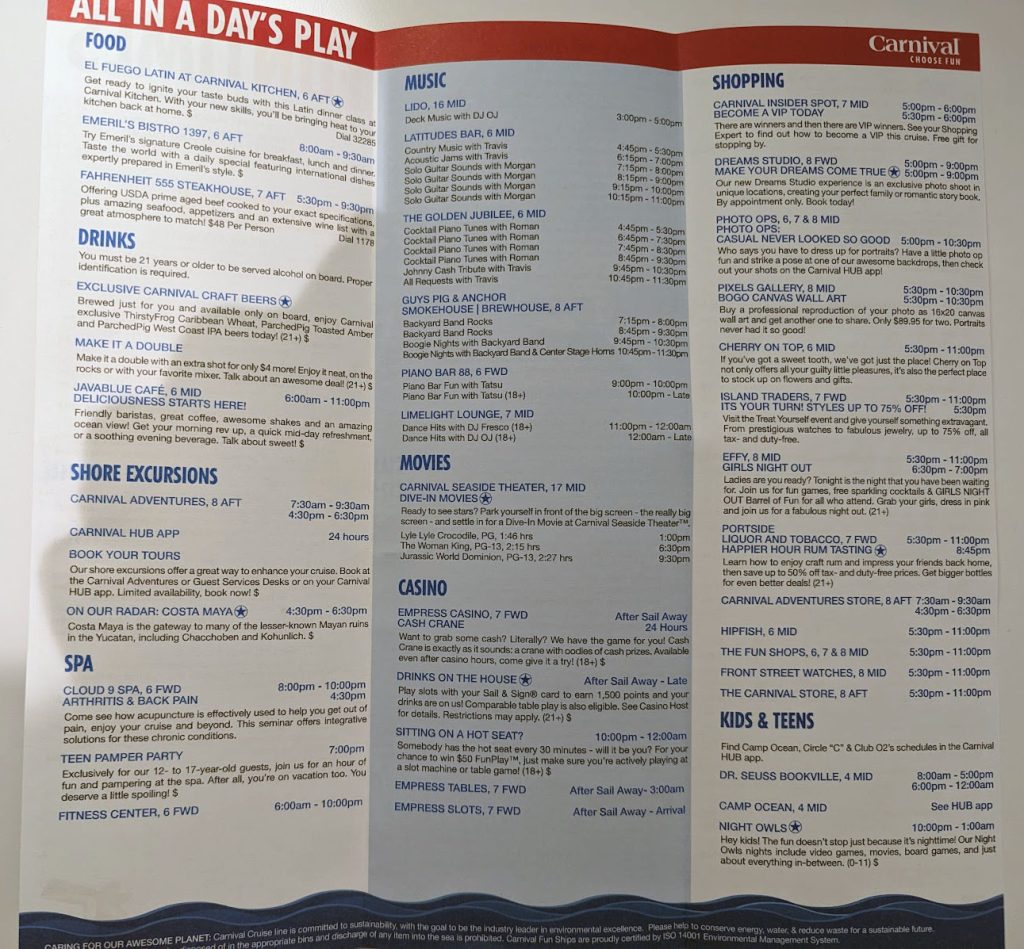 Early breakfast at Guys Pig and Anchor Smokehouse
We had an excursion booked in Cozumel, which required us to meet our tour group at 7:15 AM in the Grand Spectrum Theater. Because of that, we headed to Guy's Pig and Anchor Smokehouse for the breakfast buffet because we knew there'd be no lines and we could get in and out. 
The offerings were mainly the same as the day before (read more here), but instead of French Toast, they offered pancakes, and instead of bacon, they offered Canadian Bacon (in other words, ham). I'll say it again, Carnival; you need to offer bacon every day. Guests can tell you're cheaping out. 
Celebration's public restrooms need improvement
Before we headed to our excursion, we wanted to use the restroom. Unfortunately, that ended up being much more of a hassle than you'd think. 
The Celebration's bathrooms are spread out too far and are too small for a ship of this size. Throughout the cruise, we'd have to walk half a deck to find a bathroom. And then, once we did, it often had a line. Most of the men's bathrooms had only two or three urinals and one or two stalls, not nearly enough for the 6,000 or so guests sailing. 
During the evenings, the line would get so long it would be out the door, and I routinely heard people complaining and making jokes about it. As an adult, it was inconvenient, but if I had children who might have had to use the bathroom at a moment's notice, it would have been a much bigger issue.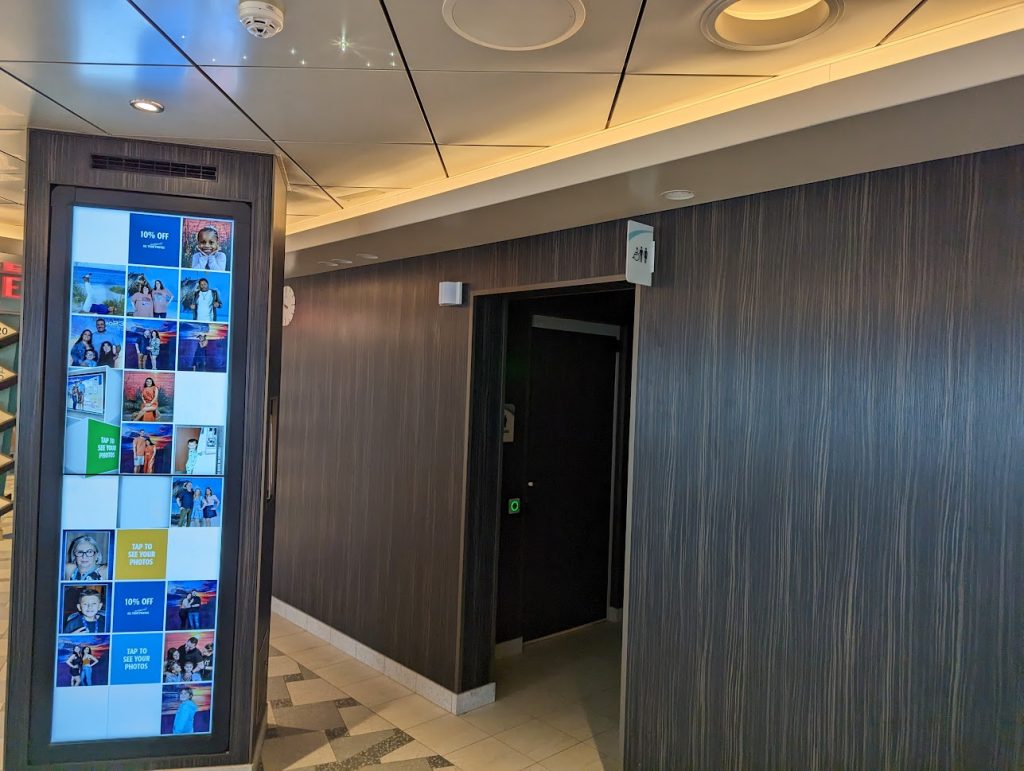 They're also very hard to find. The signage is minimal, and they're not in a standard location on each deck. I had the same problem with the Carnival Horizon (see Carnival Horizon Hits and Misses); sadly, Carnival didn't learn.
Excursion meeting in the Grand Spectrum Theater
We booked our excursion through Carnival before the sailing, and a ticket was in our cabin when we boarded. It instructed us to be in the Grand Spectrum theater at 7:15 AM for an 8 AM departure. It felt oddly early, as Carnival usually says to meet 15-30 minutes before an excursion.
But there was a reason for this extra time. Because the excursion was on the mainland (Cozumel is an island off the coast of Mexico), all of the tours going to mainland Mexico met in the theater. Then we all loaded onto one boat and were taken right to Mexico together. It made sense why they wanted us there so early; there was only one boat over, so everyone had to be there. 
Rough ferry ride to Playa Del Carmen from Cozumel
At 8 AM on the dot, the staff led everyone out of the theater and led us to a ferry. The ferry is more like a large-sized speed boat that holds several hundred people. It pulled up right next to the Celebration, and we went directly from our ship to their boat. That's why they were very strict about staying in line and not letting anyone cut in. If you got on this boat not knowing, you'd be stuck on the mainland until the afternoon when it headed back.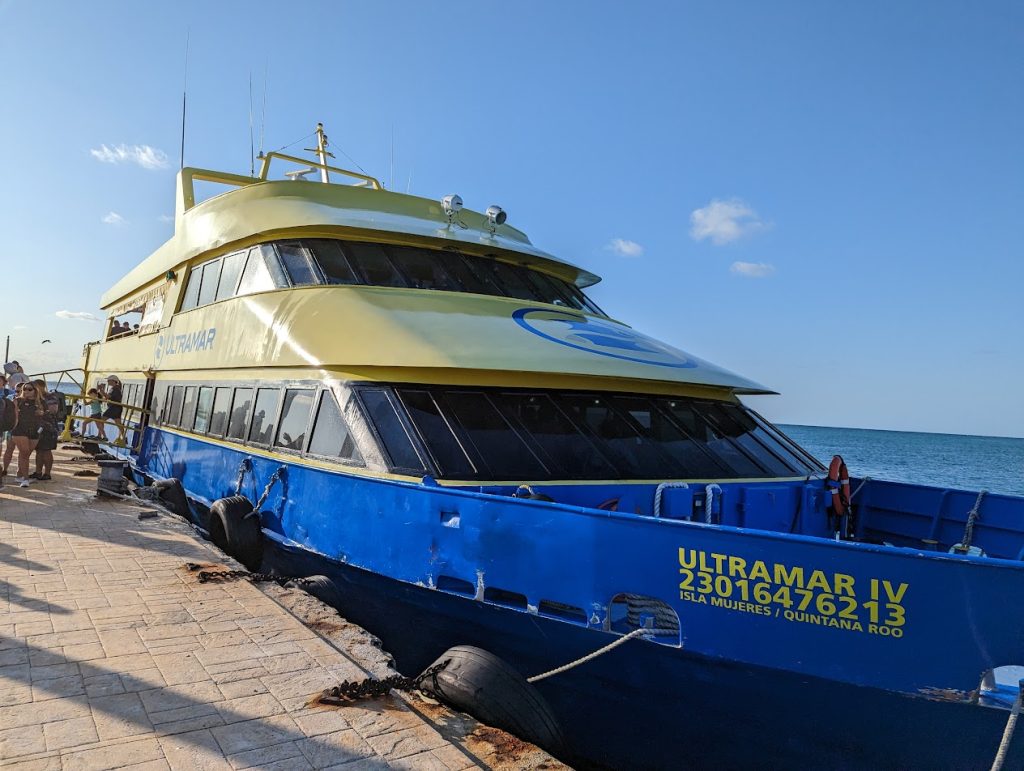 The boat started heading over to Playa del Carmen. It was a three-level boat with seating both inside and outside. The inside was air-conditioned, and much of the outdoor seating areas had shade. It had several restrooms and a concessions stand in the middle where you could buy snacks, water, or alcoholic beverages. 
They told us the ride would take about 35 minutes as the boat shoved off and sped away from the Celebration. While the weather was nice, it was windy, and the seas were turbulent. I've heard that this power boat is a wild ride even on a good day, but with the rough surf, the boat was bobbing up and down and tilting left and right. You'd see the sky in the side window, and then it'd be gone, and you'd see only the ocean. It was a rough ride.
People all over the boat were getting sick. The staff quickly rushed around, handing out small trash bags to those getting sick. You could smell it in the air, which made my stomach even more unsettled. I've been on countless ships and boats, and this is the first time I have gotten close to being seasick. Looking around, I saw pale, sweaty faces and people fanning themselves to avoid getting sick. People tried to rush to the bathroom, but the bobbing ship was hard to walk around. 
Thankfully I made it to the other side without losing my breakfast. I had never been so happy to see land and breathe fresh air again. 
Amazing Secret River excursion in Cozumel
Getting to the Secret River
Once on the pier, the staff lined everyone up by excursion group. The excursion we booked was the "Amazing Secret River." We booked it through Carnival about four months prior. It was a 7-hour excursion, costing $115 per person.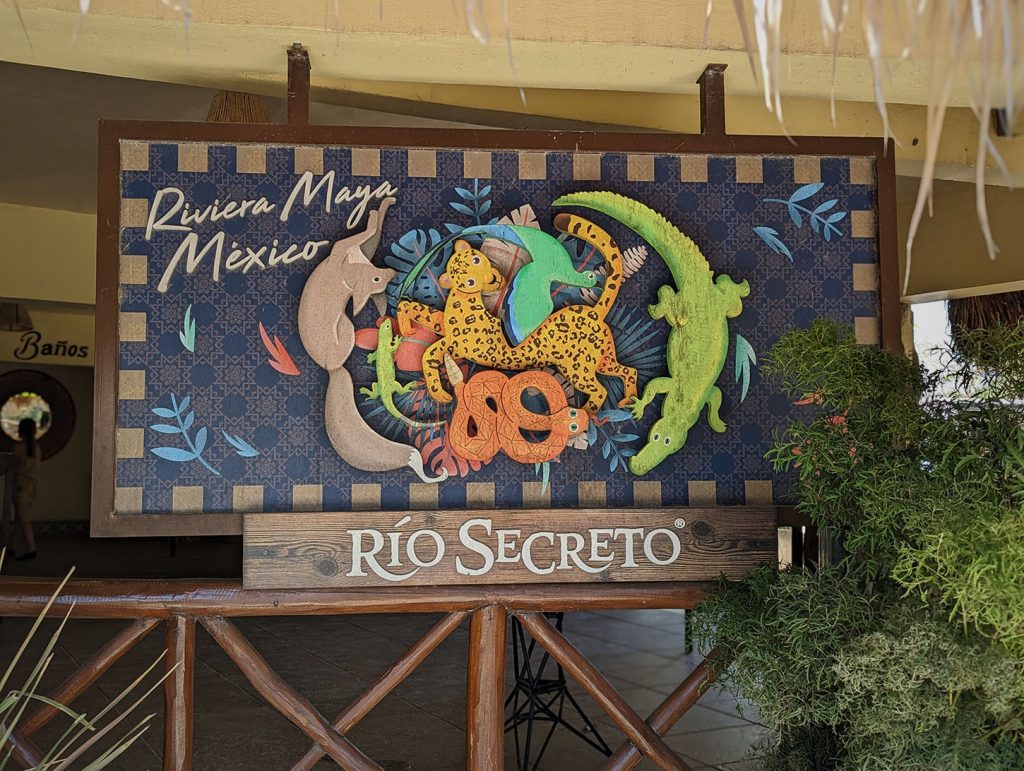 This excursion was one of the reasons we actually booked this sailing. The website said you'd explore a secret river deep below the Yucatan peninsula, where you'd swim through caves and deep water systems. It sounded terrific, but I was afraid it'd end up being cheesy, touristy, and not a true adventure.
Our group was 60 people, and they broke us into four vans to head over to the Secret River. The ride was only supposed to take 10 minutes, but because of construction and road congestion, it ended up taking 20 minutes. The dark-tinted windows made it difficult to look out and take in the scenery, so it was a pretty boring car ride. 
After 20 minutes, we arrived at the entrance to the park. 
Starting the Secret River adventure
We took a quick restroom break before riding down a dirt road another 10 minutes further into the jungle. 
We were then split into groups of ten and assigned a tour guide. Our guide, Cece, instructed us on the next steps. The water down below was around 60 degrees, so we were all equipped with wet suits to keep us warm. Then they gave us a life vest and helmet with a built-in light. The excursion told you to bring your own water shoes, but if you didn't, they had some extras. 
No cell phones, cameras, or GoPros were allowed, and they recommended taking all jewelry and watches off. We'd be swimming through the water that is the drinking water for the people in the area, so leaving anything in there is a hazard. A large station of lockers with padlocks were available at no charge to hold all of our stuff. 
Once we were all suited up, we had to go into a shower to rinse off. The showers used the water from below, so it was quite cold, but at least it woke me up.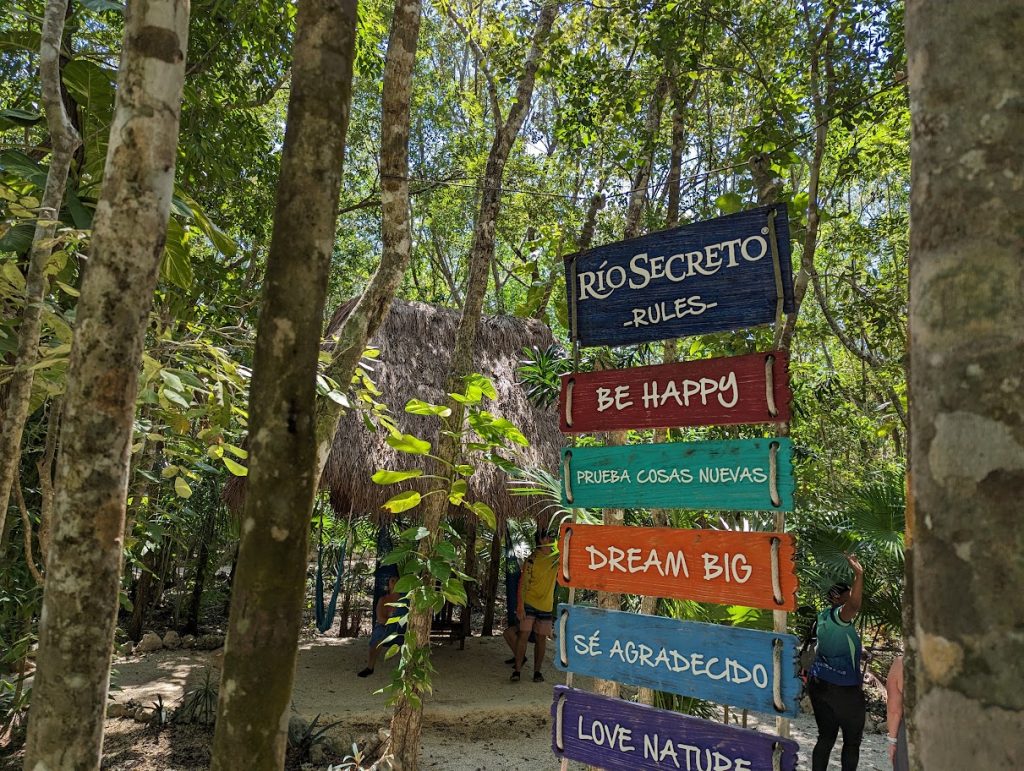 Then it was time to walk to the entrance through the woods. We grabbed some walking sticks and started on a 20-minute journey through an uneven dirt path. We snaked our way through the woods as our guide explained the different flora and fauna in the area. As we got close to the entrance, they did a Mayan spiritual ritual to ask permission to enter the caves. 
Swimming through an underground river
Now it was time to enter the caves. I've done cave tours before in Pennsylvania, and they were all dry with walking paths and very "touristy." This cave system was so much more impressive. I was shocked at how undeveloped it was. 
There were no artificial stairs or walkways and no manmade lighting in the place. It was just our group of 10, and we didn't see anyone else anywhere near us; it felt like a completely private experience. 
We started walking into the wide mouth of the cave and down the terrain towards the darkness. Our headlamps provided the only lighting in the space as the sun faded behind us. The rock formations were impressive; beautiful limestone stalactites hung from the ceiling in interesting patterns. The water was crystal clear with a slightly milky hue due to all the minerals.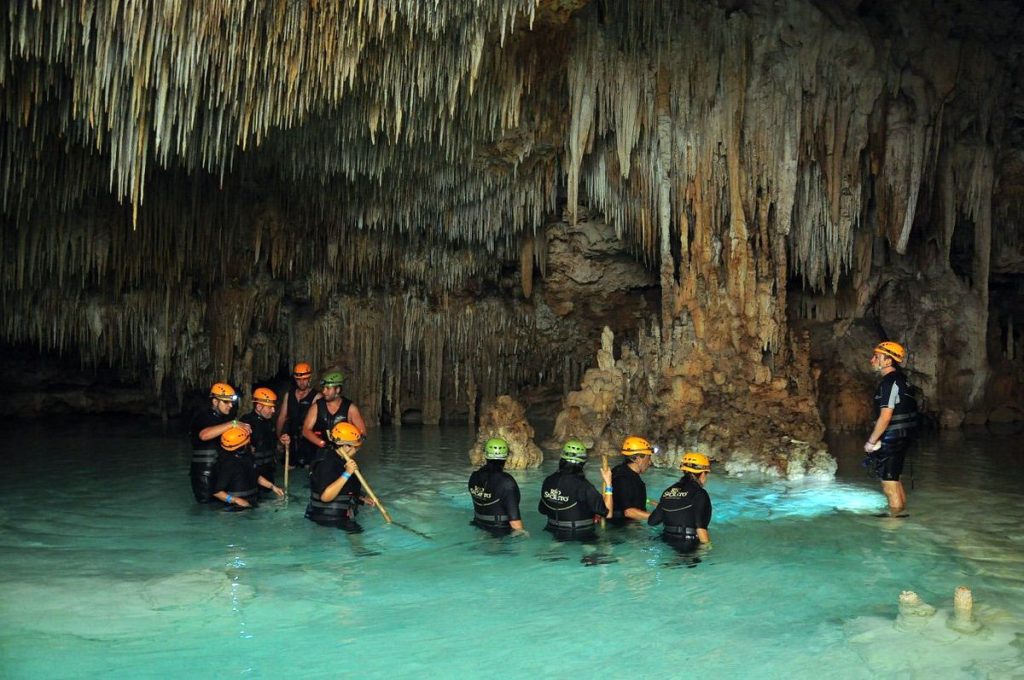 The group stayed together as we climbed over small formations and made our way deeper into the cave. As we walked in, we would hit patches of water that came up to our knees. I was surprised at how much the wet suit helped; I didn't mind the cold water at all. 
Throughout the tour, Cece told us more about the caves, how they formed, and how locals discovered them. The caves became a labyrinth as we progressed further into the system. While there were colored strings to guide you back to safety if lost, I was pretty sure if I wasn't with the group, I'd never find my way out. 
After about 45 minutes, we reached a large clearing with nothing but water around it. I couldn't see any path to walk forward, so I assumed the tour was over and we'd turn back. Instead, Cece told us to throw down our sticks and jump in!
The water was cool and refreshing. We started to swim our way down dark and narrow caves. The water was deep at parts, so deep I couldn't touch the bottom (and I'm 6 feet tall).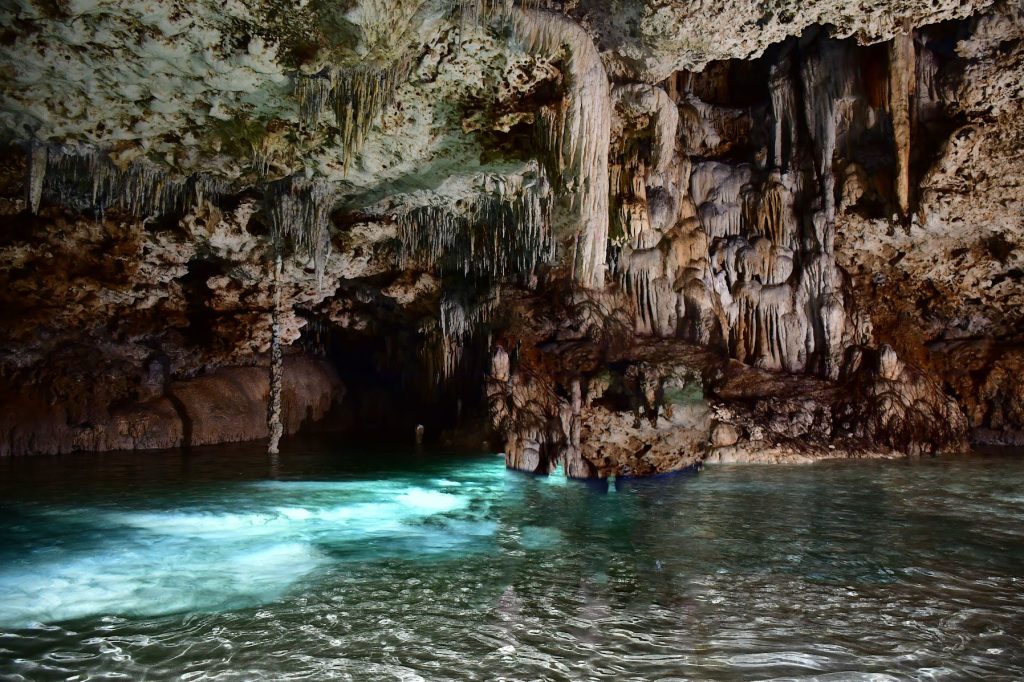 We continued to explore deeper and deeper into the caves along the Supreme Path (Rio Secreto had five established paths guides could use at that time). The ceilings got progressively lower. In this part of the excursion, the ceiling was no more than a few feet above us, if that. At some points, the tall men in the group had to carefully position themselves to make it through narrow pathways without damaging the natural formations. 
Although there were only a couple of feet between the water and the ceiling, we had plenty of room around us on the sides, so it didn't feel claustrophobic or closed in. Instead, I felt like an explorer making my way through these systems.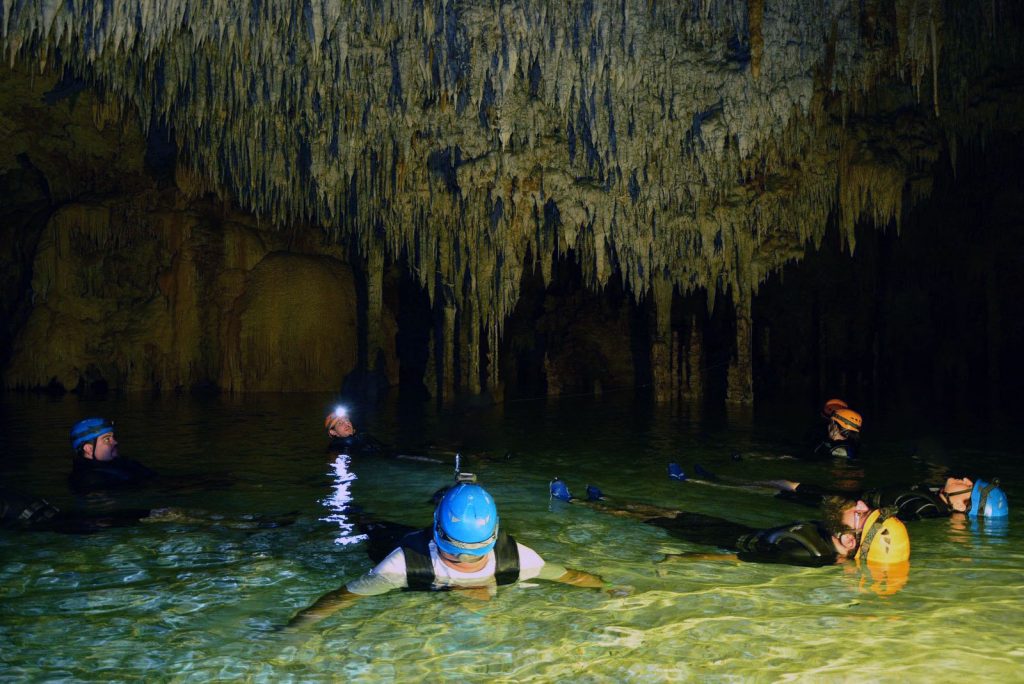 At one point, we floated into a large cavern with tons of stalactites above us. Cece had us all gather around and turn off our lights. We were 70 feet under the Yucatan Peninsula and in complete darkness. It was a black void; all you could hear was your breath and the occasional drop of water from above. It was such a unique and powerful experience. 
We continued to adventure around the cave until we finally came across another group, the first one we'd seen in over an hour. That was because we were getting close to the exit. 
We climbed out of the cave at a different spot than we had entered. Overall we spent an hour and 45 minutes underground, way more than I'd expect from a cruise excursion. 
Secret River pictures
We walked about 10 minutes back to the camp to return our gear and change into some dry clothes. We brought our towels from the cruise ship but didn't need to; they provided towels.
After that, we took a van for about 10 minutes to a large facility. At the front was a large station where we could buy photos. Throughout the adventure, our group had a photographer who took pictures. They all came out amazing. Even if I had brought my own camera, there's no way to take pictures like that because there's no natural light. Instead, the photographer had a small key light he brought with him to make the images pop.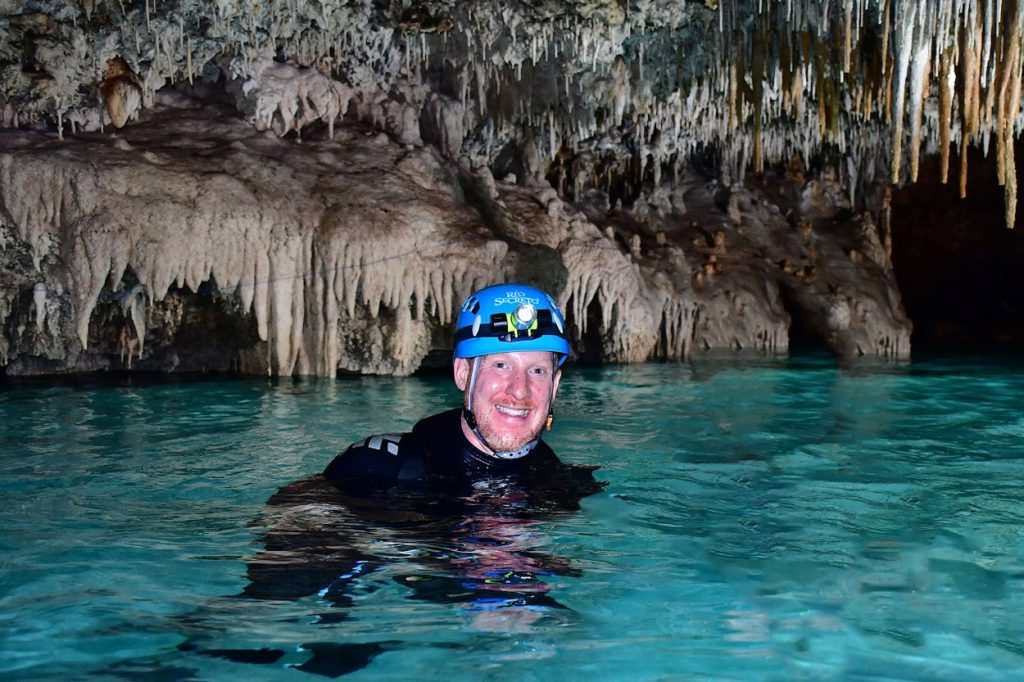 They took a lot of pictures; I probably had around twenty with me in them, and then more of the group/adventure. Unfortunately, the price was a little steep for a group of just two people. The cost was $25 for one picture or $100 for all your group's photos. A family of four got all their pictures, and it was a great deal for $100, but for just two people, it was pricey. 
Included taco buffet lunch
Then we went onto an authentic Mexican lunch served buffet style. We had handmade corn tortillas, chicken and pork tacos, and tortilla soup. The lunch was ok, but it couldn't hold a candle to the Mexican lunch I enjoyed a few months earlier at Maya Chan in Costa Maya (read about our trip there). 
After lunch, we headed back to the power boat. Unfortunately, we were one of the first tours to return, so we had to wait for all the other tours before the boat could sail back to the Island. Overall, it took an hour to get back to Cozumel, which felt long. Thankfully, the seas were much calmer, and I didn't see anyone have a problem with seasickness this time. 
Returning to Cozumel, the power boat brought us to the port, not the ship directly. We had two hours before we had to be back on, so we wandered around a bit but didn't find much to do there. The Cozumel cruise port was filled with shops and restaurants like Senor Frogs; it didn't feel very authentic. 
Waterslides on Carnival Celebration
We got back onboard around 3 PM and decided to check out the water park area on the ship called WaterWorks. It's a large kid's play area located in the Ultimate Playground. It's home to all the splash park staples: a dump bucket, mini slides, sprays and jets, and full-size water slides.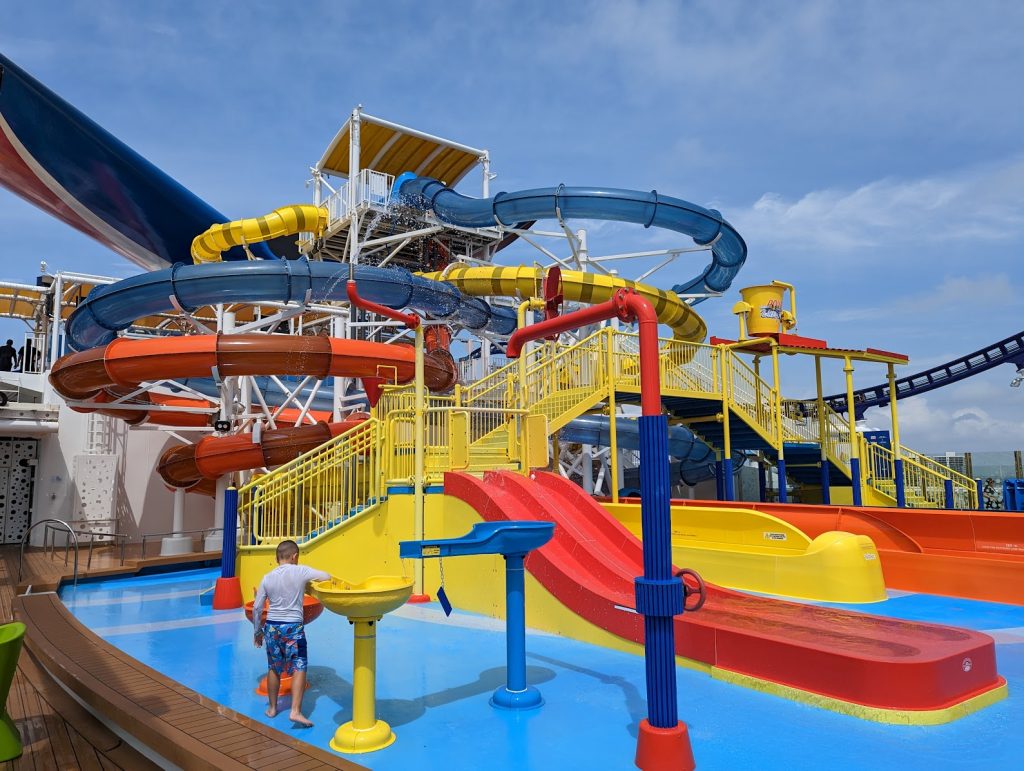 We used a nearby bathroom to change back into our swimming suits. That proved to be an adventure in itself as it was hard to even open the bathroom. First, you had to use a button 2 feet away from the door to open the bathroom door. Then once inside, you needed to trigger a motion sensor to open the stall door. It took me five minutes to figure it out. 
The Celebration has three different slides; a classic twister slide, a head's first mat slide, and a slide where the floor drops out beneath you. A set of stairs next to the splash park takes you up to the slides. The line was long, with about 20 people in front of us. 
It was surprising to see the number of young kids there with no supervision. I'm sure their parents were nearby, but many younger children didn't understand how the lines worked (for the mat slide, you stood on the right, for the other two, you stood to the left).
Thankfully most of the younger kids were too scared to try the Orange Thunder with the dropping floor, so we went right to the front of the line. 
The beginning of the slide looks like a vertical coffin standing on its end with a glass door. The door opens, and the attendant tells you to get in and cross your arms and legs. The cold water runs down your back as the floor slowly closes, and a countdown begins. 
4….3…2…1
And then the floor drops out beneath you. You feel gravity pull you down onto the slide, and you twist and turn your way all the way down. The slide itself is pretty tame, it's not as intense as the semi-loop found on the slide on the Carnival Pride (read about or cruise on the Pride), but it is fun.
I would have tried the mat racer too, but the line was just too long to wait, so we decided to go back to shower and get ready for dinner. 
ChiBang for dinner
For dinner this evening, we wanted to try ChiBang, a new restaurant that Carnival debuted on their Excel-class ships. It replaces JiJi's Asian Kitchen found on some of Carnival's other ships. 
ChiBang is a unique restaurant that serves both Mexican and Asian cuisine. Oddly, it's not a fusion restaurant but has two separate menus. Carnival's reasoning was that in a family, one person can get Chinese, and another can get Mexican at the same time. That makes sense, but it's sad that Carnival missed a big opportunity to do something new and exciting here. ChiBang is currently a free dining option on the Celebration.
Note: At time of publication, Carnival is currently running a test on sister-ship Mardi Gras. They're currently allowing everyone to visit ChiBang once for free, and charging $8 per person after that. We're not sure what's going to happen in the future.
Around 6 PM we looked at the Carnival Hub app and saw a 10-minute wait for ChiBang. We checked in and made our way down to the restaurant. On Day 1's blog (read it here), I said the wait time in the app was spot on. In this case, the 10-minute wait turned into 18 minutes. A 20-minute wait isn't bad, but since the wait was double what we were told, it did leave a sour taste in my mouth.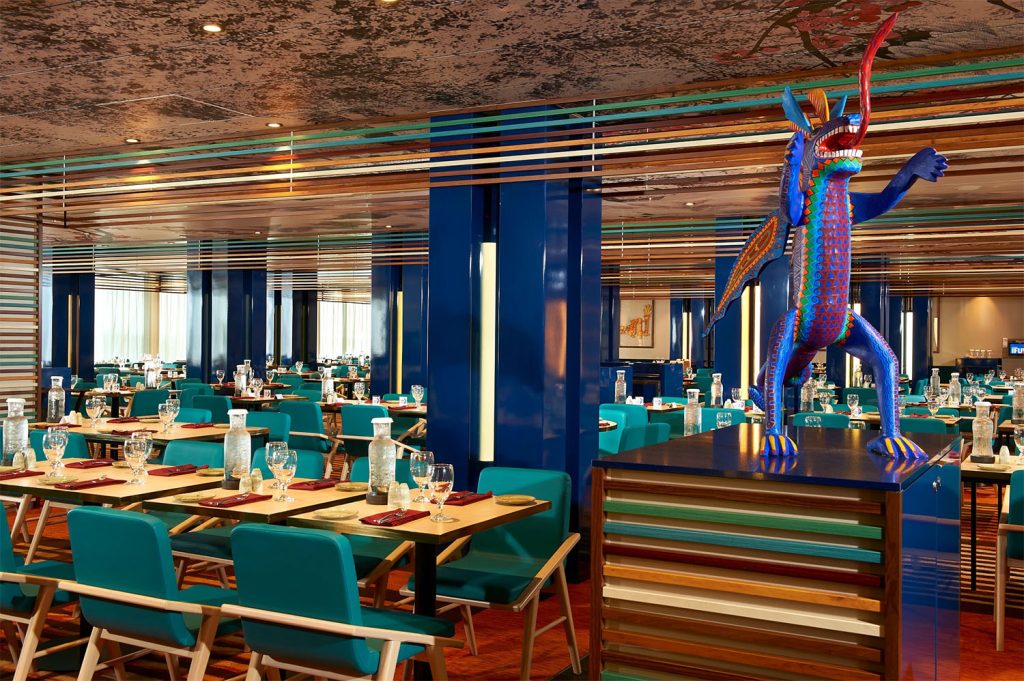 The restaurant was sizeable but very full of tables. Unlike the main dining room, ChiBang doesn't have a lot of dividers or nooks; it's mostly a large open room which makes it very loud. The decor feels very Asian but not very Mexican at all. We were seated at a 4-seat table next to the windows and it was nice to be able to see the ocean. 
After about 5 minutes, a waiter came over to take our drink order. Service here was very odd; it didn't seem like we had a set wait staff for our table. Instead, we had 4 or 5 different people come to our table throughout the meal. They were relatively attentive, but it was just a weird structure; it felt like a free for all. It seemed weird that a ship that had the main dining room so well organized seemed to struggle with service here. 
I'm a big fan of both Mexican and Asian food, so I was looking forward to the meal. Since the menu has both a Mexican and Asian section, you can order from either; you can start with nachos and have sweet and sour for the entree. 
 It took above 20 minutes for the appetizer to arrive. I got the lettuce wraps which is one of my favorite things to get at PF Changs back on land. It came as three individual cups prefilled with the meats. It was a small portion, but you can order multiple appetizers so you won't leave hungry. The lettuce cups were ok, but lacked real depth of flavor.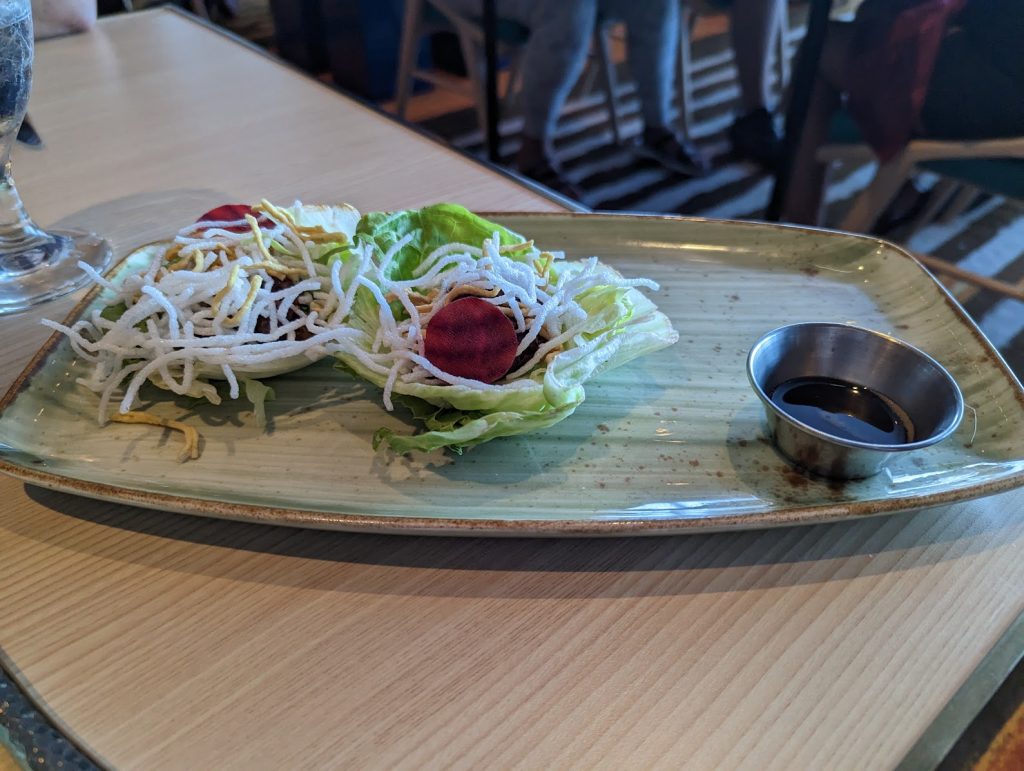 Twenty minutes later, our entrees arrived. I decided to try the Pescado Frito from the Mexican side. The fish bites were incredibly crispy, but there wasn't a ton of Mexican flavor on them. It really just tasted like fried fish as if you ordered fish and chips. I also got the yucca as a side. Unfortunately, I didn't read the menu closely and I thought it was fried yucca (the main way I've seen yucca served at home), but it wasn't and I was disappointed. 
I also tried some of the Pollo en Mole. I usually love a good mole which is a dark Mexican sauce known for its complex flavor and spice combinations. Traditionally, the chicken in a mole dish is cooked for a long time in the sauce. In this case, the sauce was quite tasty, but you can tell they cooked the chicken separately and just threw it in some sauce before serving. 
For dessert, I got the Chocolate "C-Bang" which was amazing. It was served with a ginger and caramel ice cream that was truly unique. I could have had a whole dish of just the ice cream.  
Overall, the meal took us 1 hour and 5 minutes which felt about right. It was a decent meal, but I found the food in the Main Dining Room to be superior. For people who want less fancy atmosphere and less fuss, ChiBang is a good option, and I see why families seem to enjoy it. Still, I wouldn't be willing to pay for a meal here like Carnival originally planned and is testing.
Avoiding Celebration Central crowds
As we walked across the ship, we passed through Celebration Central, which was all decked out in circus decorations for the Most Magnificent Circus show.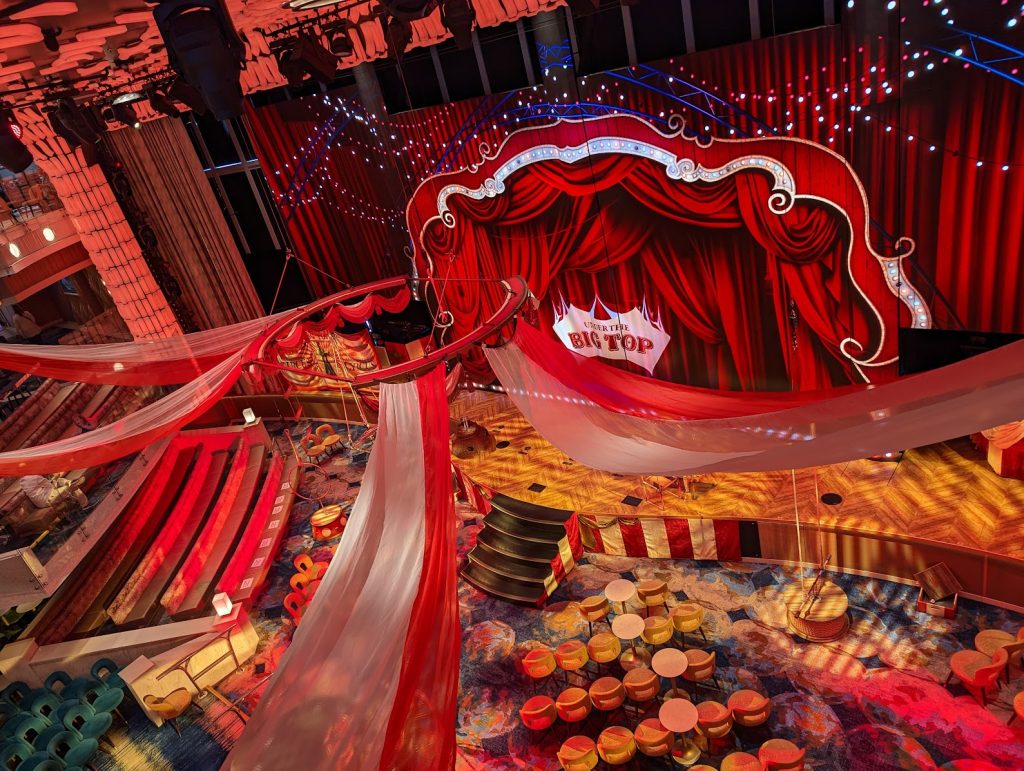 It was over an hour and a half before the performance, and people were lining up on the first level to get a seat (the first floor wouldn't open until an hour before). On the other two levels, people were already grabbing seats. 
TIP: Avoid the first showing of shows in Celebration Central. This was the first showing of the show during this sailing, and it was packed. The show ran twice on three different days for a total of 6 performances. We went to the second performance of the second day and had no problem getting floor seating by arriving around 30 minutes early. There's no need to wait in line for 2 hours.
This crowding highlighted a few problems with the area. First, it's not big enough to hold massive crowds. Secondly, there aren't many good seats (as I discussed previously). 
If they had a reservation system like Royal Caribbean or Norwegian, it could be a way around this issue. Hardcore Carnival fans might be totally against reservation systems (I know I certainly was), but the way Royal Caribbean and Norwegian do it makes it much easier and doesn't require you to waste an hour in the theater waiting for a show. 
That being said, most of the problem is guest behavior. The crowds wouldn't have been as bad if some guests had waited until the later showings. 
Cocktails at Alchemy Bar
Next, we decided to stop by Alchemy Bar, located on deck 7 in "The Gateway" zone. The Alchemy Bar is an incredibly popular bar available across nearly every ship in Carnival's fleet. Here, mixologists, dressed as apothecaries, make up concoctions for the guests. These are typically some of the best bartenders on the ship.
On the Celebration, Alchemy Bar is on the second level of the two-level Gateway walkway, overlooking the Lattitudes Bar. If you've sailed on Mardi Gras, it's in the same place, but they've refined the design more.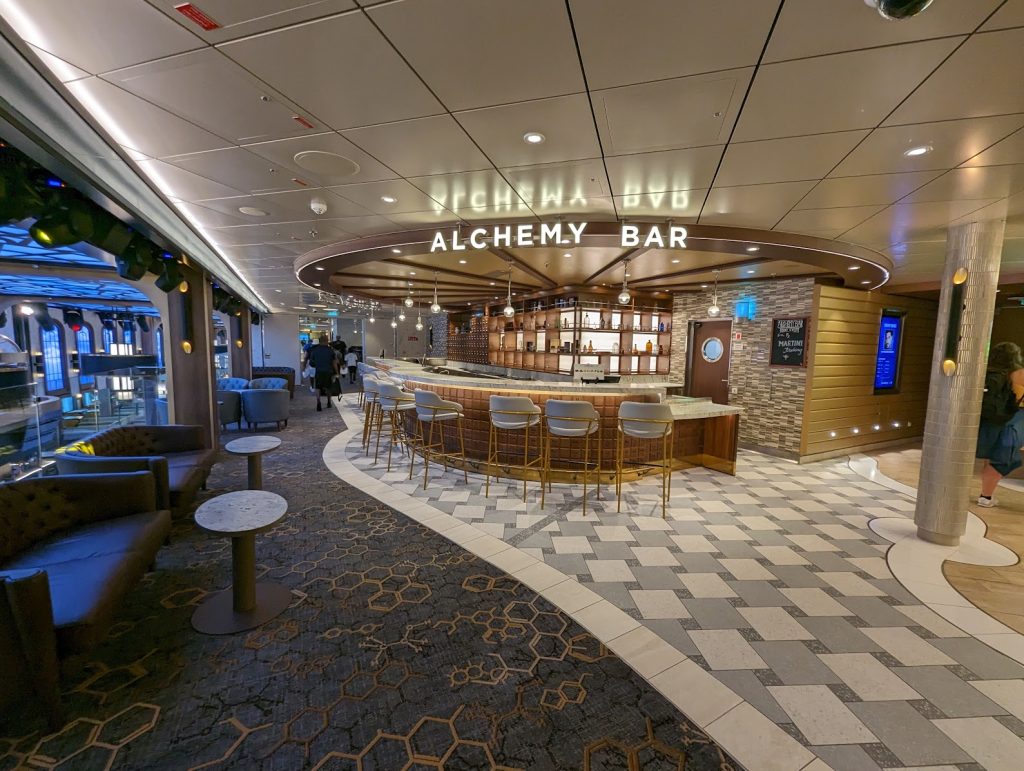 The layout of Alchemy Bar is a bit odd. The bar top itself is quite sizeable, bigger than most of the other Alchemy Bars in the fleet, but it's in a walkway area. When the bar is full of people, this walkway can get crowded, and it stops the traffic flow. 
In other implementations of Alchemy Bar, curved bar-height tables surround the bar, which helps alleviate the crowds at the bar. On Celebration, booths and other comfy seating are available, but it's down the hall from the bar and doesn't feel connected. Over the course of the cruise, I rarely saw these tables being used. 
The menu at Alchemy Bar hasn't changed much over the years, but recently Carnival bumped up the menu here with non-alcoholic versions of its most popular drinks. Priced at $9.50, these cocktails are great for those who don't want alcohol but still want a fancy drink.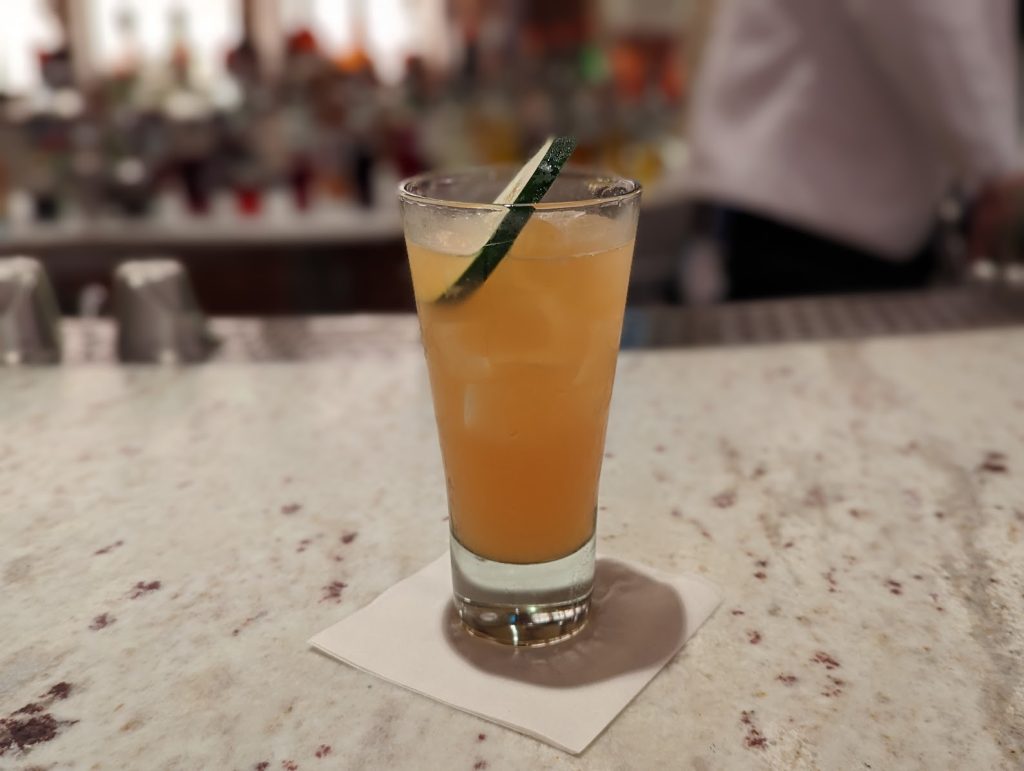 Everyone has their favorite Alchemy Bar cocktail, and mine is the cucumber sunrise. Since my first trip to Alchemy, I've been hooked on that delicious drink, so much so that I make them at home now (see the recipe). It's so refreshing and light. 
My second favorite is the chipotle pineapple martini. This cocktail has a kick of chipotle and habanero with a hint of sweetness. While they make similar cocktails around the ship, this version is far superior as it uses habanero-infused vodka (we made a similar version at home). 
Family Feud in Spectrum Theater
After that, we decided to check out Family Feud in the Grand Spectrum Theater. This program is a live-action version of the beloved game show, and audience members can win actual prizes. Earlier on in the cruise, they held auditions for families to join, and tonight we saw the finalists. There would be multiple showings of Family Feud throughout the cruise.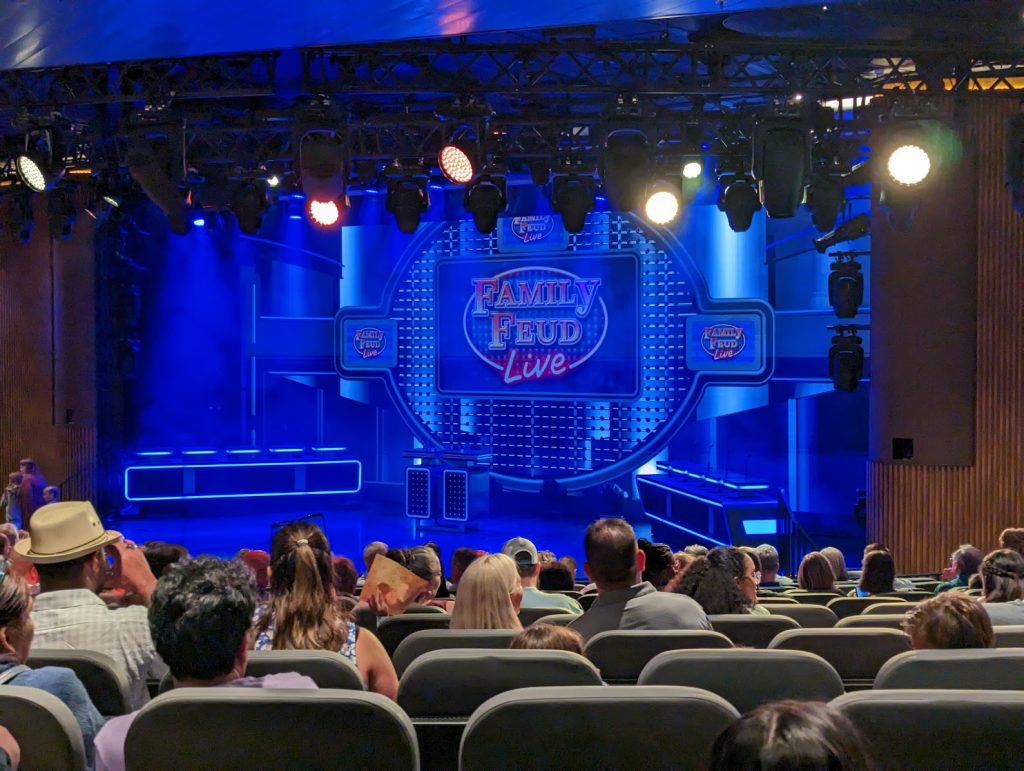 The production value was extremely high, with impressive sets and decor. It wasn't just a few podiums on a stage, but a fully built-out set that felt just like the TV show. The show had clips from the TV version interspersed with the live action. It felt very similar to the Price is Right, which I saw on the Prima previously (read more here). I have a feeling they're run by the same company.
This was the first showing of the night, and I was surprised by how many kids and families were on the ship. Up until this point, I never noticed it. It was probably because of where I was, I typically did a later dinner, and went to later showings, so I didn't bump into many families. But, even on the way to the theater, we passed by the buffet and the pizza place and deli, and they were filled with families and children. It's one of the few times I noticed it was a spring break cruise. 
Tip: Carnival is a family-friendly cruise line, but it doesn't mean it's not appropriate for those without kids. If you're afraid your cruise will be filled with loud children, there are actions you can take to improve your experience, like avoiding the earlier show times, skipping the buffet, or going to the Serenity Adult's Only area. 
The show itself was amusing, although not the best I've seen. The host was pretty amateurish, we later found out it was her first time hosting, and because she was so nervous, she didn't joke or have fun with the contestants like Steve Harvey might. Still, it was an entertaining 40 minutes. 
Carnival Celebration pool decks at night
After the show, we headed up to the main pool decks to get some fresh air. The massive LED screen above the Lido Pool was showing a movie, and a handful of people were in the chairs around the pool watching. Typically, these movies have already been in theaters and just released for on-demand home viewing. You can see which movies are currently showing here (Carnival Dive-in Movie List).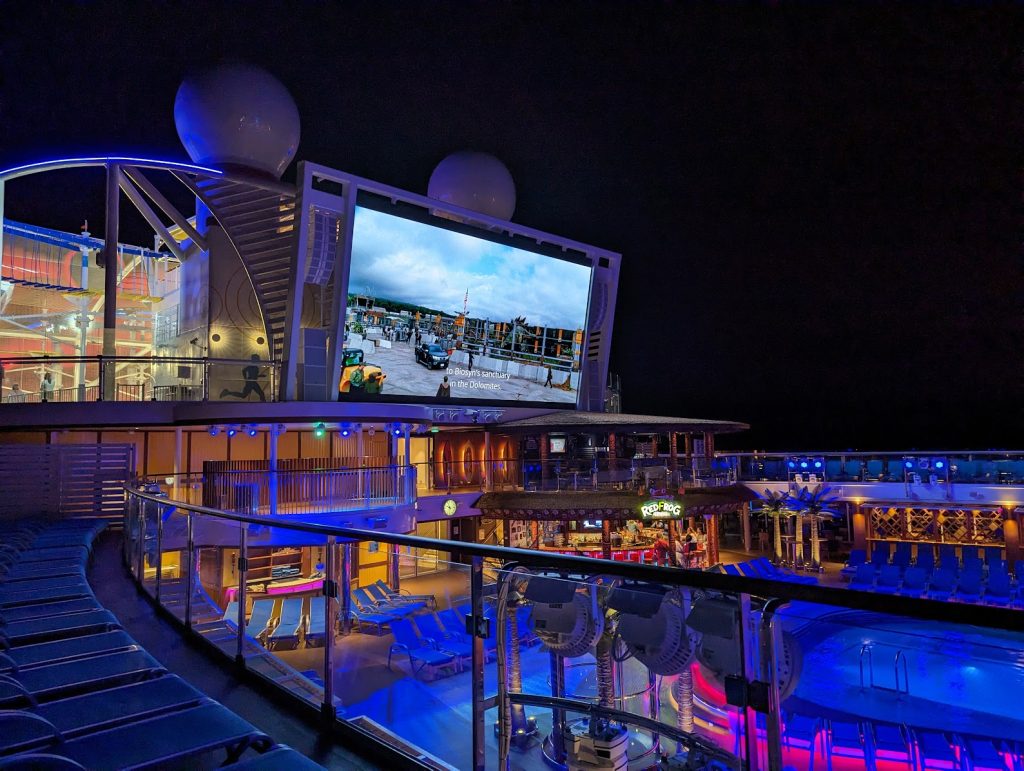 The first floor of the Red Frog Tiki Bar was open, but it was pretty empty at this point. 
We walked up to the Serenity Area, and it was all but deserted. The pool and hot tubs were closed and there wasn't a soul in the area. Still, we were able to grab a couple of loungers and enjoy the fresh night air. It's funny how this ship full of over 6,000 people felt absolutely deserted at that moment. 
It is a shame that Carnival doesn't do something with this area at night. You would think if they pumped in some relaxing music and put on some cool LED lights, people would use this area. It would give it a trendy nightclub atmosphere and make it perfect for the evenings. It would also split up the crowds a bit who are mostly down on decks 6, 7, and 8 at this point in the evening. 
Casino on Celebration
After we got enough fresh air, we decided to head down to the casino. The Empress Casino is located on Deck 7 between Celebration Central and the Grand Spectrum Theater. It's one of the largest casinos at sea, tied with the Mardi Gras.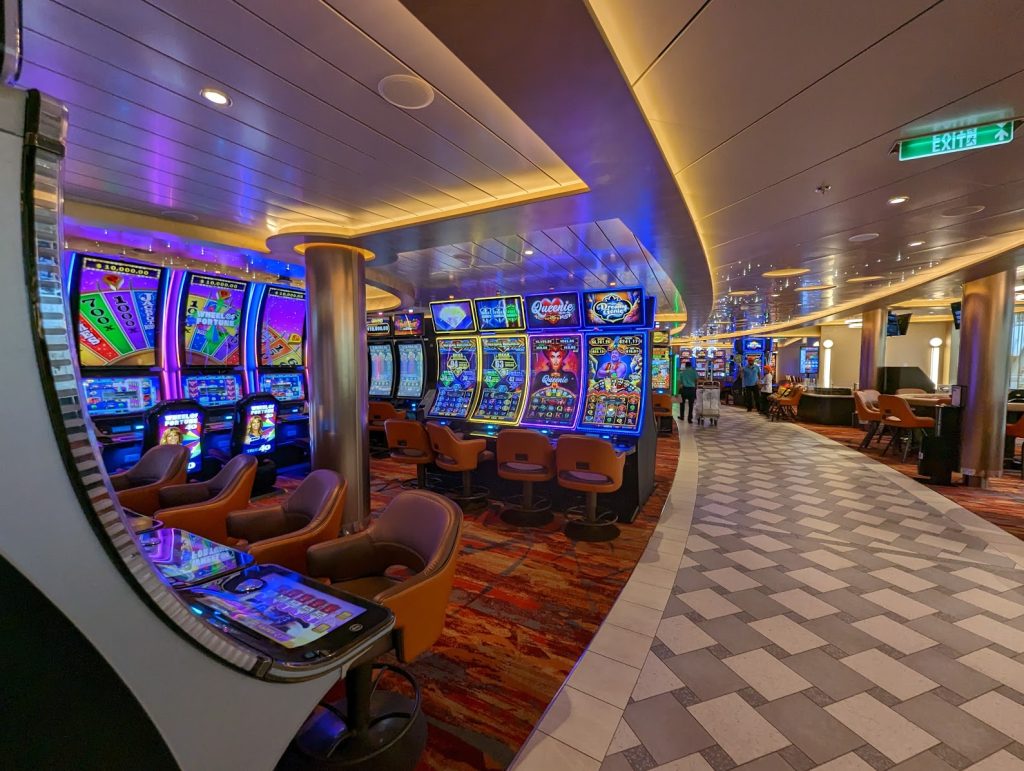 Smoking in a casino is a hotly debated topic, but Celebration seems to handle it well. On other Carnival ships, the smoke can be so bad that it's impossible for non-smokers to enjoy the casino. While they have smoking and non-smoking sections, they're right next to each other making them equally as smoky.
The Empress Casino on Celebration gets around this by splitting the casino in half. On one side of the ship is the smoking section, and the other is the non-smoking section. In between the two are a bar area and a walkway. Unfortunately, Carnival decided not to put glass doors to separate the two, but I'm happy to report that most of the non-smoking section is completely smoke-free even without the doors. 
I didn't spend much time in the smoking section, so I can't comment on the number or quality of games, but the non-smoking side had everything you could want.
This sailing was a "Premier Cruise," which is a program run by the casino loyalty program. During these special sailings, they offer discounted rates to the high rollers along with prizes and giveaways. If you're not a heavy gambler, it being a "premier" cruise means nothing to the general public (and likely you wouldn't know). 
But because it was a premier cruise, it meant the casino was really busy. Almost anytime I walked through the casino was at least half full, if not more so. Still, many machines and tables were available, and it didn't seem overly congested. Even with a full casino, I was shocked that the Casino Bar rarely had a line. In fact, I never had more than one person in front of me when I went to get a drink. It became my go-to if I wanted to get a soda or a quick cocktail before a show or activity.
Tip: If you've never cruised before, don't expect free drinks in the casino like you'd see in Las Vegas or Atlantic City. There are cocktail servers, but you have to pay full price for your drink. The exception is if you're a high roller and they give you the "drinks on us" card. 
After about an hour in the casino, I decided to call it a night, as we had another day of adventure planned in Costa Maya the next day. 
Follow along on the rest of our Carnival Celebration cruise
Carnival Celebration – Cruise Blog - Day 1 – Miami
Carnival Celebration – Cruise Blog - Day 2 – Sea Day
Carnival Celebration – Cruise Blog - Day 3 – Cozumel
Carnival Celebration – Cruise Blog - Day 4 – Costa Maya
Carnival Celebration – Cruise Blog - Day 5 – Roatan
Carnival Celebration – Cruise Blog - Day 6 – Sea Day
Carnival Celebration – Cruise Blog - Day 7 – Sea Day
5 Hits and Misses on Carnival Celebration
If you want to stay up to date with what we publish, sign up for our monthly newsletter
CruiseSpotlight is an Amazon Associate. We may earn a commission when you click links to retailers and purchase goods.