Carnival Celebration – Cruise Blog – Day 4 – Costa Maya
On the fourth day of our weeklong Western Caribbean cruise aboard the Carnival Celebration, we docked in Costa Maya, Mexico. Follow along as we explore ancient ruins, the port of Costa Maya, and the entertainment on the Celebration. 
Day 4 Costa Maya Overview
Carnival Celebration Day 4 Fun Times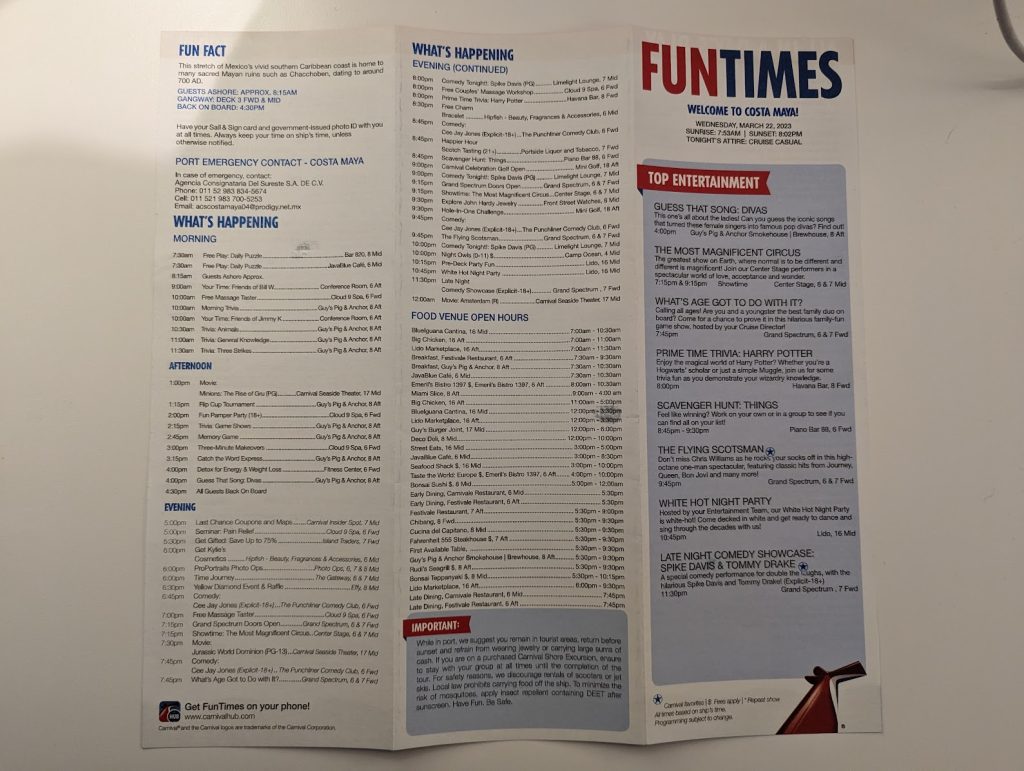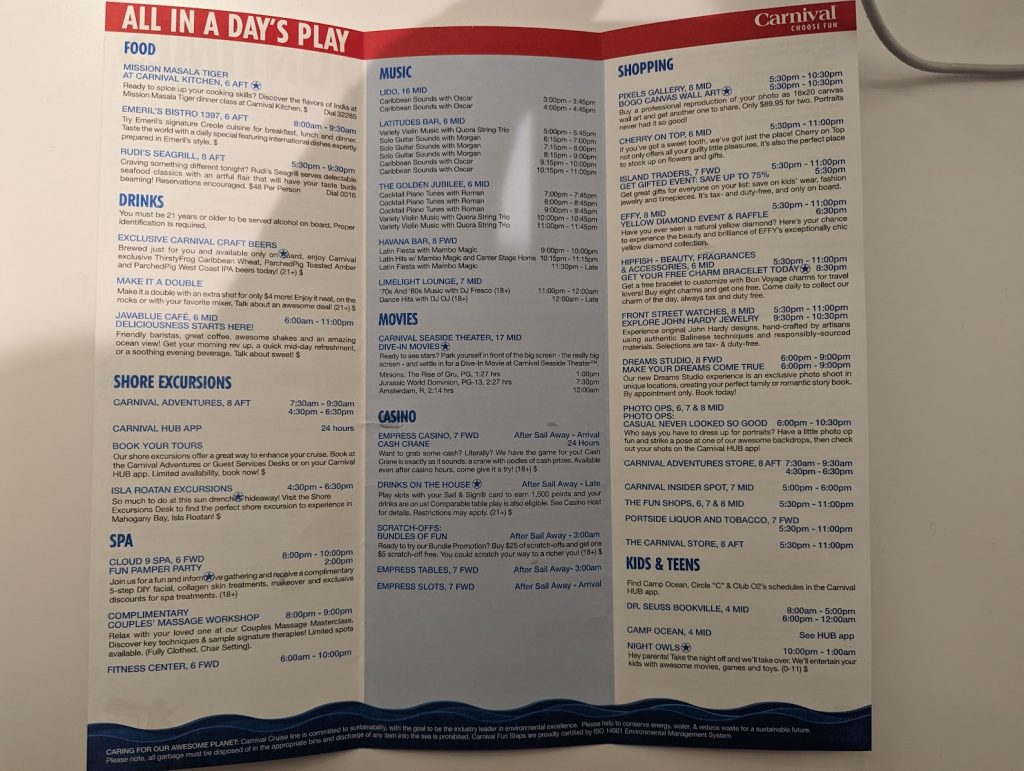 Starting out with some caffeine
It was an early morning, so like many others, I started my day with a caffeine fix. If you're OK with basic drip coffee or tea, you had several stations located throughout the ship. You could find them in the Lido Marketplace buffet, across from the Deco Deli in 820 Biscayne, at Guy's Pig and Anchor, and near Java Blue Cafe in Celebration Central.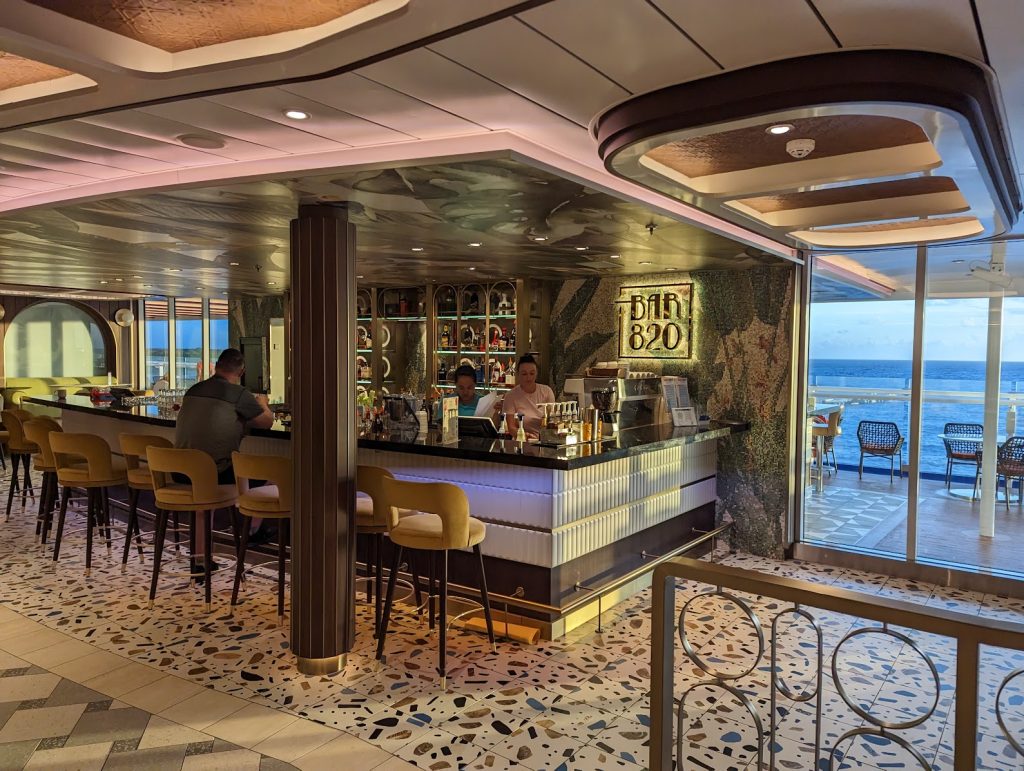 If you prefer premium coffees (for an extra charge), then most people think Java Blue Cafe is the place to go, but on Celebration, you can also get them at Bar 820. This venue had much shorter lines and faster service since most people didn't realize they offered coffee. I'm not a coffee guy, so I stopped in to get a Diet Coke using my bottomless bubbles package. They offered to give me a whole can, but I just chugged a glass so we could get on our way. 
Chacchoben Mayan Ruins at Costa Maya 
The last time I was in Costa Maya, I did the ultra-relaxing Maya Chan resort (read the blog here). This time, I wanted to do something a little more interesting and active, so we decided to check out some Mayan Ruins. 
I've cruised to Mexico several times, but in all my trips, I've never had a chance to visit any ancient Mayan sites. Mexico has a few different ruins you can see, like Chichen Itza, Tulum, and Coba. But we chose Chacchoben because it's relatively close to the cruise port and has impressive-sized structures, not just piles of rocks. 
The Native Choice for Chacchoben Mayan Ruins 
Carnival offered a few excursions that would visit the Chacchoben Mayan Ruins. but I also looked at some third-party excursion vendors. In my travels, I've booked excursions both through the cruise line and direct through third parties. Sometimes it's for unique excursions, sometimes because of a better price, and other times I want a more personal experience. The downside of booking on your own is that the ship won't wait for you if something happens. Luckily, we had 8 hours in Costa Maya, so I felt comfortable enough to book a third-party tour. 
In all my research, a company called Native Choice came back as highly rated. They offered what seemed to be a similar experience to Carnival's but at a fraction of the price and with a much smaller group. Those factors made it a no-brainer to book this provider. 
The main downside is that Costa Maya port makes getting to external excursions, tours, and taxis difficult. It's a labyrinth of walkways until you can get out to find external tours. We finally navigated our way out of the port and then followed a road toward a large replica of a Mayan pyramid. The Native Choice kiosk was across from the period (and right next to where we met Maya Chan on our last visit to Costa Maya. It was about a quarter-mile walk, so it wasn't bad, and if you want to avoid tour sales, stick to the right-hand side. 
A friendly attendant greeted us, checked us in, and we paid her the remaining cost of the tour. This excursion cost $55 each. When we booked, we had to put in a $15 deposit per person, so we paid the rest in cash (US dollars). 
Visiting Chacchoben Mayan Ruins
Our group was only 12 people, and once we all arrived, we loaded into an air-conditioned mini-bus. Our guide, Joel, introduced himself and said we'd have a 50-minute ride to the ruins. 
On the way out to the ruins, Joel told us how the port of Costa Maya completely transformed the lives of the locals when it was built in 2001. Joel was from the area and saw the changes first-hand. Previously, only 150 people lived in the area; now there are 1,800. Before the cruise port, most houses didn't have electricity and the only way to get an education was to enter into a lottery. When the port came, it transformed the area; the government built new roads to connect the villages, ran power lines, and built schools.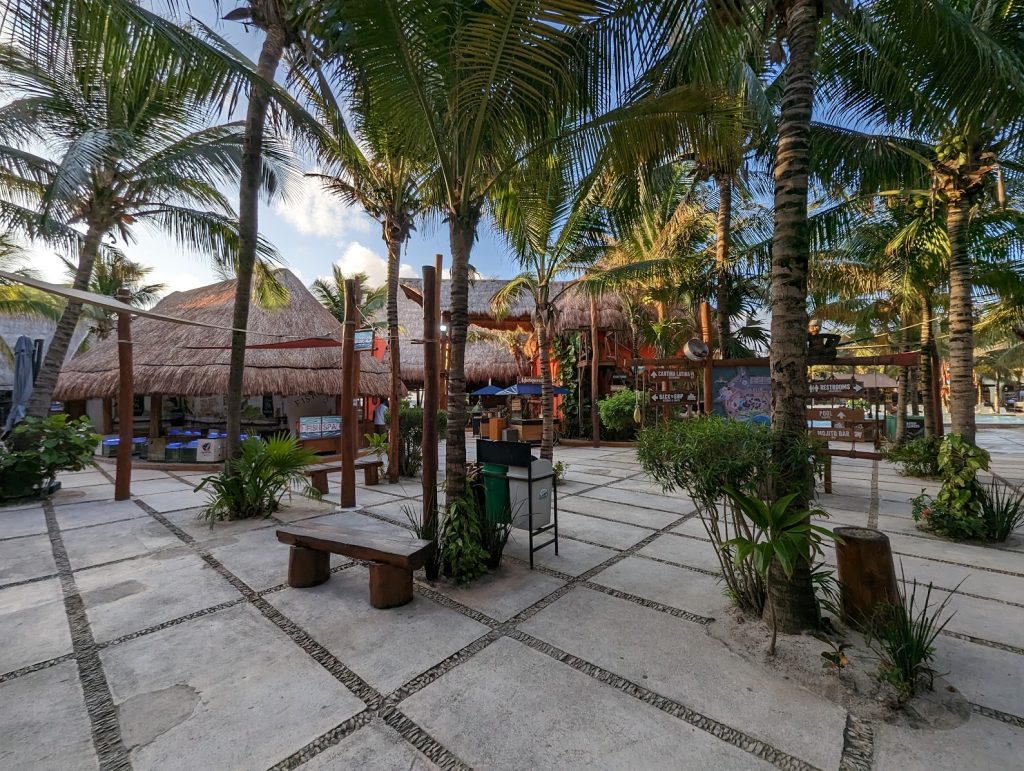 At that same time, the people of the area took precautions to protect themselves from becoming the next tourist trap. No hotels or resorts were allowed, and locals must own and run all businesses in the port. That's when in port Costa Maya, you won't find a Senor Frogs or Fat Tuesdays. 
We arrived at the site which had some shops, snacks, and restrooms. Joel said the ruins can get incredibly crowded; up to 3,000 people can visit in a day on a four ship day. Thankfully on this day, there were only two ships in port for the morning, and we got there before any of the cruise ship tours, so it was relatively empty. 
Tip: Bring bug spray as you will be walking through a heavily wooded area. I only got one bug bite, but it was enough to drive me crazy for the next few days. Bringing a small thing of bug spray is probably a good idea. 
We headed out into the jungle and walked up to an impressive pyramid rising out of the forest. When Joel was a boy, the whole area was covered in dirt and vegetation. They used to play there, not realizing what was right underneath their feet. After archaeologists discovered it, locals helped them uncover the pyramid and show everyone the impressive feats of Mayan engineering.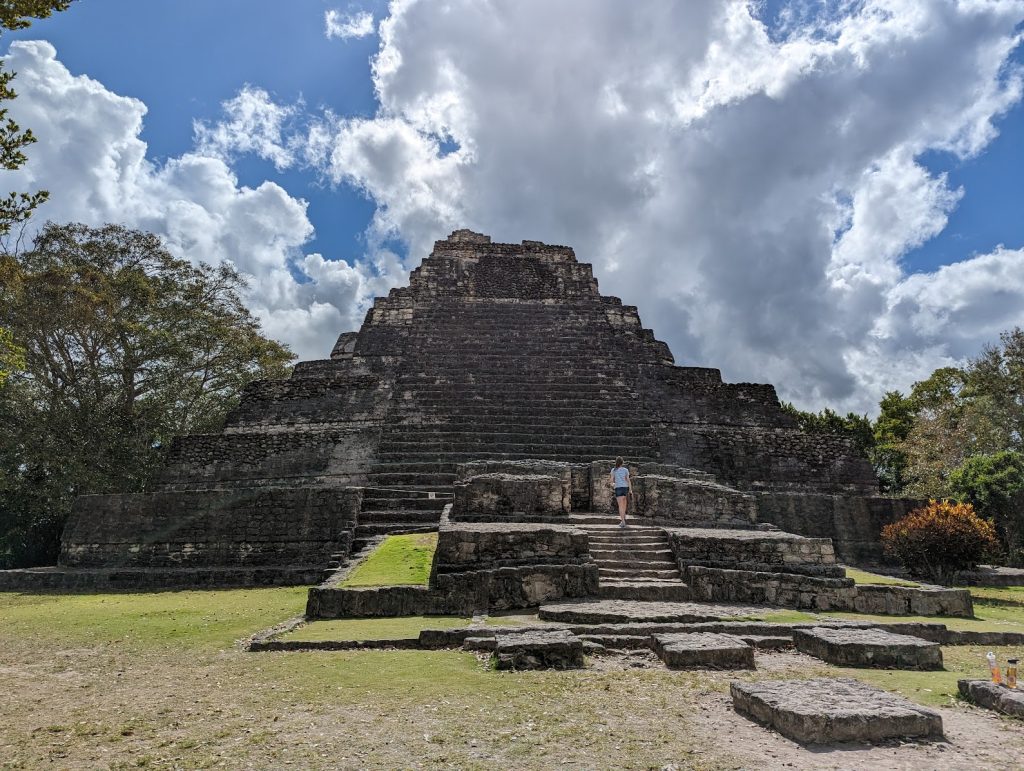 Joel was incredibly knowledgeable; he went to college in Belize for history, and his passion made the tour even more interesting. We visited four different structures. Each time he'd spend about 10 minutes explaining what it was and the significance to the culture. It was hard to believe the Mayan constructed these structures without any machines.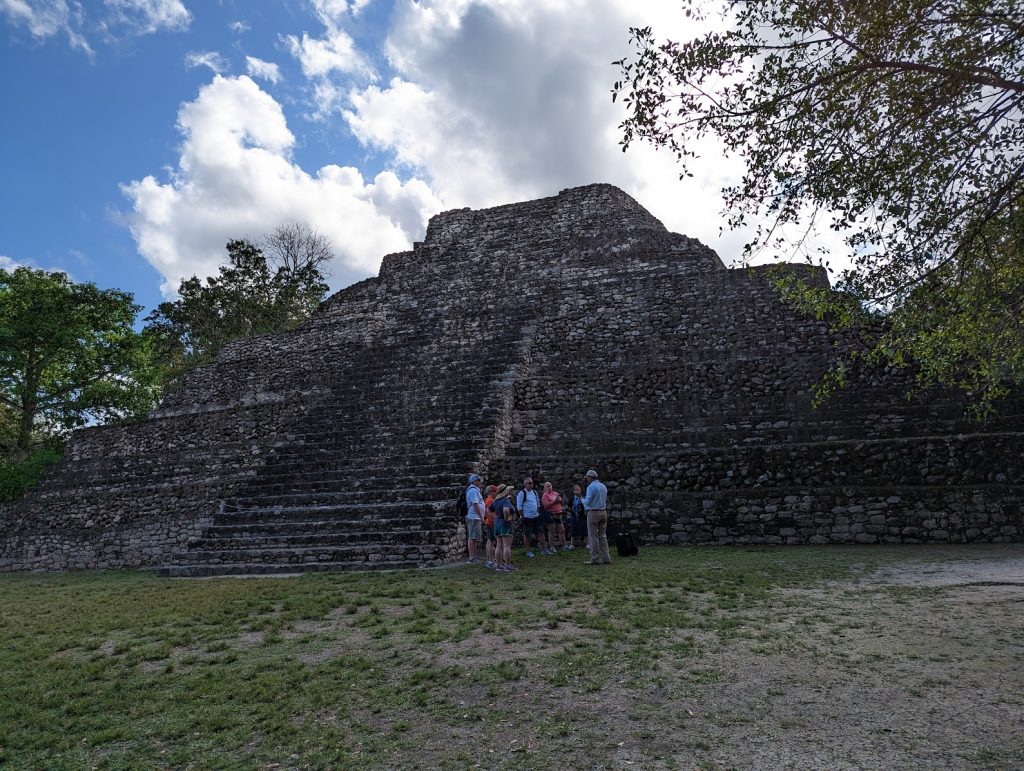 We spent a full hour and a half at the ruins. Between the impressive structures and what we learned, it was a really enjoyable experience. Of course, it was different from yesterday's adventure in the caves (read about our tour in the Amazing Secret River), but it was still enriching.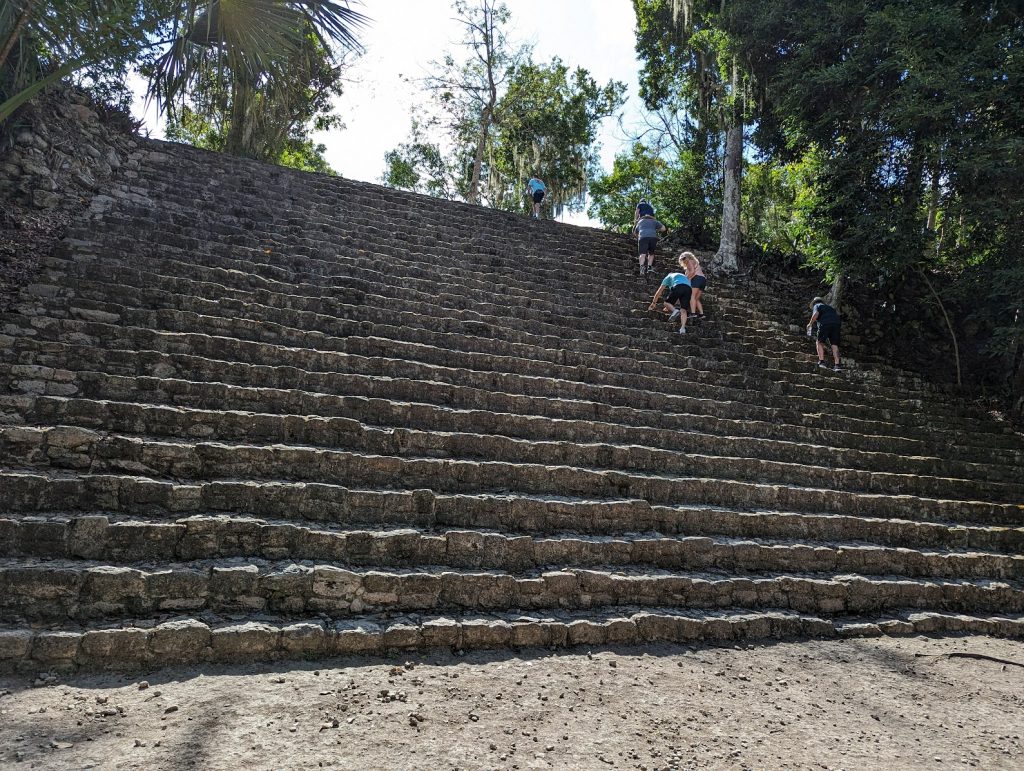 If you're in Costa Maya and want to try something more than a beach day, I highly recommend this excursion and using The Native Choice. Also, if you're considering this excursion, please note that while the site is well maintained, it still may be difficult for those with mobility issues. For example, there are spots where you need to walk up some ancient stairs, and the walkways aren't paved. 
Exploring Costa Maya Port
After our tour finished, Joel dropped us off outside the cruise terminal. Then, we made our way back into the winding pathways. When we walked through them in the morning, it was quiet and peaceful. Now, they were jam-packed.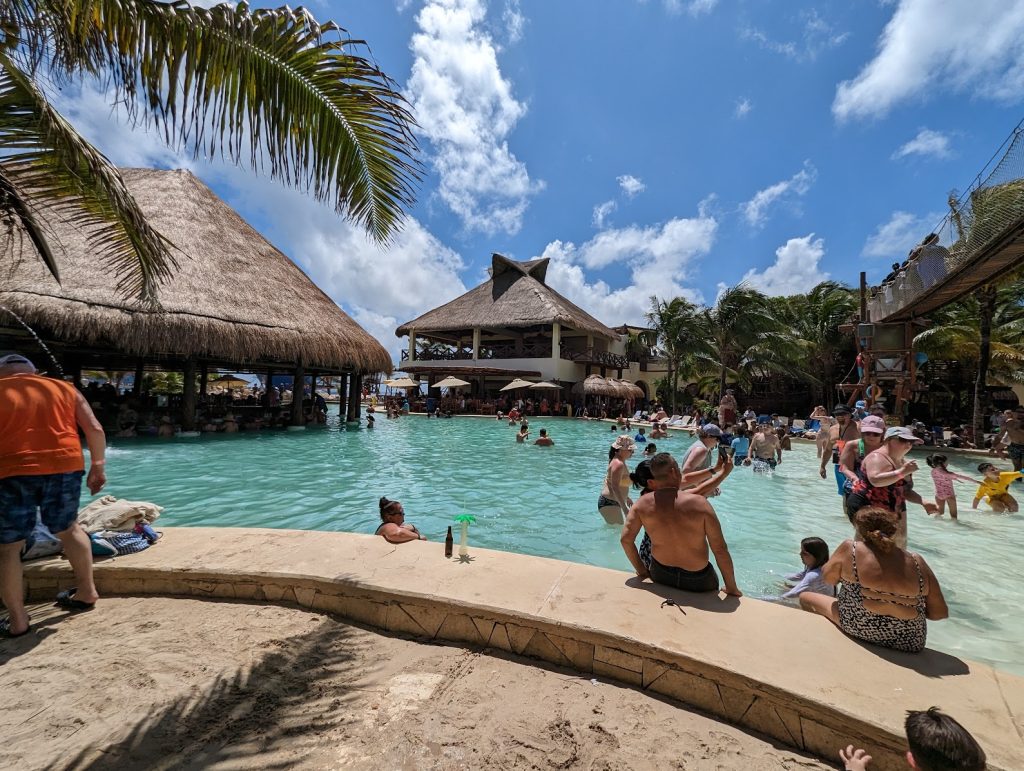 At this point, Costa Maya had three ships docked. While Costa Maya is a beautiful port, it's really not big enough to handle the number of ships that dock there. The winding pathways make the place feel much less industrial and more authentic, but when jam-packed full of people, they get claustrophobic. The pool and swim-up bar still had plenty of room, but moving about the shops was a challenge. I was quickly getting frustrated. 
Aviary in Port Costa Maya
Since we had a few hours before we had to be back on board, we decided to try the Aviary that's right in the port.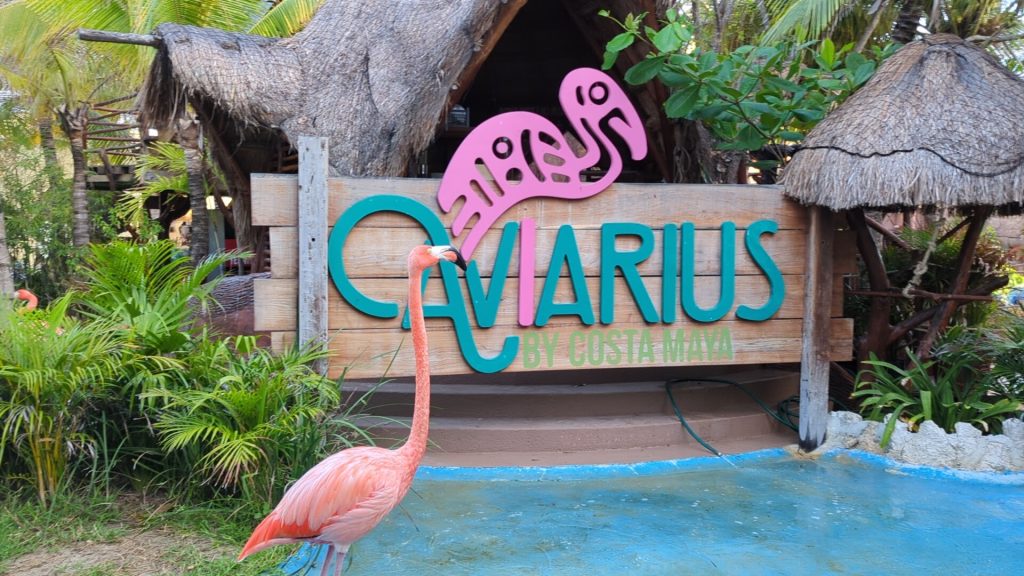 It's easy to find the entrance to the Aviary; it's marked by vibrant pink flamingos walking around on the main path. The Aviary itself is up one level, in large perches connected with bridges that cross over the pools and other areas. 
You can book through the cruise line as an "excursion" or walk right up and purchase tickets. The cost is $14 per adult and $12 per child. We paid in cash and did the self-guided tour.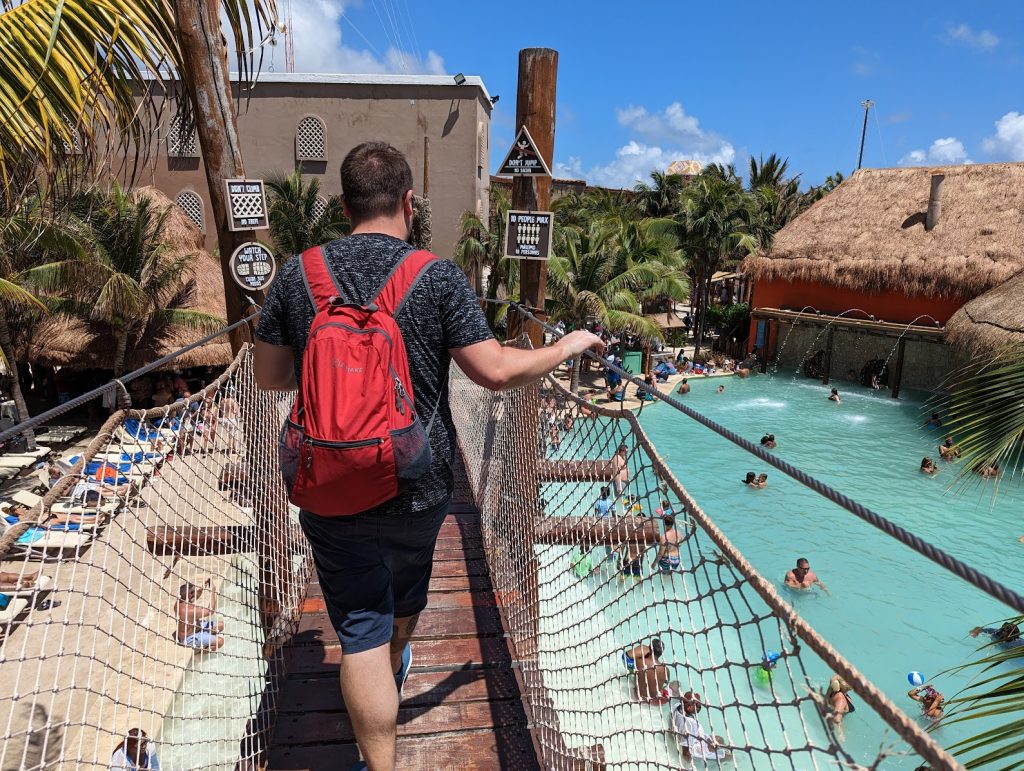 Overall, the tour took us about 20 minutes. We only saw a couple of other people throughout the trek. The birds were vibrant and lively, full of energy. We were walking right through their areas with no glass separating us. It was fantastic to see them in this environment. 
Overall, it was a nice little activity. If you're an animal or bird lover, it's worth the short trip for that price. 
Afternoon snack at Shaq's Big Chicken
The port was so crowded that walking around was no longer enjoyable, so we returned to the ship around 2:45.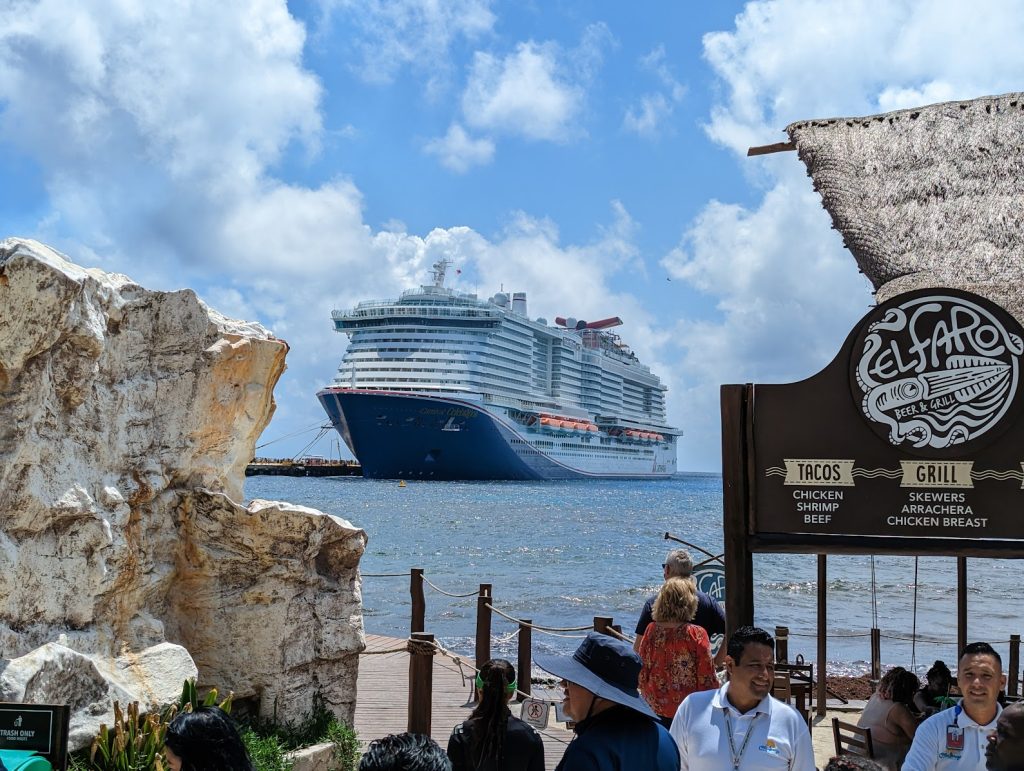 Once onboard, we looked for some lunch since we didn't have any on our trip. At that point in time, the Lido Marketplace (their name for the buffet) only had one station open, and the dining rooms were closed. We still had the options of Miami Slice, Deco Deli, Guy's Burger Joint, or Shaq's Big Chicken. It was sad that Street Eats was closed as it'd be the perfect time for a snack-type bite.
Tip: the elevators are always crazy when coming back from port, as most guests need to use them. To speed it up, take the stairs up one level and then walk to an elevator bank that isn't being used for returning to the ship. The Celebration has three elevator shafts. Typically, Carnival uses two of them for getting passengers on and off in each port; the third is much more available. It'll save you a ton of time, and it's much more effective than just walking up one level and trying to take the elevators from there. 
We decided on Shaq's Big Chicken since we enjoyed it on the first day (read day one's cruise blog). We took the aft elevators up to Deck 16 and were pleasantly surprised by any real lack of line. It took about 5 minutes to get our fresh, made-to-order sandwiches. This time I tried the Aristotle sandwich and the breakfast sandwich. Both were delicious and had a ton of flavor without being greasy.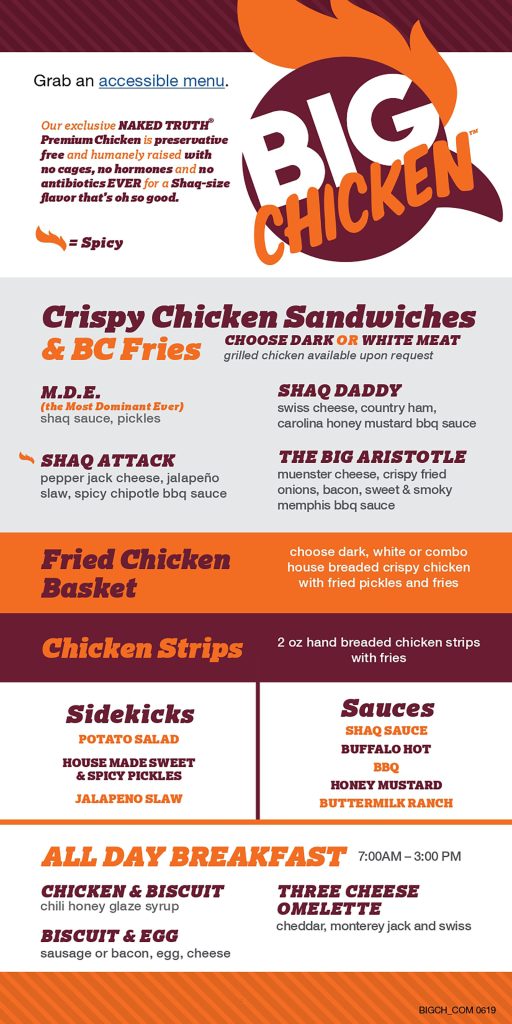 After our snack, we headed to the nearby soft-serve machines, which had ice cream and frozen yogurt. Unlike Royal Caribbean, you can serve yourself here. There were rarely long lines because the Celebration had three banks of soft serve machines (by Heroes Lounge, Tides Bar, and Guy's Burgers). 
Latitudes Bar 
After a little rest in the cabin, we decided to check out Latitudes Bar for pre-dinner drinks. Located in "The Gateway" zone, the bar is themed after an old-school travel lounge, complete with the flip-board style display. The bar stools are covered with passport stamps from around the world. Latitudes is located in the middle of deck 7, and we passed through the area quite a bit during the cruise but hadn't stopped for a drink yet.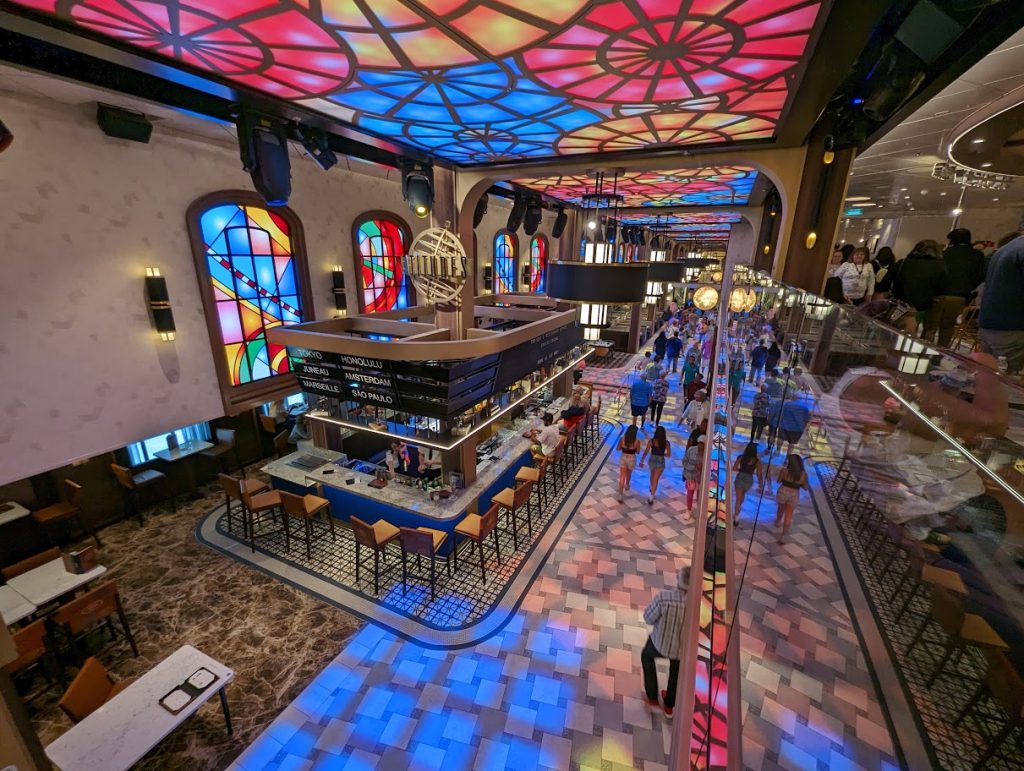 The first thing you notice when you sit down at Latitudes is the menu. It's an impressive book several inches thick with pictures and descriptions. It's more proof that Carnival really focuses on the quality of the cocktail experience, while other cruise lines tell you to download a QR code.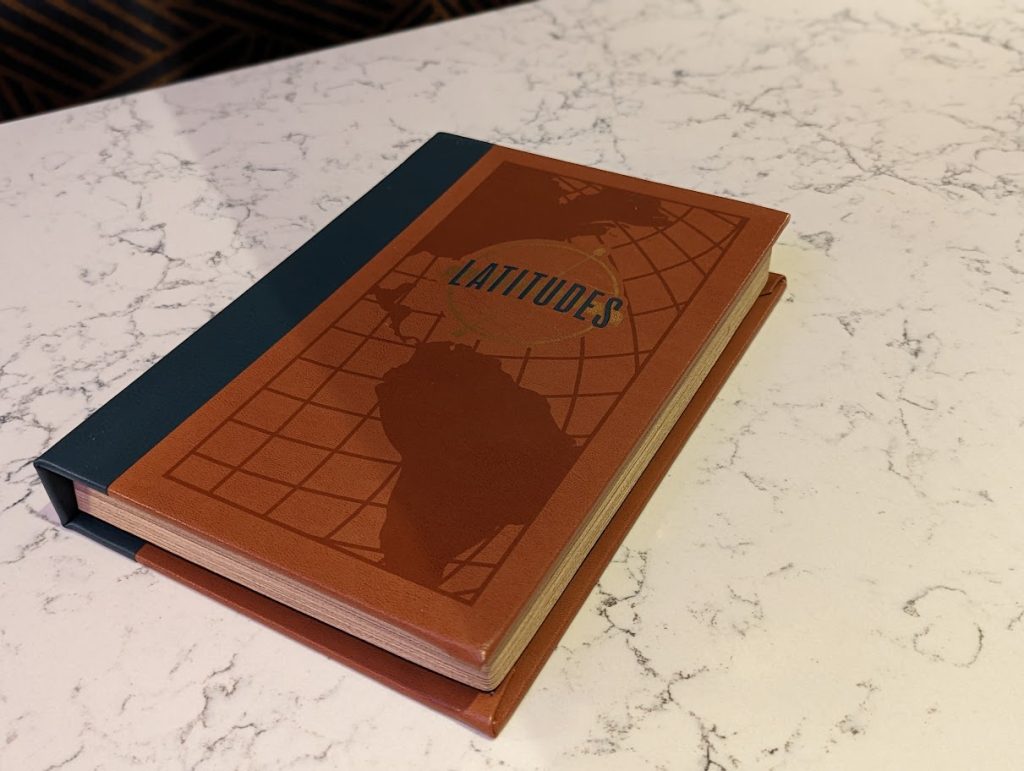 The cocktail menu features drinks from around with world. After looking at the menu, I went with the Sakura, a Japanese-inspired cocktail made with nigori sake, pomegranate liquor, St.Germain-Elderflower liqueur, and cherry bitters. 
I'd like to say I picked this cocktail because it sounded delicious, but the real reason is that I knew how it was served, with a giant bubble on top filled with aromatic smoke. The Carnival Mardi Gras has a similar drink at the Fortune Teller Bar, but this has a totally different flavor profile. 
The bartender mixed up the subtle pink cocktail, poured it into a martini glass, and placed it in front of me. Then he pulled out something that looked like a black water gun. It was actually the Flavour Blaster, a gun that can make edible bubbles filled with smoking using a glycerin bubble and essential oils.  
He dipped the gun's tip into a little cup of solution and then blew a bubble filled with smoke over the glass. It looked to be finicky as the bubble would pop often, but eventually, he was able to get a 6″ bubble encompassing the top of the whole glass. He kept adding more bubbles, trying to make a snowman, but it wasn't easy.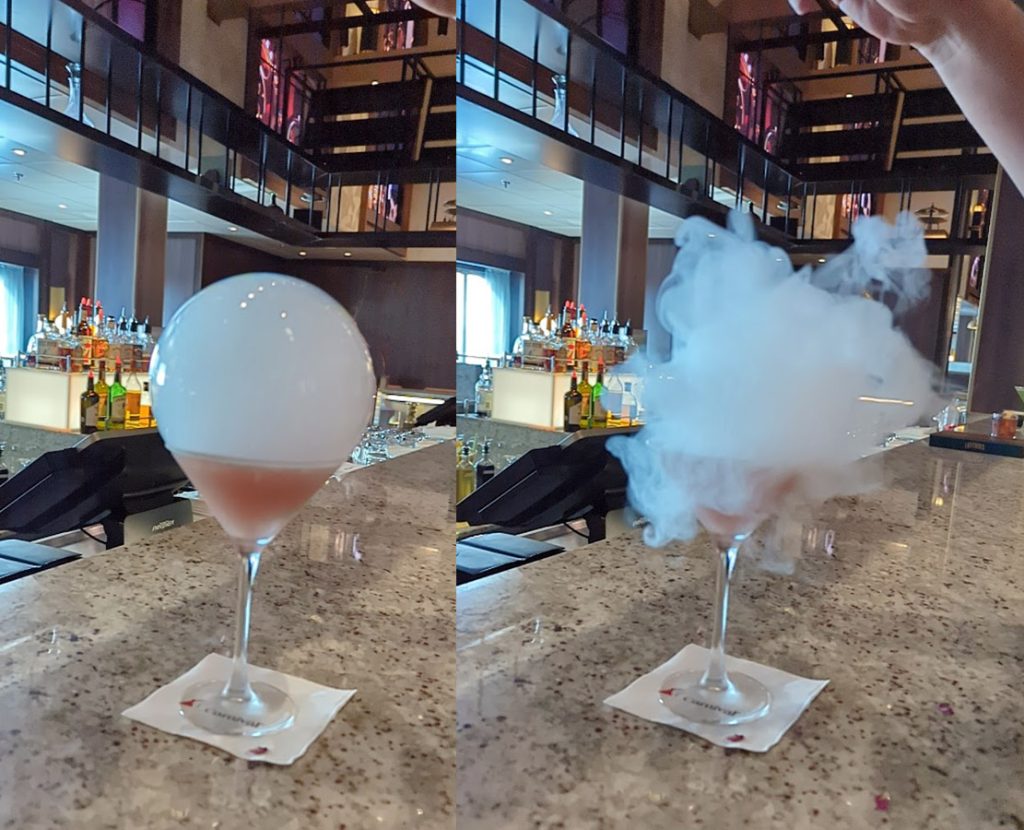 Once the bubble was secure, he handed me a napkin with cherry blossom pedals on it. You're supposed to make a wish and then drop them onto the cocktail. I sprinkled them on top, and the bubble burst into a dense cloud of mist. I immediately smelled the fragrant smoke that escaped. It was so impressive to see.
And it wasn't all presentation; the cocktail tasted great too. It had floral notes and a refreshing finish. It was well-balanced with just a little sweetness. I would have ordered it without the bubble. And for just $12, the price is better than almost any fancy cocktail you'd find on land.
Note: I always try to recreate my favorite onboard cocktails at home, but this one is going to be tricky. The FlavourBlaster is over $500. They just introduced a home version for $300, but that still is a bit steep. If the price comes down, you better believe I'll figure out the recipe to share with you. 
Time Journey in The Gateway
In our Fun Times, we saw that in "The Gateway" zone, there was a "Time Journey" at 6 PM, so we timed our cocktails around that. Five minutes before the show, the flip board above Latitudes started counting down to the "Time Journey." It wasn't very clear what it was, but I had heard Carnival's PR team talking about this when the Celebration was first launching.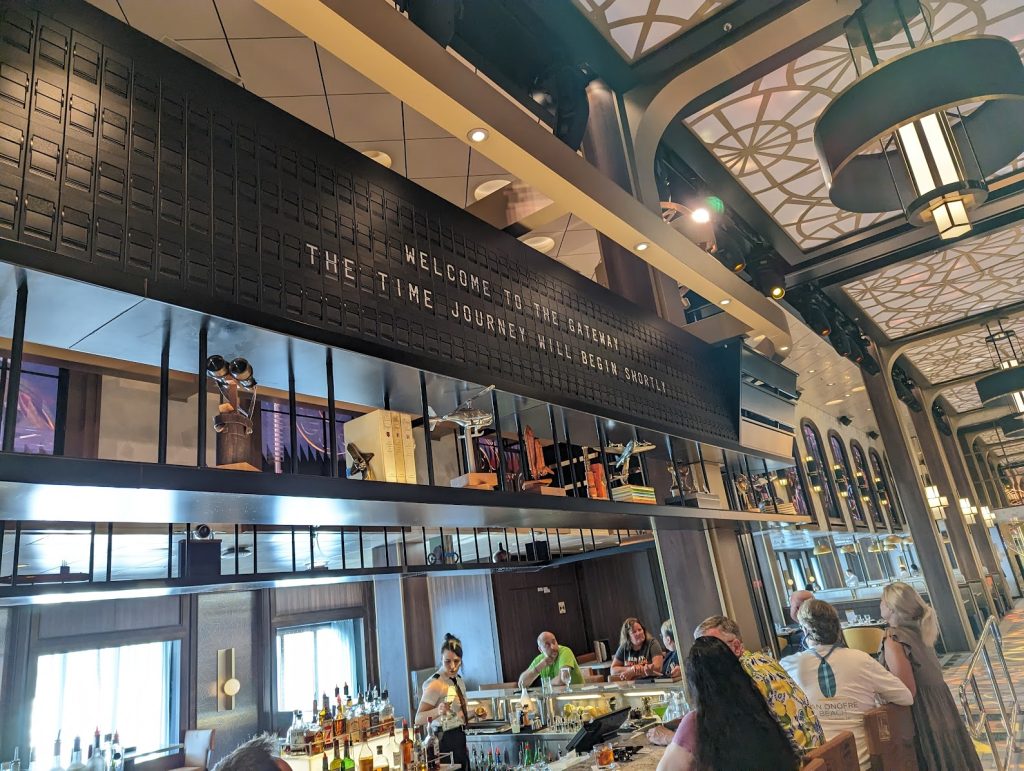 6 PM hit, and suddenly the flip-board started going crazy, with each number flipping around in a pattern to reveal a message. It was an impressive use of the board, but sadly it seemed that functionality was reserved for these events.
Then the lighting started to change, and the virtual "windows" around the space transformed. The show was a story of traveling through time, and the windows would update with things like dinosaurs and castles. The combination of the projection lights, virtual screens, and flip board were effective, but the show itself was a bit cheesy. The cruise director narrated the show and it felt a little hokey, like a cheap Disneyworld knock-off attraction. 
I think Carnival originally wanted this show to be a whole "event," but there were only 16 people there. The show itself lasted about 10 minutes. Overall, it was cute, but I think Carnival has some fine-tuning to do around it. They also need to play up what it is because barely anyone understood that something was happening or even bothered attending. 
Another issue was that you couldn't see the show from the Latitudes bar because the top of the bar blocked most of the video screens. Thankfully, Carnival seems to have learned its lesson and improved the design on Jubilee (read about Inks, PH. D Bar which will replace Latitudes)
Dinner in the main dining room
After the show and cocktail, we decided to head to dinner. This evening we were going to try the main dining room again, so we checked in using Carnival's hub app. The wait time in the app said 10 minutes, but our table was ready in just 3, so we headed to The Festivale dining room where we were shown to our table.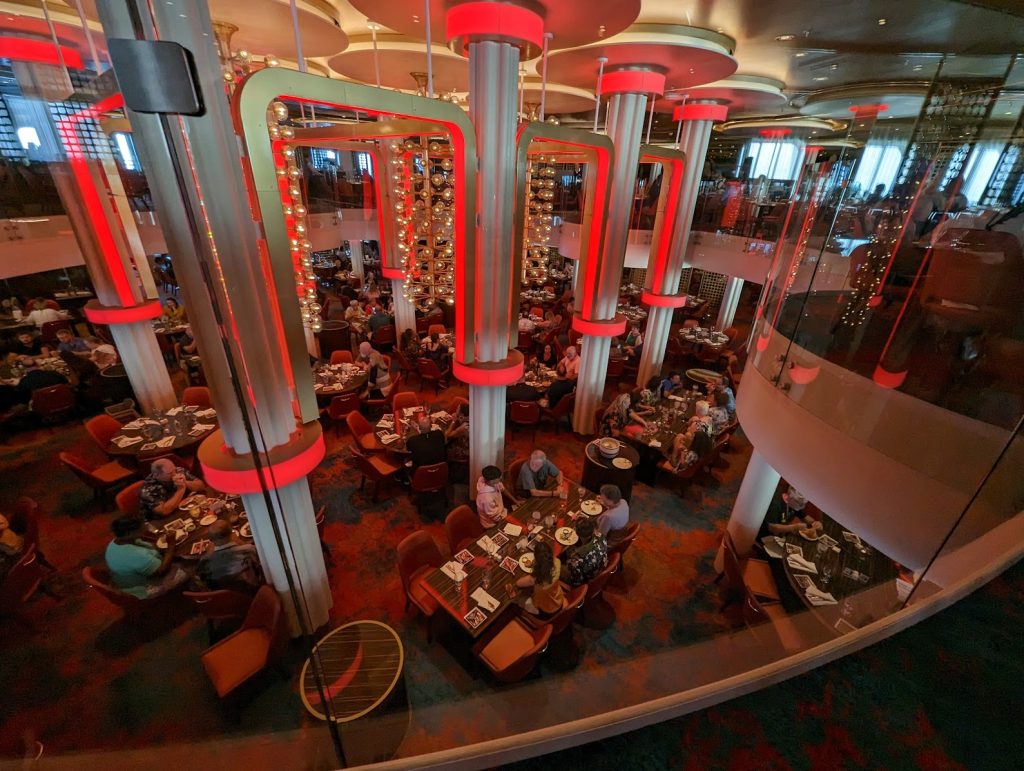 Our waiting immediately greeted us and took our order. I was impressed with the speed this evening. We had our appetizers within 10 minutes of ordering and our entrees in about 20 minutes. Overall, the meal took 45 minutes. Even though the wait staff was quick, they were still personable and attentive.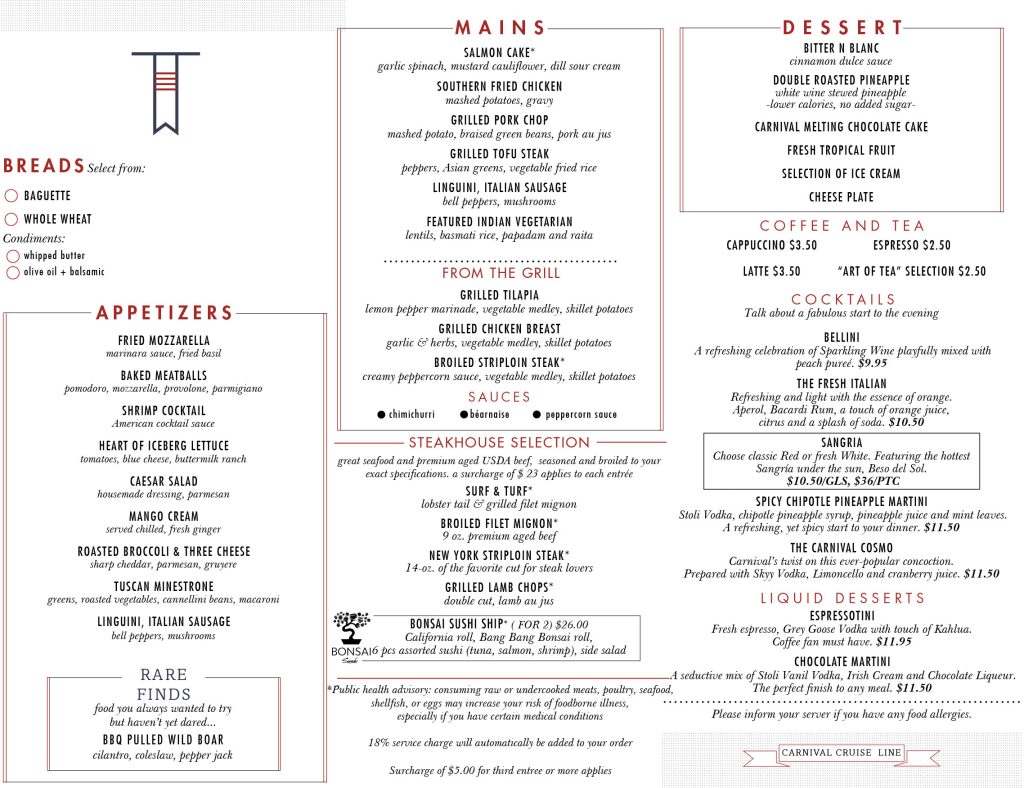 The food was pretty good too. I started with a caesar salad and fried mozzarella, which were hefty triangles of cheese fried golden brown. For dinner, I chose the salmon cake which held together well and wasn't all mayonnaise like some crab cakes can be.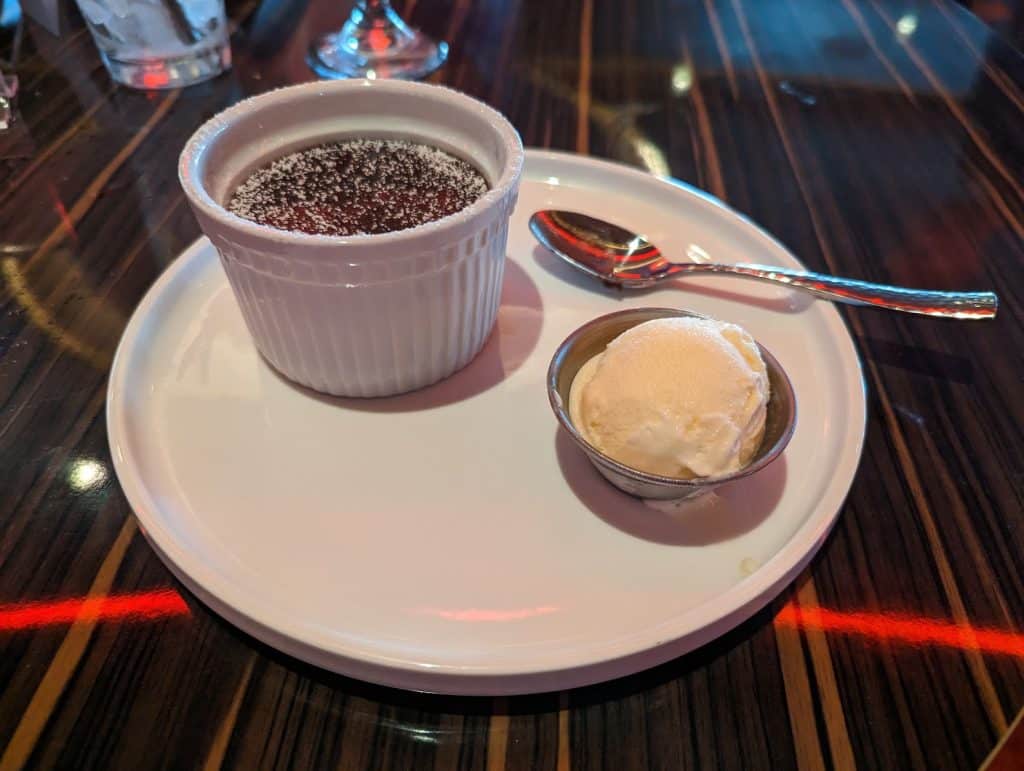 I finished it up with Carnival's signature melting chocolate cake. Unfortunately, my cake was undercooked this evening, almost more like a soupy pudding than a cake. That's the problem with the melting cake; in less than a minute in the oven, it can go from under- to over-done. Personally, I don't mind a soupy version, but you could also send it back for a new one. 
Getting seats in Celebration Central
This evening, we decided to check out the Most Magnificent Circus, a new show made just for the Celebration. This showing would be the fourth performance during our sailing (there were two the previous day and one earlier this evening). On the first day of the show, seats were impossible to get (read more here), but by now, it was much more manageable.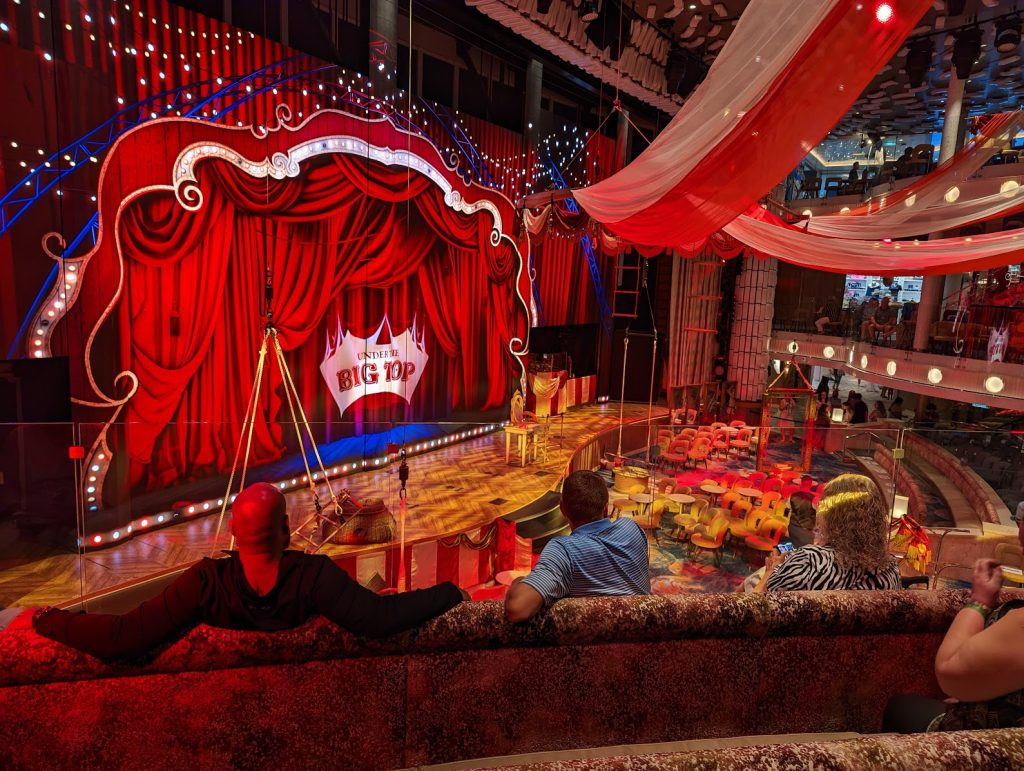 The show took place in Celebration Central. The first level of seats were roped off and they weren't letting people in until an hour before the show. The second and third levels were open the whole time, though. They repeatedly made announcements about not saving seats. 
We got there 30 minutes before the 9 PM performance and scored some second-row floor seats. It started filling up about 15 minutes before the show, which was a far cry from the people saying they had to get there two hours early. Avoid the first shows, and you'll have a much easier time finding a seat. 
A different Fun Squad than what I was used to
During the wait before the show, I realized how different the "Fun Squad," Carnival's name for its entertainment staff, on this ship has been. 
Carnival has always had some of the most engaging and fun teams I've seen across any cruise line. On the Celebration though, something was missing. I couldn't put my finger on it, but something was just off. It could be because of the size of the ship. For example, I only saw the cruise director, Chris the Flying Scotsman, a handful of times, but that's because when he was hosting one event, I'd just happen to be at another. There's just no way one person can be there for 6,000+ guests. 
But it wasn't just that. Some of the other staff, who I had enjoyed on previous cruise ships, were much more subdued and removed from guest interactions. I don't know if that's just Carnival's new direction, or maybe this staff was getting tired because they were far into their contracts. For example, before this show, at least four members of the staff were on the floor, but they were all chit-chatting and socializing with each other, not the guests. It felt very cliquey and not how Carnival has been for me traditionally. 
The Most Magnificent Circus 
With a show like the Most Magnificent Circus, you'd think there'd be some grand start to it or an announcement, right? Wrong. The performers walk out and it just kind of starts. The lights don't go down, and no one says it's beginning. It's very loud everywhere with the noise from the hallways, Java Blue Cafe, and the casino pouring into the space. 
Tip: If you're going to see the Most Magnificent Circus, don't judge it until you're at least 20 minutes in. 
The show started with a ringmaster, very much an Alan Cumming from Cabaret-type, doing magic tricks on the center of the stage. The problem was the magic tricks were subtle. For example, at one point, he levitated a large cargo box with a woman inside of it right in front of him, but the audience didn't seem to notice because it was only a few inches off the floor (and they were likely far away from the poor seating). In fact, the whole first twenty minutes of the show was confusing, and not a word was spoken.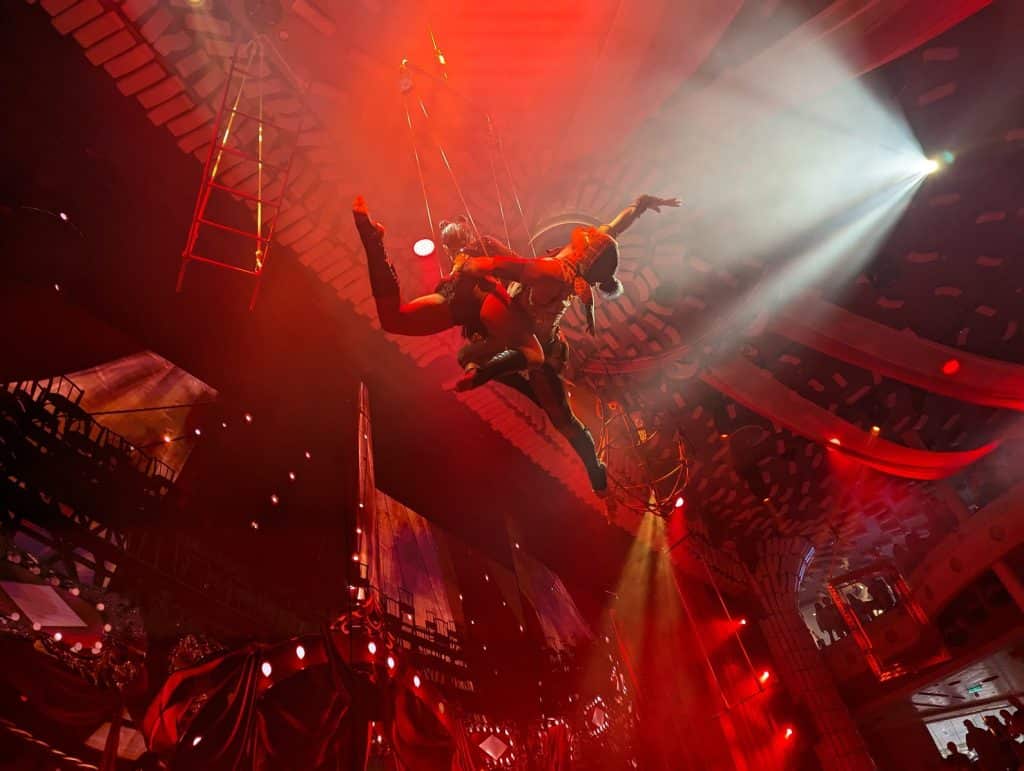 Thankfully, after that, the show completely transformed into an amazing performance. Several acrobats and aerialists performed impressive feats up to 30 feet in the air in the center of Celebration Central. For the people on the first floor, the action was just feet away from them. 
During this portion of the show, singers performed cover songs while the acrobats did their work. They did powerful renditions of songs like "Creep," "I Surrender," "7 Rings," "Survivor," and "Send in the Clowns" (a bit on the nose for a circus show).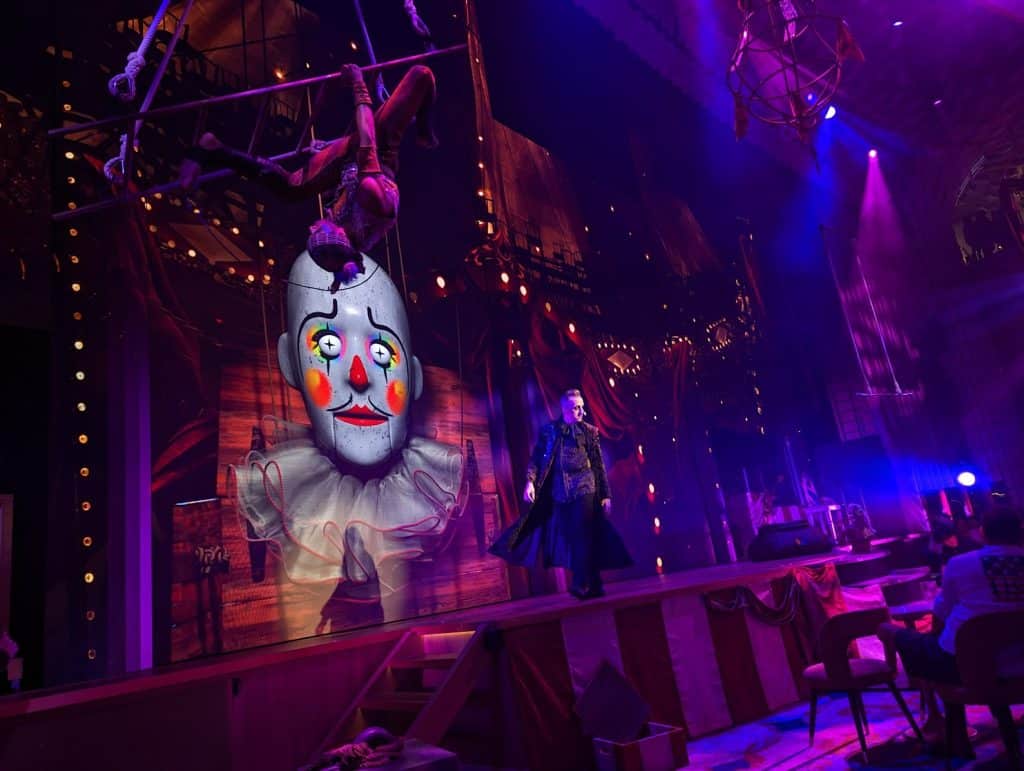 Overall, the performance was an hour, and most of the audience was left in amazement. It was probably the best production show I've seen on a Carnival ship. Still, I don't understand what the first twenty minutes of the show were supposed to be. Luckily, those who stayed past that introduction were blown away. 
White Party on Lido Deck
After the Most Magnificent Circus, we went on to check out the "White Hot Night Party" that was happening out on the Lido deck. The white party used to be a signature of Carnival and happened across the whole fleet, but now it seems to be up to the cruise director's discretion.
For this party, guests are all supposed to wear white. It would have been helpful if Carnival had informed guests about these kinds of theme parties beforehand so they could bring the right attire.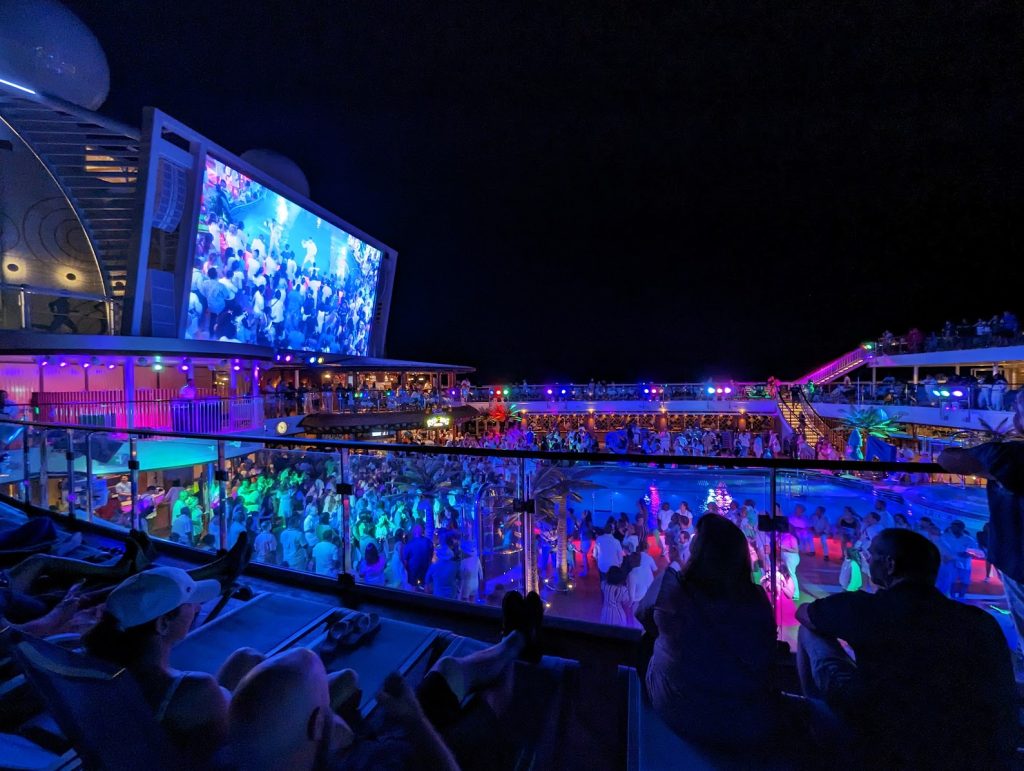 The only ways to know what events are happening on your cruise beforehand are an outdated page on the Carnival FAQ and a periodic post by Carnival brand ambassador John Heald. Before the cruise, Carnival emailed me at least twenty times about buying a drink or photo package. I don't know why they can't also email about what events guests would be prepared for.
It was a beautiful night for an outdoor party; not a cloud was in the sky, and the weather was pleasantly cool. The pool area in Lido Deck was completely filled with dancing guests. Wallflowers and those who didn't want to dance stood along the upper two levels, looking down. The large screen TV and spotlights lit up the area. 
Rather than a free-flowing party, it quickly became a long list of live dances…the Cha-Cha Slide, Cupid Shuffle, and Electric Slide. It was literally the exact same set list we heard two days ago in the Lido Area during the day. People seem to enjoy the line dances, so I guess Carnival knows what it's doing, but it got a bit boring and repetitive for me. 
Late night snacks…or lack thereof
After watching the White Party for a while, we decided to head back to the cabin. But before I turned in, I wanted to grab a snack. 
In the old days of cruising, guests would indulge in things like the midnight buffet. Today, food options after 8 PM are few and far between. It's not just Carnival that's having that problem; it's similar with Royal Caribbean (thankfully, most Norwegian ships have a 24-hour bar place). 
Previously, Carnival would reopen one buffet station to serve things like hot dogs, grilled cheese, and leftovers from dinner. In one of Carnival's many cutbacks, they've removed that option. So now the only thing that's open late is the Deli (until 10 PM) and the pizza. Carnival has said they also serve sandwiches and salads at the pizza place, but I didn't see any of that happening on this sailing. 
That being said, the workers at Miami Slice were amazing. At 11:15 PM the line was about 25 people deep, but it took only 3 minutes to grab pizza. Oddly, some people would only accept a specific specialty pizza, so they had to wait, but it was top speed for margherita and pepperoni. It was some of the quickest pizza service I had ever seen on any cruise line.
Follow along on the rest of our Carnival Celebration cruise
Carnival Celebration – Cruise Blog - Day 1 – Miami
Carnival Celebration – Cruise Blog - Day 2 – Sea Day
Carnival Celebration – Cruise Blog - Day 3 – Cozumel
Carnival Celebration – Cruise Blog - Day 4 – Costa Maya
Carnival Celebration – Cruise Blog - Day 5 – Roatan
Carnival Celebration – Cruise Blog - Day 6 – Sea Day
Carnival Celebration – Cruise Blog - Day 7 – Sea Day
5 Hits and Misses on Carnival Celebration
If you want to stay up to date with what we publish, sign up for our monthly newsletter
CruiseSpotlight is an Amazon Associate. We may earn a commission when you click links to retailers and purchase goods.