Carnival Celebration – Cruise Blog – Day 5 – Roatan
Day 5 of our 7-day Western Caribbean cruise had us visiting Roatan Island in Honduras. Follow along as we visit local exotic animals, try the private Mahogany Beach, grab some food back on board, and explore the evening entertainment.
Day 5 Roatan overview
Carnival Celebration Day 5 Funtimes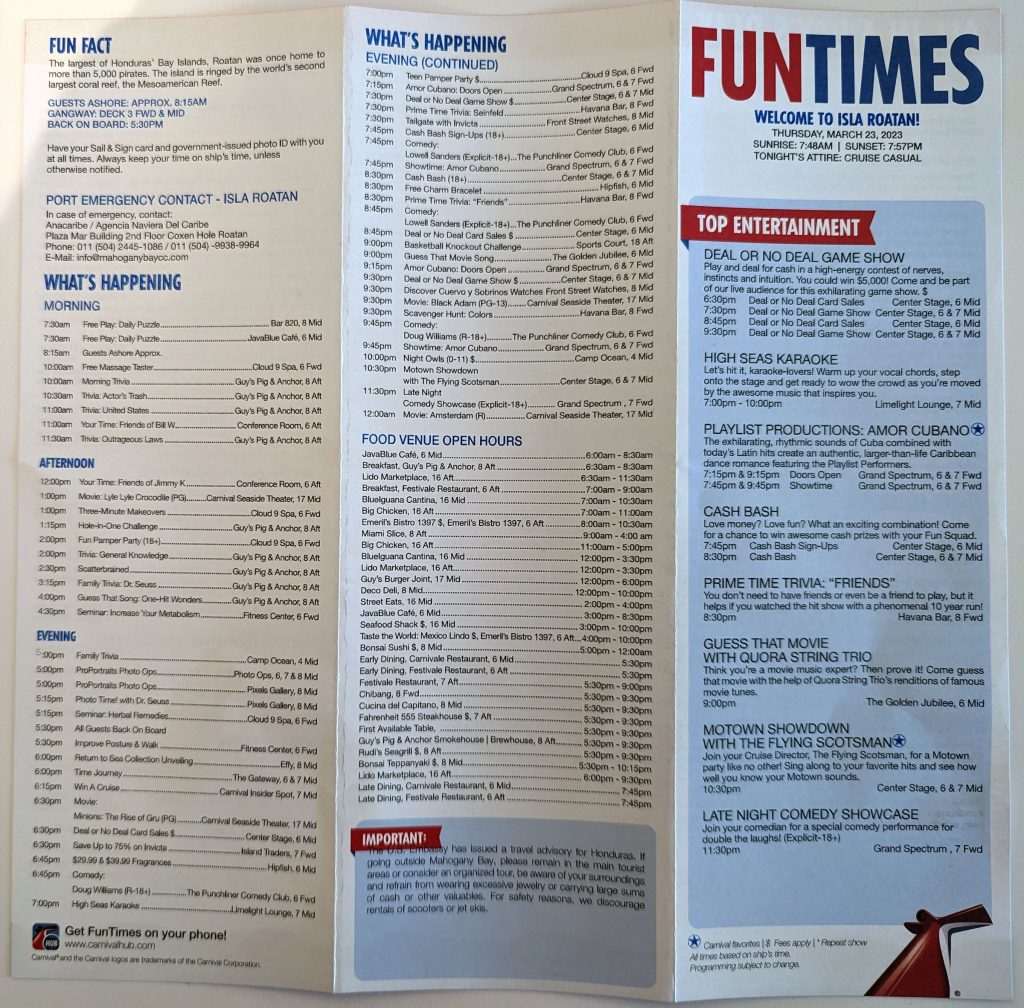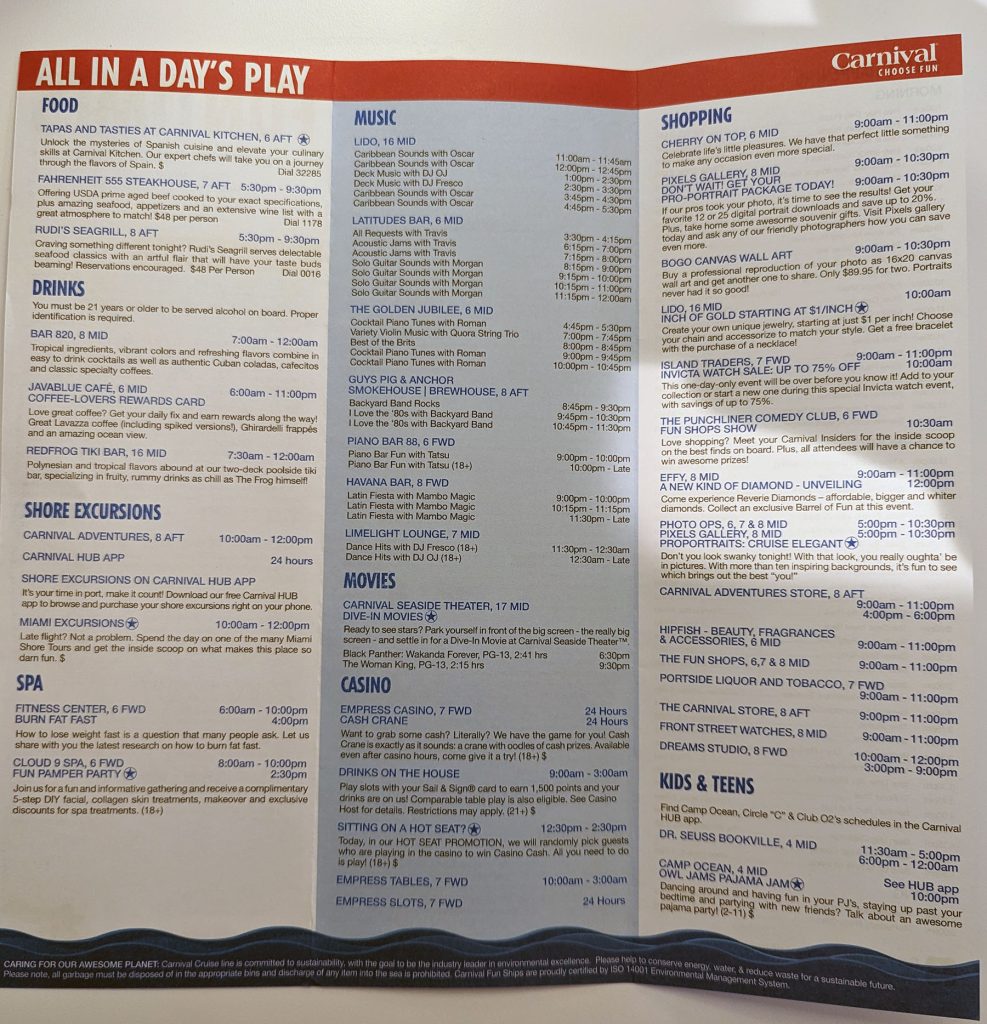 Beautiful view of Roatan, Honduras
Day 5 started when I opened the balcony curtains to reveal a stunning view of lush green trees against a crystal blue sky. The Carnival Celebration docked about 30 minutes prior and was stationed along the island of Roatan. Waking up to sights like this is why I almost always book a balcony cabin on a cruise. 
This trip was my first time visiting Roatan, and I didn't expect it to be so picturesque. Most cruise ports in the Caribbean have a very industrial feel, not as natural and lush as this port. It was a pleasant surprise.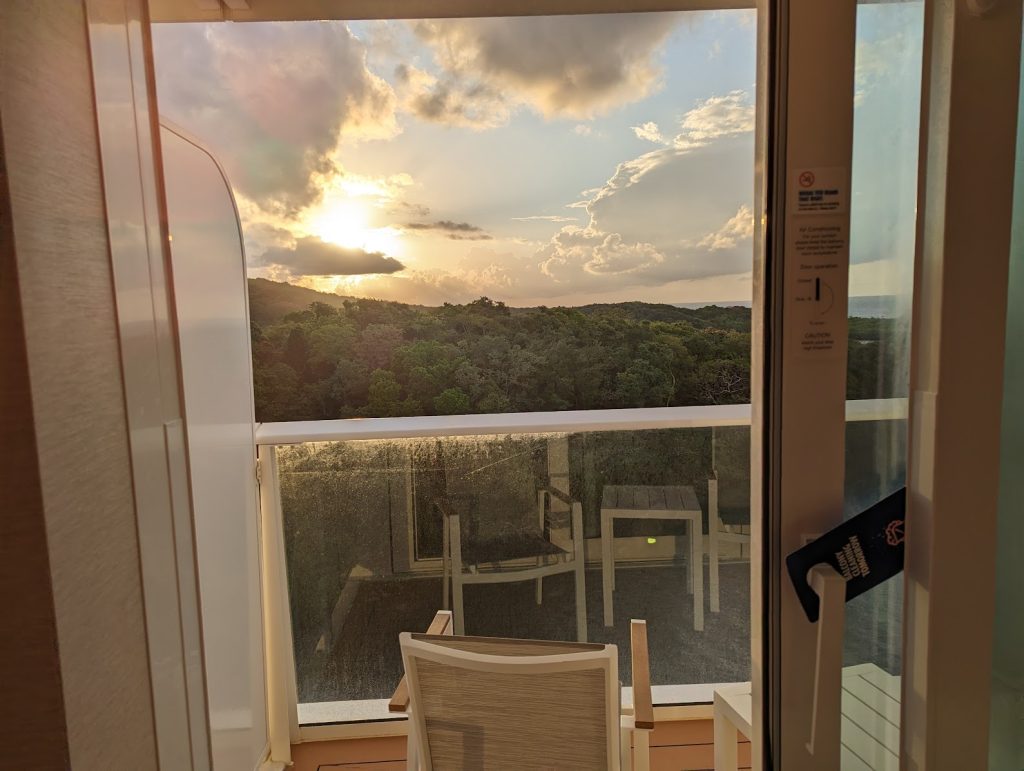 Breakfast in the Lido Marketplace
We decided to have lunch in the Lido Marketplace, the traditional cruise buffet on the ship. It's hard to believe it was day five, and this was the first time we got food from the buffet. The Celebration has so many different food options that we didn't need to go there yet. But today, we'd try it out.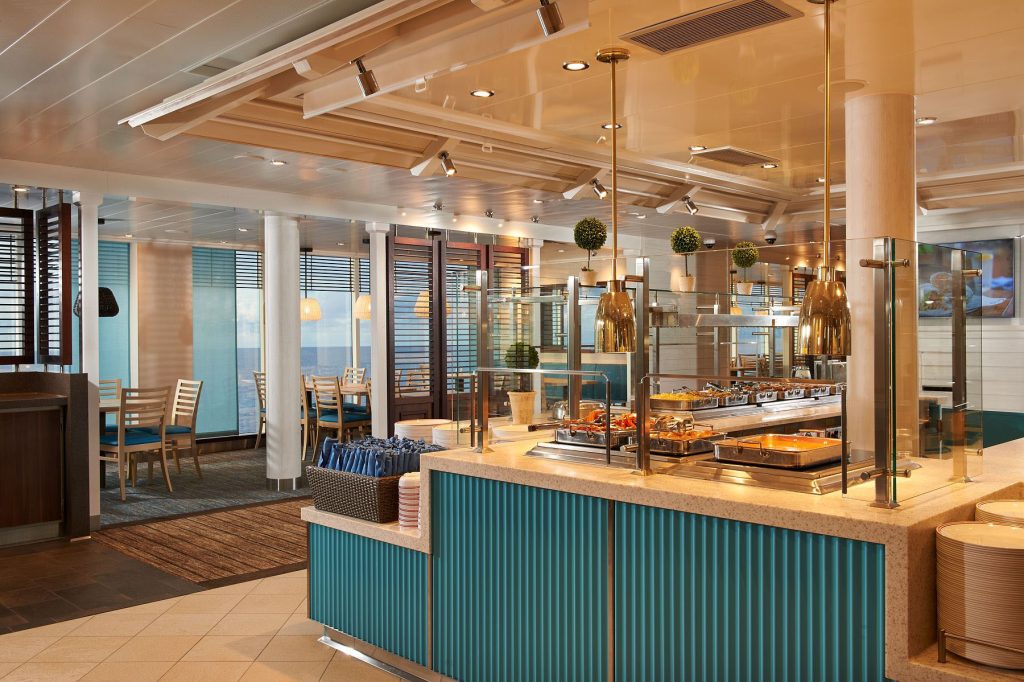 The Lido Marketplace is located on Deck 16, and it's massive, taking up a little more than 1/3 of the entire deck. It doesn't feel that big, though, because of the way Carnival laid it out. On some other ships, the buffet is a massive room with all the stations open in the middle and seating around the perimeter. On the Celebration, four different food stations are spread out from each other. During breakfast, the stations are identical, so it effectively splits the crowd into four groups.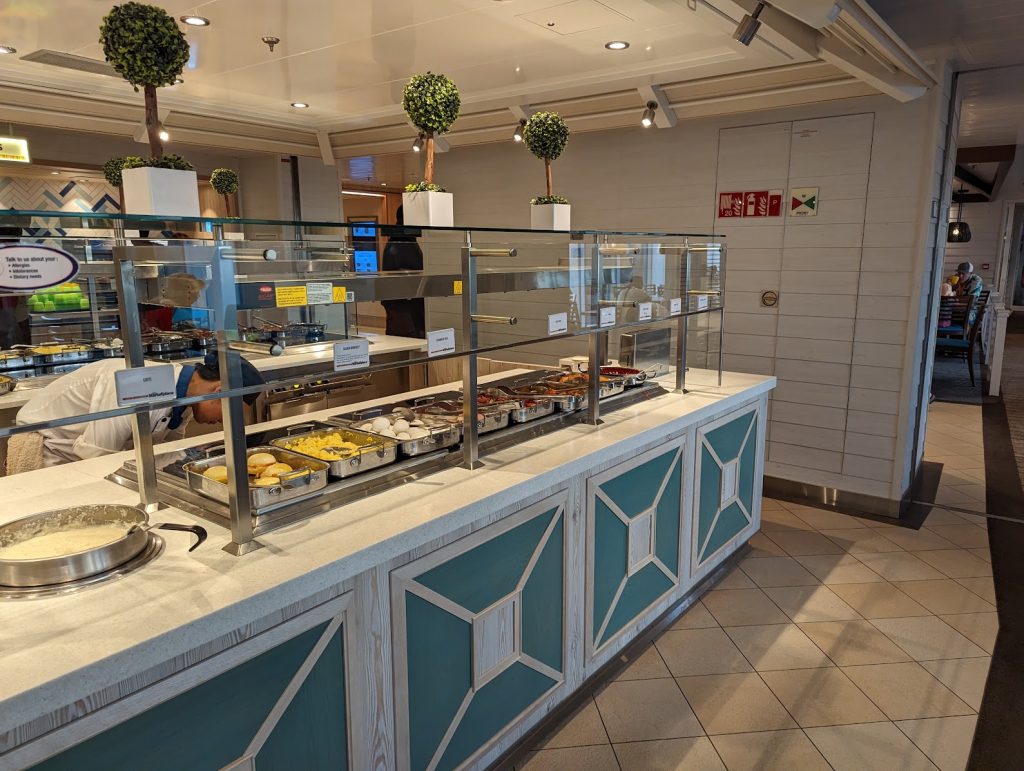 Tip: if you're going into the buffet and entering by the Lido Pool, keep walking, there's a second set of identical stations toward the back. Most people don't bother venturing that far. 
Carnival put plenty of seating of all types in Lido Marketplace, from high-top tables and bar seating to large circular tables for families. Although the buffet was pretty busy this morning, we had no problem finding a seat. 
The buffet sports floor-to-ceiling windows so you can enjoy the beautiful view while eating. One thing that annoyed me about the Lido Marketplace is that they put mirrors by the buffet. I'm sure it's to make the space feel bigger and like there are more options, but it ended up being disorienting. It was like the old days of department stores where they put massive mirrored columns and walls to keep you from leaving the store. 
Overall, the breakfast was nearly identical to what I had the previous few days at Guys Pig and Anchor Smokehouse. The exception was the made-to-order omelet stations that they had in the Marketplace. The line for them was long, probably 15-20 people deep at each station. I don't know why people go crazy over made-to-order omelets, but they were in high demand. 
The rest of the stations didn't have any lines, though. However, one big design flaw was putting toast, bagels, and peanut butter at the omelet station. It was the only area in the buffet that had a line, and I had have to cut in just to get peanut butter. It was a really stupid idea (unless they're trying to save on peanut butter costs, and then it's brilliant). 
Towel takeover on Lido Deck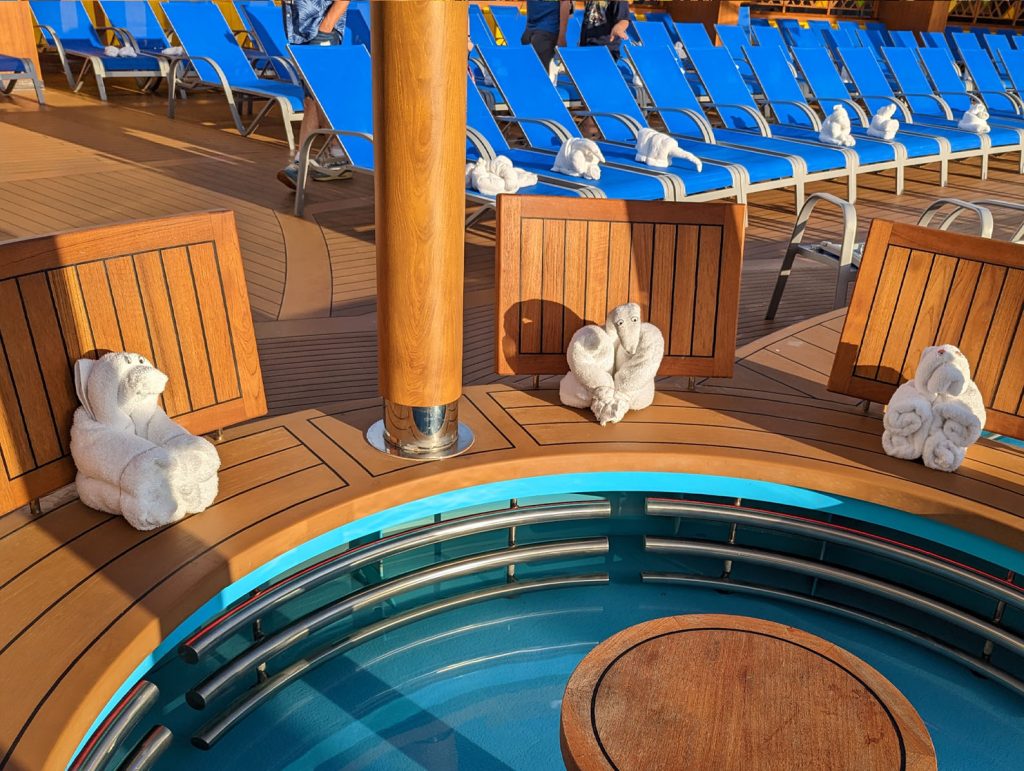 After breakfast, we exited the Lido Marketplace and walked through the Lido Pool area to get to the elevators. This morning was the Towel Takeover, where Carnival staff arranged towel animals across the whole deck area in the morning. At least 100 animals were stationed in chairs, by the pool, and near the bars. It was impressive. They even had a massive alligator. It was adorable to see all the little kids running around seeing all the towel animals.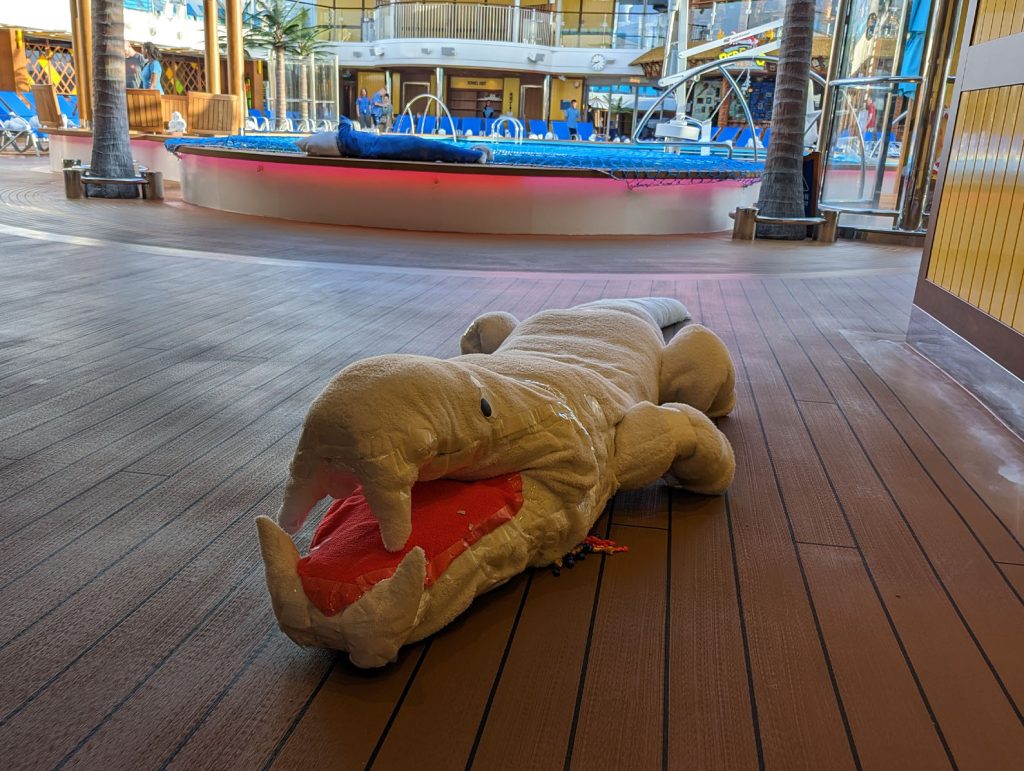 Exploring the Port of Roatan
We had an excursion at 8:30 AM this morning, so we got off the ship and headed to our excursion meeting point. Most of the time, the cruise excursion meeting point is somewhere near the ship, but in this case, it was inside the shopping complex at the top of the hill. That's because Roatan is a cruise port built in partnership with Carnival, so only Carnival (and its sister cruise lines) arrive there. Because of that, they don't need the meeting point to be close to the ship.
You enter Roatan through a massive duty-free store filled with liquor, perfume, jewelry, candy, and other trinkets. The duty-free shop is also built in partnership with Carnival. They don't advertise that you're basically buying the goods through them (just like if you were on the ship), but if you look at the signs in the store, they use the exact same font and layout as the ship stores. The prices aren't necessarily bad but don't expect true "local" pricing.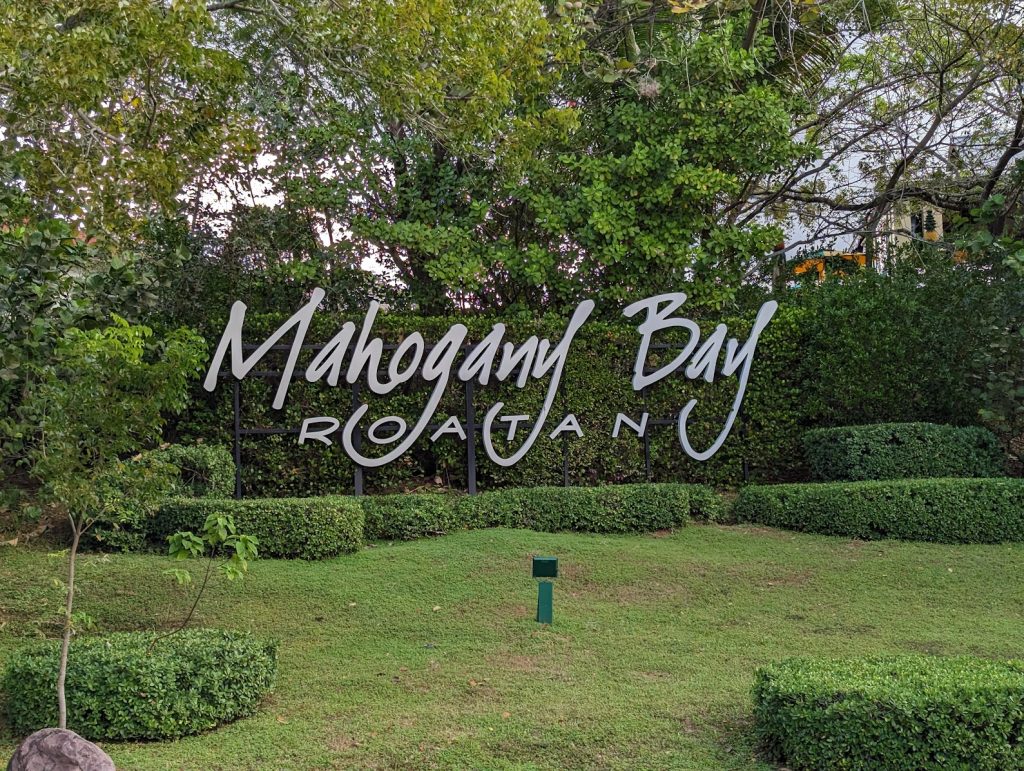 Once out of the store, we headed up an inclined hill to the shop area. Lush greenery lined the paved path making for some excellent photo opportunities. The hill wasn't too bad to walk up, but a wheelchair or scooter might struggle to make it.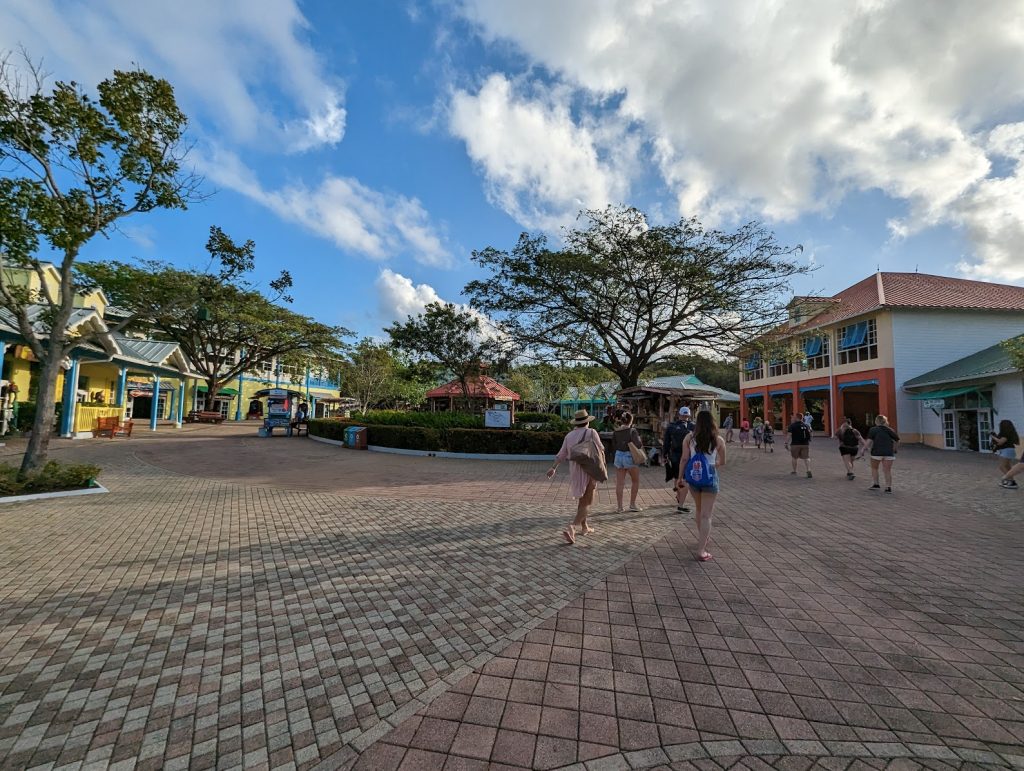 At the top of the hill was a small shopping plaza filled with various duty-free shops, a Fat Tuesdays, and a straw market with local crafts. Overall, it's what you'd typically see at a cruise port and not much different than Freeport or Amber Cove. 
Discover Roatan – Monkeys, Sloths & Macaws Excursion
For this port, we booked an excursion through Carnival called "Discover Roatan – Monkeys, Sloths & Macaws." This 3 1/2 hour excursion cost $90 per person and would let us see a lot of exotic wildlife. They had departures leaving throughout the day, so we booked the earliest possible one; that way, we'd have time to enjoy the free beach before heading back to the ship. 
We looked for the tour guide, who had our excursion number on her sign, and checked in. Overall, our group had 20 people in it. Once everyone arrived, we headed to a minibus to start our journey. 
AJ's Monkeys & Sloths
Our first stop was AJ's Monkey's & Sloths, a quick 13-minute ride from the cruise port. As we made our way there, our tour guide told us about the island and the way of life for locals.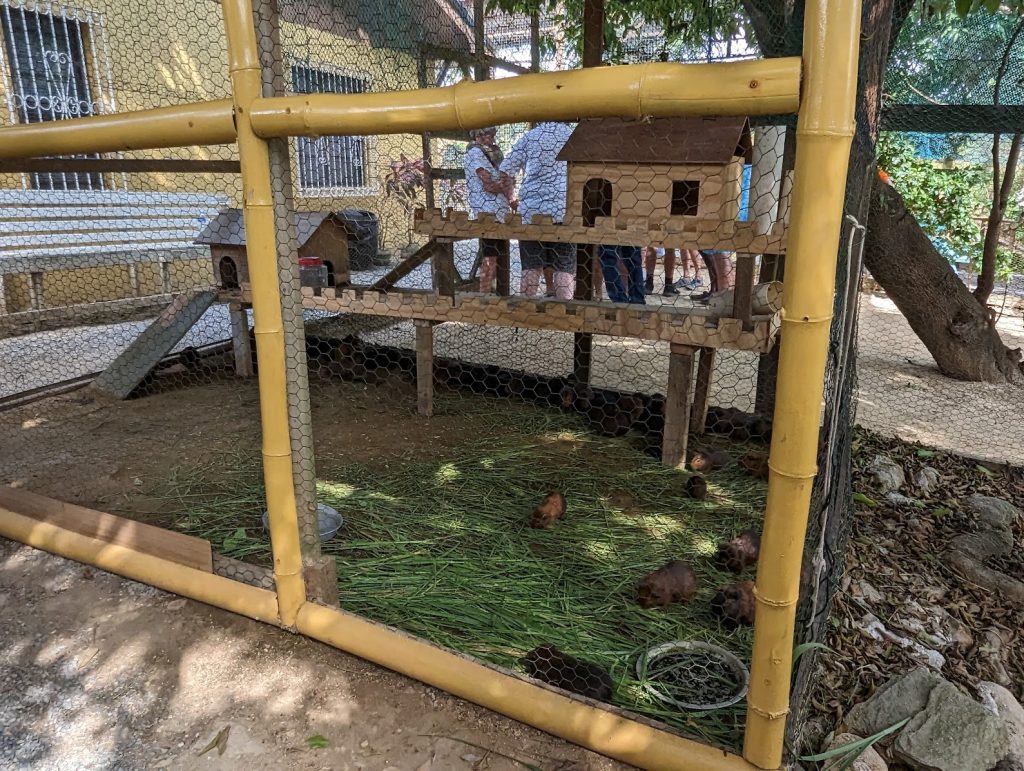 Once at the facility, our first stop was to see and hold guinea pigs. I couldn't believe how many they had roaming around a large enclosure. Growing up, we had a few guinea pigs but never saw them in such numbers. They scampered around energetically as the keeper through some fresh greens on the floor.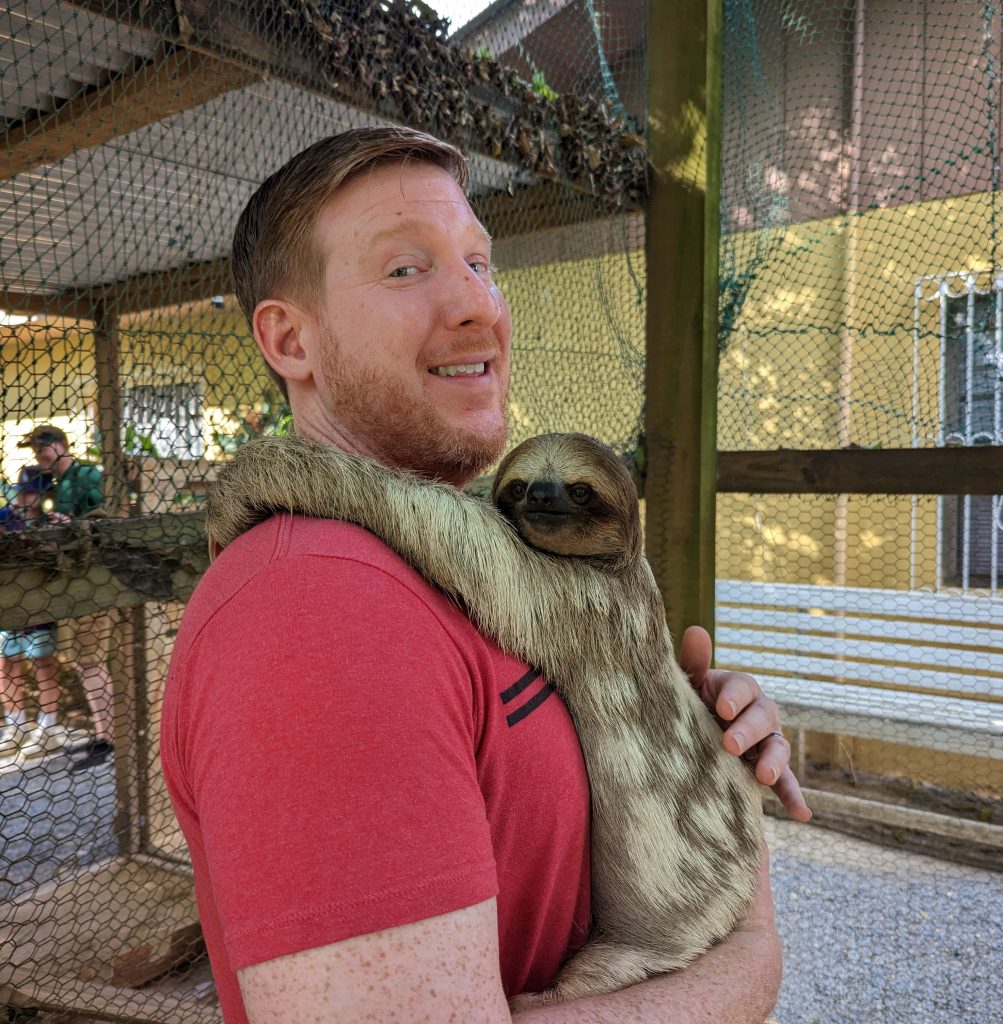 After that, we got to visit the sloths' enclosure. They let us in ten people at a time to hold a sloth. I got to spend time with Lightning, a two-year-old sloth. Others got to visit with Turbo and Victoria. I was surprised at how coarse their fur was; it looks much softer in pictures. They were as docile and slow-moving as you'd expect, holding onto a person like we were a tree.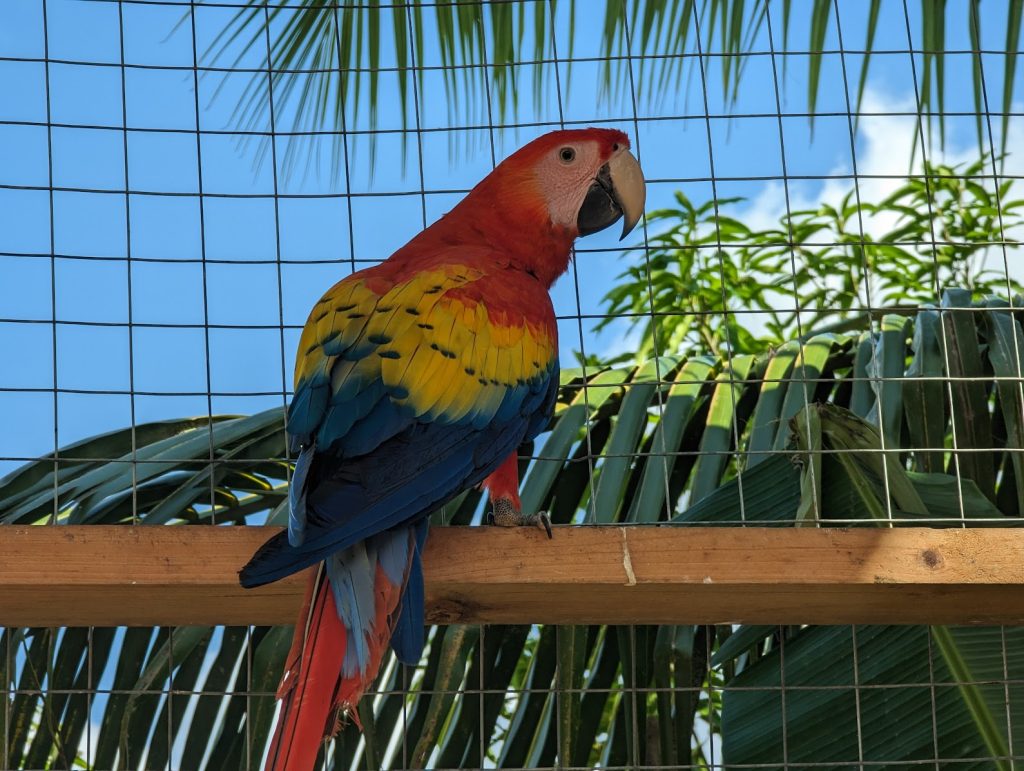 After that, we went into an enclosure with rainbow macaws. Their colors were stunning as they flew around the cage. The workers were trying to position themselves carefully as one bird had enough for the day and was sitting at the top of the cage, ready to drop a "bomb" on the next person he could.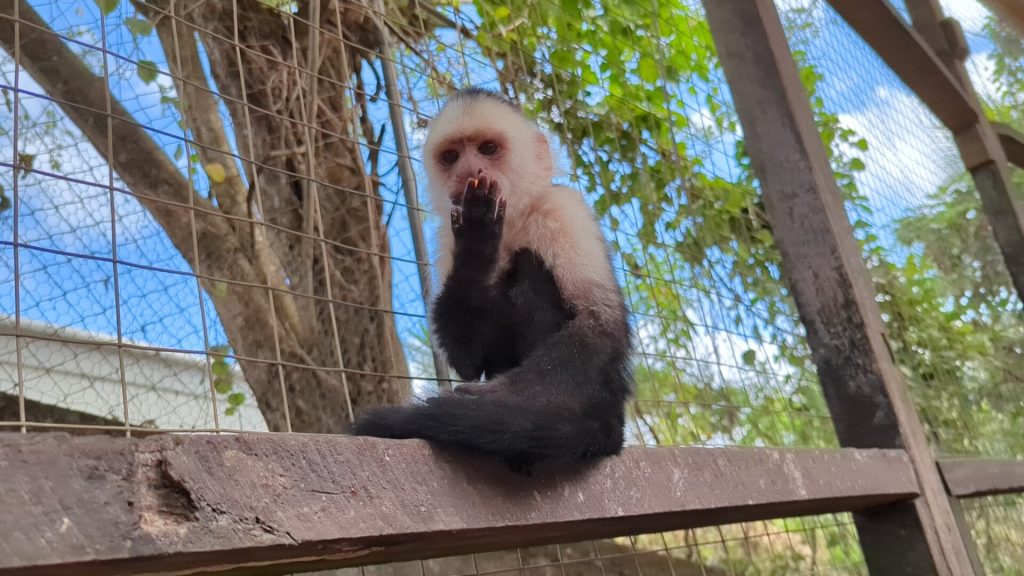 Lastly, we got to visit with some monkeys. Before entering this enclosure, we had to remove all loose articles and jewelry and put them in a cubby nearby along with our bags. The monkeys are notorious for going into pockets and getting new "toys" to play with. The keepers gave us some fruit to hold out for the monkeys, and they ran around the cage, jumping all over us and grabbing the food. A younger kid here found it too intense, but the adults all enjoyed it. 
Overall, we spent about an hour at AJ's Monkeys and Sloths. The sloths were definitely the highlight for me. The staff was all really friendly and the animals seemed well cared for. 
Arch's Iguana Reserve
Our next stop was an iguana sanctuary, a short 2-minute drive away. Arch's Iguana Reserve is one of the oldest animal parks and sanctuaries on the island. Our "tour guide" promptly greeted us, and although he wasn't the most engaging, he was attentive enough and provided some interesting information throughout our visit. 
Near the entrance, a large chainlink enclosure held baby iguanas. Normally, they'd give you time to hold the babies, but the guide said our group was too large.
Then, we started walking down a paved hill towards some buildings, where we saw around 50 large lizards lying around in the sun. They were lounging all over the area; the walkways, the stairs, and the dirt. They ranged from just a foot long to some that were several feet. It was impressive seeing all the different shapes, sizes, and colors.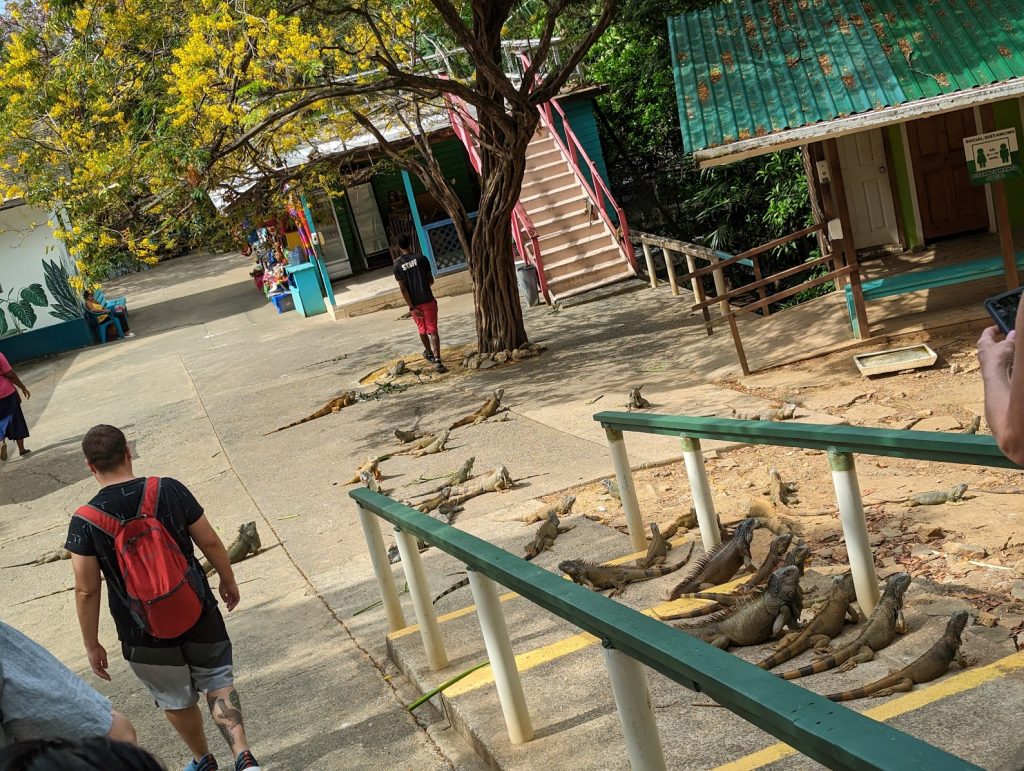 The guide gave us some 4-foot-long large plants with lots of leaves at the end to feed them. The lizards quickly ran over and made short work of the leaves, tearing them apart.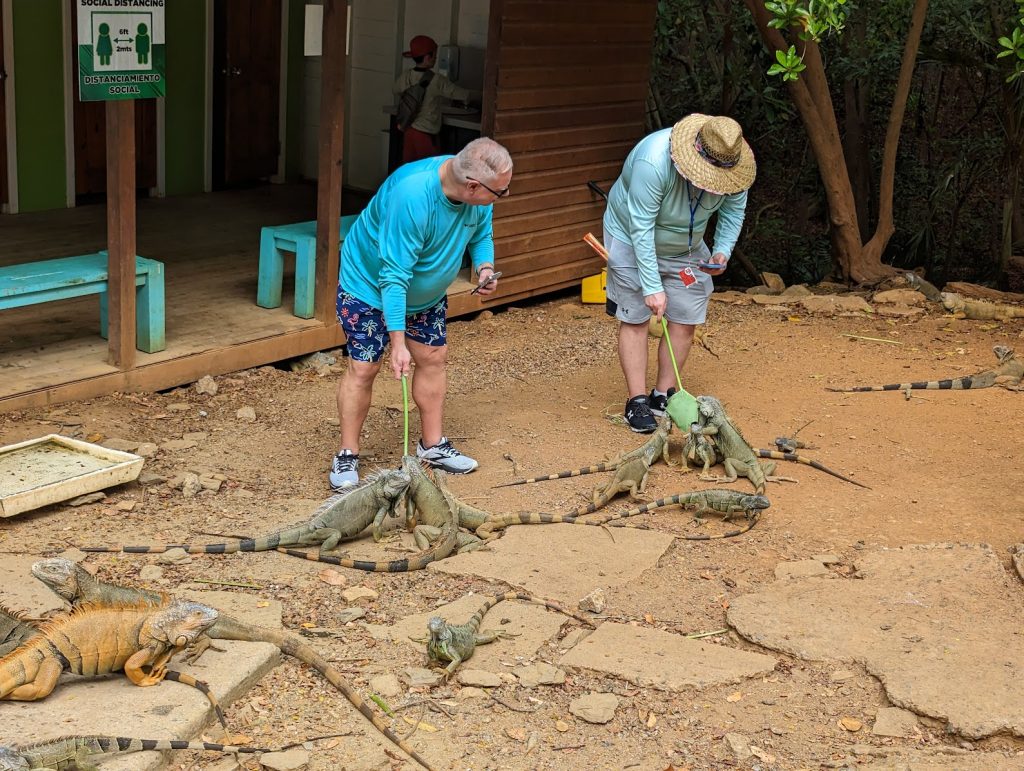 Lastly, we walked to the end of the facility to a dock to see some fish. The skies were getting overcast, and it started to rain, so we didn't spend long here. Without the sun, we couldn't see the fish in the water, just the massive commotion that'd happen when he threw some food in. 
Overall, we spent about 30 minutes at Arch's Iguana Reserve. 
Chocolate Factory and local shopping
Lastly, our tour bus headed to a "chocolate factory" and local shopping. It was in a cute little shopping center made of shipping containers. The place had restaurants and a brewery tasting room as well (the food wasn't open at this point in the morning, just the shops). 
The "Chocolate Factory" itself was just a little storefront. They specialized in organic, locally made chocolates and let us sample their different flavors. It felt very similar to the Perfume Factory tour I did in Freeport (follow that blog here), where the stuff is made locally, but you don't get the see that; you just have the chance to buy the goods. The chocolate bars were $5 per bar or buy four get one free (I ended up using that deal). 
I didn't mind this stop, but it wasn't really necessary. It took us 18 minutes to get to this shop, the longest travel time for this excursion yet, and driving there, we went right by the cruise terminal; it's not like it was on the way. I would have been fine skipping this part and going back to the beach in the port.
Celebration pit stop for lunch at Deco Deli
The tour bus dropped us back at the port at 12:30. The sky cleared up at that point, and we still had some time before our 4:30 all-board call. We wanted to head to the beach, but since we brought chocolate at the "factory," we decided to run back to the ship to drop off the candy bars. Also, we wanted to grab a quick bite to eat while back on the ship, since it was free, and then we'd head to the beach. 
Since it was midday, there were no lines to get back on the Celebration; we just walked right on. We quickly dropped off our chocolate and then went down to Deck 8 for a quick bite. 
Deco Deli, also called Carnival Deli on almost every other Carnival ship, is one of my go-to fast-casual lunch spots. In fact, I didn't realize how much I went there because on most ships, it's located in the Lido Buffet. However, on Celebration, it's a completely separate level (next to the pizza), so this time, I noticed that in the past, I wasn't going for the Lido Buffet; I was going for the deli.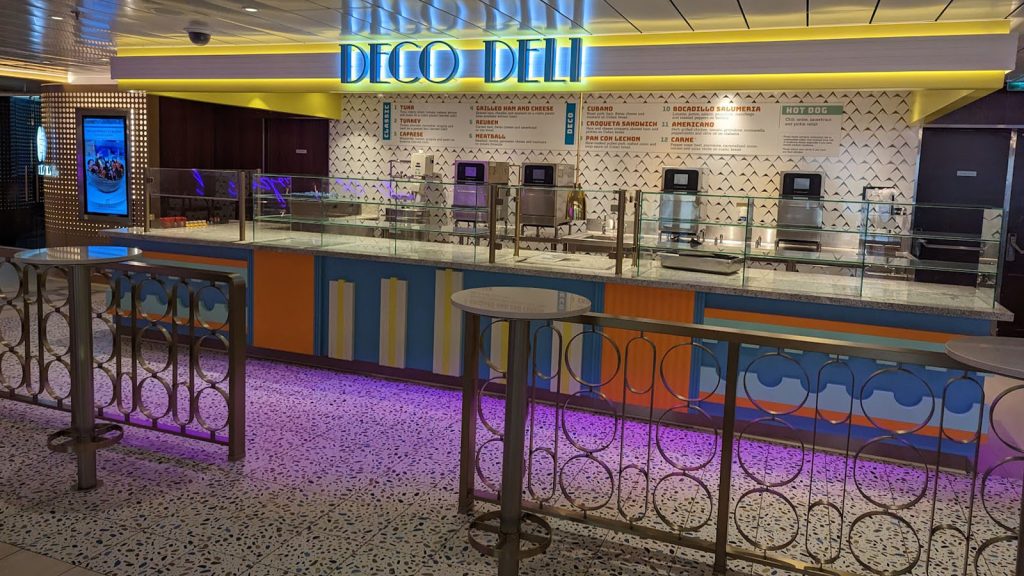 At Deco Deli, hot and cold sandwiches are made to order. My favorites are the ruben and the meatball sandwich, but you can also just get a hot dog if you want something simple and fast. Deco Deli has an array of 4 ovens that quickly heat all the sandwiches. They're pre-assembled but cooked to order and always taste so fresh. 
Over the course of the cruise, I probably went to Deco Deli for a quick bite at least 4 or 5 times, more than any other fast-casual place. The main reason was because it was so quick and conveniently located. 
The woman working here was cranking out those sandwiches. She always had a smile on her face while multi-tasking like a pro, working on 4 or 5 orders at once. She was terrific, but unfortunately, I never saw her name tag. 
Tip: If a member of Carnival staff goes above and beyond for you, note their name. Most guests will get a survey at the end of the cruise; mentioning that employee and what they did for you helps with their reviews and promotions. Of course, a good cash tip is always appreciated, but for a position like this where she's so busy and you can't easily give her a tip directly; it's still something you can do.
Ride to the Mahogany Beach on Roatan
After lunch, we headed over to the beach. Roatan has a free beach not far from the shops in the port. You have two options to get there: you can walk or take a chair lift. People said it was about a 20-minute walk, so we figured we'd try the chair lift to save some time. 
The chair lift costs $15 for adults (12 and up) and $9 for children (3-11). It's an all-day pass; unfortunately, you can't buy a one-time ticket. We paid for our ticket at the kiosk and went right over to the chair lift, and boarded immediately.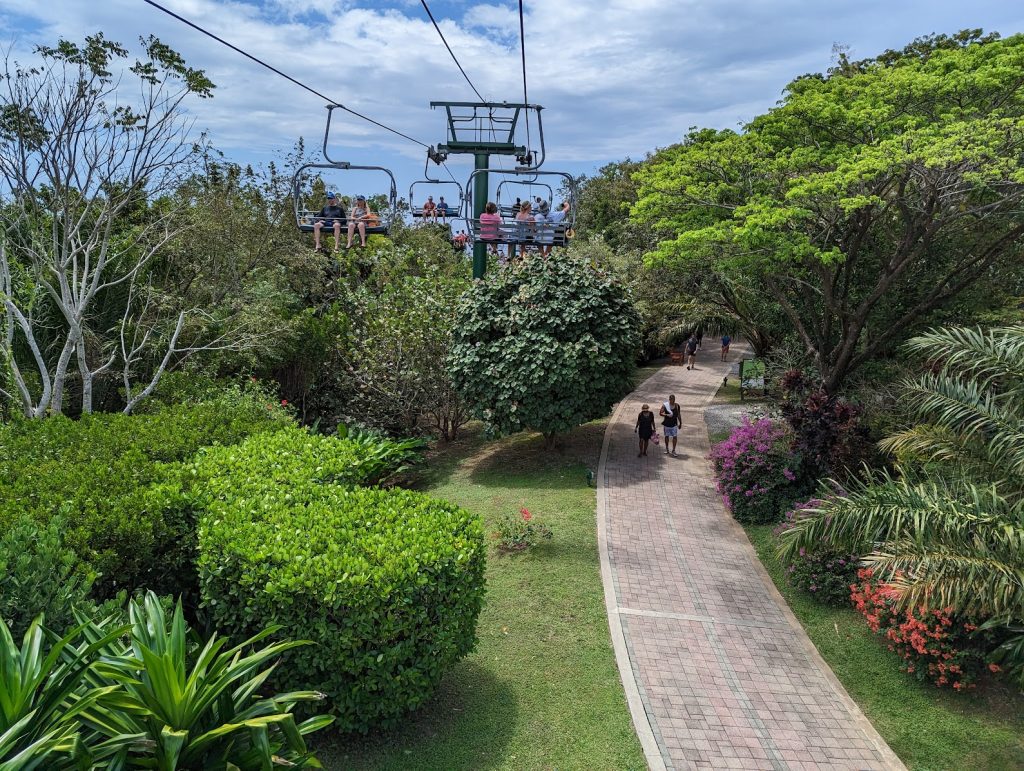 It was a nice ride, with a great view of the ship, the water, and a beautiful breeze, but we could have walked there faster. The chair lift seemed to stop constantly. Every time someone got on or off, the operator stopped it rather than let us keep a smooth ongoing motion.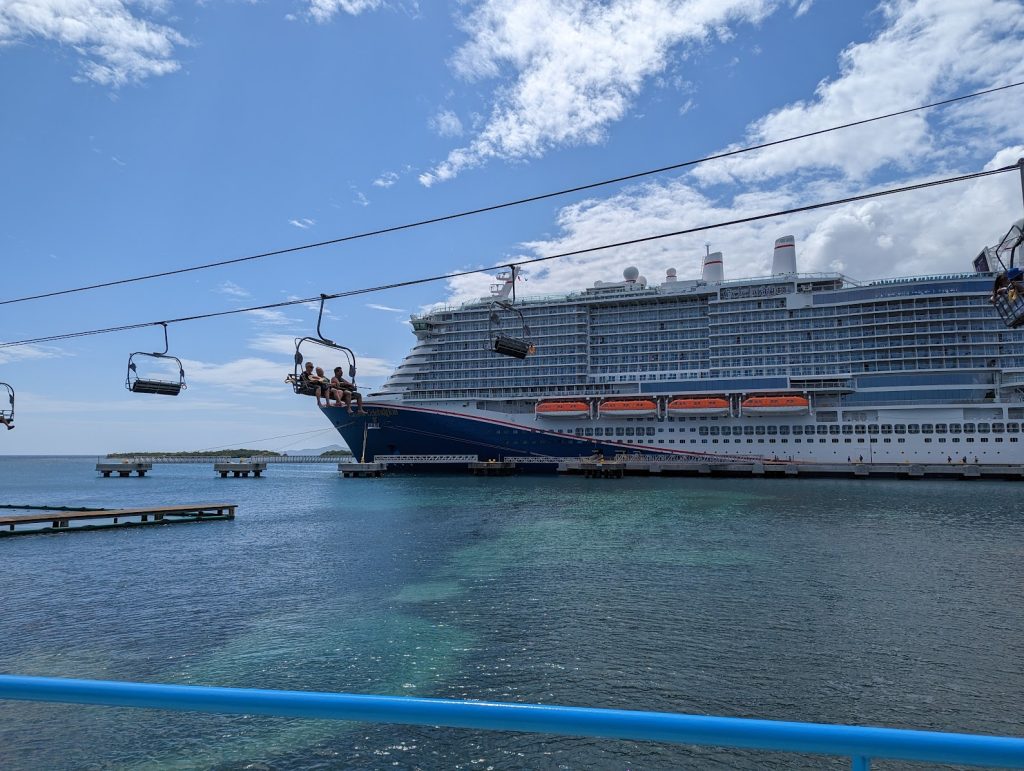 Overall, it took us 15 minutes on the chair lift to get to the beach. So in total, it was 30 minutes from the Celebration until we hit the sand. 
Mahogany Beach at Roatan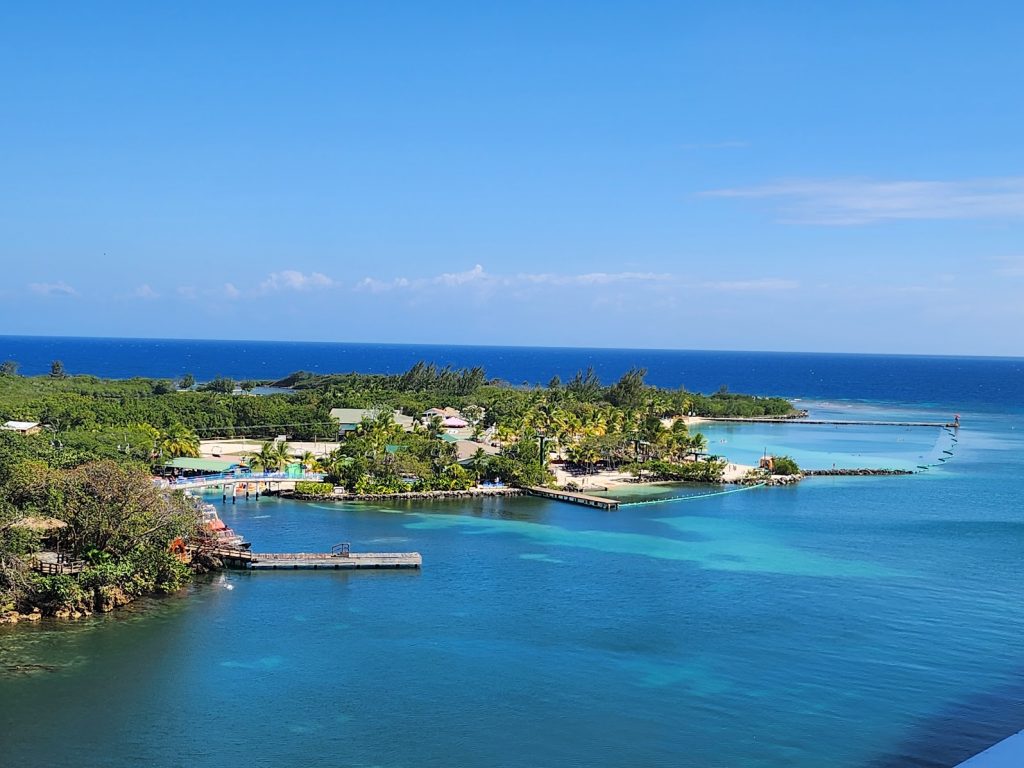 The beach here had white sand and beautiful waters, although not as crystal clear and turquoise as you might see in other parts of the Caribbean. A massive amount of free yellow loungers were available all across the beach, many in the shade of palm trees. While it was pretty crowded when we first arrived at the beach, plenty of seats were available once we walked down about 5 minutes.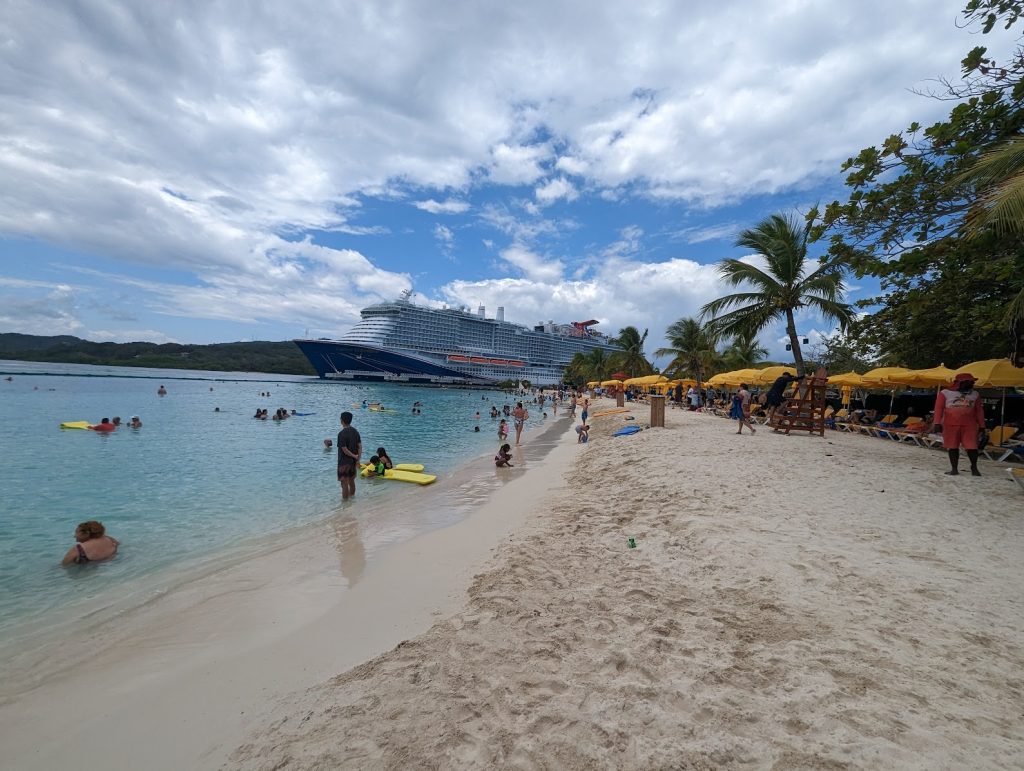 The beach had a restaurant and knock-off Fat Tuesdays a short walk away as well as restrooms. The prices weren't bad, $5 for a beer and $10 for a frozen drink. We didn't try any food because we ate on the ship to save money, but it looked excellent. 
You could rent various pieces of equipment for use on the beach, but we decided just to go in and enjoy the water since we only had a few hours. The water was calm. Walking in a few feet, you hit a deep gutter where the bottom dropped out (I couldn't touch the base, and I'm six foot), but it came right back to waist level. It kept most of the kids near the shore and the adults further in.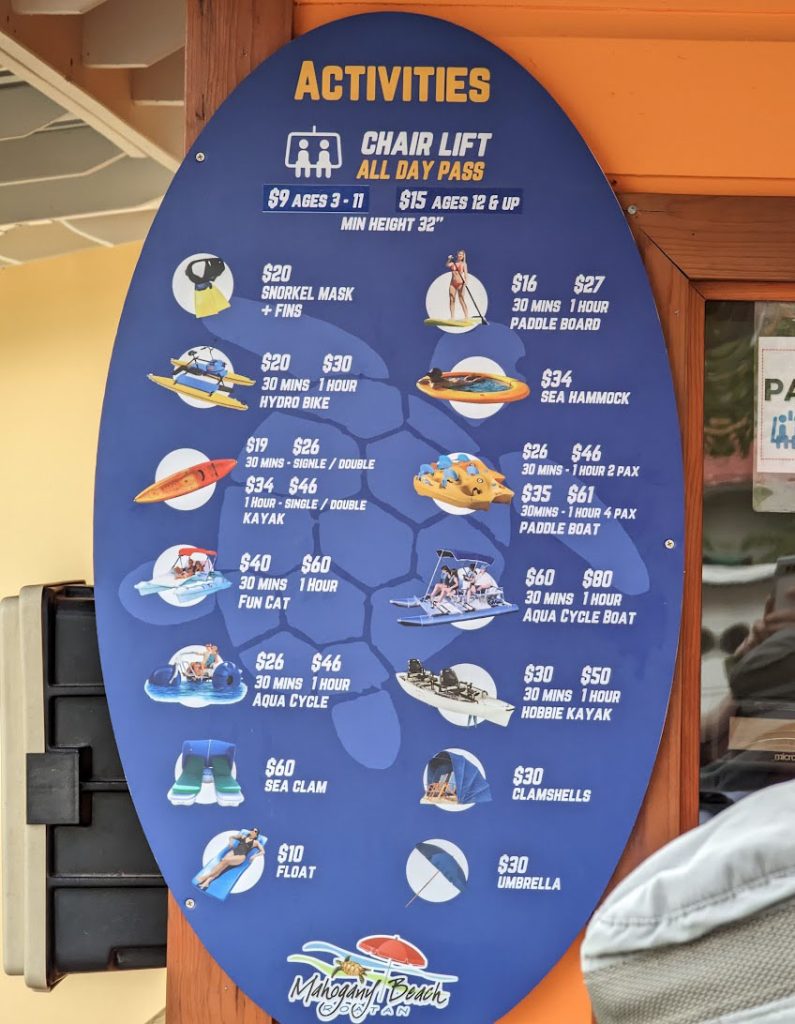 It was a perfect way to relax and end the visit in Roatan. In the distance, you could hear the booming music from the "VIP" section next door, but you couldn't see anyone there. They might have been inside, or maybe no one wanted to pay for that experience.
Shortcut back to the Carnival Celebration
We had our fill of the beach and decided to head back to the ship around 3:30 PM. This time, we didn't want to wait in line for the lift and instead opted to walk. We had two choices to walk back, a "nature trail" which weaves in and out of some woods and a main paved path. We tried the nature trail.
We were the only ones walking along the trail, and it was so quiet and serene. Halfway through, we had a great photo opportunity of the ship that we would have missed otherwise. We saw iguanas and birds all along the paths.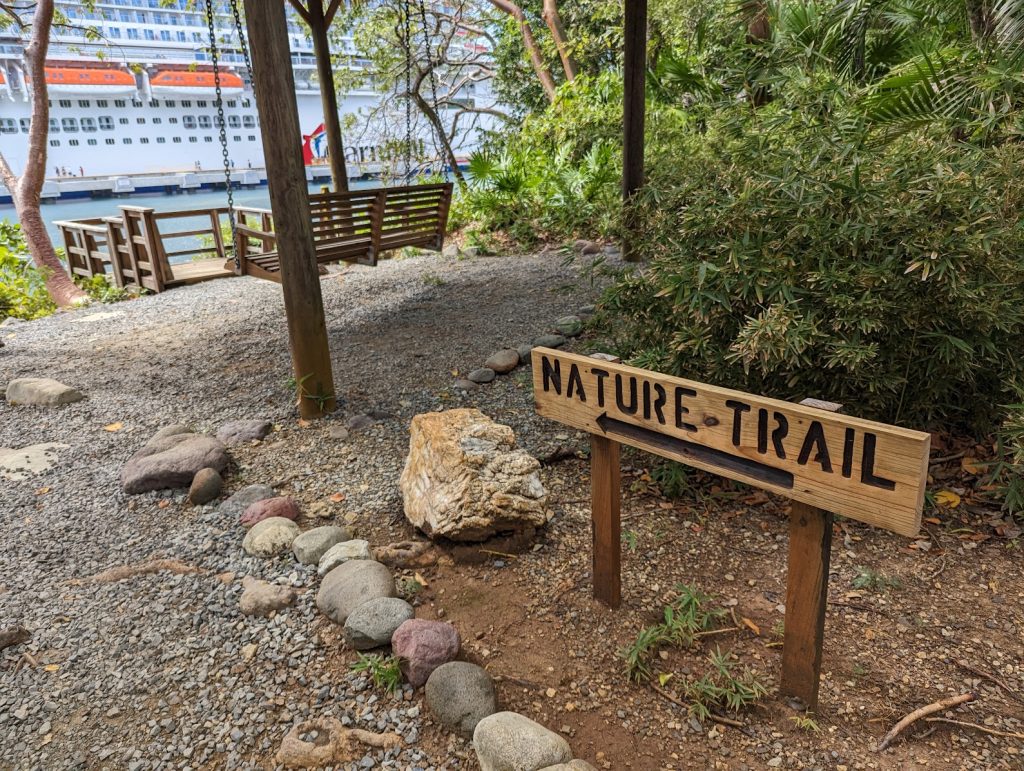 The best part of this trail was that it was a shortcut. It let us out directly next to the gift shop/terminal exit. The other path and chairlift let you off in the middle of the shopping plaza, and then you have to walk through the plaza and down a hill to the ship. The nature trail only took 5 minutes, 1/3 of the time of the chair lift. 
Overall, Roatan was an easy port to get around and made for a relaxing beach day. It was 20 minutes from when we left our lounge chairs until we were in the security line for the Celebration. 
Snacks at Java Blue Cafe
We felt a bit hungry once back on board, so we stopped by Java Blue Cafe for some snacks. I'm not a coffee drinker, so I rarely go to Java Blue, but on Celebration (and the other Excel-class ships), they also have snacks and sandwiches. 
Java Blue is split into two sides: coffee and food. A variety of sandwiches were available, which they'd heat when ordered (similar to the deli). The sandwiches were all available at no charge. I decided to try the beef empanada which was tasty, but not the most flavorful.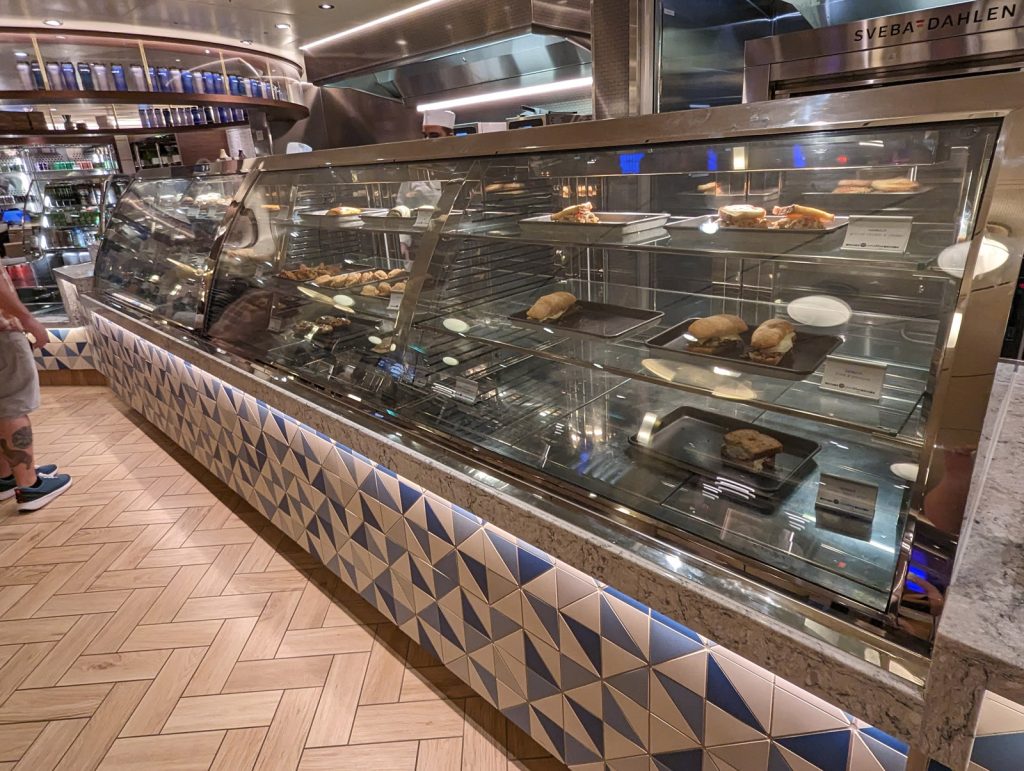 They also had a selection of premium desserts for an additional cost. I couldn't say no to the maple bacon donut which had a layer of caramel on it. It was only $3, which was a reasonable price for what you got. Right before leaving for this cruise, we went to a premium donut place in Miami and paid more per donut.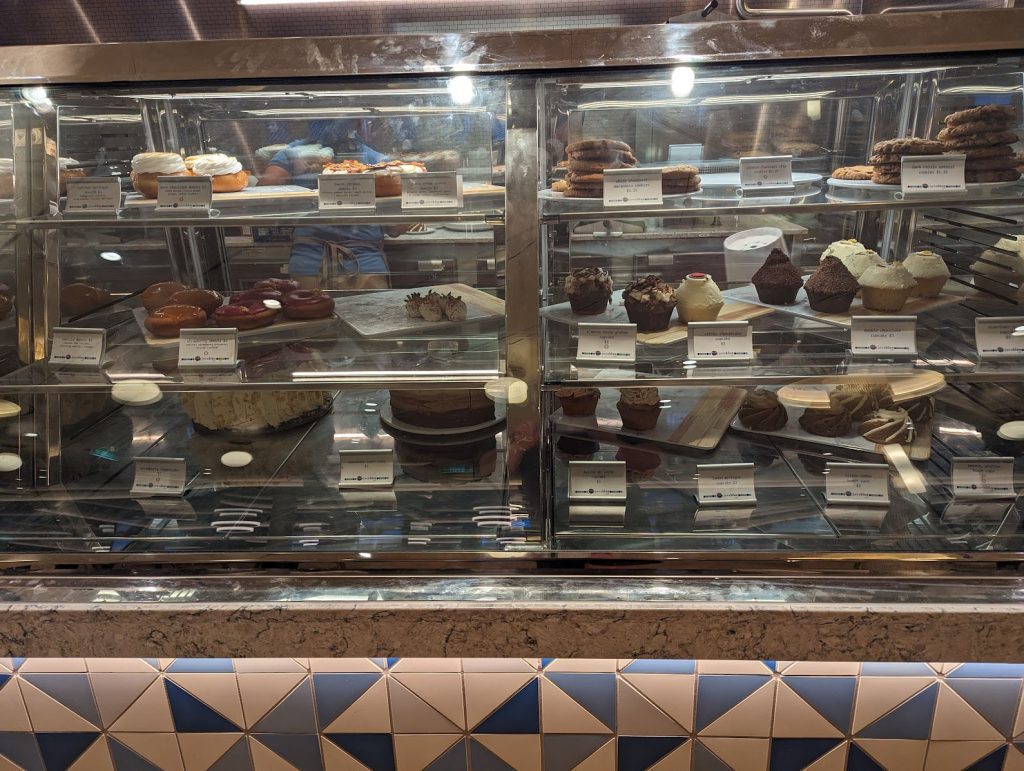 I wanted to get a soda with my bottomless bubbles soda package while I was there, but I was told if I got a can from Java Blue, I'd have to pay. However, the cashier said it would be free if I went across the way to the Tropicale bar (literally 30 feet away). It was annoying; I paid for all the soda I could drink, yet now there were hoops to jump through. Stop being cheap, Carnival; your guests are noticing. 
Dinner in the Main Dining Room
I took a well-deserved nap back in my cabin, which led to a later dinner than usual. At 6:50, we used the HUB app to check in, and it said less than a 10-minute wait, so we slowly headed down to the dining room level to wait. 
Ten minutes turned into twenty minutes. A twenty-minute wait for dinner is not bad during a peak time, but it was double the promised waiting time. It was weird how earlier in the cruise, there was no problem with the wait times, but this was the second time this sailing we had an issue. This time, we kept getting an odd message on the phone to "check our status." We had never seen that before, so it could have been a technical issue this evening. 
Thankfully, we were seated as soon as we got to the hostess stand. Our assistant waiter, Joseph, immediately greeted us by name (even though we didn't tell him yet) and took our drink order. It was so impressive. Our main waiter, though, was much less attentive. We were almost like an afterthought to him, and he barely made eye contact, even when we ordered.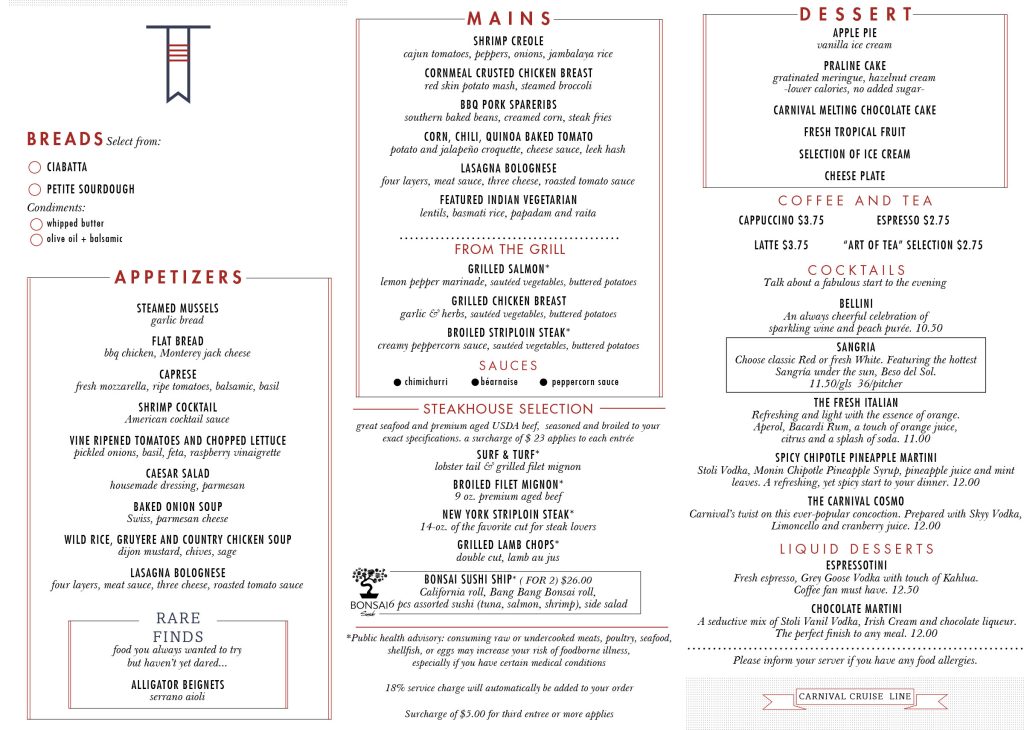 For dinner this evening, I got Lasagna Bolognese. It was decent, but nothing to write home about. If I'm comparing apples-to-apples, Royal Caribbean did this dish better on my November sailing of Harmony of the Seas (read the cruise blog for that sailing).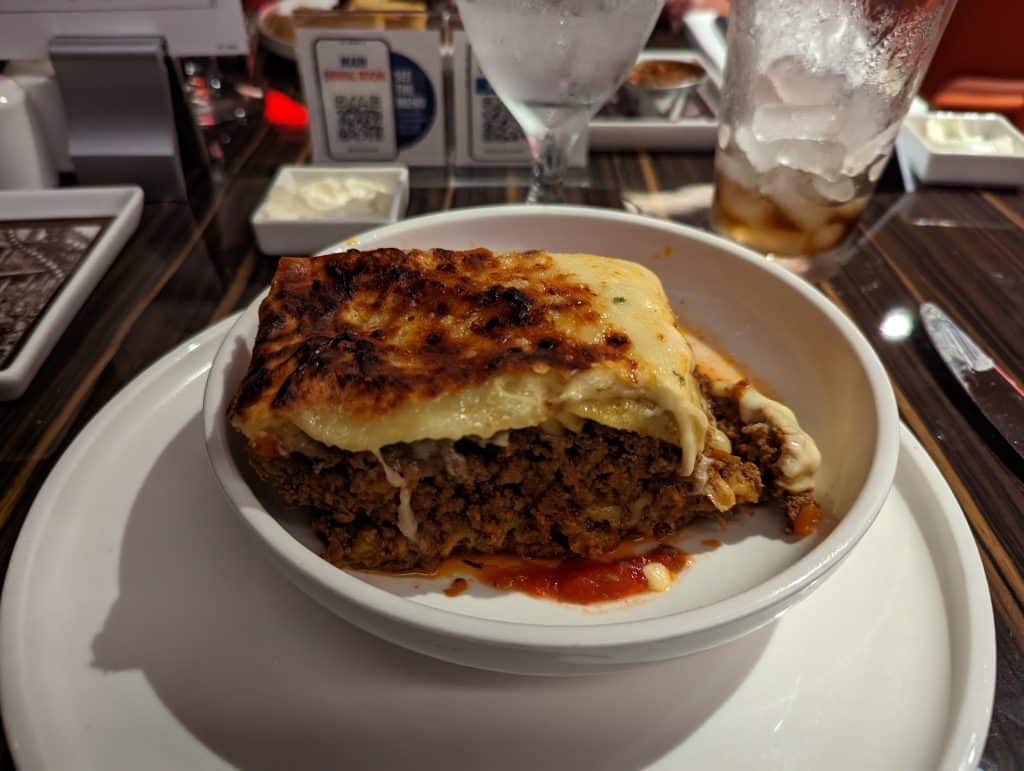 Overall, dinner took about an hour. During dinner, someone asked us if we wanted to make reservations for Chibang (see menu here) for the following evening. That night would be "Elegant Night," and they'd be serving lobster in the dining room. He made sure to point out we could also get lobster at Chibang as well. 
I've heard stories of the Main Dining Room becoming an absolute disaster on Elegant Night because everyone went there instead of other dining venues. I'm guessing that's why they had someone coming through trying to get people to go to Chibang instead. We politely declined; the menu in the dining room looked better for the next evening, and we weren't blown away by Chibang. 
Friends Trivia in Havana Bar
After dinner, we decided to try Friends Trivia in the Havana Bar. Carnival has no shortage of trivia across the ship, from general trivia to specific niche trivia like Golden Girls. Usually, it's during the day, but this sailing, they also had evening trivia. 
The trivia took place in the Havana Bar, which we hadn't visited yet this sailing (5 days in, and there were still venues we hadn't stepped into). It's a Cuban-themed bar located off of Celebration Central. During the days, Havana Bar would be filled with people playing dominos or cards or having random events. Most evenings, it'd be filled with lively Latin music and dancing.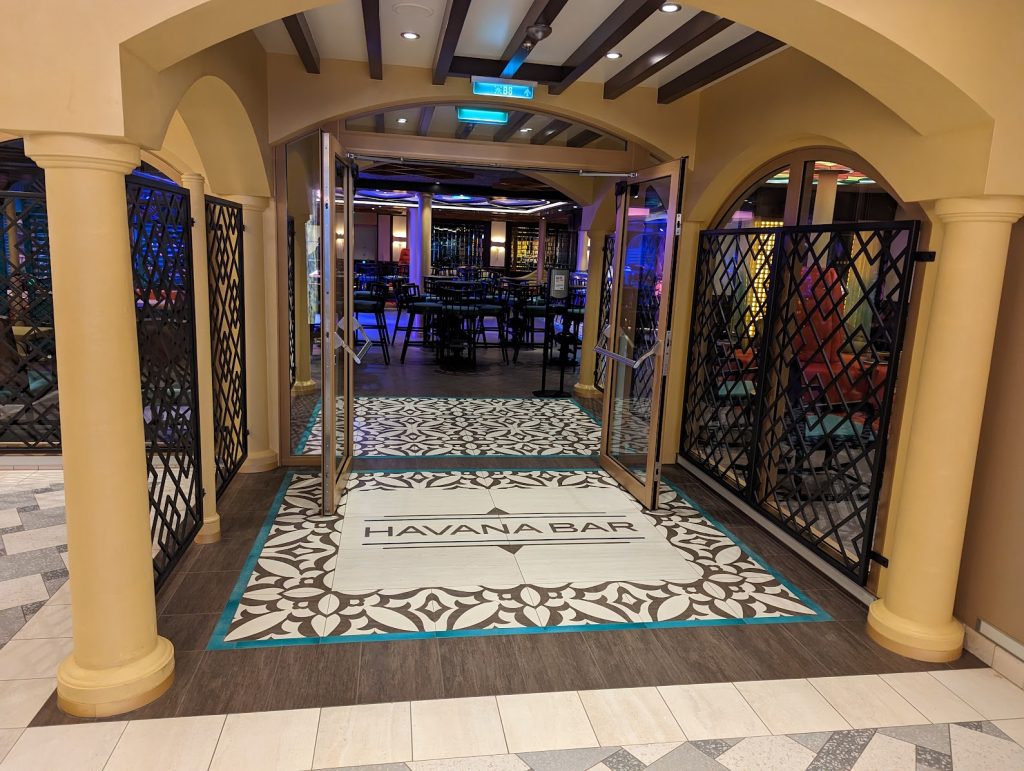 It's also the gateway to the Havana Area, a dedicated pool and lounge area available exclusively to Havana guests. The Havana Bar is open to all guests, but the Havana Area is only accessible to guests staying in Havana rooms. I don't know why Carnival couldn't come up with a separate name for this area (or for the bar), but they have a knack for naming things very poorly and confusing guests. 
The Friends Trivia was written by Fun Squad member Gabby, who we saw host Family Feud live a few days prior (read more here). I like that Carnival lets their entertainment staff write and execute their own trivia and activities. You feel the passion and energy for the topic when they do that, unlike Royal Caribbean, where you see the host try to read a question off the card and not even know what it means. 
The trivia was well-written. Gabby put together 30 questions that could stump even the most hardcore fans. The crowd was getting into it and seemed to enjoy it. I've seen every episode of Friends at least ten times, and yet I only got a 17. 
Deal or No Deal Game in Celebration Central
Around 9:30 PM, we stopped by Celebration Central to see the "Deal or No Deal" game. I expected it to be more like the other gameshows I've seen on cruises (Family Feud on Celebration, Price is Right on Prima). Instead, the game show was more like a glorified bingo game. 
To have a chance to play Deal or No Deal, you have to buy a card; $25 for 1; $40 for 2. It's not just a chance to get on the stage, though; you can also win prizes as the game goes along based on the suitcases the player picks and what's on your card (again, kind of like bingo). 
The place was packed. We were on the first level and the only way to see was to watch the pole-mounted TV screens. Again, it shows how poorly this place was designed for shows. It's not a bad space in itself, and it works great for dance parties and live music where you don't have to see the stage. But Carnival keeps scheduling events where you need to have a good view to enjoy it. 
The audience was really into the game, but I wasn't feeling it. Of course, I never enjoyed the game at home, which could have something to do with it. The host's personality was also a bit grating. He kept saying, "you're doing good, doing good," constantly, even if they were losing money. He didn't have much rapport with the audience or the player either. 
Checking out other evening activities on Celebration
Nothing on the agenda struck our fancy after Deal or No Deal, so we decided to walk around and see what was interesting. We headed back to the Piano Bar, where the place was full of energy. Tatsu was playing crowd favorites, and there wasn't an open seat in the house. Like the previous night, people would frequently get up and move to another bar, so seats would open up pretty quickly.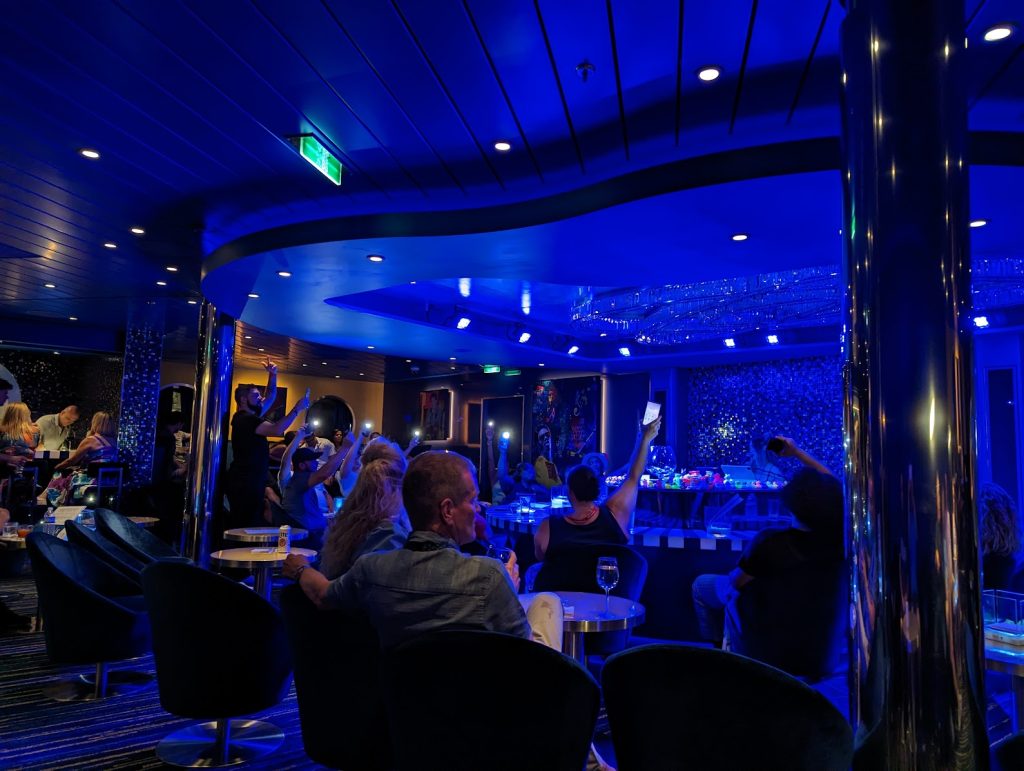 At 10:30, I saw crowds of people flocking to Celebration Central. They were going for the Motown Showdown with the cruise director, Chris the Flying Scotsman. I took a quick bathroom trip (which had a long line, the Celebration bathrooms are the worst) and then checked out the Motown Showdown before returning to Piano Bar 88. 
Celebration Central was painted blue by LEDs and the vibrant video backdrops. The cruise director was on stage leading the singing and dancing. All the seating from the bottom floor was removed so guests could use it as a dance floor. This event was a much better use of Celebration Central than the shows that I saw before.
The audience was really into it; some of them were even dressed up for the occasion. I never would have thought a Motown Party would have been one of the biggest events on the ship, but people were excited about it. That's probably why, right now at least, it's one of the only events that's consistent across almost the whole fleet. (see which Carnival theme parties are on which ships here)
I went back to the piano bar for some more music. Around 11:30, we decided to call it a night and head back to the cabin. On the way back, we stopped to check out the Limelight Lounge. Starting at 11 PM, the space would transform into a nightclub complete with a DJ.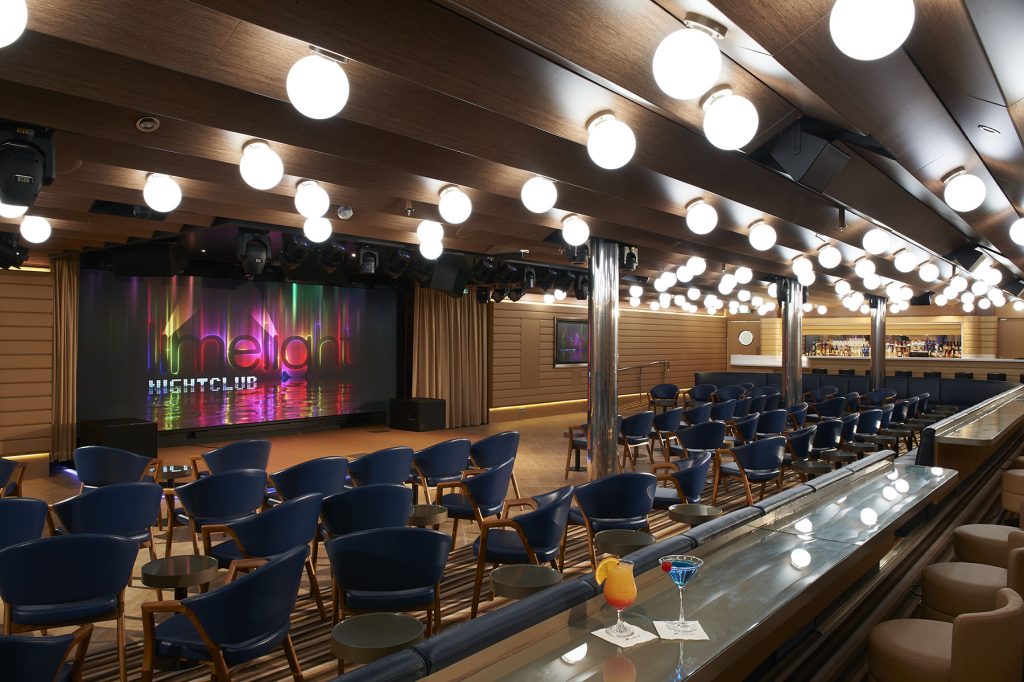 I've always found the "nightclub" events on a cruise ship to be very hit or miss. In this case, I walked in, and the dance floor was empty. The place itself had quite a few people, but they were all standing along the sides of the room socializing; it felt like a middle school dance. It was awkward enough that we immediately turned around and left. 
This example illustrates one of the hardest things to predict about a cruise. It's not just if the ship has a dance club or if it has a good DJ; it also needs to have people who enjoy that kind of event. This sailing was a spring break cruise with lots of families; maybe the demand for that kind of entertainment wasn't as high on this sailing. I've read other stories about the Celebration where the nightclub was hopping all night long, so it all comes down to who is sailing with you. 
Follow along on the rest of our Carnival Celebration cruise
Carnival Celebration – Cruise Blog - Day 1 – Miami
Carnival Celebration – Cruise Blog - Day 2 – Sea Day
Carnival Celebration – Cruise Blog - Day 3 – Cozumel
Carnival Celebration – Cruise Blog - Day 4 – Costa Maya
Carnival Celebration – Cruise Blog - Day 5 – Roatan
Carnival Celebration – Cruise Blog - Day 6 – Sea Day
Carnival Celebration – Cruise Blog - Day 7 – Sea Day
5 Hits and Misses on Carnival Celebration
If you want to stay up to date with what we publish, sign up for our monthly newsletter
CruiseSpotlight is an Amazon Associate. We may earn a commission when you click links to retailers and purchase goods.