Carnival Celebration – Cruise Blog – Day 6 – Sea Day
Day 6 was the first of our last two sea days aboard the Carnival Celebration. It gave us a great opportunity to both relax and explore the rest of this mega ship. 
Day 6 Overview
Carnival Celebration Day 6 Fun Times
Getting a late start on the Celebration
For the last three days, we had to be up and out of the cabin before 8 AM (at the latest). Today, I had the opportunity to sleep in a bit which was much needed. I slept until around 8:45, much later than I'd usually sleep at home. I was surprised I wasn't woken up by announcements, slamming doors, or kids running up and down the hallway. This room really was quiet.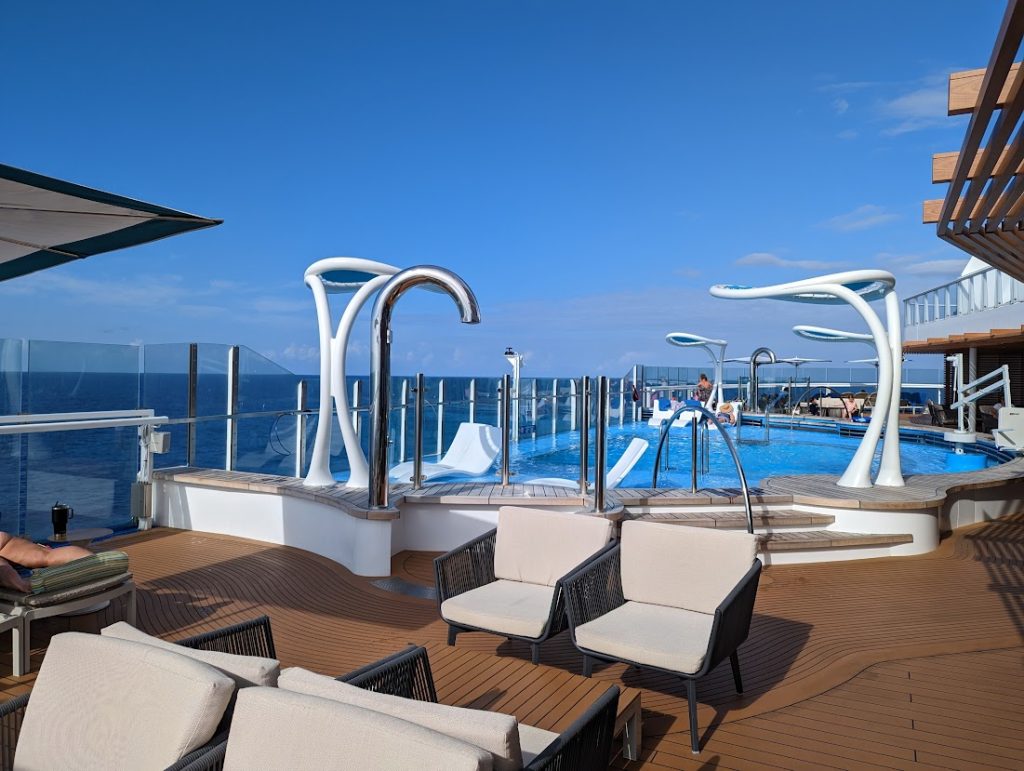 Meeting our cabin steward
As we headed out to breakfast, we had a chance to meet our cabin steward Bagus. I met him briefly on day one when he stopped by to introduce himself, but that was all. Still, he knew our names upon seeing us in the hallway. He asked how our cruise was going and if everything was to our liking.  
In the old days, you would see your cabin steward multiple times per day throughout the cruise. They could always be found somewhere in your hallway, making up rooms or providing turn-down service. They'd often make conversation or at least offer a warm greeting.
Unfortunately, that's a thing of the past. Carnival has cut stateroom service to once a day (it used to be twice) and increased the amount of work each steward has to do. As a result, cabin stewards don't have time to make small talk, and they're spread out so much you rarely see them.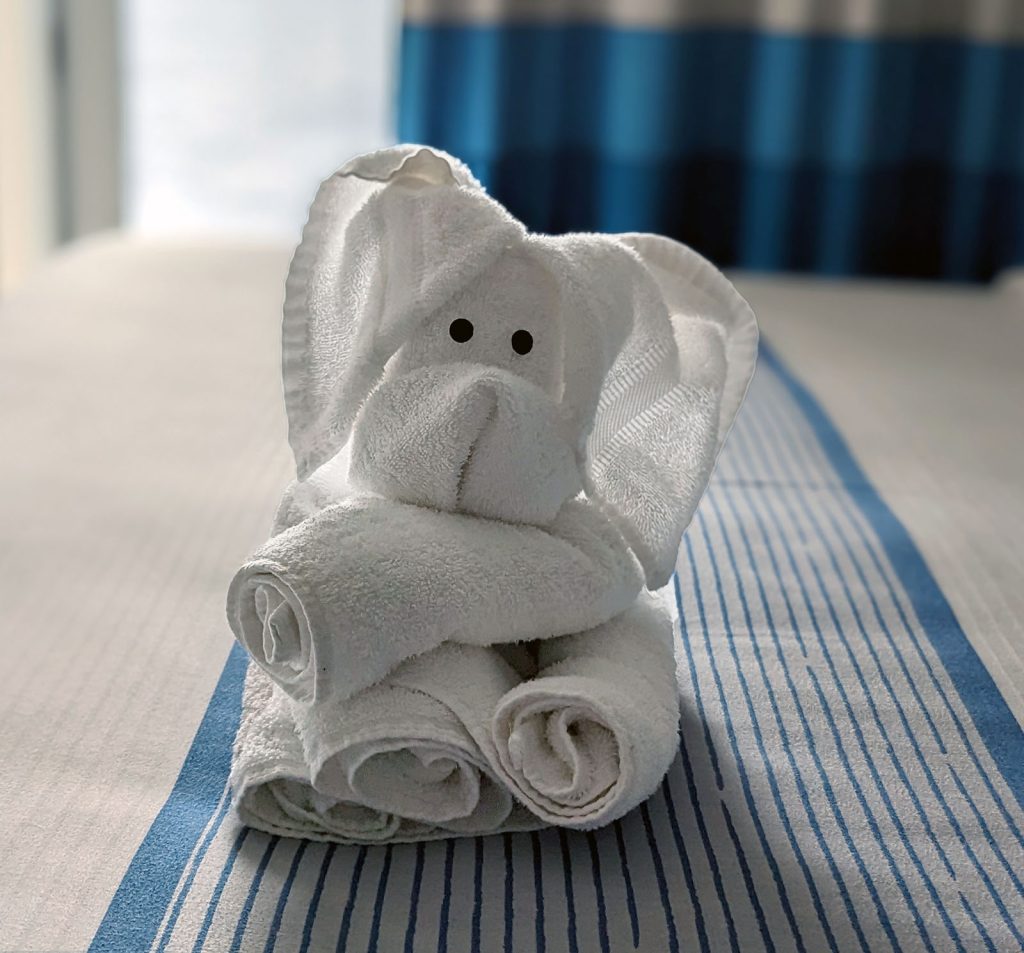 If you need your room steward for any reason, contacting them is still easy. They leave a calling card in your cabin, and you can reach them anytime with a request or question. In our case, Bagus was top-notch. He kept our cabin in perfect shape, and each day we got a fun little towel animal; we just didn't get to see him much. 
Overall, it's not the same service you used to get. New cruisers might not notice it at all, but for established cruisers, it's definitely different and a clear service cutback. I also felt bad for the cabin stewards, they now have even more rooms to clean, and with the lack of interaction with guests, they're less likely to get additional tips. 
Guy's Pig and Anchor for breakfast again
For breakfast, we returned to the Guys Pig and Anchor Smokehouse for the buffet breakfast. It wasn't worth returning to the chaos of the Lido Marketplace for similar food (read more here).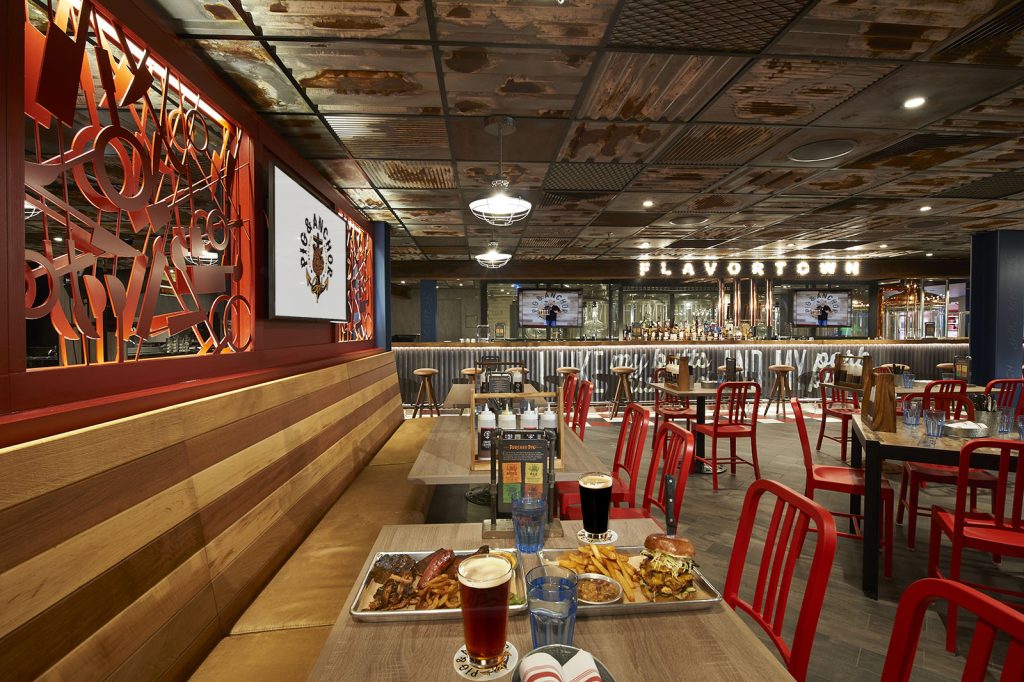 While there, I noticed something I disliked about this place for breakfast: a complete lack of ambiance and ocean views. On previous cruises on the Ovation of the Seas (read the cruise blog) and Harmony of the Seas (read the cruise blog), I loved breakfast at the Solarium Bistro because it had amazing views, a relaxing atmosphere, and no lines.
Guy's Pig and Anchor Smokehouse had the same lack of crowds, but it didn't offer the same ambiance. I didn't notice it as much on previous days because I grabbed food quickly before getting onto excursions. On a relaxed day like today, I wanted to appreciate the beautiful sun and Caribbean weather, but Guy's Pig and Anchor has no windows and almost no natural light. 
Quiet morning in Celebration's Serenity Area
At around 10:30 AM, the ship was still eerily quiet as most guests seemed to be getting a late start. We headed over to the adults-only Serenity Area and were able to get loungers overlooking the ocean fairly easily.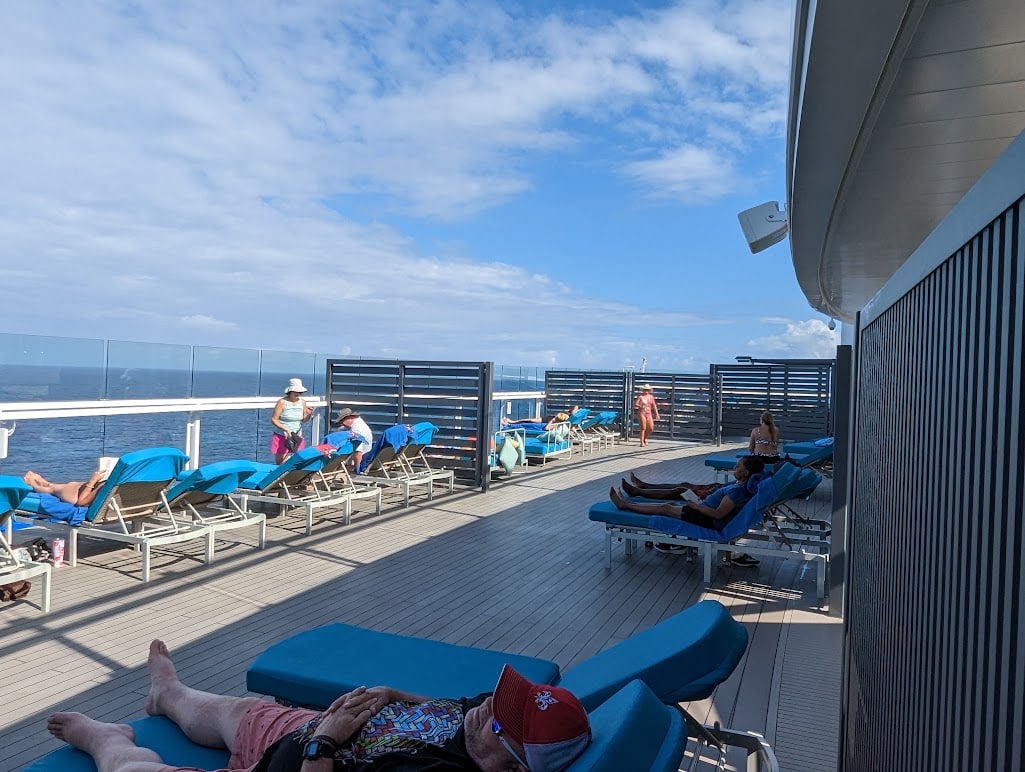 Today's weather was much warmer than our previous day in the Serenity Area (read more here), so we frequently had to go to the bar to get drinks. We were in the area from 10:30 until around 1:30, and I rarely saw a waiter come by for drink service. Of course, it could be because we were relatively close to the Serenity Bar, but I thought it was odd. Thankfully, the line at the bar was always very short and moved quickly; I never waited more than a couple of minutes.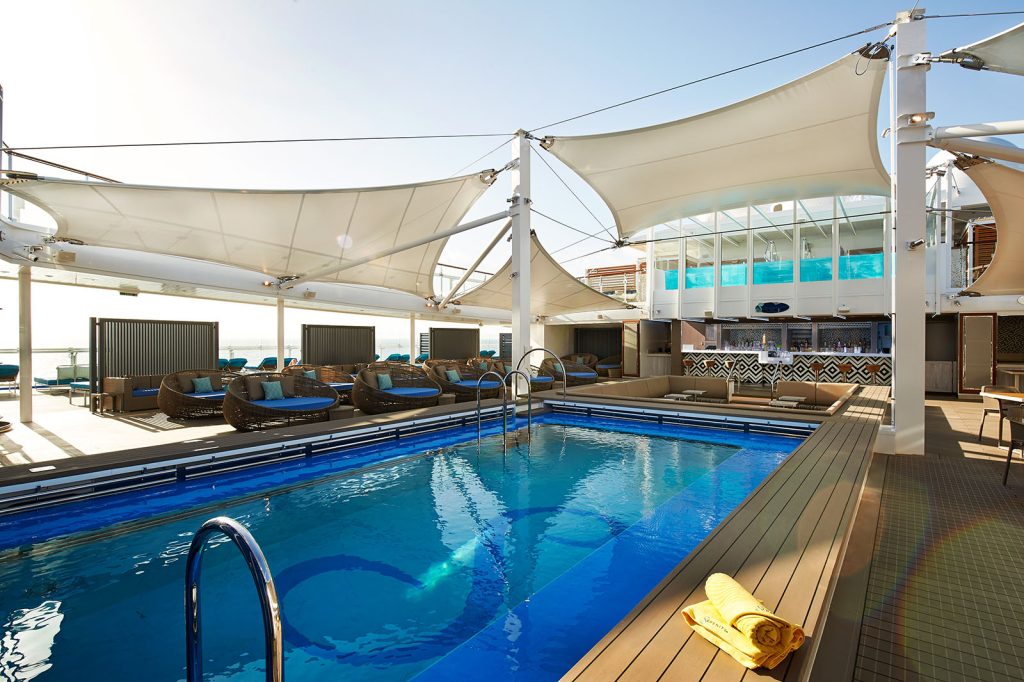 With it being a warmer day, we also made use of the pool in the Serenity Area. Located in the center of the deck, the Serenity Pool had fabric canopies over it, offering relief from the bright sun. But because of that, the water wasn't as warm as if it were in the sun. Many people sat sitting along the side of the pool with their feet in the water rather than being in. In fact, the sides of the pool were all occupied, but the center was wide open. We went into the water and stood in the middle to cool off. 
I don't know why more ships don't put in more shallow plunge pools with seating instead of full-depth pools. On so many cruisers, you see people crowding on the outside, and the center is completely empty (at least for adult-only pools, if kids are allowed, they're usually swimming in the middle). Royal Caribbean did it right on their Quantum-class ships, offering tiered plunge pools instead of full-depth pools. These accommodate much more adults and are more useful.
LOFT 19 "premium" area
Sitting in the pool, I caught a glimpse of Carnival's LOFT 19. It's their exclusive area located at the top of the ship on Deck 19. Guests in Excel-level suites have access to this area. On top of that, the area has 12 cabanas that can be rented out by anyone on board (although Excel-level guests get priority booking). They're not cheap; they go for $2,000 for a week (plus 18% gratuity). On our sailing, they were discounted to $1,700 about a month before the cruise. For that price, five people can have access to the cabana and can get fresh fruit, lunch delivery, plush bathrobes, six bottles of water, and a bottle of sparkling wine.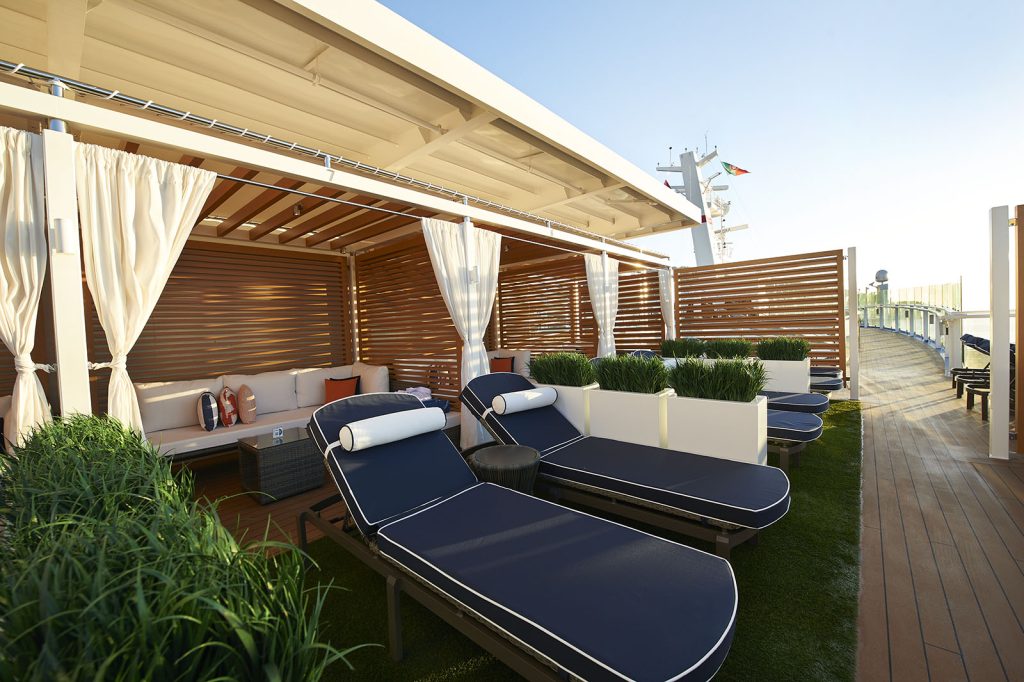 The LOFT 19 area overlooks the Serenity Deck. A big flaw in this design is the complete lack of privacy for the "premium" space. LOFT 19 has a sizeable infinity whirlpool, but they stationed it overlooking the Serenity Pool. It has a glass side, so the guests in the Serenity pool look up and see the people floating around in the LOFT 19 pool. The angle and the views aren't flattering. Several guests were in the pool leaning on the side, not noticing that everyone saw their belly/body pressing against the glass and on full display.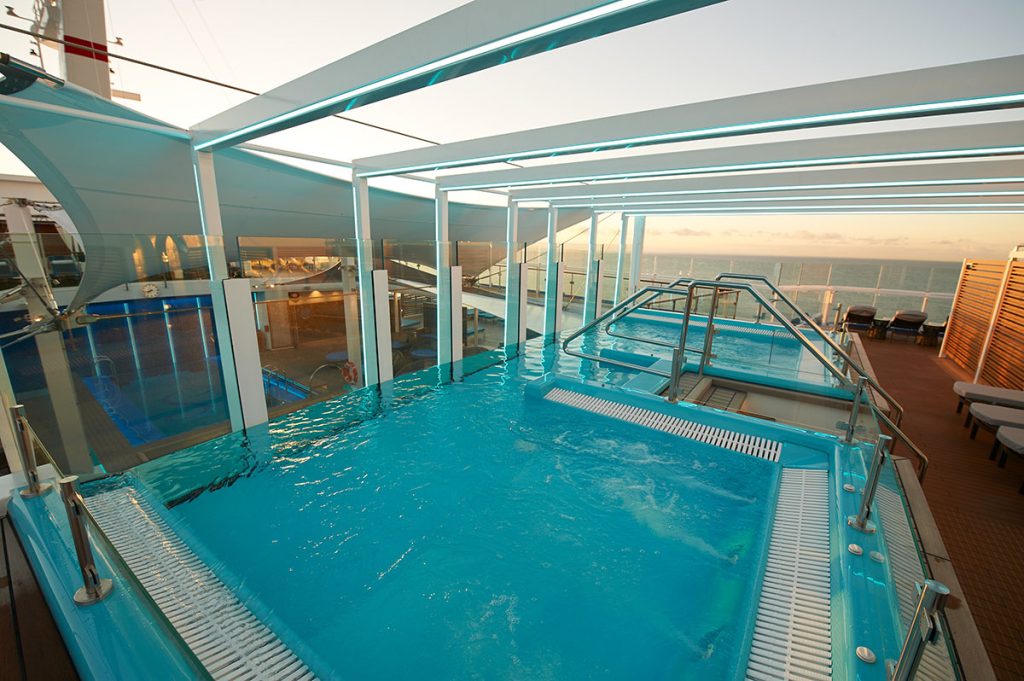 By 1 PM, Serenity filled up, and guests grabbed all the chairs in the shade. Quite a few loungers were still available in the full sun in both the Serenity Area and the regular deck area. It was quite impressive for a ship this size sailing at full capacity to have so many loungers available still on a sea day. I've read so many accounts of people saying they couldn't find a chair, and I think it's because they're hoping for one right next to the pool or in full shade. But, of course, a ship can only have so many of those. 
Blue Iguana Cantina and Street Eats for lunch
Around 1:30, it was time for lunch, so we decided to check out the Lido Deck offerings again. I went to Blue Iguana Cantina, and even though it was prime time for lunch on a pool day, the wait for tacos was only 5 minutes. I got two fish tacos and a pork taco and then topped them up at the salsa/topping bar. I again got frustrated because Carnival doesn't provide tortilla chips at their taco place. In the old days, I'd get a taco salad and use that shell to try all the delicious salsas, but they no longer offer that. It's another clear way you can see Carnival cheaping out.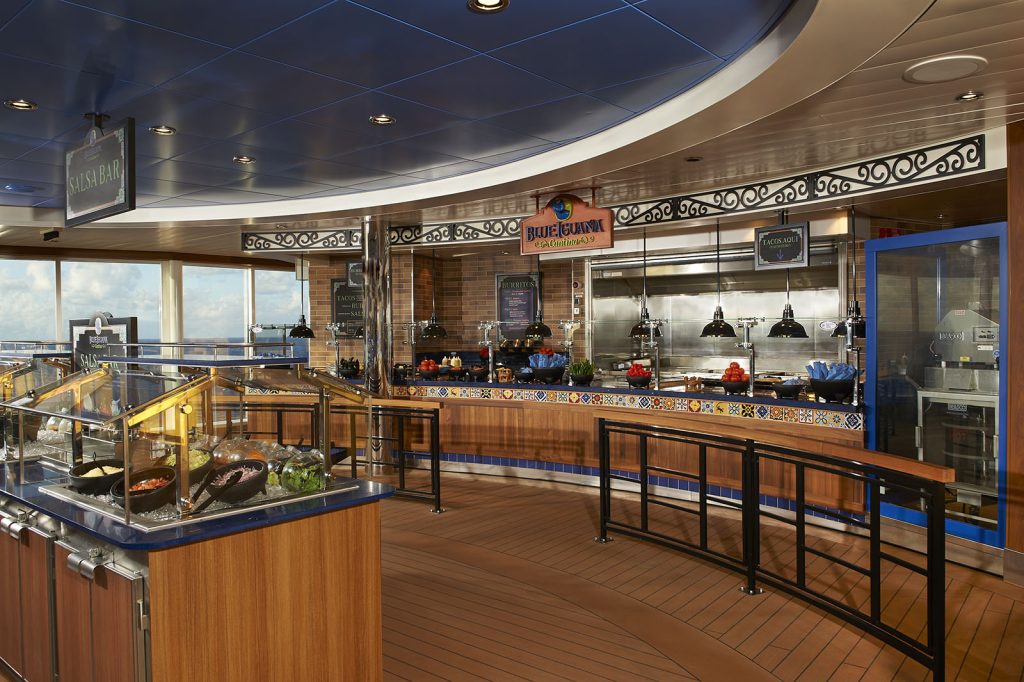 I also stopped by Street Eats to visit the Time Fries and Mad Sizzle booth (see the Street Eats Menu here). The wait for both was about two minutes. The Loaded Fries were topped with smoked beef, sausage, manchego cheese, and a chimichurri sauce. It was quite tasty and made for a great side/snack to my tacos. I really enjoyed how many small bites Carnival had around the Celebration as it let me try a lot of different types of foods without getting full or wasting the food.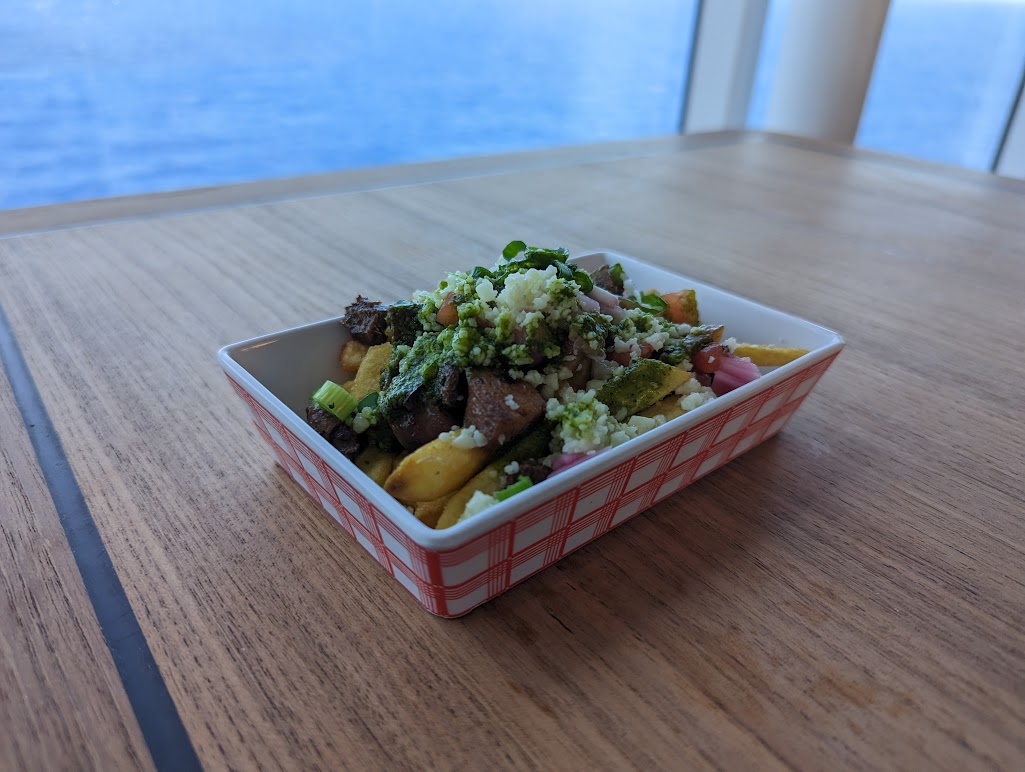 As I ate lunch in the Lido Deck, the pool area had the Fun Squad leading people in more line dancing. It had to be at least the fifth time I saw the Cupid Shuffle and Cha Cha Slide on the cruise. It was kind of exhausting to hear it yet again, but there was a crowd, so I guess Carnival knows what people want. 
Disappointing exterior promenade seating on Celebration
After lunch, we decided to find somewhere else to sit as we already spent quite a few hours in the Serenity Area. So, we headed down to Deck 8, which has an exterior promenade called the Lanai. On the Carnival Horizon, this area was one of my favorite areas; there were tons of seating options, lots of shade, and few people used it (read about that cruise here). On the Horizon, it also wrapped around 3/4 of the ship, so there was a lot of space.
I was really surprised to see how this area on the Celebration was a step backward in comparison. Beforehand, I saw lots of pictures of comfy seating and relaxation options in this area, so I was excited to check it out. But, in reality, the premium kind of seating was in just a small section of the Lanai, and they were all taken.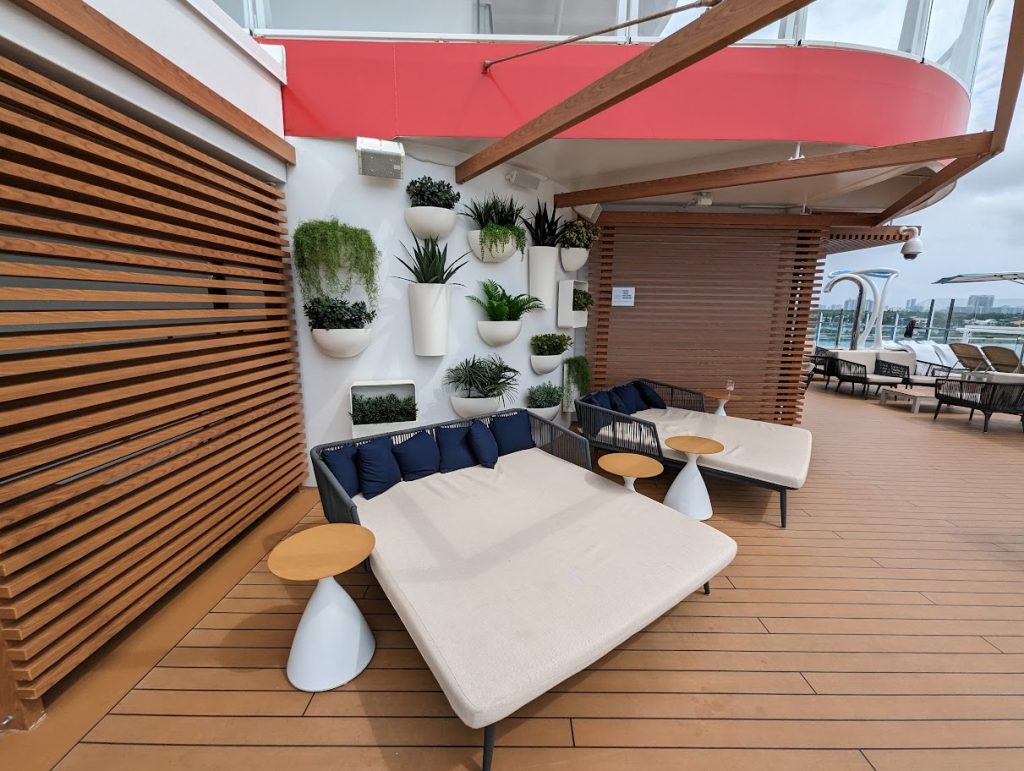 On the Celebration, Carnival filled this area with a lot more stuff like a full pool, two hot tubs, two bars (the Watering Hole and Bar 820), and lots of seating for dining. So it made better use of the space but severely cut back on the lounge seating. Also, because Carnival increased the size of their premium "Havana" deck area, which costs 20% to 30% more than a standard cabin, only half the deck had the Lanai.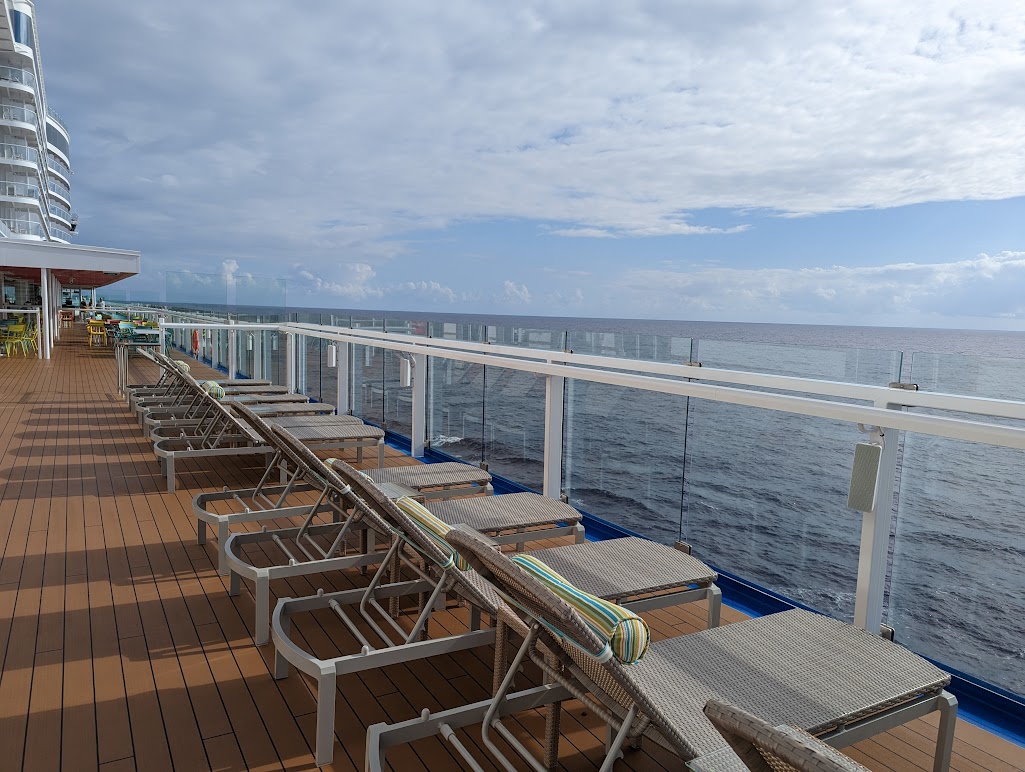 On the port side, there was a small area with some loungers, but most of it was taken up by outdoor dining. During the day, no one was ever in these dining spaces (I'm not sure if they were used for dinner since I didn't dine at these restaurants), but it felt like wasted space. 
Cloud 9 Fitness Center / gym on the Celebration
After some reading time, I decided I should make a stop at the Carnival Celebration Cloud 9 Fitness Center. I usually try to get to the fitness center on a sea day, mostly to do cardio while overlooking the ocean. After six days of eating non-stop and trying a bunch of delicious cocktails, my body needed a detox.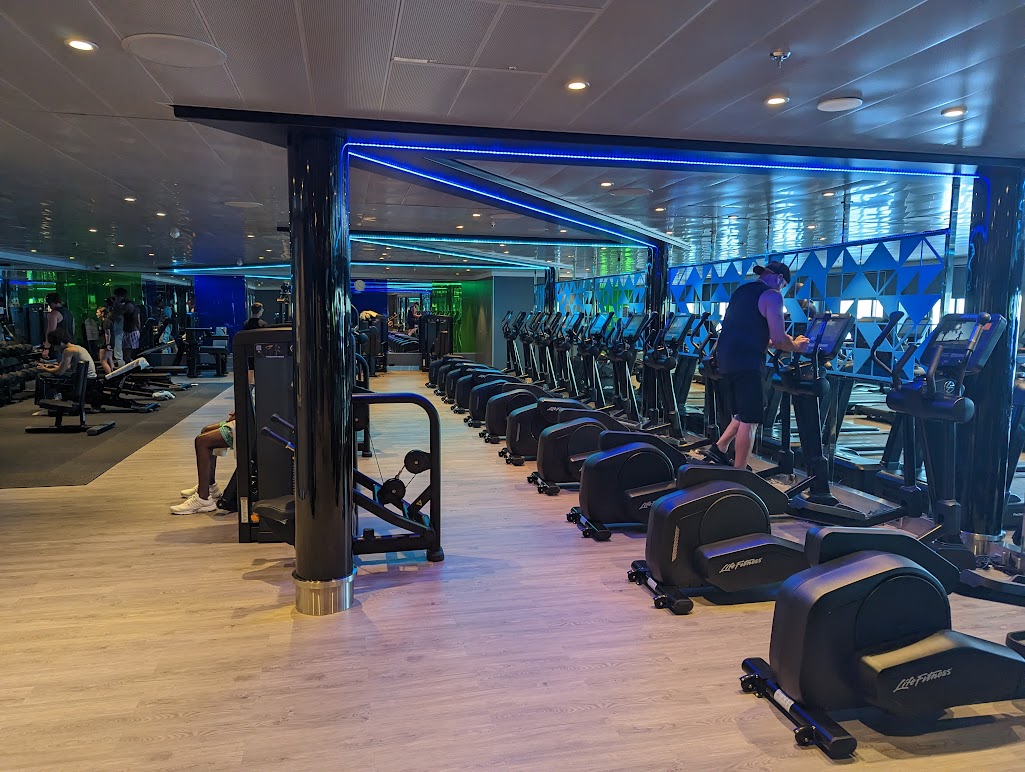 I walked into the gym around 2:30 PM, and it was pretty empty. A variety of cardio and weight-lifting equipment was available. The fitness center was arranged in a rectangle with three rows of cardio machines overlooking the ocean and then a corner filled with weights and resistance machines. Even though it had large windows, it felt cramped because of the dark ceilings. The gym looked surprisingly small for a ship that could carry around 6,000 people, but there was more than enough space. 
Helping a boat in distress
After finishing in the gym, I noticed the ship stopped moving. Eventually, the cruise director Chris the Flying Scotsman, came on the speakers to explain that we stopped to assist a vessel in distress. The code of the sea is that if you see someone in need, you stop to help.
Chris kept us updated as it went along. They made contact with the ship, and the people on board didn't want assistance, just food and water. Someone from the Facebook group for the sailing posted the photo of the small little ship bobbing in the ocean. Most likely, these were refugees sailing from Cuba to Mexico, and it was heart-breaking seeing the condition they were in trying to find a better life for their family.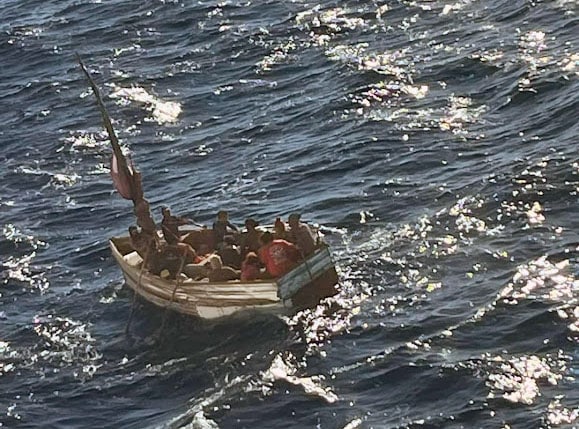 Unfortunately, also on the Facebook group, people were posting ignorant comments and complaining that we were assisting these people. It's why sometimes a digital detox is best while on a sailing. Cruising with no internet allows you to forget what awful, self-centered people there are in the world. 
Also, during this process, the cruise director had to come on and tell people not to lean over balconies and partitions to see what was happening. Not just once, but twice. It's hard to believe how stupid some people can be.
Fahrenheit 555 Bar for drinks
Tonight was the second elegant night, and they'd be serving lobster in the dining room. I didn't bother putting on a whole suit but instead opted for a dress shirt and tie. It was dressy enough for this sailing, and I still felt like I fit in. 
Because it was a fancier night, we decided to go to a fancier bar for pre-dinner drinks, the Fahrenheit 555 bar. Most people don't realize the bar is open to guests even if you're not dining at the restaurant. It's located close to the Festivale Dining room entrance, making it great for a cocktail while you're waiting.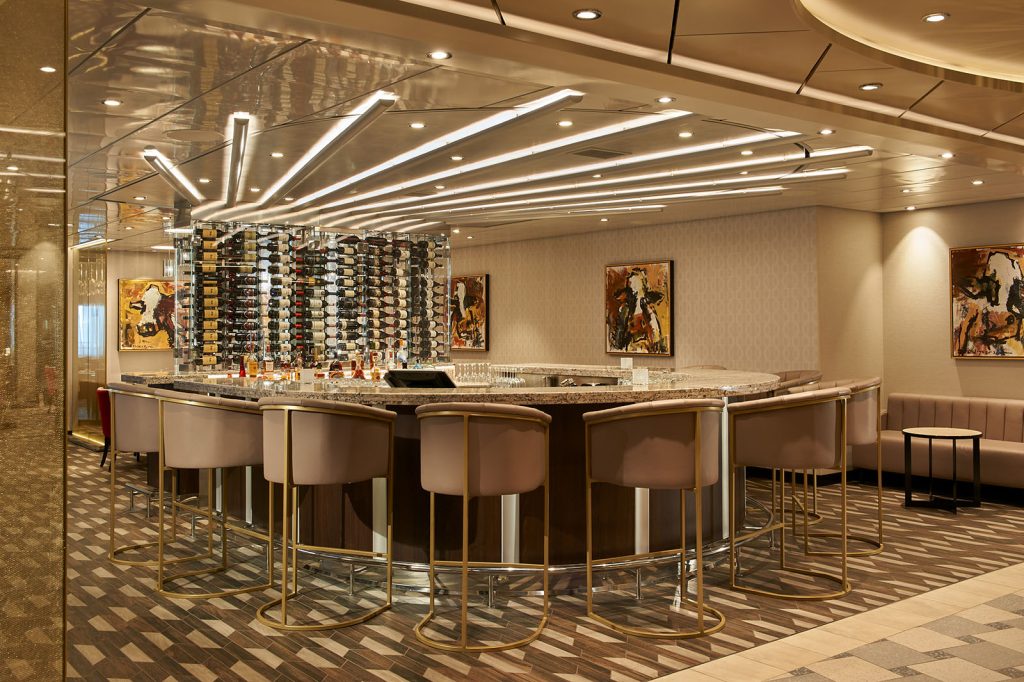 Like many of the bars on the Celebration, Fahrenheit 555 has its own drink menu. The modest menu has eight specialty cocktails and a variety of wines by the glass and bottle. I tried the 555, which was rum, pineapple chipotle syrup, orange juice, and lime juice topped with a sangria float. The chipotle pineapple syrup (see it here) cut through the sweetness of the orange juice, and the sangria helped make it more sippable than a typical martini.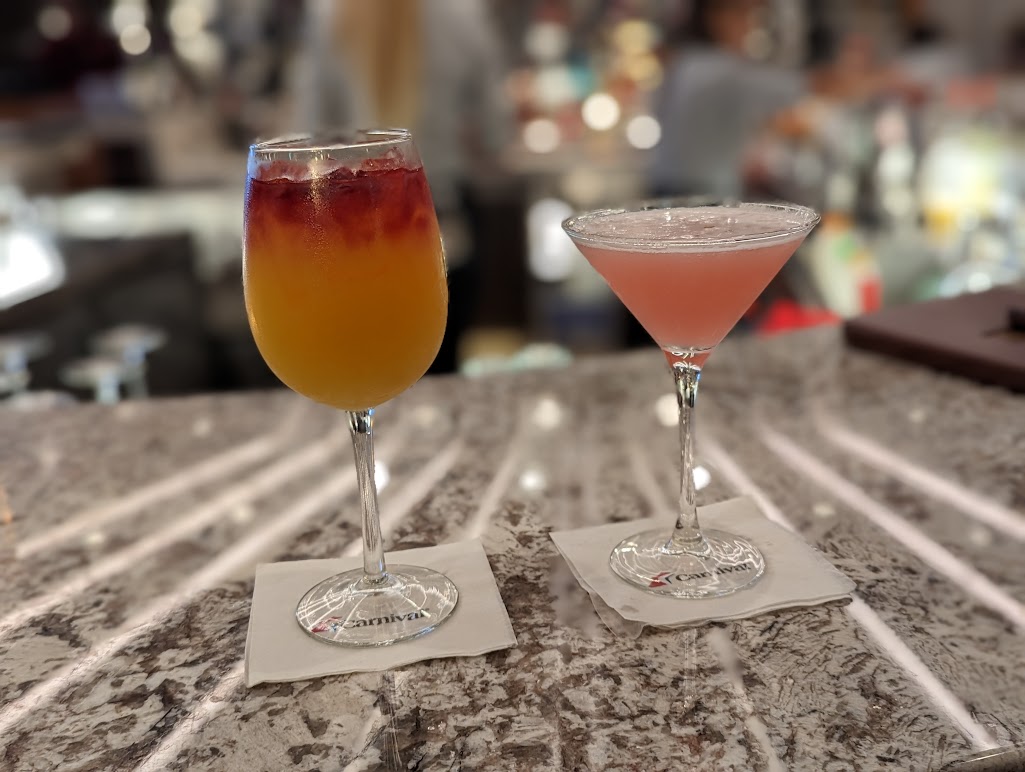 Also pictured is the watermelon martini. This martini has watermelon syrup, lime juice, and vodka. It tasted a bit like my favorite cocktail, the Cucumber Sunrise (see recipe here), but without the refreshing cucumber finish. That's because it uses many of the same ingredients, including the Monin Watermelon Syrup (it's hard to find but you can get it on Amazon). 
Second elegant night on Carnival Celebration
While we were at the Fahrenheit 555 bar, we checked in for dinner using the HUB app. At 6:30, it said it was a 20-30 minute wait which was just enough time to finish our drinks. Our table was ready 27 minutes later, just as promised.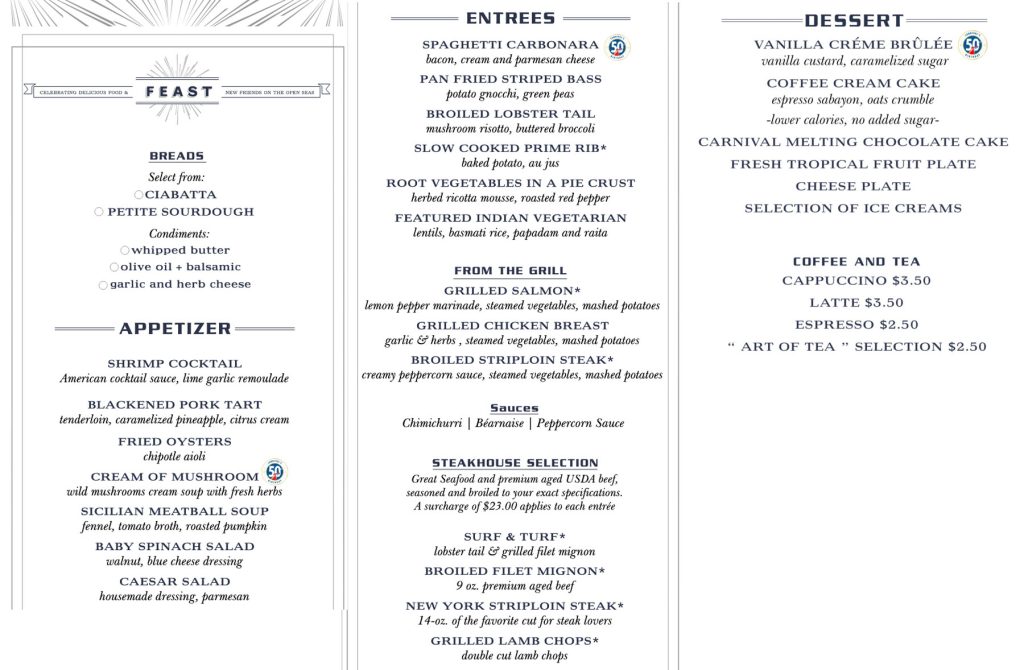 Dinner this evening was lackluster, and the service was probably some of the worst of the cruise. I'm not sure if it's because the dining room was inundated with people who came for elegant night or the section where we were seated, but I was thoroughly unimpressed. 
Dinner this evening took 1 hour 30 minutes, about 50% longer than our previous dinners in the main dining room. The staff was also very inattentive, not checking in frequently and not even really caring that we were there. 
It was so odd that it could be such a huge difference from the first couple of trips to the main dining room, where I was really impressed by the service. 
An attempt to see a comedy show
After dinner, we decided to check out one of the comedy shows on board. Carnival is known for putting a lot of emphasis on comedians and having a solid comedy program on their ships. I usually check out a few sets during a cruise; I didn't have a chance to check one out yet on Celebration.
We decided to try the 9 PM comedy show in the Limelight Lounge. Unfortunately, when we arrived at 8:55, they told us there were no seats available. Luckily, there was another show at 9:45 in another venue, the Punchliner Comedy Club.
I've read complaints about comedy shows being full, but none of those complaints mentioned the sheer amount of shows you could go to. This evening, Carnival was running 8 comedy shows! So if one was full, you could just go to the next one. Yes, it was frustrating not getting to do what I wanted to do when I wanted to, but waiting 45 minutes was not the end of the world. 
Cocktails at Guy's Pig and Anchor Smokehouse
Since we had time to kill, we decided to go to Guy's Pig and Anchor Smokehouse for a post-dinner drink before moving on to the next activities. 
Walking in, I immediately noticed how busy it was. In the Heroes Tribute Lounge, which is oddly part of Guy's Pig and Anchor but also separate, a sporting event was showing on the big screen TVs. Fans filled the lounge, cheering on their favorite teams. A folksy band playing live music played on the other side of Pig and Anchor. Between the two, the place was full and pretty lively.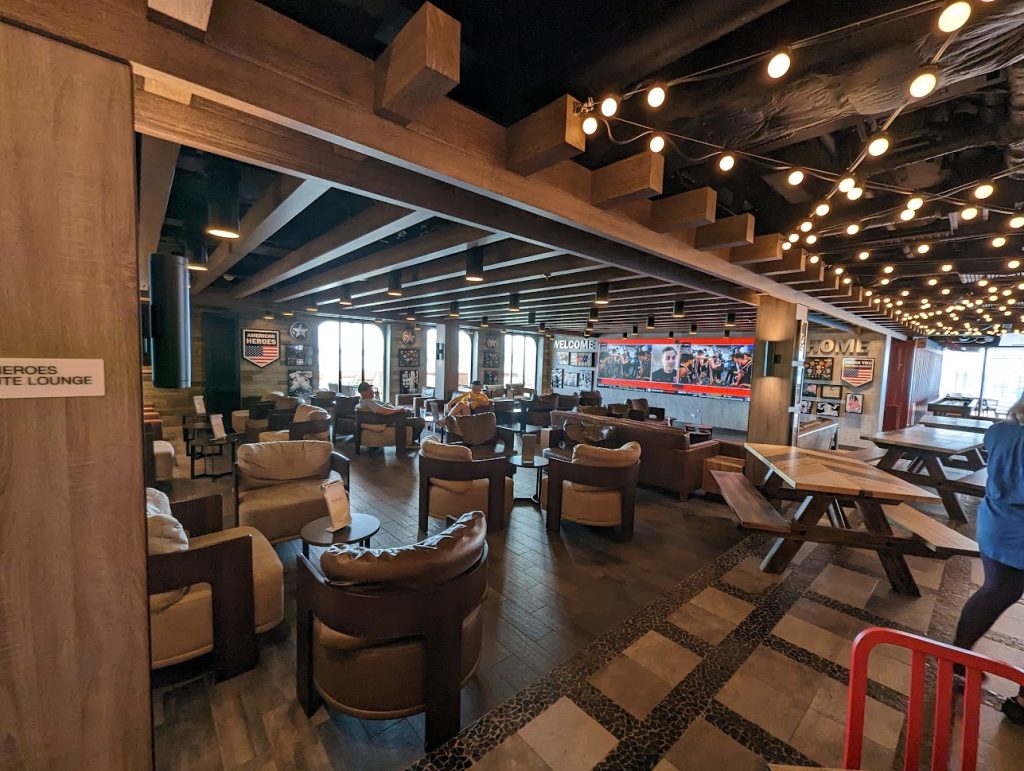 The bar in Guy's Pig and Anchor Smokehouse is massive, so we had no problem finding a seat at the end. We flipped through the extensive list of cocktails and drinks. 
We tried out the Smoked Boulevardier, which was a mixture of bourbon, campari, and sweet vermouth. The bartender mixed up all the ingredients, and then he put a large sprig of rosemary next to it. He used a butane torch to light it on fire and then covered it with a glass bell. The smoke completely filled the glass, hiding the drink in a mist of rosemary clouds. When the bartender lifted the bell, the aroma wafted through the air. The cocktail had a distinct rosemary note and was quite unique.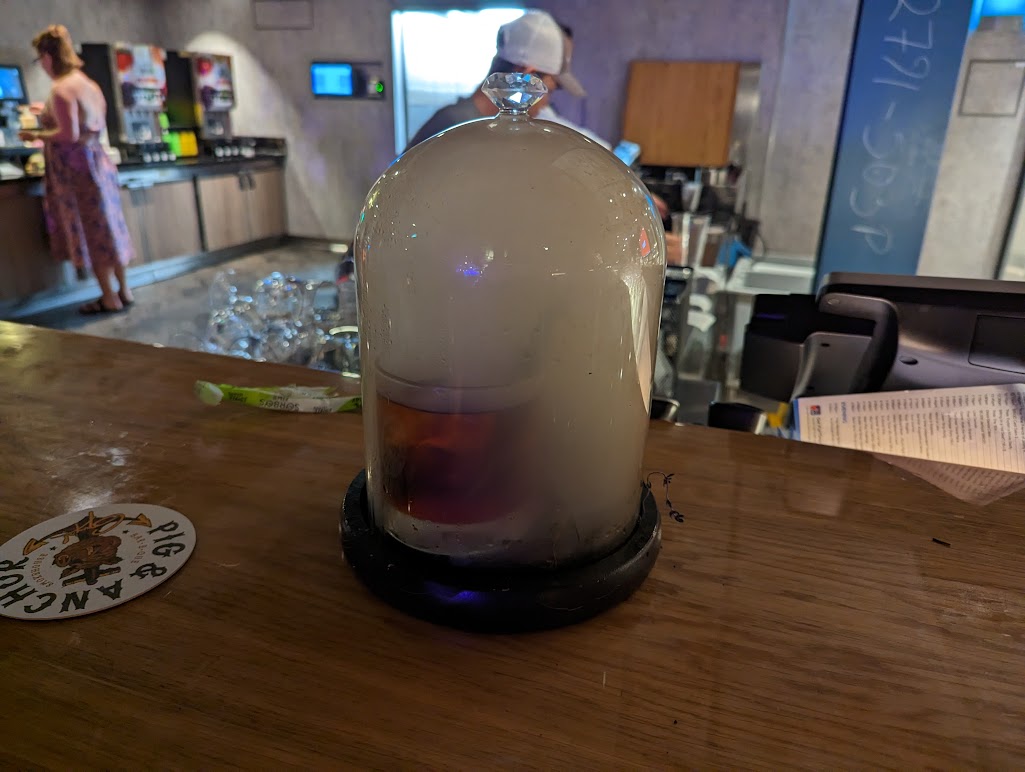 I've played with a cocktail smoker at home (I use one similar to this), but I've never had as much success as they did here. I think I need to really up how much of the material I light on fire.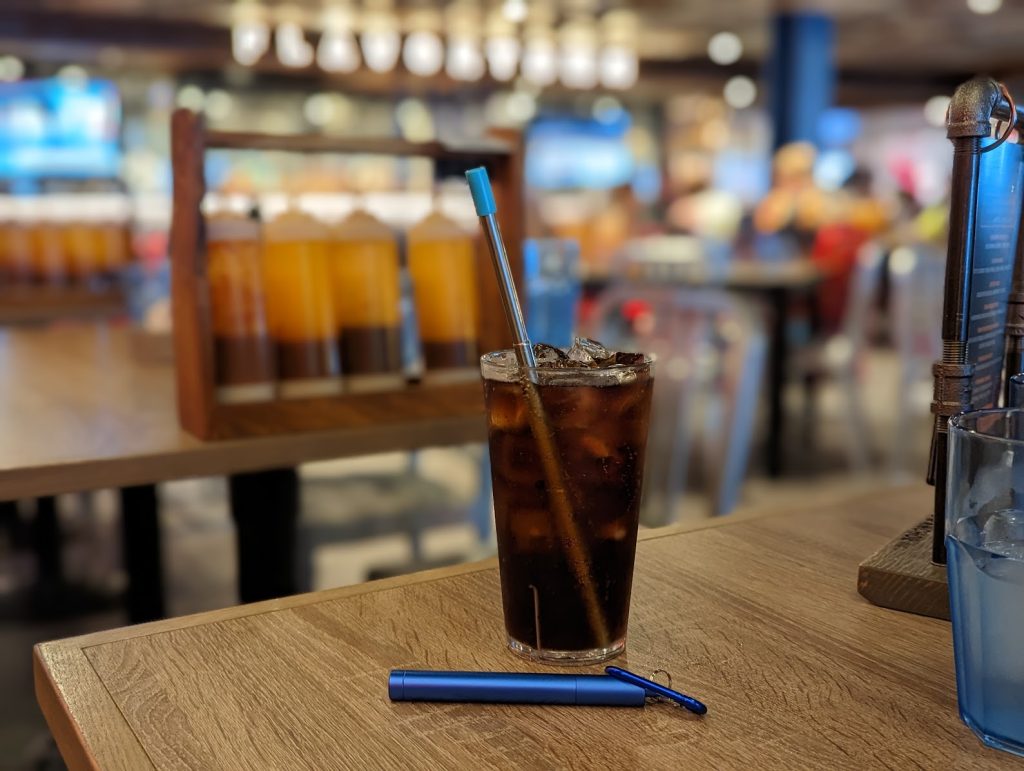 While at the bar, I also grabbed a Diet Pepsi to make full use of the Bottomless Bubbles package I purchased. A few years ago, Carnival removed straws from their ships in order to prevent waste from going into the ocean. While edible straws are available for cocktails like daiquiris, they quickly turn limp and become useless. I always bring my handy telescoping straw (see it on Amazon). It fits right in my pocket and it extends so it can work for a small or large drink.
Actually seeing a comedy show
About 20 minutes before the next comedy show, we headed over to the Punchliner Comedy Club, another venue on the ship where comedians performed. We arrived 15 minutes before the performance, and there while there was a crowd, we still could easily find seats. 
They closed the doors around 5 minutes before the performance because the venue was full. They kept trying to find open seats to accommodate more people, but there was only so much they could do.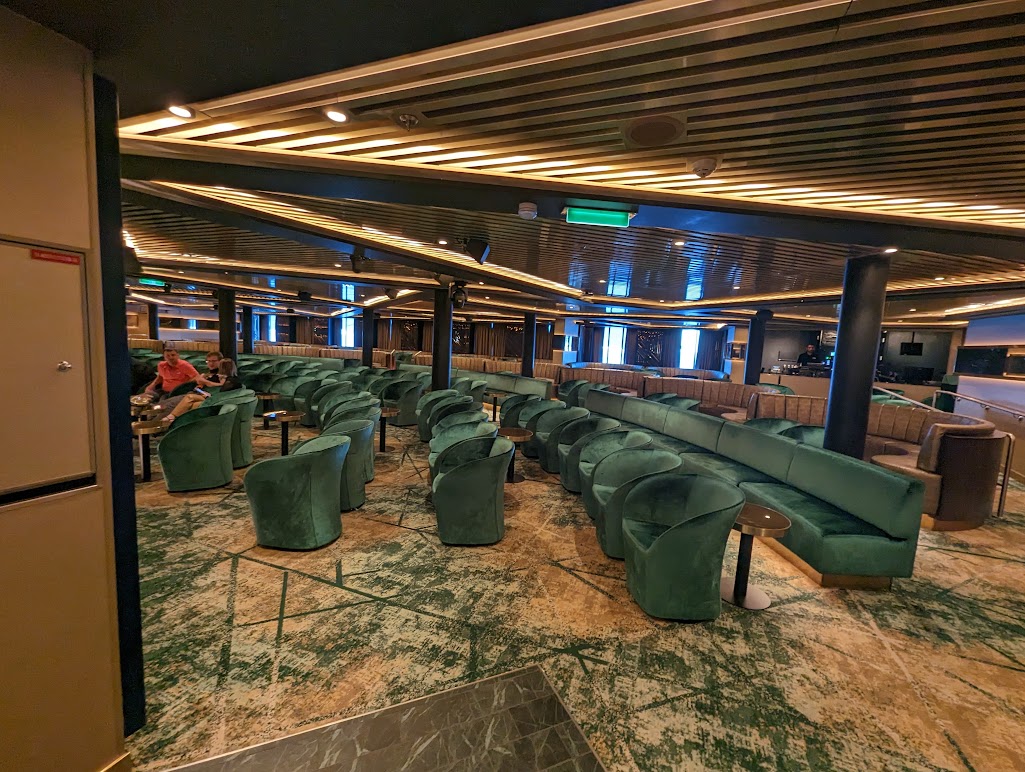 Robbie from the Fun Squad came out and warmed out the crowd. Unlike some of the other Fun Squad (read more here), Robbie very much embodied the traditional Fun Squad I was used to on Carnival sailings; full of personality and fun. It was a refreshing change from the other staff I noticed earlier. 
The comedian, Doug Williams, came on and did a tight 30-minute set. It was very heavy on "men vs. women" and traditional gender roles, but the crowd seemed to enjoy it. Although it wasn't 100% my style of comedy, I laughed quite a few times.
It was an R-rated, 18+ comedy show, so it was "racy," but it was in line with other comedy shows I've attended on land. Both the Fun Times and the staff pointed out it was an adult comedy show. If you are easily offended, do not attend the adult shows; Carnival has a variety of "family" comedy shows you can attend instead. 
Carnival Game Night
Later in the evening, we went to check out "Carnival Game Night," a nighttime activity in the same "Punchliner Comedy Club." I overheard others onboard say that this show replaced "Carnival Quest," a racy yet fun adult activity that used to be on almost all of the ships. It was incredibly popular, but they don't run it anymore (at least on the larger ships). You can read about when we played and won Carnival Quest on the Carnival Pride blog.
The event had no description in the HUB app, and it wasn't clear what it was. Unfortunately, it didn't become clear even as the event started. Two Carnival FunSquad members, Gabby and Trevor, started the activity. They started by asking multiple-choice questions, and you had to answer with a corresponding animal sound. It made no sense; many people got up and left after the first few questions (including me). I've never left a Carnival activity early, but this one wasn't for me.
Evolution Party in Celebration Central
Later on in the evening, Carnival was hosting the "Evolution Party" in Celebration Central. Described as "the ultimate high-energy, electrifying mega dance party for all ages," it took over the whole Celebration Central and turned it into a lively party. Again, it's where this space shines, with great lighting effects that totally transform the atmosphere.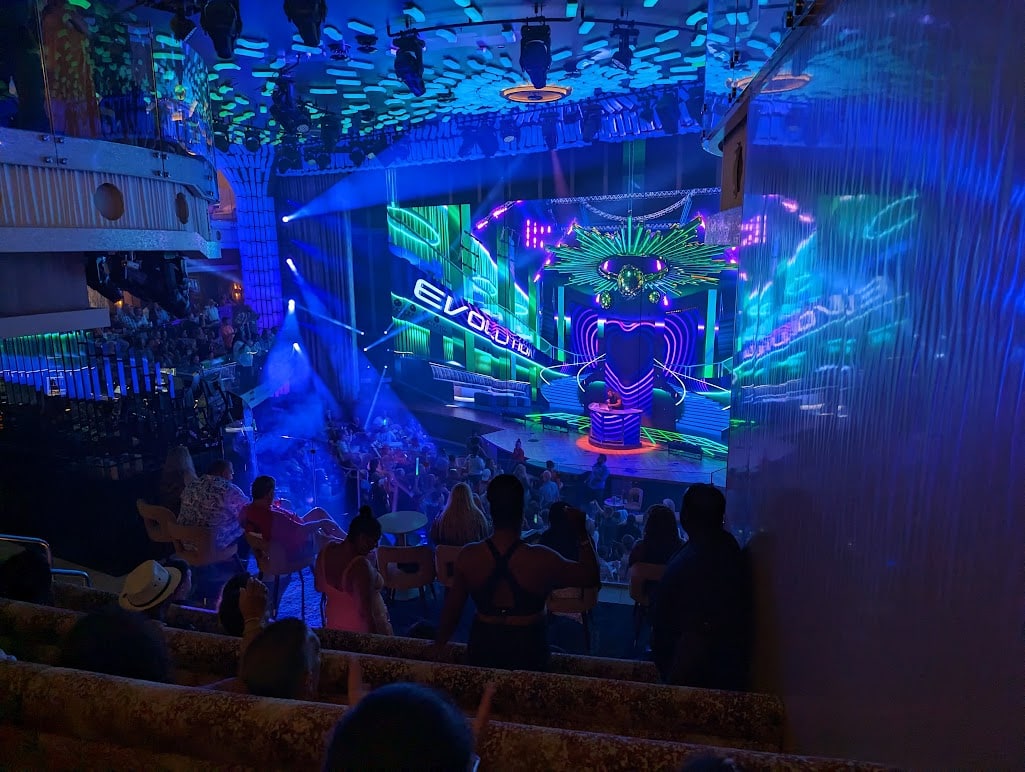 At the center of the Celebration Central stage stood a DJ, and then different singers from some of the previous shows onboard came out and sang some of the songs. The DJ was supposed to be "mixing" the music live, but it was clear it was pre-arranged as the singers and FunSquad knew the exact order of songs and dance moves. 
The concept behind the event was confusing. They had chairs set up on the first floor but then asked people to dance. The problem was the people who were sitting in the first rows weren't the type to dance. The FunSquad worked hard to get the energy going. They had people form a circle where people would get into the middle and show their dance skills. It made for great people-watching, which was easy to do from the stadium seating found on the second level.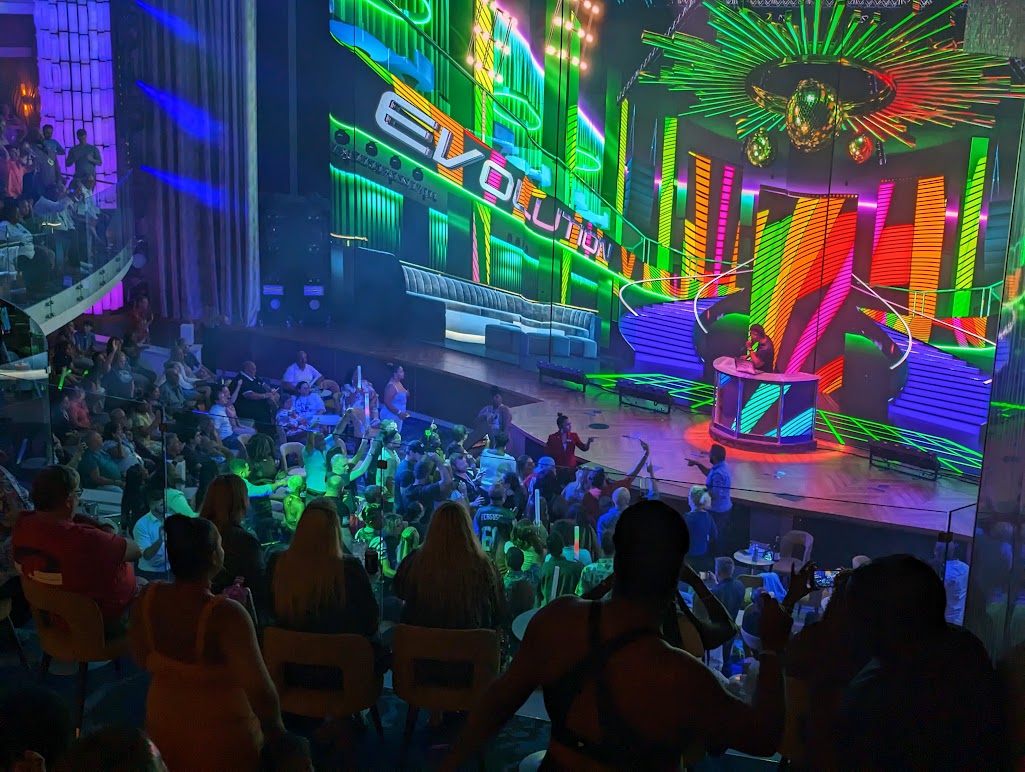 It was an odd event, not just a dance party but also not a performance, and I'm not sure what they were trying for, but it seemed to be a success. The party lasted 45 minutes, and then the lights all came up to 100%, immediately killing the nightclub vibe and energy. Carnival needs to get better at transitioning through events and continuing the momentum through the evening. 
Follow along on the rest of our Carnival Celebration cruise
Carnival Celebration – Cruise Blog - Day 1 – Miami
Carnival Celebration – Cruise Blog - Day 2 – Sea Day
Carnival Celebration – Cruise Blog - Day 3 – Cozumel
Carnival Celebration – Cruise Blog - Day 4 – Costa Maya
Carnival Celebration – Cruise Blog - Day 5 – Roatan
Carnival Celebration – Cruise Blog - Day 6 – Sea Day
Carnival Celebration – Cruise Blog - Day 7 – Sea Day
5 Hits and Misses on Carnival Celebration
If you want to stay up to date with what we publish, sign up for our monthly newsletter
CruiseSpotlight is an Amazon Associate. We may earn a commission when you click links to retailers and purchase goods.