Carnival Celebration – Cruise Blog – Day 7 – Final Sea Day
Our 7-day cruise aboard the Carnival Celebration finished with a sea day. It was the second sea day in a row, something I'm not a huge fan of, but it was an excellent way to end the cruise. The previous sea day, we explored the outside features; today, we'd check out the indoor activities and entertainment. 
Day 7 Overview
Carnival Celebration Day 7 Fun Times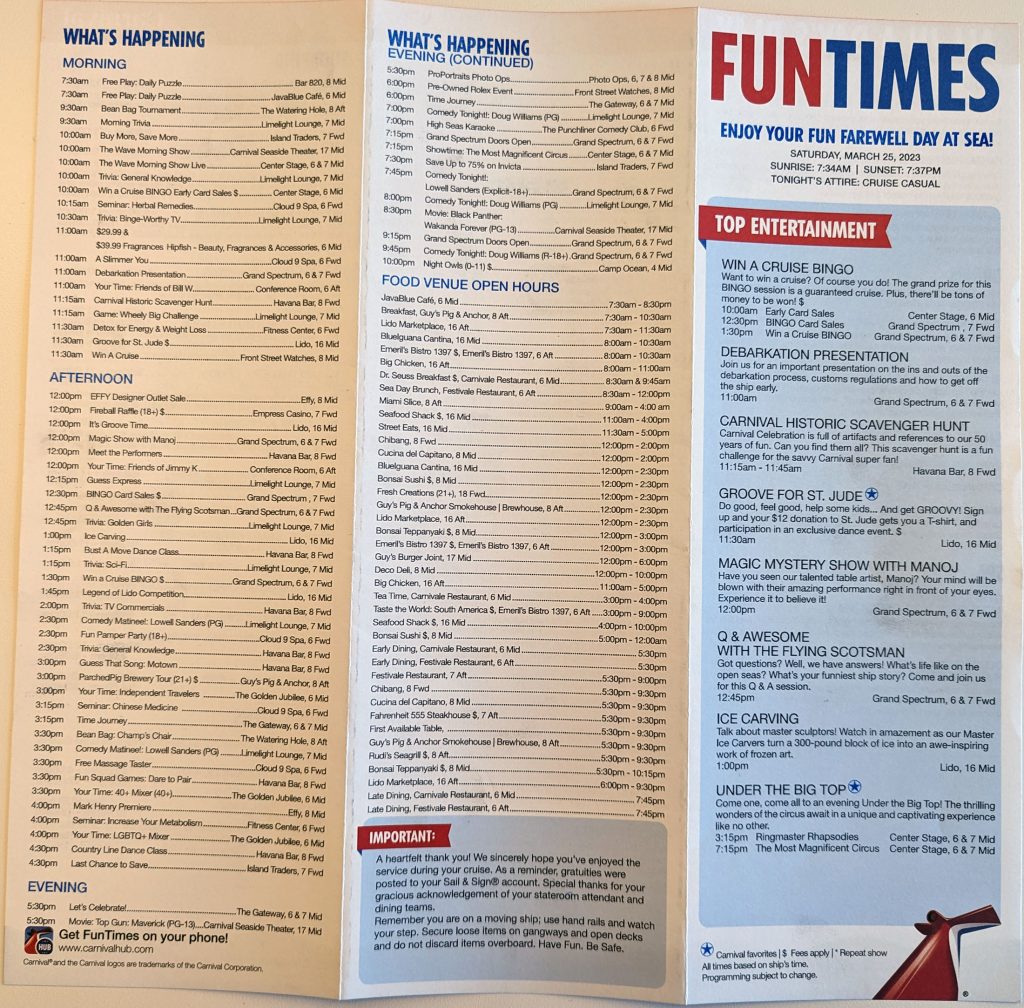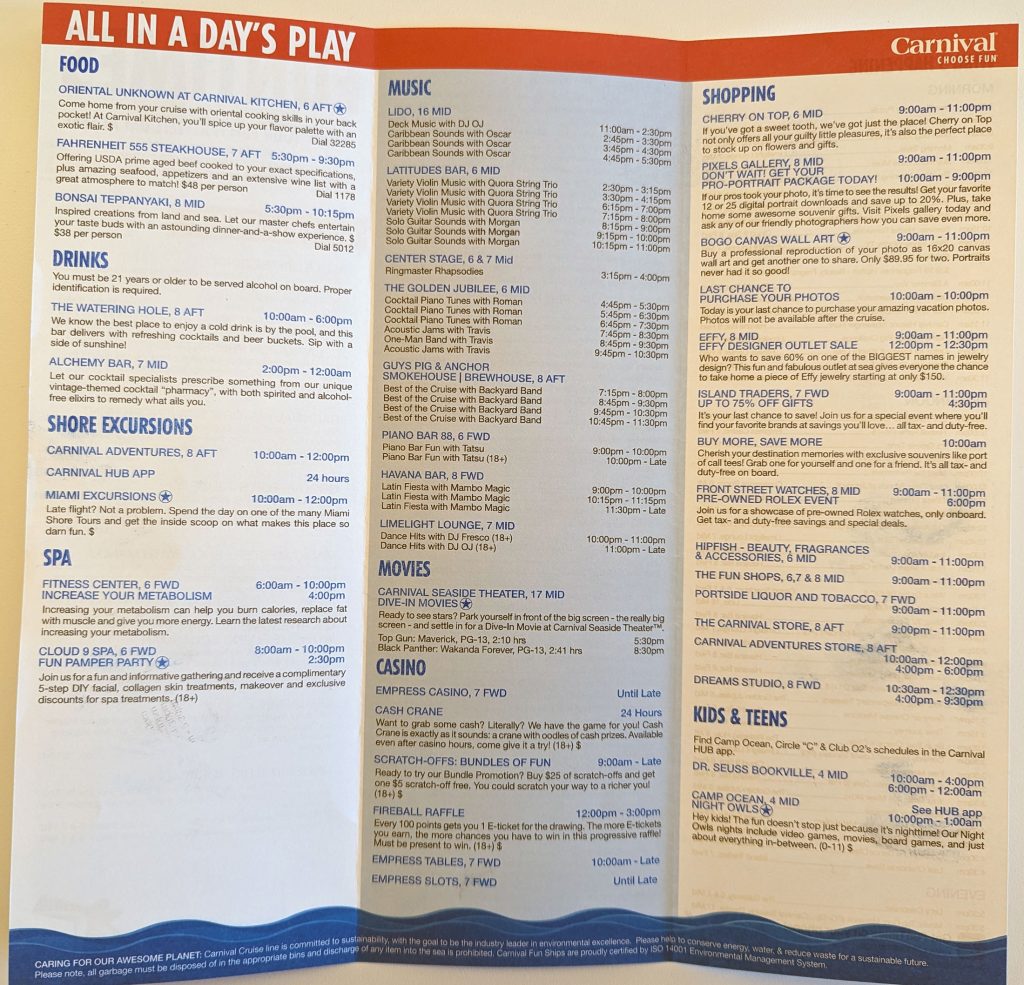 Carnival passing the buck on the bacon
We started our last sea day with breakfast at Guy's Pig and Anchor Smokehouse again. Again, it was nice and peaceful down there, decks away from the bustling Lido Marketplace. Still, something annoyed me about this meal. As I mentioned previously, Carnival is no longer providing bacon every day, but instead, they alternate between bacon and Canadian Bacon (ham). I was craving some good bacon for my last sea day, as I rarely have it at home). 
Another thing that irked me was they alternate between French Toast and Pancakes every day but not both. Let's be clear, it's not a dealbreaker in any way, shape, or form, but it's a clear lack of service compared to competitors. I've sailed both Norwegian and Royal Caribbean in the past year, and they had limitless bacon and far more breakfast options. Even most mid-tier hotel chains with an included breakfast have bacon available. It's a small thing, but eventually, Carnival's cost-cutting might catch up with them. 
Getting debarkation luggage tags
After breakfast, we stopped by the kiosk in the main hallway near guest services to pick up our debarkation tags. Guests who don't want to carry off their own bags grab a tag and put it on their luggage. Then the next before, you place it outside your cabin, and they'll take it to the cruise terminal for you to pick up. 
Because we had a 3 PM flight, we had plenty of time, so we took one of the last times available. That would give us time to have a leisurely breakfast and not have to sit around the airport for 6 hours.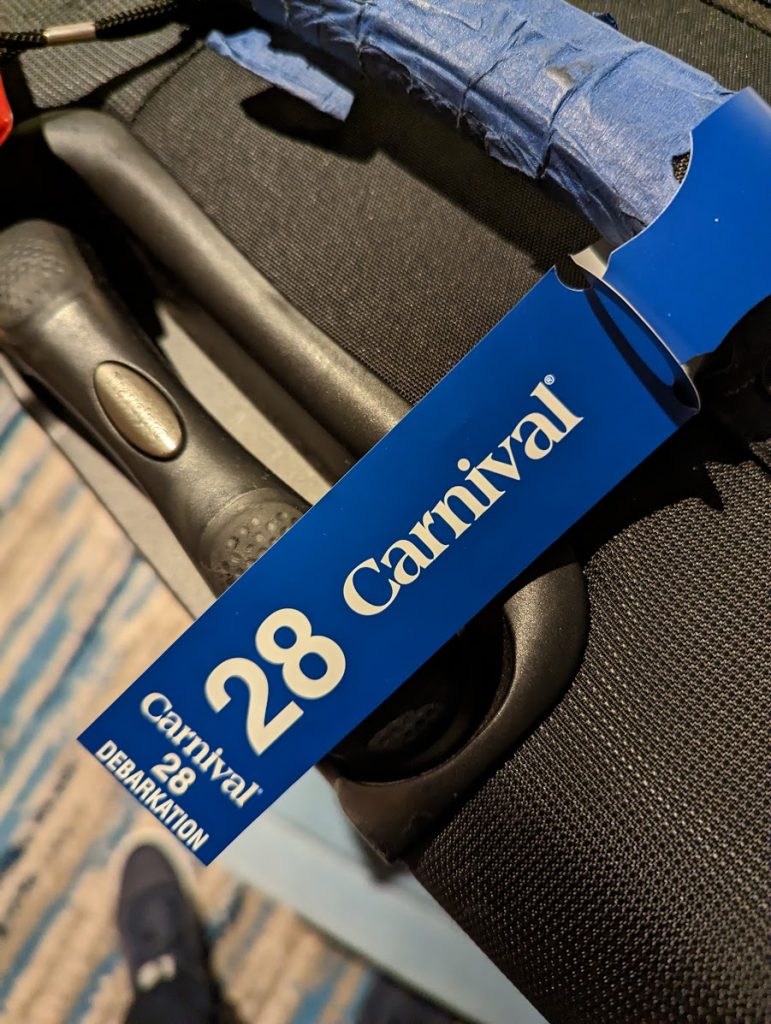 TV Trivia with Robbie
We always enjoy some trivia, so we went to "Binge-Worthy TV Trivia" with Robbie. It was held in the Limelight Lounge, which also doubles as a karaoke room and a dance club at night. It's a decently sized space, and the lighting lets it adjust from being usable for events like this to having a better ambiance for dance parties. It also had a dedicated bar, something some of the other Carnival dance clubs are missing (they have bar carts).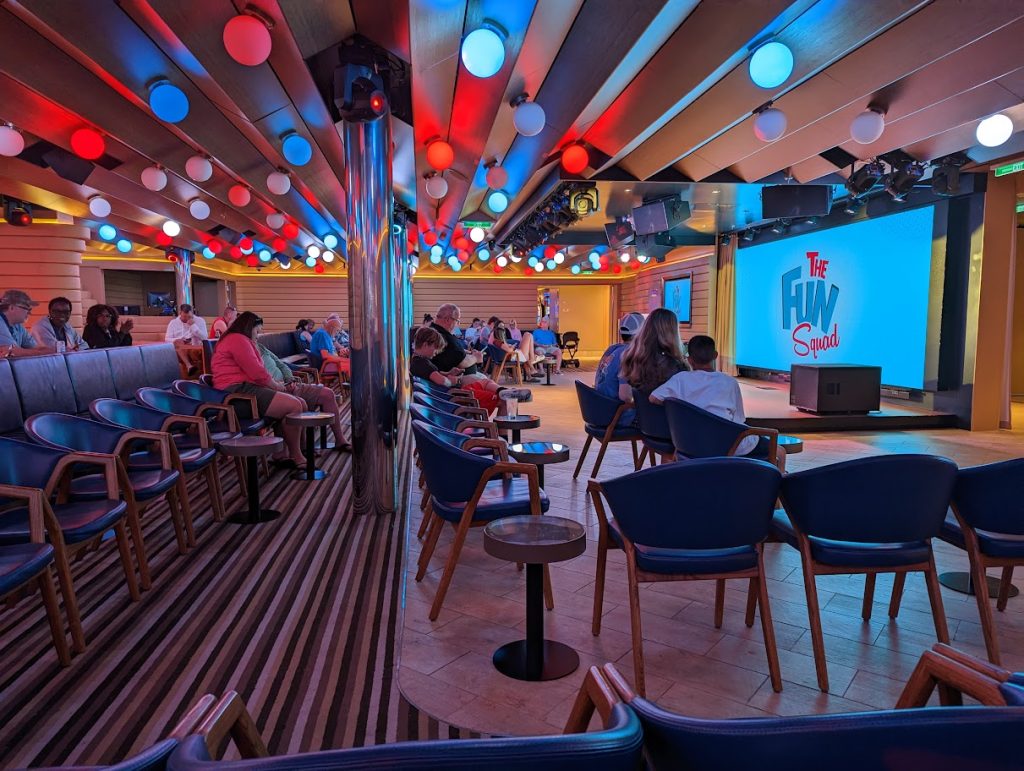 About 50 people showed up for the event, an excellent turnout for an early day trivia, and it didn't even fill the space halfway. It was nice not being packed like a sardine at trivia like I have on other cruise lines (because they hold it in event spaces that are too small). 
The host was Robbie, also the comedy host who I mentioned on a previous day. He had so much more personality than the rest of the Fun Squad on the Celebration. He had great interaction with guests, genuinely seemed to want to be there, and had knowledge of what he was doing. I could see him being a cruise director in the future. 
The questions covered a variety of shows, from new to old. It was a good level of difficulty, and we won with 17 out of 20 points. 
Carnival Historic Scavenger Hunt in Havana Bar
Next, we headed to the Havana Lounge for the Carnival Historic Scavenger Hunt. The Celebration has a heavy focus on Carnival's 50 years of bringing fun to families, and Easter eggs and tributes can be found throughout the ship. This scavenger hunt had everyone set out to take pictures of 14 items around the ship. 
It started in the Havana Lounge. The bar was empty at the time, but humidity hung in the venue since the door to the exclusive outside Havana area was always open. Fun Squad member Trevor kicked it off by handing everyone a sheet of paper. We had twenty minutes to walk around the ship and take pictures of the items.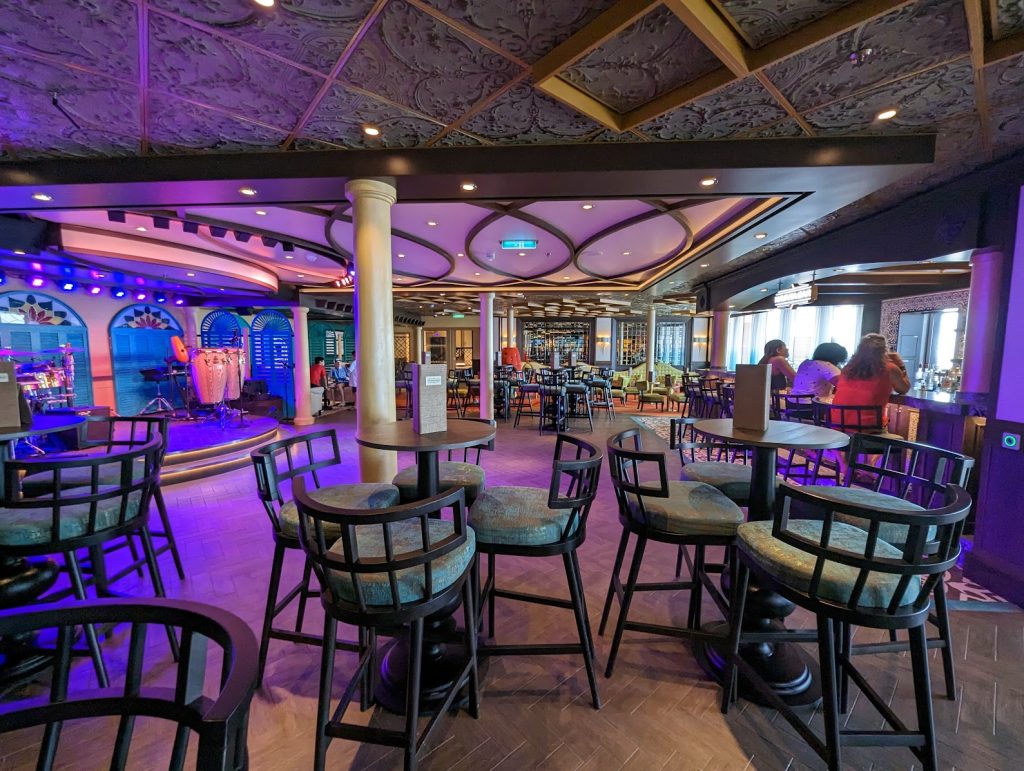 I had never done a scavenger hunt on a cruise ship, and it was a lot of fun. The hardest part was trying not to run (I may get a little competitive). The questions ranged from relatively simple to tricky. The answers were all found on decks 6, 7, and 8 of the ship, which is a lot of ground to cover in 20 minutes. I won't give any answers away, but it was amazing how much memorabilia Carnival managed to seamlessly display throughout the ship without making it feel like an Applebee's. It blended in with the decor and worked well with the themes.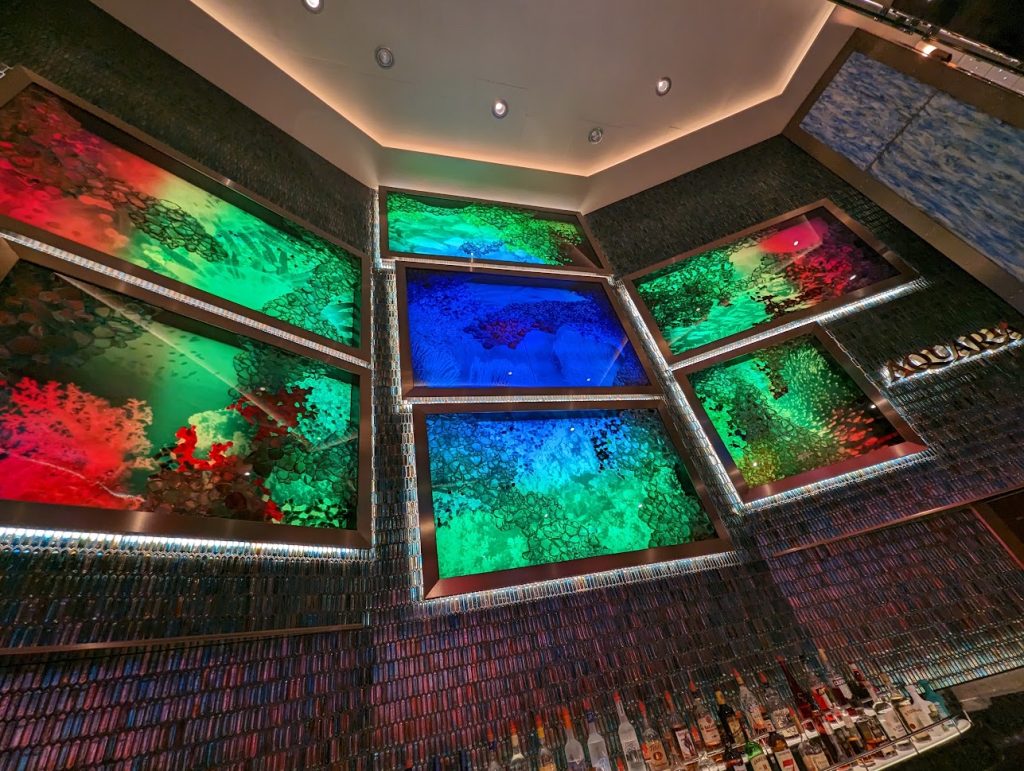 We ended up getting photos of all the items and returning first, which meant we got first place. 
Lido Marketplace for lunch
For lunch, we headed to the Lido Marketplace. The only reason I even thought to go there was I saw a Facebook post from Carnival brand ambassador John Heald about the fantastic cakes in the buffet. I then realized I hadn't tried one yet. Every day, Carnival has 3 or 4 varieties of gourmet cakes at the buffet. They're impressive looking and taste delicious. On the Celebration, this cake station is in a hallway in the middle of the buffet and might be easy to overlook.
Other than that, the lunch didn't really blow me away. I much prefer the other casual offerings around the ship, like Deco Deli, Street Eats, Big Chicken, and Guy's Burger Joint. It's amazing how on a ship like this, the buffet is almost not even needed anymore.  
Duty-free liquor in Carnival Fun Shops
After lunch, we decided to check out some places we hadn't been yet on the ship. Mostly, for me, that had been the retail stores. I'm not one for shopping on a cruise, but the Celebration had a lot of options. One of the nicest was the new Carnival branded store with merchandise related to the ship. 
The other store we went to was the duty-free liquor store. The liquor can be purchased on board but cannot be consumed on the ship. If you purchase liquor during the cruise, it'll be delivered to your cabin on the last night.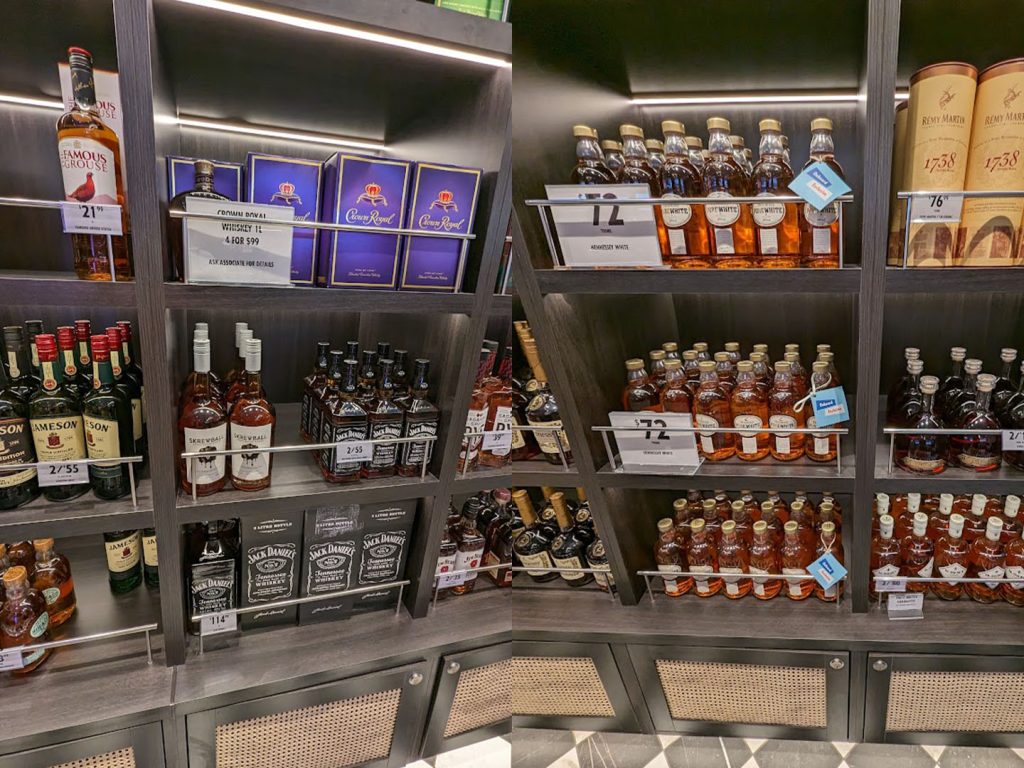 Is the duty-free liquor a good deal? It's tricky to tell because most of the bottles here are 1 L; at home, the sizes are typically 750 mL and 1.5 L. So to compare the true costs, you'll have to look at the cost per mL.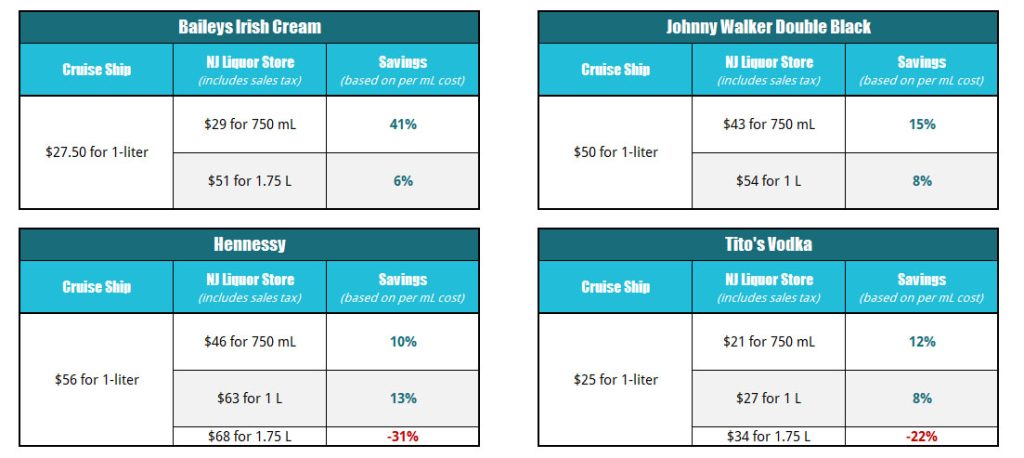 I compared the prices for a few different types of liquor based on the cost per mL. As you can see, you usually save, but not always. In this sample, most were good deals and would save you money. When compared to purchasing the largest bottles at home, though, the duty-free pricing was more expensive. But, again, it will vary depending on your store and your state's sales tax. 
Ringmaster Rhapsodies in Celebration Central
As we looked for activities to fill the afternoon, we saw something in the HUB app called "Ringmaster Rhapsodies." The event was scheduled in Celebration Central and was said to feature circus-themed songs from Pippin and the Greatest Showman. 
We showed up at 3 PM, and plenty of seating was available on the first level. It was odd that this show was in mid-afternoon, as the props hid the beautiful floor-to-ceiling windows. But I immediately saw why it was in the afternoon; they use the same set for Most Magnificent Circus that would be used in performances later in the day. 
Because it wasn't crowded 15 minutes before the show, I thought people were skipping it, but the place filled up right up to the performance. No one was lining up an hour early to see this. 
I wasn't sure what to expect because it wasn't a show, per se, but a musical performance. The cast from The Most Magnificant Circus came out, and the three lead singers rotated through songs from Pippin and The Greatest Showman. 
I've never seen Pippin, so the songs didn't really stick out to me, but I've learned show debuted on Broadway in 1972 and followed a performance troupe to tell the story of Pippin. The songs fit in with the circus theme perfectly. 
And, of course, The Great Showman was also right on topic. The film debuted in 2017 and is VERY loosely based on the life of PT Barnum of the Barnum and Bailey Circus. The soundtrack for the movie is filled with stars like Hugh Jackman, Zac Efron, and Zendaya.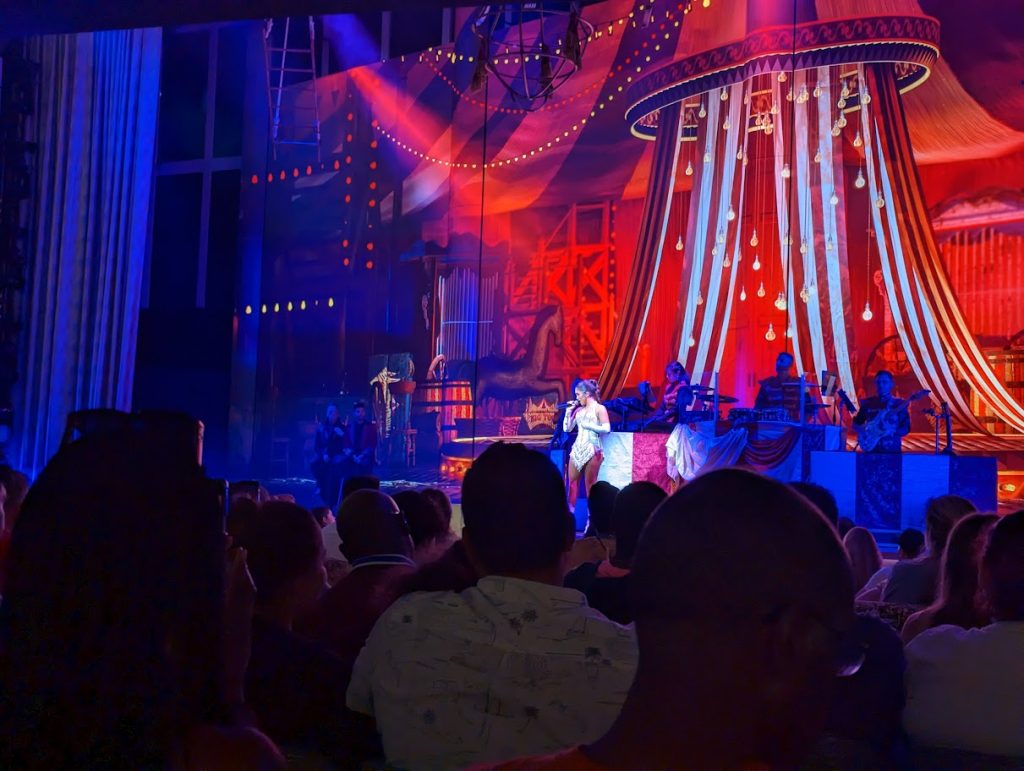 The show itself felt more like a cabaret. There was limited choreography and no acrobatics like Most Magnificant Circus. The two male performances did solid jobs, but the female performer absolutely knocked it out of the park. The Greatest Showman has two showstoppers that require tremendous range and power; "This is Me," originally performed by Keala Settle and covered by Kesha, and "Never Enough," originally performed by Lauren Allred and covered by Kelly Clarkson.
Those are some big shoes to fill, but she absolutely nailed it. "Never Enough" requires a huge vocal range and a lot of power to support it. In fact, most artists don't perform it in its original key, but this performer did and powered through the song. It literally brought a tear to my eye. I wish Carnival had published the name of the performers in the Fun Times or Hub App because she was terrific, and I would have loved to give her credit. 
Getting some soda from self serve machines 
All cruise long, I had been over-indulging in Diet Pepsi, my soda of choice. I got the Bottomless Bubbles package, which is $9.50 per day. You'd need 3 glasses a day to break even, and I had no problem doing that (I limit myself to one can per day at home, but this was vacation). 
In the past, Carnival didn't have self-serve soda machines, so you'd have to go to a bar and get a glass of soda. It wasn't bad, but waiting in line for 5 people to get a blended cocktail was frustrating when I just needed a quick soda. When the Mardi Gras debuted, they introduced a self-serve soda station, so I was excited by that. Unfortunately, it was mostly a letdown. 
Royal Caribbean has Coke Freestyle machines with many options to try. They give you a cup with a special chip, so it knows you have the drink package and lets you fill it up. On the other hand, Carnival has Pepsi products, and they don't have a machine as advanced as the Coke Freestyle machine. Instead, they have traditional soda fountain heads with a card scanner on the left to swipe. This is much worse for a few reasons.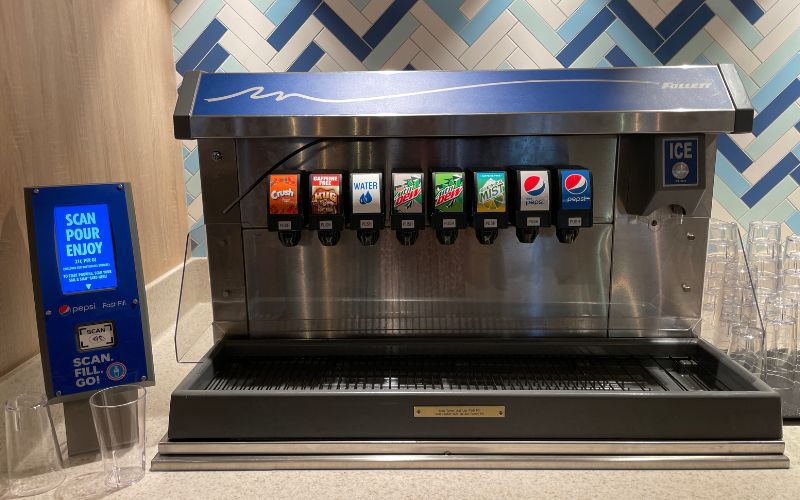 First, you have a limited choice, Pepsi, Diet Pepsi, Starry, Mountain Dew, Crush, Root beer, and Ginger ale. Secondly, the machine only lets you pour 12 ounces per swipe and also limits how long you have to fill. The only cups Carnival has at these machines are tiny little juice glasses.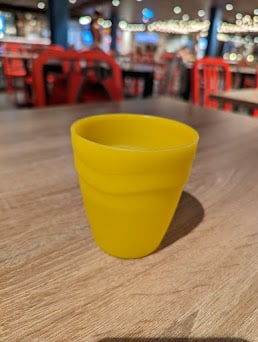 Tip: Bring your own insulated cup (see on Amazon) or a Yeti (see on Amazon). While the soda machine will still limit you to 12 oz, it's more than the small cups in the buffet and is much easier to carry around. 
The machines were also inconvenient. Four stations were in the Lido Marketplace, and one was in Guy's Pig and Anchor Smokehouse, but that one did not work for the entire sailing. It was disappointing but not the end of the world. Most of the time, I just went to a bar to get my sodas and rarely waited more than a couple of minutes.
Also, I don't know how much Carnival is to blame. These machines are Pepsi's alternative to the Coke Freestyle machines, and Carnival has Pepsi. Shortly after the cruise, I was at Hershey Park, a theme park in PA, and they had the same machines with the same short pours and malfunctions. 
Exploring the Ultimate Playground again
Since it was our last sea day, we decided to revisit the Ultimate Playground. Carnival packs a lot of activities in this space, mini-golf, basketball, cornhole, a ropes course, and even a roller coaster. It makes it feel a little too jam-packed, but it means that's lots of activities to keep people busy.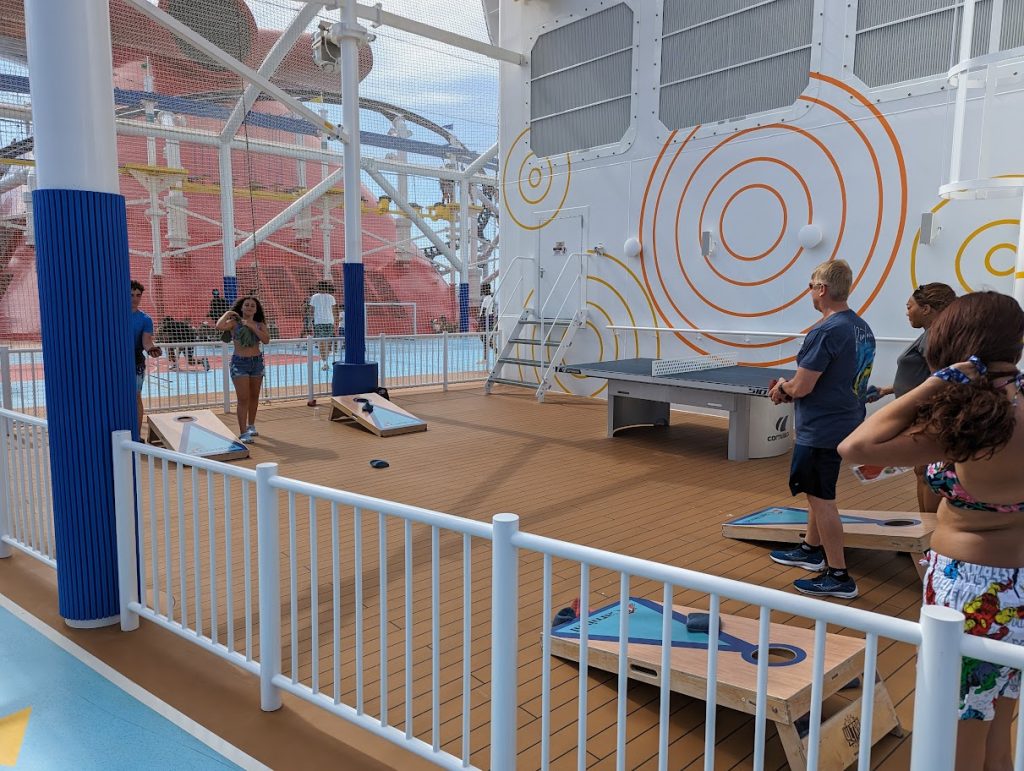 The basketball court was full of lively games. I was again reminded how pedestrian the mini-golf is compared to other cruise lines and ships. It had a walkway right down the middle, making it hard to understand where to start/how to go.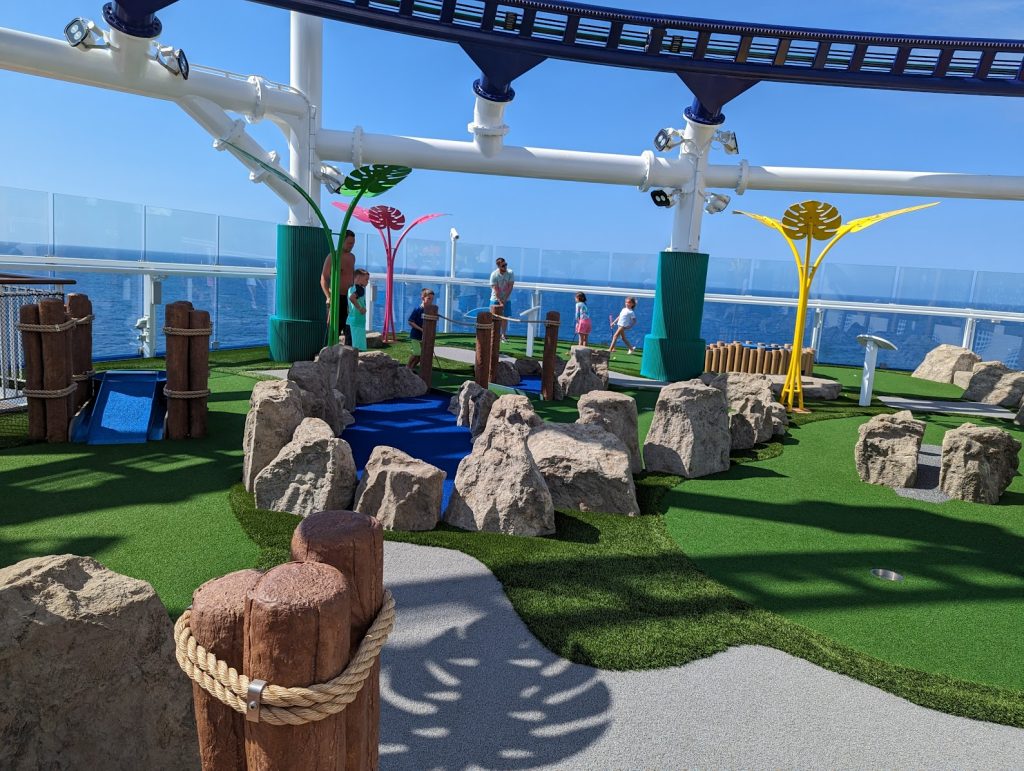 The kids' splash park, Carnival WaterWorks, was busy but wasn't overly full. Looking up, I saw the stairwell to the 3 slides. I really didn't like that on this ship, you have to walk through the kids' splash park area to get to the large water slides. It feels very awkward as an adult with no children.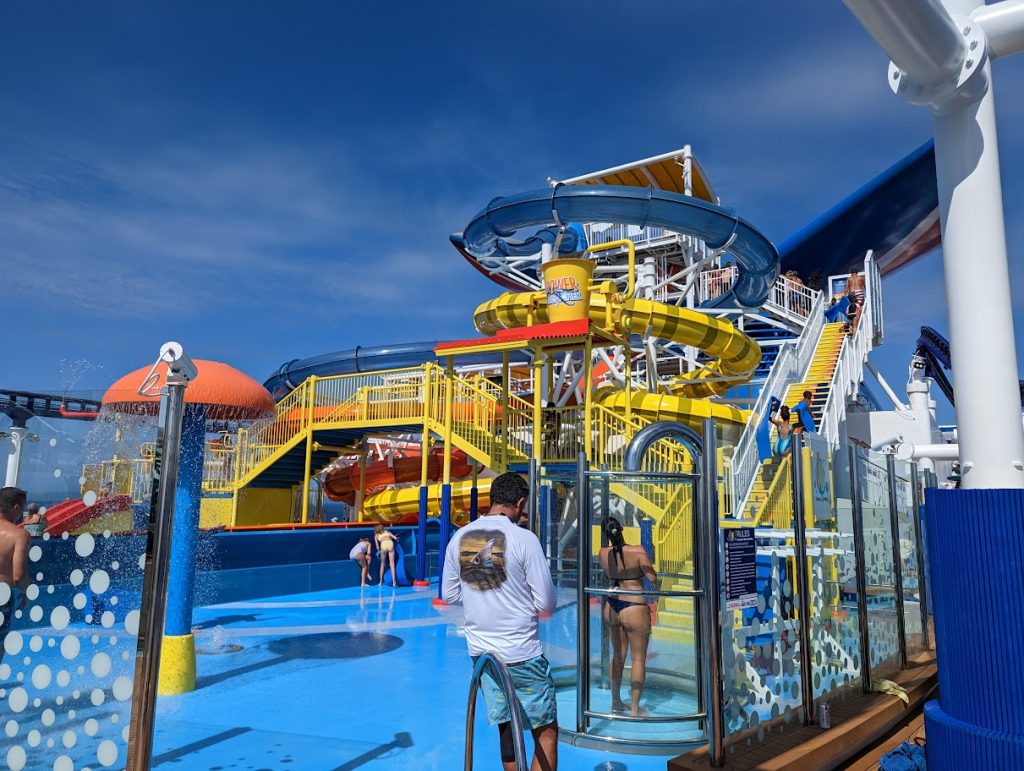 As we were exiting, we saw that the BOLT roller coaster was closed due to technical difficulties. I saw several people who put it off until the last day and now couldn't ride. It was the only time out of the seven days it wasn't working, so it wasn't a routine occurrence, but it highlights that if you want to ride Bolt, do it early in case of technical difficulties or weather issues. 
Golden Jubilee for pre-dinner drinks
We got ready for dinner and headed to the Golden Jubilee for drinks. My opinion of this bar changed dramatically from the beginning to the end of the cruise. It was the first bar we visited on day one, and it was pretty dead. The cocktail menu was extensive but mostly old-school cocktails, and I wondered who this place was for. It was beautiful, and the two-story ceiling gave it such an expansive feeling, but I didn't think people would find it.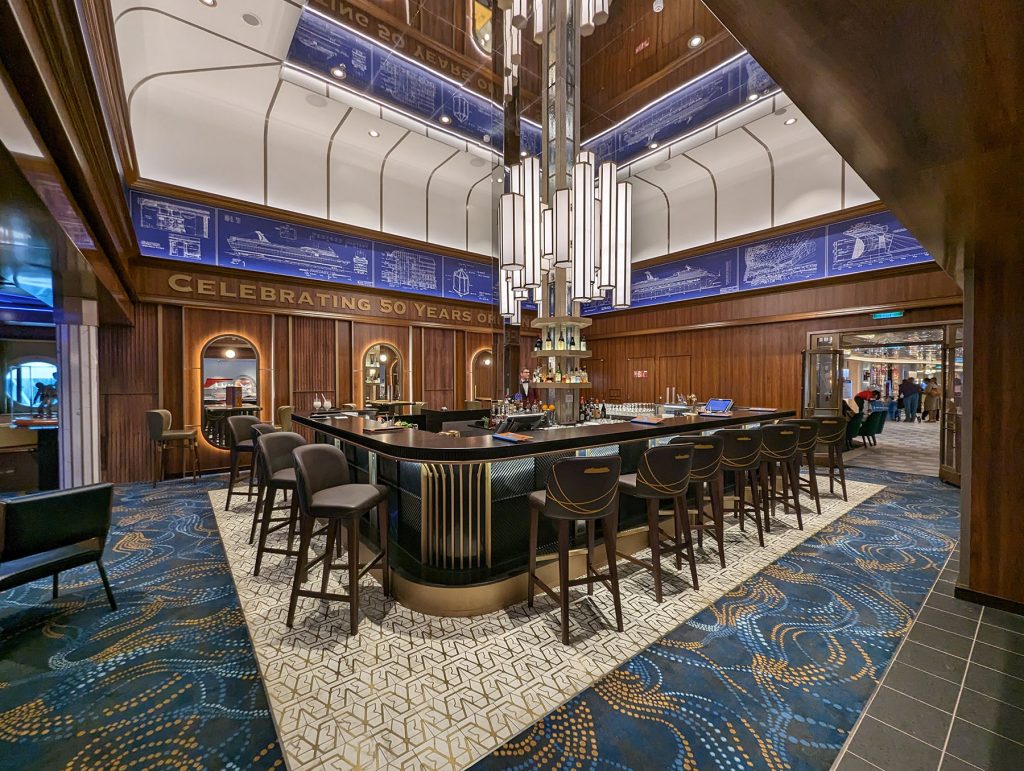 Cut to tonight, and the bar was pretty full. A string trio, who were also featured in the Celestial Strings performance earlier this cruise (read about that here), played a selection of pop music. It wasn't just background music; people were actively watching it with chairs pointed toward the stage. The whole place with buzzing with activity. 
Last Meal In the Festivale Dining Room
We decided to eat in the main dining room again for the last evening. At 7 PM, we checked in using the HUB app. It said it would be 20 – 30 minutes, but our phone alerted us 10 minutes later that our table was ready. It was a pleasant surprise.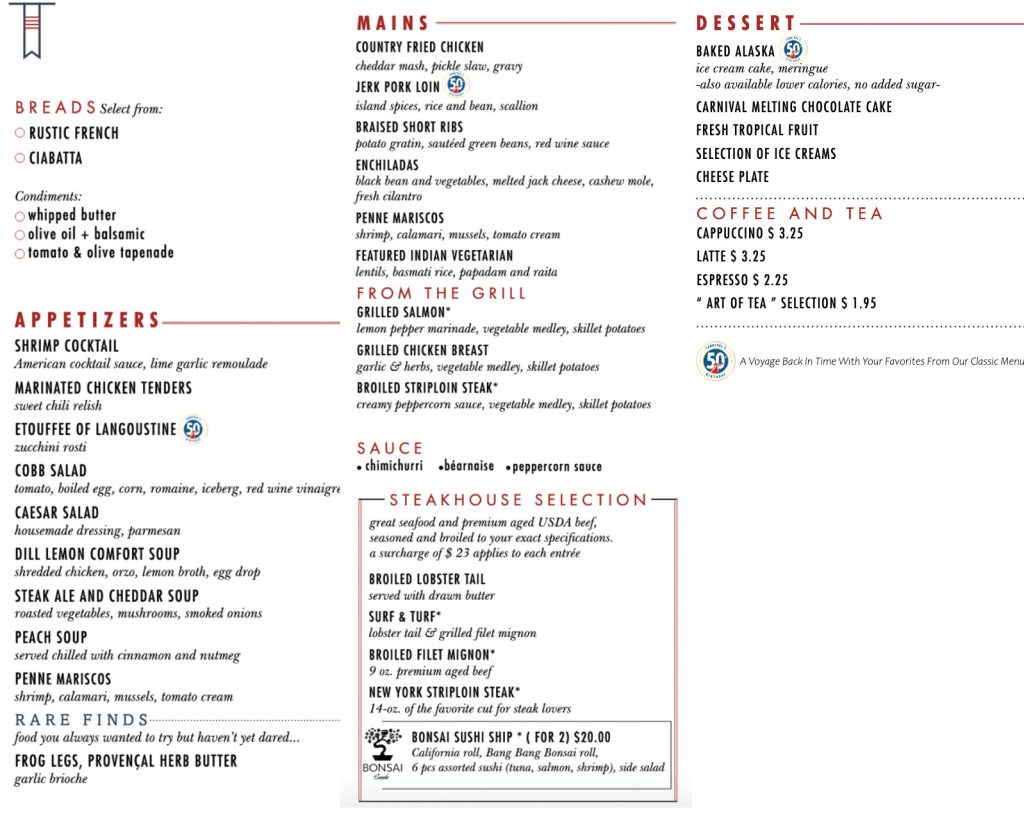 Unfortunately, the rest of the meal was uneven. It took 25 minutes for our appetizer to show up. I got the steak soup which was delicious, but the frog legs appetizer had almost no meat on the bones. It was another 20 minutes until we got our entrees. I ordered the enchilada, which was pedestrian at best; it was something I could have gotten at Blue Iguana. Lastly, I went with the classic melting chocolate cake again for dessert. It's always my favorite, but Carnival really needs to improve consistency. Over the cruise, I had ones that were completely soupy and others that were completely solid. It shouldn't be hard to check with a thermometer before serving; that's what I do when I make them at home. (See Carnival Melting Chocolate Cake recipe)
Overall, the meal in the mean dining room took 1 hour and 10 minutes. The servers were ok, but they weren't around often and didn't check in to see how we were. It really stuck out to me how uneven both the food and the service were. Sometimes, it was top-notch; other times disappointing. Nothing was terrible necessarily, and I didn't have an awful time at any meal, but I don't understand how on the same ship, same dining room, same sailing, it can swing from a meal/service I'd rave about to something I'd pass on. 
Latitudes Bar and Carnival's "free" drink
After dinner, we stopped back at the Latitudes bar to try some more cocktails from their fairly extensive menu. Because I am a "gold" Carnival member, having sailed 43 nights with them, I'm entitled to a "free" drink. Sadly this free drink ended up leaving a sour taste in my mouth.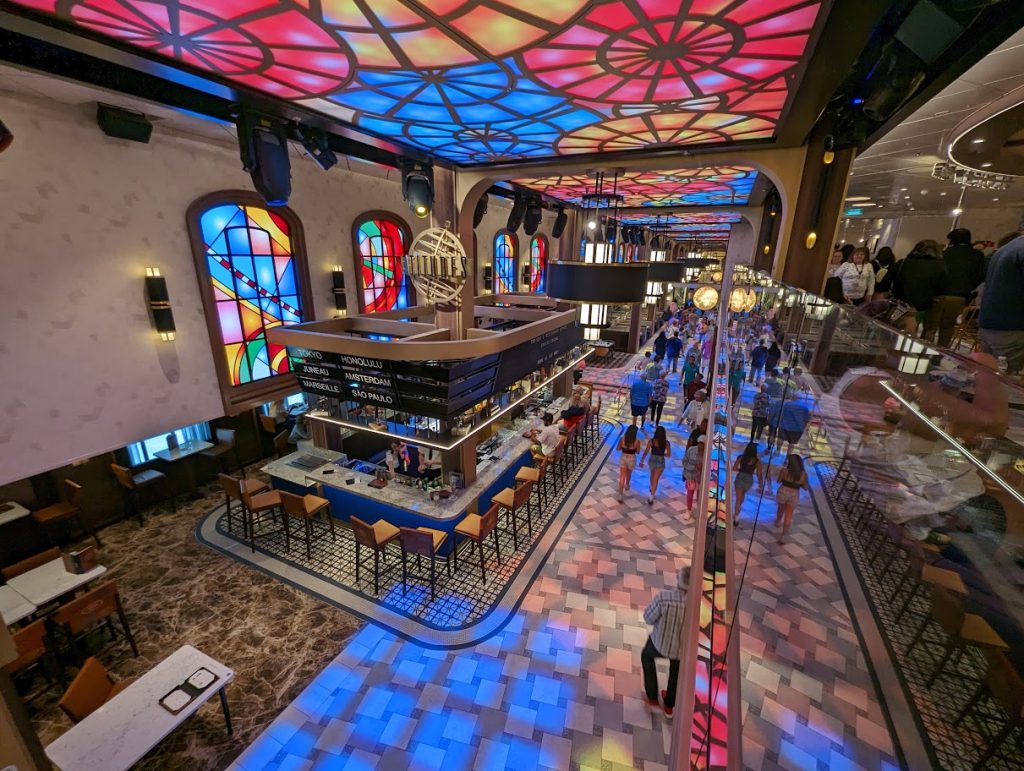 Carnival used to put the free voucher in your room, but you couldn't use it until 5PM on the last night. That irked me because it was clear they were hoping you wouldn't use it; you'd either forget about it or not want a drink at that point. Now, they changed how it works. You have to KNOW you're entitled to the free drink and then ask the bartender to use it (but not until after 5 PM on the last night). 
On top of that, the "free drink" only covers $11, but Carnival's average cocktail cost is now $13. You can still get something over that price and pay the difference. 
Honestly, when you look at all the aspects of it, it's a really crappy way to treat your loyal customers. 
Comedy in the Grand Spectrum Theater
This evening, they had comedy in the big theater, which meant many more people could attend (I'm not sure how many, Carnival doesn't provide venue capacities for its Excel-class ships). I don't know why they didn't hold more comedy shows in the main theater. I know they want it to feel like an "authentic" comedy club that's small, but I've seen plenty of comedians in big theaters, and if they're good at what they do, it still works great.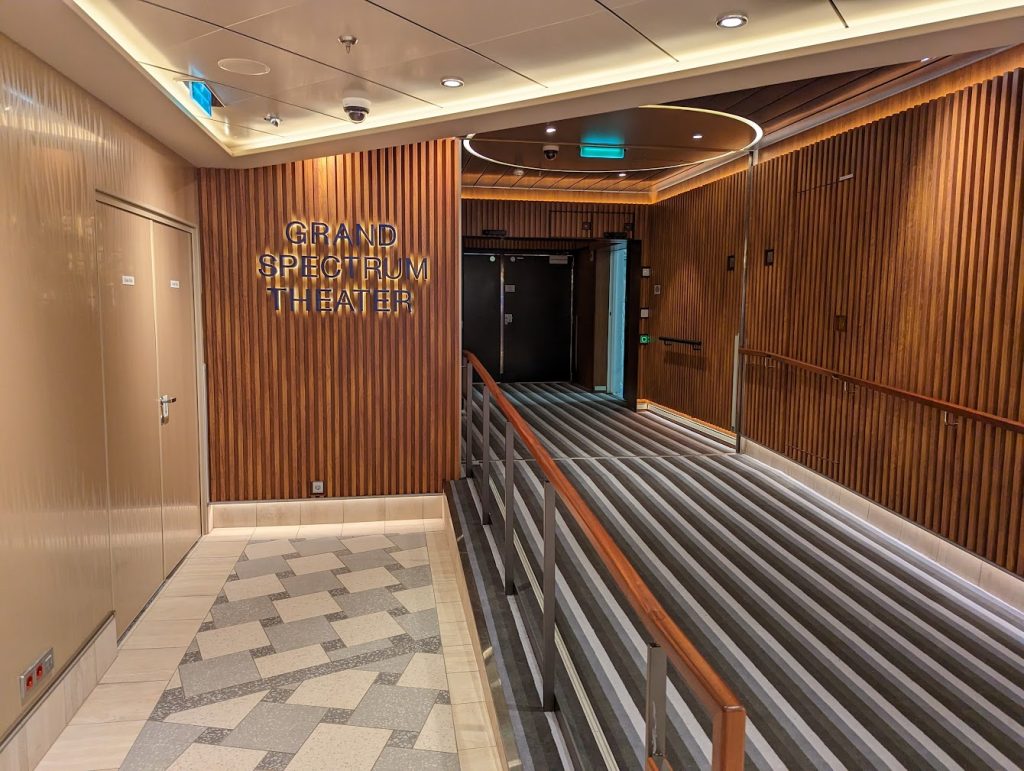 We got to the Grand Spectrum Theater about 25 minutes before the show, and it was filling up quickly. By 15 minutes before showtime, it was near full. Even once it started, seats were still available, but for better seats, get there between 15 and 30 minutes before the show. 
Since you have to go there early to get a good seat, it's disappointing that Carnival doesn't have a bar or drink service in the theater. If you wanted a drink, you had to walk halfway through the casino to the casino bar. For a cruise line that's about maximizing revenue from every guest onboard, it's a huge missed opportunity. 
The show itself was ok; it was more of the comedian I saw the previous day (read about it here), and this set built on his last one (which was ok, but not really my usual style). I wish it would have been a completely different set; it was almost like "Part 2" of his performance. 
Finishing up at the piano bar
After the comedy show ended up headed back to see Tatsu at the Piano Bar. All the regulars were in their usual places, and the energy flowed freely throughout the room. For this sailing, the piano bar was the place to be after hours. When other bars would close, the people would migrate to the next bar, which would usually be the piano bar. But that can be different for every sailing. I've heard sailings on the Celebration where the piano bar was dead, and the nightclub was packed all night. It all comes down to who is on the ship with you that week.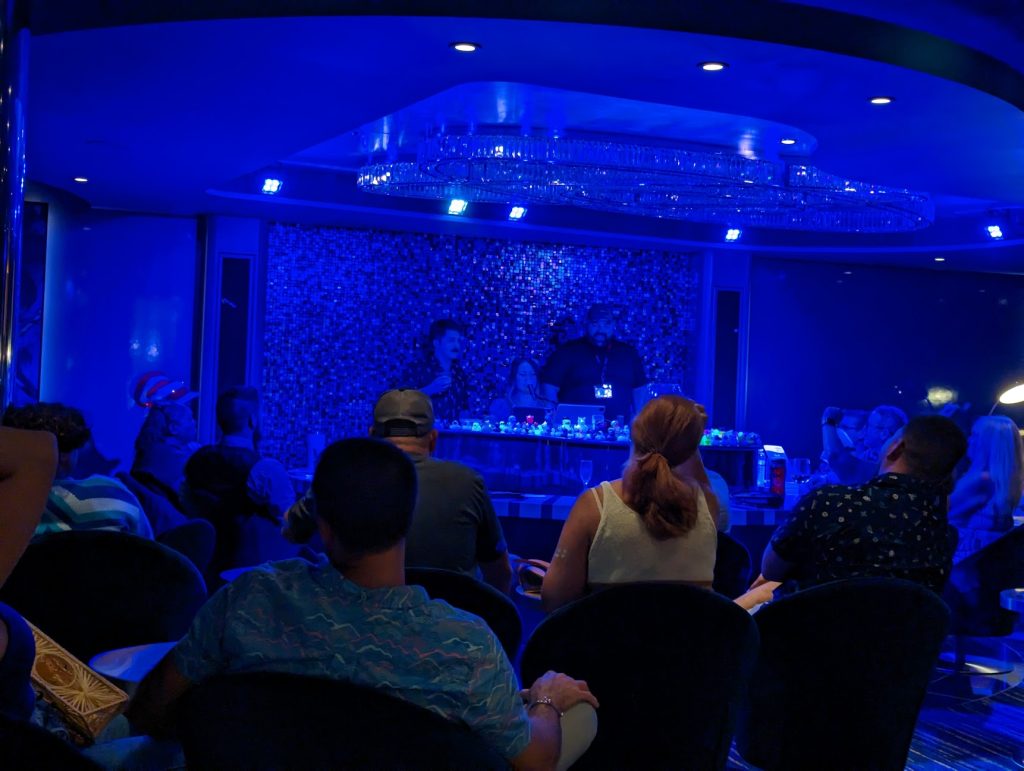 Leaving the Carnival Celebration on the last day
Leaving the ship is the worst part of any cruise, and this was no different. The process was relatively smooth, but leaving the Celebration was still sad.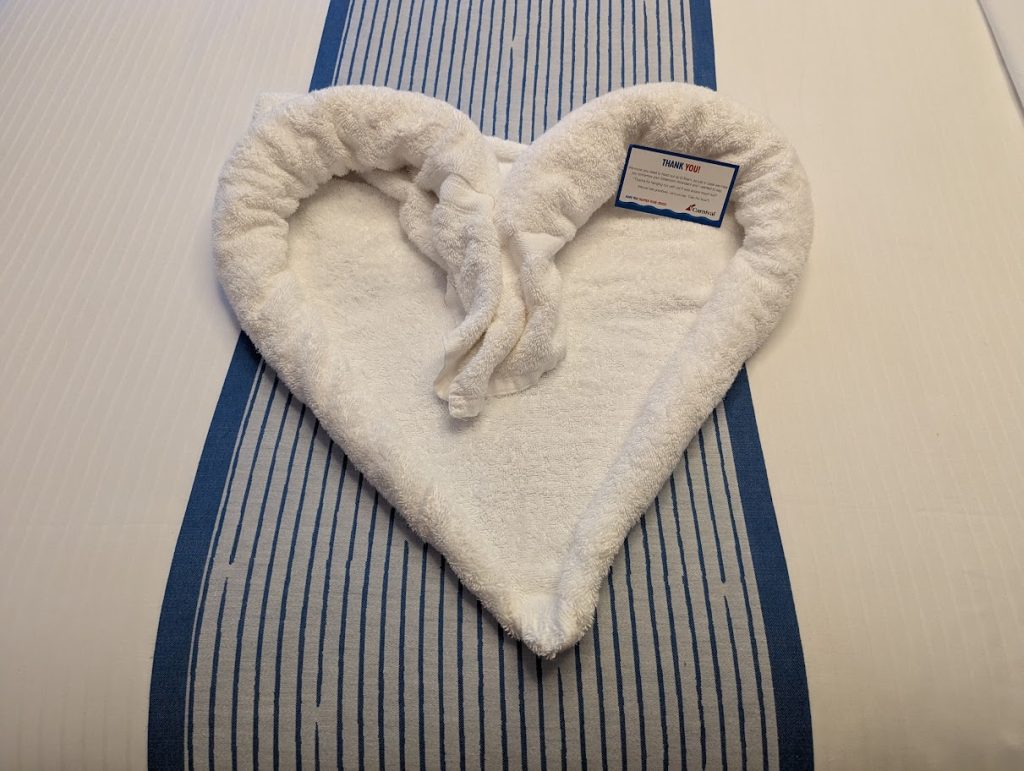 Around 7:15 in the morning, the cruise director announced that self-assist guests, those carrying their luggage off themselves, could leave. Then at 7:40, they started letting people with tags 1,2, and 3 leave the ship. By 8:10, they were up to tag 5. 
We were tag 23, so we had plenty of time. We headed to the Lido Marketplace to grab breakfast, as it was the only real option for food.
The place was absolutely packed. The buffet lines were non-existent, but the tables were all taken up by people sitting and taking up space, not eating. I saw plenty of tables with people on their phones, taking up a whole table, with their full-size luggage right next to them (meaning they should have left the ship already).
Most of the annoyance was people being rude and inconsiderate, and there's not much Carnival can do about it. But they could take a more aggressive stance. Royal Caribbean constantly announces that you must go to a designated area to wait for your number to be called once you're done eating. I found it annoying at the time, but now I see why. Otherwise, people lounge around and take up space.  
The last few tags were called at 9:26 AM, and we headed off the ship. It took us 25 minutes from when they called us until we got through customs on the way back (which, thanks to Carnival technology, is as easy as taking a picture and walking through.)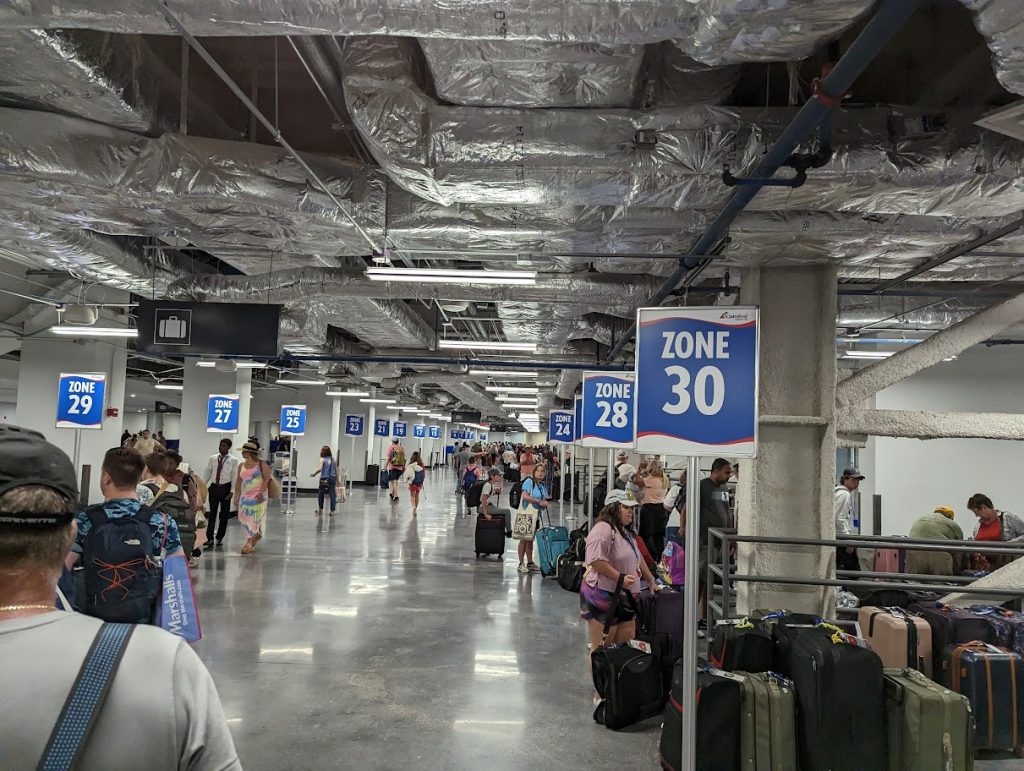 Our flight was out of Fort Lauderdale, so we called a Lyft as it was half the price of Uber at the time (always compare prices as they can be quite different). But it was chaos, Miami was having an event, and roads were closed all over the place. We had a Lyft reserved, but it took us 50 minutes to arrive and then 1 hour and 21 minutes to get to Fort Lauderdale Airport (FLL), usually a 30-minute drive. 
It was incredibly frustrating that Miami didn't plan better. The cost was $82.45 (originally, it was supposed to be $62). At that point, I wished we had booked the cruise line transportation, which would have saved the hassle. Thankfully we still were at the airport with plenty of time to spare. 
Carnival Celebration cruise summary
Overall it was a fantastic cruise, and I was surprised at how much I loved the new Carnival Celebration. Carnival did a lot right with this new ship, and it sets the bar even higher for the sister ship, the Carnival Jubilee, which will debut in December. I'll wrap it all up in a Hits and Misses article and an overview, but to sum it up, I would have done the same cruise again and not changed any of my choices. 
Follow along on the rest of our Carnival Celebration cruise
Carnival Celebration – Cruise Blog - Day 1 – Miami
Carnival Celebration – Cruise Blog - Day 2 – Sea Day
Carnival Celebration – Cruise Blog - Day 3 – Cozumel
Carnival Celebration – Cruise Blog - Day 4 – Costa Maya
Carnival Celebration – Cruise Blog - Day 5 – Roatan
Carnival Celebration – Cruise Blog - Day 6 – Sea Day
Carnival Celebration – Cruise Blog - Day 7 – Sea Day
5 Hits and Misses on Carnival Celebration
If you want to stay up to date with what we publish, sign up for our monthly newsletter
CruiseSpotlight is an Amazon Associate. We may earn a commission when you click links to retailers and purchase goods.