Carnival Clarifies Specialty Dining Policy on Mardi Gras, Celebration, and Jubilee
Since Carnival first introduced their Excel-class ships when Mardi Gras debuted in 2021, guests have been confused about the specialty dining policy. Carnival made a lot of waves when they said they'd be offering three specialty restaurants complimentary for dinner during the "inaugural season" or Mardi Gras. There was never a clear definition of what "inaugural season" meant, and the policy has changed over time. Finally, we get some clarity on the policy.  
Included specialty restaurants on Excel-class ships
On Excel-class ships, three specialty restaurants were complimentary: Guys Pig and Anchor Smokehouse, Cucina del Capitano, and a new restaurant called ChiBang! It was a notable difference because, on other ships, these restaurants (or the closest equivalents) had a charge to eat there. It offered a new type of flexibility to dining on the ship that differed from the rest of the Carnival fleet.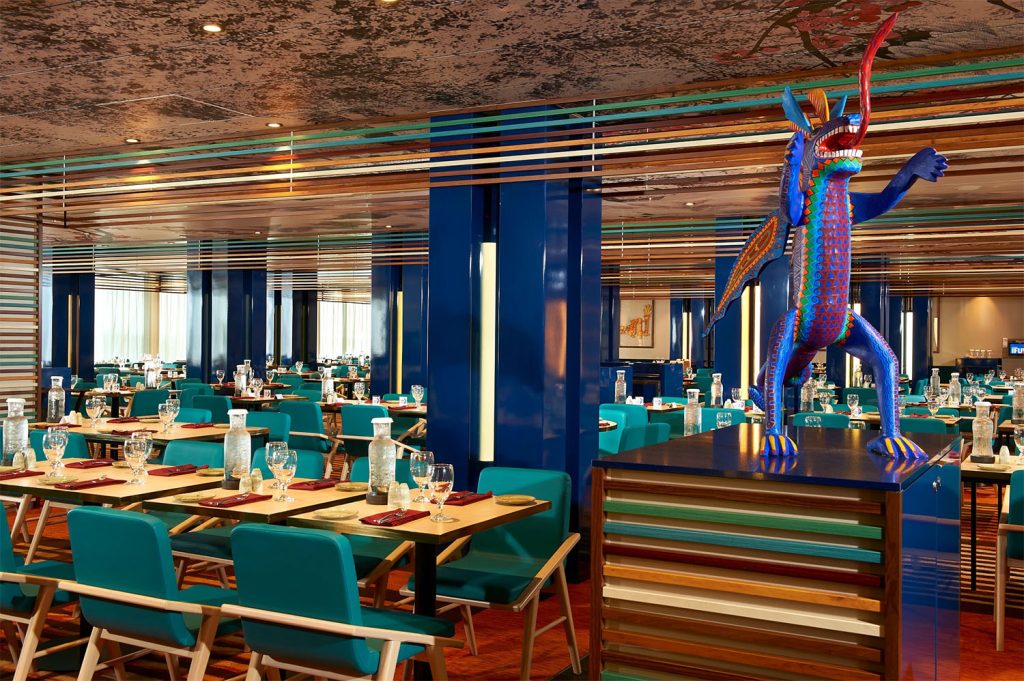 Just note that every restaurant is not included; Mardi Gras, Celebration, and Jubilee still have extra-free specialty restaurants as well. You'll find staples like Bonsai Sushi, Bonsai Teppanyaki, and Fahrenheit 555. The ships also have two new specialty restaurants, Emeril's Bistro and Rudi's Seagrill.
Small dining rooms lead to complimentary dining
While Carnival hasn't officially commented on why they made these specialty restaurants free on these ships when they're not on others, I gained insight while aboard the Carnival Horizon in 2020 (follow along here). It was one of the last cruises before shut down, and they were testing to see if more people would go to Guy's Pig and Anchor Smokehouse instead of the dining room if it were free. When I was talking to the maitre d', he said the new ship coming out, Mardi Gras, didn't have big enough dining rooms for all the guests, so they were trying to see if people would opt for other options if it were free.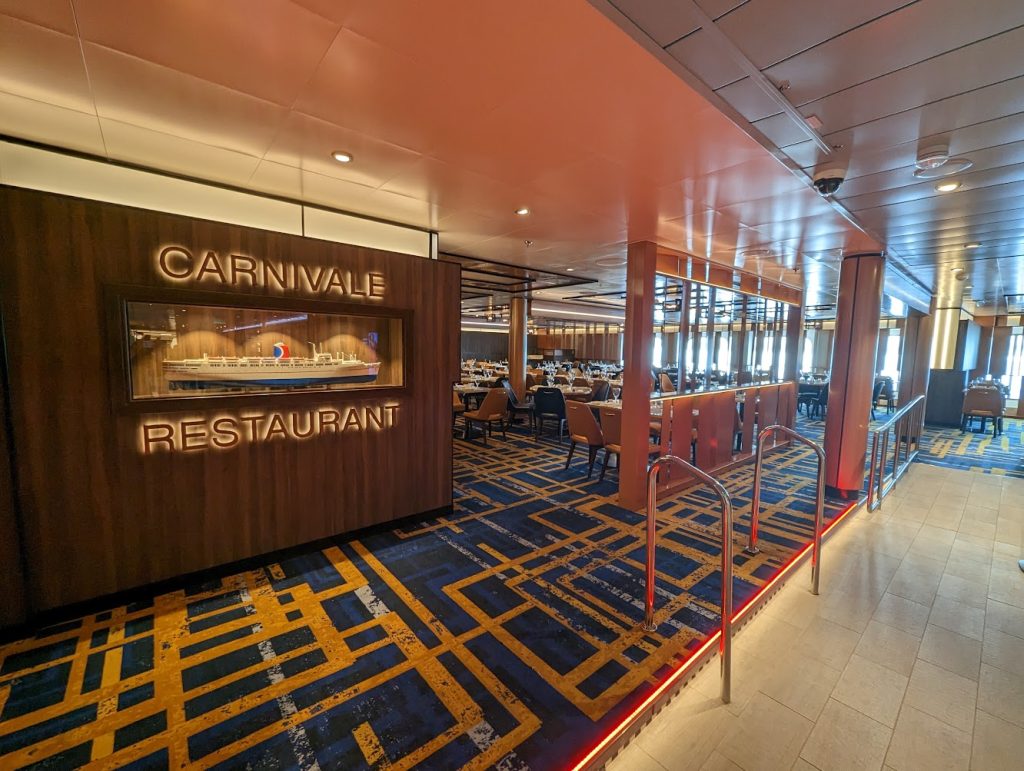 I can't verify this because Carnival does not provide restaurant capacities for their Excel-class ships (they do for every other ship in the fleet). Still, it does feel right based on my experience on the Celebration (follow along on my cruise here). 
Dining confusion abounds
A lot of the confusion comes from the fact that Carnival's website is wrong. Since the beginning, Carnival.com listed ChiBang as an extra fee, although thankfully, they fixed that. But for Guy's Pig and Anchor Smokehouse and Cucina Del Capitano, it still shows an extra fee. That's because on older ships, they still charge for dining there. Because Carnival insisted on using the same name for the restaurants on this ship (even though the menus are different), it confused guests.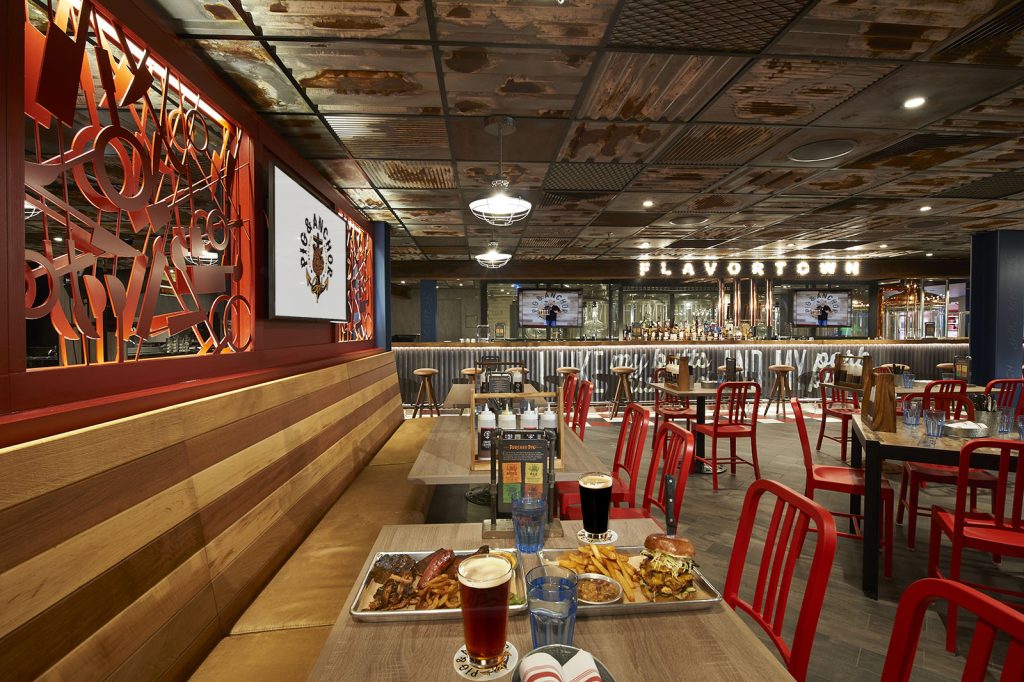 John Heald clarifies policy
In a Facebook post today, Carnival brand ambassador John Heald clarified the current policies. 
Carnival Mardi Gras and Carnival Celebration
Cucina del Capitano 
ChiBang
Guy's Pig and Anchor Smokehouse
Carnival Jubilee (Inaugural Season)
Cucina del Capitano
ChiBang 
Guy's Pig and Anchor 
No advance reservations for specialty dining
Unlike the older ships that charge for these restaurants, on Excel-class ships, you can't make reservations before the sailing. Instead, if you're on "Your Time Dining," you check in using the Hub app while on board when you're ready to eat. It'll estimate the wait, and your phone will buzz when your table is ready, so you don't have to wait in line.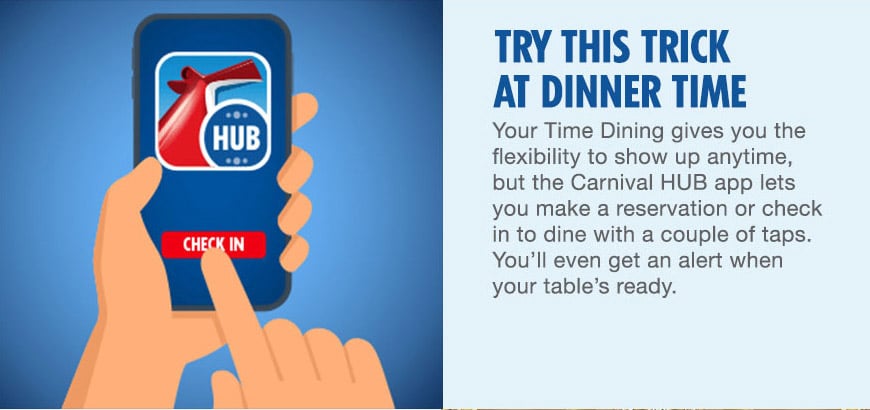 Guests with set-time dining can still try out these restaurants, but you have to make reservations starting at 7:30 PM at the restaurant. 
Our take: We love the dining options but don't love the charge
Carnival's Excel-class ships have a different look and feel from the rest of the fleet, and the dining options lean into that. The sheer amount of included dining options on the ship throughout the day was impressive and more than I've seen on any other cruise ship. 
While it's excellent that Carnival allows all guests to try these restaurants at least once, the charge for a second time is disconcerting. It could be to help mitigate demand. On my sailing on the Celebration, Cucina del Capitano routinely had an hour wait, while the main dining room was 15 – 25 minutes and ChiBang was 30 – 45 minutes during peak times. But the food there wasn't noticeably better than the main dining room; in fact, I liked the food at ChiBang less than the MDR.
It's also frustrating that the only way we know about this policy is a post for a Facebook page by the brand ambassador. Carnival needs to update their website to reflect the current policies and not show inaccurate information. 
CruiseSpotlight is an Amazon Associate. We may earn a commission when you click links to retailers and purchase goods.