Carnival Guests Can Now Use On Board Credit (OBC) For Pre-Cruise Purchases
Onboard credits, OBC for those in the know, have traditionally been incentives offered to guests when booking a cruise. Guests can use these credits for virtually anything they charge to their onboard account, which Carnival calls "Sail and Sign." In essence, the credit is deducted from the bill of charges on board. So if a guest paid $300 for dining and drinks during their cruise and received an OBC of $100, their final bill would be $200 at the end of the cruise. 
The Problem With Onboard Credit
While onboard credit might have worked well in the past, these days, it's a bit of an issue. Things like excursions and dining have limited spots, and they can be completely booked weeks before you even step foot on the ship. For other things, like the Cheers drink package, it's 10% cheaper to buy it before you board. That means guests with onboard credit have a dilemma; they can wait until they're on board and use their OBC and risk the activities being fully booked, or order them ahead of time online and then pay with a credit card or gift card.
In the past, OBC was relatively small, $50 – $100 here or there, so it wasn't a huge issue. Guests could usually find a way to spend that onboard, even if their excursions and dining were all booked already. However, the problem really grew due to the COVID shutdown. When CDC shut the industry down, Carnival offered guests with canceled cruises $600 if they took it as a future cruise credit instead of asking for cashback. That meant people had quite a bit of money to spend. However, if they already purchased excursions, dining, and/or drink packages ahead of time, it was hard to find a way to spend that money onboard.
Carnival changes their onboard credit policies
Carnival realized the problem this was creating and changed their policy so guests could now use the credit when purchasing things ahead of time. For any cruise departing March 15, 2022 or later, guests can now book their activities online and pay using their onboard credit. 
How to use onboard credit book Carnival activities
Booking activities using OBS is really easy; no phone calls and no weird codes to know. Guests just have to log in to their Cruise Manager using the Carnival website. Then, browse the options and add what you'd like to purchase to your cart. Then go to check out.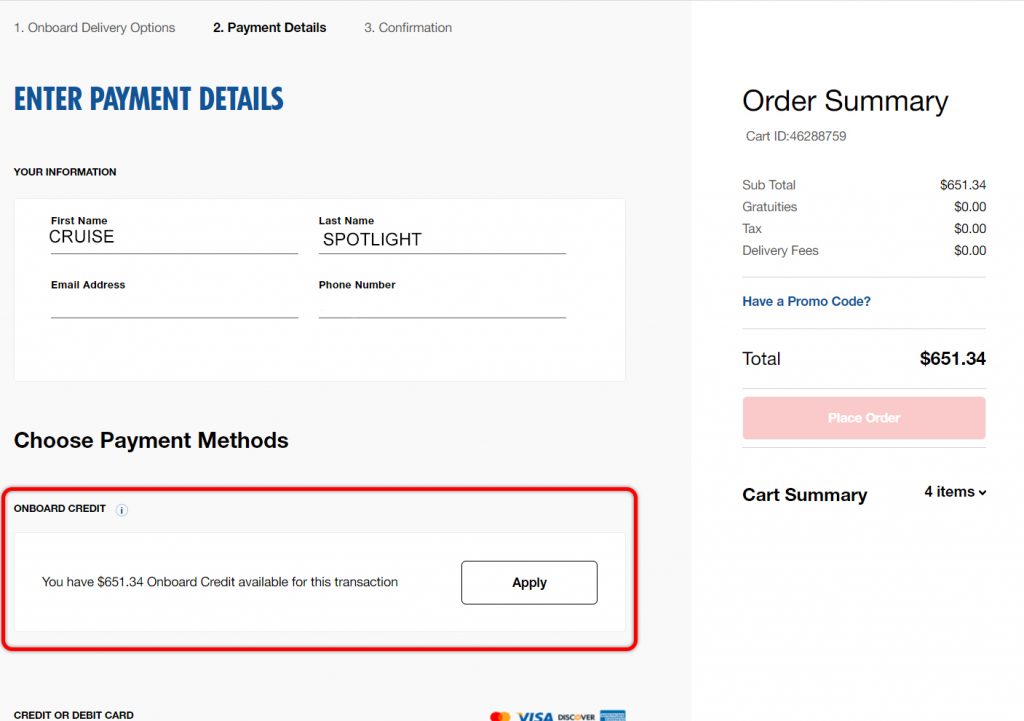 On the last screen, when you usually enter your payment information, you'll immediately see that you have onboard credit you should apply. Please note, it doesn't show ALL the onboard credit you have. For example, for our upcoming cruise on the Carnival Celebration, we have $700 in onboard credit. Because our cart was only $651, the site shows that's how much onboard credit we have. We've checked, and we do indeed have $700 available. It might be confusing to some guests, but rest assured, all your OBC is there; it's just showing how much you need to use for that transaction. If you don't have enough OBC to cover the cost of your cart, you can pay the rest with a credit card or Carnival gift card, just like you would before. 
What can you book ahead of time with Carnival onboard credit?
You can use your OBC for anything you can purchase in your cruise planner. Here are some ideas on how you can spend it. 
Excursions
Drink Packages
Pixels Photo Packages
Specialty Dining
Gifts and Stateroom Decor
Internet Plans
Spa and Salon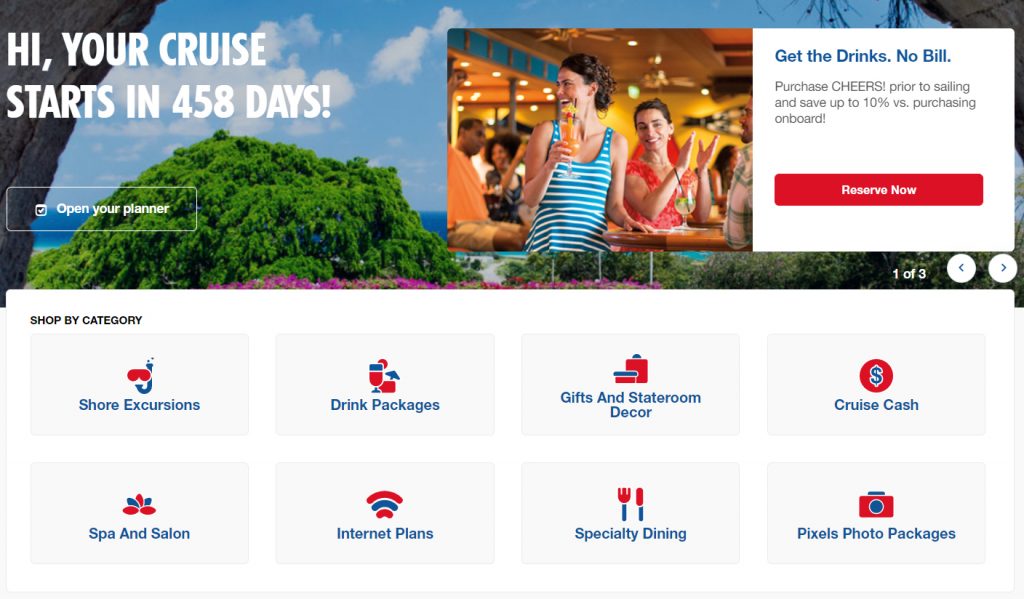 Do I have to use OBC ahead of time?
No, you don't have to book anything ahead of time if you don't want to. Your credit will just be applied to your account once you're on board, and your final cost will be credited by that amount. 
Carnival is constantly striving to improve customer satisfaction
Carnival did not have to allow guests this option. Onboard credit, by definition, is supposed to be spent on board the ship. The change of policy, and even altering their website to make it seamless, shows how Carnival is striving to improve the guest experience. Hopefully, like some other new policies and features that arose due to COVID, this continues from now on. 
CruiseSpotlight is an Amazon Associate. We may earn a commission when you click links to retailers and purchase goods.