Carnival Horizon 6-Day Cruise Live Blog: Day 1 (Miami)
Last Updated on August 22, 2023
Getting to the port
Join along as we embark on a 6-day sailing on the Carnival Horizon. This 6-day cruise left out of Miami which is a great port to leave from. Miami has to be one of the easiest ports in the country; it's a short distance from the airport and there's a ton of hotels nearby if you fly in the day before. I flew in the night before and stayed in the Brickell district at the Fortune House Hotel Suites, which I would highly recommend. Our cruise check-in time was at 12:30, but we decided to just head over to the terminal at check out time (11am).
Getting onto the Horizon (embarkation)
We used Lyft to get to the terminal from the hotel, which took about 15 minutes and cost $12. As soon as we got out of the Lyft, a porter was there to take our large check-in bags. He made sure our room tags were on them, and for one that was a little loose, stapled it to make sure it was secure. After giving him a few bucks for a tip, we headed to the entrance to Terminal D, where the Horizon is most often docked in Miami.
Because we were there about an hour before our official check in time, we went to the "Early/Late Arrivals lines." There were maybe 4 or 5 people in front of us. This was my first time cruising from Miami and, as I mentioned here, I was honestly SHOCKED at how streamlined the embarkation process was there. Because we had already checked in online, we just showed our boarding passes and passports, and the agents scanned them with a portable scanner. Then we put our carry on bags through the X-ray, walked through the metal detector and were on our way onto the ship. No waiting, no lines or anything. It was literally 15 minutes from when we first entered the terminal until we were on the Lanai of the ship eating free BBQ.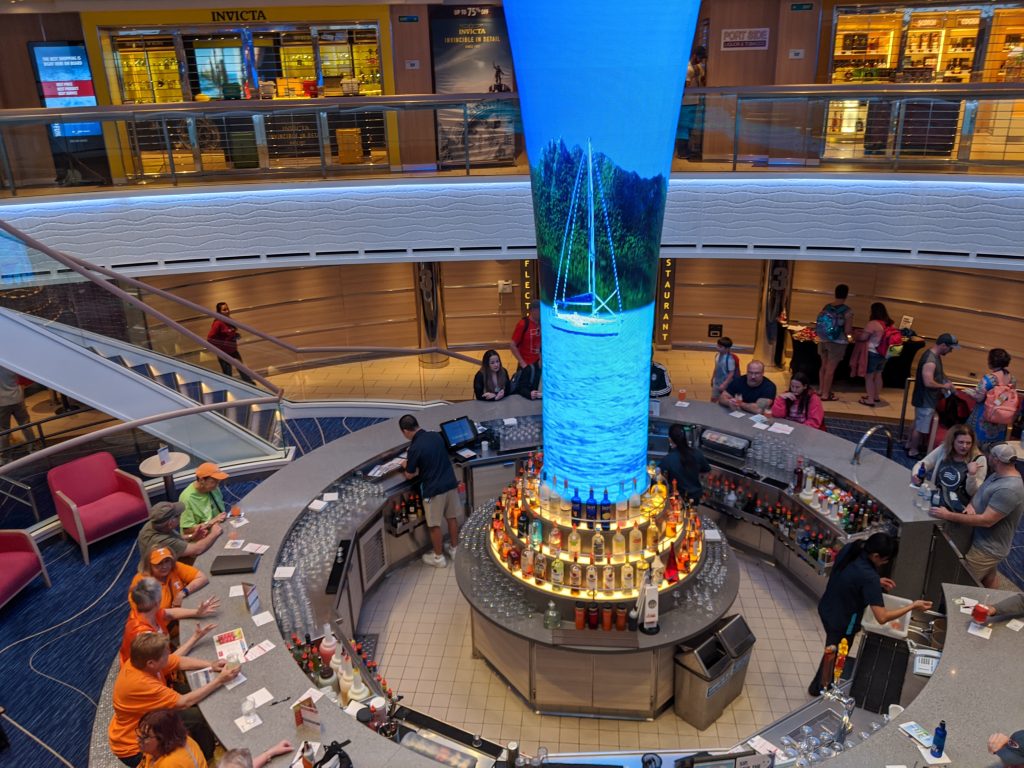 After a series of ramps and hallways, you board the Horizon from the Deck 3 Main Atrium. Unlike other Carnival ships, the Horizon doesn't have a floor to ceiling atrium with glass elevators; instead it's a 3-story central lobby with a large LED funnel. While the funnel had really cool dynamic displays on it throughout the cruise, it wasn't as visually impressive in person as it comes out in pictures. It just felt a bit small and cramped compared to other ships I've been on.
Once we got through through the Lobby, we made a bee-line for Guy's Pig and Anchor to check out the BBQ (see the menu here). Most people don't know that on Carnival ships with BBQ restaurants, it's open for lunch on Embarkation Day. Not only is it usually tasty BBQ, but there's also much smaller lines because it's 5 floors away from the main dining venues and people don't know it's there. It was a nice quiet lunch looking out on the City of Miami. I loved the pork butt? which was quite tasty.
Exploring the Carnival Horizon
Next, we did one of my favorite cruise activities…exploring the ship to see all the areas. It's always fun to check it out before it's filled with passengers. The ship is large but pretty spacious feeling. It had a really nice contemporary decor with modern color schemes and clean lines. We worked our way up the ship using the elevators as to avoid the insane elevator lines that were forming.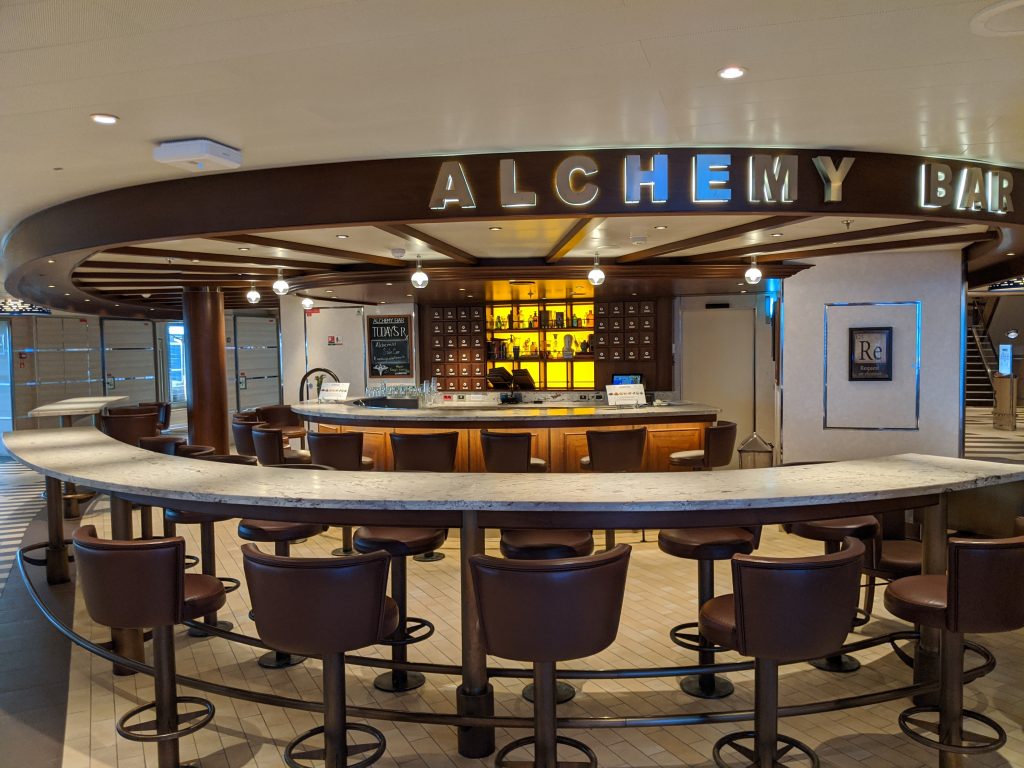 While we were waiting for Muster Drill to start, I had a "snack" at Guy's Burgers Joint (see the menu here). If you've never had a Guy's Burger, you're missing out. They are not only the best burger I've ever had on a cruise, but they're, quite possibly, the best burgers I've had anywhere ever. My favorite is the Straight Up burger and then I go to the fixin's bar and add on some dill pickles and bacon bits. Delicious!
Adventure on the ropes course and SkyRide
After the Muster Drill, we rushed to the Sports Deck so we could try the Ropes Course and the Sky Ride before long lines formed. We got up there before anyone else and it took about 10 minutes before staff arrived and started to open up the attractions. The Sky Ride, basically a suspended bicycle that loops around the Sports Deck, was pretty cool. At some points, you're hanging over the Lanai deck which is 5 or so deck beneath you. It also has some hills and dips that make it more intense. It was cute for what it was, but I didn't need to ride more than once.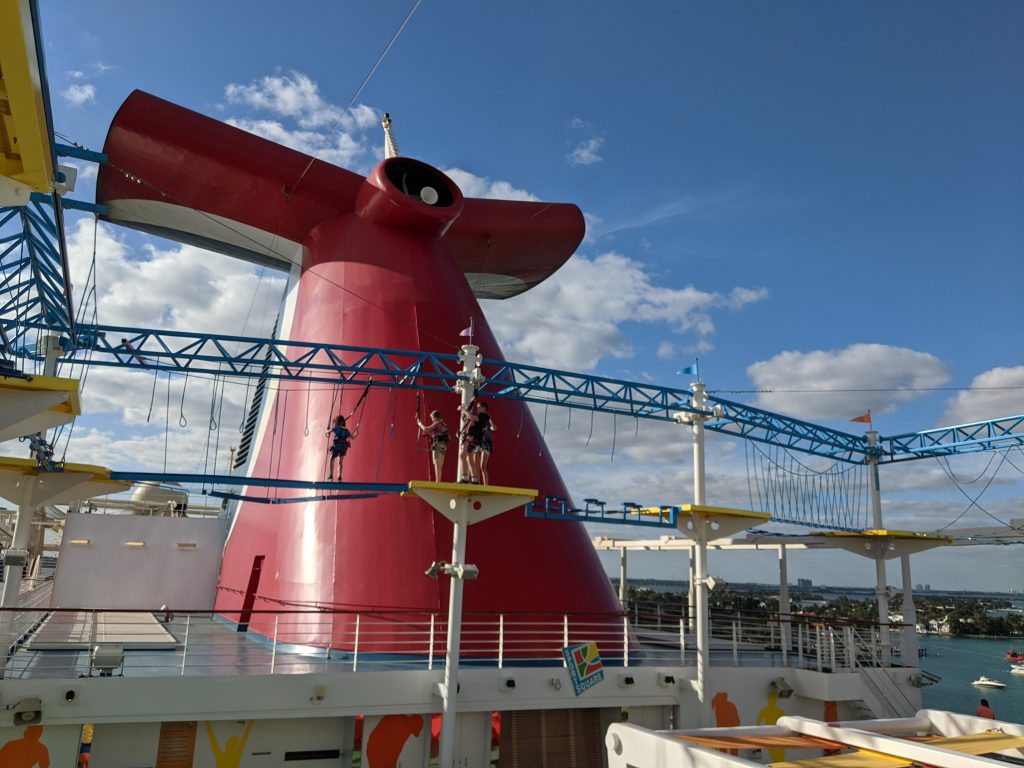 The ropes course was more challenging. The instructor straps you in, but your pretty much on your own while you're up there. Each section of the course has an "easy" and a "challenging" option. With the high winds, moving ship and a lot of people watching me, I opted for the "easy" way on most challenges. The whole ropes course is confined to the Sports Deck, so at no point are you hanging over the Lanai (5 stores below) of the ocean itself (10 stories below). It's was quite fun though.
Checking Out Our Balcony Stateroom
After that, we went to our room and got our room keys (Carnival now leaves your room keys at your room, so it speeds up the embarkation process). We had a balcony room on the 9th floor. We chose the 9th floor because we heard the elevators could be a pain and this way we wouldn't need to use them if we were going to the pools, Serenity area, Lido Buffet, etc.
The room itself was spacious for a cruise ship. Even though the Horizon is one of Carnival's newest ships, the room didn't feel all that much different from their other ships I've been on. It has the same layout of 2 twin beds or a king (the two beds pushed together) and a comfy couch. There are plenty of closets and drawers for storage as well. The ship does have built in USB ports for charging though, which is a nice addition.
Dinner and Drinks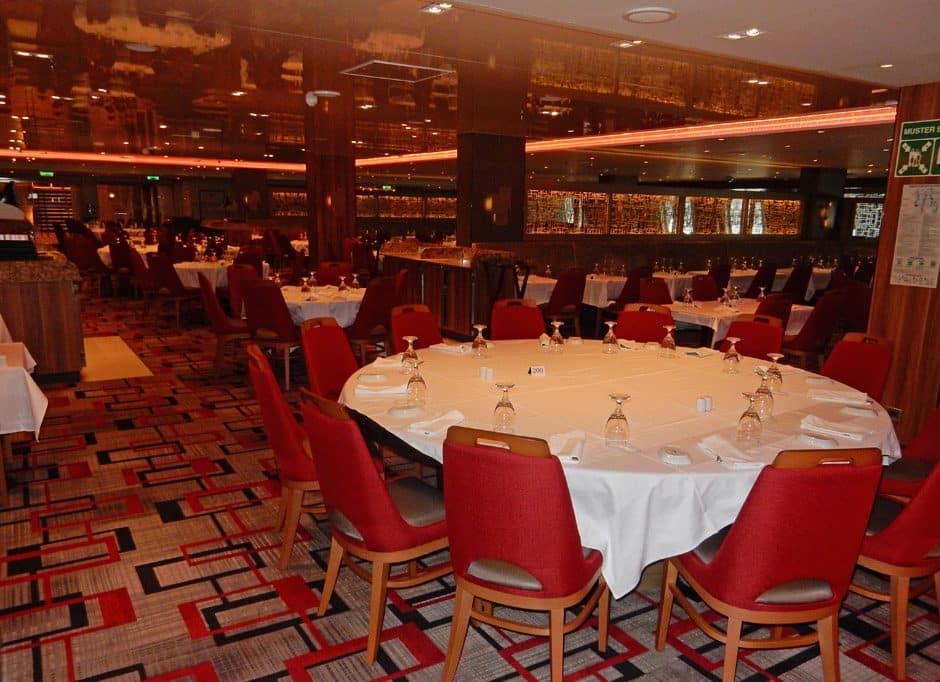 We choose for set time dining and we were able to get the earlier 6 pm seating. I always prefer set time dining because we have the same waiter every night and you get a nice rapport with them. Set time dining is in the Reflections Restaurant and we were seating at a long table with 5 other couples. While some people prefer individual tables (you can always ask the matre'd at embarkation), I like meeting new people and getting to hear other people's experiences on the ship.
We ended the night with a little gambling and drinking. The casino felt smaller than some of the other ships I've been on (although it's actually bigger), but it was clean and well laid out. The mini-LED funnel added a cool atmosphere and made it easy to figure out where you were on the ship. Smoke in a casino is always a problem, but this was was no where near as smoky as some older ships that I've been on.
Follow along on our 6-day cruise on the Carnival Horizon
Carnival Horizon – Cruise Blog - Day 1 – Miami
Carnival Horizon – Cruise Blog - Day 2 – Sea Day
Carnival Horizon – Cruise Blog - Day 3 – Amber Cove
Carnival Horizon – Cruise Blog - Day 4 – Grand Turk
Carnival Horizon – Cruise Blog - Day 5 – Sea Day
Carnival Horizon – Cruise Blog - Day 6 – Nassau
5 Hits & Misses of the Carnival Horizon
CruiseSpotlight is an Amazon Associate. We may earn a commission when you click links to retailers and purchase goods.