Carnival Horizon 6-Day Cruise: Day 2 (Sea Day)
Last Updated on August 22, 2023
The 2nd day of our Carnival Horizon cruise was a "Fun Day at Sea" as we headed towards what we thought was our first port, Jamaica. More on that later, but first, a nice relaxing morning.
Breakfast and relaxation
We started off going to the Lido Marketplace for breakfast. I was shocked to find so many open tables in the buffet; on other cruises, it was nearly impossible to find breakfast seating on a Sea Day. For the Carnival Horizon, and other Vista-class ships, head to the back of the Lido Marketplace. They basically have 2 buffets set up, and the back one (near the aft pool) is always less crowded.
After breakfast, we decided to have a relaxing morning reading. By 10am, all of the pool loungers and Serenity area seating are usually pretty full. If you want nice comfortable seating in a peaceful atmosphere, try the Lanai on Deck 5. There's tons of options; padded loungers, seats, tables and very few people. We had a beautiful view of the Ocean, a fresh breeze, and shade. I'd highly recommend this area for those looking to get away from the crowds.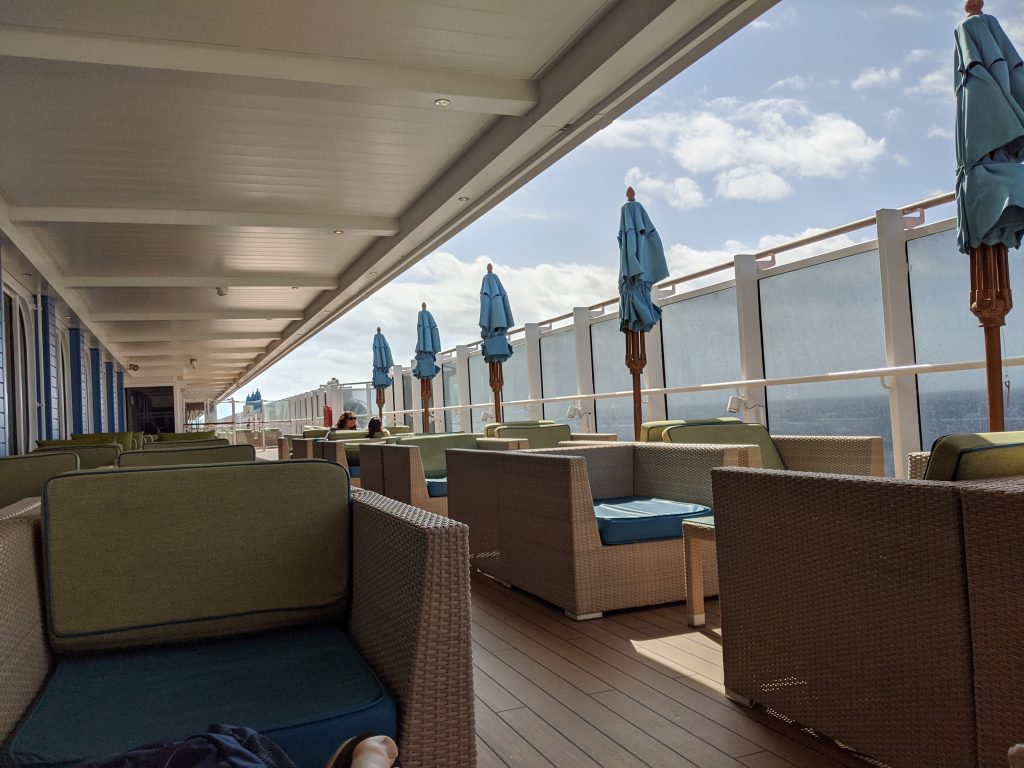 Trivia and Lunch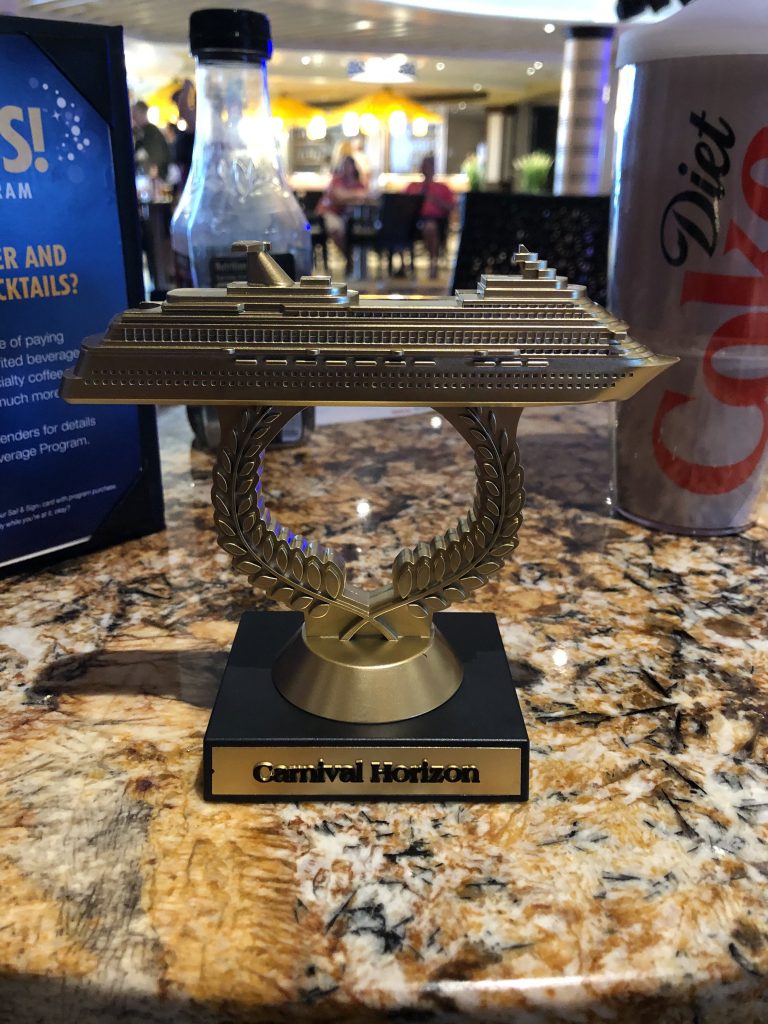 After a few hours of relaxing, we headed to Ocean Plaza for some fun trivia. The first one we tried was their team Trivial Pursuit. Each team gets a large "pie" and has to fill it with wedges of trivia categories (like Entertainment, Sports, History, etc). You needed teams of 6 to 10 people, so we partnered with some nearby tables to take on the competition. In the end, our team ended up winning a beautiful "Ship on a Stick".
After kicking some butt in trivia, we headed to lunch. Today, we went for Blue Iguana Cantina. The whole Lido Pool area, where Blue Iguana is, was hopping with music. The line for burritos is usually long but moves quickly. In this case though, we went for tacos which is a much shorter line that moves quickly. I love their fish tacos which are basically lightly fried fish in a tortilla. Then I headed to the toppings bar to top it with fresh salsa, cilantro and cheese. They were delicious. We also stopped for some pizza and a deli sandwich to make sure we were full for our upcoming brewery tour.
Brewery Tour at Guy's Pig & Anchor Smokehouse & Brewhouse
The brewery in Guy's Pig and Anchor Smokehouse (see the menu) does a tour on Sea Days so we signed up for that. It was $30 and included a 2-hour tour, tasting of all the beers brewed on the ship and a souvenir glass. Carnival brews 4 standard beers on their Vista Class ships and then the ship's brew master can usually experiment with their own 5th beer. These beers are made only for use on the ship (although you can buy cans off the ship that were brewed for Carnival in Florida).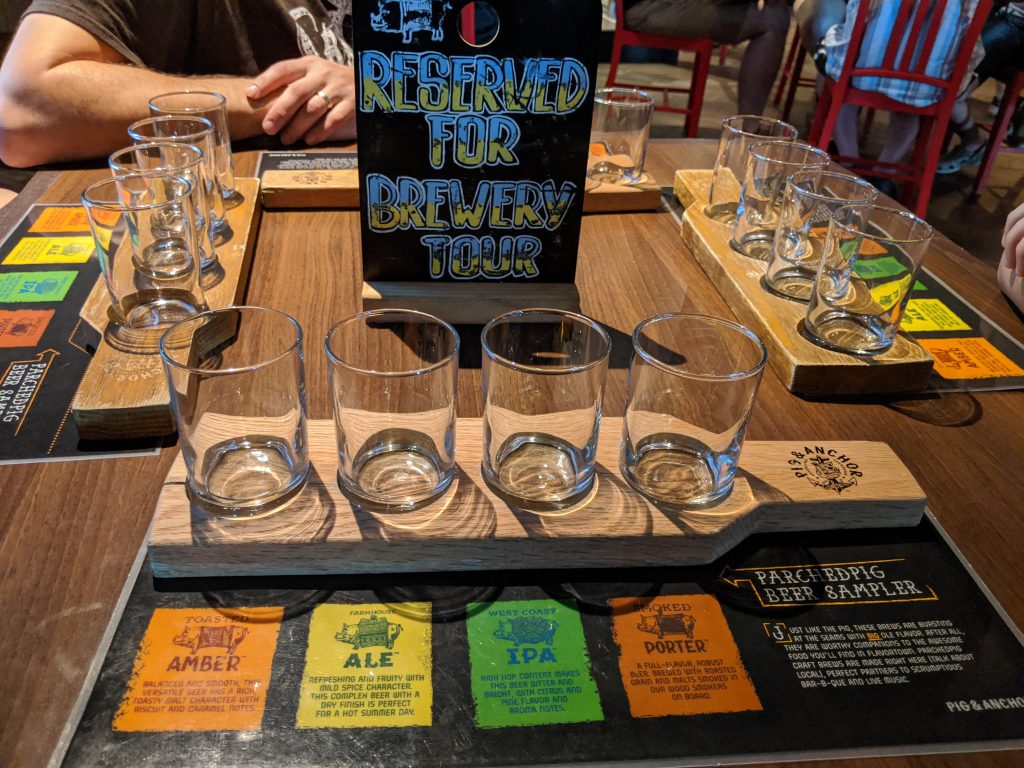 The brew master comes out and explains the process of how the beer is made and the differences between all the beers. If you've toured a brewery before, you're probably familiar with how it works, but the brewmaster was really passionate about it and made it interesting. Rather than just fill our four samples glasses, he came with a pitcher of each beer for each table of 4. Let's just say it was a LOT of beer; good thing we had a big lunch. My favorite was the Porter, which I don't usually care for. It had an amazing smokiness to it that made it delicious.
A Big Change in Plans
After all the drinking, we went to shower and change for dinner. We had dinner and then were sitting in the 2nd floor of the Atrium listening to the Electric Violins (which are amazing). As we were sitting there with a cocktail, an announcement came over the loud speaker. It was the captain and due to the Corona Virus (at this point the first few cases were being seen in the US), we were going to have to change ports. Instead of Jamica, Grand Cayman and Cozumel we were doing Amber Cove, Grand Turk and Nassau.
Being in lobby and with a clear bird's eye view of Guest Services, it was amazing seeing the chaos. People were immediately rushing them like they were rats trying to get off a sinking ship. The poor guest services staff were overwhelmed, but kept a smile the whole time. We were disappointed, but had never been to Amber Cover or Grand Turk before so we were ok with it. You have to roll with the punches, especially when the world was being transformed by the Corona virus.
Since the new excursions weren't in the app yet, we figured we'd head to the comedy club for a rated-R show. We got there 20 minutes early and it was already standing room only, which in this venue meant standing in front over seated people so they couldn't see. I was shocked. It had to be my least favorite part of the Horizon; they just didn't design the seating venues to be big enough.
Sports Square at Night
We figured we'd go to the 10 o'clock show instead and went onto the Sports deck to play some shuffleboard and mini golf. It was totally empty and that point and was cool to see it all lit up at night. It was challenging to play mini-golf though in the high winds.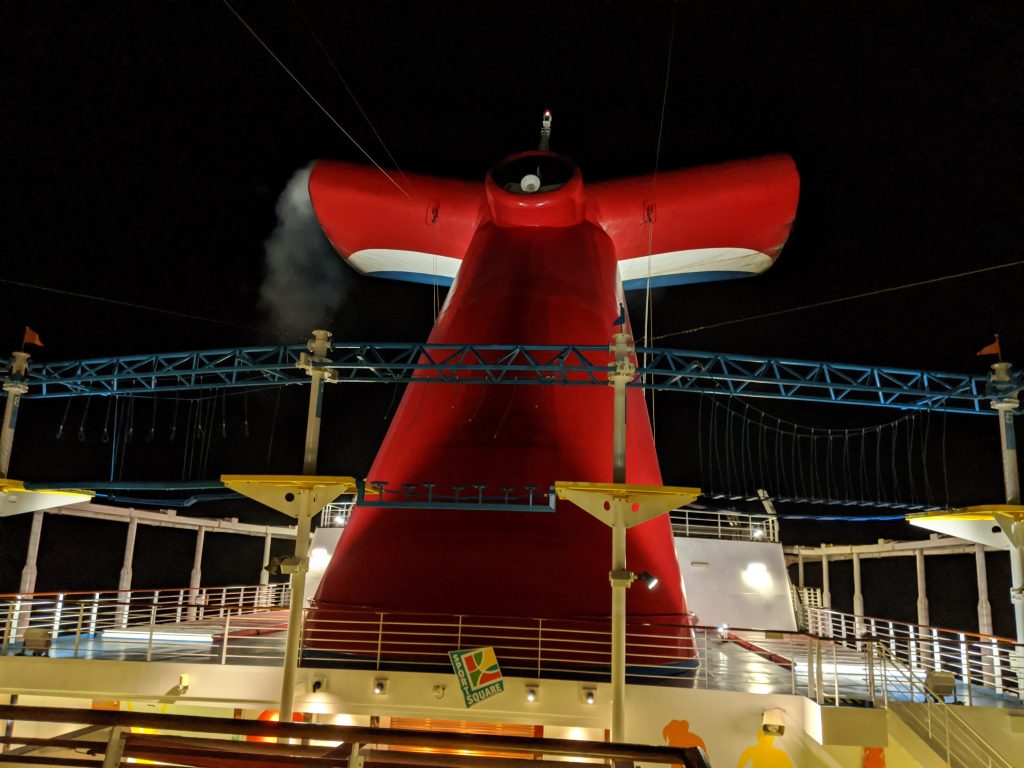 We got to the 10 o'clock show half and hour early and had no problem getting a seat. The comedian was good, although not the best I saw on Carnival. Then we headed back to the room to look at excursions and prepare for the next day in Amber Cove.
Follow along on our 6-day cruise on the Carnival Horizon
Carnival Horizon – Cruise Blog - Day 1 – Miami
Carnival Horizon – Cruise Blog - Day 2 – Sea Day
Carnival Horizon – Cruise Blog - Day 3 – Amber Cove
Carnival Horizon – Cruise Blog - Day 4 – Grand Turk
Carnival Horizon – Cruise Blog - Day 5 – Sea Day
Carnival Horizon – Cruise Blog - Day 6 – Nassau
5 Hits & Misses of the Carnival Horizon
CruiseSpotlight is an Amazon Associate. We may earn a commission when you click links to retailers and purchase goods.