Carnival Horizon 6-Day Cruise: Day 3 (Amber Cove)
Last Updated on November 6, 2021
Our new first port was Amber Cove instead of Jamaica and we had booked an excursion called "Waterfalls Of Damajagua – Adrenaline Adventure". Unfortunately, we woke up to see it was dreary and lightly raining, but we were going to make the best of it. We grabbed a quick breakfast and walked off the ship.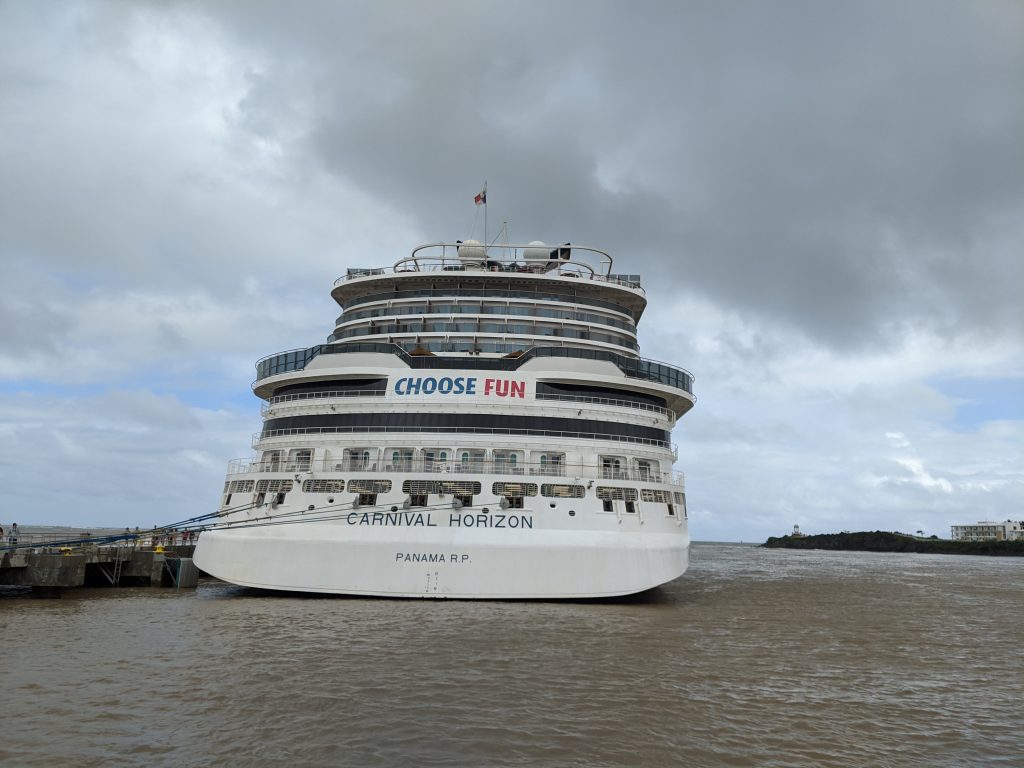 Amber Cove Port
In Amber Cove, the ship docks so you can work right off the boat and into a little port area. Carnival helped build this port in 2015, and it's exclusive to Carnival owned ships. The port has a bunch of places to eat, duty free shops, a large pool with swim up bar, a splash area, and some water slides that are free to use. It's a nice place to walk around and on a nice day, you could probably find a few hours of entertainment here without having to do an excursion. There is no beautiful, easily accessible beach here though, for that you need to take a taxi or book an excursion.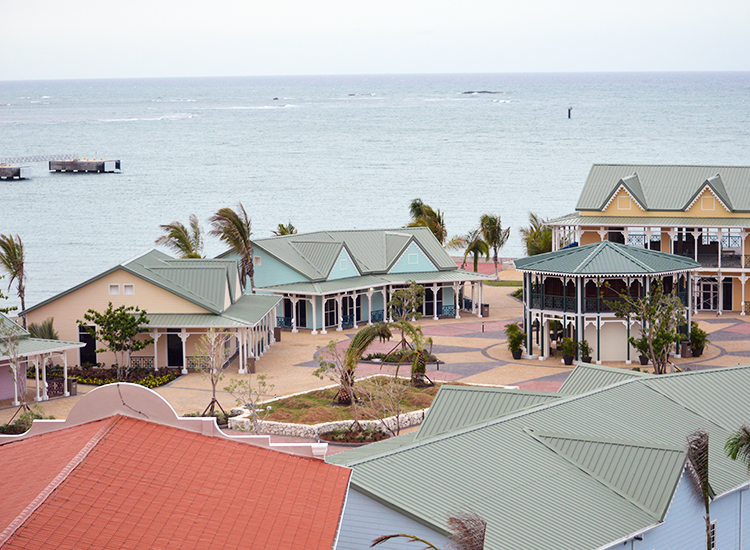 It was raining on and off as we walked down the pier and to the shuttle area to meet our tour excursion group. Because there wasn't supposed to be any ships at this port this day, they were struggling to make all the arrangements, and ended up combining two groups into one for our excursion which meant we had probably 30 people in our group.
Getting to the Waterfalls Of Damajagua
We got on the bus and rode through the Dominican Republic for about 30 minutes until we got to the waterfall. The country was wonderful, very lush and green vegetation but based on the structures, you could tell if was a struggling economy.
For this excursion, we arrived at the facility and they outfitted us with life vests and helmets that had to be worn. They had lockers available to rent to store our stuff, which was $8 per locker and we were able to bill directly to our Carnival Sail and Sign account which was nice. I usually bring my phone in my handy waterproof case with me on excursions like this, using a water proof case to protect it, but because we'd be bouncing around rocks and the currents could be strong, I felt safer leaving it in a locker.
For this first part of the journey, we had a 40 minute hike up a hill to get to the top of the waterfalls. This excursion was listed as "intermediate" activity but some people clearly through they were more in shape than they were. The paths were well established and easy to walk but there was quiet an incline. Even though I'm in relatively good shape myself, I did find myself winded a few times. Some people in our group though, were barely surviving. Thankfully it was only 73 degrees, I can't imagine these people trying it in 90+ degree weather in the summer. The tour guides were super accommodating though and didn't push anyone to go faster than they were able.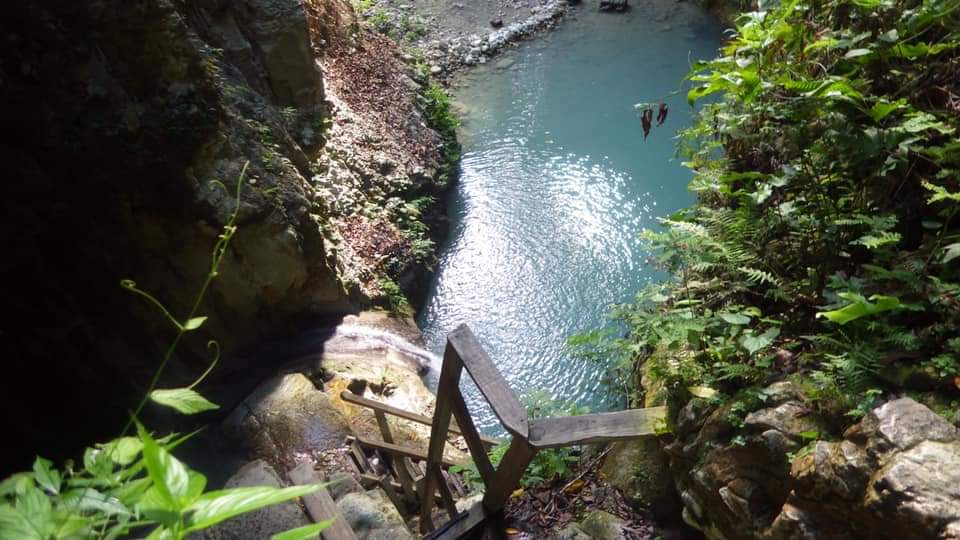 Enjoying the ride down
After the made it to the top, we climbed down some wooden stairs and started the journey by jumping into the river. This part of the river had 10 to 15 feet natural rock barriers and the water below was flowing quickly coming down from a source waterfall. I jumped off the ladder and slipped into the cool water. The natural water was so refreshing after the long walk up. It was a surreal experience being in a open cavern swimming around as we waiting for the group to all get in. The natural beauty was breath-taking, this natural area we were in looking like humans spent millions of dollars developing.
Once everyone made it in, we started down several different waterfalls. It's hard to describe, but it doesn't feel like you actually slide down them like a waterslide; it's more like you sit a the top and fall into the water below. The drops were anywhere from 10 to 15 feet and when you'd land below you'd go quite deep under water. The guys helped make sure you got down the waterfall safely and surfaced quickly. It was such a surreal experience and I'd highly recommend it.
It's hard to explain the experience and I wish I brought a GoPro to document it. Vlogger Kyle Pallo took this excursion while he was on the Carnival Mardi Gras, and he filmed it for his YouTube channel. It's a great way to see what you're in for and what to expect (see Kyle Pallo's Waterfalls of Damajagua vlog).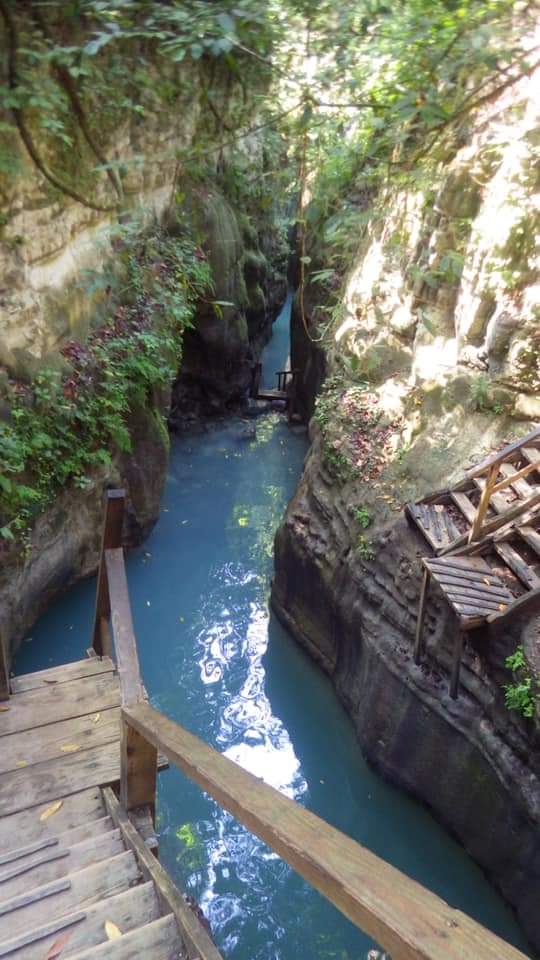 Back on the Carnival Horizon
We got back to the ship, and rested a little before dinner. After dinner, we headed to trivia at the Havana Bar. On Carnival, usually trivia is done during the day in Ocean Plaza with 15 to 20 questions you have to answer. This was a new Pub-Style trivia concept that you'd see at your local bars and restaurants at home with 6 rounds with 6 questions per round. It started on the Horizon and is only on a handful of other ships on Carnival, but I'd highly recommend it. I'd say around 50 people showed up to play and there were about 10 teams. Our team of two kicked butt and we went home with another ship on a stick and a bottle of champagne!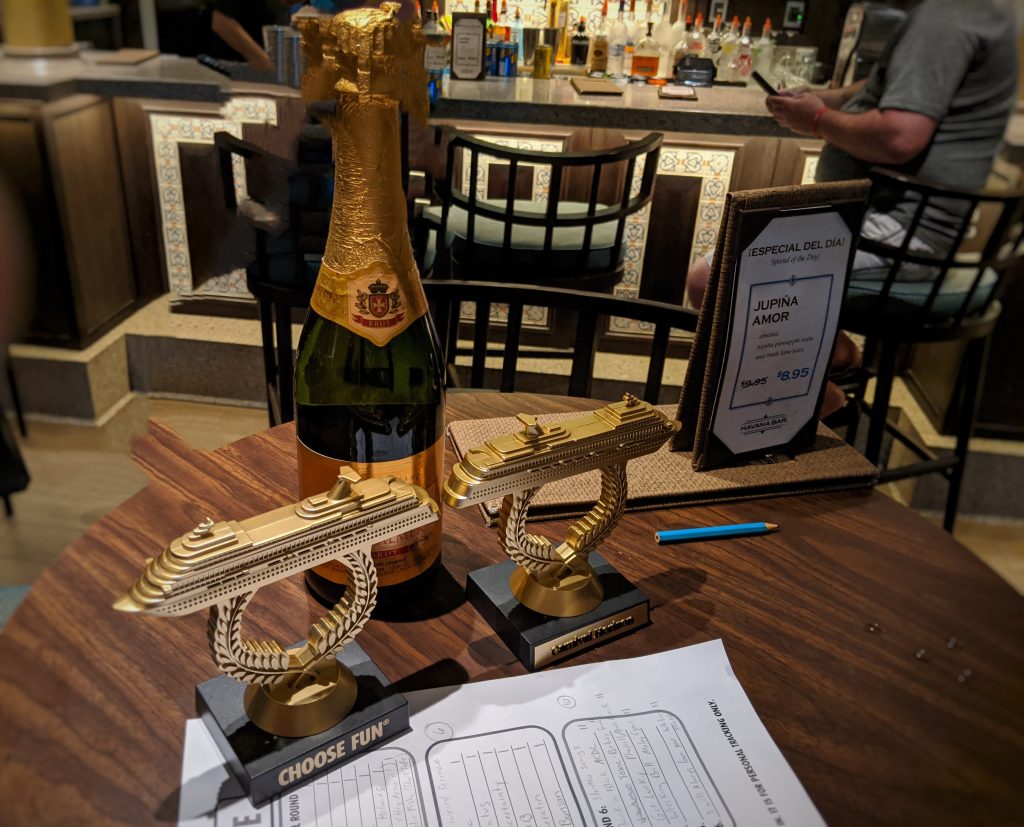 White Hot Night Party
After trivia, we headed to the White Hot Night Party in the Atrium. Over the past few months, Carnival has been standardizing these parties across all their ships and they now send tons of emails ahead of time letting people know to bring clothes to wear to the white party.
The Atrium gets hopping as the cruise director plays typical party music and everyone dances along. The Atrium dance floor and all of the upper levels were pretty much filled.
Even with the turnout, the party just felt like it needed more. First off, for a white party, they missed the opportunity to have black lights which would have really brought out the white everyone was wearing. Secondly, you really saw the difference the Cruise Director and Fun Squad can have here. The Cruise Director, Donkey, just joined the Horizon a few weeks prior and you could tell he was still trying to get his bearings. He was making comments to the DJ that he wasn't doing what he wanted correctly and his energy just wasn't as fun. It was more of a "show" than an interactive party. Don't get me wrong, he was working hard, but just something was off.
Carnival Quest Adult Scavenger Hunt
Afterwards, we headed to the Carnival Quest which is an adult themed scavenger hunt. It was held in the Liquid Lounge and was actually the one time I understood what Carnival was trying to do with that god-awful theater design. The center of the floor was opened up and the large booths were set up along the sides so everyone could easily play. The game can get rowdy, but they clearly warn everyone ahead of time and don't allow anyone under 18.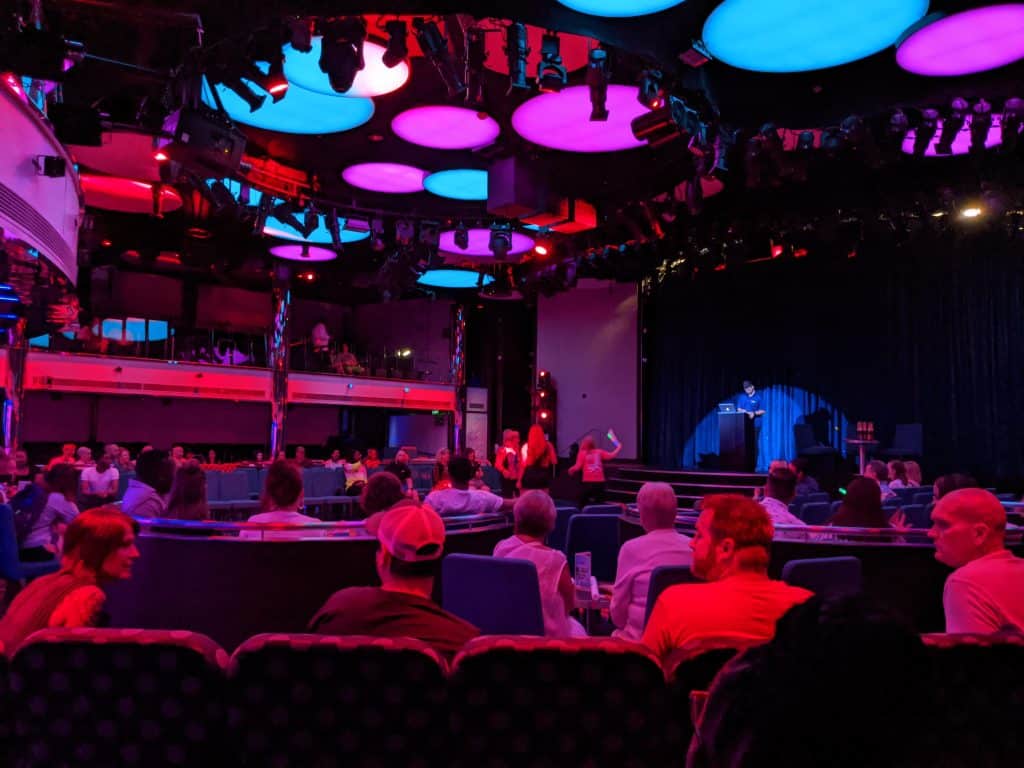 Since we didn't have anyone with us on this cruise, we just watched rather than participate. The teams are all given an assignment and they must complete it in order to get the points. Some challenges were have a guy up wearing a bra and lipstick or a certain size shoe. The highlight had to be that a woman from each team had to come, take her shirt off and dance on a crew member like a stripper pole. It was highly implied that the woman should still be wearing bras, but this one drunk girl apparently wasn't wearing a bra and went boobs out to do it. The funny part was watching the crew quickly try to stop it.
CruiseSpotlight is an Amazon Associate. We may earn a commission when you click links to retailers and purchase goods.