Carnival Horizon 6-Day Cruise: Day 4 (Grand Turk)
Last Updated on August 22, 2023
The next stop on our 6 Day cruise on the Carnival Horizon was Grand Turk. I had never been to Grand Turk before but I had seen a ton of pictures online of people sitting in beautiful blue water right in front of the ship. While I think excursions are fun, they do get costly and add up. I usually like to have a port where I can just relax on the beach and not worry about paying for excursions or planning transportation. Usually that is on a cruise line's private island, but this port is very similar (it was actually built by Carnival).
Exploring Grand Turk Cruise Port
When you get off the ship, you have a short pier walk and you're right at a beautiful white sand beach with amazing teal colored water. The ship docks directly at the Grand Turk Cruise Terminal; there's no need to tender, it's a short 5 minute walk from the ship. At the end of the pier are some duty free shops and a Margaritaville with a Flowrider, swim-up bar, and HUGE pool. If you walk to the left, you'll see free umbrellas and loungers on the beach.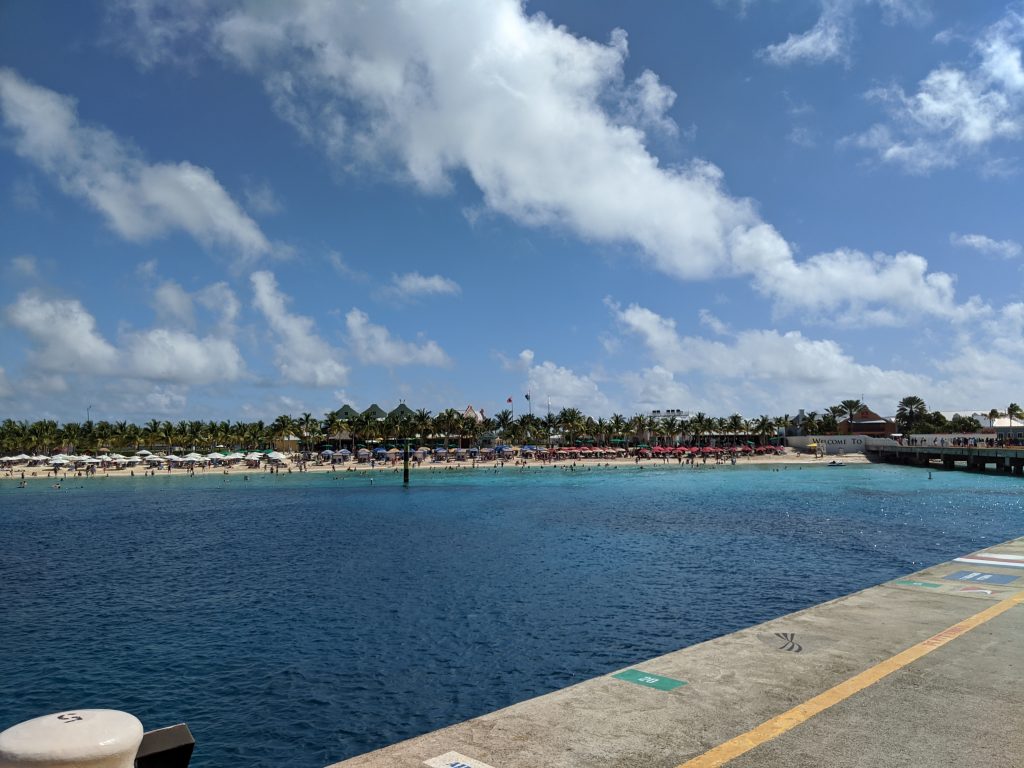 Our table mates from dinner had been to Grand Turk before and said rather than try the cruise port owned beach, just walk down the beach a bit. As you go down, you leave the cruise center owned back and visit private beaches where you can rent chairs or umbrellas. We walked down the beach about 10 minutes to Jack Shack which is a quiet little beach / restaurant which free chairs, free wifi and umbrellas for $10. It was much less crowded and there weren't any kids around.
The beach was quiet and clean and it was a perfect day to relax. Two local dogs come by to play fetch with people and relax in the shade (they're owners apparently them out in the morning and they immediately head to the beach). They had local beers here and some typical American beers as well a full menu of Caribbean type food and hamburgers. The prices here were typical tourist trap prices though, don't expect cheap, local food prices here.
Back to the Ship
After relaxing on the beach until 2 pm, we headed back to the ship. We decided to check out Margaritaville to see how it fared. The Flowrider was closed unfortunately (they weren't expecting any cruise ships to be there that day), but the pool was hoping. It was a HUGE pool with lots of different sections and loungers around it. There was a swim up bar and a lot of "spring break" type behavior going on for the party people. We were tempted to get food here, but instead we just took a dip in the pool and then went back on the ship for some free Guy's Burgers and Tacos.
Once back and board and well fed, we decided to check out the two water slides on the ship since there would be no lines. Both were pretty fast and fun. The blue one is a body slide and the red and white slide is a tube slide. The body slide was a bit rough on the back, so I preferred the tube slide. Both were fun to go on a couple of times; especially with so few kids on the ship at the time.
Dinner & Drinks
We headed to dinner and caught up with all our table mates and their adventures. Grank Turk seemed to be a hit with everyone.
After dinner, we went to the Pig and Anchor Smokehouse to have try their bacon manhattan which was amazing. It used bacon-infused whiskey with 4 big strips of bacon in it for a true bacon over-load. It was really unique and if you're a bacon lover, you have to try it out.
An Amazing Show: Celestial Strings
This evening, the big production was Celestial Strings. In preparing for this cruise, I had heard nothing but rave reviews about it, so I figured we had to see it. We got there 30 minutes early so we could get seats right on the show floor. While there is a main stage, staging and platforms are across the floor with seating around them, so it's totally an immersive experience. The production is similar most Carnival productions, with 4 main singers, and then a lot of talented backed dancers (with what appeared to be piped in background vocals). This show had the difference of having 4 electric violists that made it a mix of pop music meets classical.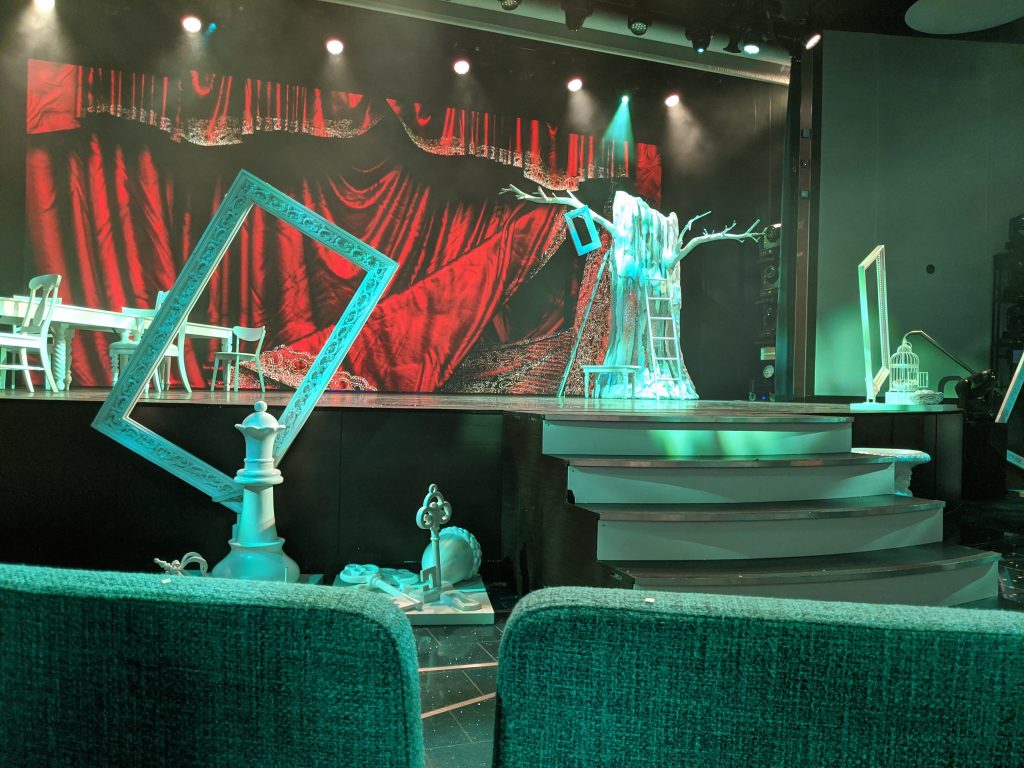 There was apparently some kind of story-line that went along with the show, but I couldn't follow it. At the end, some of the actors were in actual tears, which made me think I totally missed something. They announced after the show, that it was this cast's last performance (after 6 months together) and for several, their last ship contract ever. It explained why they were so emotional, and so well practiced.
90's Trivia & Dance Party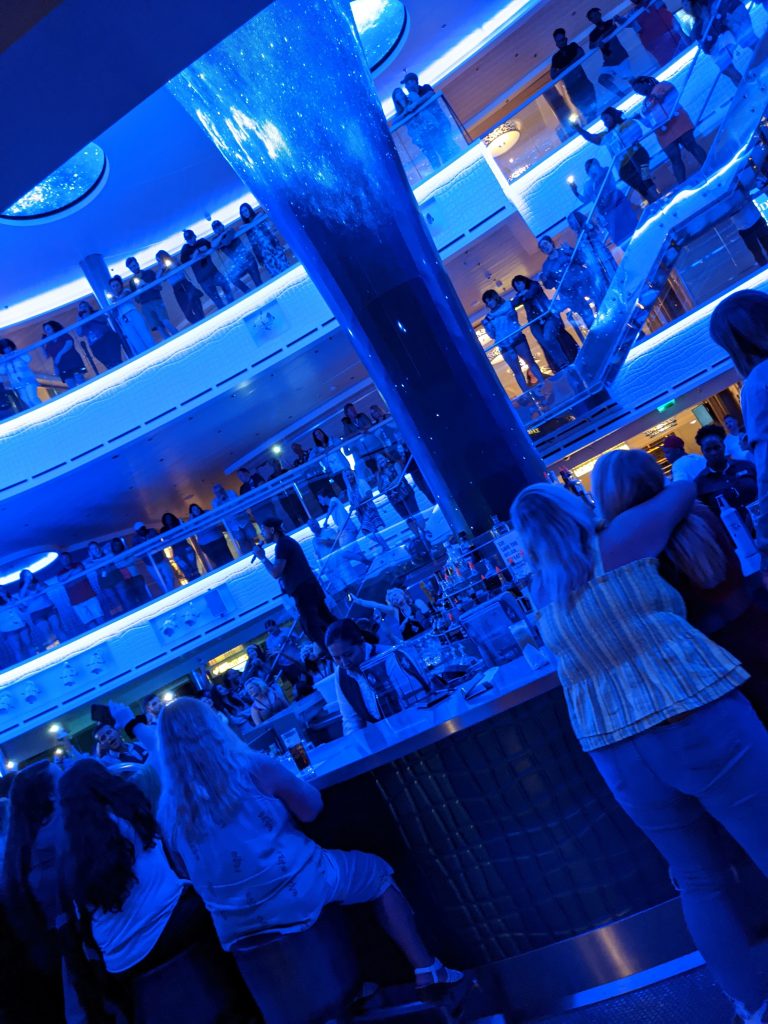 After the show, we went to the Atrium for the 90's music trivia party. We attended one on last cruise and it was blast. This one wasn't as good unfortunately. The cruise director, Donkey, didn't really interact with the audience as much. On our last cruise, Dr E (on the Carnival Pride) would have everyone shout out guesses and really get people interacting. With Donkey, it was more like a 90's playlist on shuffle. It wasn't bad, but just not as fun as last year.
Follow along on our 6-day cruise on the Carnival Horizon
Carnival Horizon – Cruise Blog - Day 1 – Miami
Carnival Horizon – Cruise Blog - Day 2 – Sea Day
Carnival Horizon – Cruise Blog - Day 3 – Amber Cove
Carnival Horizon – Cruise Blog - Day 4 – Grand Turk
Carnival Horizon – Cruise Blog - Day 5 – Sea Day
Carnival Horizon – Cruise Blog - Day 6 – Nassau
5 Hits & Misses of the Carnival Horizon
CruiseSpotlight is an Amazon Associate. We may earn a commission when you click links to retailers and purchase goods.