Carnival Horizon 6-Day Cruise: Day 5 (Sea Day)
Last Updated on August 22, 2023
Because of the changed ports, our 5th day of the cruise was a sea day and then we'd have a port in Nassau on our last day. In all my cruises, I'd never had a port on the last day, so it was an odd feeling to have relaxation only to have more to do the next day.
Carnival's Behind the Fun Tour
We started out the day with a Behind the Fun Tour. This tour cost $95 per person and gave you exclusive access to parts of the ship in a behind-the-scenes tour. The tours have a limit of 16 people and they fill up quickly. We booked at the Guest Services desk as soon as we got on the ship, and we were the 12th and 13th people. If you want to do this tour, book it immediately upon arrival. Unfortunately, I don't have pictures to share, because cameras are prohibited for security reasons (you go through a metal detector at the start of the cruise).
The tour started in the Steakhouse and then we went on the main galley. I did a galley tours years ago, when they were free, but it's always amazing to see how they prep and serve over 4,000 people. There's so many chefs and cooks hard at work all day just to get ready for dinner. It was also staggering how much food they go through. For each cruise, they'd spent around $650,000 on food. Each week they go through 54,000+ eggs, 16,000 pounds of chicken, 16,000 hamburgers, 22,000 tomatoes!
After that, we went down to the crew's deck, deck 1. There, you'll find I-95, the main thoroughfare that goes from the front to the back of the ship uninterrupted. It's there that you realize how much the ship really is. We visited the engine room which is filled with screens and alarms like you'd see in a TV show or movie. What I didn't know is that the whole propulsion system is electric. The only reason the engines exist are to generate electricity.
Then we saw a lot of the crew areas. They have a dining room that looks exactly like the Lido Buffet and they have an 8 week rotating cycle on menus. The have a bar area too with pool tables to hang out in. They're relatively small for the 1,000+ crew members on board, but few people have break at the same time.
Next up, we saw the bridge and spoke with the captain. He was very nice, but you can always tell the Captain really does love entertaining the guests, he's there to pilot the ship. The bridge itself is relatively empty compared to the engine room. It's huge, but there's only a few chairs and consoles. It's a beautiful view.
We finished the tour with a stop in the theater and then to Guy's Pig and Anchor for a brief description of the brewing process and a taste of some beers (note: don't do the brewery tour and behind-the-fun tour on the same trip).
More Trivia and Lunch
After the tour, we had lunch and then went for some more Trivia. This one was "Friends" and "Game of Thrones". It's definitely not easy trivia but the good news is the internet is so slow on the ship, you know no one is cheating. We came in second place in Friends but ended up winning GoT trivia; our third win this cruise.
A Casual Elegant Night for Us
Tonight was another elegant / formal night. On a 6-day cruise, 2 nights like this seems like a bit much. We decided to opt out of formal night (partially because my suit didn't fit anymore after all the food and drink) and try out Guy's Pig & Anchor Smokehouse (see the menu) for dinner. Usually this venue has a'la cart pricing but for this cruise, it was complimentary. Apparently they wanted to see if people would eat there instead of the main dining room if it was free in an effort to see how to plan for the upcoming Carnival Mardi Gras. Overall the BBQ was good, but I definitely wouldn't have paid extra for it. It was just as good as the free sea-day BBQ you'd get outside.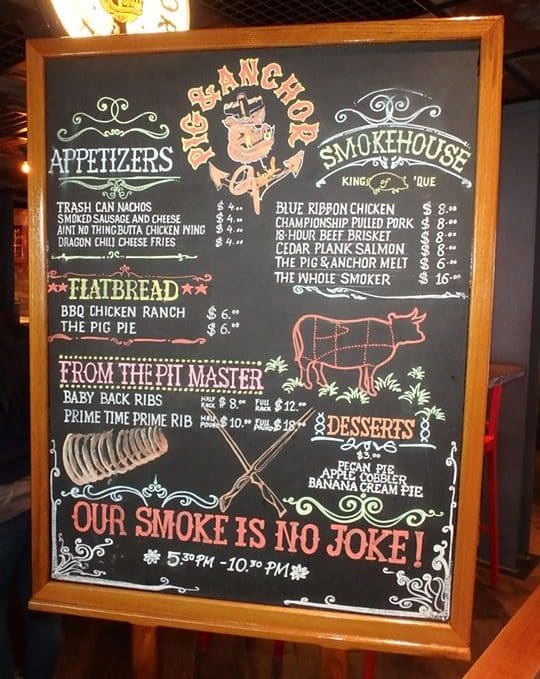 Vintage Pop Production Show
After being impressed by Celestial Strings previously, we decided to check out the evening's show, Vintage Pop. The show was billed as "20s-jazz-meets-modern-hits" and as you showed up, they had flapper girls walking around and taking pictures while modern hits like "Umbrella" by Rihanna were re-imagined as a 20's ballad. The pre-show worked well and I thought it'd be a great show. One it started though, I knew it was going to be a long 45 minutes.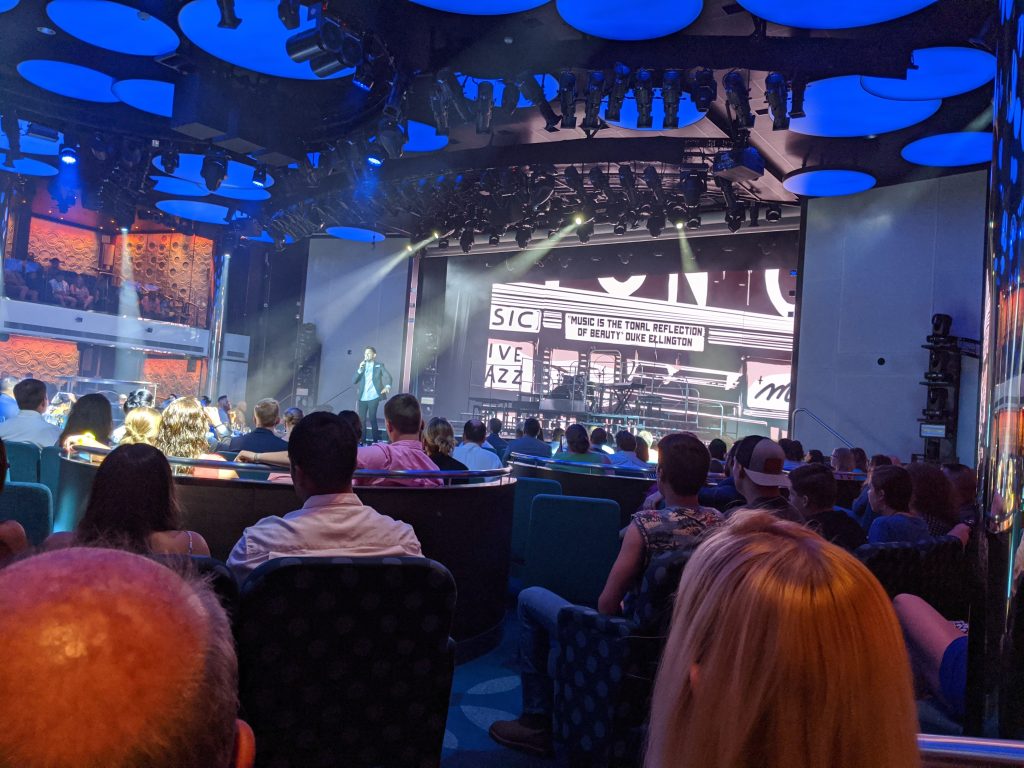 It started with a guy in a black suit, scat singing and went downhill from there. It wasn't really a mash-up of jazz and 20's like they had in the pre-show, it was more a jazz song, then a pop song, then a jazz song, then a pop song. They had an impressive horn section, but that's the best I could say. It was this cast's first time ever performing on a cruise ship and you could tell. Compared to the last cast, they were complete amateurs. I honestly would have walked out and done something else, if it wasn't their first night (you could clearly see when people left so they'd start to get a complex).
80's Rock and Glow Party
The next big event was the 80's Rock and Glow party on the Lido deck. Along with the Electric White party, Carnival promoted this heavily before the cruise and emailed you to make sure you had stuff to bring. A lot of people went all out; leg warmers, head warmers and neon colors were out in full force.
This event had to be the best attended party on the ship and I'm glad it was in the pool area and not the Atrium. There were easily 400 or so people out there, singing and dancing away. I'm not a huge 80's fan, but you could the people who were LOVED it. They were dancing and singing like crazy. The Fun Squad did their best to make the party high-energy, but they just weren't up to par with some other fun squads I had seen. Like all other parties on Carnival, the party was about 45 minutes and then a more intimate party was happening in the Serenity Areas for another 45 minutes.
We decided to call it a night and prep for Nassau tomorrow instead.
Follow along on our 6-day cruise on the Carnival Horizon
Carnival Horizon – Cruise Blog - Day 1 – Miami
Carnival Horizon – Cruise Blog - Day 2 – Sea Day
Carnival Horizon – Cruise Blog - Day 3 – Amber Cove
Carnival Horizon – Cruise Blog - Day 4 – Grand Turk
Carnival Horizon – Cruise Blog - Day 5 – Sea Day
Carnival Horizon – Cruise Blog - Day 6 – Nassau
5 Hits & Misses of the Carnival Horizon
CruiseSpotlight is an Amazon Associate. We may earn a commission when you click links to retailers and purchase goods.