Carnival Horizon 6-Day Cruise: Day 6 (Nassau, Bahamas)
Last Updated on August 22, 2023
The Carnival Horizon pulled into the dock at Nassau early on the morning of day 6. This was my 4th time to Nassau, Bahamas and I was struggling to figure out what to do here. If you've never been here before, Nassau has very little to do from the port itself; you'll either want to book an excursion or hire a taxi. Last year, we visited the Pirates of Nassau Museum and walked around downtown, which was fun, but we wanted something a little more adventurous after a relaxing day at Grand Turk and a Sea Day.
Getting to Atlantis Resort
We ended up deciding on the Carnival excursion to the Atlantis Aquaventure Water Park. I'm a huge water park fan and have never been to Aquaventure before, so I thought it'd be a fun opportunity. I've said no to this excursion in the past because it's expensive ($205 per person for this trip), but because all our old excursions were refunded AND Carnival gave us $100 a cabin credit because of the changes, we decided to give it a shot.
As we were exiting the ship, we found out we had an extra hour in Nassau because of delays docking, so our excursion now gave us 6 hours in the water park and lunch. We were docked in Nassau between the Celebrity Equinox and the Disney Magic; and on a match up of the 3 ships; the Horizon totally looked more fun. It took 30 minutes for the tour organizers to get us lined up, the correct wristbands and onto the bus. It was a little frustrating, but it's just the pace things move at in the islands.
Aquaventure Water Park at Atlantis, Bahamas
The Atlantis resort was a short 10-minute bus ride. We got there at around 9:30 am (the park opened at 10am) and walked the 10 minutes through the massive resort to the water park. I don't know if it's possible to overstate how BIG this resort is. Just looking at the sheer numbers and sq ft of pools is insane. There were tons of beach chairs to choose from early in the day and even later on.
I've read horror stories about how crowded the water slides were, but it was totally fine. It was March, so not their high season, but we never waited for more than 10 minutes for a slide and even that was rare. We started at the Mayan Temple where you have 4 slides to choose from. On one side of the temple, you have two slides that go through a shark tank using a glass enclosure. The body slide is really fast and fun, but because you're going so fast, you don't even realize you are going through a shark tank. The second slide is a tube slide that ends in a long glass enclosure through the shark tank. For this one, you really can enjoy the shark experience because your tube only gets knocked out of the chute when another tube comes in. The other side of the temple has dueling, timed body slides.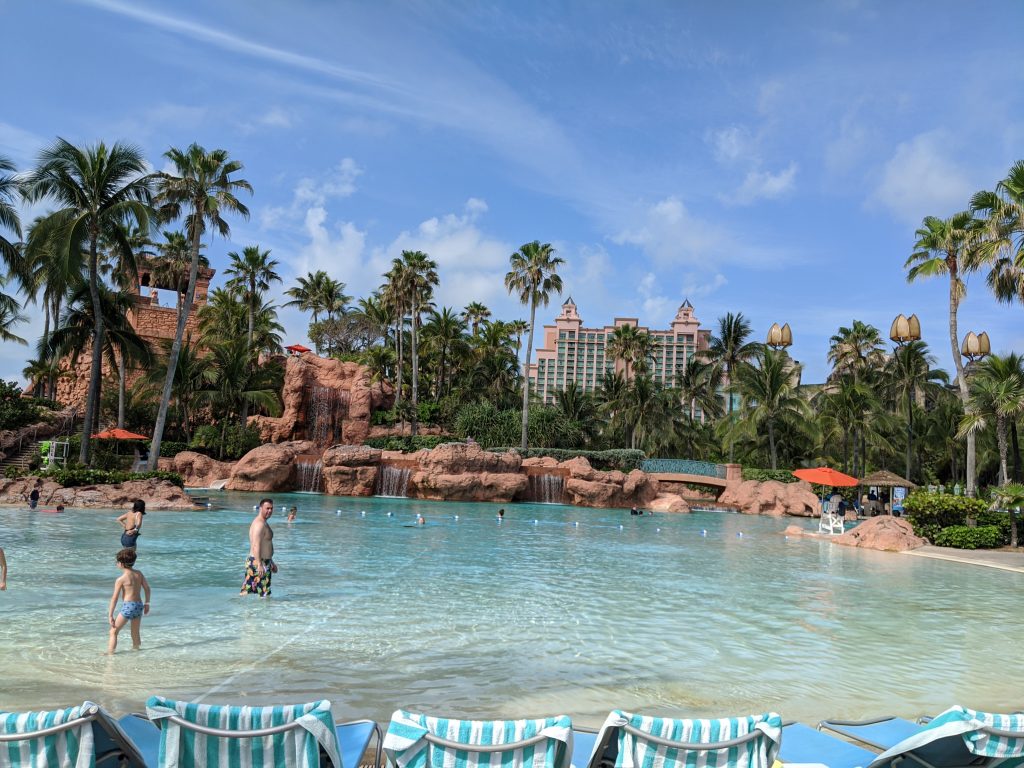 After that we walked by a few of the large pools and headed towards the "lazy" river. The river itself really isn't lazy. It's almost a mile long and loops around the park. Rather than a steady flow, the river actually has waves that go through it, pushing you through the course. It's relaxing but a little adventurous at the same time.
Half way through the river, there's a conveyor that takes you up to another park of the river. Here you have a few more rapids, but also the option to take a large conveyor up to the "Power Tower" that contains 2 water slides you can ride on without ever getting out of the tube. Both of the slides are actually water coasters that push you up hills and then you go down. You exit right back into the lazy river and can ride it to the end to do it all over again. The Power Tower has two other slides you can walk to as well, a body slide that drops you in a "secret" Atlantis cavern and another water coaster / tube slide.
We rode all of the slides at least twice, had a lunch (thankfully it was included because the average cost is around $15 including beverage), and then relaxed in a huge heated pool. It was a great day of some adventure and some relaxation. It was pricey, but worth it to do it at least once.
Back to the Horizon
We took the bus back to the ship and got back around 4. That gave us time to get a snack and prepare for dinner. We caught up with our table mates again heard all about their adventures. Some went swimming with dolphins, others toured the island with their favorite local tour guide, others went for a relaxing beach break. That's the big benefit of sitting with other groups during your cruise, you can to hear so many experiences that you didn't do.
For this final meal, I decided go "hard" getting 2 appetizers, 2 meals and two desserts. I was so fully, but it was worth it. I was going to miss my favorite desert, the chocolate melting cake (see the recipe here), that I ordered every night and my waiter was nice enough to remember I liked peanut butter with it every time. The final song the waiters sang for us that night was "Leaving on a Fun Ship" to the tune of "Leaving on a Jet Plane." That song always gets me so misty as I prepare to say goodbye to a relaxing vacation and hello to the real world.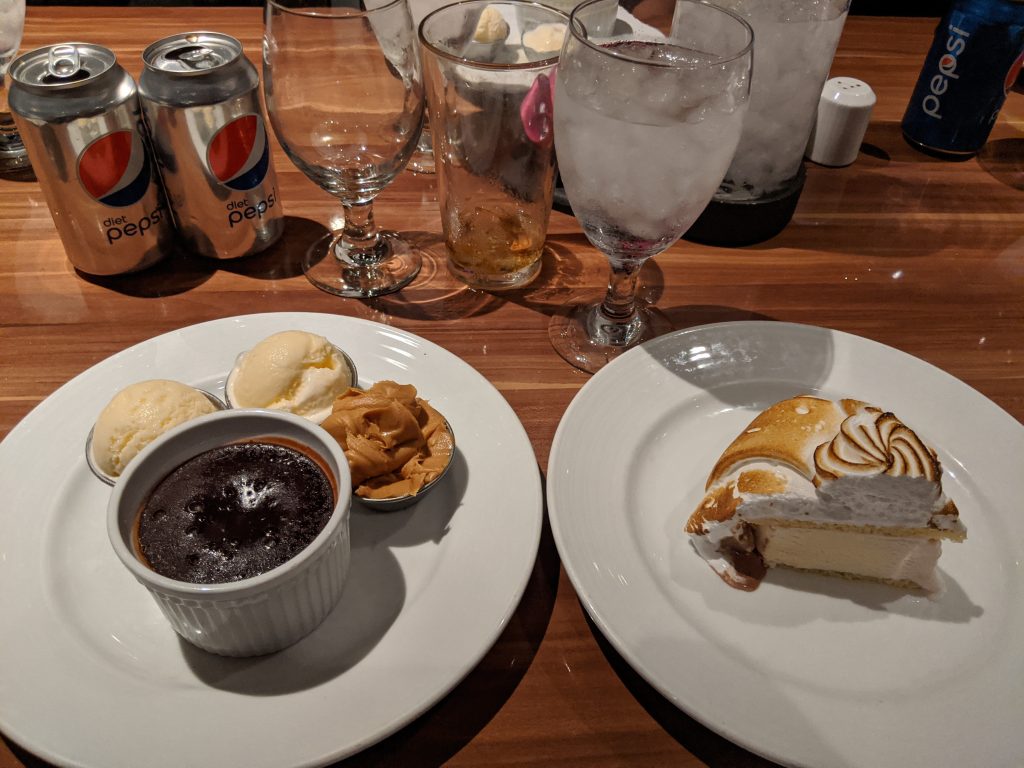 Some Goodbye Drinks
After dinner, we packed our bags and put them outside our cabin door since we had a departure excursions in Miami. The last night on a cruise ship is pretty quiet, with most activities dying by 9 pm or so. We were thinking of a comedy show, but instead opted for some drinks. First, we went to Alchemy Bar where I got my favorite cocktail, the Cucumber Sunrise (see the recipe here). It's such a refreshing and light drink; I always look forward to it. Then we went back to Guy's Pig and Anchor Smokehouse to see if a new beer that the brew master was working on was ready. They actually had a new one on tap, a holiday spiced ale that we tried, and the bartender then gave us two more of our favorite porter to try.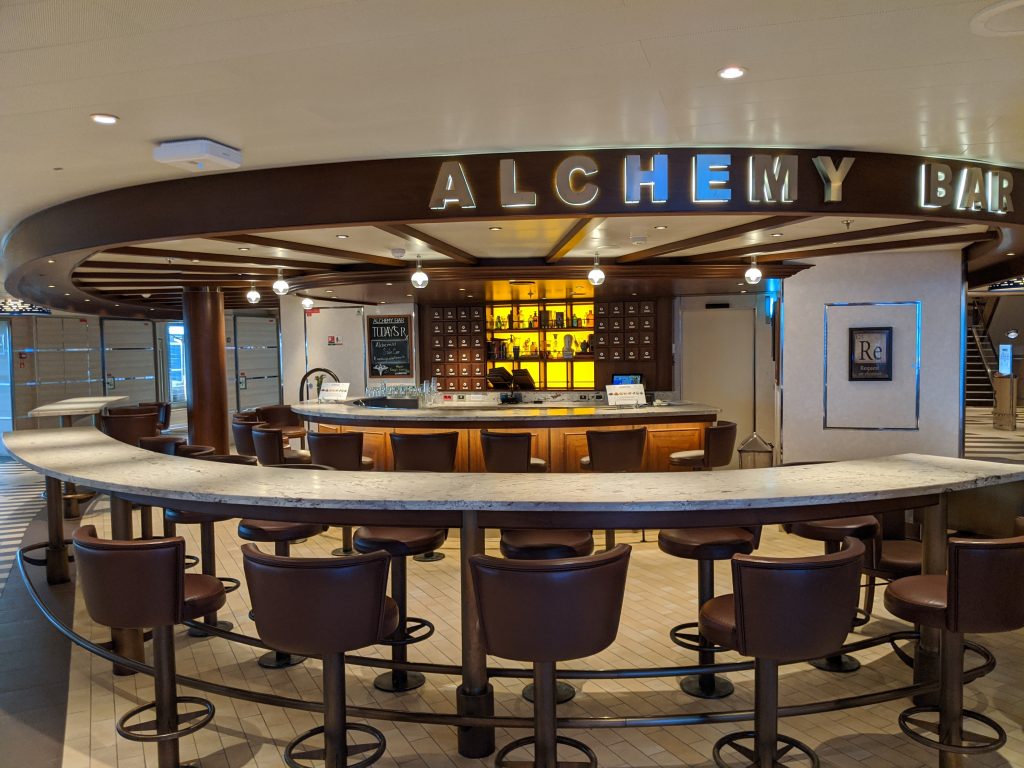 Overall, the cruise was amazing. It was my largest and newest ship with Carnival and it was so well done. The staff was above and beyond the usual experience and I had an amazing time. If you haven't checked out the Carnival Horizon, I'd highly recommend it.
Follow along on our 6-day cruise on the Carnival Horizon
Carnival Horizon – Cruise Blog - Day 1 – Miami
Carnival Horizon – Cruise Blog - Day 2 – Sea Day
Carnival Horizon – Cruise Blog - Day 3 – Amber Cove
Carnival Horizon – Cruise Blog - Day 4 – Grand Turk
Carnival Horizon – Cruise Blog - Day 5 – Sea Day
Carnival Horizon – Cruise Blog - Day 6 – Nassau
5 Hits & Misses of the Carnival Horizon
Want to learn more about the Carnival Horizon? See the ship details here
CruiseSpotlight is an Amazon Associate. We may earn a commission when you click links to retailers and purchase goods.