Carnival Introduces an Additional Smoke-Free Casino on the Carnival Breeze, Carnival Dream, and Carnival Magic
Last Updated on July 20, 2021
Earlier this month, we saw some of Carnival's changes to the casinos on its Vista-class ships during the COVID shutdown (see the story here). On those ships, they removed the Casino Bar and divided the casino into one-half smoking and one-half non-smoking divided down the walkway. Early reviews from cruisers said this cut back on smoke quite a bit in the casino, but also, there were reports that drink service was pretty slow.
Today, Carnival brand ambassador John Heald announced another change Carnival made behind the scenes during the showdown. On the Carnival Breeze, Carnival Dream, and Carnival Magic, they have actually introduced a new, completely smoke-free casino. It's called the "Double Down Casino" and replaces what used to be the Conference Rooms on Deck 4 of these ships. The area has a mixture of table games and machines and makes an excellent alternative for people who are sensitive to smoke. The existing casino remains and is still 50% smoking and non-smoking.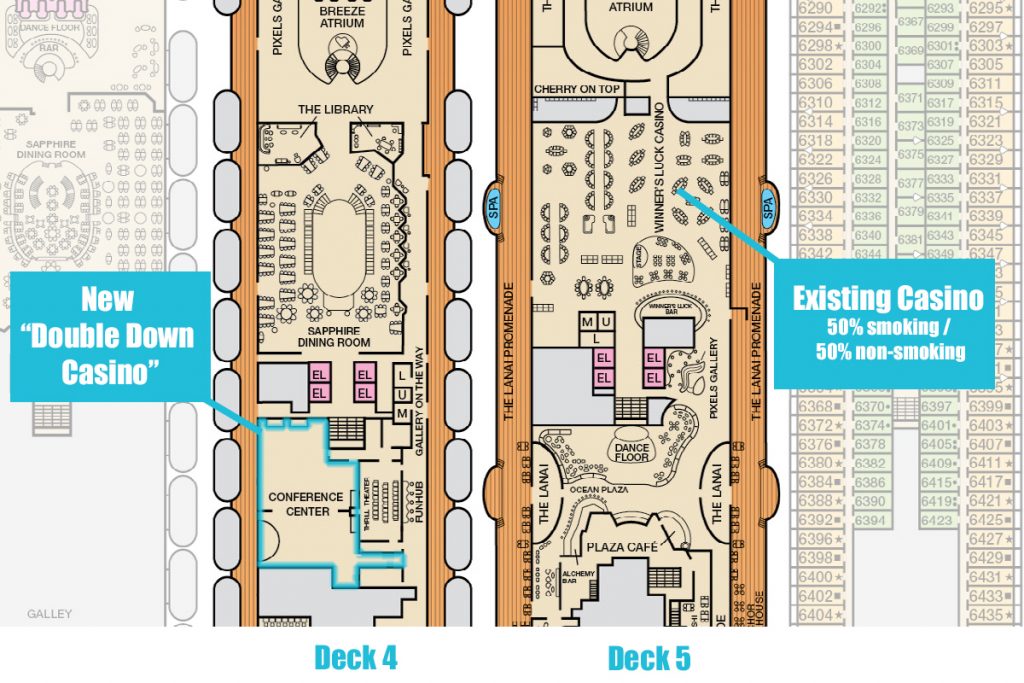 Our take on the new smoke-free Double Down Casino
This new smoke-free venue is an exciting development. It gives people who don't smoke a chance to gamble without penalizing the gamblers who do smoke. On the older Carnival ships, the casino could be so smoky, it was awful just to walk through the area on the way to dinner or a show. Also, even though the ships had non-smoking casinos sections, there were no dividers and poor ventilation, so non-smokers would still leave reeking of smoke.
The new "Double Down Casino" also makes use of wasted space on the ship. The conference rooms used to be used for art auctions but those have been phased out over the past few years. More recently, the rooms were just a forgotten part of the ship and used mostly for crew meetings.
We also possibly see Carnival's plans to make up extra income for a year of lost sailings. We have already seen that Carnival has not increased drink prices (see the story), so this might be how Carnival increases revenue. By adding machines to the casino bars on the Vista-class ships, and adding whole new casinos on the Dream-class ships, they can bring in some extra money without charging passengers more.
What are the future plans for smoke free casinos on Carnival?
Heald indicated that if these work, they may be added to other ships in the future as well. As for the newest ship, the Mardi Gras, Heald has been mum on the smoking/casino situation. Still, with all the changes Carnival has been making, maybe we'll see physically separated smoking/non-smoking casinos or some mega-filtration. With the casino on that ship opening up into the Grand Central Atrium, keeping the smoke contained will be critical.
CruiseSpotlight is an Amazon Associate. We may earn a commission when you click links to retailers and purchase goods.