Carnival Introduces High-end Mocktails
Carnival cruise line's beverage program is one of the best in the cruise industry. Their ships have a variety of bars, with many having dedicated bar menus. Guests have a huge number of different drinks and cocktails to choose from while on their vacation. Unfortunately, the choices are much more limited if you are looking for non-alcoholic beverages. Carnival has heard this feedback and created new non-alcoholic cocktails. 
Lyre's is the key to the non-alcoholic cocktail experience
While it's pretty easy to make a non-alcoholic drink, making a well-balanced non-alcoholic cocktail is a challenge. Mocktails usually end up being very sweet and fruity, most of the time resembling a watered-down smoothie. To help give Carnival's alcohol-free cocktails a more balanced and authentic flavor, they turned to Lyre's.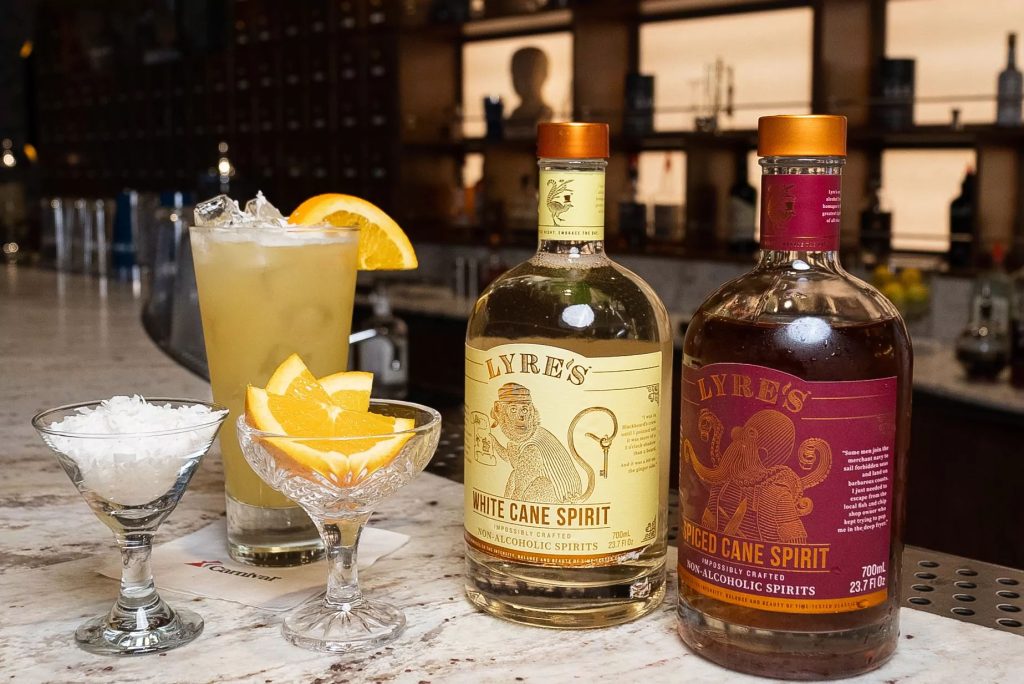 Carnival says Lyre's is "the world's most awarded line of non-alcoholic spirits and a global leader in the emerging segment." They make a non-alcoholic mixer that uses all-natural essences, extracts, and distillates to match the taste and appearance of an alcoholic spirit. The result gives a more realistic and balanced flavor.
Non-alcoholic twists on Alchemy Bar classics
Carnival's Alchemy Bar is the go-to place for craft cocktails on most Carnival ships. It's hopping each night as guests stop by for pre- and post-dinner drinks. The Alchemy Bar typically has some amazing bartenders/mixologists who create delicious cocktails each evening. Themed after an old apothecary, the "pharmacists" whip up some delicious concoctions at Alchemy Bar.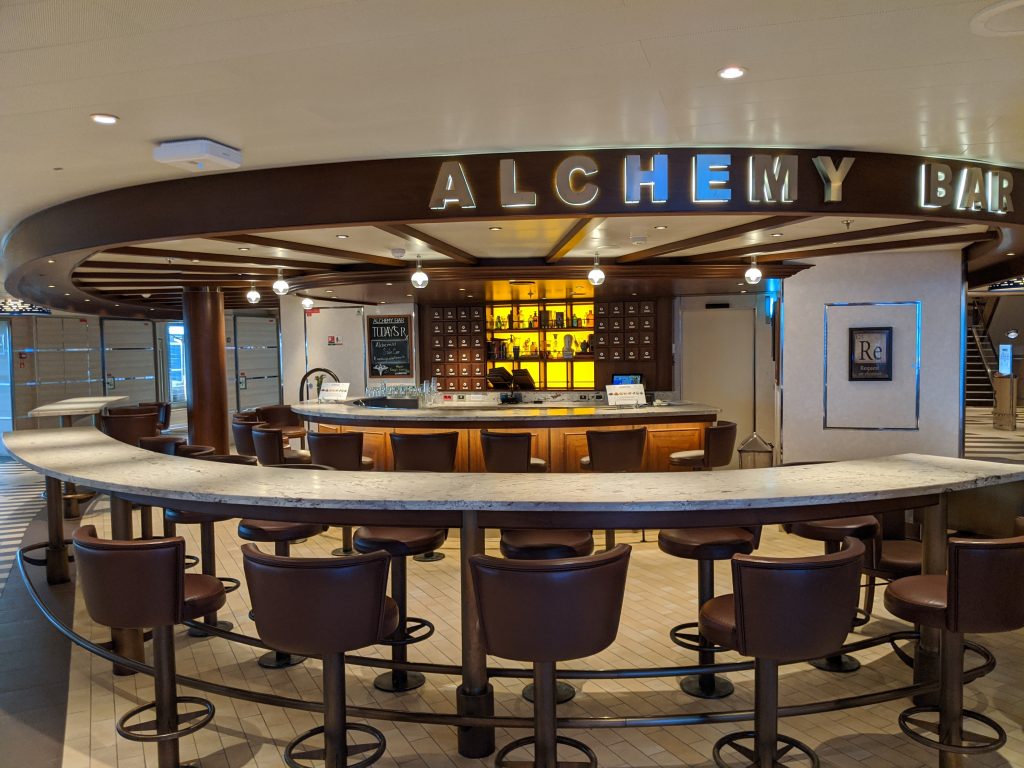 While there is a set menu with some unique and delicious drinks (the cucumber sunrise is a personal favorite), the Alchemy Bartenders could also whip up a drink based on your preferences. That would include non-alcoholic drinks, but since they weren't advertising that was possible, many guests who didn't drink alcohol wouldn't think to go to the bar.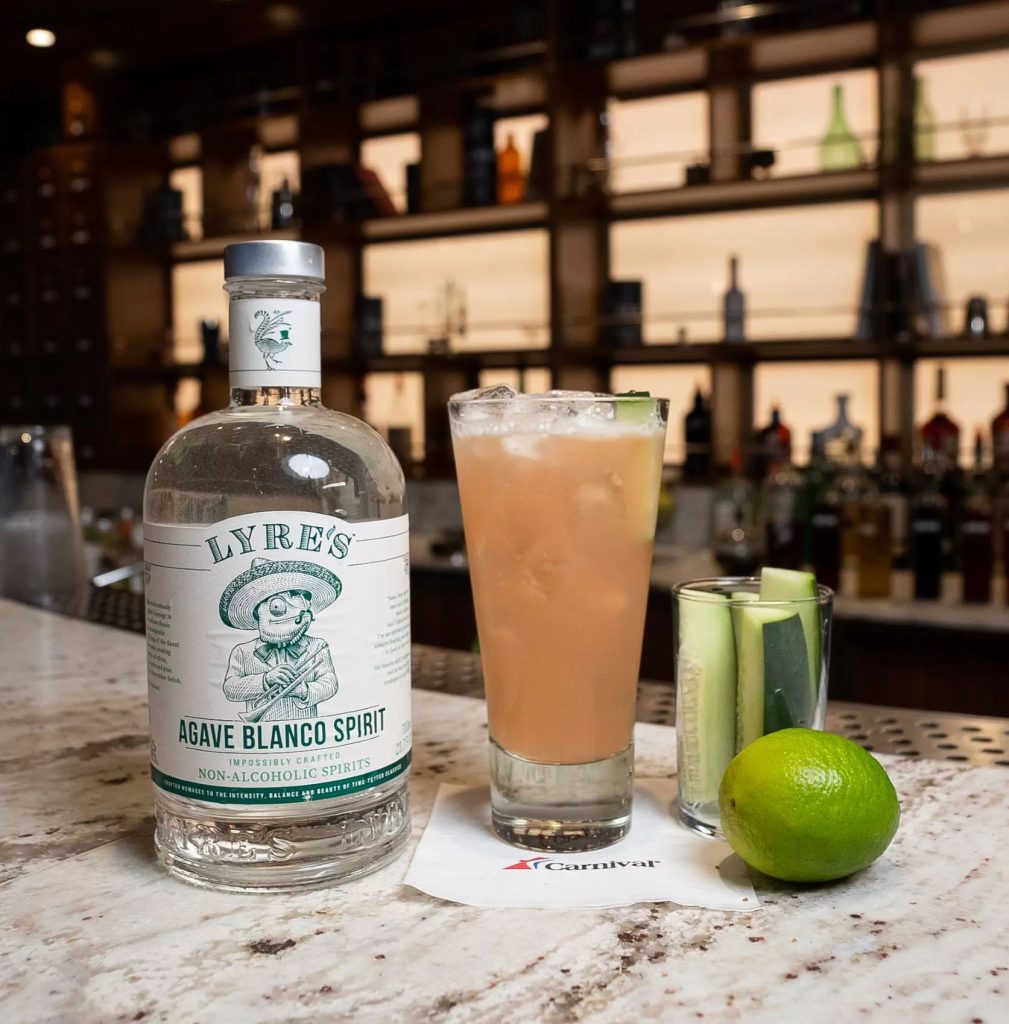 Now, Carnival has taken some of their most popular Alchemy Bar drinks and made mocktail versions of them. 
Martini Seduction: Red passion fruit nectar, fresh lime juice and a hint of orange mix with Lyre's White Cane instead of vodka to create this swoon-worthy drink.
Spicy Chipotle Pineapple Martini: Lyre's Agave Blanco stands in for vodka to bring this spicy, pineapple cocktail into its non-alcoholic form.
The Remedy: Orange juice, pineapple and fresh lime juice are mixed with Lyre's White Cane and Spiced Cane instead of dark and coconut rum.
Hearts of Fire: This award-winning concoction featuring fresh thyme and raspberries is re-imagined with Lyre's Dry London instead of gin.
Restorative Basil Drop: Lyre's Dry London is mixed with fresh basil and citrus to stimulate and restore the senses.
The Perfect Storm: This invigorating boost features strawberry puree, fresh lime and a hit of rosemary and Lyre's Dry London instead of vodka.
Cucumber Sunrise: Another award-winning favorite among Carnival guests delivers the same light and delicious flavor with watermelon nectar, cucumber, lime juice and a splash of orange juice mixed with Lyre's Agave Blanco instead of vodka.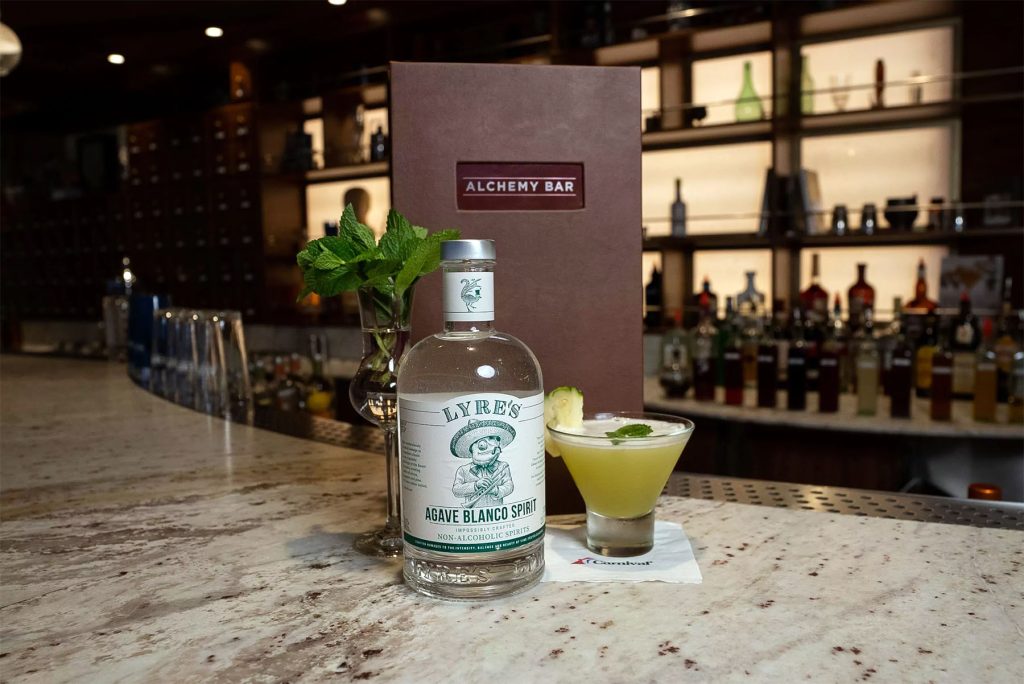 Carnival is ahead of the pack with their non-alcoholic offerings
Non-alcoholic offerings have always been slim on a cruise ship. Carnival's new initiative gives more options to those guests who choose to abstain or just need a break from alcohol. On top of the seven mocktails above, Carnival will also offer Lyre's alcohol-free prosecco in the Main Dining Room. Hopefully other cruise lines will notice and start diversifying their alcohol-free offerings.
Want to see the full alcoholic cocktail menus for Carnival?
CruiseSpotlight is an Amazon Associate. We may earn a commission when you click links to retailers and purchase goods.