Carnival Luminosa Full Details Revealed
After months of waiting, Carnival has finally detailed what will be aboard their "newest" ship, the Carnival Luminosa. We say "newest" because the Luminosa has actually been sailing since 2009. It's transferring over from Carnival's sister-cruise line Costa Cruises. 
The Luminosa has a similar structure to Carnival's Spirit-class ships. It even has a similar look since it was designed by Carnival designer Joe Farcus whose avant-garde (and sometimes gaudy designs) are still found on many of Carnival's older ships. But because it was designed for a different cruise line, it'll feel different from anything else sailing under the Carnival brand. Whether or not that's a good thing is up to you.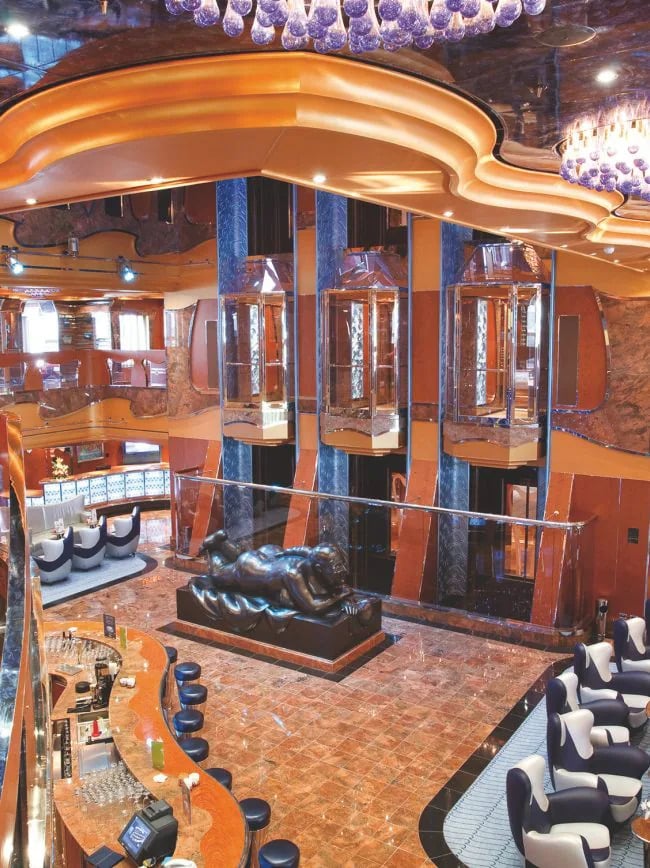 Signature features added to Carnival Luminosa
Cloud 9 Spa

The spa on the Luminosa will be rebranded to Carnival's "Cloud 9 Spa." The spa has thermal suites, a hydrotherapy pool, and a relaxation room. Carnival has also added interior and balcony Cloud 9 Staterooms, which come with upgraded amenities and access to the thermal suite. 
Fahrenheit 555 Steakhouse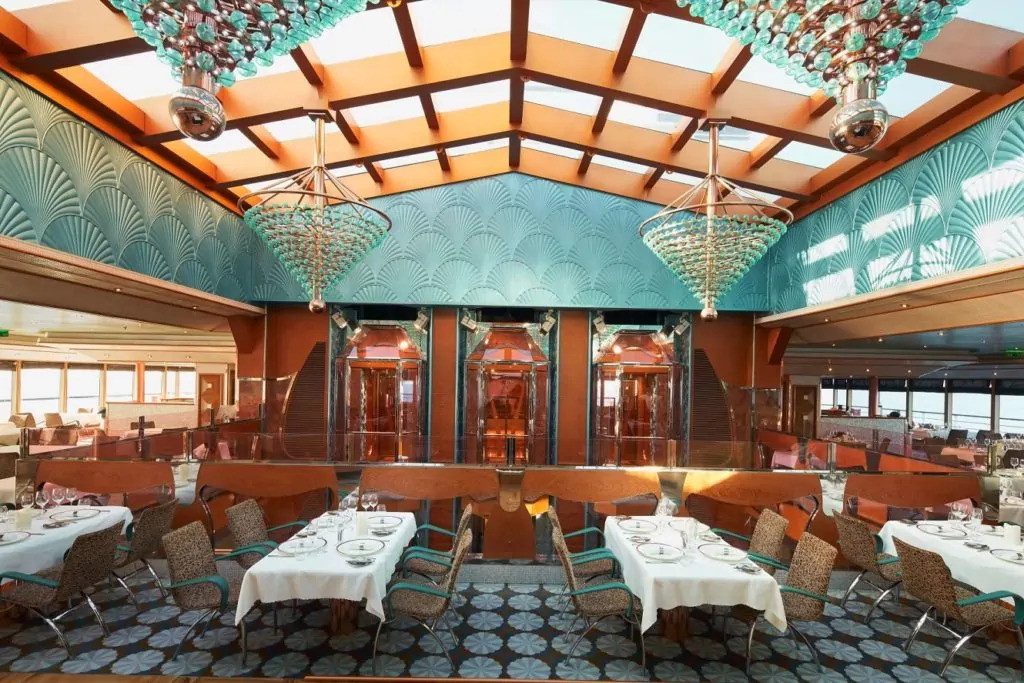 Carnival's signature steakhouse, Fahrenheit 555, has been added to the Luminosa. Similar to other Spirit-class ships, it's located on the top deck. Those ships all have a red glass funnel above the steakhouse to provide lots of light (and an odd red light during the day). Since the Luminosa doesn't have the funnel, you still get the natural light without the red hue. 
Alchemy Bar
The Alchemy Bar is Carnival's version of a martini bar. Here, mixologists will make custom-crafted cocktails for guests. It has some of the highest-end drinks on a Carnival ship and is a favorite with many guests. Luckily, Carnival will add this bar to the Carnival Luminosa, so you can stop by and get a Cucumber Sunrise or Chipotle Pineapple Martini. 
Pizzeria del Capitano
The Luminosa will have Carnival's signature pizza place, Pizzeria del Capitano. The venue, which used to be 24 hours, is still open late into the night for snacking options. The pizza quality differs greatly depending on the Carnival ship (some use brick ovens, others just have conveyor belt systems), so you'll have to try the pizza here for yourself to see how good it is. 
Red Frog Rum Bar 
The Red Frog Rum Bar is found by the Lido Pool on most Carnival ships. It shouldn't be confused with Red Frog Tiki Bar, Red Frog Pub, or Red Frog Brewery (come on Carnival, you really have to work on your naming). It'll have tons of tropical-themed frozen and mixed drinks to grab while you're relaxing by the pool. It has prime real estate on the Luminosa right by the covered pool, making it great to Alaskan cruises.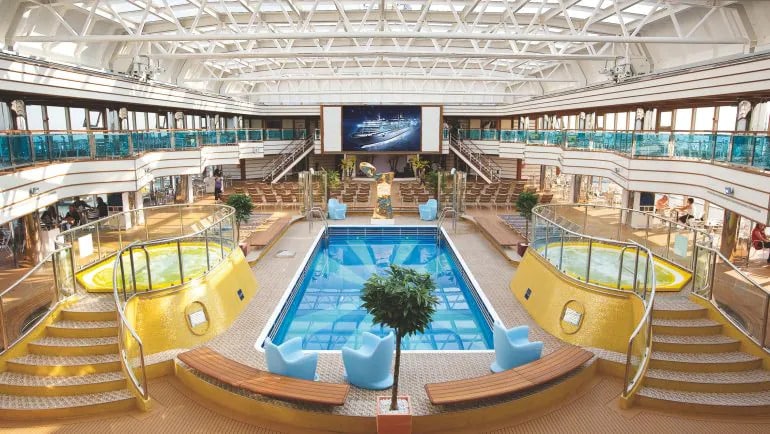 Serenity Area
The Serenity Area is an adult's only space on a Carnival ship. It can provide a much-needed reprieve from the energy and children found elsewhere on the ship. Thankfully, it's been added to the Carnival Luminosa. Like the other Spirit-class ships, it'll have one of the better implementations of the area. It's on the back of the ship with both a pool and hot tubs. 
Limelight Lounge
A Limelight Lounge has also been added to the Luminosa. That's the venue where Carnival's popular comedians typically perform. If it's like almost every other Carnival ship, it's probably going to be too small (the shows are almost always completely full), but at least it provides a more intimate feeling than the main theater. 
Piano Bar 88
The Piano Bar on a Carnival cruise ship is one of the most happening venues after dinner. The bar is often standing room only and will be hopping until past midnight most nights. Looking at the deck plans, it seems like the Piano Bar here is pretty small so show up early to get a seat.
Luminosa Missing Key Carnival Features
Whale Tale Funnel
The first thing you'll notice that's missing from the Carnival Luminosa is the signature red funnel (affectionately referred to as a "whale tale" by Carnival fans). They repainted the old yellow funnel to Carnival red, but it has the same shape as before. The marketing folks at Carnival were working hard to spin this positively by saying they "are keeping her throwback funnel design that once adorned some of our most iconic earlier vessels." It sounds much better than saying, "we don't have the time or money to put a whale tale on it." 
Thankfully, they decided to update the ship with Carnival's new red, white, and blue livery design. This change was missing in the early renders but adding the new livery design really helps the ship fit in better with the fleet. 
Guy's Burger Joint 
Guy's Burger Joint is a signature venue that Carnival first added to the Carnival Liberty in 2011. Since then, the popular burger restaurant has popped up on almost every Carnival ship. Created in partnership with celebrity chef Guy Fieri, Guy's Burger Joint serves some of the best burgers at sea. 
Usually, this restaurant is found by the Lido Pool on a Carnival ship, but it's notably absent on the Luminosa. It looks like it'll still have a grill that serves burgers, but you won't be able to get a burger like "The Ringer" or "Chilius Maximus" on the Luminosa. 
Blue Iguana Cantina
When Carnival added Guy's Burgers to their ships, they also added Blue Iguana Cantina. It's a fast-casual Mexican restaurant, similar in feeling to Chipotle. It serves excellent burritos and tacos. Unfortunately, it won't be on the Luminosa. 
Mini-golf
Mini-golf on a cruise ship is almost a given. For a cruise line that focuses on "family fun," it's a great activity for kids and families to do together. But unfortunately, there is no mini-golf on the Luminosa. Instead, they have a putting green. 
Waterslides
Carnival was the first cruise line to debut a waterslide on their ship when the Festivale first set sail. Since then, most Carnival ships have sported a water slide. There are tons of versions: standard twister slides, tube slides, and slides with drop floors, depending on the ship. You won't find any on the Luminosa, though. When the ship is sailing in the US, it'll be leaving from Seattle to do Alaska Cruises, so a waterslide is not as important, but kids could miss it on the Australian cruises. 
Carnival Luminosa Deck Plans
Here are the deck plans so you can see how it differs from the Carnival ships you may be familiar with.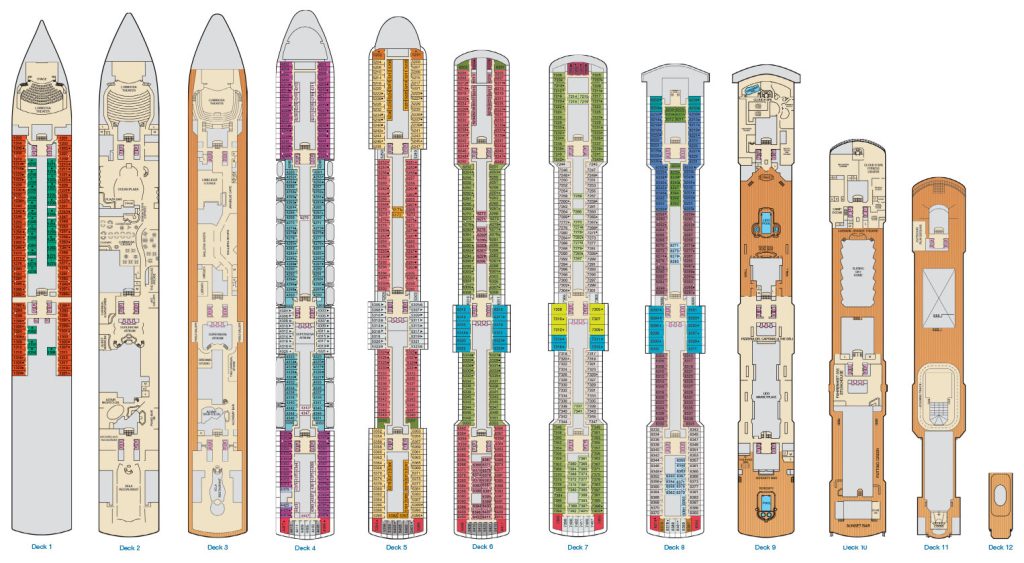 Is Carnival Luminosa right for you?
If you've never sailed a Carnival ship before, the Carnival Luminosa will probably have most of what you need. It has a few restaurants, bars, music, shopping, and a covered pool; you'll be all set. 
If you're used to a Carnival ship, though, you might be sorely disappointed. This ship is missing several key features that are typical on a Carnival cruise. 
Carnival seems to be taking a huge gamble here. In their marketing, they're stressing that the ship will have Carnivals staff. They say "We'll be adding some Carnival features in the upcoming dry dock and adapting some existing features to align with Carnival's casual style, but ultimately, our crew will make everyone feel right at home as soon as they join the ship." While Carnival has some amazing staff, after months of reported staff shortages and service cuts, it seems silly of them to lean on that. 
Eventually, the Luminosa should go through a more thorough dry dock and get many more of the Carnival features. Until then, do your research before booking this ship. There are some fantastic itineraries on this ship, and if the missing venues aren't a deal breaker for you, it's worth checking out.
CruiseSpotlight is an Amazon Associate. We may earn a commission when you click links to retailers and purchase goods.