Carnival Mardi Gras – The First Reviews Are In
Last Updated on August 25, 2021
When a new cruise ship debuts, it's usually pretty big news, but when a cruise line debuts a whole new CLASS of ship, it's MAJOR news. New classes of ships aren't introduced very often, so they're important. They show what the cruise line has learned over the years and where they intend to take cruising in the following years. The first ship in each class is when you see significant innovation and progress, then with each ship after it, they refine the design a bit more. That's what makes the debut of the Carnival Mardi Gras so exciting. 
The Mardi Gras is the first cruise ship in Carnival's newest class of cruise ship, the Excel-class. It's not just another iteration of their existing ships, but a whole new take on cruising from them. It's literally bigger than anything Carnival has ever done before; 37% bigger than it's previously largest ship, the Panorama. It's such a significant change that Carnival named this ship after their first ship, Mardi Gras, which sailed back in 1972. 
Carnival Mardi Gras had a long road to get here; years of development, planning, construction, delays, COVID shutdown, but almost a year and a half after it was supposed to launch, the first guests finally got to sail on the ship on July 31, 2021. 
I asked 14 guests who were aboard the first sailing to see what they thought of Carnival's newest ship. I'm a firm believer that there is no perfect cruise for everyone, so I tried to gather feedback from a variety of different people. For example, I spoke with a first-time cruiser and a cruiser who has been on 49 different cruises. In addition, some people we talked to have only sailed Carnival and others have been on Disney, Norwegian, Royal Caribbean, and Celebrity. Their feedback helped produce a balanced review of Carnival's newest ship. 
The Mardi Gras is a whole new look and feel for Carnival
If you've never been on a Carnival ship, they have a certain feel to them. The ships before 2009 had a lot of neon, silver, and avant-garde decor. They moved away from this design language on their newer ships, but Carnival has gone even further with the Mardi Gras. While still invoking feelings of fun and energy, the new, modern look also feels classy and almost upscale in places.
Michelle Dooley from Wentzille, Missouri, went on this cruise with her family and was impressed. "The detail put into making the ship beautiful, from the glass staircases to the design of the Alchemy Bar, was breathtaking to experience. This ship was top of the line for Carnival, and it was a great addition to the Carnival fleet." she said. 
Justin W from Orlando, has been on 49 Carnival cruises, so you can say he's pretty knowledgeable about Carnival's ships. When asked about the design, he was equally impressed, "[Mardi Gras] blew our minds, it felt like we were at the Cosmopolitan in Las Vegas not a Carnival ship." Samira Hampton, who's been on 16 Carnival cruises, also like the upgraded décor, "I liked that there weren't too many bold colors everywhere like the older ships. It's my favorite ship in the whole fleet by far."
A new layout for the ship
The most significant change Carnival made to the layout of this ship is that they established 6 main areas, or what Carnival calls "zones." It's similar to the "neighborhoods" concept that Royal Caribbean successfully introduced on their Oasis-class mega-ships years ago. This concept spreads out the activities, bars, and restaurants into different parts of the ship, hopefully splitting passengers up and preventing crowding. It seems to work according to guests on board; for the most part, there were only a few comments about crowding. Then again, this ship was only sailing at 70% capacity due to COVID.
You would think when designing a bigger cruise ship, Carnival would just increase the size of all their venues, but instead, they created multiple, smaller spaces rather than massive venues. It makes sense to create an intimate and more personal experience, that way, you never feel like you're just 1 of almost 6,000 guests on the ship. Rosie Lee from Tampa, Florida noticed that design, "The layout of this ship, in spite of its size, allows you to get up close and personal with everyone else on the ship. Take advantage of that! I met a dozen or so people that will remain friends because of the intimate nature of the gathering spaces." 
There are some drawbacks to this design though if you have a popular attraction, there's no going to be enough room for everyone who wants to attend. Many of the comedy shows and the piano bar were standing room only on the first-sailing, which frustrated some. It's been reported that the Mardi Gras' single-level main theater only seats 900, which is only 14% of passengers on a completely full sailing. Royal Caribbean's theater on their Oasis of the Seas is 50% bigger, holding 21% of their maximum capacity. It's clear Carnival was hoping not to have everyone on the ship interested in one thing. 
The new "Grand Central" Atrium area is remarkable
Many of our respondents commented on the new space on the ship called Grand Central. The Grand Central zone replaces the traditional Atrium found on all other Carnival ships. It's a unique design with 3-story glass windows overlooking the side of the ship. All day and night, fun activities are happening here; trivia, bingo, dancing, singing…it's the place to go for fun.
This new space works well as a gathering space, and it's also great because it connects you with the water. On other Carnival ships, the Atrium has no windows, and while some have a skylight, they still tend to feel very dark. At night, it's fine, but it can feel more like a hotel lobby than a cruise ship in the middle of the ocean during the day. With a 3-story panoramic view of the water, it's perfect for a breakfast bite or relaxing during the day. 
The incredible amount of dining venues on Mardi Gras
Carnival Mardi Gras has more places to eat than any other ship in the fleet. They added many new food areas like Shaq's Big Chicken, ChiBang (replacing JiJi's Asian kitchen found on many Carnival ships), Emeril's Bistro, Rudi's Seagrill, etc. 
For the "inaugural season," many of the specialty venues are available at no additional charge (usually around $15 per person). So rather than eating in the main dining room, guests could go to ChiBang, Cuchina del Capitano, or Guy's Pig and Anchor and have dinner at no additional cost. Carnival has said this change is just for the "inaugural season" (they have yet to define what that is) and can change and any time, but from what we've heard from guests, it might continue for a while. 
From what we've heard, Carnival didn't size the dining rooms properly, so many guests with "Your Time Dining," where you don't have a set time or table for dinner, were turned away from the main dining room and sent to one of the specialty restaurants. It could be a kink from just being the first week in service, but Carnival could very well have shrunk the dining rooms hoping people would use other venues for dinner. Curiously, the Mardi Gras is the only ship where Carnival doesn't publicize the passenger capacity of each venue, so it's hard to know for sure. 
Still, the sheer amount of options were overwhelming and mostly welcomed by all the guests. "We loved all the places we could eat, so much so we never made it to the main dining room," said Justin W. "[There were] so many choices. You could eat at a different restaurant every night. The only thing I was kinda disappointed about was no other food was open after 11pm besides pizza." said Nichole Edwards. Several other guests remarked about the lack of late-night dining options as well. On their other ships, Carnival also has a small spread of food at the Lido Buffett between 11pm – 1 am, but since the pizza place is nowhere near Lido, it could present a problem on Mardi Gras. 
You can see a list of all the included dining venues and their menus here:
New and innovative bars
Over the years, Carnival has upped the game of their cocktail program and created a lot of branded bars in their fleet, each with a different cocktail menu and experience. The Mardi Gras has more bars than any other Carnival ship, with many of passengers' favorite venues returning along with some new options. 
Two new bars, the Fortune Teller Bar and the Brass Magnolia, also stood out among guests. When asked her favorite part of the ship, Rosie Lee commented, "Fortune teller bar, hands down! Loved the drinks, loved the vibe, loved the bartenders." In addition, their innovative and unique cocktails really stood out. Carnival really went out of their way to make some Instagram-worthy cocktails here, and it worked; the Facebook pages for this cruise were filled with people at the Fortune Teller Bar. 
The Brass Magnolia was also a stand-out venue. Its beautiful two-story entryway really made it visually impressive. It's located in the French Quarter zone and also has a unique cocktail menu. Guests loved stopping here at night to enjoy a variety of live music.  
Bolt – the first roller coaster at sea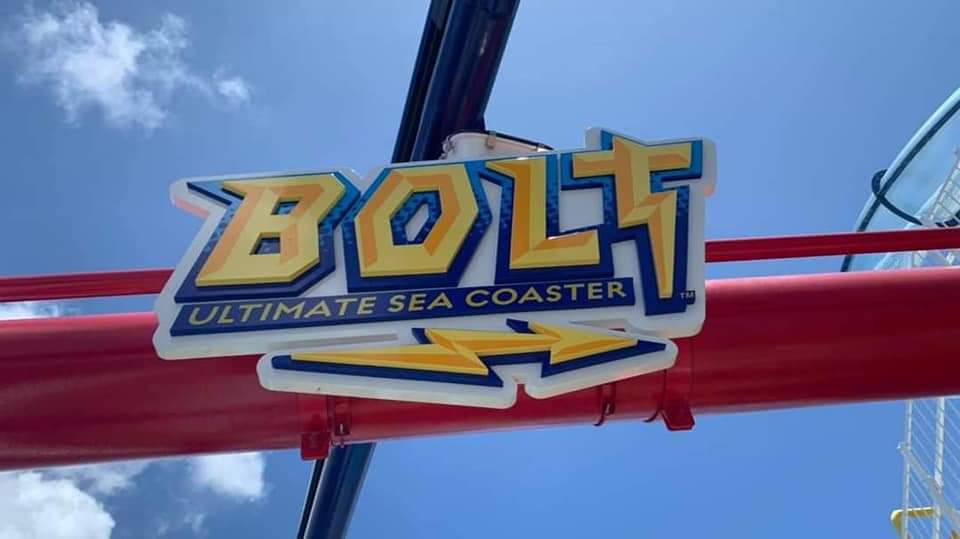 With the introduction of this ship, Carnival heavily promoted that it was the first ship in the world to feature a roller coaster on board. Up until the first sailing, it was hard to tell whether it was a gimmick or a worthwhile attraction.
Mrs. Anne Gomez from Clarksville, TN, definitely enjoyed it, "One of my favorites things on Mardi Gras is Bolt! I had to do it as soon as possible on our sailing day, and when they showed me the accelerator on the right handle and the boost button on the left, I went full out the whole time!! I just had to ride again on a sea day to experience it while the ship was in motion. It was amazing."
We also found out that it was $15 per person for just one lap around the track, about a 30-second ride. It seems steep, but the general feedback was it was a thrill you can't really explain. There have been rumors that they might adjust how many laps you get or the cost in the future. 
The surprising emotional aspect
I went into these interviews trying to get concrete feedback on the ship itself, but it's clear there was much more going into it. Many of the people I talked to were just overwhelmed, not just by the ship, but being able to sail again after so long. 
Anne Gomez "My first impression upon stepping aboard the Mardi Gras was 'Wow wow wow!' I have tears in my eyes just thinking back on that moment. It was surreal and exciting and emotional for me. Like, this is history in the making and there will be never a moment exactly like this. We are actually back."
Cindy Jeter, a first-time cruiser, mentioned her impression upon walking onto the ship. "WOW!!! What a beautiful, welcoming place! The crew were full of smiles and excitement, and they were just as ready as we were for the exciting week ahead!!!" 
With 18 cruises on Carnival under her belt, Rosie Lee realized how much she missed the cruising experience. "I saw the people before I really saw the ship. The joy on the faces of the crew made me cry. I was so happy to be part of their return to the sea and to share with them how much we all missed being on the ship with them."
Some room for improvement on Carnival Mardi Gras
To be honest, it was pretty challenging to get anyone to say anything negative about this ship. There was some constructive criticism, though. 
Confusing public bathrooms
One issue mentioned most was the public bathrooms. The Mardi Gras has a lot of single-person restrooms available in the public areas. They added a new feature where you wave your hand in front of a sensor to open the door. It's a no-touch system which you would think would be great in COVID times. However, in reality, the doors were slow to close and confusing to use. We've heard numerous people accidentally walk into someone else in the bathroom who didn't shut the door right. Hopefully, Carnival can find a way to fix that. 
Cabin bathroom size
Another negative that was mentioned was the bathroom size. While everyone loved the new glass door showers, a first for Carnival in a standard room, the bathroom itself felt small, especially for taller guests. 
Lack of balcony privacy
Some of the balcony layouts were also mentioned. On several portions of the ship, the balconies are tiered. While this makes this ship's profile look more appealing, in practice, it gets rid of the privacy some people expect on a balcony. The cabins above you can easily look down and see nearly everything on your balcony. It's not the way for all the cabins, but it's almost impossible to tell the difference between these types of balconies when booking. 
One of the more striking fumbles is the Havana area. The Havana Deck area is exclusive for guests who stay in the Havana section of rooms. These rooms cost anywhere 30% to 40% more than standard rooms. On the Vista-class ships, this area was at the back of the ship, with a beautiful large pool, two hot tubs, and lots of tiki-style seating. On the Mardi Gras, they completely downsized this area. They put it on the side of the ship and replaced it with one "pool" that is barely larger than a hot tub. If you have a balcony room, or "Cabana Cabin" as they're called here, you have plenty of space that's private to yourself, but if you have a "Havana Interior Cabin," you really lose out compared to other ships. It's hard to see why Carnival would downsize this area so significantly when they charge quite a bit extra for these rooms, and they usually sell out quite early on Vista-class ships. 
The last thing that people mentioned was the time it took to get served for dinner. In a lot of the venues, dinner was taking 2 hours or more. That being said, everyone was quick to point out that this was the first sailing of the ship, and the staff has not worked in over 18 months, so there will be a bit of a learning curve. If Carnival can get this to the level of service that I saw on my 2020 cruise on the Carnival Horizon (see the live blog here), I predict there will be no complaints at all in the future.  
Tips for future Mardi Gras cruisers
I asked everyone for some tips for future cruisers, and they shared their expertise. 
"I highly recommend the Hub App – keep your phone with Hub open on you at all times and use it to plan your itinerary every day, so you don't miss out on anything- from dining, to shows, to making reservations for Bolt or Cloud 9 Spa. You can even check in with the restaurant you want to dine in for dinner and then receive a notification when your table is ready. Almost everything you can think of is now digital with Hub- even viewing and purchasing Pixel pictures from your phone!" – Anne Gomez
"Don't wait to make reservations at certain restaurants like the steakhouse and hibachi. Be prepared to walk, and possibly lose weight on a cruise!" – Alisha Nickolich
"Book the spa floor! The access to the thermal spa was well worth it." – Crystal Morrison
"Deck 16 is a great place to stay – go much food on that deck!! Get to comedy shows early – the club fills up fast!! Check the daily menus on the Hub app to choose where you want to go for dinner. Checking in or making reservations is so easy on the Hub." – Kelly P from Western NY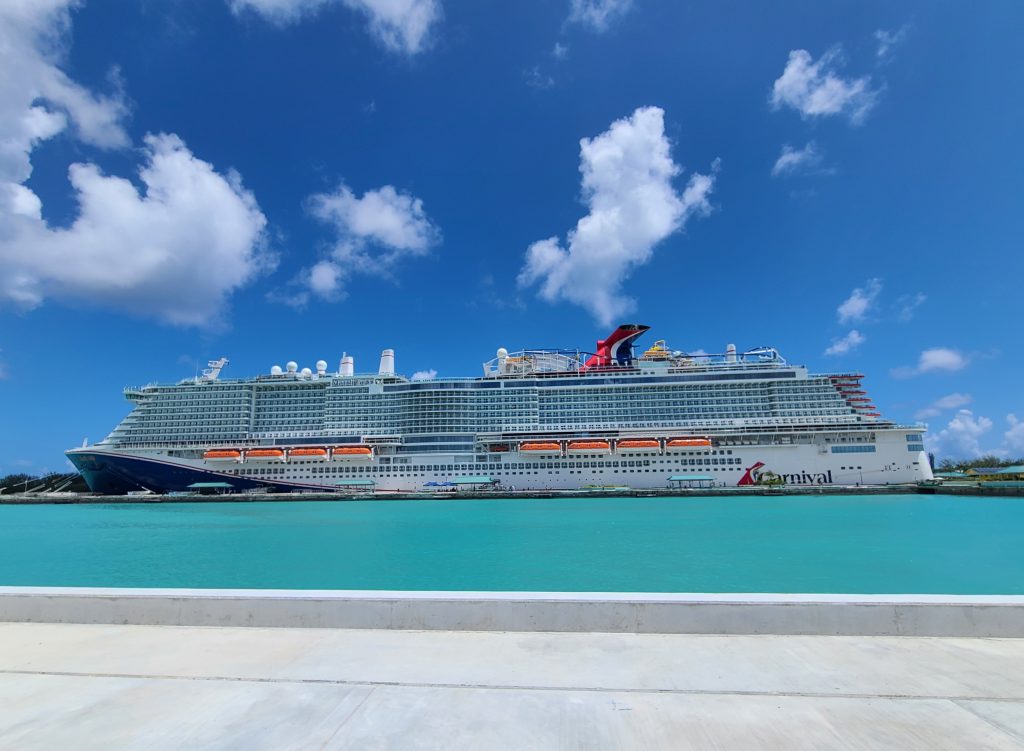 Overall, was the Mardi Gras a good ship?
This article has mentioned some missteps and room for improvement, but let me be clear, those were nit-picks. Overall, everyone interviewed said they would recommend the Mardi Gras to a friend, and some of our interviewees already have follow-up cruises booked. Of course, it'll be a while before the Mardi Gras sails at full capacity, and we probably won't see it packed full of kids until next Summer, so we can't know for sure if the crowds will maintain peace. Still, one thing is for sure, this is an impressive ship, and if it's the sign of things to come from Carnival (two more Excel-class ships are scheduled), we're in for a bright future from Carnival. 
You might like the Carnival Mardi Gras if…
1) You like lots of food options
This ship has more food venues than any other in the fleet, and you could easily eat at a different venue each day and not repeat itself.
2) You like lots of activities and venues
There will be plenty to keep you busy on this ship. In fact, the only thing we really heard was that there wasn't enough time to try everything on this ship.
3) You don't like paying more for food
As of now, there are a lot of dining venues on the ship that have no additional charge. While that might change in the future, at the moment, it means you can choose from a ton of restaurants without paying a cent more. 
You might not like Carnival Mardi Gras if…
1) You don't like walking
The ship is big, and many people commented on the amount of walking. If you have mobility issues or don't like walking a lot, you might want to consider a smaller ship. 
2) You prefer traditional cruise-type dining
If you like traditional-style dining (where you have a set-time dinner and sit with the same people every night), as of now, the Mardi Gras might not be the best fit. While traditional dining is offered on this ship, there are so many dining options that you might feel left out just going to the main dining room every night. People with set-time dining have the opportunity to go to the other venues, but not until later in the evening until after flexible-time diners have had the change (after 7:30 pm but subject to change). 
3) You like more intimate ships
The Mardi Gras is big. There's a good chance you won't even get to visit every venue on board in one sailing. If you want a more intimate experience, it's best to opt for a smaller ship. 
4) You like the Havana area on the Vista-class ships
CruiseSpotlight is an Amazon Associate. We may earn a commission when you click links to retailers and purchase goods.