Carnival Pride 7-Day Winter Cruise: Day 2 (Sea Day)
Last Updated on August 22, 2023
On the morning of day 2, the Pride was getting close to South Carolina. The sun was pouring in through the cabin windows, but I was hit by a rush of cold air when I stepped onto the balcony. With a predicted high of only 55 degrees that day, I dressed in jeans and brought a sweatshirt around with me while on board. It wasn't the tropical weather I was used to on Day 2 on a cruise, but it was still better than the snow back in New Jersey.
Breakfast at the Lido Buffet
First thing we did was head to the Mermaid Grill for breakfast. This main buffet restaurant is where the ship started to show it's age. The large stone mermaid statues that decorated the dining area were chipped, and seats were well worn. It wasn't dirty or run down, but it was noticeably older feeling.
The buffet had a bunch of different stations with lots of good options; cereal, french toast, mini waffles, omelets made to order. It was easy to grab a tray and pile on more food than I could possibly need. On the first day of any cruise, you're so overwhelmed by all the options and choices in front of you, you end up getting everything. Although the food lines themselves weren't bad, the dining area just wasn't big enough to accommodate the breakfast rush on a sea day. We had similar problems during peak lunch times as well. 
Fun Morning of Activities
We looked at our Fun Times, Carnival's outline of everything that's happening on the ship, to see what activities were scheduled for the day. For me, the first day on a cruise is usually about getting that fresh sea air up on deck, but it wasn't warm enough for any outside activities. Luckily, Carnival knew this and their "Fun Squad", Carnival's entertainment staff, scheduled various events during the day. There were trivia games, contests, talks about excursions and in-port shopping, bingo, art auctions are more. Carnival likes to keep all events at around 30 minutes making it easy to hop from one to the next.
For our morning, we attended "Game of Thrones" and TV Theme Song Trivia. About 50 or so other passengers gathered around to play in the Piazza Lounge. The host gave everyone a sheet to record their answers on and a pencil. The host would go through the 10 – 15 questions, and everyone would write down their answers. At the end, they revealed all the answers and the person with the highest score won a Ship on a Stick trophy. The game was meant to be fun, so scoring was on the honor system and they hoped no one would cheat. Using a phone to get answers was also a "no-no"; the staff's favorite joke on this ship was that you couldn't use your cell phone even if you tried, it was so slow you'd never get an answer. That being said, I had the internet package on this cruise, and while it was fine for messaging and emails and worked well in the room, it was quite slow in a lot of the venues onboard. 
Visiting the Gym to Balance the Buffet Trips
After yet another trip to the buffet for lunch, I decided it was safest for my waistline if I checked out the gym in the afternoon. To get to the gym, you have to walk through the spa's reception area and down a long narrow hallway. It's odd because it doesn't feel like you should actually be there, but it's the only way to access the fitness center. 
The center itself has lots of cardio equipment like treadmills and ellipticals and limited free weights and strength training machines. The gym is at the front of the ship with floor to ceiling windows, so while you're running on the treadmill, you're looking straight into the beautiful horizon. It's one of the few things that motivates me to work out a bit on every cruise (that and needing to fit in my pants at the end). 
The Pride is one of the few Carnival ships that has free saunas and steam rooms available. You'll find these in the men and women's locker rooms, and you can just go right in and use them. While I'm not a huge fan steam rooms, I do like to check them out since they're there. This area also has a couple of shower rooms with 5 head shower sprays. It's hard to describe the refreshing feeling of getting hit with five shower heads at once, but I'd definitely recommend trying it. It's great to try out after a workout or if the shower in your room is getting too cramped. The gym also has a large adults-only hot tub in the gym itself. It's usually much less crowded than the ones on Lido Deck and can be a nice way to relax a bit. 
A Dining Demonstration
After a quick workout and shower, I attended a dining demonstration in David's Steakhouse. The Steakhouse is located at the top level of the Atrium and is under the red funnel, which is actually glass on this ship. A replica statue of David greets you as you get off the glass elevators. (This statue was a faithful representation on my first trip on the Pride, but now, he has a modesty leaf). The two-story restaurant was very spacious, with a huge painting decorating the far wall. 
The demonstration itself was packed with all the seats they set up completely filled. The head chef came out while a member of the fun squad narrated through the steps in the recipe, occasionally adding a joke or two. The actual cooking itself wasn't all that impressive to watch, and I wish there was a little more chemistry between the presenter and the chef. The nice thing was that they brought out samples of everything they made (appetizer, salad, dinner and dessert). They gave you a little printout of all the recipes you tasted that day. If you like cooking, it's a cool little activity that's free to attend. 
The demonstration also serves as a commercial for you to book a reservation at the restaurant. David Steakhouse's is one of the few additional fee dining venues on the Pride. It's around $38 per person and is a really nice way to celebrate a special occasion. While I didn't dine at David's this time, I have in the past, and it was definitely worth the money, not just for the food but for the added atmosphere and ambiance. 
Getting Fancy on Elegant Night
Day 2 was an Elegant Night, which means every who's eating dinner in the dining room dresses up in their best attire. In the old days on cruises, this meant ballgowns and tuxes, but nowadays, it's more suits or jackets for men and nice dresses for women. Elegant nights always have a mixed reviews when you talk to cruisers, some people love it and some hate it. Personally, I always enjoy the first one. You still have all the excitement of vacation fresh in your mind, and it is fun to see everyone dressed up. The second one, I could do without (most Carnival cruises 6 days or more have 2 elegant nights). If you eat in the dining room, you'll see special selections like lobster tail or prime rib. If Elegant Night isn't for you, you can always go to the Lido Buffet for dinner.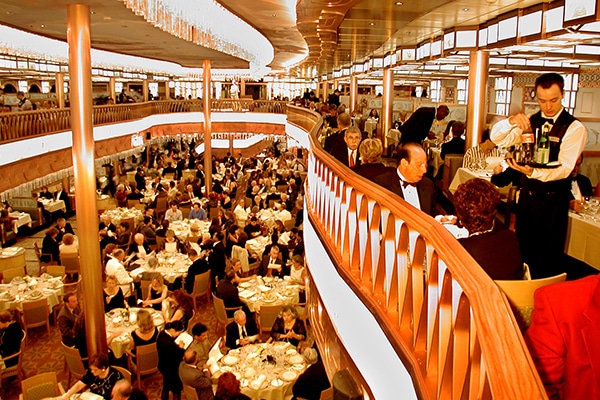 People were all dressed up and the Atrium Lobby Bar was filling with people meeting and taking pictures. Tons of photography stations were set up around the atrium lobby. You could choose from a variety of backdrops, from cheesy sunsets to faux cruise ship railings. If you need a good couple's photo, it's an excellent opportunity. You can get as many pictures as you want, and they'll be printed out and displayed in the Photos Gallery the next day. If you like any of them, you can purchase them at that point. They're usually between $10 and $20 a photo, which may seem like a lot, but if it's a really good picture, it might be worth it. 
Laughing at the Punchliner Comedy Club
Carnival has a very solid comedy club program across its fleet, and they're known for having good quality comedians. We had 4 different comedians for this cruise, two on the first half and two other ones for the second half. Most nights, there was 1 (PG) rated show and then 4 (R) rated shows between 8 pm and midnight. They usually had very good attendance and got crowded. Even though the Butterflies Lounge held almost 350 people, the latest show usually filled up. We made sure to get there 5 to 10 minutes early to get a seat. 
At that point we called it a night and went to bed to prepare for another day at sea.
Follow along on our 7-day sailing on the Carnival Pride
Carnival Pride – Cruise Blog - Day 1 – Baltimore
Carnival Pride – Cruise Blog - Day 2 – Sea Day
Carnival Pride – Cruise Blog - Day 3 – Another Sea Day
Carnival Pride – Cruise Blog - Day 4 – Half Moon Cay
Carnival Pride – Cruise Blog - Day 5 – Nassau
Carnival Pride – Cruise Blog - Day 6 – Freeport
Carnival Horizon – Cruise Blog - Day 7 – Final Sea Day
5 Hits & Misses of the Carnival Pride
CruiseSpotlight is an Amazon Associate. We may earn a commission when you click links to retailers and purchase goods.