Carnival Pride 7-Day Winter Cruise: Day 3 (Another Sea Day)
Last Updated on August 22, 2023
I awoke to another sea day. It was warming up a bit so you could be in short sleeves without a jacket, but you still didn't want to be on deck very much because of the cold winds. Most of the daily activities were still on the promenade level because it was too cold outside. 
In all my cruises, this was the first time I started to go a little stir crazy. Usually, there's so much do on a ship, but half the ship was basically off-limits because it was still so cold. You couldn't go play a round of mini-golf, have a tropical drink by the lido pool or relax in the Serenity adults-only area. This feeling was made worse by the fact that this ship has a pool with a glass ceiling that can close but was kept open all cruise (it constantly breaks, apparently). During the day, many of the activities felt the same as they were the day before; trivia, art auction, shopping talk, etc. It almost felt like the movie Groundhog's Day. 
Food, Food, and More Food
Although the day felt mostly repetitive, something that stood out during the day was my first visit to Guy's Burger Joint. Carnival first introduced the restaurant in partnership with Guy Fieri back in 2011 on the Carnival Liberty, and it received rave reviews. Since then, they have rolled it out to all of their ships. It's a fast-casual dining venue where you just order your burger from the line and then find the table. You can eat at Guy's Burger themed tables around the main pool or just take it back into the Lido Buffet. It's no additional cost, but the line can get quite long at lunchtime. 
This is the first time I had the opportunity to try Guy's Burger Joint, and I was curious to see if it lived up to the hype. Let me just say, it's not only the best burger I've ever had on a cruise ship, but it just might be one of the best burgers I've ever had PERIOD! There are 5 options to choose from (see the menu here), but I went with the Pig Patty, a burger with super melty cheese, donkey sauce, and a ring of bacon on top. Then I headed to the fixin's bar to add some extras to it. It was so juicy and delicious. I wouldn't say book a Carnival cruise just for Guy's Burger Joint, but if you're on a Carnival cruise, make sure to get at least 1 burger from here. 
This evening's dinner also had one of my favorite Carnival dishes, their Strawberry Bisque. Every time I'm on a Carnival cruise, I have to get it. It's pretty much just melted strawberry ice cream served as a fancy appetizer, and it's delicious! (You can easily make it yourself at home, see the recipe here)
Last-Minute Change of Ports
Originally, we were supposed to go to Princess Cays as our first port. It's a private island owned by the Carnival Corporation, where you can relax on the beach or do any number of excursions. That night at dinner, we found out that they had a massive fire on the island, and we were being rerouted to another Carnival owned island, Half Moon Cay. Carnival did a great job communicating the change. The Carnival Hub app was immediately updated with the new information, the Captain and Cruise Director made announcements over the speakers, and our waiter made sure we knew as well. Our party was all OK with the change since we still got to go to a private island, and most people have said that Half Moon Cay is better than Princess Cay. 
An Underwhelming Show In the Taj Mahal Theater
After dinner, we attended one of the musical shows in the Taj Mahal Theater. While other cruise lines may have Broadway or Cirque du Soleil type experiences, Carnival sticks to bland musical reviews they call "Playlist Productions." There's usually very little dialogue, and they run through hit musical numbers one after the other. On most Carnival cruises, there are 4 dedicated singers and then 8 – 12 dancers who lip-sync to backing tracks. The performers are very talented and try hard, but they're just not given good material to work worth. We saw a show with 80's music, and it was just not good. We ended up leaving halfway through. It's rather disappointing Carnival hasn't pushed ahead here; even on one of their newest ships, the Horizon, the shows are very subpar (aside from the Celestial Strings, which was terrific).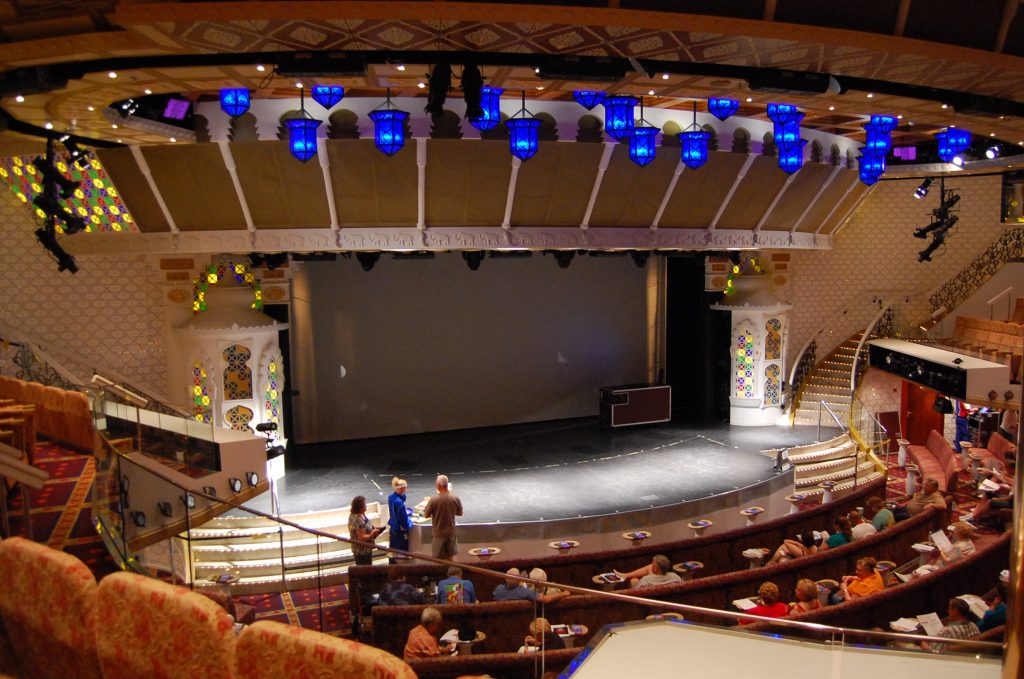 Finally Some On-Deck Fun
Be evening, the ship had arrived in the Caribbean; the warmth and humidity was actually a refreshing break from the cold. Since it was finally warm outside, they held a dance party on the main deck at 10 pm. The lights were turned down and the video screen popped with vibrant colors while music played. The Fun Squad danced along with the crowd and pumped up the energy. People of all ages came out to enjoy the fresh air and music.
Late Night Munchies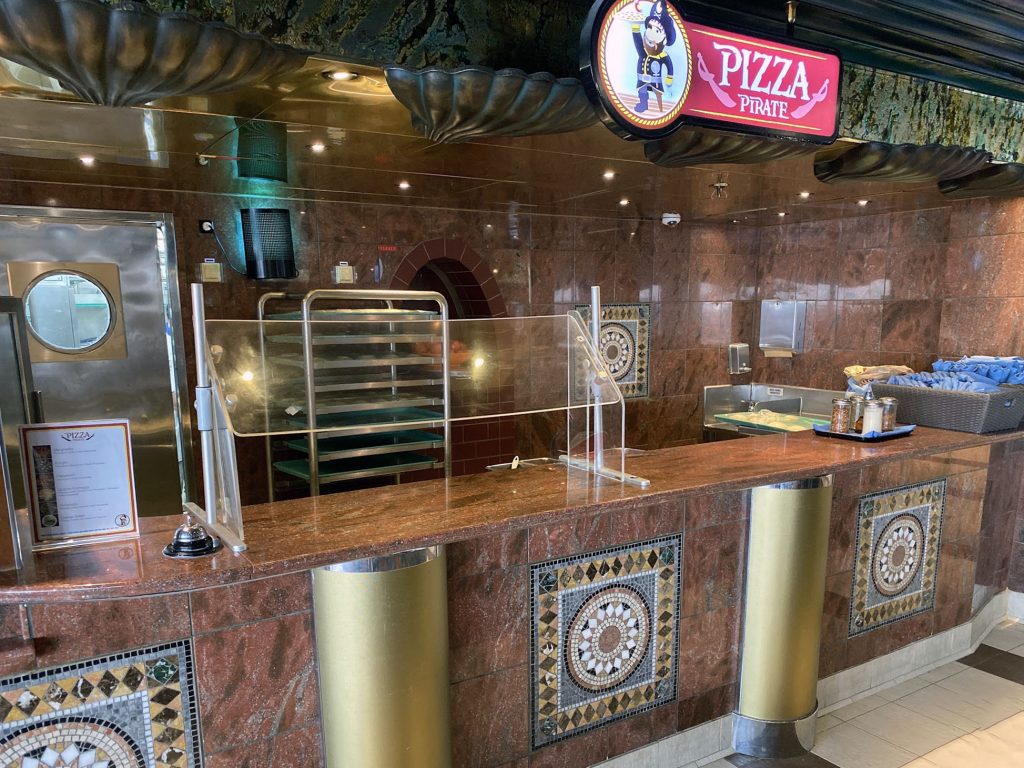 After enjoying the music on deck, we headed back to the Lido Buffet to grab some munchies. The late-night buffet starts at 11 pm and is mostly leftovers from dinner as well as some grilled cheese and hot dogs. It's not a huge selection, but if you're hungry, it hits the spot. You could also get food from the Pizza Pirate, which is in the same area. Pizza Pirate (see the menu here) has 5 types of pizza available 24/7 but the lines between 10 pm and 1 am can get insane on the Pride. It was easily a 10 – 20 minute wait most evenings. What was really annoying is that there was no bar around here, so if you wanted a soda or cocktail, you had to go through the buffet to the Red Frog Bar at the main pool area. They definitely lost out on some sales by not having one near here. 
Follow along on our 7-day sailing on the Carnival Pride
Carnival Pride – Cruise Blog - Day 1 – Baltimore
Carnival Pride – Cruise Blog - Day 2 – Sea Day
Carnival Pride – Cruise Blog - Day 3 – Another Sea Day
Carnival Pride – Cruise Blog - Day 4 – Half Moon Cay
Carnival Pride – Cruise Blog - Day 5 – Nassau
Carnival Pride – Cruise Blog - Day 6 – Freeport
Carnival Horizon – Cruise Blog - Day 7 – Final Sea Day
5 Hits & Misses of the Carnival Pride
CruiseSpotlight is an Amazon Associate. We may earn a commission when you click links to retailers and purchase goods.