Carnival Pride 7-Day Winter Cruise: Day 4 (Half Moon Cay)
Last Updated on July 11, 2022
Our cruise was originally supposed to go to Princess Cays, one of the Carnival Corporation's private islands. Because a fire broke out the day before, we were re-rerouted to Carnival's other private island Half Moon Cay (learn more about Half Moon Cay). I was really happy they could accommodate us and make this change so quickly, ensuring we still had a 3 port cruise. They warned us it might feel a little crowded here because another ship was visiting that day and they usually try to keep it to one ship per day if possible. 
This was my first time getting to try Carnival's private island; I was scheduled for it once before, but it was canceled due to in-climate weather. I have always liked the idea of a private island. It allows you to relax on a beautiful beach and enjoy the Caribbean waters without paying extra for an excursion or arrange for transportation. That being said Carnival does offer a variety of exciting excursions that are available for their private island (see their list here).
Getting to the Half Moon Cay
A downside of Half Moon Cay was that it did not have a dock for the cruise ships, so you had to take a tender, or what Carnival calls a Water Taxi, to get from the ship to the shore. It's a pretty simple process; you wake up and go to the main lido pool area to grab a number, almost like a deli counter, which gives you a boarding group. When they call your boarding group over the loudspeaker, you take the elevator or the stairs down to deck 1 and board the water taxi. It's around a 15-minute ride to the island (learn more about tender ports here), and it can get rough if you get seasick easily. 
Caribbean Relaxation At Its Best
Beautiful white sand beaches, lush tropical vegetation, and crystal clear waters awaited us as we arrived at Half Moon Cay. The main beach strip was 2 miles long and was in a crescent shape (hence the name). It's not built up as much as some of the other private islands, like Royal Caribbean's CoCo Cay, so it feels less like a theme park and more like a natural island. There are some basketball courts and a small playground for the kids, restroom facilities, 4 bars, and a buffet-style food place. There's not a ton of signage around the island; you just wander and meander through paths to find new areas. It's like an adventure, but it can be tiring if you're not in good shape for walking. There might be more direct paths, but they weren't clearly labeled.
Free loungers covered the beaches, so many that there was plenty to go around even on a two-ship day. The chairs right by the entrance were quickly taken with bags and towels, but we walked down the beach for a few minutes and found tons of opens chairs and lots of space. Umbrellas weren't provided, but you could usually spot some spaces in the shade if you walked around. The island also had cabanas available to rent, but I didn't see the need personally.  
The water was a beautiful turquoise blue shade and crystal clear. Although the air was only 75 degrees, the ocean was the same temperature, so it was enjoyable. You could see lots of fish swimming around if you had a snorkel, but they were just plain silver-colored fish; you didn't see many tropical fish or coral.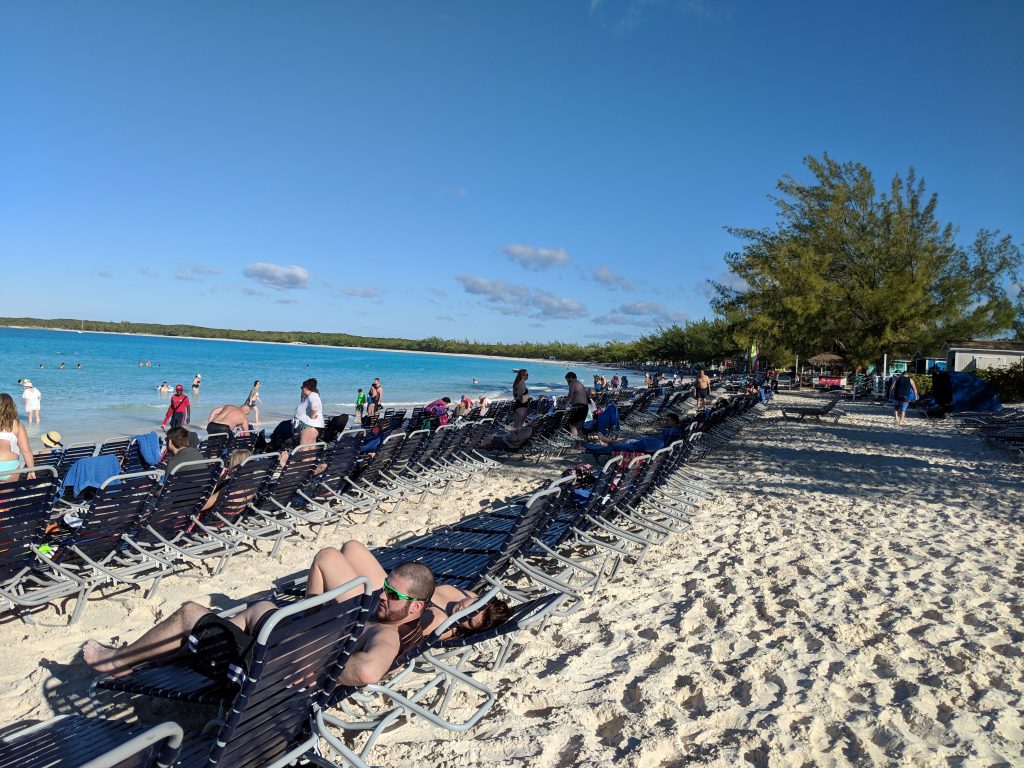 After splashing in the water for a bit, I lounged on a chair with a book. The same bartenders we saw on our boat were regularly coming around with drinks of the day and beer. To pay for beverages on this island, you could just use your Sail and Sign card. Think you're going to max out on your Cheers or Bubbles package while you're on the island? Think again! You have to pay full price for any drink on the island, even if you have a drink package. It's really annoying seeing that it's Carnival's private island and they're the ones supplying the drinks. We were literally on the same tender as the alcohol coming over from the cruise ship and the waiters coming to work. There is no reason Half Moon Key beverages should not be included in the drink plan costs!
Exploring the Half Moon Cay
Halfway down the beach, we stumbled upon a large pirate ship called "Captain Morgan's Bar." The Fun Squad ran a few games and contests while lively, party music echoed over the beach. It was a fun, exciting atmosphere, but if you preferred peace and quiet, you could go a bit further down the beach and not even notice it. 
At one point, we decided to walk to the tip of Half Moon Key. It was actually a very long walk, but it was beautiful. If you're going to attempt this walk, be sure to BRING SHOES. The sand itself gets hot, and towards the end of the island, it gets relatively rocky. It was a nice escape; few people made it that far into the island.

Lunch Time on the Island
Lunchtime was a bit of a mess. Lunch is free on the island and served buffet style. They had a lot of Caribbean specialties, but you could also get hot dogs or hamburgers. You could use several different buffet lines, but they were all reasonably crowded. Once we got our food, it was also a challenge to find seating. Again, this may only be because we had two ships this day at the port due to the change of plans. It wasn't awful, but it took away from the relaxing vibe. Along those lines, getting back to the ship was a production. There was a 45-minute tender line waiting in the sun to get back on the boat, which clearly frustrated everyone. 
Checking out the Pride's Water Slides
Once we arrived back on the ship, we decided to take advantage of the still warm weather and ventured to Deck 11 to try the water features on the Pride.
Carnival Waterworks
Little children could splash around in Carnival's Waterworks Area. There were two mini ricing slides as well as a dumping water bucket. It was a great way to let kids splash around without being in a crowded pool.
Classic Twister Waterslide
Carnival first introduced their Twister Waterslide on the Carnival Fantasy back in 1990. At the time, it was a revolutionary addition to a cruise ship. Now, every ship in Carnival's fleet has at least one water slide on it. This open slide is for anyone 42″ or taller and is a slower water slide. It's an open air tube, so good for anyone who is claustrophobic. This slide has a cool view over the whole Serenity area on the Pride.
Green Thunder Thrill Slide
This was the Pride's big attraction, the Green Thunder Thrill Slide. You get into what resembles a vertical coffin, and the clear plastic door closes on you. The ride attendant then instructs you to cross your arms and legs. He counts down from 3, and before you know it, the floor drops out from beneath you. You are in free fall for what feels like an eternity, but in reality is just a couple of seconds, before your back makes contact with the slide and the cold water engulfs you. You slide around a turn, and before you know it, you're coming out of a tube 2 decks below. It's a really cool experience. The minimum height is 48″.
Recovering From A Beach Day
Most of our table was late in getting to the dinner table. Nearly everyone was noticeably redder; their bodies were not used to the intense Caribbean sun in the middle of January (wear sunscreen!). Everyone seemed to love the island and finally being off the ship and in full vacation mode.
Rocking the Atrium Bar
To close the night, a few of us headed to the Atrium Bar to for 90's Trivia. We thought it'd be like the other trivia on the ship, where you fill in the answers and get points. No, this was totally different and a LOT more fun. It was basically a 30 minute 90's dance party.
The Cruise Director, Reverend Dr. E (who is neither a Reverend or a Doctor), jumped up on the small stage behind the Atrium Bar and lead the show. If you like to go to events and shows on a cruise, the Cruise Director can make a big difference. Rev. Dr. E was amazing. His energy level was through the roof and related very well to the guests. In his case, he turned trivia into an interactive dance party, complete with costumes. It was a blast and the entire lobby area was hopping. It was an exciting way to end the night.
CruiseSpotlight is an Amazon Associate. We may earn a commission when you click links to retailers and purchase goods.