Carnival Pride 7-Day Winter Cruise: Day 5 (Nassau, Bahamas)
Last Updated on August 22, 2023
Our next day, the Carnival Pride arrived in Nassau in the Bahamas. This was my 3rd time visiting this port, and to be honest, I'm kind of over it at this point. I just had a beach day for free the day before, so I wasn't super excited to pay to do that again. It also wasn't great weather, only about 73 degrees and partially cloudy. Instead, a few of us decided to explore downtown. 
Visiting Pirates of Nassau Museum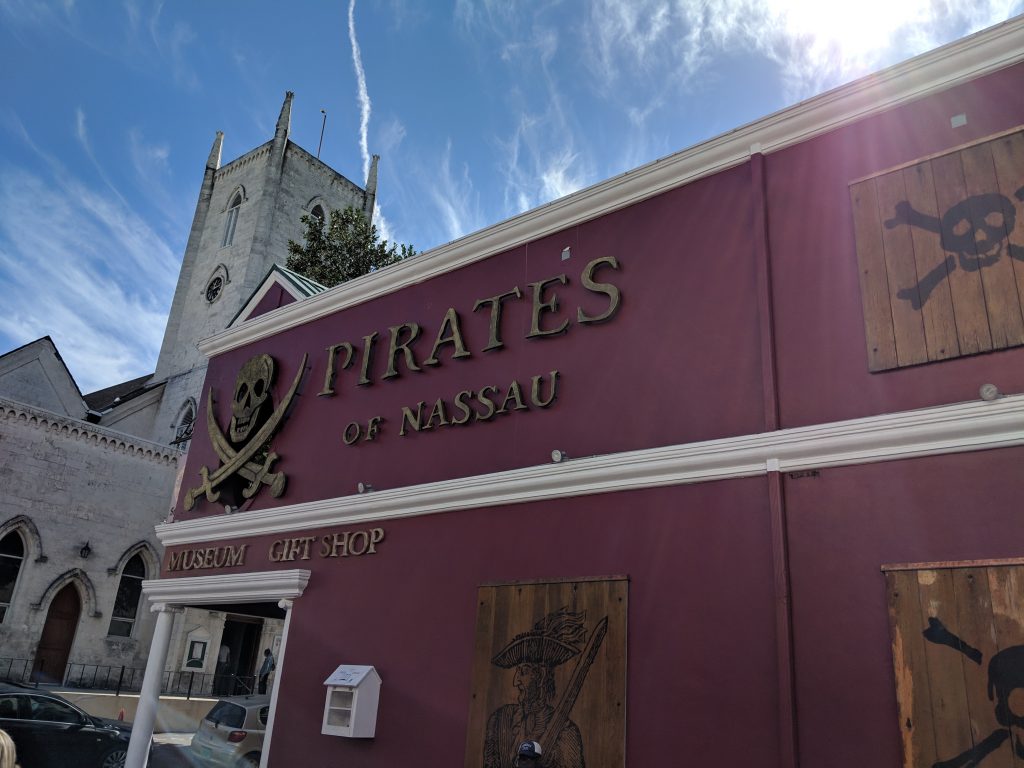 The first thing we did was check out the Pirates of Nassau museum. It was a short 5 – 10 minute walk from the port, and although there have been reports of increased crime in the Bahamas, it felt safe walking there. One person in my group was approached and asked if he wanted to buy drugs, but I've seen the same in New York City and Philadelphia back in the US. 
Wood planks and pirate art decorated the outside of the museum. We proceeded directly to the ticket booth. It felt almost abandoned compared to the usual crowds you'd see at tourist destinations. There were no lines, and the place was not crowded at all. We saw about 10 – 15 other people while we were there, which was great. 
The admission price was $13.50 per person ($6.75 for children). It started with a large room holding an impressive re-creation of a pirate ship. Informative signs, art, and props helped you learn as you walked through. It was a self-paced museum and took us about 40 minutes. I'd recommend it if you have nothing else to do in Nassau or if it's bad weather. 
Exploring Downtown Nassau
Afterward, we walked downtown to look at some shops. We stayed within a few blocks of the port, and again, it felt very safe. Most of the spots were tourist traps with the typical wares…cheap booze, jewelry, and perfumes. We headed to the Nassau Straw Market before we left. Personally, I'm never a fan of straw markets. I usually find vendors too pushy for my taste, and everyone seems to have the same stuff. That being said, it is an excellent way to pick up some relatively inexpensive souvenirs and support the local economy. 
Ship Side Relaxing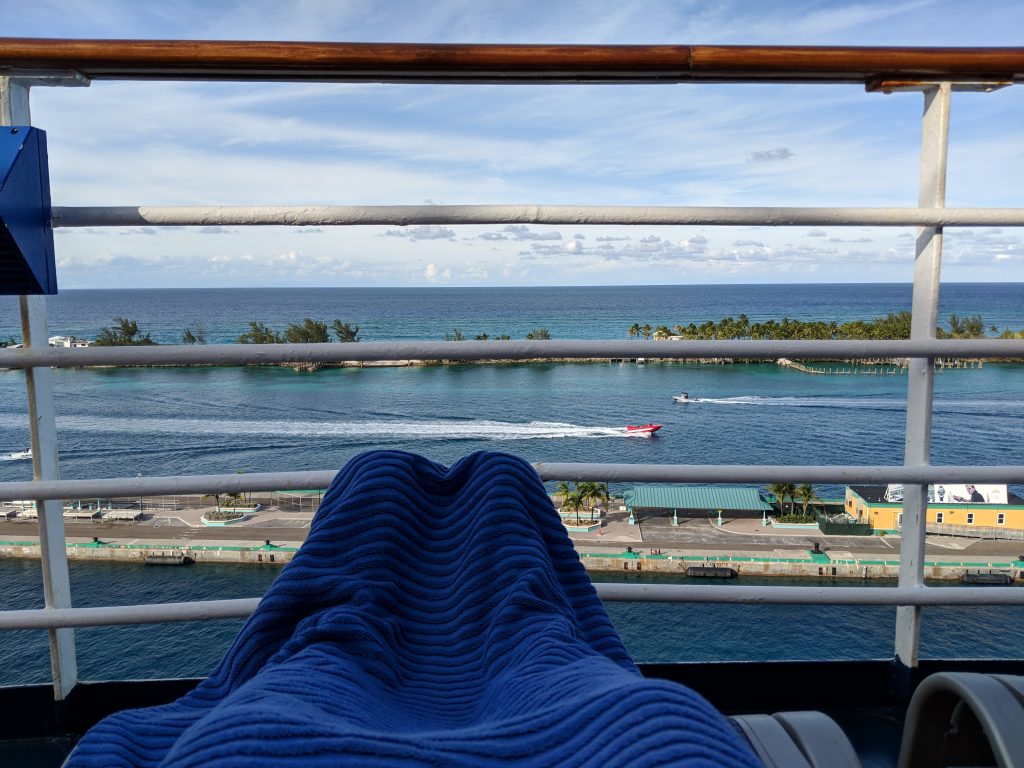 We got back early and sought out some space to enjoy the warm sea breeze. If you're on the Pride and want some quiet place to lay down, try by the funnel. You'll find 2 decks (Deck 11 and 12) there that are pretty much deserted. They have loungers set up there, and I was able to take a quick nap in the shade of the funnel with no interruption. 
Preparing for a Jam-Packed Night on the Pride
That night was full of entertainment and events. We consulted our "Fun Times" and our group decided we wanted to attend the Hasbro Game Show in the main theater that night. The show was at 8 pm so it'd be tight to make it with our 6 pm dinner time. We let Leonardo, our waiter, know about our timeline, and he made sure to expedite our meal, so we made it to the show with plenty of time.
Hasbro Game Show
The Hasbro Game Show was like you were in the audience for a TV game show. In a partnership with the Hasbro gaming company, Carnival brings a bunch of games like Connect 4, Yahtzee, Operation, and Simon to stage in larger than life experience. Carnival clearly didn't spare any expense on this game; the props, set pieces, music, and video were all high quality. 
The Taj Mahal lounge had a good size crowd for this event. Dr E and the Fun Squad helped pick 10 contestants to join the game. Both children and adults were on the two teams. One of the bridesmaids in our party was picked to play, so we cheered her and her team along. There was so much energy in the room.
Newlywed Game
Next up was the Newlywed Game. It's a staple on many cruise ships and is almost always a good laugh. It's a similar structure to the old Newlywed Game from TV, but they pick one newlywed couple, one who has been married for 10-15 years, and then the longest-married couple. Since my friends were married on the boat, they were picked as the newlywed couple, and we were prepared to watch them humiliate themselves. 
The Cruise Director, Rev Dr E, made an excellent host, interjecting jokes, and humor along the way. Some of the best parts? When the middle couple, who met at church, admitted to doing it in a Cheesecake Factory bathroom. The other is when the newlywed bride was asked what her husband looked like when he got out of the shower…Ellen Degeneres. 
Carnival Quest
Lastly, we went to the Carnival Quest, an adults-only scavenger hunt/challenge. You can go with your own group, team up with some other people there, or just go to watch people humiliate themselves for a golden ship on a stick and champagne. They warn you several times that it may be offensive, so I guess they've gotten a lot of complaints, but honestly, it's nothing you wouldn't see on cable TV. Challenges included having a man dress up in a girl's heels and bras and walk across stage and popping balloons with your butts. It was a lot of fun, and our team ended up winning.
Celebrating in Beauties Lounge
With a bottle of champagne from the Newlywed game and a bottle from winning Quest, we went to the Beauties Lounge to celebrate. The club itself was mostly empty, maybe 10 – 20 people before our group got there. The top-level of the bar was completely smoke-filled and felt disgusting. To avoid the smoke, we went to the lower level to open our champagne. The bartender went and got us chilled champagne glasses, and we toasted our success.
The club itself was a let down though. The DJ didn't have a wide variety of music and played mostly older hip-hop music that didn't suit our tastes. We made some requests, but he didn't have a large catalog. We ended up skipping out after about 20 minutes and instead went to the Lido Buffet for midnight snacks. 
Follow along on our 7-day sailing on the Carnival Pride
Carnival Pride – Cruise Blog - Day 1 – Baltimore
Carnival Pride – Cruise Blog - Day 2 – Sea Day
Carnival Pride – Cruise Blog - Day 3 – Another Sea Day
Carnival Pride – Cruise Blog - Day 4 – Half Moon Cay
Carnival Pride – Cruise Blog - Day 5 – Nassau
Carnival Pride – Cruise Blog - Day 6 – Freeport
Carnival Horizon – Cruise Blog - Day 7 – Final Sea Day
5 Hits & Misses of the Carnival Pride
CruiseSpotlight is an Amazon Associate. We may earn a commission when you click links to retailers and purchase goods.