Carnival Raising Internet Prices and Gratuities
Another day, another price increase from a cruise line. Today, Carnival announced they'll be increasing the cost of the internet plans and daily gratuities in the coming months. 
Internet costs increase by 10 – 25%
While some people like to unplug during a vacation, for others, internet access and accessibility are a necessity. For those people, Carnival offers three different internet packages; Social, Value, and Premium. 
Starting January 16, all three packages will increase in price, with the social plan having the most significant increase at 25% per day. However, guests can lock in the current rates by booking their internet package before that date.  
| Internet Plan | Previous Price | New Price | Increase |
| --- | --- | --- | --- |
| Social | $10.20 | $12.75 | 25% |
| Value | $14.45 | $17.00 | 18% |
| Premium | $17.00 | $18.70 | 10% |
Carnival Internet Package Costs (per person per day)
This increase is the second time in less than a year that Carnival has increased the internet package price. Just last March, the social plan cost $6.80 per day. So it's now almost double what it was then. It'll now cost $89.25 for a person on a 7-day cruise who just wants to check Facebook, Twitter, and Instagram.
Even more disappointing is this additional cost is not coming with increased service. Royal Caribbean and Celebrity have started switching their fleet to Starlink satellites which offer increased speeds and connectivity. However, Carnival is still using the same old satellites and now charging more. 
Daily gratuities increase by 9-10%
Carnival will also be increasing the cost of daily gratuities. These are the monies that go to all the hard-working staff members on board, from stateroom attendants to the bus boys in the Lido Buffet. While these chargers are technically optional and can be adjusted at guest services, the staff depends on these as part of their salary. 
The cost of these will go up a more modest 9-10%. Still, these fees can add up; a family of four will pay an extra $448 on a 7-day sailing. 
| Cabin Type | Previous Price | New Price | Increase |
| --- | --- | --- | --- |
| Standard cabin | $14.50 | $16.00 | 10% |
| Suite | $16.50 | $18.00 | 9% |
Carnival Daily Gratuity Costs (per person per day)
The price increase will go into effect for sailings leaving on April 1, 2023 and beyond. Guests wishing to lock in the current rate can prepay their gratuities now using the "My Cruise Manager" tool. Carnival last increased the cost of these in May 2022.  
We're still firm believers that these fees should be built into the cost of the cruise (like Virgin Voyages does), but the cruise lines like to hide the extra expense to lower the perceived cost of a cruise. 
You can read the entire email below: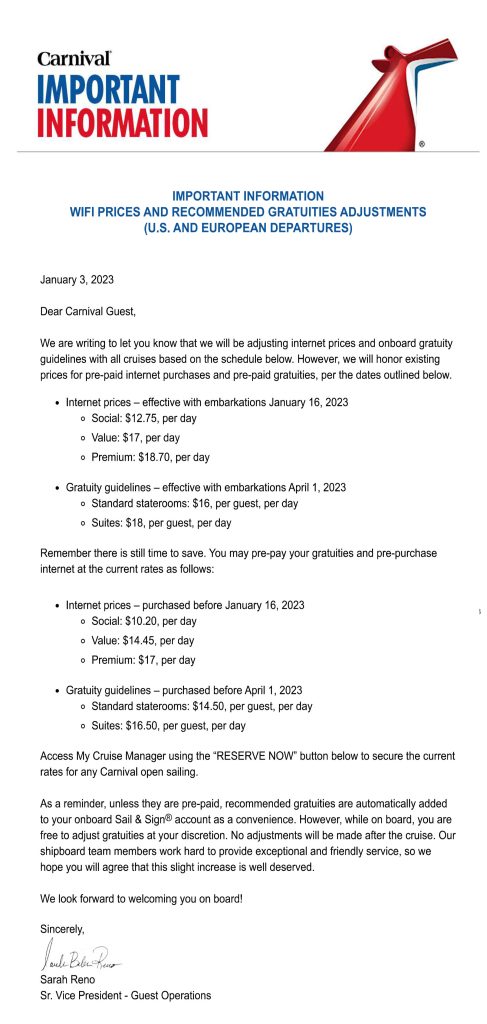 CruiseSpotlight is an Amazon Associate. We may earn a commission when you click links to retailers and purchase goods.