Carnival to Bring Back Late Night Dining Options
In exciting news for night owls, Carnival is rolling back some of the service cuts it implemented a year ago and is bringing back late night snacks at the buffet. It's a fantastic change and a sign that Carnival is listening to guest feedback.
History of late night snacks with Carnival
Years ago, Carnival offered a "Midnight Buffet" one night during the cruise. It was a high-end experience with a variety of food items laid out beautifully in the main dining room. A long table would be covered in carved fruit displays, chocolate sculptures, and a variety of desserts and food options.
Carnival discontinued that buffet years ago and instead offered Late Night Snacks. It'd take place in the buffet, where they'd open one station from 10 PM to around 1 PM for a variety of snacks. Usually, you'd find hot dogs, grilled cheese, and leftovers from that day's dinner. It hit the spot and helped alleviate pressure on the only other dining establishment open, the pizza place. 
In August 2022, Carnival made the very unpopular decision of stopping the Late Night Snack option in a cost-cutting measure. Carnival indicated this was a permanent cutback in service, not temporary. In its place, they introduced a "Pizza Plus" option which would offer Caesar Salad, pasta, and some sandwiches from the pizza place.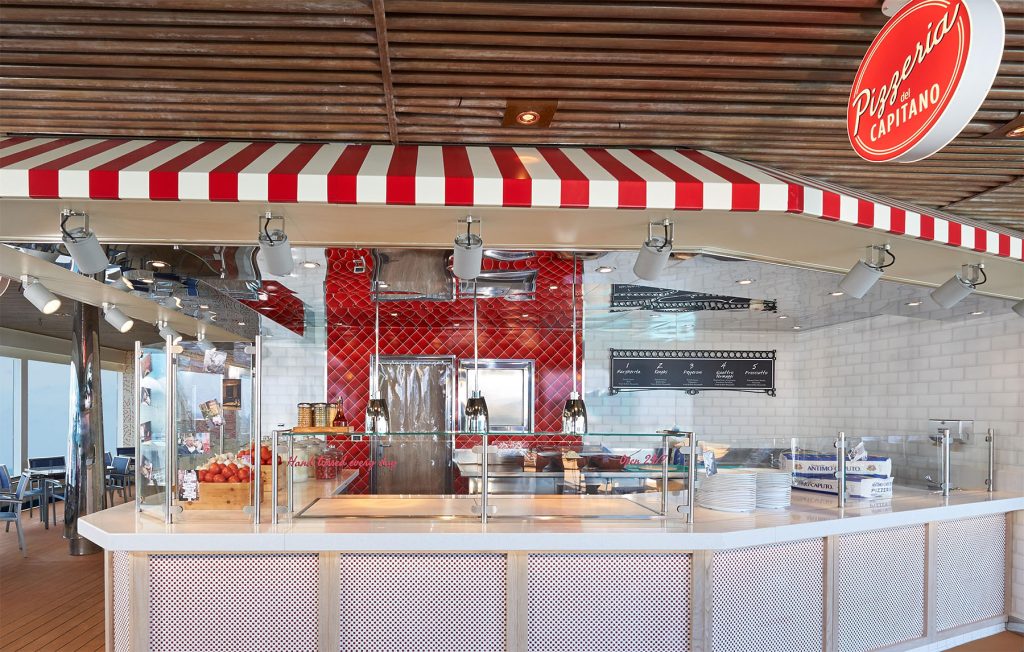 The problem with this plan was that the pizza places on most Carnival ships already had lines of up to 30 minutes late at night, and that's before they forced the hard-working employees there to do pizza and sandwiches as well. The ships with the "Pizza Pirate" venue, a small space with a conveyer belt oven to make the pizzas, had the biggest problem. They were severely limited in how many pizzas they could turn out at a time. Carnival's newer ships with Pizzeria Del Capitano had full pizza ovens and could crank out many more pies making it less of a problem. 
For what it's worth, on my March sailing on the Carnival Celebration (follow that blog here), there was no "Plus" option at the pizzeria, just pizza. They were turning out pizzas at top speed, and I never waited for more than minutes on this ship, but if you didn't like pizza, you were out of options. 
Carnival's new late night options
Carnival's new late night options look similar to the options they used to offer. You'll notice they didn't mention "chief culinary officer Emeril Lagasse," and that's because they were clearly trying to fill the need for late-night food, not create excellent cuisine. While the menu isn't anything out of the ordinary, it is at least a good selection for people looking to feed the late night munchies. Most of these choices make sense, although I'm not sure how many people are craving chicken noodle soup at 10 PM at night.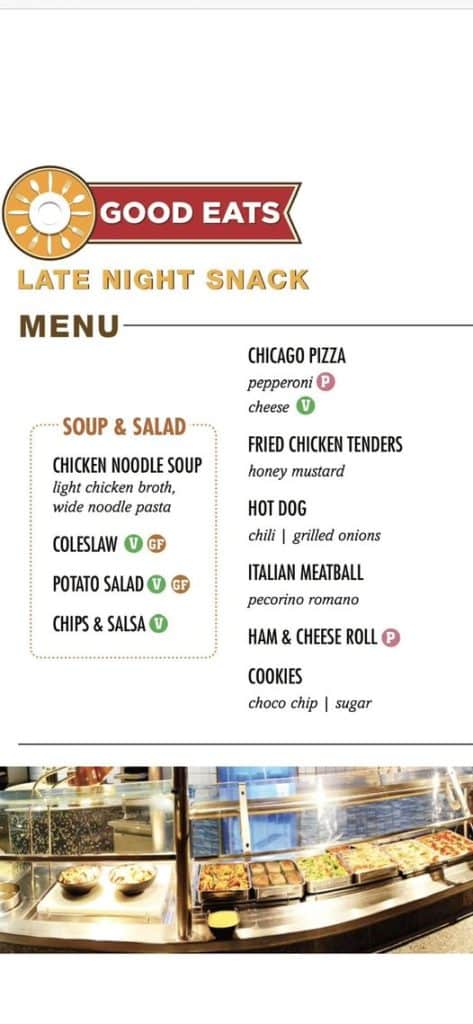 Changes start the week of July 17
John Heald said the late-night options will start next week. The opening/closing time will vary from ship to ship. They'll take into account peak guest periods and demographics to plan accordingly. That makes sense; a 14-day Journeys cruise isn't going to have as many late-night diners as a 3-night party cruise. 
Carnival is listening
This change is more clear evidence that Carnival is listening to guest feedback. They made a lot of cutbacks during COVID, and it's nice to see them listening to guests' responses. From bringing back the printed Fun Times (read more) to this late night dining option, Carnival is ensuring guest satisfaction remains high. That being said, remember to complete your cruise survey after you sail; it's THE way to let Carnival know what you think. 
CruiseSpotlight is an Amazon Associate. We may earn a commission when you click links to retailers and purchase goods.