Carnival Update: Wifi Increases, Room Service Charges, and Green Eggs and Ham
Last Updated on September 13, 2022
Carnival Cruise Lines emailed upcoming guests on Friday to inform them about some upcoming changes. You can tell the marketing people at Carnival were working hard on this one, as they tried to make the email as ambiguous as possible and hide the price increases they were announcing.

Goodbye free room service
In the email, Carnival said they are "updating our room service menu to add more options on an a la carte basis, while maintaining a complimentary breakfast offering each morning." What that translates to is that they're getting rid of free room service for anything but continental breakfast. For the rest of the day and evening, Carnival will offer à la carte selections. 
Because of the confusing way Carnival worded the email, many guests reached out to Carnival for clarification. Carnival Brand Ambassador John Heald took to his Facebook page to further explain. He confirmed there will be complimentary breakfast options available for breakfast, and for the rest of the day, guests can order a la carte items from room service. Heald indicated that these offerings will be of higher quality than the existing room service menus, and he said the new menus will be released soon. He explained this move was made partly to combat food waste as, previously, guests would over-order the free food and throw out most of it. 
Carnival internet package prices going up in October
If you scroll down to the bottom of the email beneath the signature of the Chief Operations Officer, there's a small call-out almost designed to be ignored. It indicates that the prices for internet will go up on October 1. 
While the email did not reveal the new pricing, a Carnival spokesperson provided the new pricing below. The prices will go up by 18 – 30% depending on the package. They continue to offer a pre-cruise discount of 15% if you buy before your sailing.  
| | Current Price | New Price |
| --- | --- | --- |
| Social wifi plan | $8.50 | $10.20 (20% increase) |
| Value wifi plan | $11.05 | $14.45 (30% increase) |
| Premium wifi plan | $14.45 | $17.00 (18% increase) |
Pre-cruise prices for internet on a Carnival cruise
Guests who only need a day of access can book 24 hours of value internet for $20 or premium internet for $30. 
Green Eggs and Ham Breakfast is back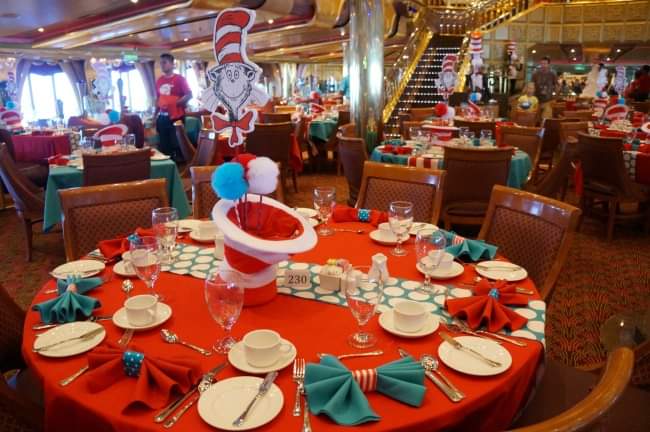 Some good news came out of the email, though. Carnival said they're finally bringing back the popular Green Eggs and Ham Breakfast. This themed breakfast is inspired by Dr. Suess' famous book "Green Eggs and Ham." During this event, the dining room is decorated with Suess-inspired decorations and characters walk around. In addition, kids can choose from a variety of food options, such as the actual green eggs and ham or cereal-crusted French Toast. 
Carnival has confirmed the cost is $10 for adults and $8 for kids. Babies and toddlers ages two and younger were free.
Just be upfront and honest Carnival 
Unfortunately, price increases just seem to be the norm these days. While no one enjoys them, they're understandable. But the way Carnival tried to hide it and put it in a confusing email is the issue here. Be upfront and direct with changes. 
John Heald's explanation about room service was much clearer and more understandable than the marketing department's attempt to downplay the additional charge. They shouldn't have to hide it. In terms of the internet package, they're still cheaper than most mainstream cruise lines in price per day. 
CruiseSpotlight is an Amazon Associate. We may earn a commission when you click links to retailers and purchase goods.