Changes to Norwegian's Latitudes Loyalty Program
Norwegian Cruise Line recently announced an overhaul to their loyalty program. The "Latitudes Rewards Loyalty Program" offers cruisers incentives to keep cruising on the line, from cocktail parties to free laundry. 
How does the Latitudes rewards program work?
You are automatically enrolled in the Latitudes reward program as soon as you book your first cruise with Norwegian. Your level in the program depends on how many points you have. Cruisers receive 1 point for each cruise night they sail. 
Cruisers also have a chance to earn additional points. If you book a suite or cabin in "The Haven," you'll receive an additional point per night. If you book a "Latitudes Rewards Insider Offer," you will also receive an additional point per night.
The program structure and benefits for Latitudes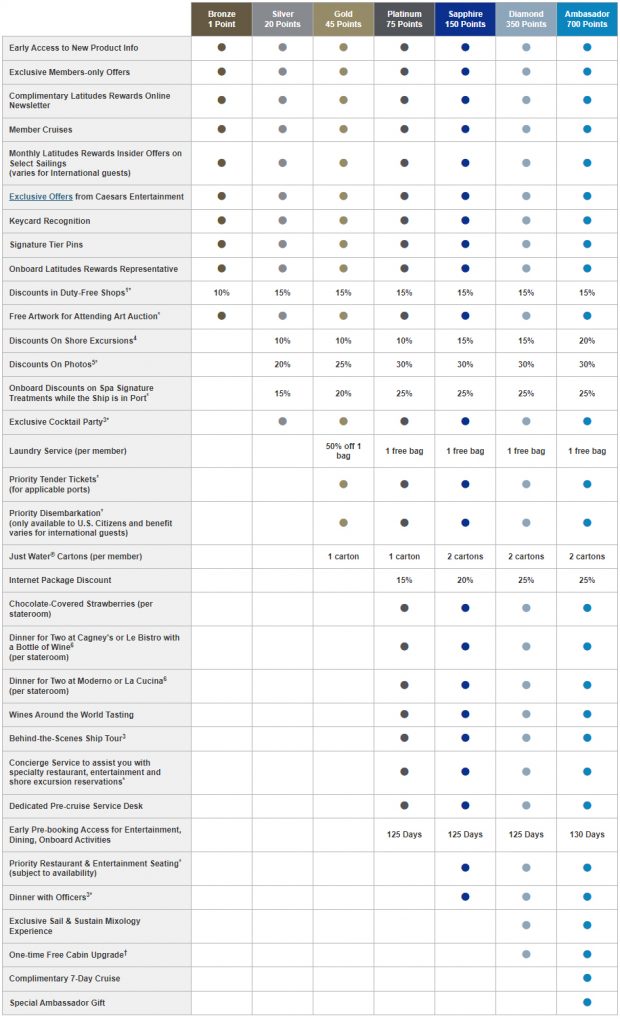 Norwegian Latitudes new tier structure moves people up
| | Bronze | Silver | Gold | Platinum | Platinum Plus | Ambassador |
| --- | --- | --- | --- | --- | --- | --- |
| Previous Program: | 1 – 29 points | 30 – 54 points | 55 – 79 points | 80 – 174 points | 175 – 699 points | 700 + points |
| | Bronze | Silver | Gold | Platinum | Sapphire | Diamond | Ambassador |
| --- | --- | --- | --- | --- | --- | --- | --- |
| New Program: | 1 – 19 points | 20 – 44 points | 45 – 74 points | 75 – 149 points | 150 – 349 points | 350 – 699 points | 700 + points |
In this newest change, the program now has seven tiers instead of six. It splits what used to be "Platinum Plus" into two levels: Sapphire and Diamond. This helps people who were "trapped" in the Platinum Plus tier from 173 – 699 points and gives them some room for advancement. 
It also lowers the threshold to get into many of the tiers. Many people in the lower levels will find that they qualify for the next tier up; Silver and Gold tiers dropped by ten points, the Platinum by 5. It's good news for those guests who were right on the verge of the next level. 
Most notable changes in latitudes benefits
While most people will like the change in the tier structure, the actual benefits have been cut back quite a bit in the new program. One of the most notable losses is the bottle of sparkling wine per guestroom. Previously, anyone who has sailed before would receive this benefit; the complimentary bottle of wine is completely gone under the new program. That being said, since many people book cruise packages with alcoholic drinks included as part of the "Free at Sea" promotions, this benefit may not be missed by many. 
Another notable loss is there is no more priority check-in. This change makes sense, and most cruise lines have suspended this part of their rewards programs due to changes in the boarding process due to COVID.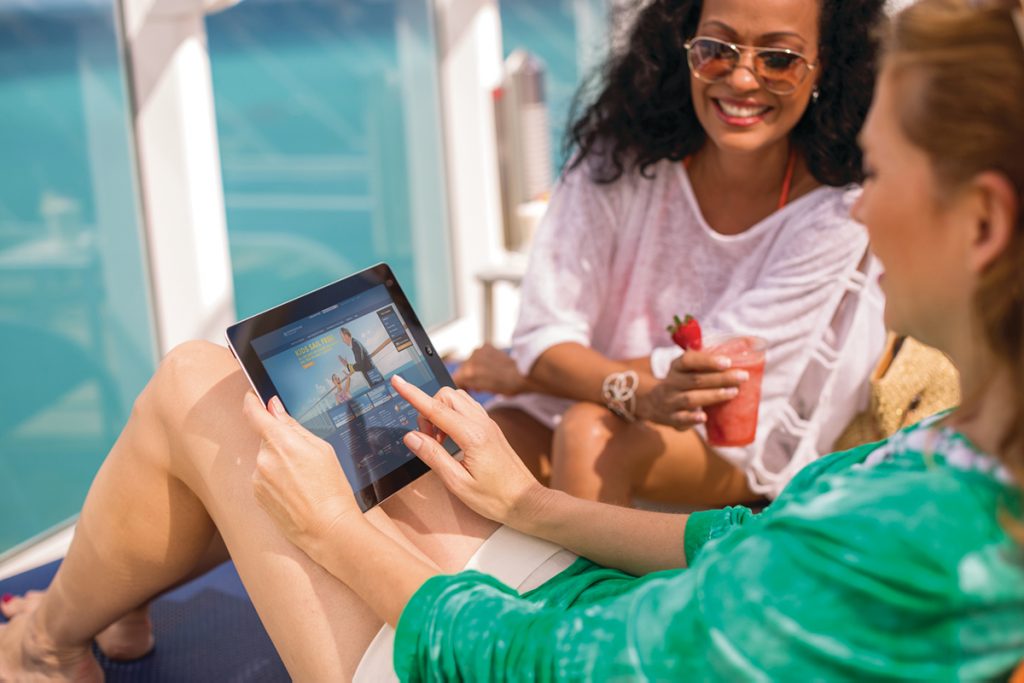 Also, for Platinum or higher members, the way the internet discount works is different. Previously, guests would receive 30 – 100 free minutes of internet depending on their status. Now, under the new program, they'll receive an internet package discount instead. This change in structure makes sense as Norwegian looks to get away from the dated practice of providing internet by the minute. Most of their current wifi offerings are now based on a flat price per day, which is much easier to understand than how many minutes you used. 
A new benefit of a "one-time free cabin upgrade" was also added for Diamond and Ambassador members. Unfortunately, the website doesn't state what that means regarding what kind of upgrade you could receive. They only mention that the member must call Latidudtes to take advantage of this offer. 
You can learn more about the Latitudes program here.
Latitudes changes aren't drastic and will help many
For the most part, less experienced cruisers will benefit from the lower points thresholds in the new Latitudes program. This is because it'll be easier to move up through the lower levels and get some of the more "modest" benefits. 
Members in higher tiers like Platinum Plus might see some changes in their benefits, but besides the notes above, the changes aren't very dramatic. 
Overall, while cruise loyalty programs are nice, unless you're a very experienced cruiser, these programs really make little difference in the grand scheme of things. But then again, if you are one of those experienced cruisers, it's nice to know the program isn't changing that dramatically. 
CruiseSpotlight is an Amazon Associate. We may earn a commission when you click links to retailers and purchase goods.