Cooking Up Some Fun in A Carnival Kitchen Class
Last Updated on March 6, 2023
Level up your culinary skills by attending a cooking class on your next cruise. 
What is Carnival Kitchen?
Carnival Kitchen is an onboard activity first introduced on the Panorama when it debuted in 2019. It's an evolution of an idea that's been on the line for years, the cooking demonstration. On most Carnival ships, guests can find a cooking demonstration scheduled during the cruise. It's free of charge and usually takes place in the steakhouse. During the demonstration, a member of the Fun Squad (Carnival's entertainment staff) and a head chef from the kitchen walks guests through making a classic Carnival appetizer, main course, and dessert. Guests who attend get samples of the food they're making and copies of the recipes to take home, but the demonstration itself is entirely hands-off. 
Carnival Kitchen takes that concept to the next level, offering a chance for hands-on experience in a much more intimate atmosphere. The Carnival Kitchen itself looks like something you might find on a Food Network show or "Nailed It." The room is stunning with beautiful white marble counters, glistening induction stoves, stations with built-in iPads to follow along with the recipe, and lots of stainless steel.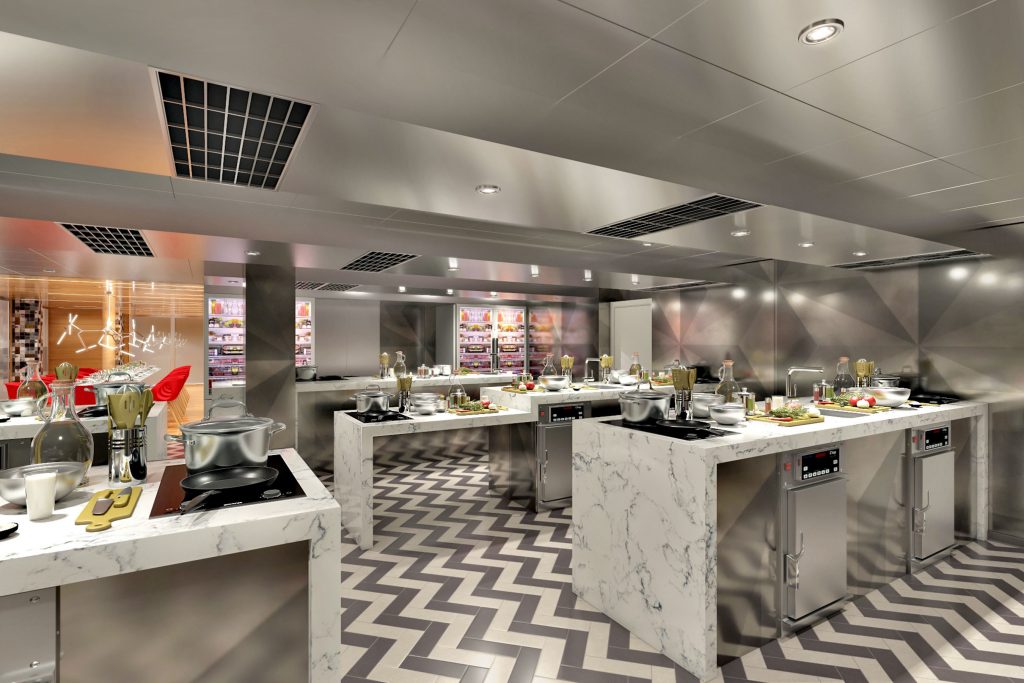 Classes usually last for one to two hours, depending on the course. The classroom has ten 2-person tables set up. The chef will teach the group while two helpers will go around helping those in need. Some classes are scheduled so you can enjoy what you made for lunch or dinner in the attached dining room. For courses with dishes that may take longer to cook, you prepare your food, and then they're baked after you leave and delivered to you at dinnertime.  
What classes does Carnival Kitchen offer?
Carnival Kitchen offers 11 different classes throughout the cruise. The time of the classes will vary per cruise, but you can see a sample schedule below. Typically they offer one course of each during a sailing, except for the pasta and cupcakes class which they try to offer twice.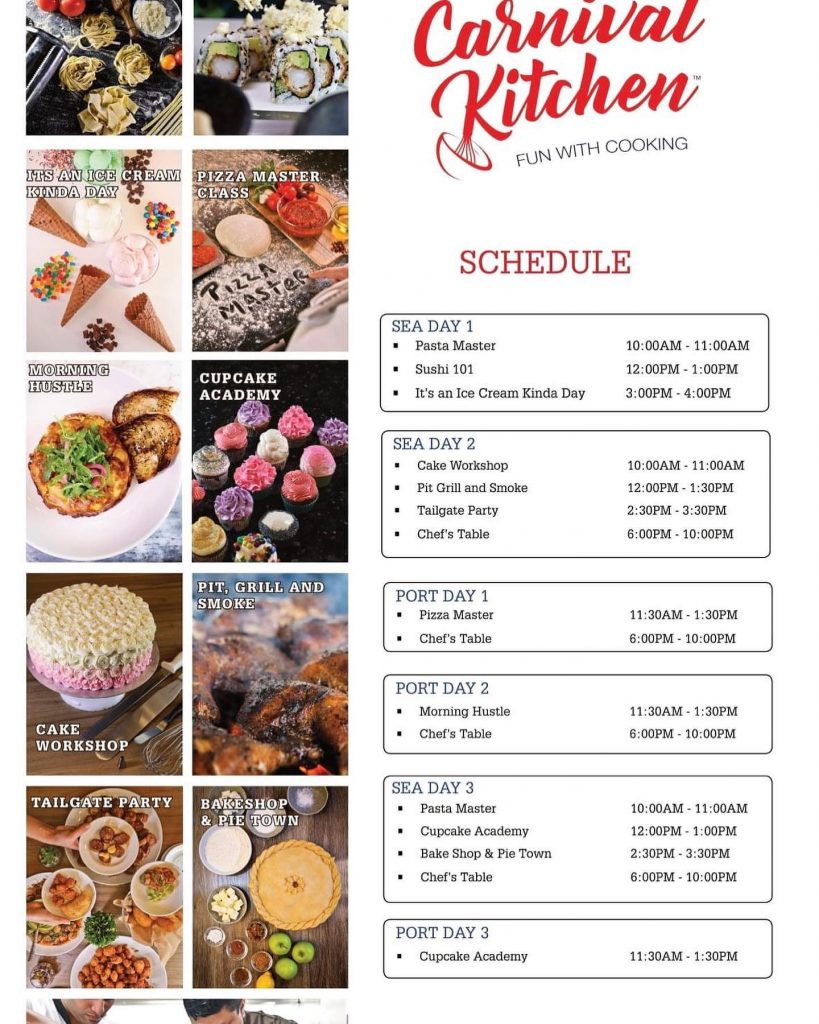 Cupcake Academy
You'll work with the ship's cupcake expert to turn out some beautiful-looking cupcakes. This class takes you through the process from start to finish, from mixing up the ingredients to decorating the final product. The cupcake itself is a standard vanilla cupcake with buttercream frosting, but you'll get to play with sprinkles, sparkles, and chocolate chips. 
Pit Grill and Smoke Master
This class will cover some great techniques to make you a BBQ expert at home. You'll learn techniques for both gas grilling and smoking. The class starts with a tour of the barbeque kitchen, and then you prepare a brisket. Because it takes a while to roast, they'll bring the finished meat to your table at dinner. Don't worry; you won't go hungry in the meantime. You'll enjoy lunch at the BBQ place after the class is over.
Carnival Classics Workshop with Dinner
In this class, you'll learn how to make some of Carnival's signature dishes; tuna tartare from Fahrenheit 555 Steakhouse, saffron risotto from Cucina del Capitano, and their signature warm chocolate melting cake (here's the recipe if you want to skip the class and make this at home). This class is usually during dinner time, and you eat your meal here. 
Bake Shop & Pie Town
Who doesn't love pie? In this class, you'll make your own pie crust from scratch and fill it with some delicious goodness. It'll likely be an apple pie, but there are talks of changing the menu per quarter in the future. You'll make the pie during the class, then the chef will bake it, and it will be delivered to your table at dinner to enjoy for dessert.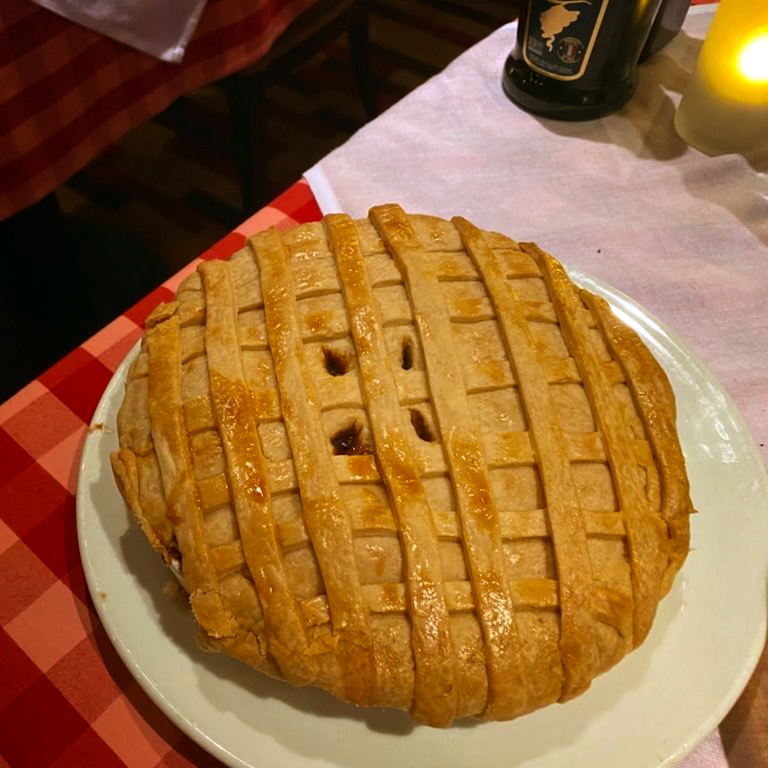 Cake Workshop
Step up your cake decorating game with this class. It'll cover how to layer a cake, fill it, and various ways to decorate it like frosting and fondant. 
Pizza Master Class with Lunch
This two-hour class takes place over lunchtime and ends with you getting to eat your creation. You'll learn things like the differences between mozzarella types, how ingredients make a difference, and you'll get a recipe for a small batch of pizza dough you can make at home.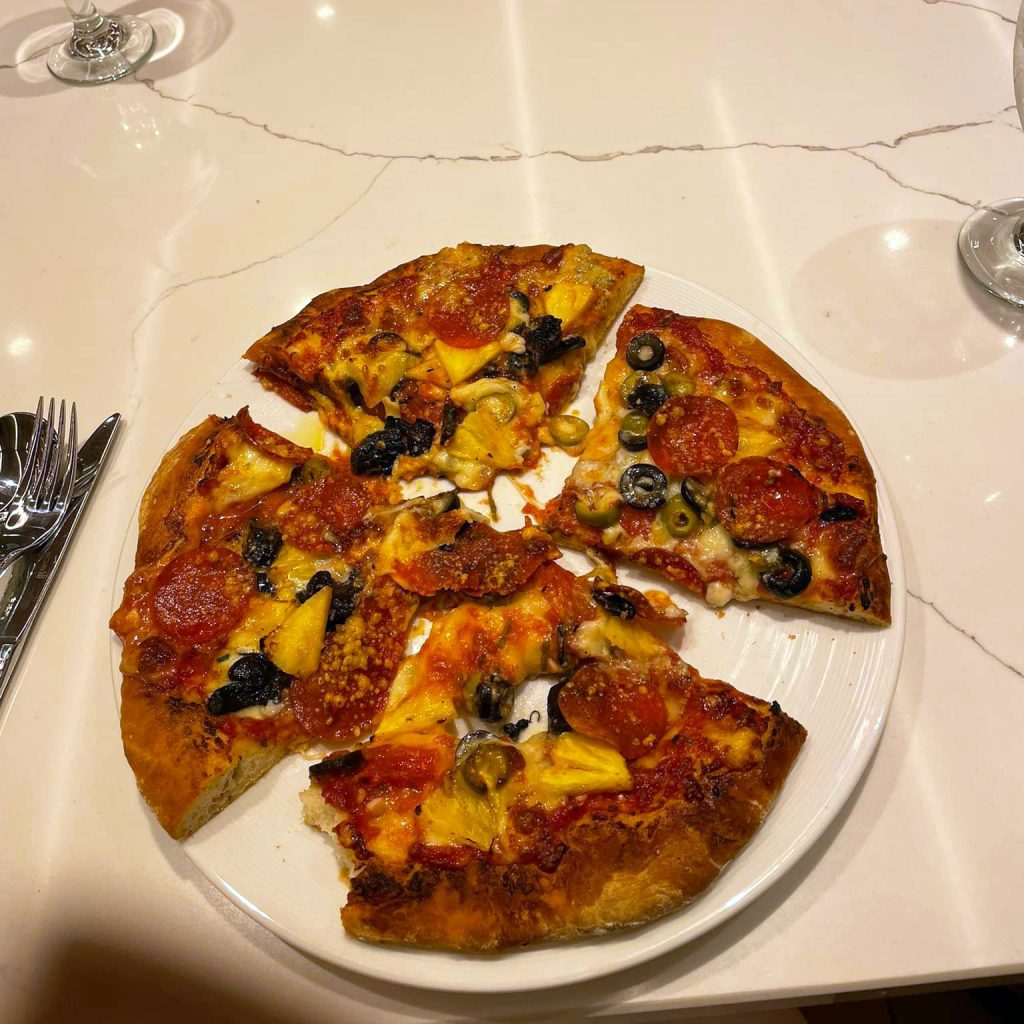 Tailgate Party
Everyone loves appetizers, and this class helps you make some great party foods. 
Pasta Master Class
Pasta making is as much of an art as it is science. Learn how to make handmade pasta and pair it with some traditional Italian sauces. If you love Cucina del Capitano, this course might be for you; you'll see how to make some of their signature dishes at home. 
Sushi Making 101
Sushi making looks difficult, but it can be surprisingly easy once you get the hang of it. You'll learn how to make some amazing sushi rolls in this class. Take the skills from this class, and host your own sushi-making party when you're back on land; your friends will love it. You'll start by making some sushi rice and then learning how to roll it with some pre-cut fish. You'll also make some tasty dipping sauces to go along with it. 
Morning Hustle
Want to up your brunch game at home? This class will give you some great ideas that aren't too time-consuming. You'll learn to make some sea day brunch favorites like smoke ham frittatas, huevos rancheros, and overnight-soaked french toast. 
It's an Ice Cream Kinda Day
You'll start with a three-ingredient recipe and learn how to add your own twist with unique flavor and mix-in combinations.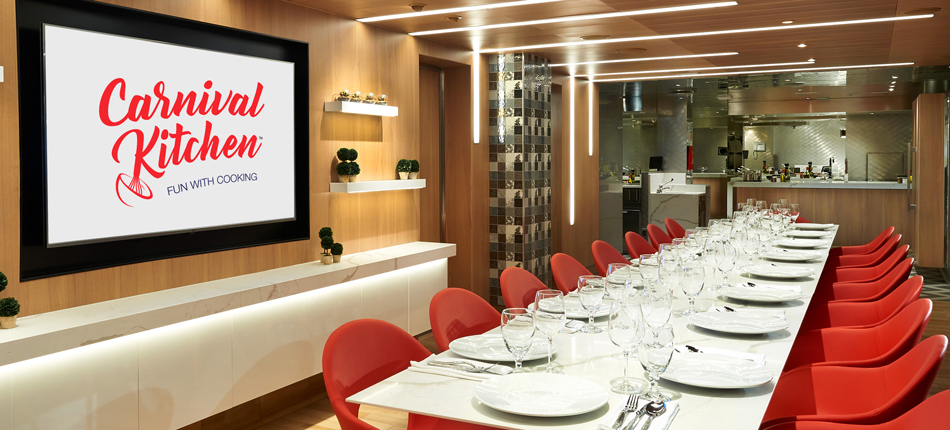 How to book a spot in Carnival Kitchen?
Classes are relatively small people with only 20 or so people class, so book ahead of time. The easiest way to book is to use your Cruise Planner (at Carnival.com) and add them. The classes are found under "Specialty dining." You can wait and book online, but currently, Carnival Kitchen is only available on some of Carnival's biggest ships. With so many passengers, spots fill up quickly. 
How much does Carnival Kitchen cost?
A class in the Carnival Kitchen costs $40 per guest. Guests must be 12 years old or older to participate. 
Which ships have Carnival Kitchen?
CruiseSpotlight is an Amazon Associate. We may earn a commission when you click links to retailers and purchase goods.