First Look at the Inside of Carnival Mardi Gras
Last Updated on April 8, 2021
Today, the Carnival Mardi Gras was turned over to the company by the shipbuilders, Meyer Turku. With that transfer, we got some of the first real looks inside of the Mardi Gras. It looks like it's going to be an impressive ship, but let's go over some of our first impressions.
Let's take a look at what we see and how we think it differs from Carnival's other ships.
Update: April 8th – we got a first look inside the new restaurant Rudi's Seagrill along with the menu
Alchemy Bar on the Mardi Gras
The Alchemy Bar is a staple on every Carnival Cruise ship, delivering delicious cocktails like the Cucumber Sunrise. Traditionally, the Alchemy Bar is more subdued with dark woods and gray, stone countertops, but it looks like they went with a more modern vibe on the Mardi Gras. The bar also has a colorful LED backdrop, similar to the LED funnels you see on the Vista, Horizon, and Panorama, but it looks like they just change color rather than have full-on video effects.
You can see how the bar overlooks the French Quarter, a new story "zone," as Carnival calls it, that replaces the popular Promenade area on their other ships. The colorful LED funnels appear to be used throughout that space, which should create a great atmosphere at night.
Waterslides on the Mardi Gras

Carnival was the first cruise line to introduce a water slide on their ships. Since then, every ship they've introduced has had at least one water slide. Here we see the three slides on the Mardi Gras.
To be honest, with other cruise lines stepping up their game on water slides, these seem to be pretty lackluster. They look very similar to the slides I rode on the Horizon. They weren't bad, but they can't compare to things like Aqua Coasters and looping waterslides available with some other cruise lines.
Update: The new picture of the top of slide tower gets my hopes up a bit. It looks like the red slide has a drop-style entrance where you get in and the floor drops out beneath you. I've been on several and even if the slide itself isn't that unique, the anticipation of the floor dropping out beneath you is really thrilling. The view from the top of the slides looks amazing! You can see the Bolt Roller Coaster track against the beautiful blue ocean. It's going to be amazing to experience in person while cruising through the Caribbean.
Emeril's Bistro
When you think of New Orleans cuisine, you think of celebrity chef Emeril Lagasse. It made sense that Carnival tapped him to create a brand new specialty restaurant on the Mardi Gras. We haven't seen a menu for the restaurant yet, but you can expect traditional Creole and New Orleans.
You can see how the new two-story French Quarter creates a feeling of grandeur here. It feels much more open and less claustrophobic than single-story designs. It looks like the venue even has a second story which will overlook the French Quarter through windows.
Fortune Teller Bar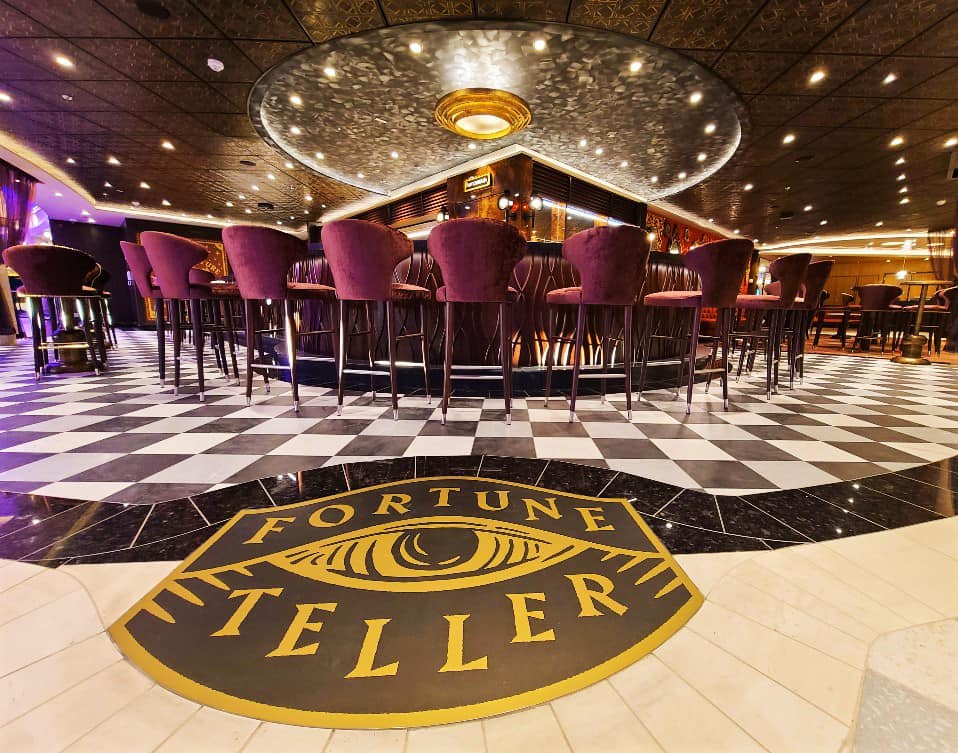 I'm excited to see what the Fortune Teller Bar will end up being. It's a unique venue that's debuting on the Mardi Gras, and we'll see if it pops up on Carnival's new ships after that. The lush red colors and Victorian-inspired mirrors really make the place seem inviting.
It seems like Carnival is pushing innovative and exciting drinks here. According to their website, Carnival said this bar will offer "all-black New Moon, the changes-color-before-your-eyes Abracadabra, plus the Golden Galaxy… this drink is actually made with a bit of authentic gold." It sounds like it's creating exciting, Instagram worth cocktails like you would see in Olga's at Galaxy Edge in Disney Studios; drinks that use molecular gastronomy to create a unique look or taste.
The Mardi Gras Theater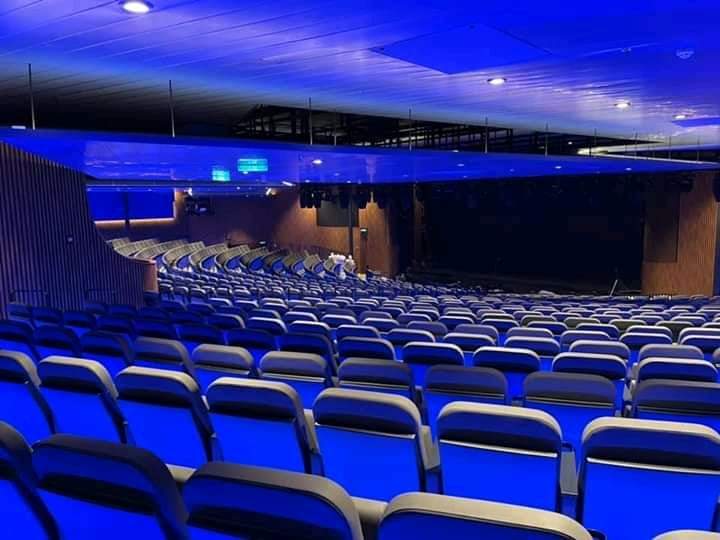 It's too early to know for sure, but it really looks like Carnival has learned from their mistakes on the Vista, Horizon, and Panorama. The theater's on those ships were horrible (see why). Bad site lines, uncomfortable seating, no drink holders on many seats; you really wonder what the designers were thinking.
The Mardi Gras theater seems to have traditional theater type seating again with a nice incline. We'll see to see how big it is and how the stage compares, but it already looks so much better than the Vista-class ships.
The theater itself seems a lot more subdued than their other ships, with neutral colors and warm tones, much different from the neon on Carnival's older ships and the chrome and LED flashiness of the newer ships.
Mardi Gras Grand Central Atrium
One of the main places to visit on Carnival ships is their atrium. On their older ships, it's a grand space with a glass ceiling and golden elevators that go all the way up to the top of the ship. On the newer Vista-class ships, they were replaced with a 3 story space that used an LED funnel to create a visual focal point. While the funnel was nice to look at, the space felt much smaller, and it was much less visually impressive.
Carnival changed that up with the Grand Central Atrium. The space is 3 stories tall still, but this time overlooks the ocean with huge windows. It has seating set up for quiet get-togethers and drinks, while at night, there's a stage for exciting performances and music. I imagine this is also where the cruise director will lead things like 90's trivia and the White Hot Dance Party.
As part of the night time shows, they said they will have up to 16 controllable LED displays that can be used for performances. It sounds very similar to the Two70 venues that Royal Caribbean has on their Quantum Class ships. See how they'll look below.
The Java Blue Coffee Shop and Cherry on Top store are right at the back of Grand Central, so we can definitely see this becoming a central hub for many people. The seating looks a little awkward, as benches are hard to congregate around and get in and out of quickly. It really depends on how Carnival tends to use this space.
With the new overview picture below, I'm not sure how this place will function during non-show times. Unlike the Atrium Bars on it's other ships, the seating seems to be much more suited to shows here than meeting up with friends and having a drink. That being said, Carnival has added several new bar areas to this ship, so maybe this function will really be more of a secondary theater space.
Mardi Gras Fitness Center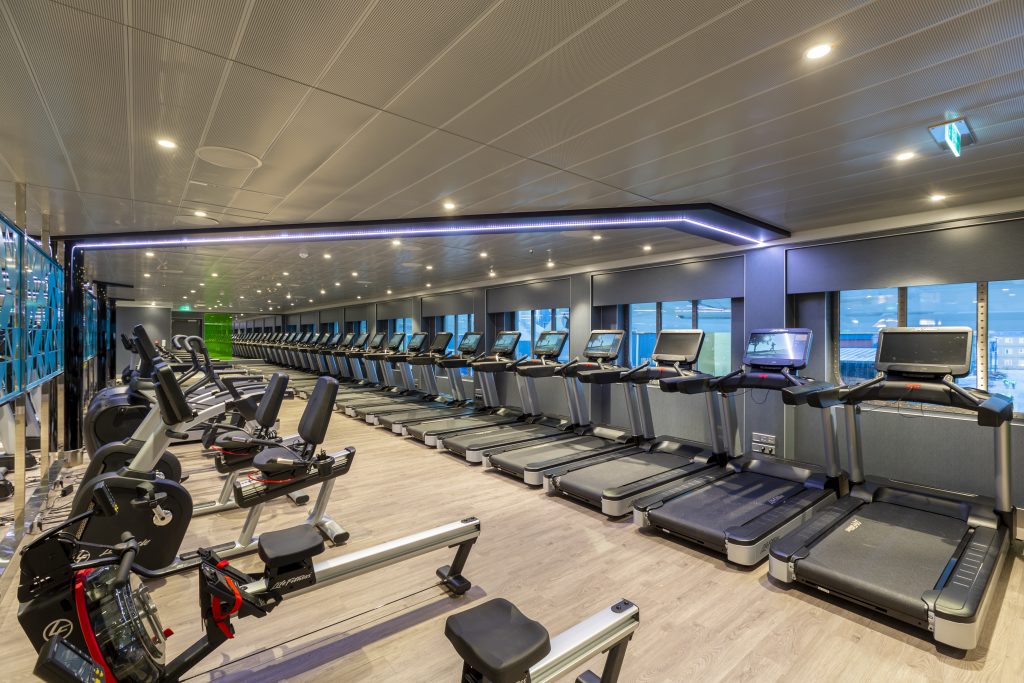 Carnival usually has their fitness center on the front of their ships, with the treadmills and ellipticals overlooking the horizon. I always love spending some time there, running along while looking out on the ocean.
On the Mardi Gras, they moved the fitness center to the side of the ship. It looks like they kept the windows though, so you'll still have nice views, but you won't be facing head-on. The room itself does look a bit narrow, but there are certainly quite a bit of treadmills available.
Elevators
It's not an exaggeration to say that the elevators on Carnival's Vista-class ships (Vista, Horizon, and Panorama) are universally disliked (see why here). They're confusing for many passengers, which leads to long wait times and overcrowded elevator cars.
This photo of the mid-ship elevator lobby gives hope that they've come up with a better system. The Hotel Director, Pierre B. Camilleri, indicated that it's a smart elevator system, but not the same as the other ships. As you can see here, there seem to be no individual buttons call an elevator, but there are large display screens on both sides of the lobby. We assume that they will be to input the floor.
There's nothing inherently wrong with smart elevator systems, large skyrises in major cities use them all the time, but Carnival's implementation was severely lacking previously. Seeing that the Mardi Gras can hold up to 30% more passengers than the Horizon, I sincerely hope they worked out a better system.
Lido and Red Frog Tiki Bar
Lido Deck is always a happening area on a Carnival ship. In this picture, we see how it'll look on the Mardi Gras. Overall, it doesn't look much different from the Lido areas on the newer Carnival ships. The pool looks a bit bigger than the Vista-class ships, and the hut/cabanas on the side of the pool appear to be gone.
The screen looks absolutely massive, and it will be great to watch their Dive-in movies at night here. With the Red Frog Tiki Bar being right under it though, I worry about its lighting and noise taking away from the movie experience at night.
The area also shows their new 2-story Red Frog Tiki Bar; an upgrade from the Red Frog Rum Bar on the rest of their fleet. On the other ships, while the Red Frog Rum Bar has a similar theme, it's much smaller, and during sea days, the line for drinks snakes all through the area, making sitting there unpleasant.
This new venue has expanded seating and a second floor to alleviate some of this congestion, hopefully. Personally, I never understand why Carnival hasn't put in a to go / walk up window for drinks. Trying to get a drink on a sea day is so frustrating because people sit at the bar, making it impossible to get to a bartender.
Tides Pool and Hot Tubs
I was always jealous of the Havana area on the Vista, Horizon, and Panorama. While the area was small, it offered an amazing view off the back of the ship with pools overlooking the ocean. The Mardi Gras expands on this concept and makes it available to everyone in two areas, the Tides Pool and Summer Landing.
This picture shows the Tides Pool and two hot tubs. It's the rear of Lido Deck (Deck 16) and will be close to the new restaurant Big Chicken (see the menu) and the Tides Pool Bar. The pool doesn't seem that large, but the two hot tubs look spacious. It looks like it'll be an amazing view.
BOLT – the First Roller Coaster at Sea
BOLT is going to be the first roller coaster at sea. While we've seen several renderings and computer-generated ride-throughs, this is the first footage we've seen of a live-person riding the BOLT. The roller coaster cars will whip around an 800-foot track at up to 40 MPH. Users will be able to choose how quickly to use using controls on the vehicles.
Seeing actual footage, the ride itself seems more intense than I thought. Originally, I thought it would be closer to a motorized version of the SkyRide, found on the Vista-class ships, than a real roller coaster. Looking at the footage, though, the car really whips around pretty quickly. Even though 40 MPH doesn't sound like roller-coaster speeds, hitting that speed while being suspended 187 feet over the sea has to make it feel even more extreme.
Unfortunately, Carnival has said they plan to charge to ride the BOLTs. We don't yet know how much it'll be, but it's a move in the wrong direction for Carnival, who usually doesn't charge for on-board activities (with the exception of IMAX movie theaters or the SkyZone on the Panorama.
Piazza Panini
Carnival recently told us more about a new food venue on the Mardi Gras, Piazza Panini. This restaurant is replacing the Carnival Deli that's found on almost every other Carnival ship. Here you'll find fresh-made, pressed sandwiches like Ruebens, Meatball Sandwiches, and Caprese Paninis. At night, you'll be able to get a variety of dessert paninis, which is a treat because Carnival's late night dessert game is rather lacking.
The restaurant is located in the new "Piazza" zone on Deck 8 of the ship, along with Pizzeria del Capitano. I'm not sure how I feel about moving these two staples from the Carnival Lido deck to a lower deck. You used to be able to get a slice of pizza, a Rueben, a Guy's Burger, and something from the Buffet and sit right in the Lido Restaurant. It was a one stop place where a whole family could find something that would appeal to them. Now you'll have to choose which deck to go to and your food choices will be limited by that.
This strategy makes sense from a people flow perspective, because it divides the large number of passengers into separate areas to keep things from getting crowded and having long lines. It's what Royal Caribbean has successfully done on their Oasis-Class ships, so it makes sense Carnival is trying it here. That being said, on Royal Caribbean Ships, I've always hated that the pizza was so far away from the regular buffet.
Rudi's Seagrill
I'll admit, of all the new restaurants Carnival is debuting on the Mardi Gras, I was least interested in Rudi's Seagrill. I've never heard of Rudi Sodamin previously and all Carnival's PR just talked about his seafood plates that look like faces.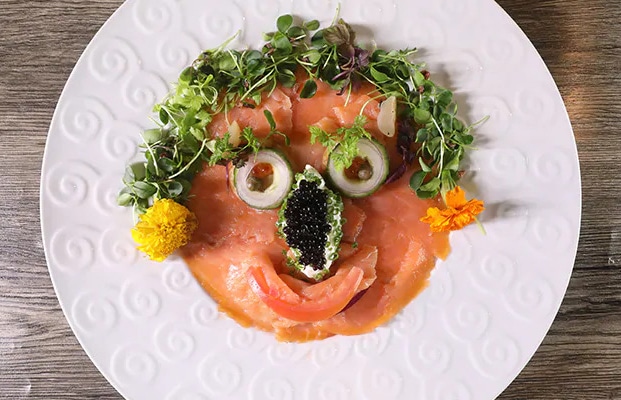 Today, Carnival released a picture of the dining room and the menu for the venue. The dining room has a beautiful blue and cream color scheme with really interesting curved walls that lend a feel of being at sea. It really screams fresh seafood. The menu also looks like it has more mainstream dishes as well, not just the face plates they were promoting. Still, does this food stand out enough to get people to pay extra to eat here? The Mardi Gras has more for-fee dining venues than any other ship in the fleet; it'll be interesting to see which ones passengers are drawn to.
Overall Impressions
Overall, the ship looks like a great evolution from the Vista-class ships. It's elegant and contemporary, yet still full of Carnival's signature energetic vibes. It will be interesting to see how a cruise on this ship is. It's Carnival's first time attempting a ship this large, and will they have enough to manage the flow of the nearly 6,500 people on board. The new venues and dining options are nice, but it will be interesting to see if people will be willing to pay for them. Carnival's one of the lines with the fewest additional fee restaurants, and it might be a shock to their average guests.
Please follow and like us: