Harmony of the Seas – Cruise Blog – Day 3 – Costa Maya
It was day three on Harmony of the Seas, and today would be our first port, Costa Maya, Mexico. Follow along as we explore our first port on this five-day cruise. 
Harmony of the Seas Day 3 Overview
Quick Breakfast at Park Cafe
Our group decided to check out the Park Cafe in the Central Park neighborhood for breakfast this morning. As we entered the neighborhood, I noticed Central Park had a completely different feel than it did the previous evening. With the sun shining, the greenery was so vibrant, and you could appreciate the living walls on the side that spans several decks. 
The ship was scheduled to dock at 8:00 AM, so Park Cafe would be perfect for a quick breakfast since it opened at 7:30 AM. It's a fast-casual or grab-and-go-style restaurant. Inside, you could choose from a variety of stations. Park Cafe offered hot and cold cereals, fresh fruit, pastries, premade breakfast burritos, and a bagel bar. It was a smaller selection than the Solarium Bistro we had eaten the previous day, but it had just what we needed.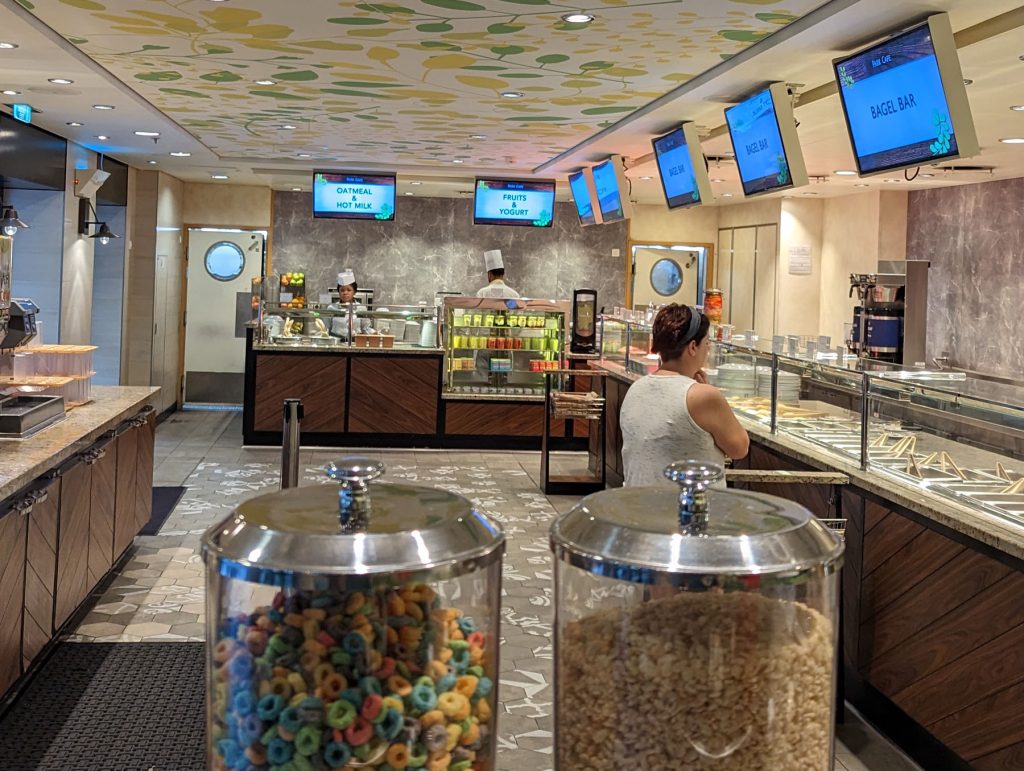 Park Cafe has seating inside and outside along Central Park. The decor of the space was a bit odd; the yellows and lime greens of the tables seemed a stark contrast to the rich greens in the neighborhood itself. But it was clean, quick, the food was very tasty, and there were no lines at all. It made the perfect power breakfast before our day ashore.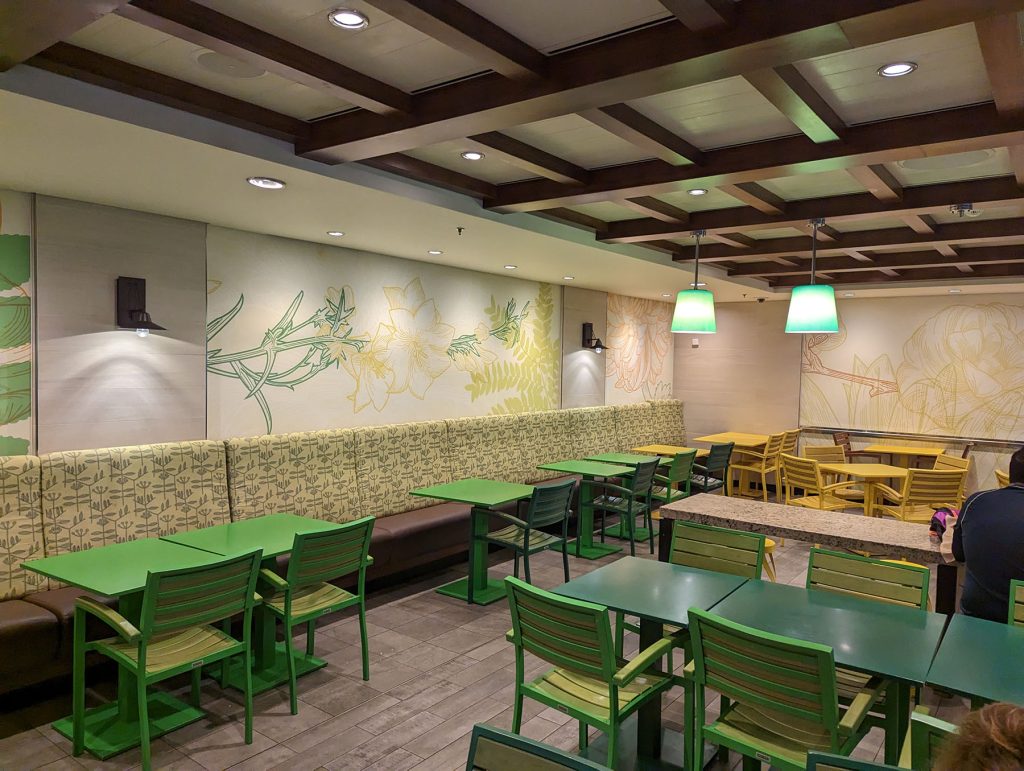 Going ashore in Costa Maya
Our ship docked on time, so the group headed back to our cabins to get our stuff. The original plan was to go to each room, grab everyone, and then head down together, but there was some confusion. Two in our group weren't in their room. So we figured they would meet us downstairs by the exit. 
Dedicated gangway button on the elevators
We went to the elevator and tried to figure out where the gangway was. We hadn't heard any announcements saying where to get off the ship. The Harmony of the Seas elevators have a nifty button that says "Gangway." Pressing it will take you to whichever deck the gangway is on at that specific port. Although it's a useful feature, it would have been more helpful if Royal Caribbean staff had told us about it. I only knew about it because someone in the elevator had cruised before and explained it to us. 
Debarking confusion in our group
After about 5 minutes of waiting for the rest of the party, we received a Facebook message that they were "on the gangway," so we thought that meant they got off. We exited the ship but didn't see them anywhere. So then I wondered if they were waiting at the other gangway (the Harmony of the Seas has two exits). We tried messaging them, but they didn't have cell phone service in Mexico and were past the wifi coverage of the ship. 
Finally, after another five minutes, I got a message from them saying they were on the "gangway" by the "harp man." So we took that to mean that they were actually on the "pier," not the gangway (which is the walkway you take to get off the ship), and went to find them. 
I only mention this incident because it's an example of the issues you can face on a big ship when not everyone has an internet package or an international cell phone plan. The internet package on the Harmony of the Seas is costly, so only two people in our group got it. On top of that, only two of us had cell phone international roaming for when we were on land, making it hard to stay in touch with a group. 
About Port Costa Maya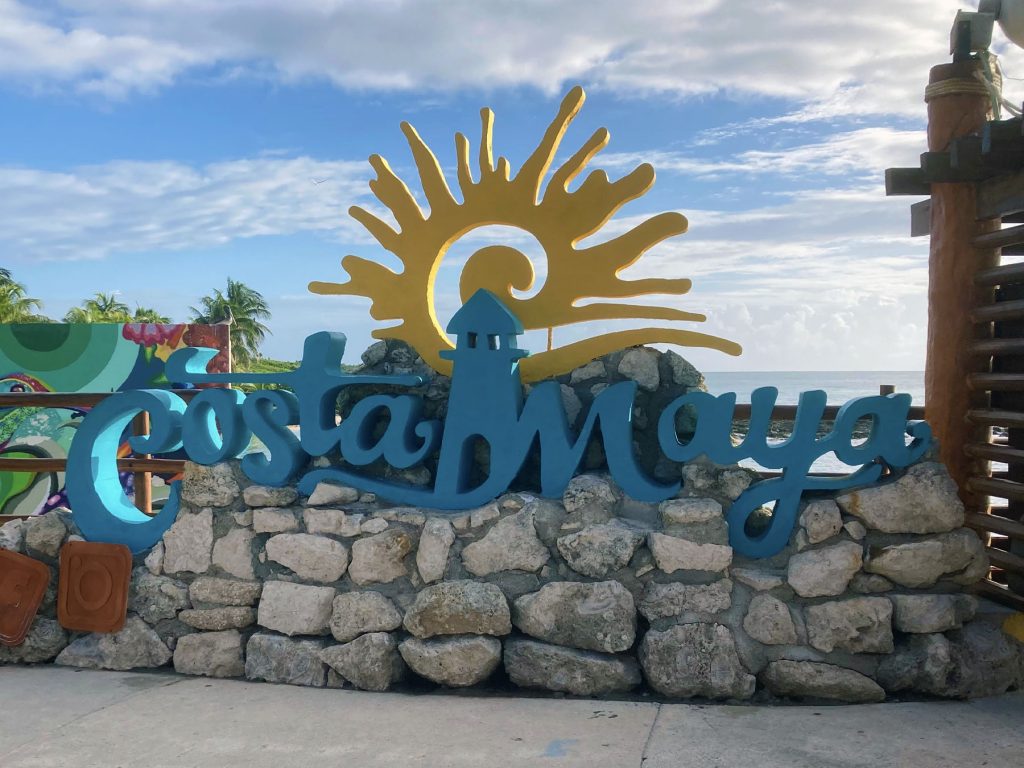 Costa Maya has an expansive port facility with many shops, restaurants, bars, attractions, and even two large pools. You could easily spend the whole day in the port itself without leaving the confines of the terminal. A private company owns it, and although some stores and restaurants inside are run by locals, it feels much more like an Epcot version of Mexico than an authentic trip. 
The walk to the port is quite a ways from the ship. A trolly is available to help guests make the trek, but most people just walk to save time. Walking down the pier, we spotted the port with traditional, old-world-style buildings. Even though they looked older, Port Costa Maya was only founded in 2001, and most buildings were built after the 2007 Hurricane Dean decimated the port. 
As with most tourist attractions, you enter and exit the port through the gift shop, passing through the duty-free liquor and jewelry area. Since we were some of the first people off the ship, the place was empty, and the streets were wide open for us to roam. An eerie yet relaxing calm hung in the air as I looked around and saw the still pool, thousands of empty chairs, and deserted shops.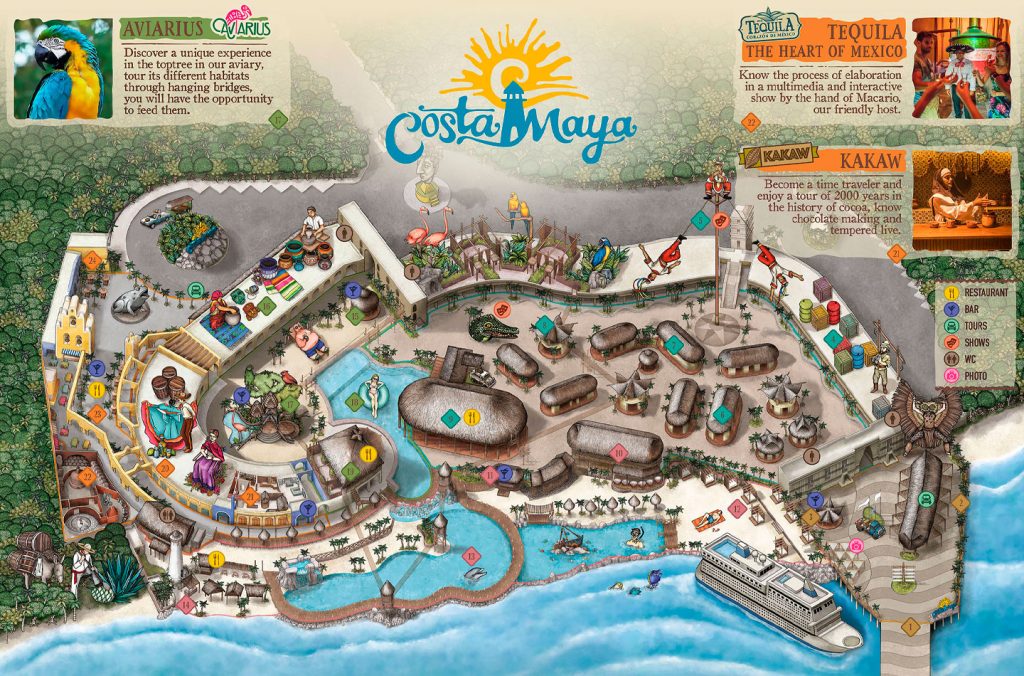 The port also had a ton of little activities like an aviary tour, chocolate sampling, and swimming with dolphins. These activities were relatively cheap compared to excursions at other ports because they didn't need to include transportation and food. For example, swimming with the dolphins here was some of the cheapest excursion pricing I ever saw. For this day though, we weren't staying here as we had an outside excursion booked.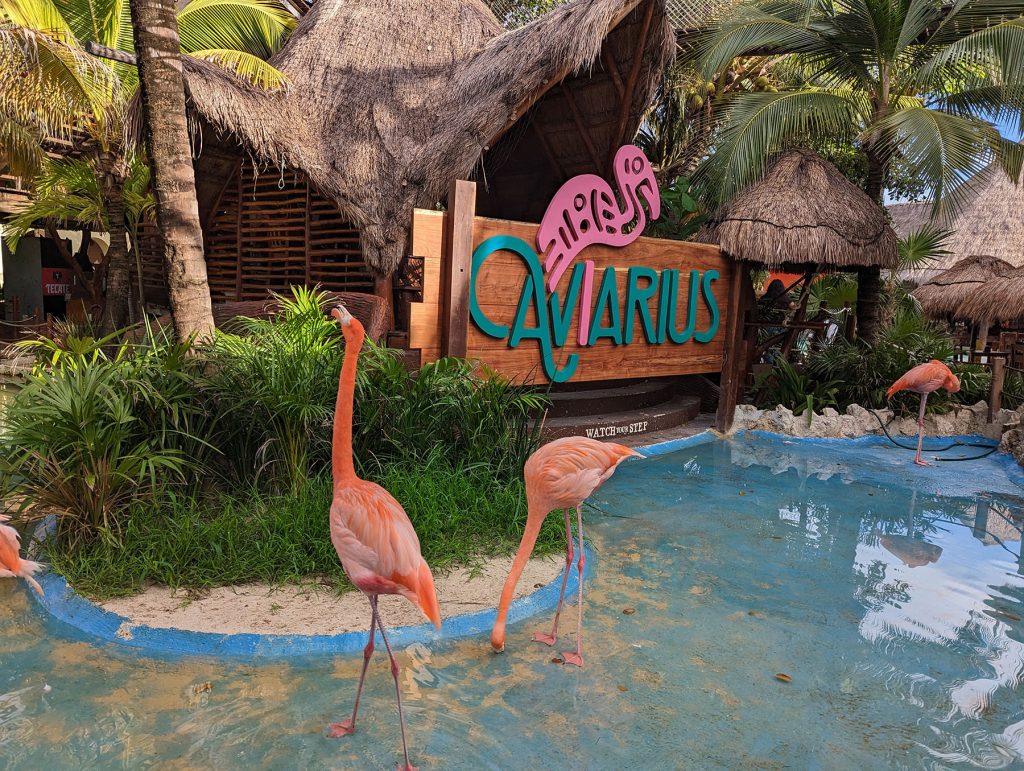 How do you get out of this place?
Since Port Costa Maya is designed to be a destination attraction in itself, they make it challenging for you to find your way out of the terminal. We had to navigate a confusing maze of passages and walkways to find our way to the exit. While we could see plenty of signage pointing to stores and restaurants in the port, none of the signs pointed to the exit. Thankfully, our excursion provided us with a handy map giving us an outline of how to get out. 
Maya Chan: Paradise in Costa Maya
Our excursion for the day was a trip to a private beach resort called Maya Chan. Unfortunately, cruise lines don't offer this excursion, so we had to book independently through their website. I had never been before, but I read glowing reviews on Facebook and from some YouTube vloggers.
Normally, with a large group, I opt for cruise line-sponsored excursions. That way, if anything goes wrong like missing a port, the ship arriving late, and having problems getting back to the ship, I'm not responsible for figuring it out for the group. For this port though, we wanted a beach day, and everything I read about the beach days offered by Royal Caribbean said they were not fun. The beach they brought you to wasn't pretty, and people complained they were constantly harassed by vendors trying to sell things. However, since we had a long day in the port, 8 AM – 5 PM, I wasn't worried about getting back too late. 
Getting to Maya Chan
The cruise port forces any outside vendors who don't work with the cruise lines to pick up their guests quite a distance outside of the port. It's about a 1/4 mile past the port down two roads towards a large, imitation Mayan Pyramid. Along the way, taxis and vendors lined up trying to get our business. All the vendors were extremely friendly, and as soon as you said, "no thank you," they wished you a good day, unlike some other ports where you are harassed.  
Thankfully, Maya Chan explained the whole process in an email and sent a map to help find the way. The walk wasn't bad, but someone in our group had foot pain, and the walk was rough for him. 
We got to the pyramid and found a little stand set up for some vendors to pick up guests. A Maya Chan representative promptly greeted us and checked us in. She had us sit down in the shade and fill out waivers while waiting for our ride. Maya Chan includes transportation in the admission price, and they arrange it all, so it's straightforward to get to Maya Chan once you make the walk. 
Within 5 minutes, we were piling into our taxi. Because of the size of our party, we had to split between two taxis; a minivan and a standard cab. 
The Maya Chan resort is about a twenty-minute drive from the port. The taxi started by going through some little village streets where we got to see the local life. The area around Port Costa Maya isn't as developed as some other cruise ports and has a more charming, small-scale feel to it. 
After we got through the "city," the taxi ventured onto rougher roads that ran alongside the Gulf. The ride got rough at points, as the road was no longer paved. It definitely was bumpy, but at no time did it feel unsafe. 
As we made our way to Maya Chan, we passed a bunch of other "resorts" I saw when I was searching for alternative beach getaways in Costa Maya. They were pretty rough looking and not what I imagined when I read about them online, so I was nervous about how Maya Chan would be. 
At almost twenty minutes on the dot, we pulled up to a lush wall of green vegetation with a little "Maya Chan" sign outside. There was no expansive driveway or fancy gates, just a little opening right off the small dirt road. 
We stepped off the van, and a Maya Chan representative told us to follow the sand path to the main area. It was a short walk lined with beautiful plants and shaded. It was so natural and peaceful and didn't feel like a "tourist trap" at all.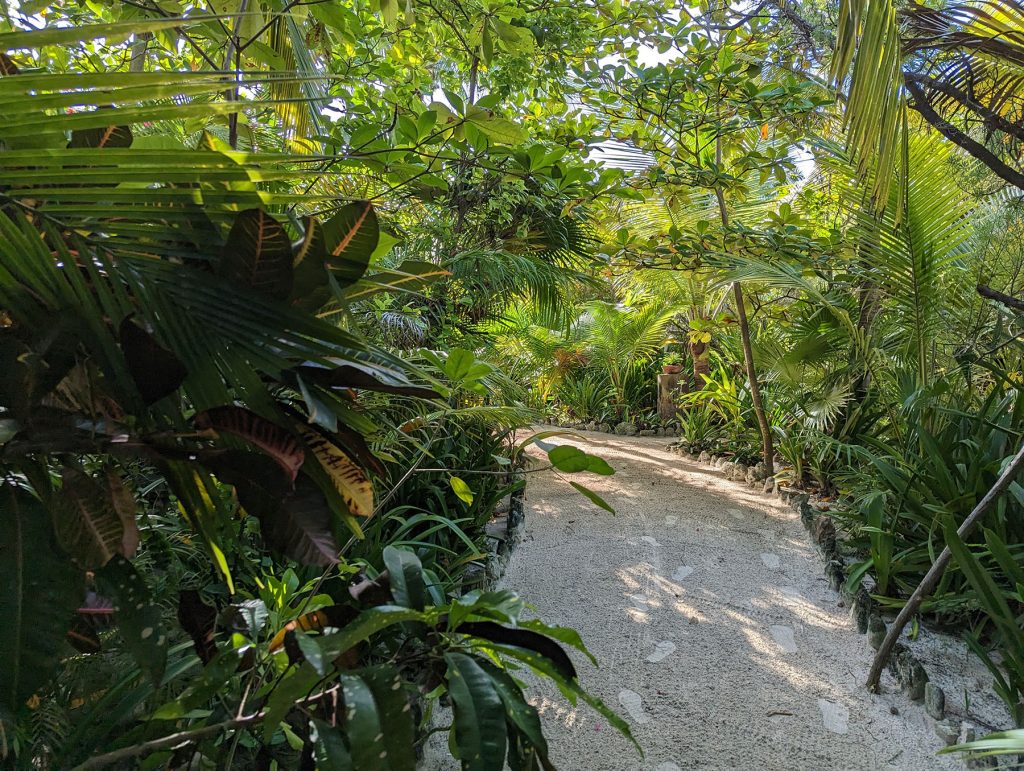 A large, thatched-roofed building with open sides stood at the end of the sandy path. David, the manager, and son of the owners, warmly greeted our group. He gave us a quick explanation of the facilities and what our day would be like. 
Our Cabana at Maya Chan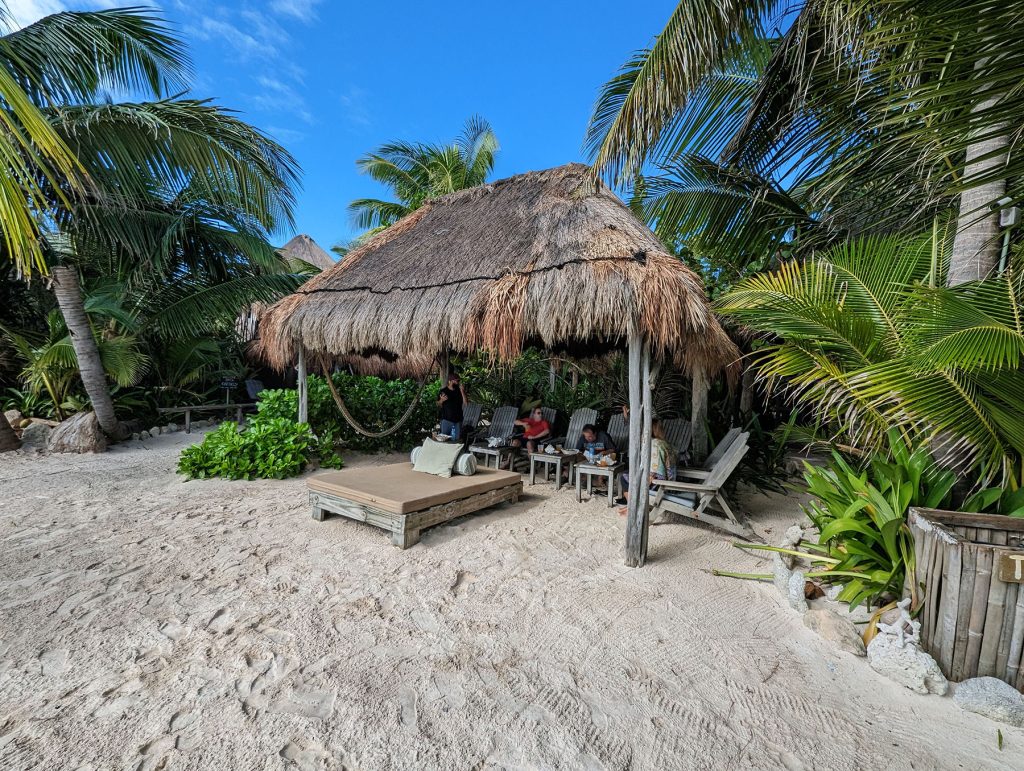 At Maya Chan, you're not fighting for lounge chairs or jockeying for the best seating. Each group that reserves gets its own little area, from a casetta or seabed to a whole cabana, depending on the group's size and availability. Our group of seven got an amazing area with seven chairs, a large comfy day bed, plenty of shade, and a hammock. It was beautiful and just screamed paradise. 
Outstanding and friendly service
As soon as we got to our cabana, servers welcomed us with tortilla chips, guacamole, and an incredibly fresh pico de gallo. Next, our attendant Isabella introduced herself and gave us all a frozen rum punch. The refreshing cocktail was the perfect start to this relaxing day.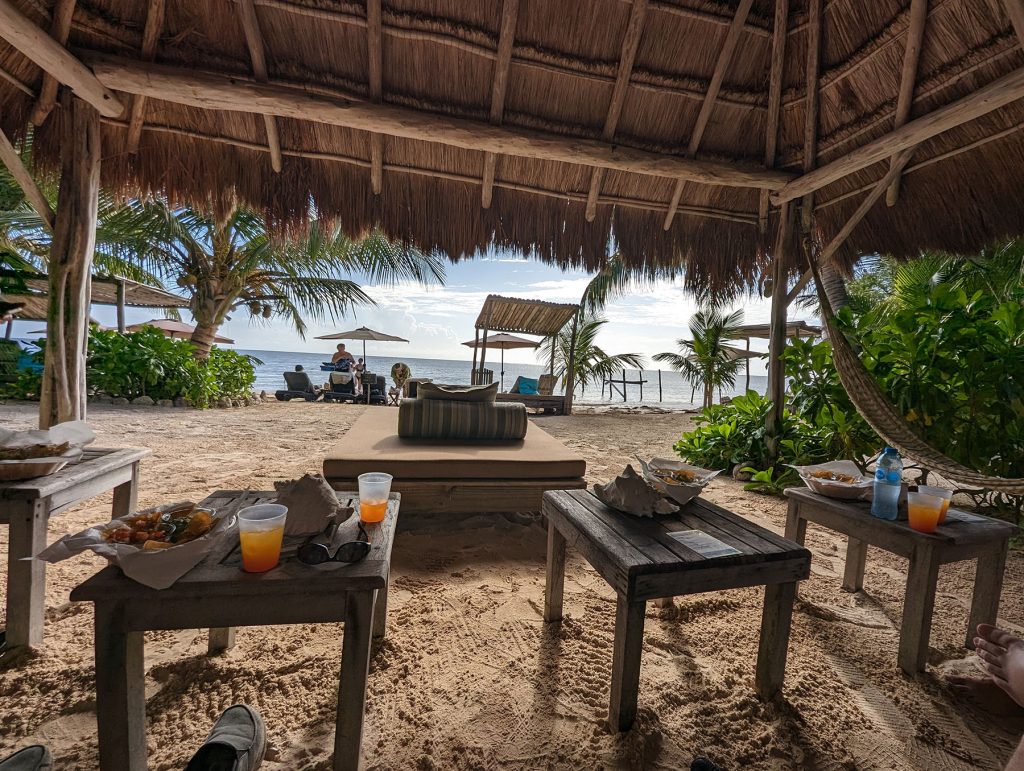 Isabella would frequently come back and check on us throughout our stay at Maya Chan. She made sure our glasses were always full. They had a variety of drinks available, but you could also ask for anything from their bar.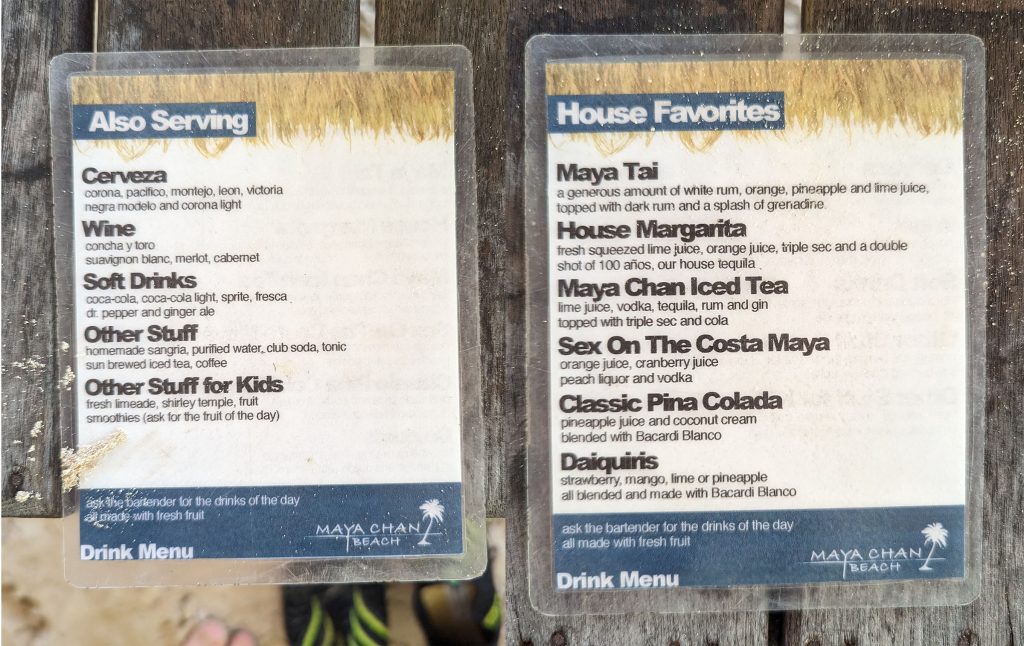 I stuck with their flavored daiquiris working through all four flavors over the day. Others in the group tried the local Mexican beer selection, which was tasty. Isabella even recommended a delicious chocolatey alcoholic drink that was out of this world. 
Maya Chan is a natural feeling oasis 
You're not going to find miles of perfectly manicured, bare white sand here. Instead, it's much more natural feeling, with lots of trees and wildlife. It felt like the shore of Gilligan's Island or on an episode of Survivor. It was authentic and natural, a completely different tone from the manufactured theming in Port Costa Maya.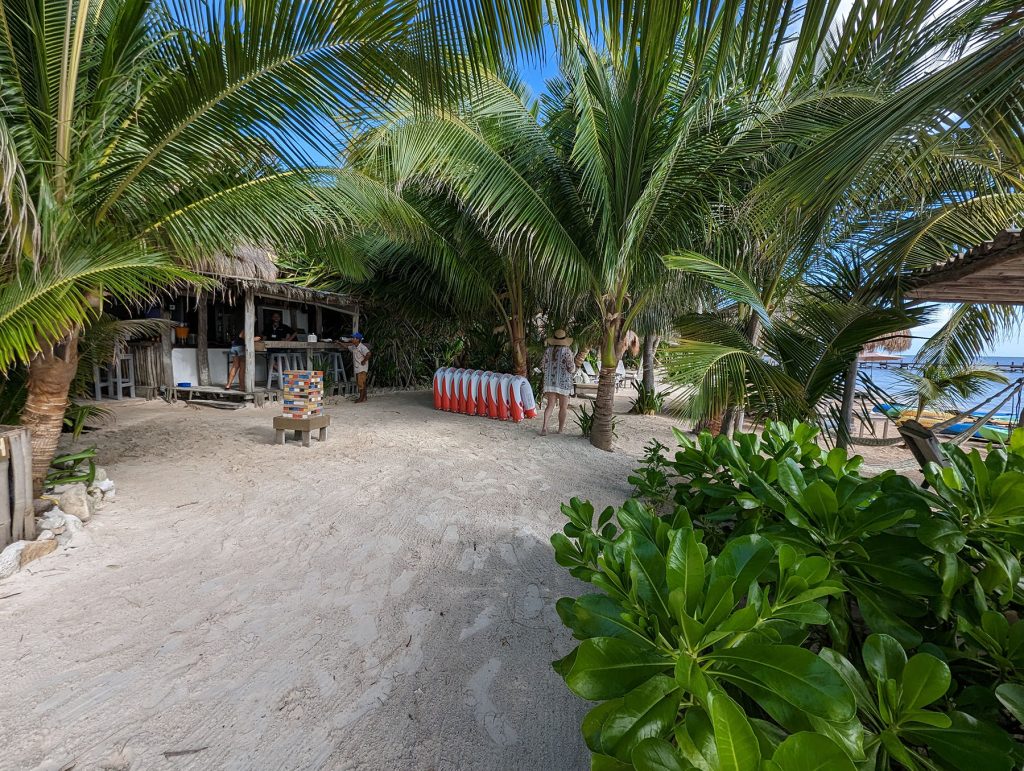 The water isn't the crystal clear water you might see in the Bahamas, but it's clean and the temperature was perfect. Costa Maya beaches are plagued by seaweed washing up on the beach, so most resorts use nets and pitchforks to clean it up. The amount will vary depending on the season, but the water was incredibly clean for our trip. Throughout the day, the hardworking staff would rake up any seaweed that washed ashore and get it out of the way.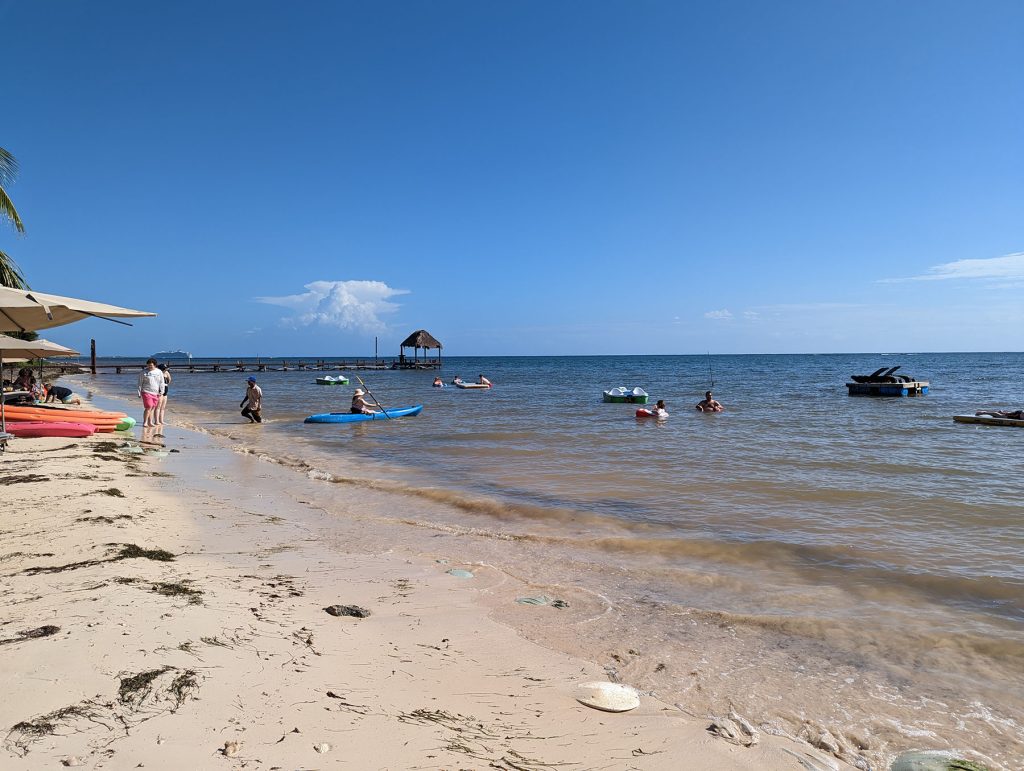 We took a short walk down to the water. Everyone in our group brought cheap water shoes for all the excursions, which were helpful here. There were a few rocks while getting into the ocean. After that, the sand was soft, although a bit slimy for some reason; it was an odd sensation. 
Maya Chan provides a variety of water equipment to try out, like floating chairs, paddleboards, and kayaks. So we all grabbed floating chairs and started drifting in the water. The waves were small and calm; it was a perfect day. They even had a waiter wading into the ocean to take drink orders.   
Enjoying our included and amazing taco lunch
Around 11:30, the smell of grilled steak and chicken wafted over the beach. Lunch was ready. It'd be available for two hours, so there was no mad rush for food. We floated for a bit and then headed to the main area to grab lunch.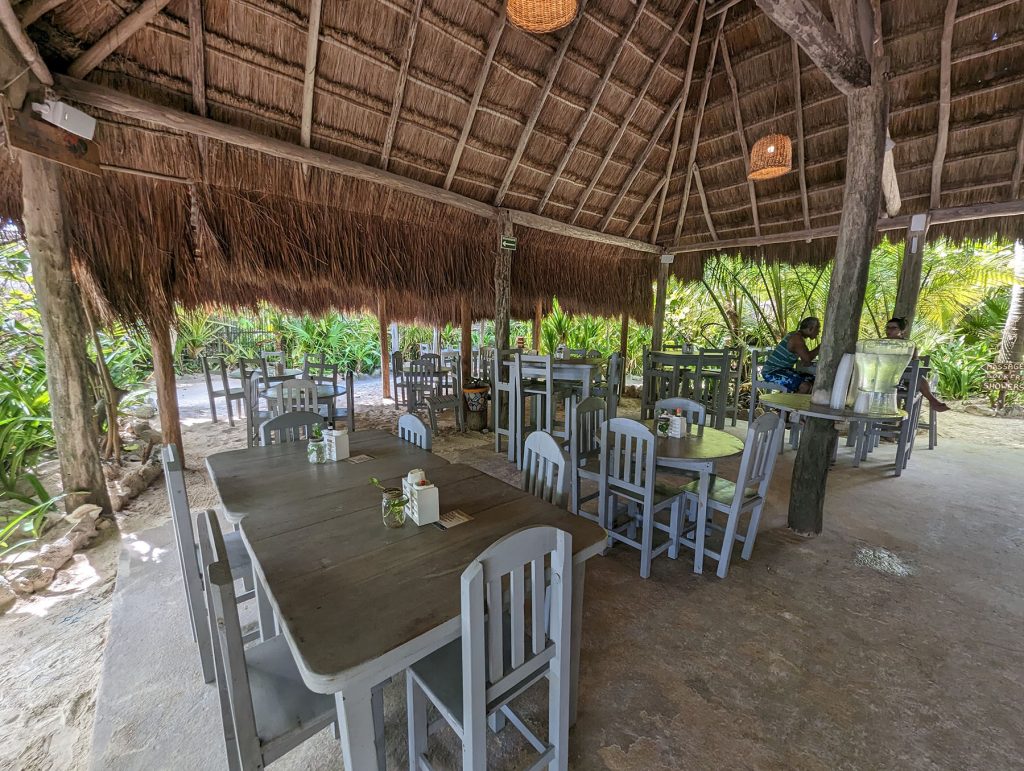 The chef, Ana, warmed up handmade corn and flour tortillas to order as you approached. Then you could choose from a variety of taco fillings and toppings. You could fill your fresh tortilla with beef, chicken, fish, or pork and then top it with garlic butter, salsa, guacamole, or pico de gallo. 
In all the reviews I read about Maya Chan, everyone raved about the tacos, and I'll admit, I thought, "Um, they're tacos. How different can they be?" Boy, was I wrong. Without exaggeration, they were some of the best tacos I've ever had. The flavors were incredibly fresh, and the meats were juicy and flavorful. My favorite was the Mayan-style chicken which Ana marinated in ground annatto seed, sour orange, and garlic. It was a flavor combination I'd never experienced before and it blew my mind. I went back three more times for additional helpings. 
After over-indulging on tacos, we returned to our cabana for a little rest. The manager came over and asked when we'd like to leave. They knew the ship we were on and our departure time and let us know the possible options. We could have left as late as 4 PM and still made it back, but we opted to leave around 2 PM so we could explore the port. They arranged a taxi for us and said they'd come to get us ten minutes before we had to leave.
Overall, Maya Chan was an amazing excursion and probably one of the highlights of this trip. Reservations go quick here, the place can only hold 100 people at most, so book early if you're interested at Maya Chan's website (click here).
Back to insane crowds at Port Costa Maya
The twenty-minute taxi ride back to the port was uneventful. Most passengers just watched the scenery as we headed back. When dropping off, the taxis are allowed into the port and able to let us off right at the entrance (rather than the 1/4 mile walk we needed to leave). 
Immediately, I noticed a difference in the port. Massive crowds made their way through the passageways and walkways. Stores were overflowing with people, and it was abuzz with activity.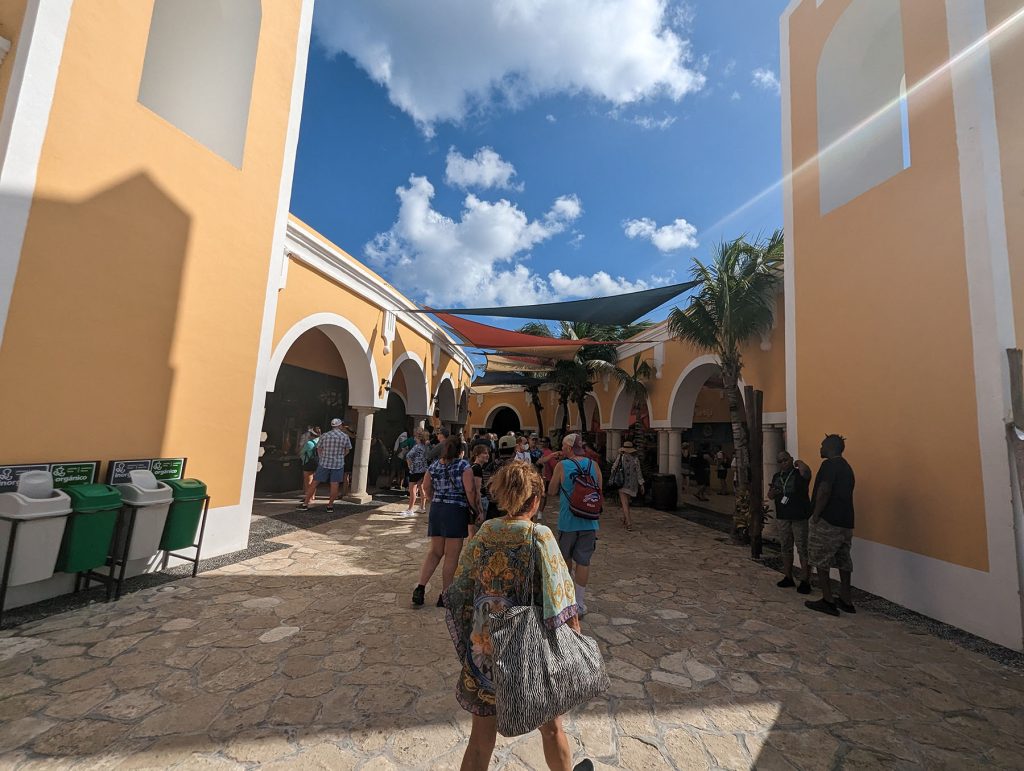 When we originally left the port, I wondered if we wasted the money on an excursion when we could have had a quiet day in port, but at this point, I was so thankful we got out of there. It was so much busier than it was when we left. Almost uncomfortably full.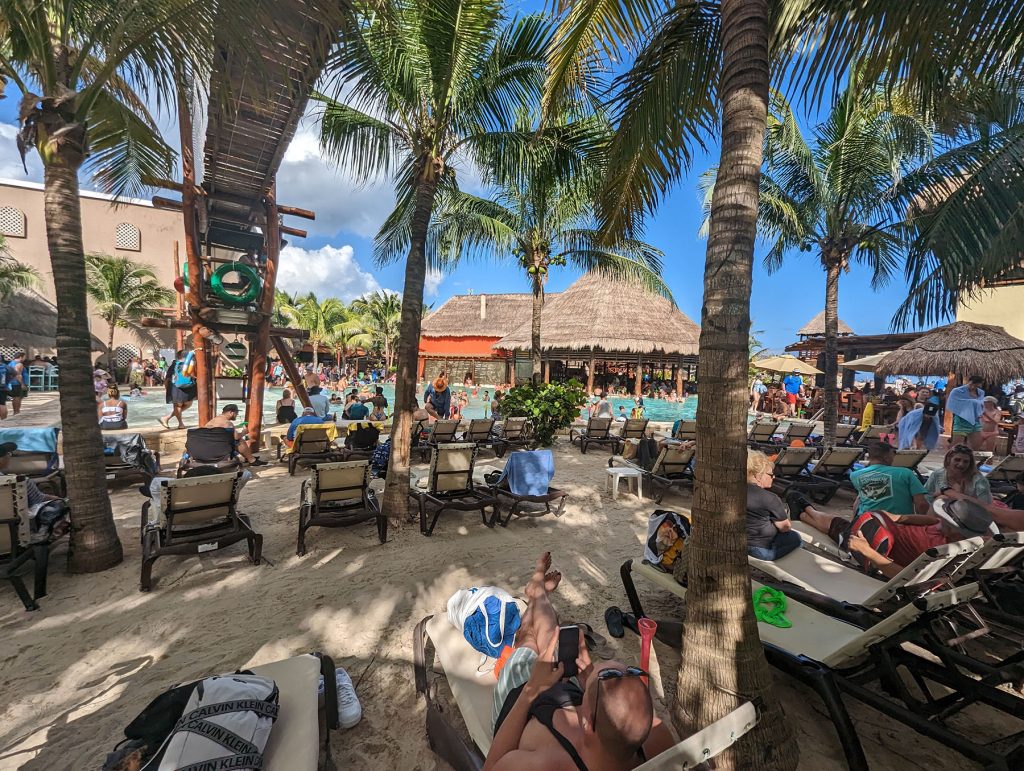 It made sense; today five cruise ships were docked at the port. It was more than initially planned. A sudden hurricane hit the Bahamas, so a couple of ships diverted to Mexico where the weather was fine. As a result, the port was completely packed. The pools still had space, but the restaurants, shops, and walkways were completely full.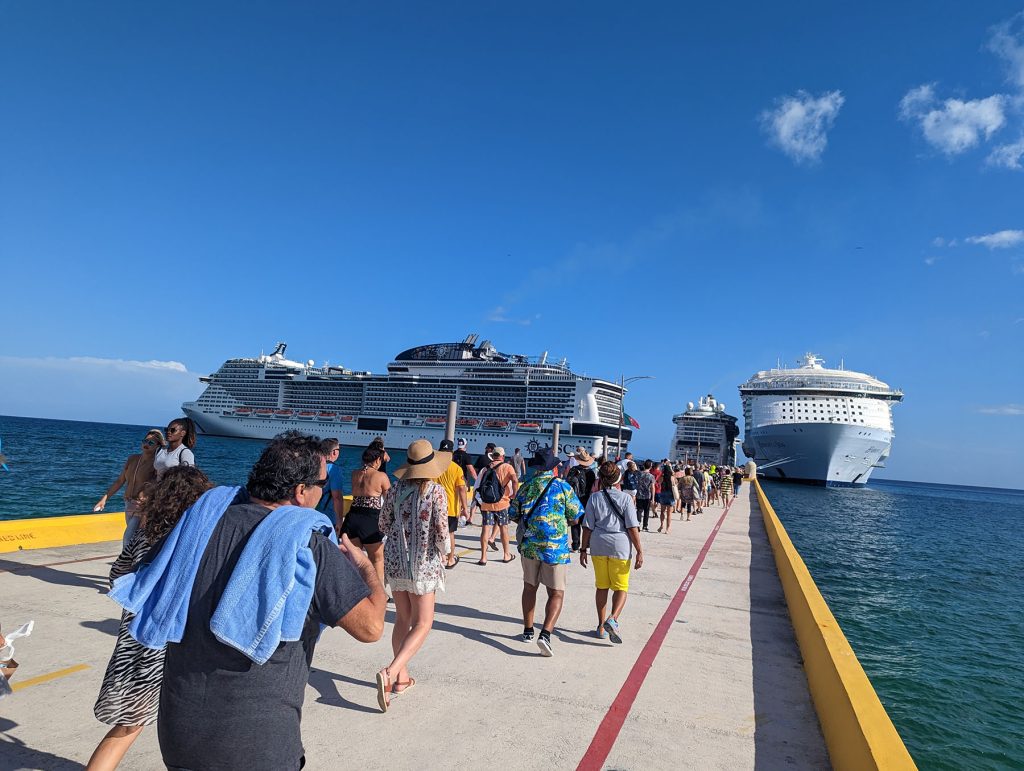 Trying FlowRider on Harmony of the Seas
When we couldn't take the crowds in the port anymore, we started the long walk back to the ship. Once onboard, we wanted to try the FlowRider, a surfing simulator that's become a signature activity on Royal Caribbean ships.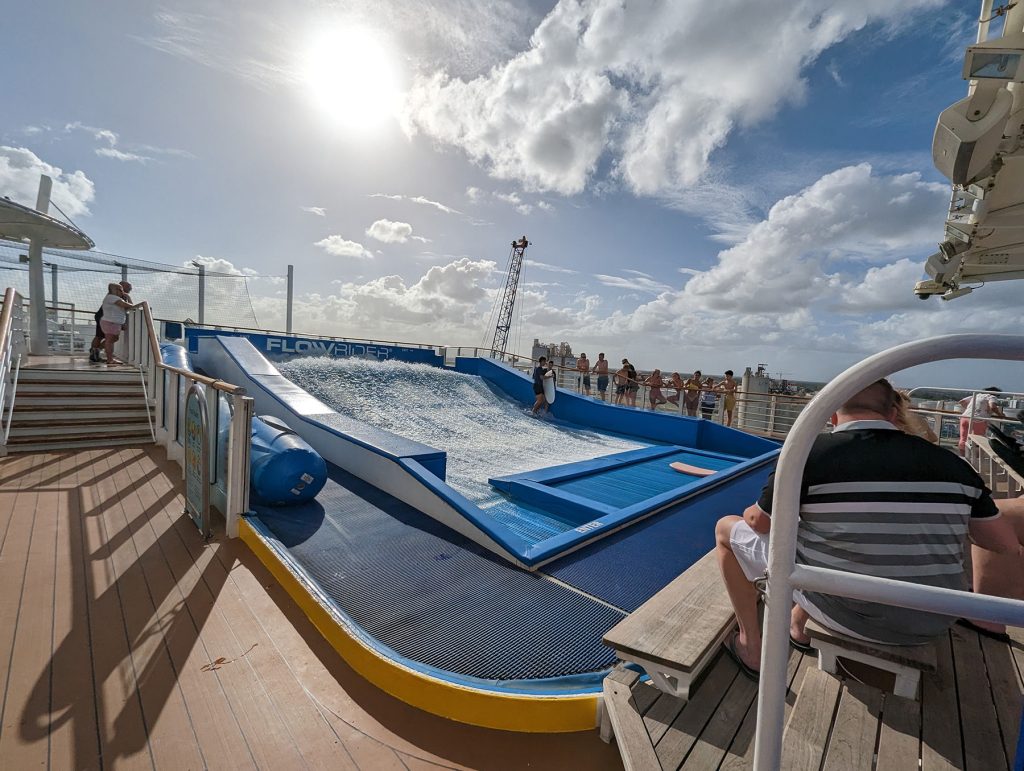 This sailing was my third Royal Caribbean cruise, yet I never had the chance to try one of the FlowRiders. On the previous day, the line was way too long, but we figured the lines would be shorter on a port day when people were still ashore. 
Tip: Lines for onboard activities like the zip line, water slides, and the climbing wall are the longest on sea days. You'll have much shorter lines by going on port days when people are on land. Even if you have an excursion, just go right when you're back on the ship. 
The Harmony of the Seas has two FlowRiders, one for surfing and one for boogie boarding. The boogie boarding can be divided into two lanes with a foam divider allowing the lines to move twice as fast. 
We started by going to the FlowRider desk and signing an electronic liability waiver. The attendant there gave us a white wristband. We had to start at the boogie boarding Flowrider, and once we mastered that, we could get the band signed and then go to the standing FlowRider if we wanted. 
My FlowRider experience
I walked over to the boogie boarding FlowRider and got on line. The FlowRider has bleachers facing it where people watch the riders. I always found that a little intimidating, as I didn't love the idea of people watching me fall on my butt, but in reality, you don't even notice. And the crowd our day was incredibly supportive, cheering on everyone. 
There were four people in front of me. People typically would ride until they wiped out three times. Then they would either be done or get back in line. That usually meant it'd be about 2 to 5 minutes per person. 
I waited my turn, carefully studying each rider in front of me to see what they did wrong. After about 15 minutes, it was my turn. The instructor was helpful, giving great tips on how to do it before I got on.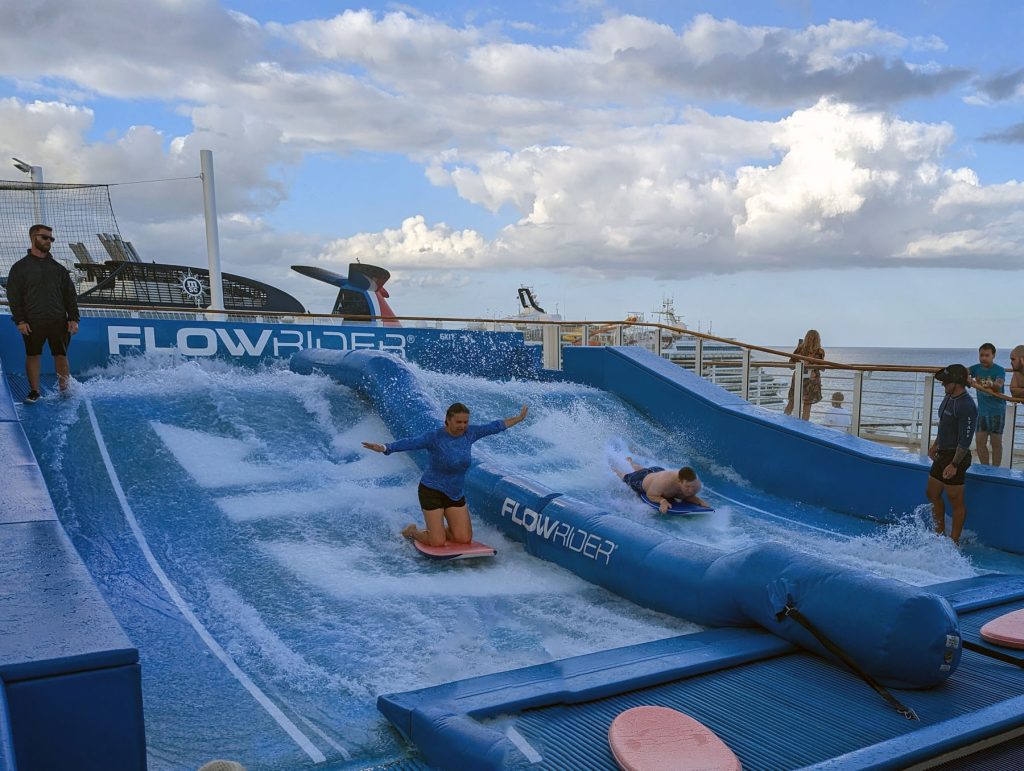 I started by lying down on the board at the bottom of the FlowRider, and I pushed myself off the side wall. The powerful jets shot up the floor and underneath me. The boogie board and my body seemed to float on top of the warm water. It was an exhilarating sensation. 
I tried to get the hang of keeping myself centered in the lane. The trick was keeping your weight centered on the board rather than trying to put your whole body on it. You'd put your weight on your elbows to try to "steer" the board, although at my skill level, I was just trying to keep from falling off. 
Surprisingly, I actually got the hang of it. The instructor then gave me some more instructions. The water rushing is so loud, you can't hear, so he laid on the ground in front of the FlowRider and demonstrated what to do. He suggested kicking my feet off the floor and pulling my body up so I could kneel on the board. 
I'd seen other people try it successfully, so I figured I'd give it a shot. With one smooth motion, I pushed off and my knees successfully landed on the board. I was stable for a second, but then I couldn't turn and I fell off and was blasted up the incline by the water. The wipeout was fun, almost as fun as riding. I don't know why they don't have an attraction where it just shoots your body up an incline like that. 
The instructor came to the top to ensure I was ok and gave me some more tips. This time, I'd start by sliding down from the top. I grabbed the board and slid down the hill so quickly that I went directly to the bottom of the Flow Rider and got stuck, so I had to wiggle to get back in the water. I focused again, trying to get my footing, and then I attempted kneeling again. Again I stuck the landing but quickly lost balance and slid up the hill. 
The instructor told me this time to use my legs when sliding down initially to keep from going too far. That did the trick, and I surfed right into the middle of the lane. I managed to kneel on the board again and tried to steer but quickly fell off again. And that was my turn. It was a lot of fun, and I was surprised I did so well at it. I didn't master it, but I had a great time. 
Three other people in my group also tried it, and they also loved it. Most of us were at a similar skill level, but one was so good they had him sit on the board and try to spin in the circle. He later went to the standing FlowRider and gave it a shot. He said it was much more difficult, but it was fun watching him wobble around trying to master it. 
Eating at Harmony of the Sea's Sabor for dinner
Because we were able to be on shore until 5:30 PM, we decided to book a specialty dining venue for dinner so we could get a later time than our set time of 5:15 for dinner. It'd give us time to fully explore the port, get back to the room, and shower before we ate. 
Harmony of the Seas had a bunch of options, but a lot were too fancy for what we were looking for. We opted for Sabor, the Mexican restaurant. It was the cheapest specialty dining restaurant onboard, and everyone in our group would be able to find something they liked. 
We showed up at 7:15, and I checked in with the waiter. I already booked and paid for the reservation months ahead of time using Royal Caribbean's cruise planner. Unfortunately, the system didn't allow me to reserve for seven people, so I had to book a table of four and a table of three. Then, I had to talk to the host to combine them. The host was very confused and kept trying to tell me that if I didn't have the unlimited dining package, I'd have to pay. I kept telling him I had already paid, but it took him a while to understand.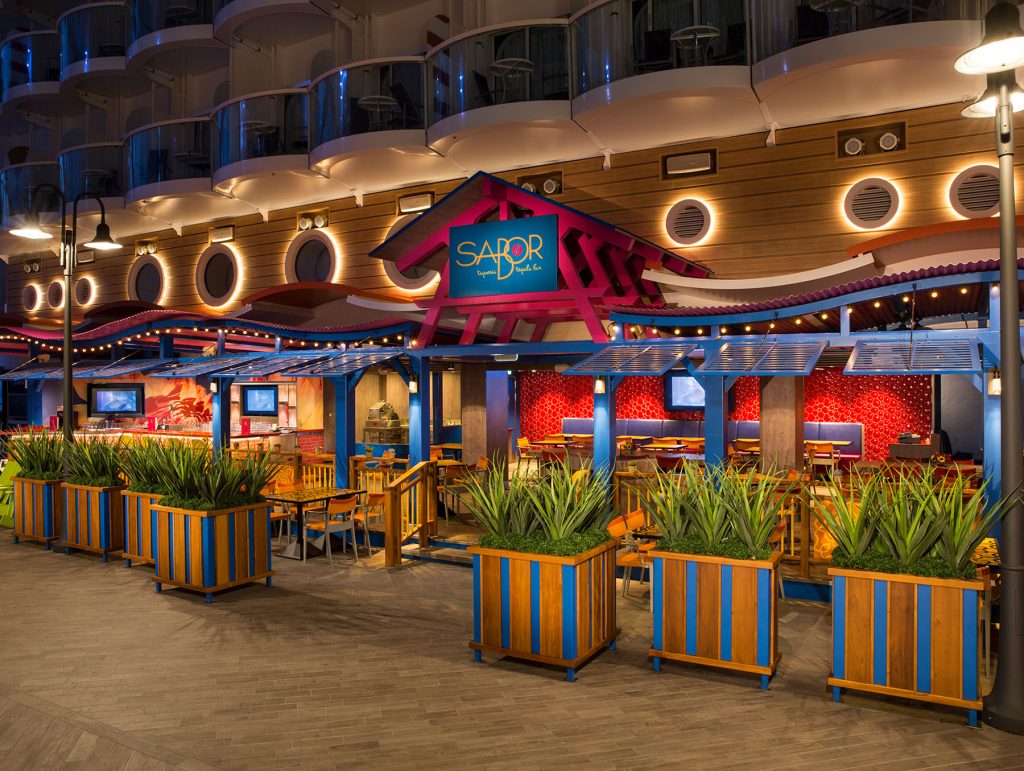 Sabor is located in the Boardwalk Neighborhood nearby the AquaTheater and across from Johnny Rockets. Half of the restaurant is inside, and the other half is outside on the Boardwalk, although there was no wall separating the two areas. It was a casual atmosphere and felt very reminiscent of the Tex-Mex restaurants I'd see at home with bright blues and vibrant pinks. Although after an authentic Mexican lunch, it felt a little cheesy.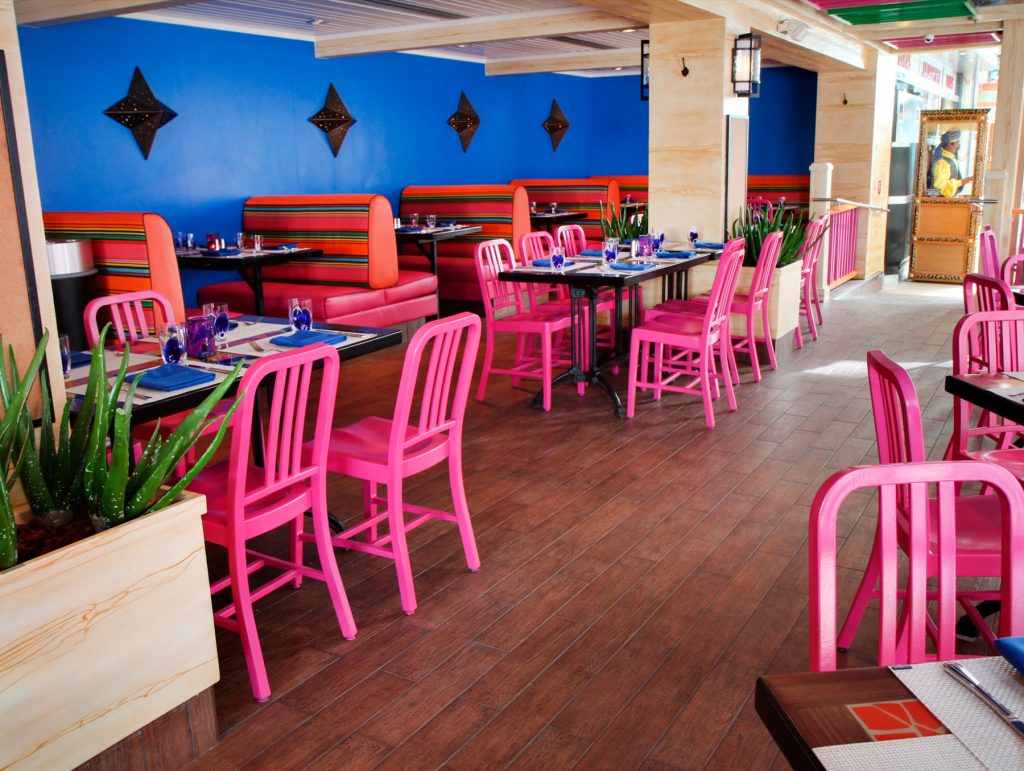 The restaurant was incredibly loud because the AquaTheater show was just feet away. It was irritating and definitely put a damper on the experience. It was hard to talk to anyone or even hear the waiter. If I had known about this issue, I wouldn't have booked dinner here at this time.
The restaurant was only about a third full, so our waiter, Danny, could be incredibly attentive. They immediately brought us three baskets of fresh chips and pico de gallo. Then they brought up bowls of guacamole. The menu and descriptions said it was supposed to be tableside, fresh-made guacamole, but I'm guessing since COVID, they stopped making it tableside.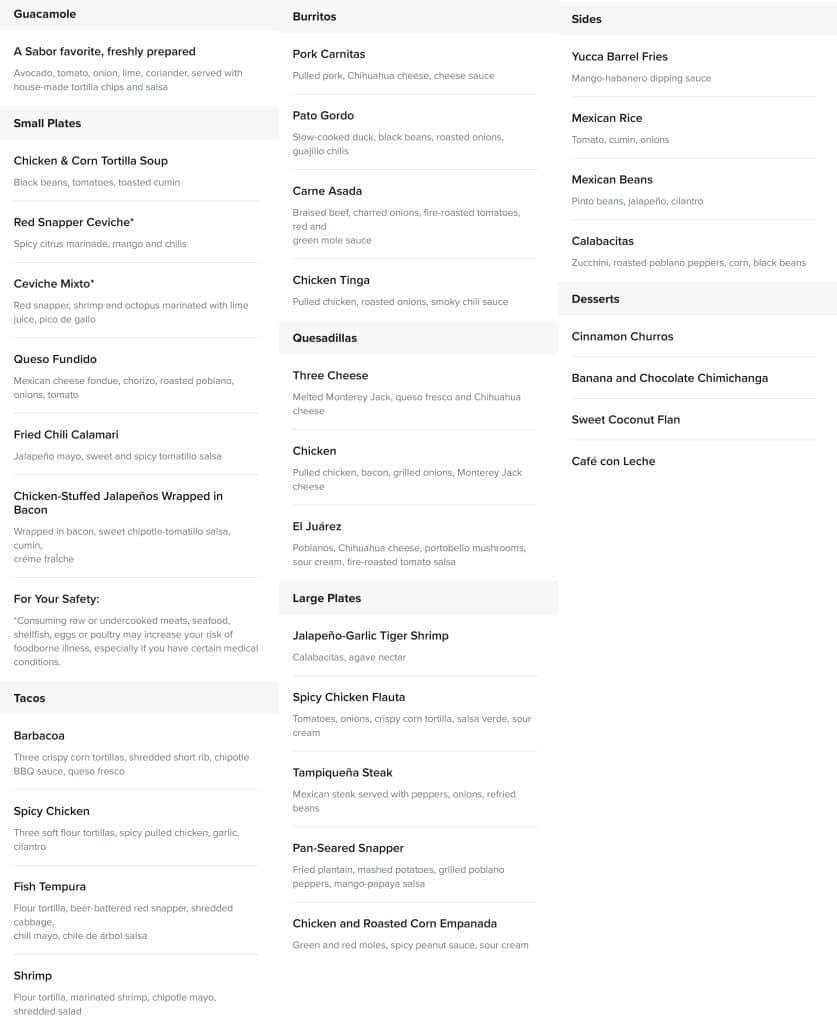 The menu is a pre-fixe or flat-fee menu for $25 per person. We each got one appetizer, one entree, and one dessert. We all got an assortment of dishes, from burritos to quesadillas. The food was fresh and hot, but after that amazing lunch, it had no chance. One person in our party remarked she didn't care for the quesadillas because they weren't like "Taco Bell," which are totally Americanized and filled with nacho cheese sauce, not real cheese. The two people who ate gluten-free were able to find something, and they said they had a separate fryer for the gluten-free chips. 
My favorite part was the dessert. None of us were particularly hungry, but we figured we'd at least try the desserts since we had already paid for them. So we ordered a few rounds of the Cinnamon Churros and Banana and Chocolate Chimichangas. Both were delicious! The churros had a slight crunch on the outside and a soft center with a perfect coating of cinnamon and sugar. The chimichangas had a delightful mix of soft banana and melted chocolate in a lightly fried, crisp wrapper. It was the perfect way to end the meal. 
Overall, it was a middling experience. I see why Royal Caribbean is phasing out Sabor in its fleet (on all the other Oasis-class ships, it's been replaced with Playmakers Sports Bar). The food was just OK, and honestly, not much more elevated than what we could have gotten anywhere else on the ship. It would have been a great meal if it was free, but for $25 a person, the value was not there, and I would not dine there again or recommend it to others. 
70s party on promenade 
It was a long day, and we were tired, but we didn't want to call it a night just yet. We looked at your Cruise compass and saw a 70's Disco Party on the Royal Promenade, so we decided to head there to check it out.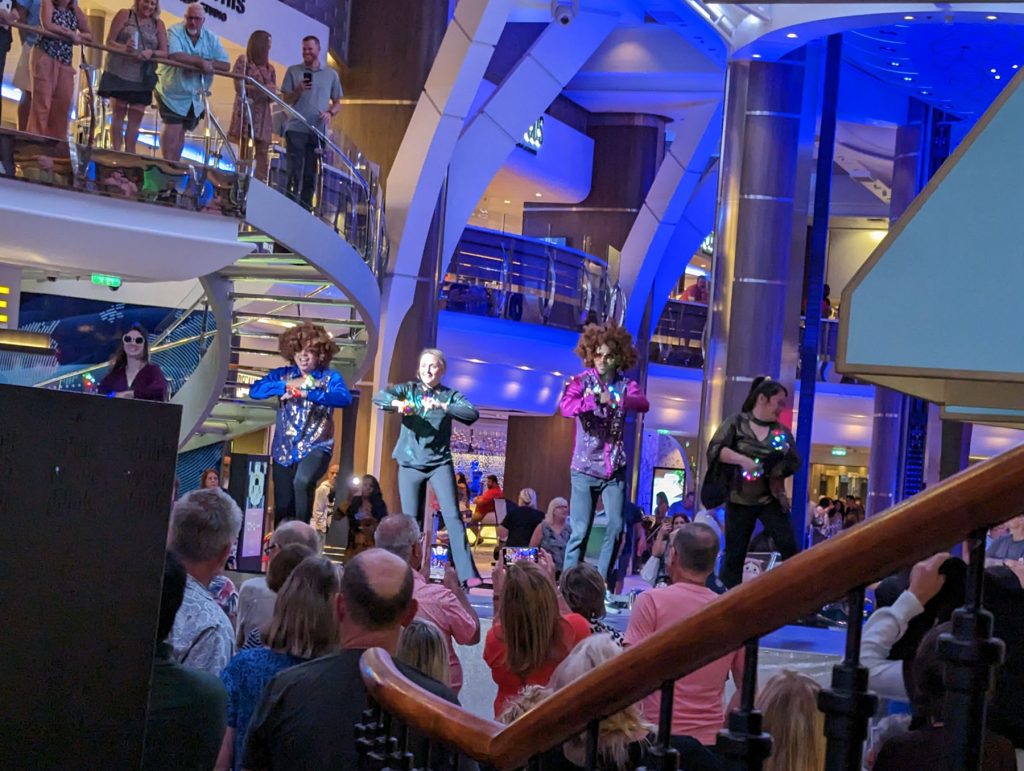 A lot of the evenings, the Royal Promenade would transform to host some themed party. They'd bring out a small platform, and the cruise entertainment staff would dress up in costumes, perform dances, and sing. 
We got there a little early and found seats at the Boot and Bonnet, the English Style pub right along the Promenade. We were able to grab a couple of tables that were situated along the main thoroughfare. A waiter took our drink orders as we waited for the party to start. 
The center of the Royal Promenade was getting full as people lined up at the make-shift stage. At 9 PM, the music started, and the entertainment staff came out and performed some of the biggest hits of the 70s. It was cheesy but in a fun way. The crowd was definitely into it, singing and dancing along to their favorite songs. It was a lot of fun, and it made me sad that I missed the '90s party that happened on Day 1, as that's more my speed in music. 
Harmony of the Seas Day 3 recap
Day 3 was a perfect example of a cruise port day. We had relaxation, adventure, and culture. Maya Chan was almost the picture of perfection, and we had fun trying the FlowRider back on the Harmony of the Seas. The next day would be even more adventure in Cozumel. 
Follow along on the rest of our Harmony of the Seas cruise
Harmony of the Seas – Cruise Blog - Day 1 – Fort Lauderdale
Harmony of the Seas – Cruise Blog - Day 2 – Sea Day
Harmony of the Seas – Cruise Blog - Day 3 – Costa Maya
Harmony of the Seas – Cruise Blog - Day 4 – Cozumel
Harmony of the Seas – Cruise Blog - Day 5 – Sea Day
5 Hits and Misses on Royal Caribbean Harmony of the Seas
If you want to stay up to date with what we publish, sign up for our monthly newsletter
CruiseSpotlight is an Amazon Associate. We may earn a commission when you click links to retailers and purchase goods.