How I Decided on a 2023 Cruise on the Carnival Celebration
Last Updated on March 17, 2022
Last month, I booked a cruise on Carnival's upcoming ship, the Carnival Celebration. The cruise itself is a 7-day Western Caribbean cruise stopping at Cozumel, Costa Maya, and Mahogany Bay in March 2023. I don't usually book this far in advance, but it made sense because of a credit I had from a COVID cancellation. I thought it'd help to show you the steps I went through to make this specific booking so you can see what you should think about when booking a cruise. 
Choosing the Cruise Line
When planning a cruise, you can start from various points: the ship you want, the ports it's going to, the time of year, the cruise line, etc. In this case, COVID already took care of this step for me since I had a credit from Carnival. I originally had a cruise on the Carnival Dream scheduled for May 2020, but since Carnival canceled it (due to the CDC hold on sailing), they offered me $600 in onboard credit if I took a future cruise credit instead of a cash refund. I had until September 2021 to choose a new cruise and until April 2023 to take the cruise.
Choosing Carnival, though, would have been an easy choice regardless though. I've been on six Carnival cruises, and I've never had a bad time. The ships are full of activities, the passengers are lively, the ships leave from quite a few ports across the US, and there isn't a ton of extra pressure for extra expenses on board. I hate the idea of going on a cruise ship and being in a "lesser" class or eating "lesser" food because I didn't pay the "premium" upcharges. Carnival rarely does this; they include most of their dining options in the cost of the cruise, and the included food is pretty good. While there are a few specialty restaurants with an upcharge, it's not many, and the prices are usually from $15 – $35, so not bad compared to some other cruise lines. 
Choosing the Carnival Celebration
Picking the right cruise ship is always key for me. While other people may enjoy the ports, for me, if you're not sailing on a great cruise ship, you might as well have flown to the port instead. I like ships with lots of onboard activities, a variety of included dining options, and plenty of space. Personally, I also want to try a ship that I haven't been on before. There are quite a few I haven't tried, but I was very curious to try Carnival's new class of ship, the Excel-class.
The Excel-class ship is a new type of ship that will hold 6,630 passengers at maximum capacity and is 38% larger than its current biggest ship, the Carnival Panorama. It has six pools, seven hot tubs, a roller coaster, a ropes course, a thermal suite/spa, a dedicated adults-only "Serenity" area, and so much more. Carnival's newer ships have a nice mixture of class, relaxation, and adventure all in one, which I love. It also had a ton of new dining options and bars to try (see link). The latest ships almost always cost the most, so I figured the best time to try a new ship was when I had $600 onboard credit to spend.
Now that I knew I wanted an Excel-class ship, it was time to pick one. When I wanted to cruise, March 2023, Carnival would have two Excel-class ships sailing, the Carnival Mardi Gras and the Carnival Celebration. The decision between the two ships was a no-brainer for me. My very first cruise was on the original Carnival Celebration in 2004. My grandparents took our whole family to celebrate a bunch of things (their 50th Anniversary, my parent's 25th Anniversary, my college graduation). It was a fantastic time, and it was what got me hooked on cruising. It would be amazing to go on the new version of the Celebration to pay homage to that original vacation.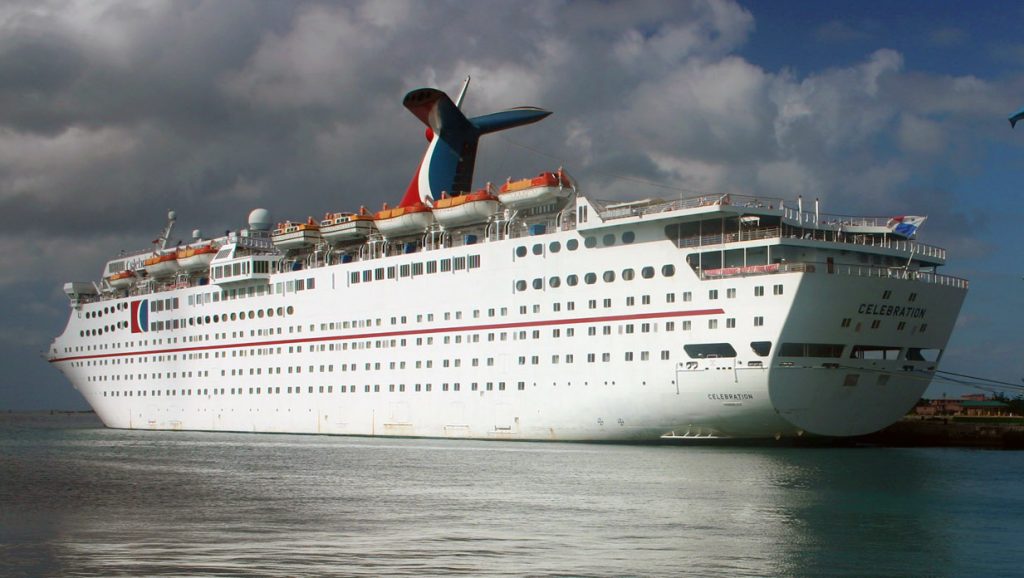 I'll admit, I still had a little trepidation about booking on a ship that hasn't even sailed yet. When I booked, no passenger had stepped foot on any Excel-class ship yet. Are they going to feel too crowded with up to 6,630 people? Royal Caribbean has had massive ships that hold this many people for years, but Carnival has never tried. I had so many questions…
Will they be able to manage crowds and people flow?
How congested will dining times be?
Will getting on and off the ship be a nightmare?
Will I feel like I'm packed like a sardine while on the ship?
I was confident enough in Carnival, though, to take this chance. When I was on the Carnival Horizon last year, one of their biggest ships at the time, I was surprised how it felt less crowded at most times than some of the smaller ships I had been on. 
It also helps that the Celebration will be the second in this class of ships, so they can make minor tweaks based on feedback from the Mardi Gras. For example, when the Carnival Vista came out, the floors in the Lido Buffet were incredibly slick and slippery during lunch; on the next ship, the Horizon, they put in textured flooring to improve that. That being said, they didn't improve the horrible theater and comedy club layout; some things just can't be fixed that far into planning, apparently (see the hits and misses of the Carnival Horizon). 
Choosing the ports
I've done the Bahamas a lot. I've been to Nassau four times already, and I'm ok not going back there for a while. This Western Caribbean trip seemed more interesting. With two stops in Mexico and one in Roatan, it would be a break from the Bahamas. I've visited Cozumel before, on my first cruise on the original Celebration, but it's been over 15 years since I've been, so it was about time to go back. Also, I loved that none of these ports required tenders or water taxis as Carnival calls them. While tenders aren't a deal-breaker for me, they do put a check in the negative column for me (see why here).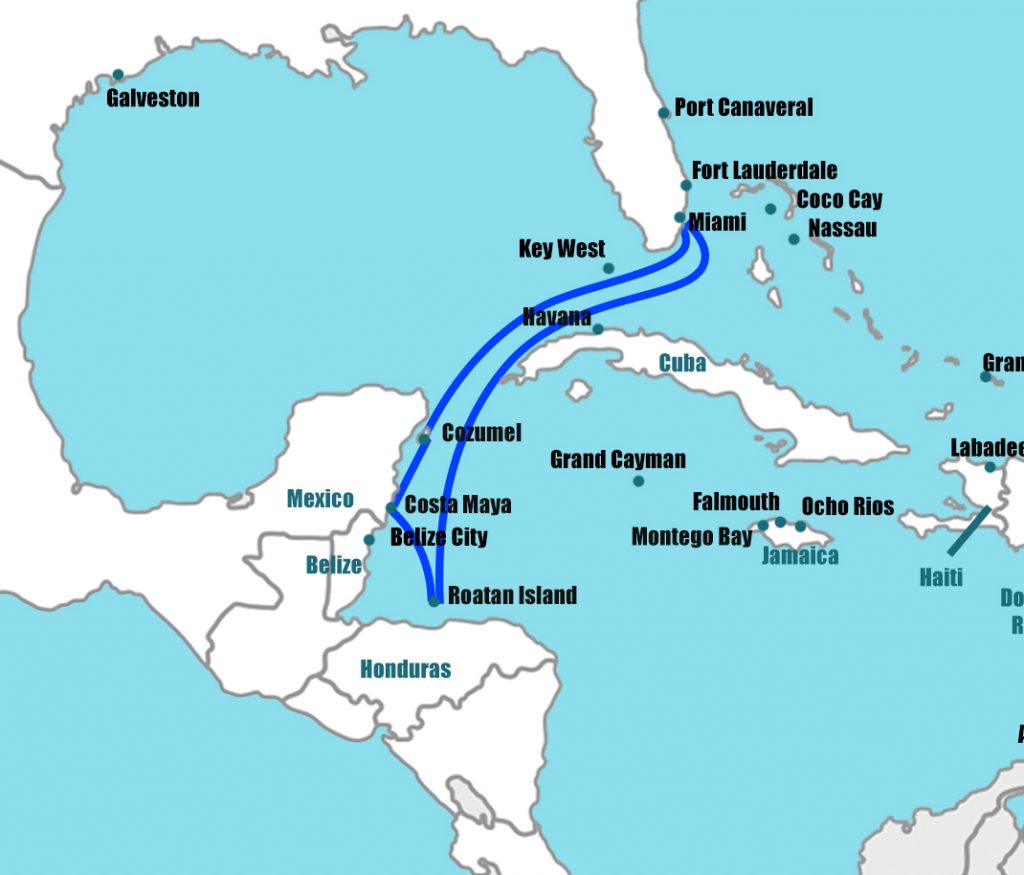 What excursions did I find exciting?
Personally, I usually prefer adventure-type excursions or a mixture of beach-day and action-based. Thankfully, Carnival has a list of all their possible excursions available before you book (see the page here). This tool is really helpful if you have a specific activity you want to do and then find a cruise that has it. For example, if you've always wanted to swim with dolphins or visit Mayan ruins, you can look up what port has those activities and then find a cruise that stops there.
I didn't have any excursion in mind for this trip, so I browsed through all the options. I found quite a few exciting excursions in Cozumel, but the most interesting to me was the Amazing Secret River, where you visit the Rio Secreto Natural Reserve and explore caves and an underground river. I was supposed to do it on my last cruise, but Carnival had to reroute, and we went to a different port instead (where we did the equally thrilling waterfalls excursions that I highly recommend).
Then in Costa Maya, I've always wanted to see the Chacchoben Mayan Ruins and actually missed seeing it on my first cruise because I was a broke college student and couldn't afford it.
I'm still undecided about Roatan, but I was confident this cruise was good for me with excursions I'd like to do in two of the three ports. 
Where will the cruise leave from?
Even though I already picked the Celebration instead of the Mardi Gras, the home port did have a bit of a part to play in it. The Mardi Gras sails from Orlando (Port Canaveral) and the Celebration from Miami. Port Canaveral is a 45-minute ride from the airport, making transfers or an Uber more pricey. On top of that, flights to Orlando are usually more expensive from the North East where I'm located. Miami, on the other hand, was almost built for cruise ships.
My cruise on the Carnival Horizon left out of Miami, and I was shocked at its convenience. It was only 15 minutes or so from the Miami airport, but we stayed overnight in Miami to be safe. Even then, it was a $10 Uber ride and only 8 minutes to the port in the morning. While Port Canaveral sports a brand new top-of-the-line terminal built just for the Mardi Gras, I was fine with the terminal in Miami. When I sailed out of there on the Carnival Horizon, I literally took 15 minutes from when I got out of the Uber until I was eating BBQ on at Guy's Pig and Anchor (see the blog from that cruise here).
Choosing the cabin on the Carnival Celebration
At this point, I had my cruise line, ship, and sail date picked, and it was time to book. I went on the Carnival website, started the process, and then had to pick my cabin. I already knew I wanted a balcony cabin. I've done an interior room before, and I just didn't like the feel of it personally; it was too dark and felt small to me. If it was a short cruise, I might make it work to save some money, but for a 7-day cruise, I couldn't do it. I've also done Ocean View rooms and the window looking at onto the water certainly helped, but personally, I love the ability to go out on my balcony at night or in the morning and feel the fresh sea breeze. Also, with a new ship with up to 6,630 fellow passengers, I can get away to my private space on my balcony if it ends up being too crowded on deck. 
Do you need to book a balcony cabin? No, everyone has their own preferences and likes and dislikes and budgets. I just know the extra money I pay for a balcony over an inside room is usually worth it for me.  
Now that I picked a balcony, I had to go through the numerous balcony options. The Celebration has so many different types of balcony rooms; Cove Balcony, Junior Balcony, Standard, Extended, Premium View, Could 9 Spa, Havana, etc. It's pretty overwhelming. I settled on a standard balcony; I was very tempted to do a Cove Balcony for $100 less, but I personally haven't done one yet, and I don't know how I'd feel about it. I don't want to waste my experience on this brand new ship in a room I might not be thrilled with.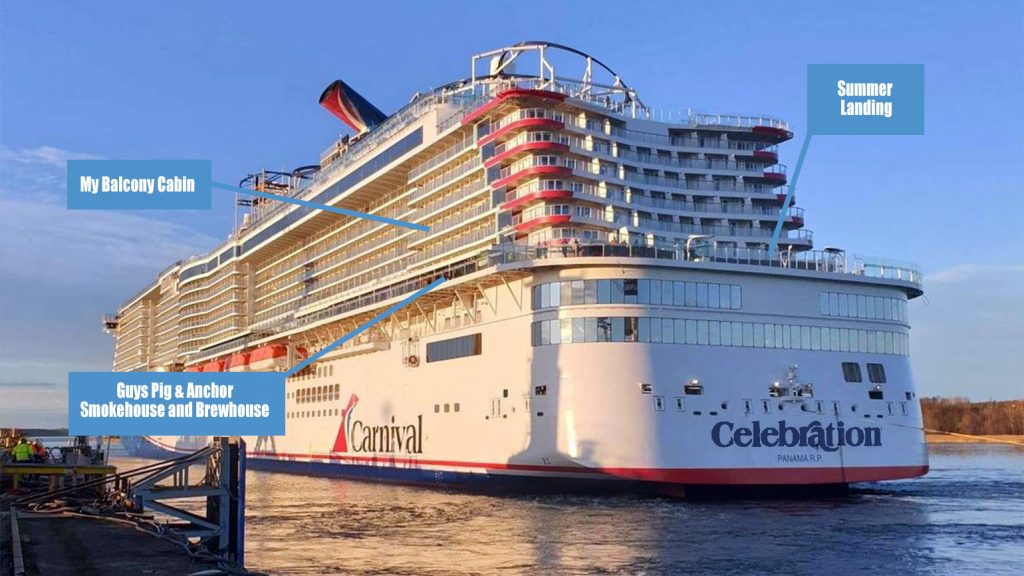 I usually don't put a lot of stock in a specific cabin location, but this time I did some research before I picked out which balcony cabin I wanted. One of the cabins available at the base balcony price was towards the back of the ship on deck 9. This area would be perfect because I could use the nearby stairs or elevator to go up to the Lido Buffet and Tides Pool or down to the Summer Landing zone with the new pool and two hot tubs there. The only thing I was concerned about was that it was right above Guy's Pig & Anchor Smokehouse and Brewhouse. I know they have music there until late at night, and the new venue is supposed to be even bigger on the Excel-class ships, so I was worried about noise from the floor below. I ended up spending $10 extra to move up one deck so that it would be less of a concern. I've never had a room where I heard noise from above or below, but I just wanted to be safe. 
Need more tips on how to choose a cabin? See how to choose the best cabin for you on a Carnival cruise ship.
Did I make the right choices?
Only time will tell. I'll keep this story updated as the trip gets closer and share my experience. But, honestly, I can't imagine how the cruise can be bad, and having a chance to honor my first cruise on the original Carnival Celebration is almost priceless to me. Have you ever booked a cruise before the ship even sailed? How'd that work you for you?
CruiseSpotlight is an Amazon Associate. We may earn a commission when you click links to retailers and purchase goods.