How I Decided On My Alaskan Cruise
Last Updated on February 4, 2023
A cruise to Alaska has always been on my bucket list; people who have gone on them rave above the spectacular views and unique excursions. The pictures and videos I've seen are stunning, but an Alaskan cruise has always been lower on my list. While the destination was appealing, in the past, cruise lines have had "lesser" and older ships for these sailings, which made me wary. On top of that, you only have a few good months to travel there. I'm also traveling from the East Coast, which means airfare to get to the West Coast departure ports can be pricey. 
It took a lot of research to find the right Alaskan cruise which I ultimately got to take in May 2022. We had a spreadsheet with tons of different information; sail dates, ports, airfare, average excursion costs. It was daunting to go through it all. Eventually, we settled on a 7-Day Alaska Experience on Royal Caribbean's Ovation of the Seas. I'm going to walk you through why we booked this specific ship/itinerary so you can see how you might answer some of these questions. 
Choosing the right cruise line for an Alaskan cruise
Alaska Cruises are more expensive than their Caribbean counterparts, so we were already spending more on this cruise than we usually would. I didn't want to have to pay even more once I was onboard. Because of that, I was concerned about how I'd feel on a Norwegian ship with all their extra, for-fee restaurants. 
Another significant cost would be the possible excursions in the ports because they're pretty pricey compared to Caribbean cruises. Upon researching, I found that none of the cruise lines were consistently more expensive or cheaper than the other cruise lines. The prices were all over the place, with prices differing between 2% – 25%, but sometimes one cruise line was higher, and other times it was lower.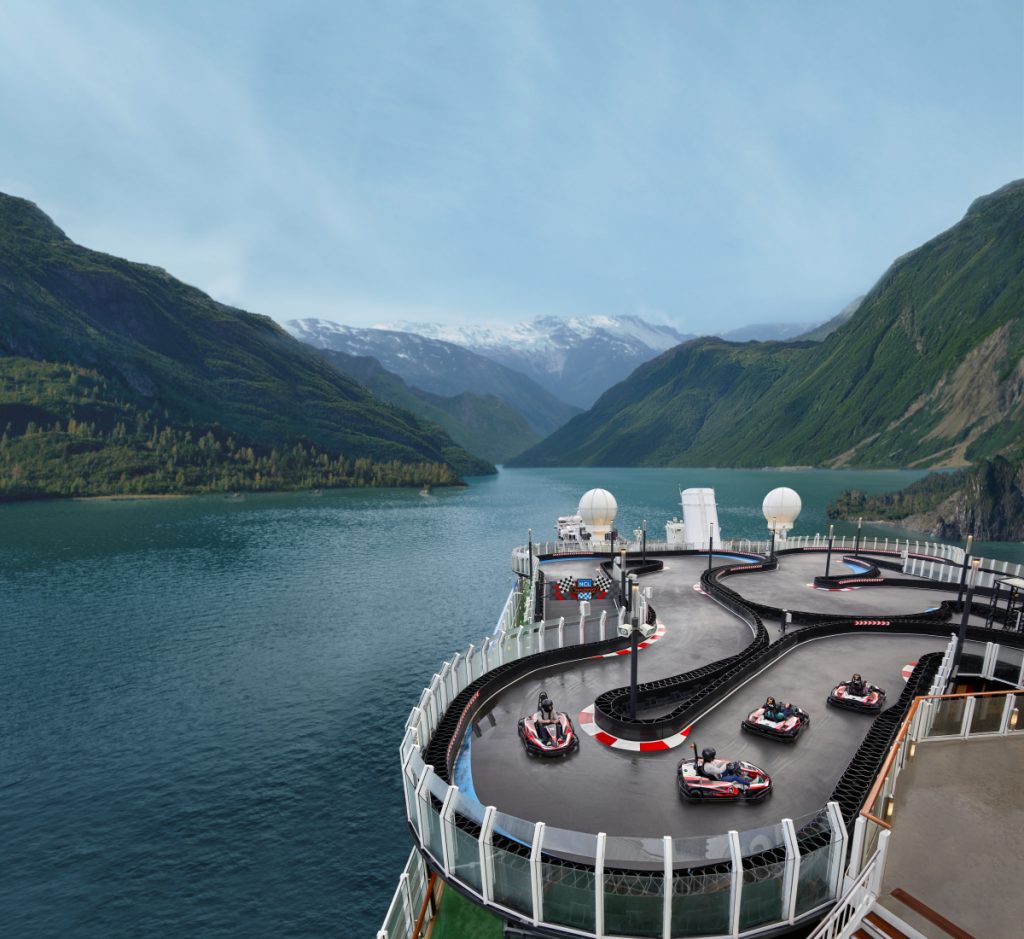 In terms of types of other passengers, Princess Cruise Line typically skews older, and, as a man in my 30's, I was worried I'd find it a little too old for my tastes. Holland America is supposed to be nice but skews a bit older as well. We also wanted a lot of active things to do onboard, and these two lines don't typically specialize in that. 
Carnival didn't have any newer or larger ships in Alaska, so they were immediately out of the running, even though I had a $600 onboard credit from a canceled 2020 cruise. 
In the end, Royal Caribbean won out. Some people complain about their constant upsell, but overall, I've found I can have a good time on a Royal Caribbean ship without spending an additional arm and a leg. 
Which ship has what I want for my Alaskan cruise?
Alaskan cruises can be cold and rainy, even on the best days. You're also at sea for a considerable amount of time, with most cruises having 3 days at sea. Being on a small ship or a ship without a lot of indoor spaces could totally change your experience. The Carnival Miracle was one of the ships I was looking at initially, but I did a winter cruise on its sister ship, the Carnival Pride, in 2018, and I didn't like the lack of indoor space. On top of that, the cramped, smoky casino was a big turn-off. I didn't want to repeat that on this cruise. 
That led us to look at larger ships. Thankfully, for the 2022 cruise season, Norwegian and Royal Caribbean have some of their larger and newer ships in Alaska. So we had a choice of the Quantum of the Seas, Ovation of the Seas, Norwegian Bliss, or Norwegian Encore.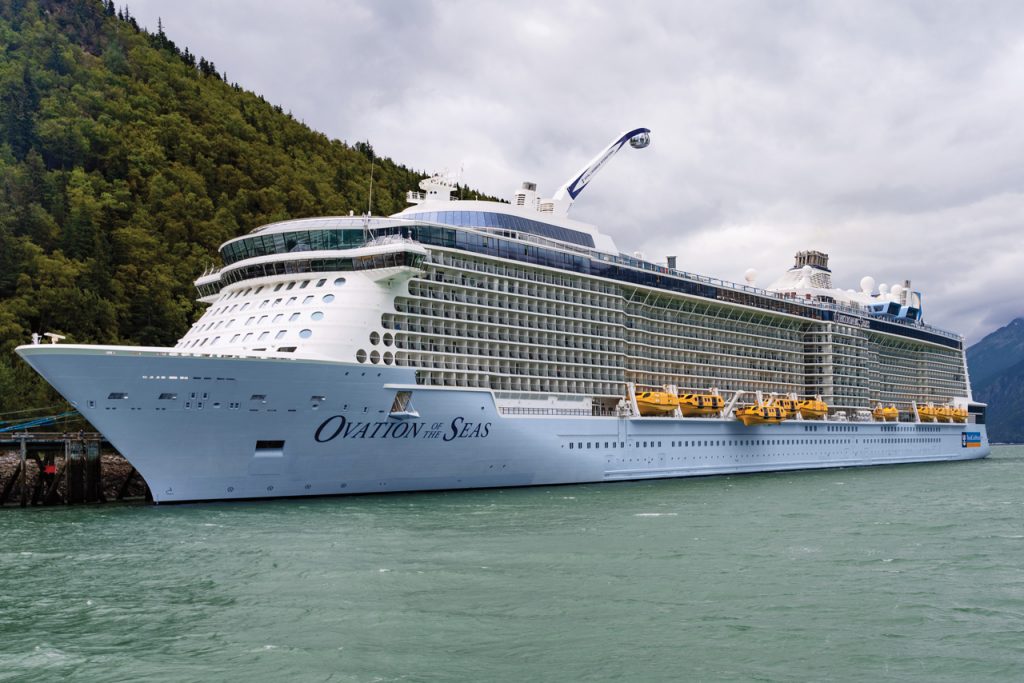 In the end, we went with The Ovation of the Seas. It's a Quantum-class ship with plenty of indoor spaces in case the weather isn't great. There's a pool open to all ages with a glass ceiling that would be nice to take a dip in during dreary sea days. It has a large sports area called Seaplex with tons of activities like bumper cars and roller skating. You can go indoor skydiving or surfing on a Flowrider on the ship as well. The killer feature was the glass-enclosed adults-only solarium at the front of the ship, with infinity pools cascading down the middle overlooking the bow. This room just screamed Alaska as I imagined seeing the picturesque terrain from a padded lounger in the warm room. The room kind of sealed the deal for me. The Ovation of the Seas also has the North Star, which elevates you up to 300 ft over sea level to provide a vantage point that no one else has.
Which Alaskan ports do we want to stop in?
Another big consideration was finding the right itinerary. Each cruise line had different stops, and they weren't always consistent across all the ships' sailings. It was hard to research what was best, though. Ports are crucial for Alaskan cruises because you can be there a lot longer than a Caribbean cruise, 10 to 12 hours in some cases,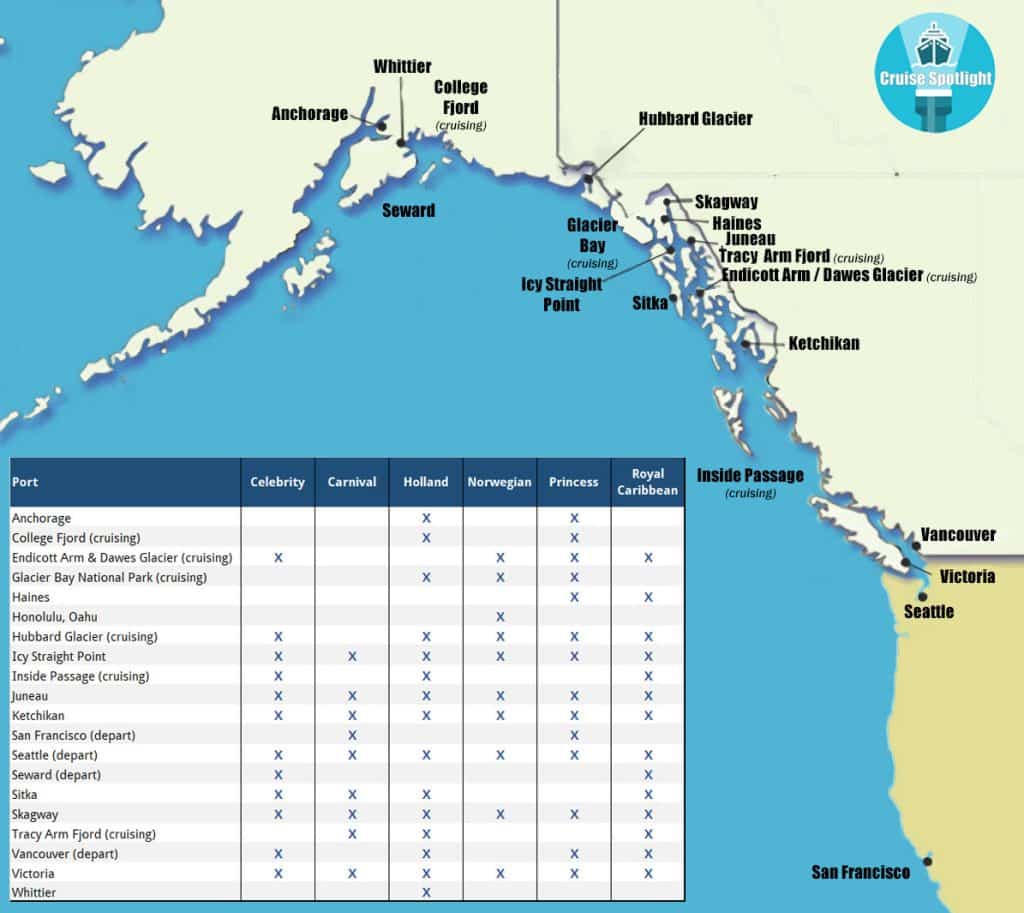 A confusing thing about the ports listed on the cruise line websites is that many aren't actually ports. Instead, it's when you're sailing through a particular area or near a glacier. You don't get off the boat at all, but sometimes they bring on a tour guide or have an audio walk-through during set hours to teach out more about the area. These "stops" are College Fjord, Endicott Arm & Dawes Glacier, Glacier Bay National Park, Hubbard Glacier, Inside Passage, and Tracy Arm Fjord.
It was also hard to narrow down which ports were "best." I tried to get feedback from people who have cruised to Alaska, but nothing was consistent. Some swore by Glacier Bay (which only Holland America, Norwegian Cruise Line, and Princess Cruise Line currently visit); other people said they enjoyed the Endicott Passage and Dawes Glacier. Some loved visiting some cities, and some hated it. It didn't help us narrow down the itineraries at all. 
In the end, we based our decision on how much time we have onshore and how many actual ports we visit. If we're going all the way up to Alaska, we want to explore it as much time as possible. So the cruise we picked will start in Seattle, stop in Skagway, then Sitka, and lastly Victoria, British Columbia, as we sail back to Seattle. 
Where will the cruise leave from?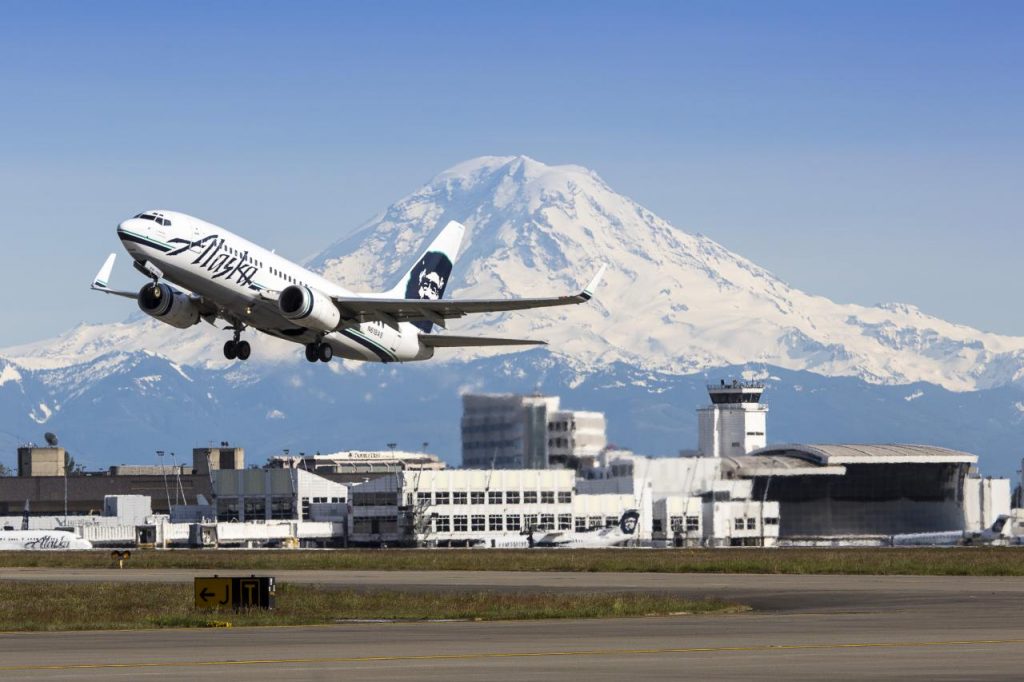 For Alaskan cruises, you have a couple of ports to choose from; since we narrowed it down to Royal Caribbean, that meant they left from Seattle or Vancouver. I didn't have a huge preference, but when running the numbers, I saw that flights to Seattle were significantly cheaper than Vancouver, at least from the East Coast. On top of that, that would make it a domestic flight which means I could avoid long customs lines at the airport. I really know nothing about Seattle, except that's where the TV show Frasier took place, so I figure it'll be fun to explore that the day or two before the cruise.  
The right time of year for an Alaskan cruise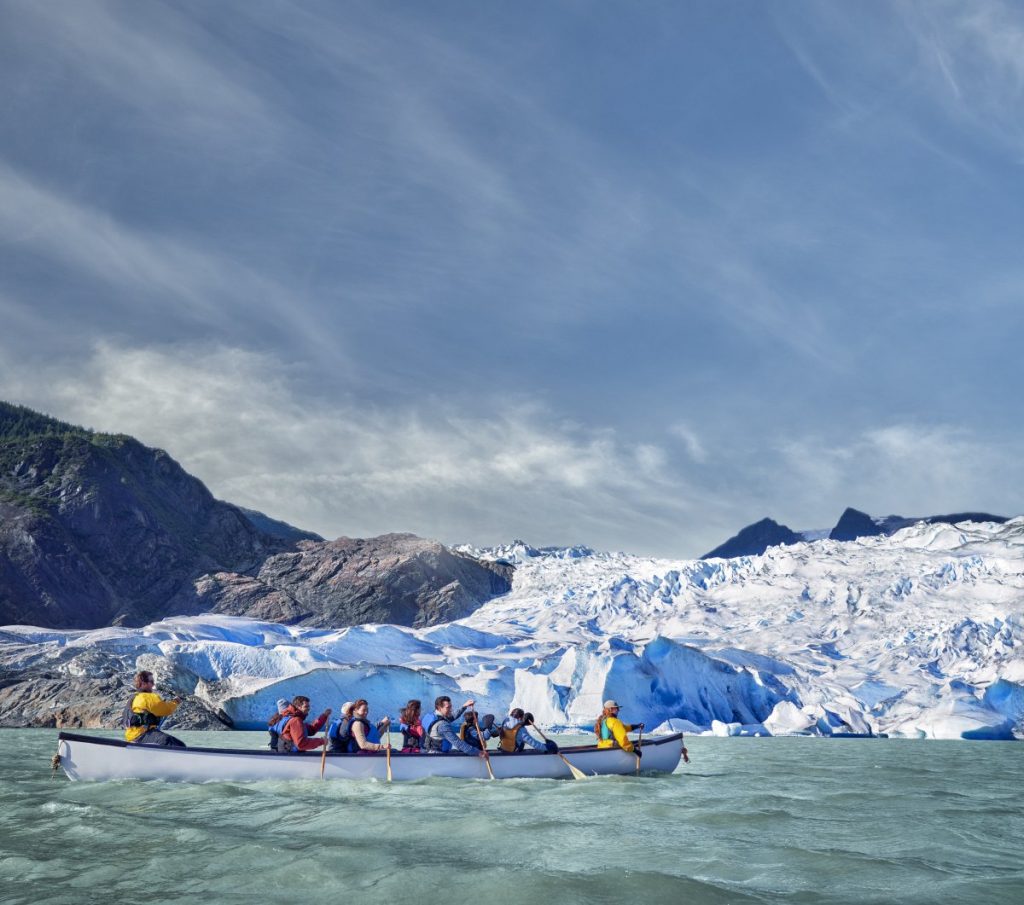 Alaskan cruises mainly operate from May – September, but most people say June / July is the peak season. September may be rainy and cold, and early May may still be icy, forcing the cancellation of certain ports and excursions.
We choose the last weekend in May, hoping it'd be warm by that point. Since it was a May cruise, it was significantly cheaper than the June sailings. We were also hoping there would be fewer children on the ship since most schools are still in session at that point. It's also Memorial Day weekend which is nice because we don't have to take an extra day off from work. 
A balcony room was a must have for us
I typically book balcony rooms because I like to sit outside and enjoy the fresh air and peace and quiet. Being able to be outside was especially important to us for Alaska, where we were hoping for some breath-taking views. We could have saved around 19% if we let Royal Caribbean assign our rooms, but because some of the Quantum-Class Balcony Rooms are partially obstructed by lifeboats, we picked our cabin to ensure a good view. We decided on deck 7 as it seemed like a good location for us, just a few levels of stairs to many of the main areas of the ship.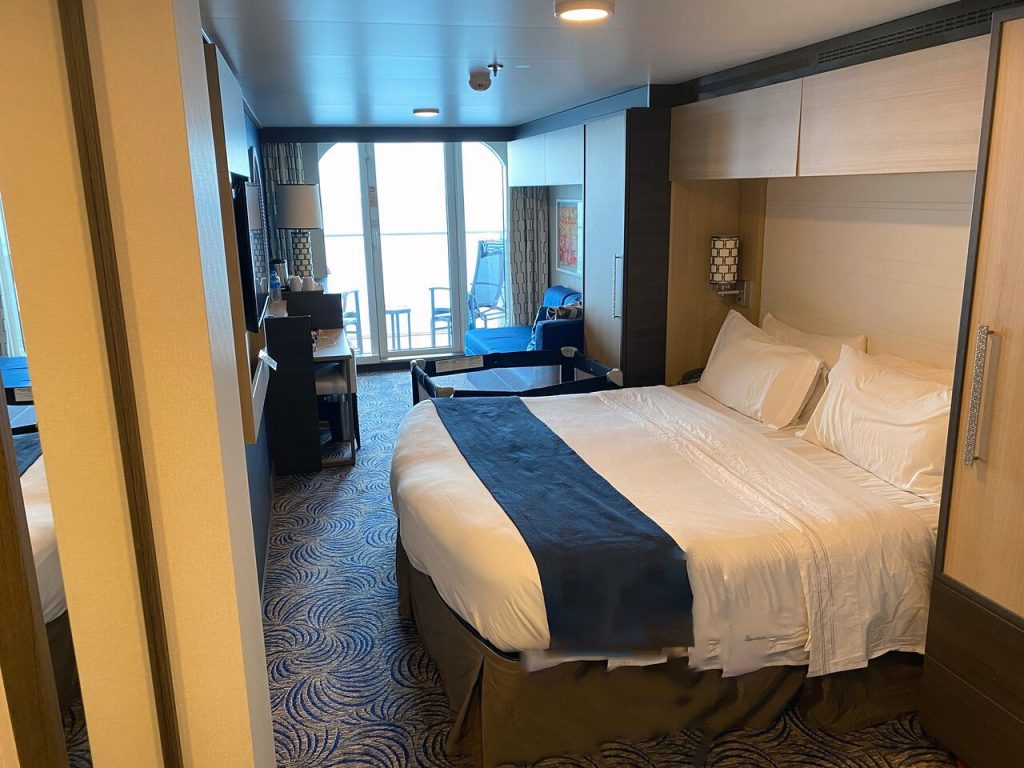 Update: We made the right choice
We had an amazing time on our sailing on Ovation of the Seas and I think we made the right choice. You can follow along on our sailing in our live cruise blog.
How To Plan Your Own Alaskan Cruise
After soliciting feedback from a lot of people, there was no universal answer for everyone. Do you want to go during the perfect season? Do you want a smaller, more intimate ship? There are a lot of things to consider. Always start your cruise planning by asking yourself, "What is important to me?" Once you know that, you should be able to narrow down your options. 
CruiseSpotlight is an Amazon Associate. We may earn a commission when you click links to retailers and purchase goods.