How Is Virgin Voyages Different From Other Cruise Lines?
Virgin Voyages is one of the newest cruise lines to launch in North America. Richard Branson established Virgin Voyages to be a new and refreshing take on cruising. They would throw everything known about cruising out the window and start from scratch. The result would be a new, "premium" cruise line geared towards those who may have never taken a cruise before. 
The first cruise was supposed to sail in 2020, but due to the COVID-19 shutdown, the first ship, the Scarlet Lady, sat unused until its first sailing in August 2021. As a result, the first US cruise was in early October 2021. 
How is Virgin Voyages different from other cruise lines, and is it right for you? We'll take a look.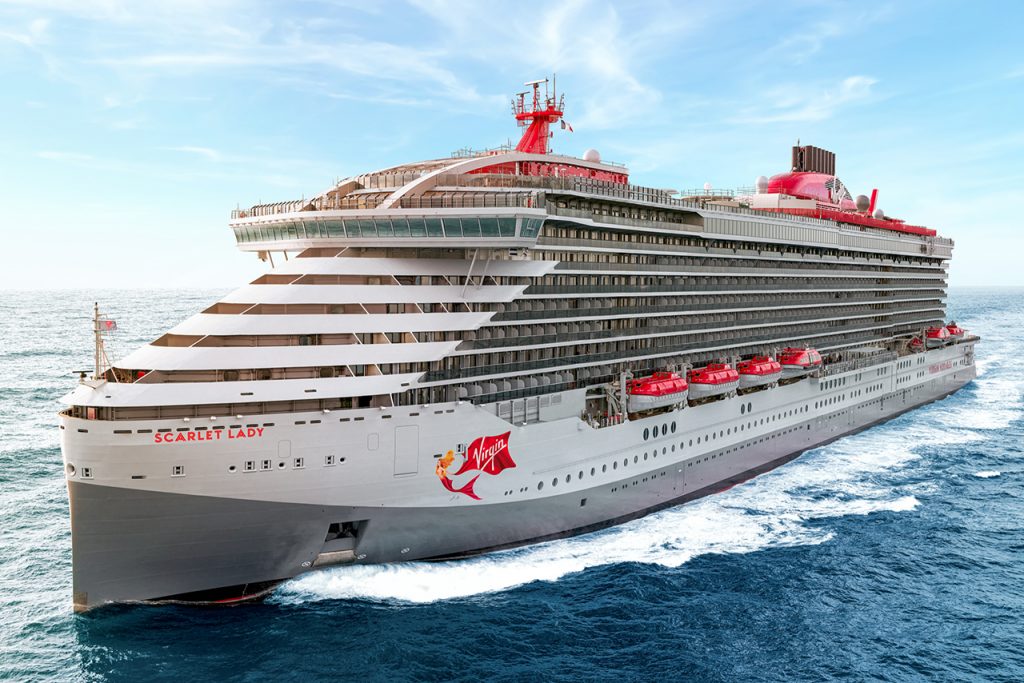 How are Virgin Voyages ships different from other ships?
Virgin Voyages only has one ship currently sailing, the Scarlet Lady. However, the sister ship, the Valliant Lady, will debut in the coming months. Then, later on in 2023, Virgin Voyages will add another sister ship, the Resilient Lady, to the fleet.  
When Virgin Voyages designed these ships, they didn't go to tried and true cruise ship designers but instead brought in experienced, high-end hotel designers. The result is a very contemporary and modern feel with some unique spaces. You'll see lots of bold colors with chrome and gold accents and geometric shapes through the areas. That being said, it doesn't look like that drastic of a departure from other ship designs. While the decor may be different, many spaces and areas are similar to other ships. It shows that no matter who's designing it, there are only so many variations that cruise lines can do when designing what is essentially a floating hotel.  
Cabins
The cabins on Scarlet Lady have a different feel. They're stark white with bold color accents. It's what you'd get if you crossed an Ikea showroom, an Apple Store, and a traditional cruise ship cabin. Most of the rooms don't have couches; instead, the beds can swivel around to be used as couches during the day if you want. Initially, the plan was that the cabin stewards would come in every morning, shift it to a couch, and then switch it back to a bed in the evening. However, they received early feedback that guests rarely used the couches, so now they're only converted that way on request. Guests can control everything in the room with a tablet, from the curtains to the dynamic lighting. Just like other European or Ikea-like designs, storage is a bit of an issue here. The closets lack doors and have curtains instead, and there aren't a ton of cabinets or drawers. A unique feature that people are raving about is the hammock/swing featured on all of the balcony rooms, or Sea Terrace Cabins as they call them.
Pools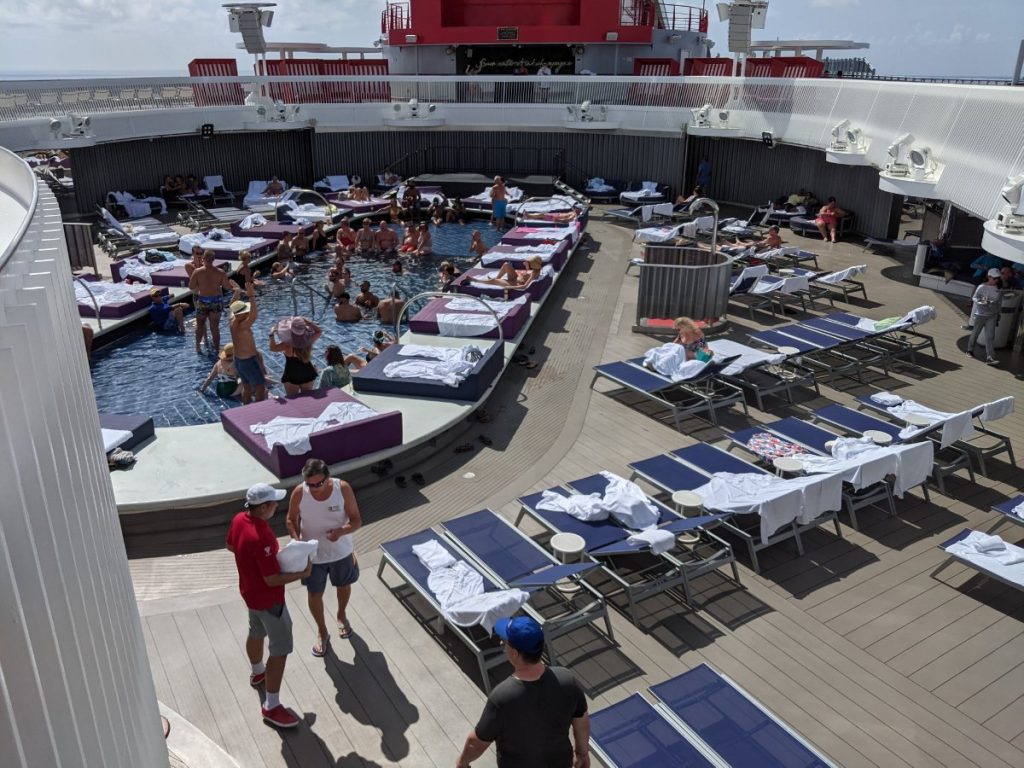 The Scarlet Lady only has one pool, and it's relatively small. For a Caribbean-based ship, it seems like a huge missed opportunity, and everyone was wondering why there was such a huge oversight. In an online interview with Emma Cruises (an amazing cruise YouTube vlogger), the Associate Vice Director of Virgin Voyages helped us understand the thinking. The main reason for the small pool is that Virgin Voyages plans to spend a lot of time in port, where guests will be in the local pools and the ocean. While other cruise lines will spend 6 or 8 hours in port, most of the Scarlet Lady's stops are 10 to 16 hours (at least during the first season's cruises). That makes sense to some degree, but all cruises have at least one sea day, and often two, which means the one pool will be crowded.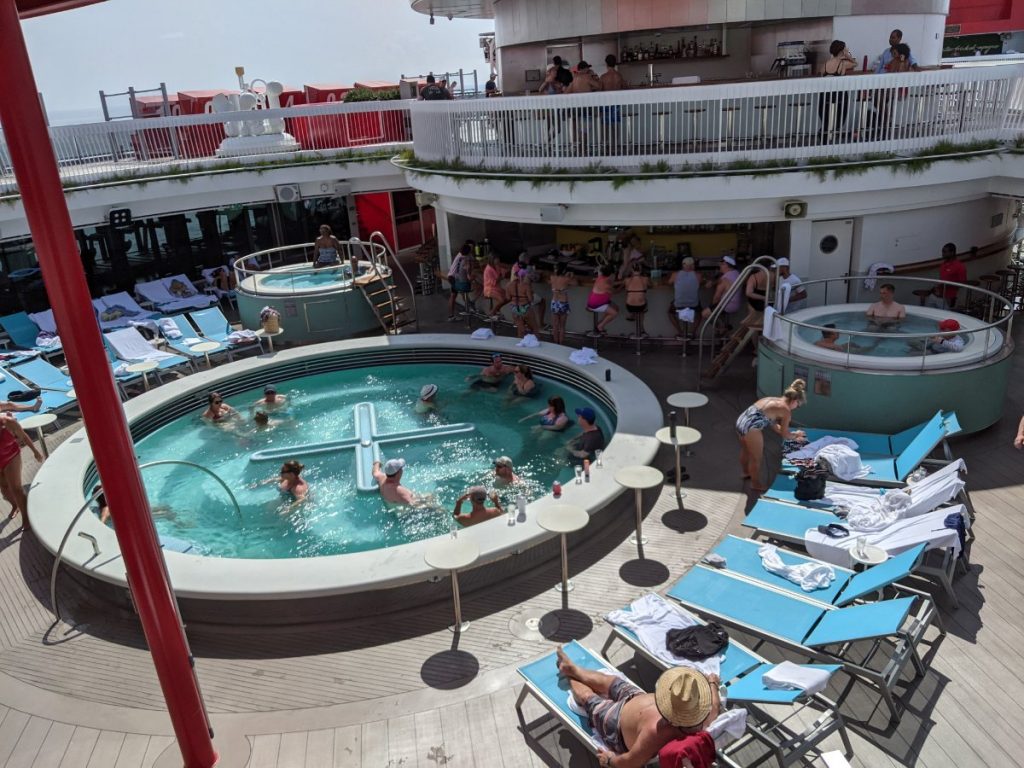 Tattoo Parlor
The Scarlet Lady has the first tattoo parlor at sea, called Squid Ink. It's staffed by two resident tattoo artists who use vegan ink for the tattoos. You're also able to get piercings here as well. While it does seem like a gimmick, it's no different than a cruise line adding indoor skydiving or a roller coaster to their ship.
How is the Virgin Voyages cruise experience different from other cruise lines?
First off, Virgin Voyages refused to use the terminology of other cruise lines. Cabin stewards are "Cabin Hosts and Hostesses." Passengers are "Sailors." Depending on who you are, it can either be endearing or annoying. Personally, it feels like they're doing it just for the sake of being different, but it's up to you. 
Here are some of the main differences you'll see while on the Scarlett Lady compared to other cruise lines. 
No Children on Virgin Voyages
Virgin Voyages is exclusively for adults. You must be 18 years old or older to sail. Unlike Royal Caribbean and Carnival, sailors who are 18 – 21 can drink alcohol while in international waters. Usually, this would be asking for a ton of college, spring-breakers, but the relatively high costs of the "premium" cruise line may help avoid this.
No Room Keys / Cruise Cards
For most cruises, you use your room key/cruise card to access your room and make purchases while onboard. On Virgin Voyages, you get a wristband called "The Band" instead. It's made of recycled sea plastic, and it's customized and shipped to you before your cruise. While other cruise lines, like Princess, are testing wristband technology, for Virgin Voyages, it's the only option. 
No Specialty Restaurants and No Buffet (kind of)
With Virgin Voyages, you won't find any traditional main dining venues. Instead, Scarlett Lady houses over 20 venues where passengers can dine for no additional cost. That's huge. While other cruise lines have phased out or minimized traditional cruise dining (with large dining rooms with one menu and set dining times), they usually supplement these with additional fee venues. On a Virgin Voyages cruise, passengers can dine anywhere they like. Some food options are available at an additional cost, but it's just a tiny portion of the menu (see the menus and pricing here). It's something we commend and probably one of the things that makes us most intrigued about the cruise line. Guests will find a huge variety of cuisine, and people with food allergies or restrictions will be thrilled by the options available and the staff's attention to dietary needs.
Virgin Voyages prides themselves in the fact that they don't have a "buffet" and that's partly true. There's no venue on board where you'll walk up to a line and scoop food out of a metal warmer onto your plate. That being said, their "Galley" is a pretty close equivalent. Here you'll find a bunch of food stalls where you can grab your food and sit down to eat. It's not technically a buffet, but it serves the same purpose. Other cruise lines have been moving away from buffets over the years, so it's really not as unique as Virgin Voyages is trying to say it is.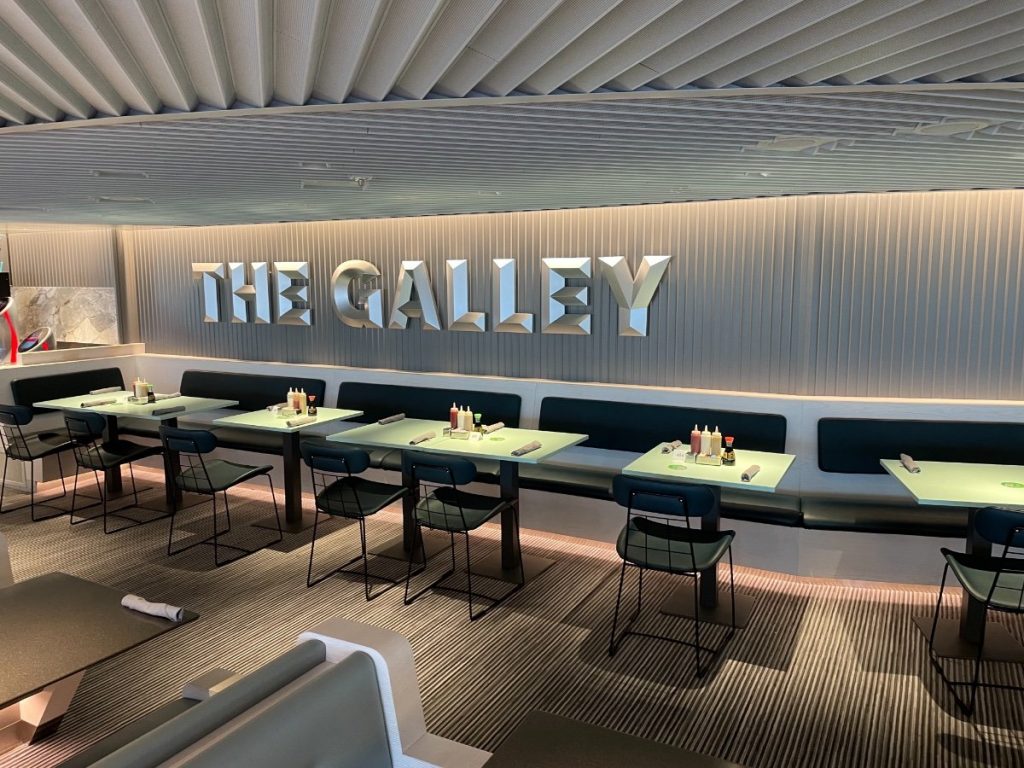 No Drink Packages, Try Bar Tabs Instead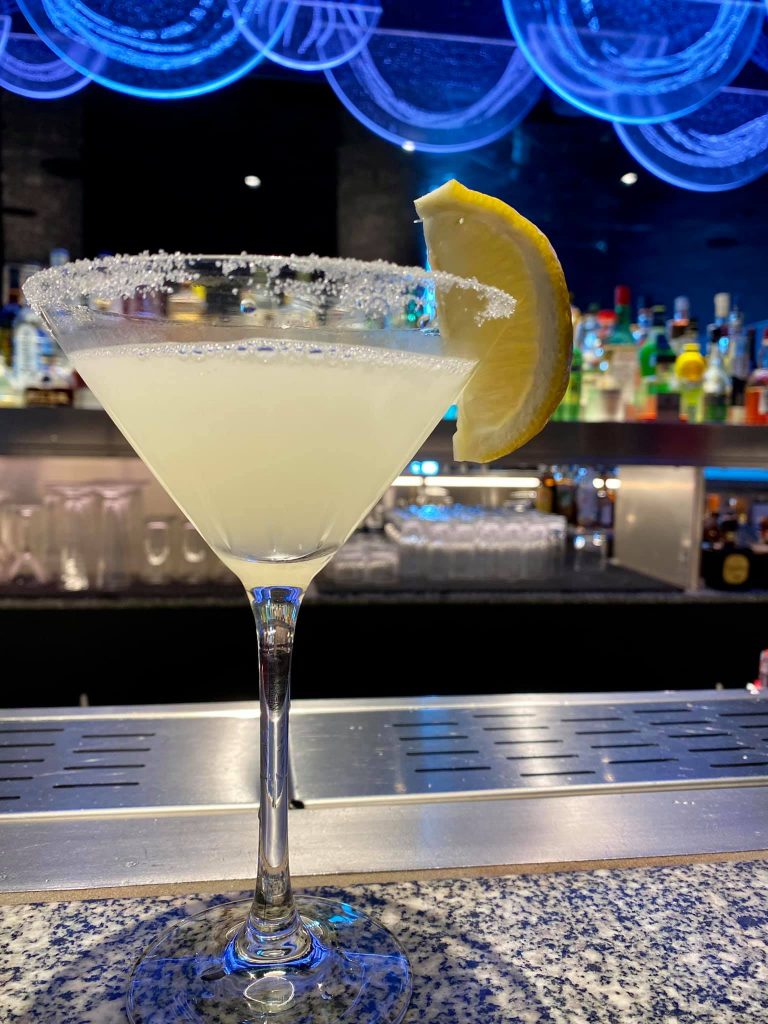 A significant difference on Virgin Voyages is that they don't have an unlimited drink package. It's a bit odd because the cruise line seems to be geared towards the young and willing to party. While not every cruise purchases an unlimited drink package (and according to our Drink Package Calculator, it only benefits 33% of cruisers financially), it's odd that it's not even an option. Instead, Virgin Voyages allows passengers to add money to their "Bar Tab" ahead of time at a discount. So if they purchase it before the cruise, they could spend $300 and get an additional $50 to spend. In terms of prices, a beer runs $5-6, a basic cocktail is around $9, and wine by the glass is about $10 (see the menus here). 
What's included in the Virgin Voyages cruise cost?
Since Virgin Voyages is a brand new cruise line, it doesn't have to adhere to traditional or old-school ways of charging for cruising. One of the most noticeable differences here is what they include in the cost of the cruise.
Gratuities
First, they include the gratuities in the cost of the cruise, which we love. Gratuities are the tips that are paid daily to all the hard-working crew members who are taking care of you, like your room steward, the busboys, cabana works, etc. Most cruise lines charge $12 to $20 per person per day for these, and while they're technically "optional," it's a production to get them off your bill (and you really shouldn't anyway because those crew members are working hard). These daily gratuities really should be included in your cruise fare, but that would increase the cost of your cruise, so instead, they're more like a hidden fee that's added on. Virgin Voyages' way of doing it, where it's included in the price of your cruise, makes much more sense and is more straightforward. 
Internet
Your cruise fare also includes internet, which is a big draw to newer cruisers. Nowadays, it's hard to disconnect entirely. While some people value the technological isolation that a cruise can bring you, many of Virgin Voyages' target market would not agree, and reliable internet is a must-have. On other cruise lines, this could cost $12 – $30 per day, so it's really nice to have that included as well. Sailors do have to option to upgrade to a higher quality internet if needed. 
Basic Beverages
Lastly, sodas, teas, and coffees are included in your cruise fare. Other cruise lines only include water, iced tea, lemonade, basic coffee and tea, and juices in the morning. All alcoholic drinks are an additional cost.    
Fitness Activities
Your cruise fare also includes fitness classes and group workouts. Try some classes you'd never do at home; yoga, meditation, cycling, HIIT. It's a great way to work off some of the many different entrees you're sure to be trying. People have loved the '80s themed "VHS Workout," which combines shake weights, 80's fashions, and some fun. Just be sure to book these in the app ahead of time; they fill up quickly.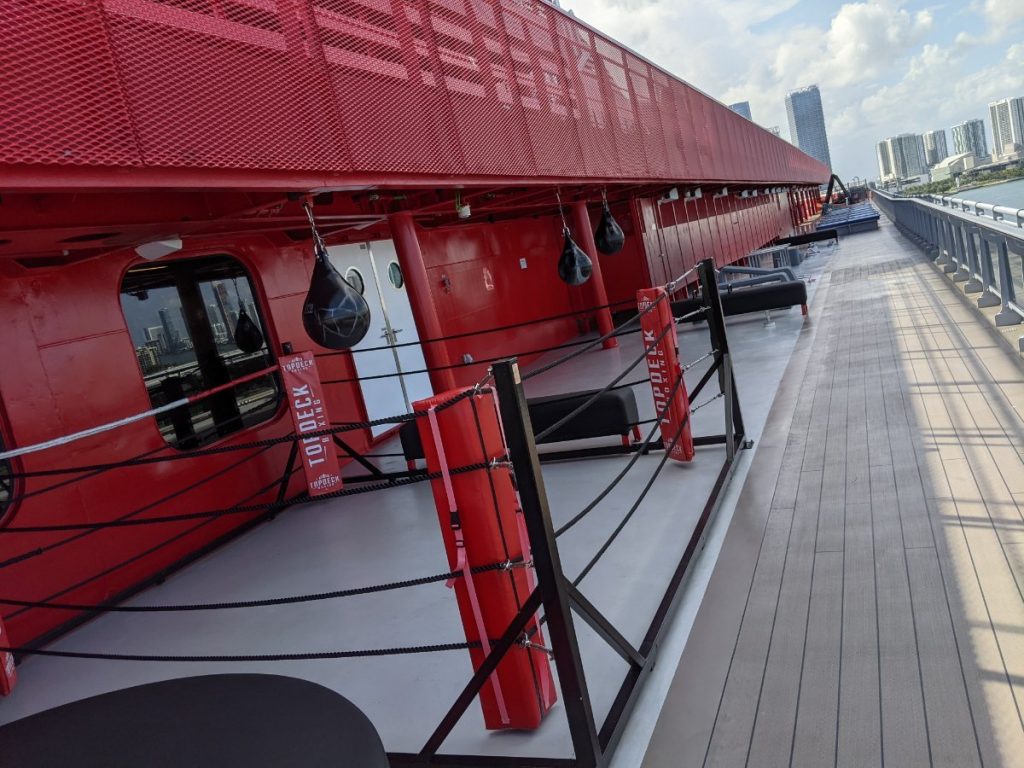 What kinds of passengers are on Virgin Voyages?
In all the discussions about Virgin Voyages, the type of passengers onboard Virgin Voyages is the most hotly debated. This confusion is especially apparent because the cruise line's debut was pushed back so far because of COVID. Who will sail on Virgin Voyages? 
The confusion is entirely understandable; when you see the website or advertisements for Virgin Voyages, you expect a cruise ship filled with trendy, high-income "influencers" and Gen-Z. An on-ship tattoo parlor, tongue-in-cheek venue names like "Lick me 'till I scream," included fitness classes; it seems to skew very young and affluent.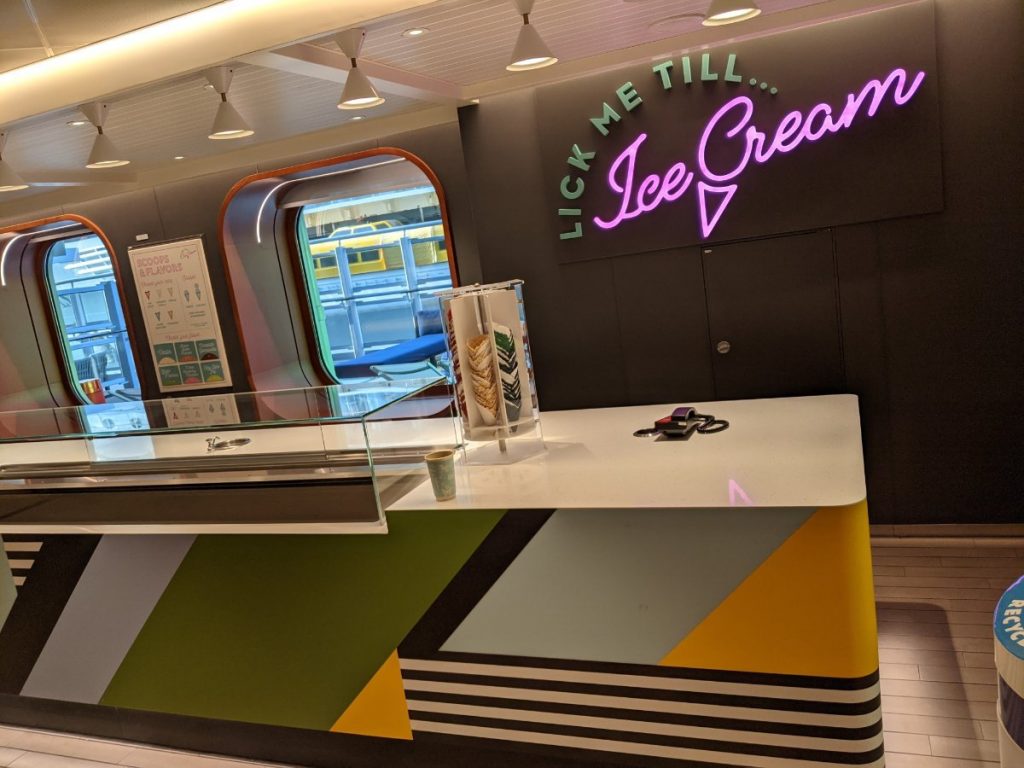 It seems like Virgin Voyages understands the issue and is trying to clarify its position. According to Virgin Voyagers travel agent guides, their guests "fall in the range of 37 – 62, with an average age of 47." They say over half are married, and more than half of booked guests have children that they'll be leaving at home (assumingly with supervision). Surprisingly, only 25% of current bookings are reported to be "new" cruisers; the rest are people who have taken a cruise before and want to see how it is on Virgin Voyages. 
You might enjoy Virgin Voyages if…
You've never cruised before
If you've never cruised before, you have no preconceived notions or expectations to live up to, and Virgin Voyages' new take on things might be a good fit for you.
You like a break from children
The ship is strictly 18 years and older, which means those who like to escape crowds of children might enjoy this ship more. This is especially true for summer cruises when other cruise lines are swarmed with children on break. 
You are a foodie
The Scarlet Lady has a crazy amount of food options available, and most are included at no cost. There are tons of different and unique venues and lots of opportunities to try new foods you haven't tried before. 
You might not enjoy Virgin Voyages if…
You like traditional cruising
Guests won't find many long-time cruise traditions on the Scarlet Lady. There's no set time dining, no main dining room, etc. Some traditional cruise activities, like Bingo and trivia, are hard to find if not non-existent, and the fitness-focused activities don't interest everyone. If you're an experienced cruiser and not open to trying new things, this is not the cruise line for you.  
You don't want to use your phone or tablet on a cruise
You use a wristband for everything, you won't find many paper copies of stuff, and you control your cabin with a tablet. Your mobile phone is also a crucial part of your experience to help book dining times, see menus, etc. You can't even operate your room without using a tablet. 
You're a heavy drinker
There are a lot of bars here and lots of options for cocktails, but without an unlimited drink package, heavy drinkers might have a very high bill at the end. 
CruiseSpotlight is an Amazon Associate. We may earn a commission when you click links to retailers and purchase goods.