How to Check In for Your Royal Caribbean Cruise in 2022
You booked a cruise months ago. You spent hours analyzing every single cabin option on the ship. You perused through all the excursions to find the perfect activities for you. You debated if you needed the internet or drink package. Now, you're patiently counting down the days until you sail. But there's one part left, checking in for your cruise. 
When can I check in for a Royal Caribbean cruise?
Check-in used to open 90 days before your sail date. Since COVID, Royal Caribbean has shortened this window. Now, check-in for most cruises is 45 days before your sailing. You'll see the date your check-in will open in the app.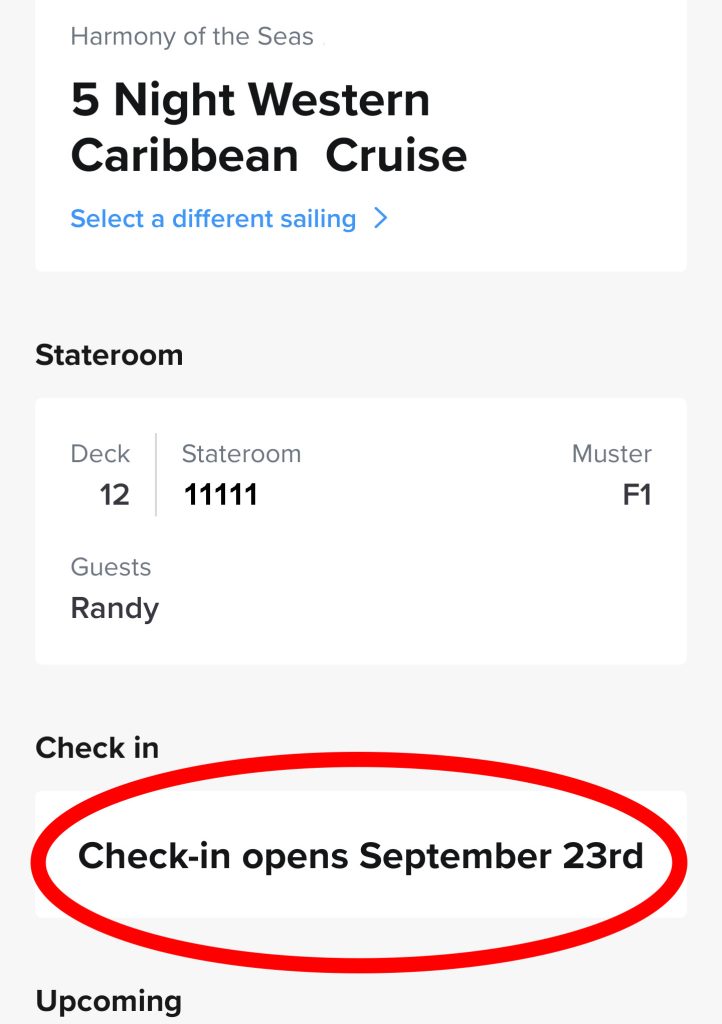 Benefits of checking in early to your Royal Caribbean cruise
To be clear, you don't have to check in for your cruise the minute it opens. You have up until 48 hours before your sailing to complete the online check-in; otherwise, you have to do it at the cruise terminal. 
Pre-COVID, one of the biggest benefits of checking in early was that it allowed you to reserve seats for some of the onboard activities. On some ships like the Oasis-class and Quantum-class, you could previously book spots for the Aqua Theater, ice shows, or musical production shows. Royal Caribbean changed that policy, and now those aren't available to book until you're onboard the ship and connected to the ship's wifi. 
In 2022, the main benefit of checking in early is that you get to choose from all available boarding times. When you check in, you select the time you'd like to board. Depending on your ship and departure port, that can range from 10 am to 3 pm. By requiring guests to pick a specific boarding time, Royal Caribbean tries to stagger the thousands of passengers getting on the ship and make it a smooth and painless process. 
How to check in for your Royal Caribbean cruise?
The easiest way to check in for your cruise is to use Royal Caribbean's app, which you can download from either the Apple App Store or Android Play Store. Its title is "Royal Caribbean International," and you'll see a blue background which a white Royal Caribbean crown and anchor logo. 
While you can use a computer to check in as well, Royal Caribbean highly recommends using the method. The app will also be used on your cruise for things like booking shows, seeing the daily schedule, and checking your account balance, so it'll be helpful to have it ahead of time.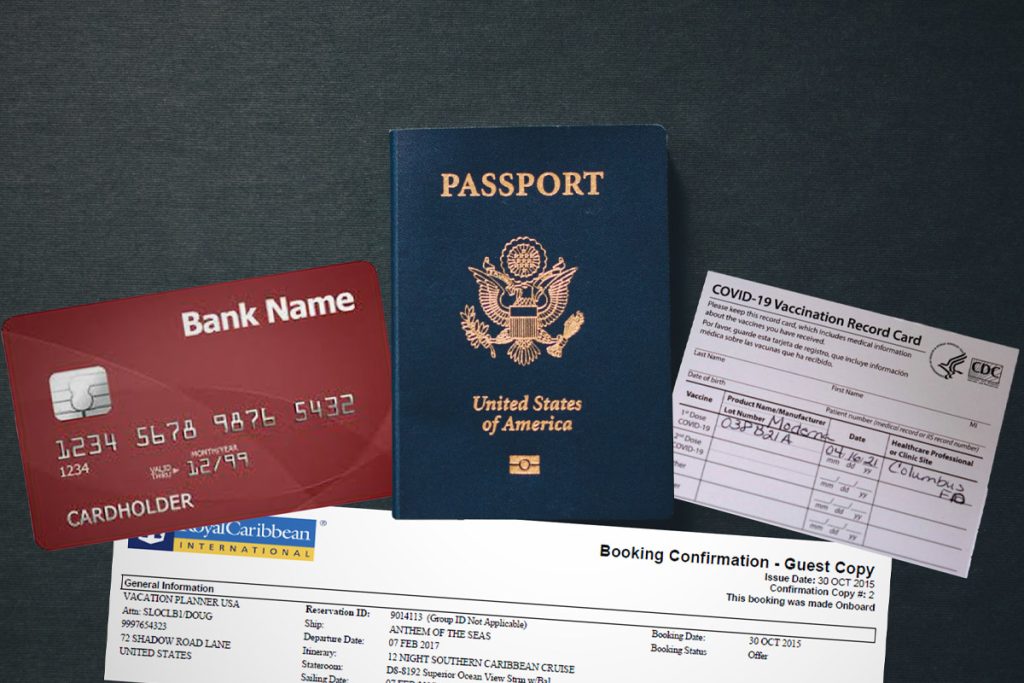 Items you'll need to complete your Royal Caribbean check-in
1) Passport
2) Vaccination card
3) Sailing information
4) Credit card
You'll also take a picture of yourself during this process and put in an emergency contact that is not cruising with you. 
Royal Caribbean check-in steps
There are four main sections to the cruise check-in; travel info, arrival time, vaccination, and health and safety. 
Travel Info
In this section, you'll fill out your travel information. 
1) Scan your passport
Click on the camera icon, and your phone should switch to camera mode. Then point the viewfinder to the machine-readable code on the bottom left-hand corner of your password. The app will take a picture and then populate all the information. Double-check that this is correct. You can also manually input this information if you wish. 
2) Take a security photo
Click on the person icon, and it should fire up the camera again. It'll guide you to aim and take the picture. When I tried to check in for my May 2022 cruise, this step was the only glitchy part of the whole process. When I tried on my Android / Pixel 6 Pro, I had to hit the button a bunch of times to take a picture, and it took several attempts. My partner, who has an iPhone 13, had no problem, so it could just be a glitch. 
During this process, you let Royal Caribbean know if they can use this photo for biometric identification during and photography. If you don't select this option during boarding, you will have to take another picture at the cruise terminal. The photography option lets them use your face to quickly lookup pictures you take while on board to show you in the app and at the photo gallery. 
3) Confirm your country of residence and birth
4) Add your Royal Caribbean Crown & Anchor number
If you've cruised with Royal Caribbean previously, put in your Crown & Anchor society number. It's very frustrating you have to do this manually. Royal Caribbean has this information, and it's tied to my email address that uses the app, but it won't automatically look it up. For some reason, they always make it hard to use this number automatically, and it's incredibly frustrating. 
5) Put your current address
6) Enter an emergency contact who is not traveling with you
7) Add a credit debit card for onboard expenses.
Here you'll add in a credit or debit card to use for onboard expenses. Each person can put in their own card.
8) Accept Royal Caribbean's Legal Terms and Conditions
Arrival time
Select when you'd like to arrive at the port. Royal Caribbean strongly encourages all guests to show up to the port only during their boarding time. Depending on the port and date, guests may be turned away if they show up early to the cruise terminal and asked to come back later. Other times, they may just have to wait on a stand-by line and be allowed to board once everyone with the designated time boards. 
Tip! If you're just trying to secure the earliest possible boarding time, you can skip right to the "Arrival Time" section and complete that first. That will lock in your check-in time, and you can then put the rest of the information later on.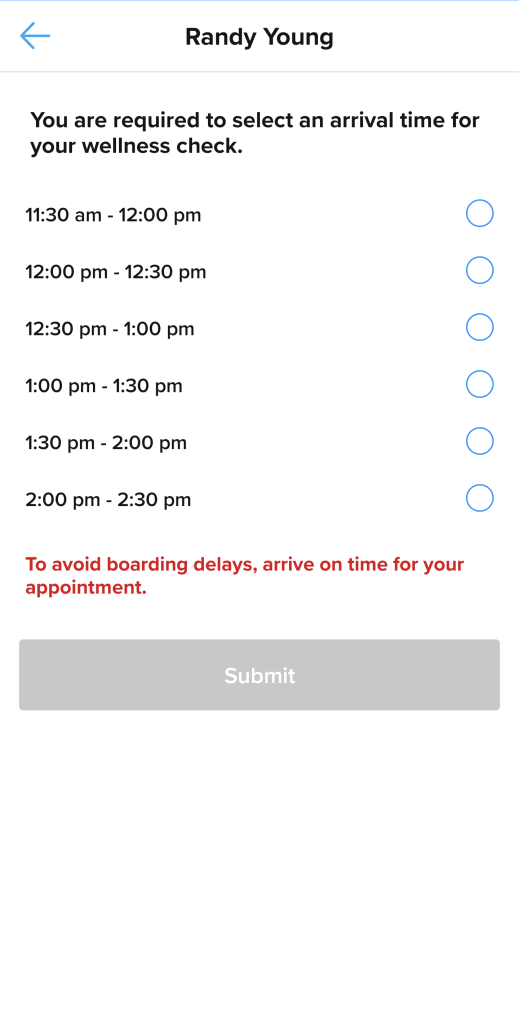 Vaccination
In this step, you'll take a picture or upload an existing picture of your COVID vaccination card. See Royal Caribbean's site for the most current rules. Once submitted, it will show "We are validating your record." This process takes some time, so don't panic if it's been a while since you uploaded. For my May cruise, Royal Caribbean didn't validate it until around 25 days before sailing. Remember, you still need to bring your vaccine card with you. 
Health & Safety
The day before your cruise leaves, you can complete the last portion of the check-in process, the "Health & Safety" questionnaire.  
Now you're all set. One person can finish this process for everyone in a cabin, or each person can do it individually. It is important to note that when choosing check-in time, each person has to do it themselves. If the time is important to you, select the check-in time for each person right away and then fill in the other information later. 
Scan your SetSail Pass at the terminal
Now you're all set. You'll get an online SetSail pass that the agents will scan when you arrive at the cruise terminal. You can quickly swipe your screen to show the passes for everyone else on your linked reservation. Still, be prepared with your vaccination status, passport, and required testing when you show up. 
If you forgot to fill out any of this information, it's ok; you can fill it out in the terminal, but completing this process ahead of time saves you a lot of time and will get you on the ship in no time.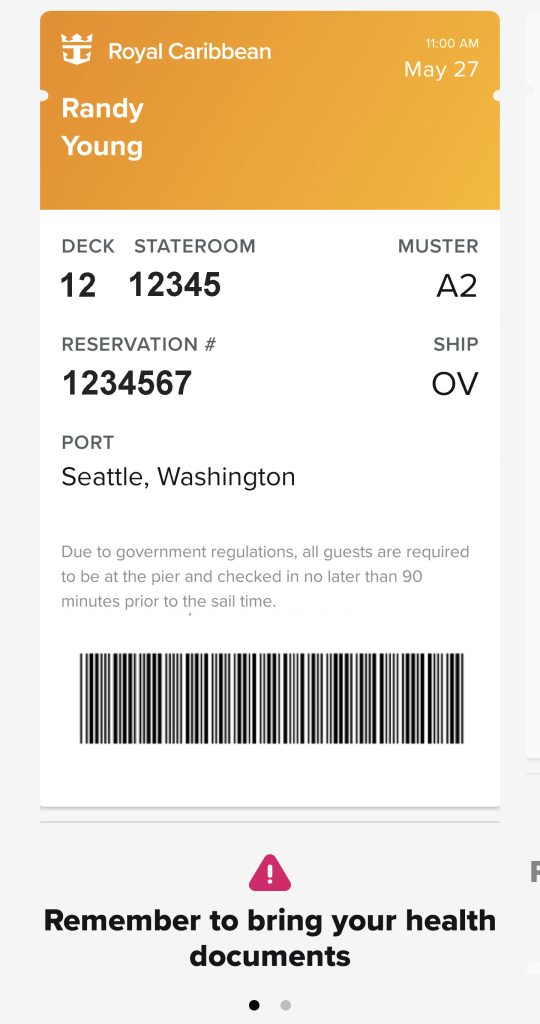 CruiseSpotlight is an Amazon Associate. We may earn a commission when you click links to retailers and purchase goods.