How to Choose the Best Cabin on a Carnival Cruise
Last Updated on September 4, 2023
Unlike a hotel that may have hundreds of seemingly identical rooms, cruise ships have many different types of cabins. With various layouts, views, sizes, and locations, the options are almost endless. Each cruise line has different accommodations available, so today we'll look at the various cabins, or what they call staterooms, available on a Carnival cruise and how to find the one that's best for you. 
What makes it tricky is that the term "best" here is entirely subjective; there is no one type of room that is "perfect" for everyone. Instead, it's more important to understand your options and what you want on your ideal cruise vacation. Some people spend most of the day in their rooms relaxing, watching TV, reading, and napping. Other people are just there to get some shuteye and couldn't care less about the accommodations. Before picking your room, think about how YOU vacation and what's important to YOU.
Type of Room
The first and more significant decision you'll have to make is what type of cabin you want. Carnival Cruise Line has several basic types depending on the ship. If you're new to cruising, it's important to note that cabins on cruise ships are going to feel very "cozy" compared to hotels. While Carnival has some of the most spacious rooms at sea, they still can feel a little cramped; especially when putting 3 or 4 people in a room.
Inside Cabin
Inside cabins are the basic and most affordable room you'll find on a ship. On average, about 1/3 of the cabins on a Carnival cruise ship are inside cabins. They line the interior of the ship and have no windows. On average, Carnival interior rooms are about 185 sq ft (roughly the equivalent of a 13′ x 14′ room). When combined with the lack of windows, they can feel a bit claustrophobic.
Interior rooms typically have 2 twin beds which can convert into a king bed. Most don't have a dedicated sitting area, although they do have a desk and chair. Some cabins also have the 3rd or 4th beds available, which pull down from the ceiling. These rooms solve all the basic needs; they have a comfortable bed, access to a private bathroom, and good A/C.
While balcony cabins are what people may typically envision when picturing a cruise, interior staterooms offer a great starting point for new cruisers due to their low cost. According to a poll by Carnival Brand Ambassador John Heald, 69% of cruisers started their first cruise with an inside cabin.  
Benefits of an interior cabin 
Cheapest option of room
Completely dark and can be quieter
Drawbacks of an interior cabin
Smaller size than other rooms
No sitting area / couch
No windows make it hard to realize what time of day it is
Oceanview Cabin
Oceanview cabins have a window that looks outside and make up about 20% of the ship. Because these cabins are usually on the lower decks, the view is sometimes obstructed with lifeboats or other equipment (the room's description will clearly state if this is the case). While the windows in these rooms let in a fair amount of sun, they don't typically open, so don't expect to have a nice ocean breeze in your room. These rooms are usually around 220 sq ft on Carnival, so almost 20% larger than interior rooms. 
Benefits of an oceanview cabin 
Cheaper than a balcony room
Get a view of the ocean, although it may be obstructed
No worry about small children getting out and playing on the balcony
Larger size than interior rooms usually (about 20%)
Drawbacks of an oceanview cabin
Usually can't open the windows so no sea breeze
Usually on lower levels away from other activities on a ship
Balcony Cabin
Balcony cabins make up about 43% of the rooms on a Carnival ship. These rooms usually go from the 3rd deck up to the top deck of the ship. On average, they're about the same size as an interior room, 185 sq ft, but when you add the 75 sq ft of the balcony, it makes it feel much more spacious. The rooms have large glass doors and windows so that the natural light can pour in. On the balcony itself, most ships have 2 straight-back chairs and a small table. 
A subset of these are the Cove Balcony rooms which offer the cheapest balcony alternative usually. These cabins are on deck 2, just above the waterline, so they provide a unique perspective. The balconies are typically bigger, and they're more secluded with large metal panels on the outside. It's not great if you want to sun on your balcony, but some cruisers covet their shade and privacy. 
Benefits of a balcony cabin 
Same room size as interior rooms but the extra 75 sq ft for the balcony makes it feel larger
Large windows and glass door makes you feel more connected to the ocean
Have a place to "get away" for a quiet time if the ship seems crowded
Drawbacks of a balcony cabin
Most expensive of the non-specialized cabins (40 – 60% more than interior cabins)
Some parents don't want their kids to be able to get on a balcony
Can see the sun or hear the wind coming in sometimes if you're a light sleeper
Suite
If you're looking to be in the lap of luxury and elegance, Carnival has a range of suites available on their ships. They account for about 4% of the cabins on a ship and range from 260 sq ft up to 500 sq ft. Each suite can have different features depending on the ship; sometimes floor-to-ceiling windows, other times, a dedicated seating area and jacuzzi. Because there aren't many of these types of rooms on a ship, they often sell out quickly. 
On top of the premium room, with pillow-top mattresses and bathrobes, guests who stay in suites also get some additional benefits. The biggest is priority check-in, embarkation, and debarkation. That means less time waiting on time and more time enjoying the cruise. Suite guests also get priority dinner reservations and main dining room time assignments. 
Benefits of suite cabin 
Priority boarding and check-in is a nice benefit (worth about $100 per cruise)
Much larger and more spacious rooms with upgraded amenities
Drawbacks of suite cabin
Much more expensive than standard rooms
Limited number of rooms means they book up fast
While rooms are bigger, they don't hold any more people than a standard room
Havana Cabins (specialty)
When Carnival introduced the Vista in 2015, they added a brand new section of rooms and a special exterior section called the Havana area. These premium rooms take advantage of the "Ship within a ship" philosophy, where certain guests have exclusive access to sections, basically their own private area. The Havana rooms are themed like an exclusive island resort, setting them apart from the rest of the ship.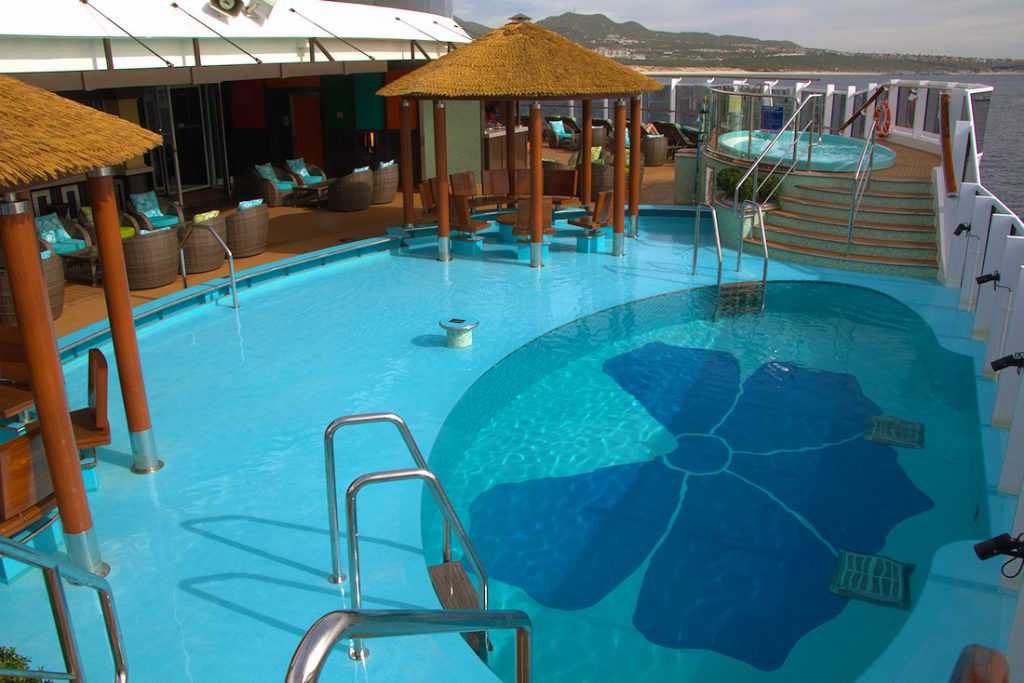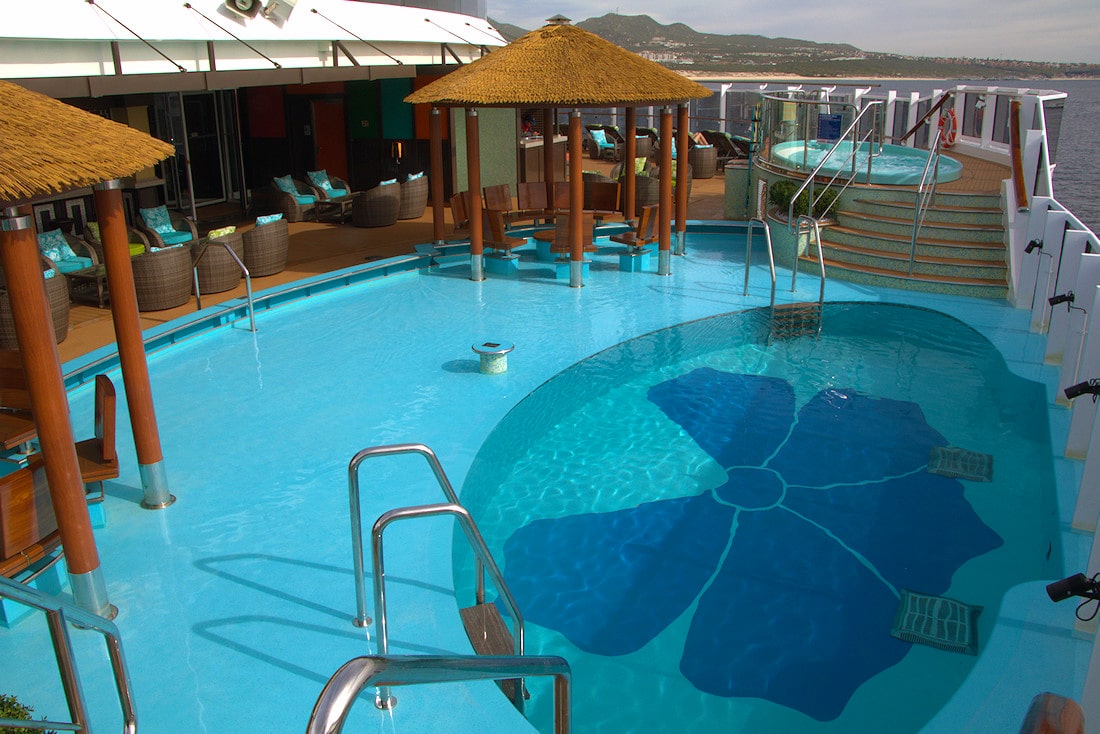 Guests staying in Havana sections have exclusive access to the Havana Pool area with prime placement on the back of the ship. The pool area has a beautiful infinity pool, two large hot tubs that overlook the ocean, upgraded loungers, and a dedicated outdoor bar. On sea days when the rest of the ship is jam-packed, you'll be relaxing in style with plenty of room in the pool and loungers, and a nice refreshing drink only steps away. The rooms also conveniently connect to the interior Havana Bar, which is open to all guests. This bar becomes a favorite for many Havana guests for pre-dinner and late-night drinks. 
You can choose from a variety of rooms in the Havana section. The most unique is the "ocean view staterooms with patio cabana." The description sounds like it would just have a window, but it's closer to a balcony room in reality. The room has a large glass door that opens onto a private patio, complete with lounger furniture and a swing. It's a peaceful place that is just yours. The downside is that these patios end in a walkway that goes around the Havana section of the ship, so you lose the privacy you may have in a traditional balcony room. The Havana section also has interior rooms, which are a great way to save some money since you basically have access to your own private outdoor area very close by anyway. 
On the Mardi Gras, Celebration, and Jubilee, the Havana area has been downsized considerably. The dedicated Havana deck area has a much smaller patio area with only a small pool on the side of the ship (rather than the large infinity pool off the back like the Vista-class ships). 
Available On: Celebration, Horizon, Jubilee, Mardi Gras, Panorama, and Vista
Benefits of a Havana cabin 
Exclusive access to the Havana deck
Have a place to "get away" for a quiet time if the ship seems crowded
No children under age 12 are allowed
Drawbacks of Havana cabin
Higher cost than standard rooms counterparts (20 – 30% higher on average)
Harder to find private balconies, the patio cabana rooms have people walking by
Because there are relatively few rooms, they sell out quickly
Family Harbor Cabin (specialty)
Carnival Cruise Line has never been shy about being a family cruise line, but they fully embraced this concept on their most recent ships. They created a new "Family Harbor" to make cruising more comfortable for families with children 11 and younger. 
Imagine you're on a cruise with a 3 and 5-year-old who wake up nice and early and are starving for breakfast. You have to get them, and yourself dressed, walk down the corridor quietly, take the elevator to the Lido Buffet, walk through the massive buffets, get on line to get some food, find a table and then sit down only to have your kid take 2 bites of a banana, and they're done. These rooms try to help with that problem. If you're in a Family Harbor room, you have access to a dedicated lounge located steps away with keycard access that has easy-to-access breakfast in the morning, snacks during the day, and even a soft-serve machine. One kid trying to take a nap during the afternoon? You can take the other to the Family Lounge and play some games or watch TV. It adds a whole level of convenience for parents who are trying to enjoy their vacation.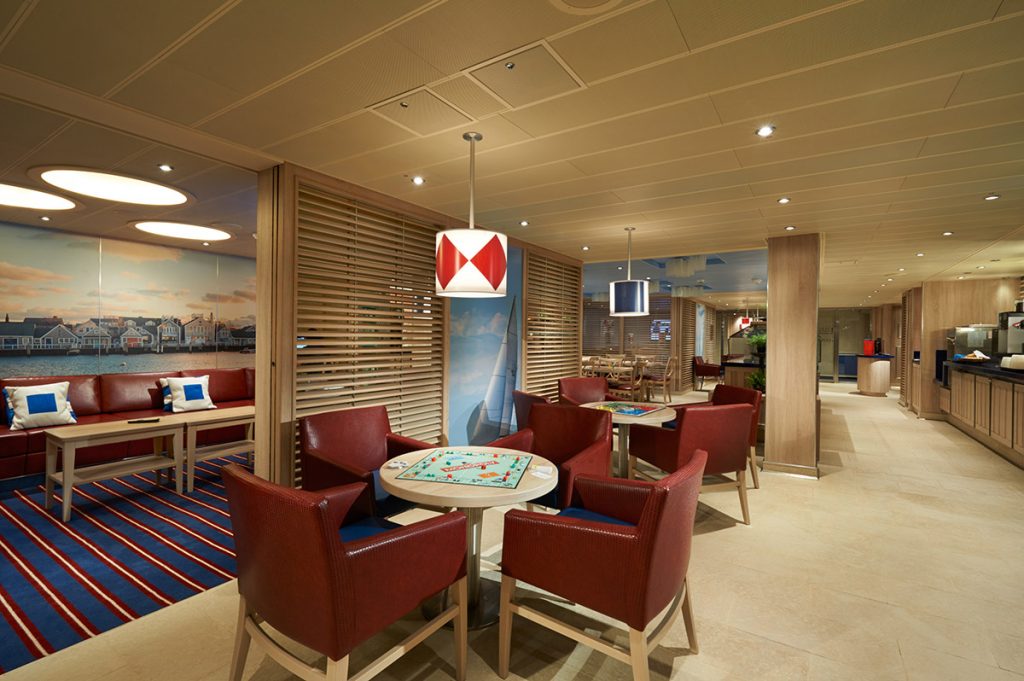 There are various rooms to choose from in the Family Harbor section, which can sleep up to 5 depending on the cabin. Most are similar to the rooms you'd find on the rest of the ships, except Family Habor rooms have a nautical décor on red, blues, whites. The Family Habor section houses some unique rooms, though, that are perfect for families. The Deluxe Ocean View has two bathrooms, one with a junior tub, which is a rarity on many cruise ships. If you need some extra space and privacy, consider upgrading to a Family Suite that adds more living space and has a privacy curtain that separates the main beds from the living area with sofa beds. 
Besides the Family Habor Lounge, you also get some additional perks for booking these rooms. You get one free Night Owls Evening babysitting for children 11 and under. Those kids can also eat free off the kids' menu in many of the specialty restaurants like Fahrenheit 555, JiJi Asian Kitchen, and Cucina de Capitano. 
Available On: Celebration, Horizon, Jubilee, Mardi Gras, Panorama, and Vista
Benefits of a Family Harbor cabin 
Exclusive access to family harbor lounge for breakfast, snacks, and games
Kids eat free in most onboard specialty restaurants
One free evening of Night Owls babysitting service
Some options with flexible rooms
Drawbacks of Family Harbor cabin
Higher cost than standard rooms counterparts (5 – 15% on average)
On a lower deck, so it could be more of a hassle to get to Lido Deck and Buffet
Cloud 9 Spa Cabin (specialty)
If you're a fan of spa treatments and relaxation, Carnival's Cloud 9 Spa Cabins might be for you. The cabins are located near the spa and have a completely different look and feel with muted tones and a teal color palate. Inside the room, you'll find upscale Elemis toiletries, spa-branded bathrobes, and slippers to enhance your stay.
It's not just about looks and location though, Cloud 9 Spa Cabin guests get priority spa reservations, free fitness classes, unlimited access to the thermal suites spa, and exclusive discounts on treatments during port days. A clear benefit is unlimited access to the thermal suites, which have dry heat chambers, steam chambers, experience shows, and a whirlpool or Thalassotherapy pool depending on the ship. Other guests on the ship can access these facilities as well, but it'll cost them $40 for a day pass or $139 for a 7-day pass. 
Available On: Celebration, Dream, Horizon, Jubilee, Magic, Mardi Gras, Panorama, Radiance, Splendor, Sunrise, Sunshine, and Vista
Benefits of a Cloud 9 Spa cabin 
Premium products in the room
Access to the spa, thermal suites
Discount on spa treatments like massages and facials
Drawbacks of Cloud 9 Spa cabin
Higher cost than standard rooms counterparts (10-15% on average)
The spa can still become crowded with regular guests on sea days
Tips for Picking the Right Cabin
Connecting Cabins
For every category of rooms, there are connecting cabins available. These rooms have a door between them, so you can easily go between two cabins without going into the hallway. Since Carnival offers almost no cabins with multiple rooms, this is how families travel together by booking two adjoining rooms with connecting doors. 
If you're not going to be using the connecting door, it's best to avoid these cabins. The door between the rooms is a little less soundproof than the regular wall, so your room will likely be quieter if you don't have an adjoining room. 
Location
With up to 17 passenger decks and the length of almost 4 football fields, there are a ton of different locations you can pick for your cabin. Carnival will often price the rooms based on how "desirable" the location is. First, you'll choose the front, middle, or back, and then the deck. The fee can range depending on how full the ship is and how high the demand is, but they can add an extra $0.50 to $9 per person/day. If you're an able-bodied person who doesn't mind walking, the actual deck and part of the ship don't matter too much. These aren't huge facilities like the hotels in Las Vegas that can take 20 minutes to walk across, even the furthest part of the ship isn't too far. The stairs are easy to take up and down, and except for the Vista-class of ships (read why), elevators are easy to come by. Most of the action on a Carnival cruise ship takes place on their Lido Deck and their Promenade. That's usually around deck 10 and 5, respectively, so no matter where you are, you're going to have to be going up and down the ship at some point. 
Choosing a Room vs. Assigned by Carnival
If you're not picky about your room, you can save money by letting Carnival assign your room. How much you'll save depends on your ship and sailing, but it could be around 10%. They'll wait until the date gets close and assign it to a room in that category. In the marketing copy, they say you'll get a room in the category you book or higher, so they make it sound like you can pay for an Interior room, and you'll get automatically upgraded to a balcony when the time comes. In reality, ships today are often entirely sold out, and the nicer rooms go to people who pay for them. It doesn't hurt to save some money and let Carnival assign your room, but don't think you'll get this great upgrade if you do. I've done the assignment thing once before on a Royal Caribbean cruise; I booked an Ocean View Guaranteed Room and ended up getting a dinky porthole room, which I didn't love, although it saved me $200 so it could have been worth it. 
How Do I Get an Upgrade on my Cabin?
To be blunt, you don't. It's not likely you're going to be able to get a room upgrade. Land-based hotels typically operate at 40% to 60% occupancy, but cruise ships sail at nearly full capacity; they don't often have extra rooms to upgrade you to even if they wanted to. Sometimes, as a sail date gets closer, they might contact you to see if you want to pay to upgrade your room; this way, the cheaper room is available to new bookers. Sometimes it's a good deal, but sometimes it's more than you ever paid upfront. Make sure you do the math before accepting any offer and if you have your heart set on a certain type of room, book it upfront.
CruiseSpotlight is an Amazon Associate. We may earn a commission when you click links to retailers and purchase goods.